These mouthwatering Instant Pot chili recipes definitely stand out with a unique combination of ingredients that break the rules with delicious success. From vegetarian to meat lovers, creamy white to saucy tomato, topped off with avocado or Frito chips, a bowl of any of these chilies will be perfect on a cold day.
---
If you're looking for a comforting and satisfying meal that's packed with flavor, chili is a classic go-to dish. And with the Instant Pot, making chili has never been easier. But why settle for plain old chili when you can spice things up with a twist?
Whether you're in the mood for something sweet, spicy, or a little bit of both, there are countless ways to customize your Instant Pot chili recipe to suit your tastes. From unique ingredients like cocoa powder and pumpkin to unconventional toppings like avocado and feta cheese, these Instant Pot chili recipes with a twist will have you looking forward to dinner all day long. So get ready to take your chili game to the next level!
---
Instant Pot Chili Recipes With A Twist
This compilation of Instant Pot chili recipes with a few twists. These are no ordinary bowls of sauce, meat, and peppers. They definitely stand out with a unique combination of ingredients. You can taste the attempt to break the typical chili festival rules was a delicious success. Enjoy!
Made with butternut squash pumpkin and garbanzo beans (or chickpeas), this Instant Pot chili is comforting and hearty, perfect for a fall or winter dinner. Served with diced avocado and cilantro, this is a must-go gluten-free, vegetarian, and vegan chili for your pressure cooker. This is a great make-ahead, freezer-friendly recipe. Get The Recipe Here.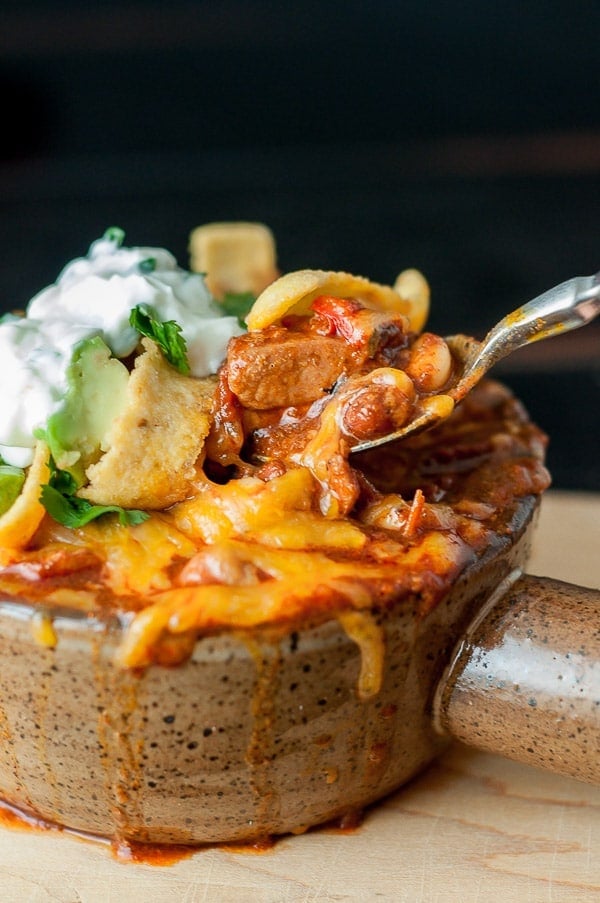 Tender chunks of chicken, a spicy red sauce, beans, and secret ingredient spices. Recipe from Mama Gourmand.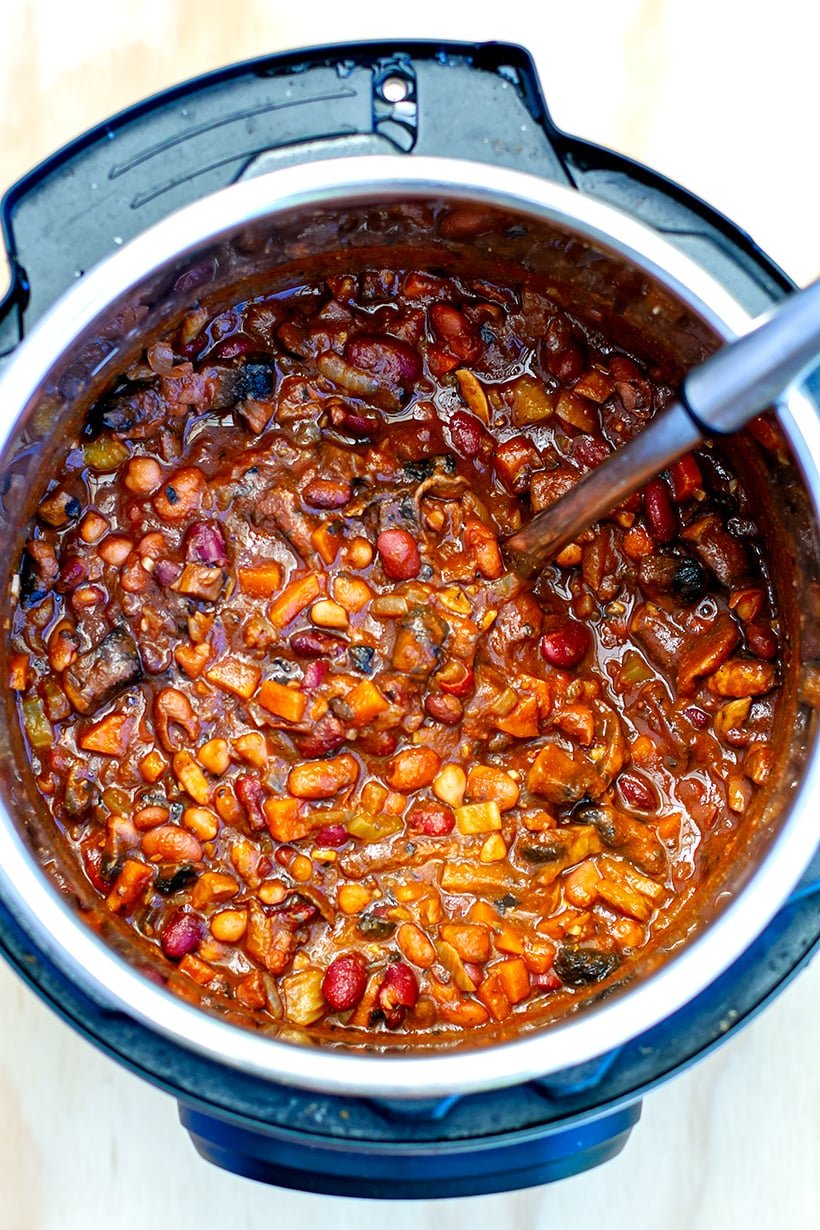 This is a hearty and nutritious Instant Pot vegetarian chili with vegetables, lots of mushrooms, and mixed beans. Beautifully spiced and with the addition of chipotle, this gluten-free and vegan-friendly pressure cooker chili is great for the family or a group dinner. Serve it with your favorite fixings like avocado, diced onions, corn chips, as well as cheese and sour cream or dairy-free alternatives. Get The Recipe Here.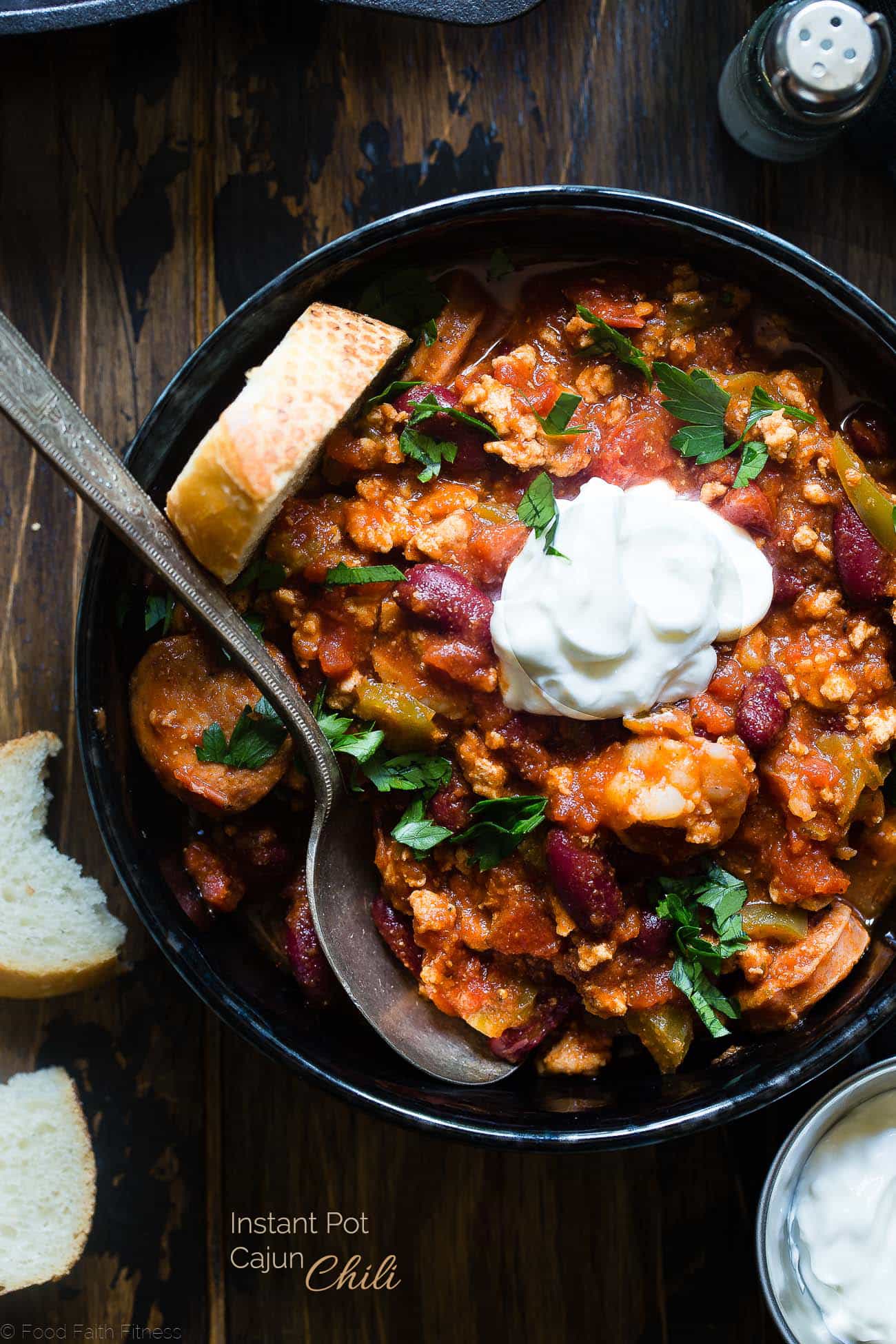 This quick and easy, healthy Instant Pot chili, with a little Cajun flair, is full of addicting spicy notes of paprika and cayenne pepper, punches of zesty garlic and onion and laced with a juicy burst of andouille sausage, ground chicken and tender shrimp. It's dairy/grain/gluten-free and makes great leftovers! Recipe from Food Faith Fitness.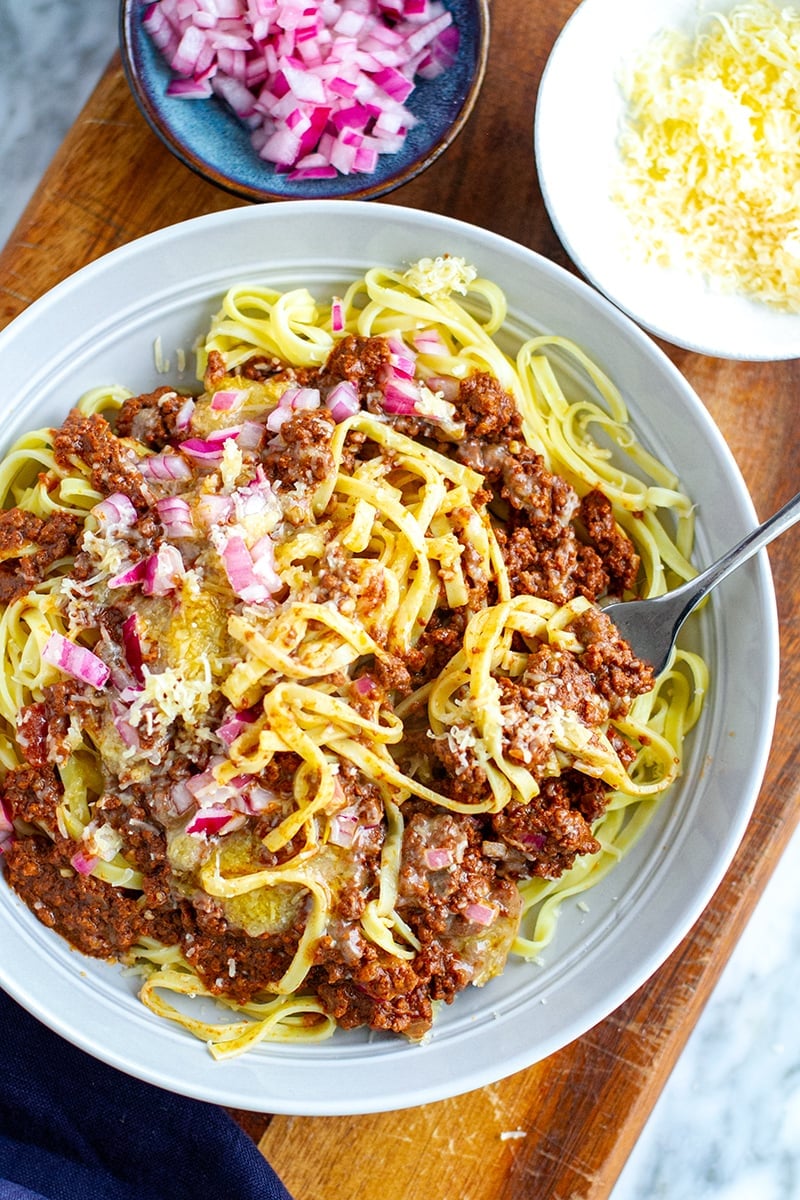 A Mediterranean American fusion meat sauce – served over hot spaghetti or linguine and topped with shredded cheese and pickled onions. Bring a taste of this iconic diner dish to your family and friends. Please note, this is an adaptation of a classic dish with ingredients you have at home, so it's not exactly the same you might get at a diner in Cincinnati. Get The Recipe Here.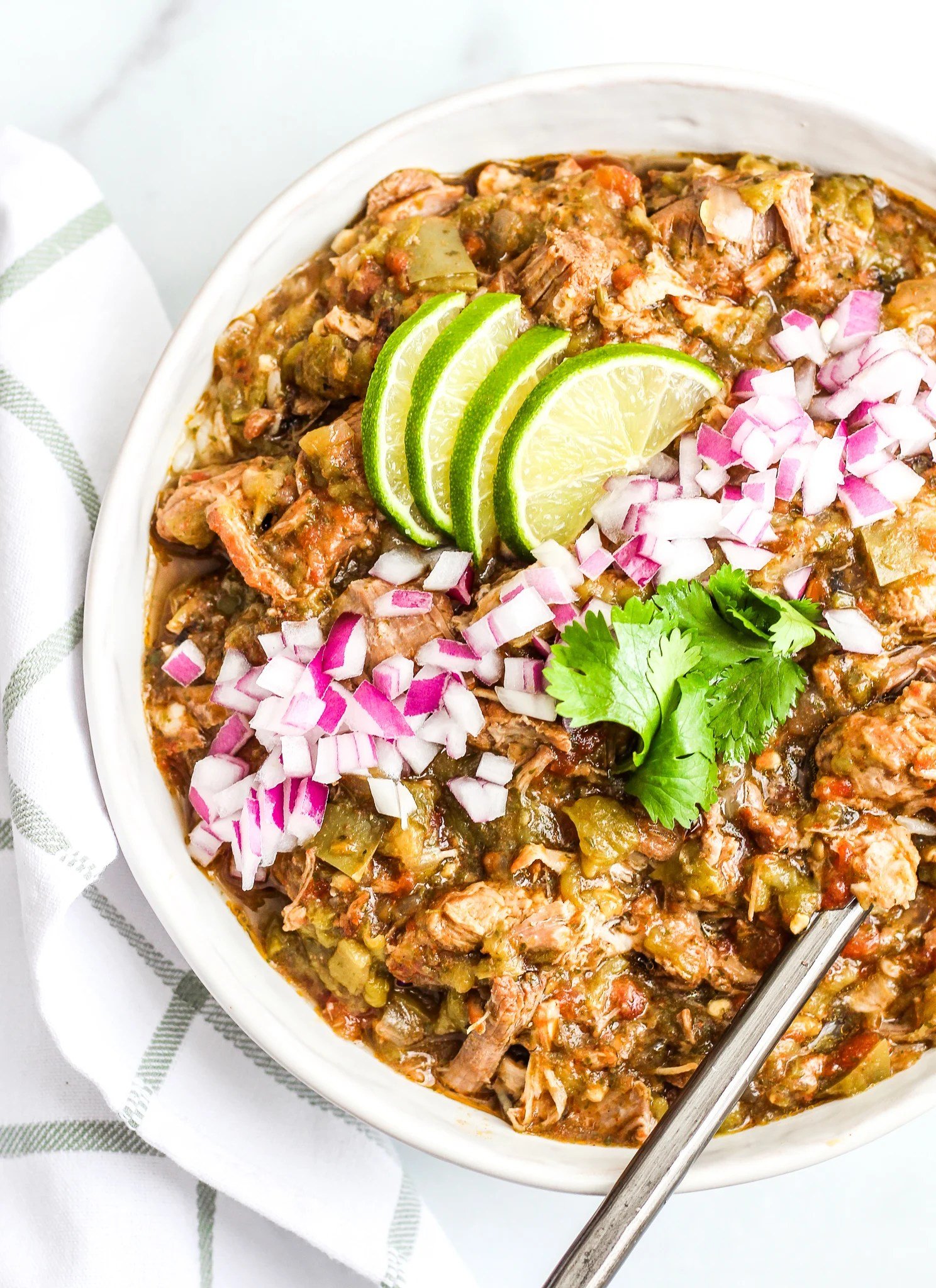 This pork is so tender like it has been stewing all day and there is so much flavor from the green chilis. The green chilis are an important part of this dish! Recipe from The Bettered Blondie.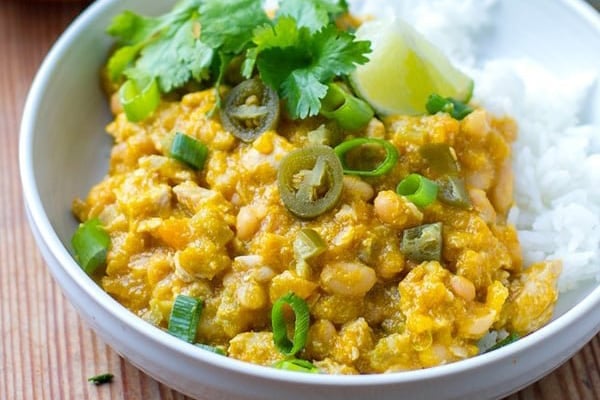 Made with sweet kabocha squash and white beans, this Instant Pot turkey chili is hearty, nutritious, and full of flavor. The recipe is dairy-free, gluten-free, and can be made with ground or diced turkey, or chicken. Get The Recipe Here.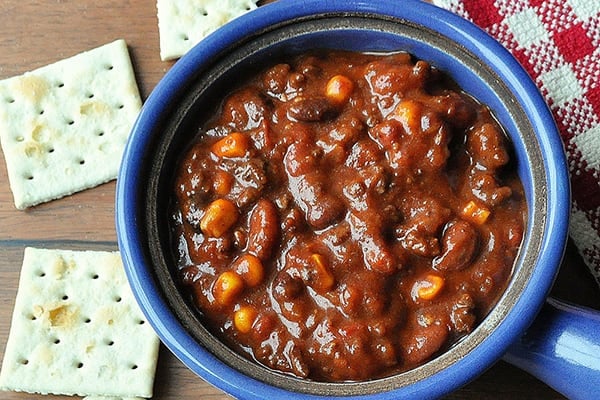 What says game day more than chili and beer? Imagine putting the combo literally together in one pot. Recipe from Made In A Day.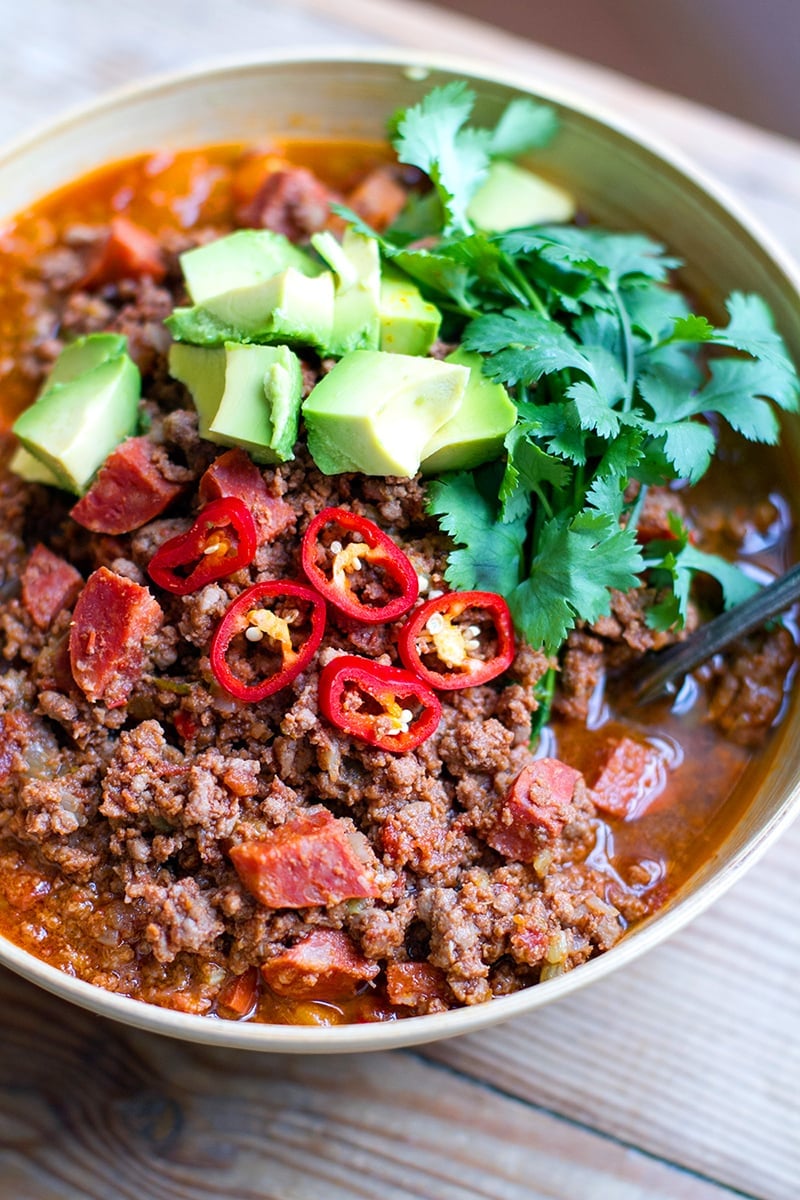 When it comes to comfort food, you can't beat a good chili recipe. Well, our Instant Pot beef and chorizo chili brings a unique flavor twist and is made without beans. This recipe is paleo, gluten-free, and Whole30-friendly. Get The Recipe Here.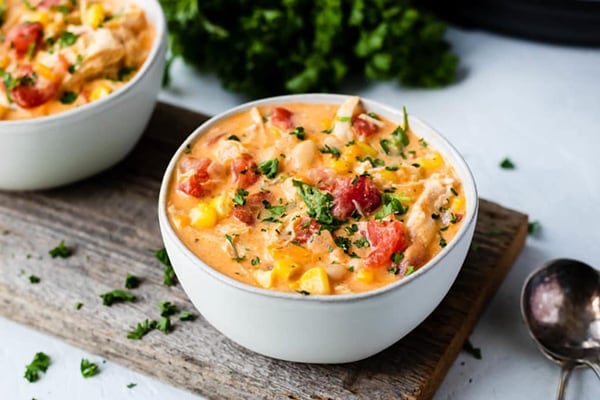 We all know buffalo chicken wings, buffalo chicken dip, and buffalo chicken sandwiches. But, have you had buffalo chicken chili before? The perfect blend of spicy tangy buffalo sauce mixed with tomatoes, chicken, sweet corn, and cooling cream cheese, ranch, and cilantro. Recipe from Mom's Dinner.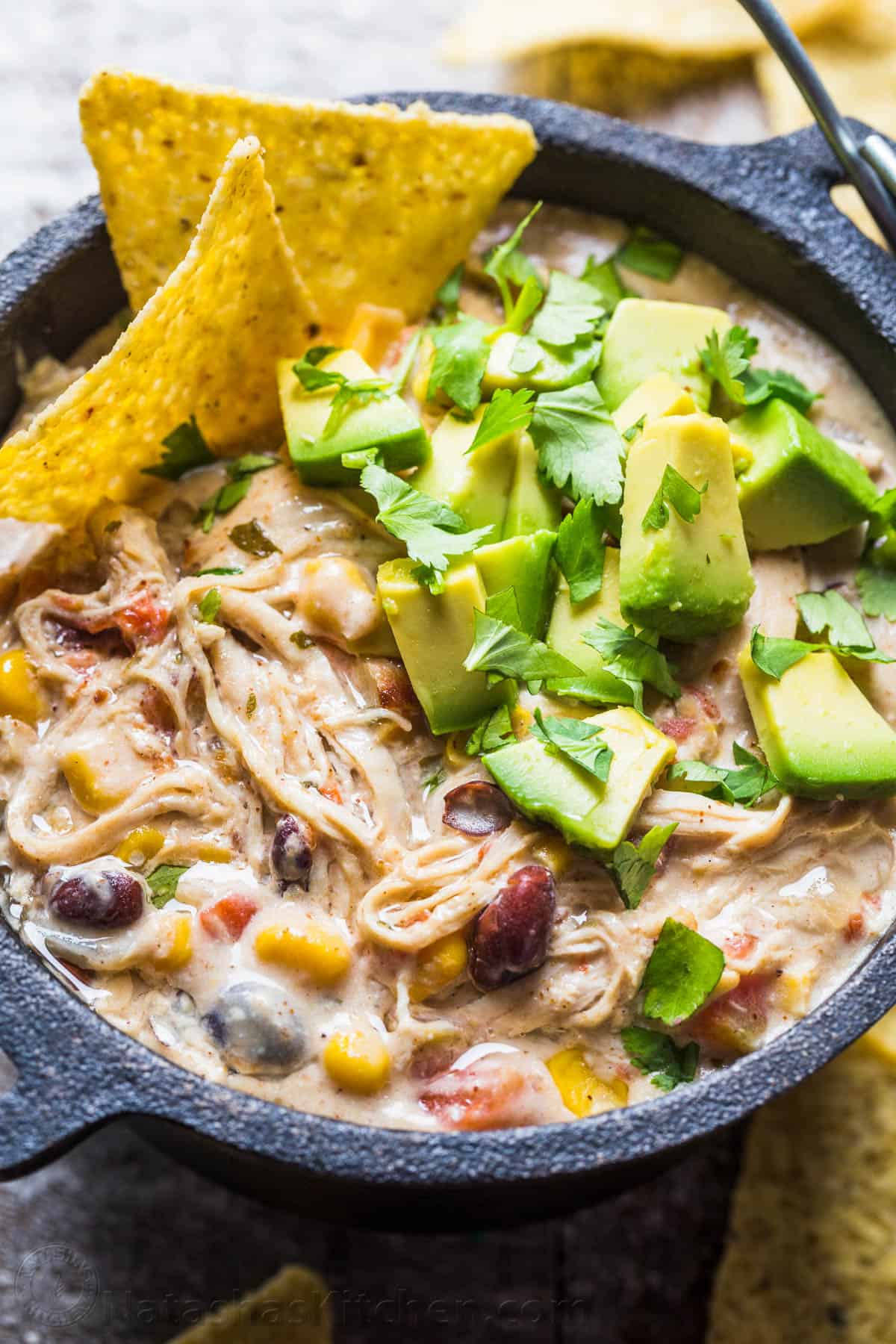 This White Chicken Chili is done in less than an hour start to finish in the Instant Pot with melt-in-your-mouth tender chicken. Stir everything together in the instant pot, top with cream cheese, and set for 20 minutes. Recipe from Natasha's Kitchen.
An easy, super healthy, super delicious vegan recipe that you're gonna love. This Instant Pot Vegetarian Chili is full of vegetables, beans, and quinoa! Ready in 30 mins! Less than 300 calories per serving. Recipe from Show Me The Yummy.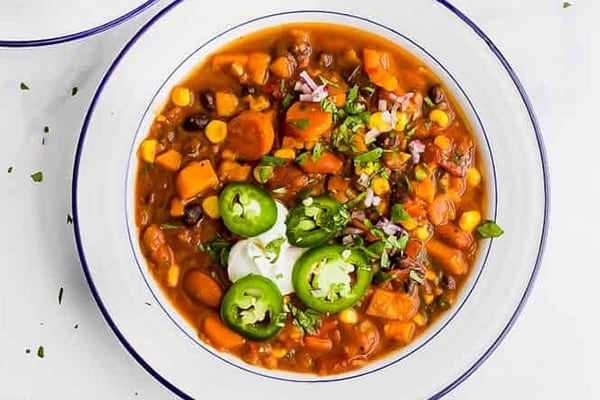 An easy Instant Pot vegetarian chili recipe made with black beans and sweet potatoes. It's full of flavor and a quick gluten-free dinner idea! It's sweet, spicy, savory all in one AND it's thick, not broth-y. Recipe from Joyful Healthy Eats.
This paleo & Whole30-compliant Instant Pot bacon and sweet potato chili is great for batch cooking. This recipe has just the right amount of sweetness from the sweet potato, meatiness from the beef and pork, smoky saltiness from the bacon, and a tiny bit of heat from the smoked paprika and cayenne. All of that is rounded out by the earthy spice of cumin and just a hint of cinnamon. Add some creamy avocado, fresh cilantro, tangy lime, and mild raw red onion. Recipe from A Calculated Whisk.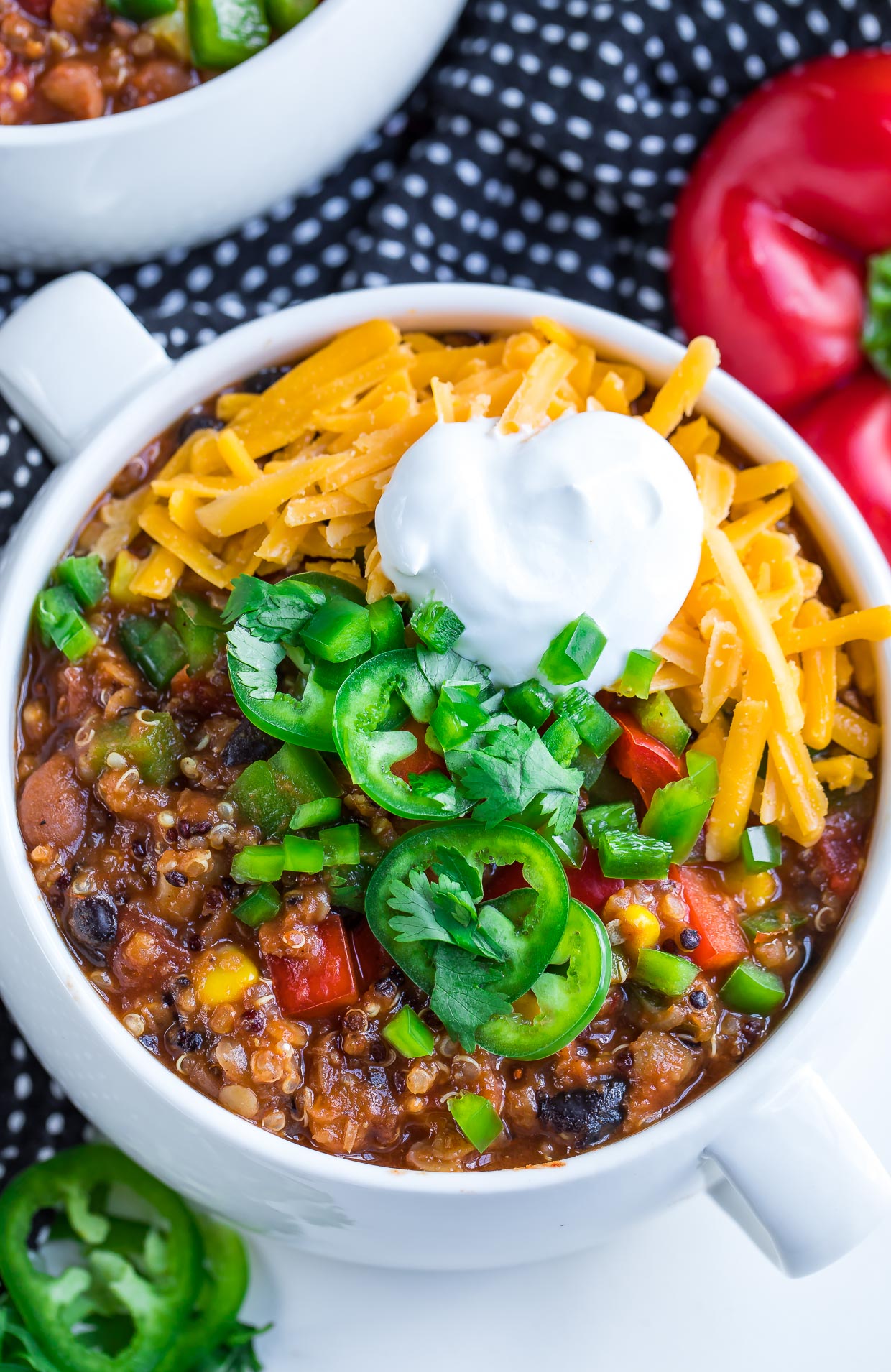 This Instant Pot Vegetarian Quinoa Chili is a comfort food classic with a healthy veggie twist! Each tasty bowl is plant-based + gluten-free and can easily be made dairy-free + vegan since you choose the toppings! Recipe from Peas And Crayons.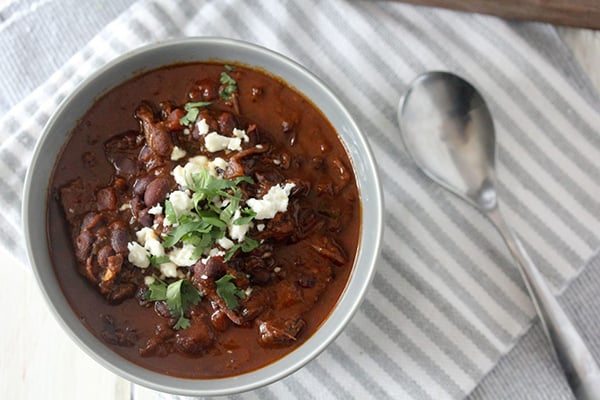 This recipe takes chili to the next level. It's a special occasion chili, one that you make for friends and family when they come over. Not only will is this hearty easy-to-make comfort food dish fill you up but it will also make your taste buds sing. Naturally gluten-free and with Whole30 option. Recipe from The Whole Smiths.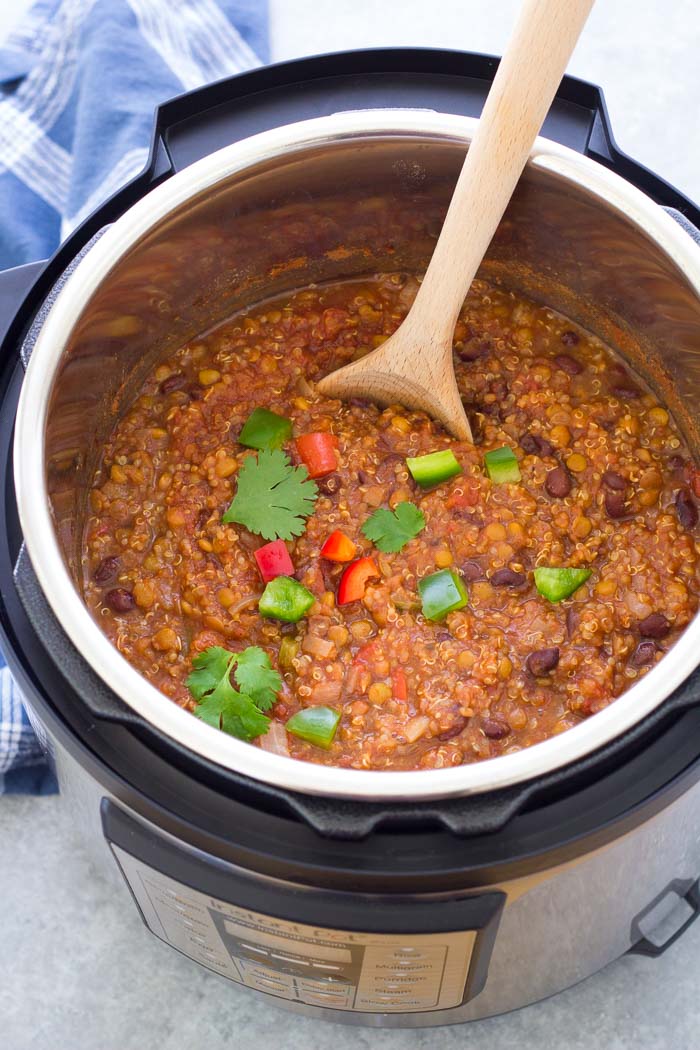 This healthy vegan chili recipe is made with black beans, quinoa, lentils, and veggies. Just dump all of the ingredients in your pressure cooker and cook. Recipe from Kristine's Kitchen Blog.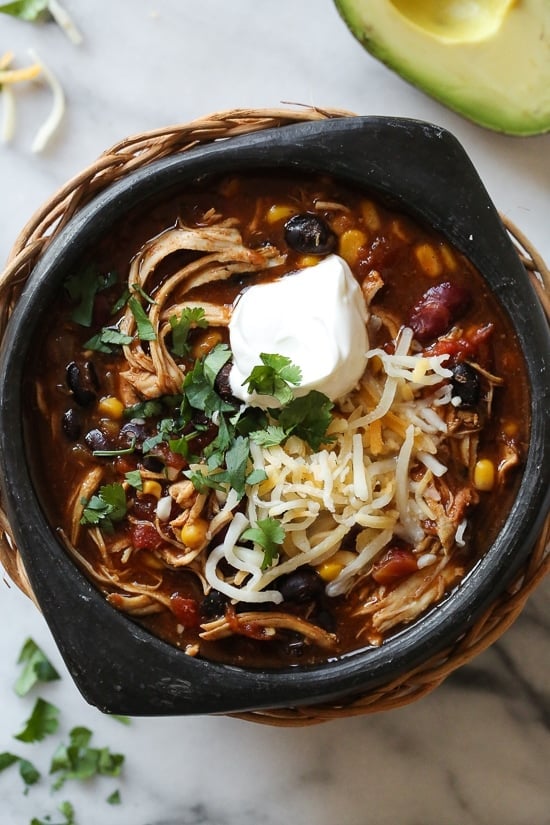 Why have tacos on Taco Tuesday when you can have chili? Chicken Taco Chili, made with chicken, beans, corn, and tomatoes seasoned with taco seasoning is so easy and made with ingredients you probably already have in your pantry. Recipe from Skinny Taste.
If you're looking for a classic bean chili, this isn't it. Most chili recipes have kidney beans or black beans, but this recipe has no beans. This chili uses steak instead of ground beef. It's like the Cadillac of chili. It has a complex mix of seasonings that gives it richness and depth, not just heat. Recipe from Perry's Plate.
This Mole Chili combines cocoa, zesty salsa, and chipotle chili for a delicious recipe that comes together quickly in the Instant Pot or on the Stove Top. Recipe from The Cents' Able Shoppin.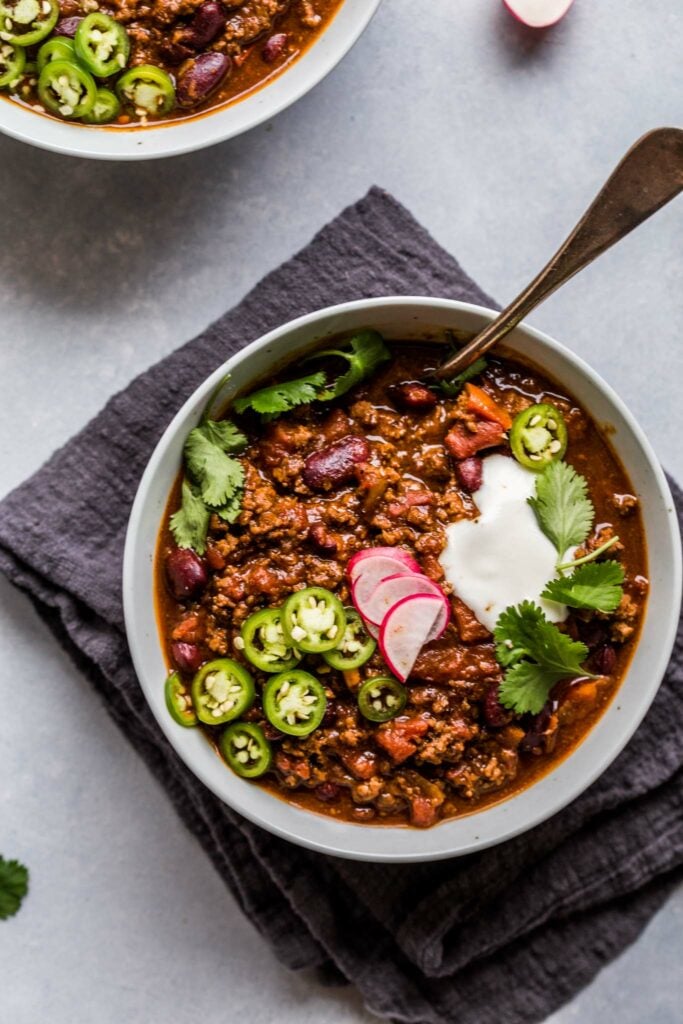 Add beer and a can of chopped tomatoes and kidney beans, both undrained so that the liquids blend together for a silky  "broth" texture to pour over a bowl of rice. Recipe from Platings And Pairings.
---
Save These Instant Pot Chili Recipes To Pinterest