Who doesn't love a piping hot bowl of porridge on a cool morning? Today's recipe will show you how to use a pot-in-pot method to make the most delicious and easy Instant Pot oatmeal with blueberries and maple peanut butter. Using rolled oats, an oven-proof round dish and a trivet, this is a simple and hands-off way to make a nourishing oatmeal breakfast while you can get on with getting ready in the morning. Kids-approved!
---
Instant Pot Blueberry Oatmeal
Instant Pot oatmeal is a fantastic option for a fuss-free, hands-off breakfast that is nutritious, affordable and that the whole family will love. Unlike cooking it on the stove, the pressure-cooked porridge requires not attention! You pop everything in the pot, set the timer and get on with the morning preparations. 
For this Instant Pot blueberry oatmeal porridge, we used rolled oats. Instant oats cook much quicker and there is really no point in using a pressure cooker for that. But, if you want more integrity and nutrients in your oatmeal, rolled oats (Old Fashioned oats) or steel-cut oats are the way to go.
Oatmeal Nutrition
Rolled oats are super affordable and rich in nutrients. They are rich in complex carbohydrates plus fibre and protein to keep you satiated for hours. You will also be getting plenty of minerals such as iron, magnesium and zinc and B-vitamins.
Oats are particularly rich in a special fibre called beta-glucans, which are known to lower cholesterol levels and increase bile acid production. They're also believed to reduce blood sugar and insulin levels after a carb-rich meal.
Plus, you get all those antioxidants from blueberries and extra protein and healthy fats of peanut butter.
You can also get gluten-free rolled oats, making them a fantastic fuel source for those avoiding wheat or other gluten-containing foods.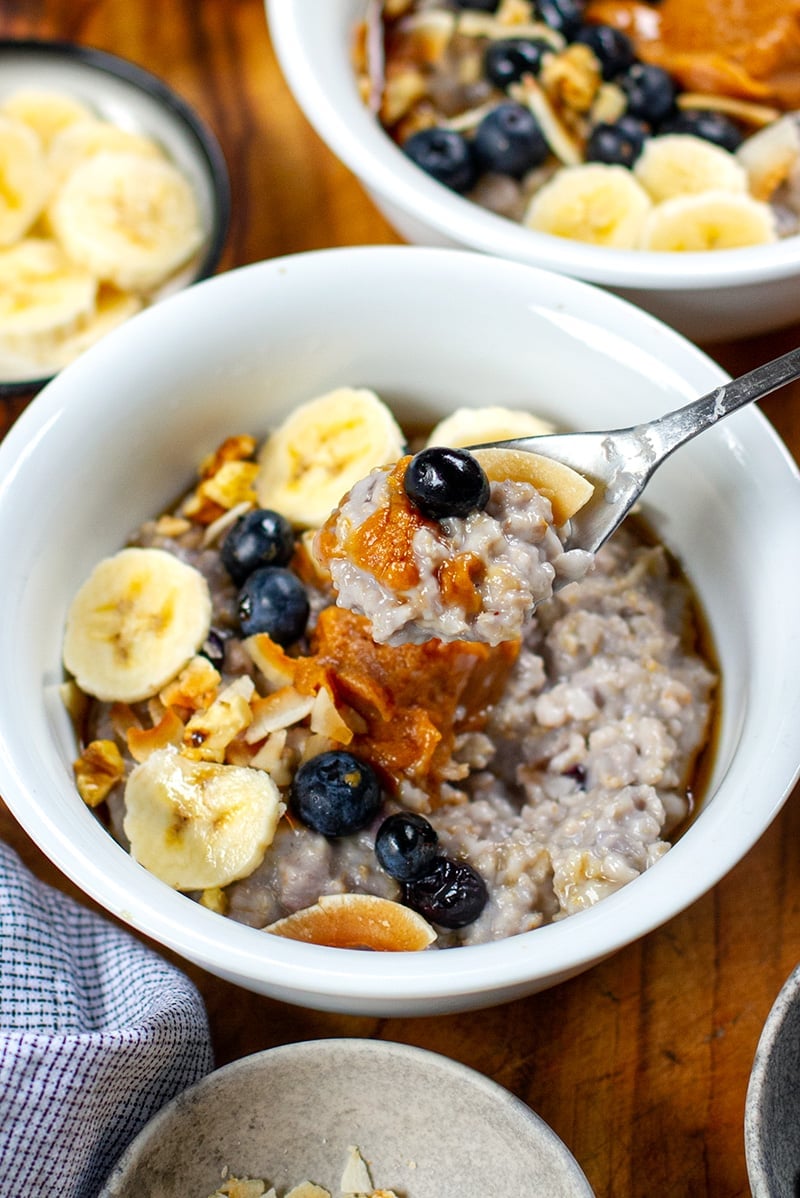 How To Make Oatmeal In Instant Pot
There are two ways you can make this blueberry oatmeal porridge: pot-in-pot method and regular method. We used pot-in-pot (or PIP) method, which takes a little bit longer but minimizes the cleanup AND avoids that pesky Instant Pit BURN message you can get when cooking with cream, milk or thick sauces, which in our case applies to this creamy oatmeal.
Pot-in-Pot Method
For the pot-in-pot method, you need to use a heat-proof dish that goes on top of the trivet and water. Think round oven casserole dish or a stainless-steel tall cake tin. The dish needs to be big enough to allow the oatmeal porridge to expand during cooking. Half-filled before cooking is usually a good benchmark. You can also use 2-3 mugs for individual portions.
Here are the step-by-step photos and you will find the full list of ingredients, instructions and the nutritional breakdown in the recipe card below. The regular method is also described further down.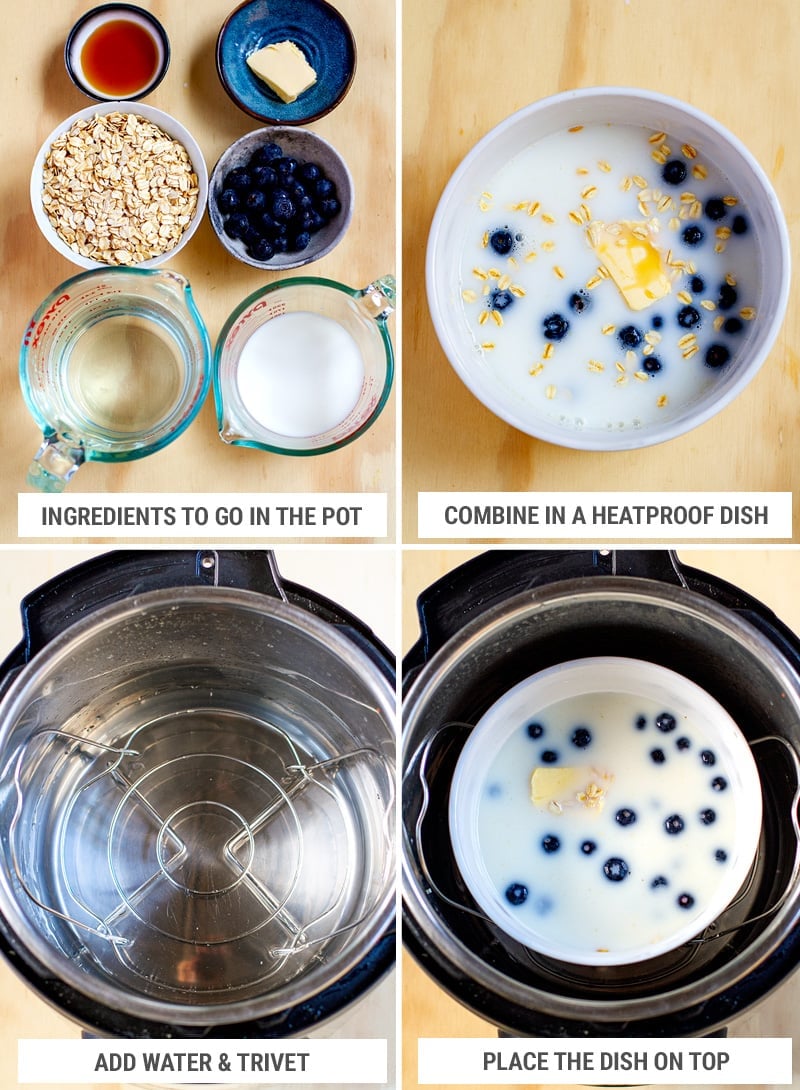 STEP 1. Prepare the ingredients that will go into our oatmeal porridge: rolled oats, blueberries (can be frozen or fresh), butter or dairy-free alternative (helps your body to absorb those fat-soluble vitamins), maple syrup, water and almond milk or another type of milk. You can also use just water but the milk makes this oatmeal much tastier and creamier.
Combine everything in a heatproof dish and place in the Instant Pot with cup water and a trivet underneath.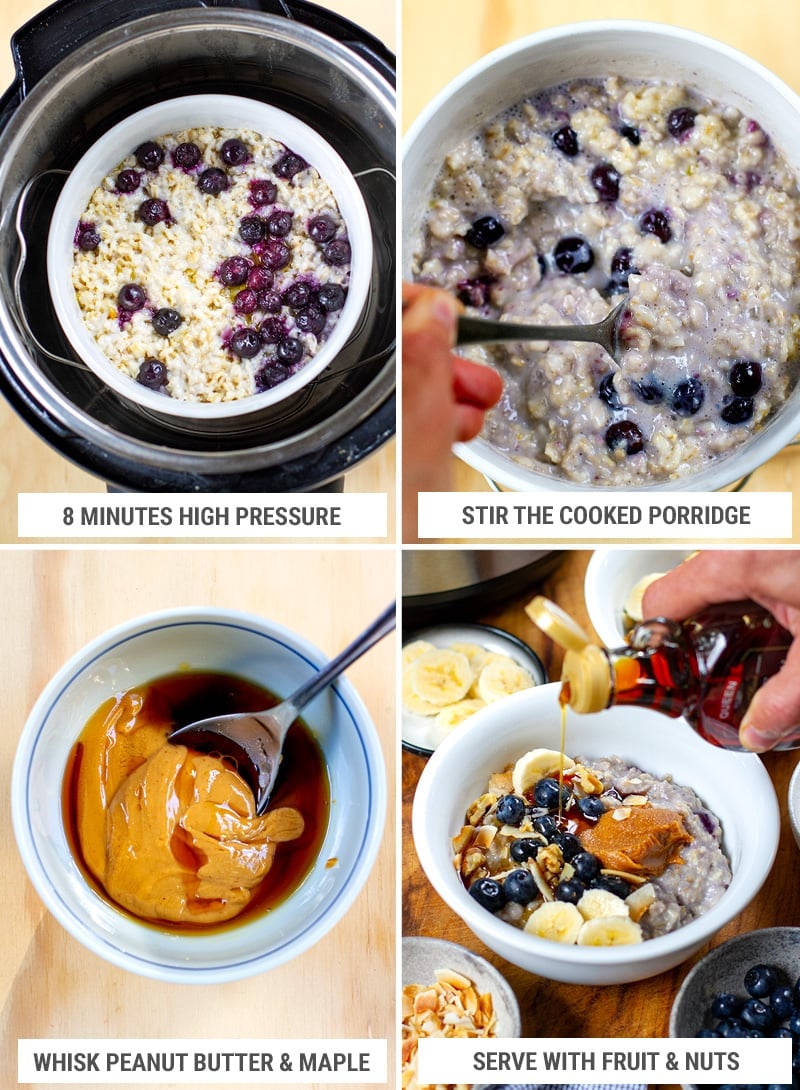 STEP 2. No need to cover the oatmeal dish with foil. Simply seal the lid and set the Instant Pot on Manual/Pressure Cook for 8 minutes at HIGH pressure with natural pressure release. Once done, the oatmeal will look somewhat separated but don't panic! Simply stir through and it will be just perfect. The whole process will take about 25 minutes so I like to do this first thing in the morning before I jump in the shower.
If you're using another type of oats (steel-cut or quick, check out this post on different timings for a pot-in-pot method)
Whisk maple syrup and butter and prepare your toppings in the meantime: extra berries, bananas, nuts, seeds and so on. Serve in bowls with all the toppings and extra maple syrup if you like.
Regular Method
If you don't have a heatproof dish OR you want to make a larger batch of oatmeal, use a regular method. Because you would be cooking the oats directly inside the steel pot, the cooking time is much quicker.
You have to be mindful of the possible BURN error that might come up if using milk. Adding half water and half milk might be okay but using straight water is the safest to avoid any scorching/burning. Many people use this method with milk and it's fine but some models of the Instant Pot are extra sensitive, so just beware.
Combine dry oats with water and milk (or just go with water) and use a little more liquid than you do in the pot-in-pot method. For example, for 2 cups rolled oats add 2 cups milk and 2.25 cups water. This is a little insurance in case it dries out too much and decides to burn on the bottom.
Add butter and maple syrup as before. Cook at LOW pressure for 2 minutes with 10 minutes natural pressure release (you can go all the way, to be honest). When you open the lid, stir the porridge before serving.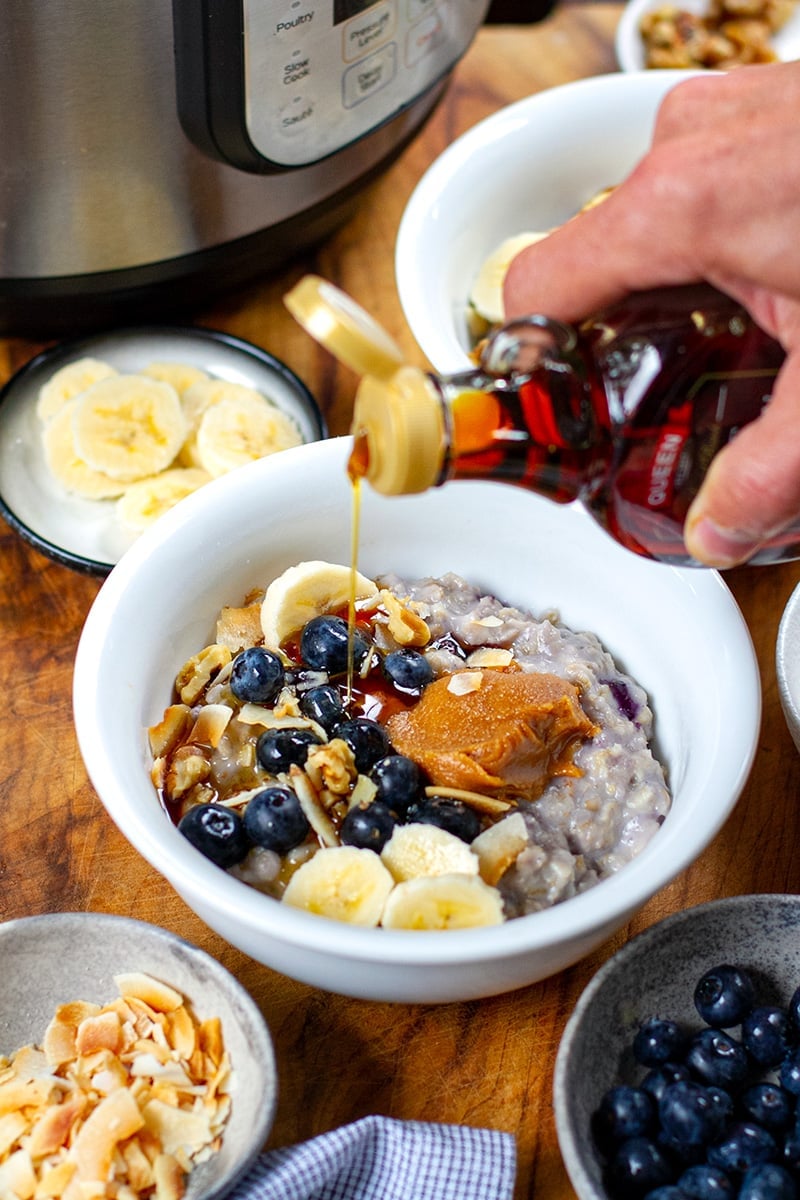 Instant Pot Oatmeal Variations & Toppings
You can try this recipe to come up with variations for Instant Pot oatmeal. For example:
Strawberries & cream – cook the oats with some diced strawberries in water and milk; once cooked, stir in fresh strawberries or a little strawberry jam and a little cream or coconut cream.
Tropical mango & coconut – use diced fresh or frozen mango and coconut milk; serve with extra fruit and shredded coconut for a delicious tropical twist.
Cherry ripe – add cacao powder and tinned cherries to the cooking oats. Serve with shaved chocolate, extra cherries and shredded coconut or other nuts; a dollop of cream is also nice.
Apple & cinnamon – add some diced apple, cinnamon and brown sugar to the cooking porridge. Serve with extra crisp apple or with a dollop of butter and extra brown sugar on top.
Pumpkin pie spice – add pumpkin puree and pumpkin pie spice to the cooking porridge. Serve with bananas, pumpkin seeds and maple syrup on top.
Print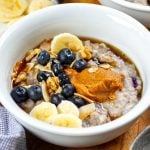 Instant Pot Blueberry Oatmeal With Maple Peanut Butter
Author:

Prep Time:

5 minutes

Cook Time:

25 minutes

Total Time:

30 minutes

Yield:

2

-3

1

x

Category:

Breakfast

Method:

Instant Pot

Cuisine:

British

Diet:

Vegetarian
---
Description
For a healthy and nutritious breakfast that's also fuss-free, try this Instant Pot blueberry oatmeal porridge with delicious peanut butter and maple syrup topping. Made with rolled oats (Old Fashioned oats), it is egetarian and vegan-friendly, very satiating and kids-approved. You can use gluten-free oats.
---
1 cup rolled oats (Old Fashioned dry oats, like these)

1.5 cup milk of choice (we used almond milk)

1.5 cup water

1/2 tablespoon butter (salted or unsalted, or dairy-free version or coconut oil for vegan)

1 tablespoon maple syrup

1 teaspoon vanilla extract (optional)

1/3 cup blueberries (fresh or frozen)

A pinch of salt

Toppings
2 tablespoons peanut butter

2 tablespoons maple syrup

1/2 cup blueberries

Toasted coconut flakes, nuts, small banana sliced

Extra maple syrup if you like

We used 6-quart Instant Pot, trivet (comes with your IP) and an oven-proof ceramic dish like this
---
Instructions
Combine rolled oats with milk, water, butter or coconut oil, maple syrup, vanilla (if using) and blueberries in an oven-proof round dish (ceramic, metal or glass). Make sure the total amount fills half of the dish as the oatmeal will expand and bubble while cooking, so you don't want it to overflow. 

Add 1.5 cups of water to the insert of the Instant Pot and place the trivet inside with the handles pointing up (see pic above). Carefully, place the oatmeal dish on top of the trivet. 

Close the lid and set the top valve to the Sealing position. Press Manual/Pressure Cook and set for 8 minutes at HIGH pressure. The times are different for the pot-in-pot method because cooking inside the dish won't begin until the Instant Pot has come to pressure. Whereas if you're cooking directly inside the Instant Pot, cooking starts even during the pressure build-up. The build-up of the pressure will take about 5-7 minutes. 

Once the timer has stopped, allow the pressure to release naturally. Open the lid and carefully remove the trivet with the oatmeal dish. 

In the meantime, combine peanut butter and maple syrup and stir until combined. It will thicken slightly. You can heat it in a microwave or in a small pot on a stove to turn it into thinner consistency for drizzling or use it as is; it will melt into the hot oatmeal porridge anyway.

Stir the oatmeal porridge and have a quick taste. You can stir in a little more butter or milk. Divide between two bowls, top with maple peanut butter, extra blueberries, sliced banana and toasted nuts or coconut flakes. Drizzle with a little extra maple for extra sweetness or serve as is. 
---
Notes
Our oven-proof casserole dish would easily fit an extra serving of ingredients but I wouldn't cook more than 3 servings in that size dish so it doesn't overflow. 
Nutrition
Serving Size:

1 cup cooked oatmeal + Handful of blueberries + teaspoons peanut butter + 1/3 banana sliced

Calories:

505

Sugar:

36.8 g

Sodium:

638.7 mg

Fat:

16.7 g

Saturated Fat:

7.7 g

Carbohydrates:

76.6 g

Fiber:

8 g

Protein:

10.5 g

Cholesterol:

7.6 mg
---
---