What's better on a cool crisp day than to have a warm bowl of chowder? Today we are sharing a collection of different types of Instant Pot chowder recipes. From the classic New England clam chowder to ones with a unique twist like potato and sweet pickle and even some with dietary considerations, you will love these ideas. Just don't forget the oyster crackers; otherwise, it just won't be a true chowder.
---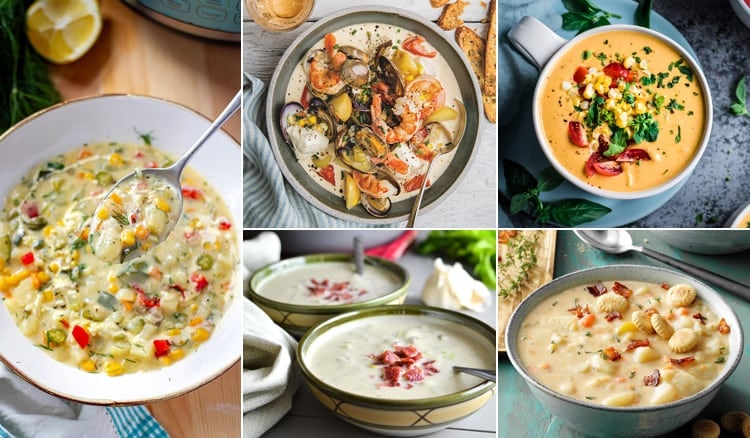 Can you imagine a cool New England day looking out on the harbor with a hot cup of chowder? The air is crisp and you can smell the saltwater in the breeze. Something warm and filling is perfect to get you ready for a day of hard work.
What is chowder?
Chowder is basically a thick hearty soup. In the past, it was considered to be "poor man's food," as anything they had was stewed in a cauldron. There's nothing poor about chowders of today and there are many types to choose from.
The standard New England-style chowder contains fish or shellfish, salt pork, onions, potatoes, and milk. Manhattan-style chowder replaces the milk with tomatoes. In the Southern and Midwestern States, fresh sweet corn replaces the clams and in Key West, Florida they use conch. Chowders have become more varied over time using different meats and adding wine, spices, herbs, cider, and other flavorings. They have evolved using pumpkin, sweet potato, chicken, and even beans. It really has adapted to the imaginations of home chefs.
---
---
MUST-TRY INSTANT POT CHOWDER RECIPES
Today we are sharing a collection of different types of chowders you can create in your Instant Pot. From the classic to ones with a unique twist and even some with dietary considerations. Don't forget the oyster crackers, otherwise, it just won't be a true chowder.
Classic Creamy Corn Chowder
This easy dinner recipe is full of your favorite savory flavors; crispy bacon bits and juicy corn kernels give this creamy chowder some texture and keep it nice and filling. It's a quick, easy, and hearty dinner idea. Recipe from Easy Week Night Recipes.
Creamy Clam Chowder
Clam chowder is especially tasty when it's served with a sprinkle of fresh thyme, bacon crumbles, and crispy oyster crackers on top. If you like your chowder on the thick side, add another tablespoon of flour after it is done in the pressure cooker. Recipe from Taste of Home Test Kitchen.
21 Day Fix New England Clam Chowder
This 21 Day Fix New England Clam Chowder uses cauliflower's superpowers to make it taste rich and creamy without all of the fat and calories of heavy cream. Recipe from The Foodie And The Fix.
Pressure Cooker Low Carb Manhattan Clam Chowder Soup
A delicious Keto and Weight Watchers Friendly, Gluten-Free, Low-Calorie restaurant-quality soup. This dish is super healthy and super delicious using turnips and radishes to replace potatoes that are traditionally used. Recipe from This Oldgal.
Instant Pot Turkey Corn Chowder
Soup in the winter is perfect comfort food. And what is better for that time of year than a soup recipe using leftover turkey. Coconut milk is used in this recipe to make the stew creamy, which makes the meal Paleo-friendly. Recipe from Upstate Ramblings.
BUFFALO CHICKEN CHOWDER
This simple Buffalo Chicken Chowder is a set it and forget it meal the whole family will love! Packed with veggies, protein, and flavor, this easy soup is bound to be a new favorite for busy weeknights! Dairy-free, Paleo, and Whole30 compliant. Recipe from Wholesomelicious.
Potato & Sweet Pickle Chowder (Vegetarian)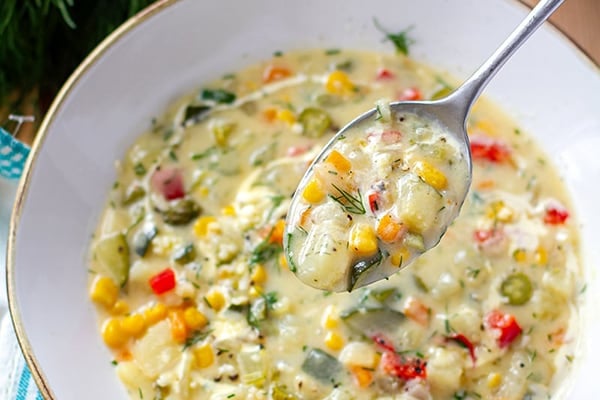 This chunky, creamy Instant Pot chowder is loaded with vegetables, including potatoes and sweet corn, and is thickened with cheese, cream, and gluten-free starch slurry made with tapioca flour. We got inspired by a dill pickle soup and added a twist of finely diced gherkins and fresh dill right at the end. They add freshness and little bursts of flavor taking this classic soup to the next level. Recipe from Instant Pot Eats.
Vegan Instant Pot Corn Chowder
It's incredibly creamy, luxurious, and packed with Southwestern flavor. Featuring fresh corn and jalapeños, along with potatoes and cashews for a corn chowder that's as creamy as a bisque! Recipe from Rainbow Plant Life.
HEALTHY Green Chile Chicken Chowder
This Instant Pot Green Chile Chicken Chowder is so creamy but still light, and it's Whole30, keto/low-carb, GAPS, paleo, gut-healthy, and FULL of fiber-rich veggies. Get this hearty and nourishing Instant Pot Green Chile Chicken Chowder on the table in under 30 minutes! Recipe from All The Nourishing Things.
INSTANT POT CAULIFLOWER BACON CHOWDER
Instant Pot Cauliflower Bacon Chowder is low-carb, rich, and creamy with great flavor. This is a great soup for a starter, or serve with some crusty bread as a main dish. Recipe from Simply Happy Foodie.
CREAMY CHICKEN CORN CHOWDER (Dairy-free)
This delicious Creamy Chicken Corn Chowder is the ultimate allergy-friendly comfort food! It can be cooked in both the Instant Pot and the slow cooker/CrockPot, plus it's dairy-free and gluten-free. Recipe from The Fit Cookie.
Smoky Seafood Chowder
This is the ultimate seafood lover's meal. Pair it with a glass of rosé or a pint of beer. If you'd like to leave out the bacon, cook the onion and celery in 2 tablespoons of canola oil instead—keep in mind that the overall flavor will be slightly less smoky and rich but still wonderfully delicious. Recipe from Recipes Instant Pot.
SHRIMP AND BACON CORN CHOWDER
Rich and creamy shrimp and bacon corn chowder with fresh veggies and flavors so bold and tasty you'll want to eat this soup all year round. Recipe from Le Creme Dela Crumb.
Instant Pot Creamy Shrimp Soup
Creamy and savory, this creamy potato shrimp soup is the ultimate comfort food on a cold night! Loaded with healthy veggies such as celery, carrot, onion, and garlic. It is delicious with a big chunk of country bread. Recipe from Eat Well 101.
CREAMY INSTANT POT CHIPOTLE SHRIMP SOUP
Creamy Instant Pot Chipotle Shrimp Soup is loaded with potatoes, corn, bacon, and shrimp finished with cream and gets a spicy kick from Chipotle chilies. The Chipotle adds that spicy touch and is counter-balanced by the cream. To make the soup more of a chowder, mash some of the potatoes to thicken the soup. Recipe from Paint The Kitchen Red.
Alaskan Salmon Chowder
Cooked with fresh Salmon & lots of nutrient-rich vegetables like celery, leek, onion, carrots & potatoes in a cream-based sauce, tastes so good with crusty sourdough bread. Recipe from Foodies Terminal.
---
SAVE Instant Pot Chowder Recipes TO PINTEREST