Summer is the time for fresh fruit and berries. Keep the heat out of the kitchen by making one of these delicious fruits or berries Instant Pot cobbler recipes! This round-up has cherries, peaches, apples, and more. Don't forget the vanilla ice cream for this season's go-to dessert.
---
Do you know what's great about summer eating? Summer is the time for outdoor backyard picnics. And fresh fruit and berries! Can you imagine a BBQ without a fruit pie? But pies are so laborious when you make it from scratch and heat up the kitchen. And who loves store-bought versions? Pass! That doesn't mean you can't have a sweet treat. Make a fruit cobbler in your Instant Pot! It's great with some ice cream for a balmy dessert.
WHAT IS A COBBLER?
A cobbler is a deep-dish fruit pie dessert with a rich biscuit crust baked on top of the fruit. The biscuits are usually dropped onto the fruit in small rounds, giving it the appearance of a cobbled road. The bottom part of the topping sinks into the fruit and sops up its flavorful juices, acquiring a dumpling-like texture while also leaving a hot, sticky syrup.
COBBLER VS CRISP VS CRUMBLE
Cobblers, crumbles, and crisps are all baked desserts of fruit topped with some kind of pastry. There is a lot of regional variation in how these desserts are named.
Crisp is an American version that features a crumbly topping of butter, sugar, and flour that is rubbed together with oats, nuts or cookie crumbs then sprinkled over a fruit filling before baking. It is baked just until the topping is crisp and golden with a granular crisp texture.
Crumble is the English version of crisp with a streusel topping mixture of butter, flour, and brown sugar. The topping is generally more clumpy than a crisp topping, but not as clumpy as a cobbler topping, appearing to be more dense and cakey.
COMMON INGREDIENTS IN COBBLERS
Dry ingredients: Flour, salt, and baking powder
Wet ingredients: Eggs, oil, milk, and butter
Sweeteners: Sugar
Spices: Cinnamon, nutmeg
Berries & Fruit: fresh, frozen, or canned
Flavorings: Orange juice, lemon juice, vanilla extract
---
INSTANT POT COBBLER RECIPES USING FRUIT & BERRIES
We've selected some of the dreamiest looking cobblers made in the Instant Pot. From berries and cherries to stone fruit, we hope you enjoy these pressure cooked desserts.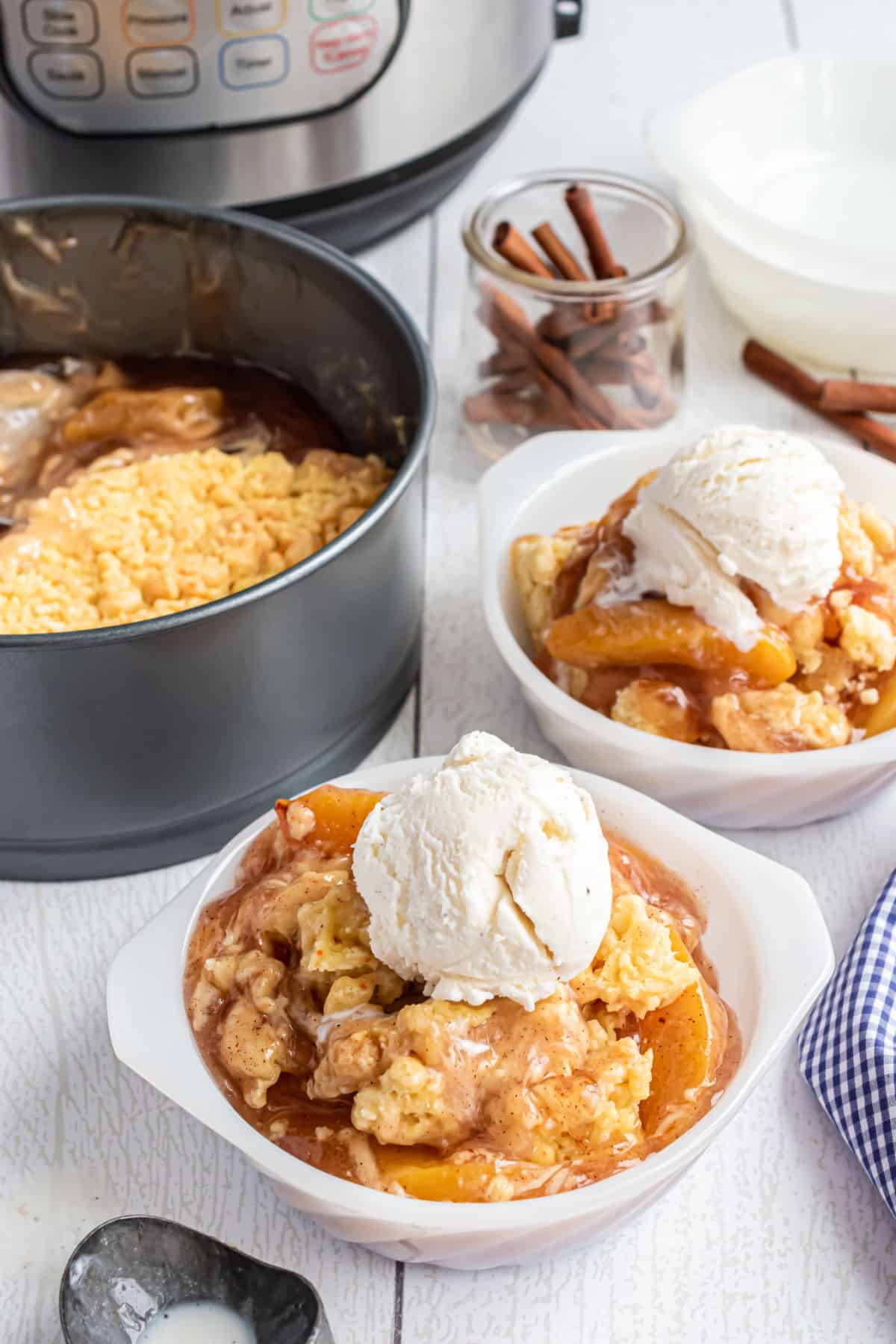 Love Peaches? This Homemade Peach Cobbler comes together in no time when you use the Instant Pot! With only four ingredients, this is the perfect easy dessert for any occasion. Don't forget the vanilla ice cream. Recipe from Shugary Sweets.
If you visit the restaurant at Disney's Aulani Resort in Hawaii you might be treated to the chef's special, a pineapple cobbler dessert. Hawaii is famous for pineapple so it makes sense to use it as the base of a fruit cobbler dessert. This version is adapted to the Instant Pot with air fryer lid. Recipe from 365 Days of Slow + Pressure Cooking.
If you love cobblers for that golden crispy crust then here are foolproof step-by-step instructions plus tips for cooking a peach cobbler in an electric pressure cooker with a CrispLid. Recipe from The Wimpy Vegetarian.
This Instant Pot Cherry Cobbler is made with yellow cake mix, cherry filling, and a dash of amaretto to kick it up a notch for a more grown-up flavor. Recipe from The Country Cook.
This cobbler is a 3 ingredient dessert that is perfect to throw together for a last-minute dessert. Or bring supplies with you for an Instant Pot camping dessert. Recipe from Bake Me Some Sugar.
Filled with tender, orange-infused berries packed on top of a spiced crust. So easy to make, and heavenly with whip cream! Recipe from Sweet and Savory Meals.
This is an amazing berry crisp dessert that comes together in minutes. It's simple to make and you can use fresh or frozen berries to make this simple and delicious dessert. This instant pot version is ridiculously easy to adapt to keto and can be gluten-free. Recipe from My Dainty Soul Curry.
This one of the best summer dishes to bake with seasonal fresh Strawberries. Enjoy with some Vanilla Ice cream. Recipe from Happie Trio.
When you are in the mood for some deliciousness this vegan, gluten-free and dairy-free dessert is for you. You can toss all the ingredients into your bowl, and set it and forget it. You will have a creamy, fruity French Apple Cobbler in less than one hour. Recipes from Green Scheme.
Homemade apple cobbler that's brought to a whole new level with the addition of drizzly caramel and a scoop of vanilla ice cream. A quick and easy dessert. Recipe from 365 Days Of Crockpot.
---
---
SAVE These Instant Pot Cobbler Recipes TO PINTEREST