Enjoy warmer weather and sunshine with these delicious and fresh summer Instant Pot recipes and avoid heating up your kitchen. We've got tacos, zesty risottos, summery soups and fruity desserts.
---
Using Instant Pot In Summer
Using an Instant Pot in the summer is a fantastic way to save time in the kitchen while still enjoying delicious meals. Plus, you don't have to heat up your kitchen with oven or stove. Contain that heat in your pressure cooker: less heat, less energy, and less work for you so you can enjoy the beautiful sunny outdoors.
Here are a few ideas for utilizing your Instant Pot during the summer months:
Quick and Easy One-Pot Meals: Prepare quick and easy one-pot meals using your Instant Pot. It's perfect for cooking proteins like chicken, pork, or beef, along with an assortment of fresh summer vegetables, rice, pasta or legumes. Simply add your ingredients, select the appropriate setting, and let the Instant Pot do the work while you relax or enjoy outdoor activities.
Fresh and Flavorful Soups: Although hot soups might not be the first thing that comes to mind in the summer, you can still enjoy lighter and refreshing soup options. Opt for soups that can be served chilled like tomato or borscht. These cool and vibrant soups are ideal for cooling down on a hot day.
Meal Prep Made Easy: The Instant Pot is a fantastic tool for meal prep, no matter the season. Use it to cook large batches of grains like quinoa or brown rice, which can be stored in the fridge and used throughout the week as a base for salads, stir-fries, or Buddha bowls. You can also batch-cook proteins, such as shredded chicken or pulled pork, to use in various dishes throughout the week.
Speedy Summer Side Dishes: Whip up quick and easy side dishes for your summer barbecues or picnics using the Instant Pot. Cook corn on the cob, steamed vegetables, or flavorful rice dishes in a fraction of the time it would take on the stovetop. This allows you to spend less time indoors and more time enjoying the outdoors with friends and family.
Summer Produce Pasta Dishes: Showcase seasonal produce like tomatoes, zucchini, asparagus, eggplant and peppers in pasta dishes or make simple fairs like ricotta fussili or pesto penne in no time.
Summer Desserts: Yes, you can even make desserts in your Instant Pot during the summer! Consider making fruity cobblers, cheesecakes, or even homemade yogurt. These treats can be enjoyed chilled for a refreshing and indulgent summer dessert.
Remember to make the most of seasonal ingredients during the summer to enhance the flavors of your Instant Pot creations. Don't be afraid to experiment with fresh herbs, citrus, and a variety of colorful fruits and vegetables.
---
GET OUR FREE SUMMER MEAL PREP IDEAS eBOOK
---
Summer Instant Pot Recipes: Mains
Check out our collection of the best summer Instant Pot recipes including main courses, sides and desserts.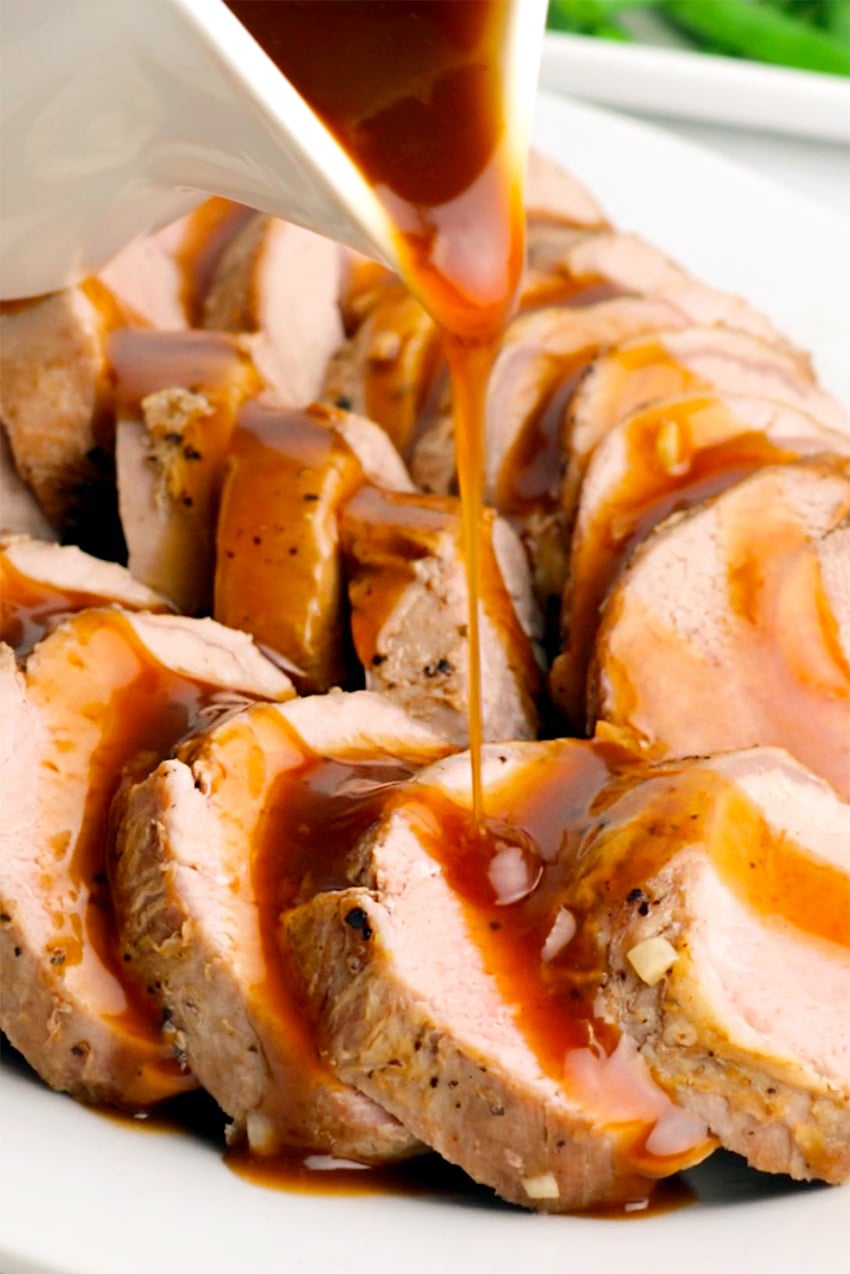 The tenderloin is cooked in umami-rich soy sauce and balsamic broth with garlic and a little honey. The sauce is reduced with extra honey and thickened with butter and cornstarch into a luxuriously glossy and caramelized glaze. Get the recipe on our blog.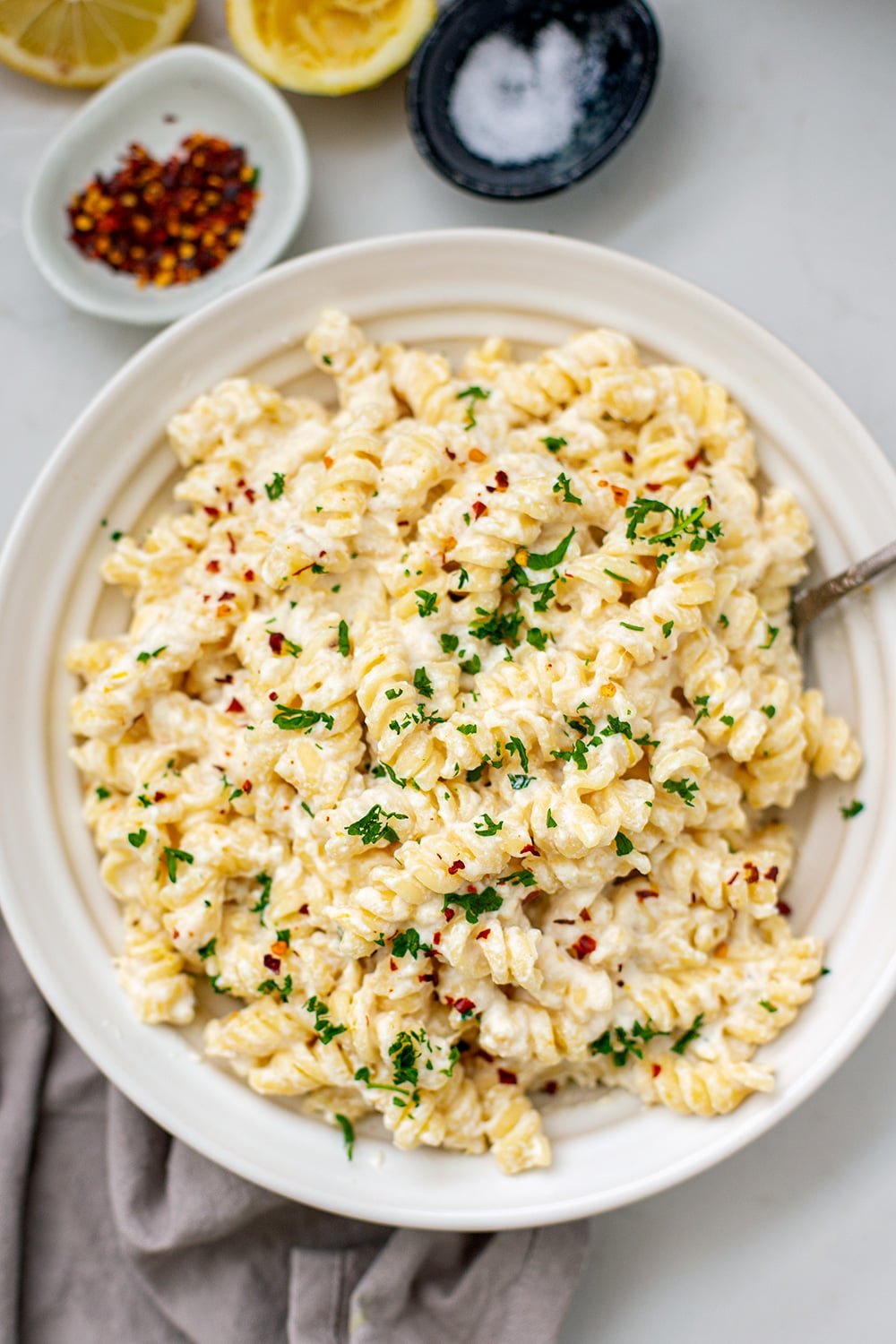 A one-pot dinner wonder that is creamy, cheesy, and zesty. This pasta dish is a great meatless weeknight dinner or weekend lunch. Get the recipe on our blog.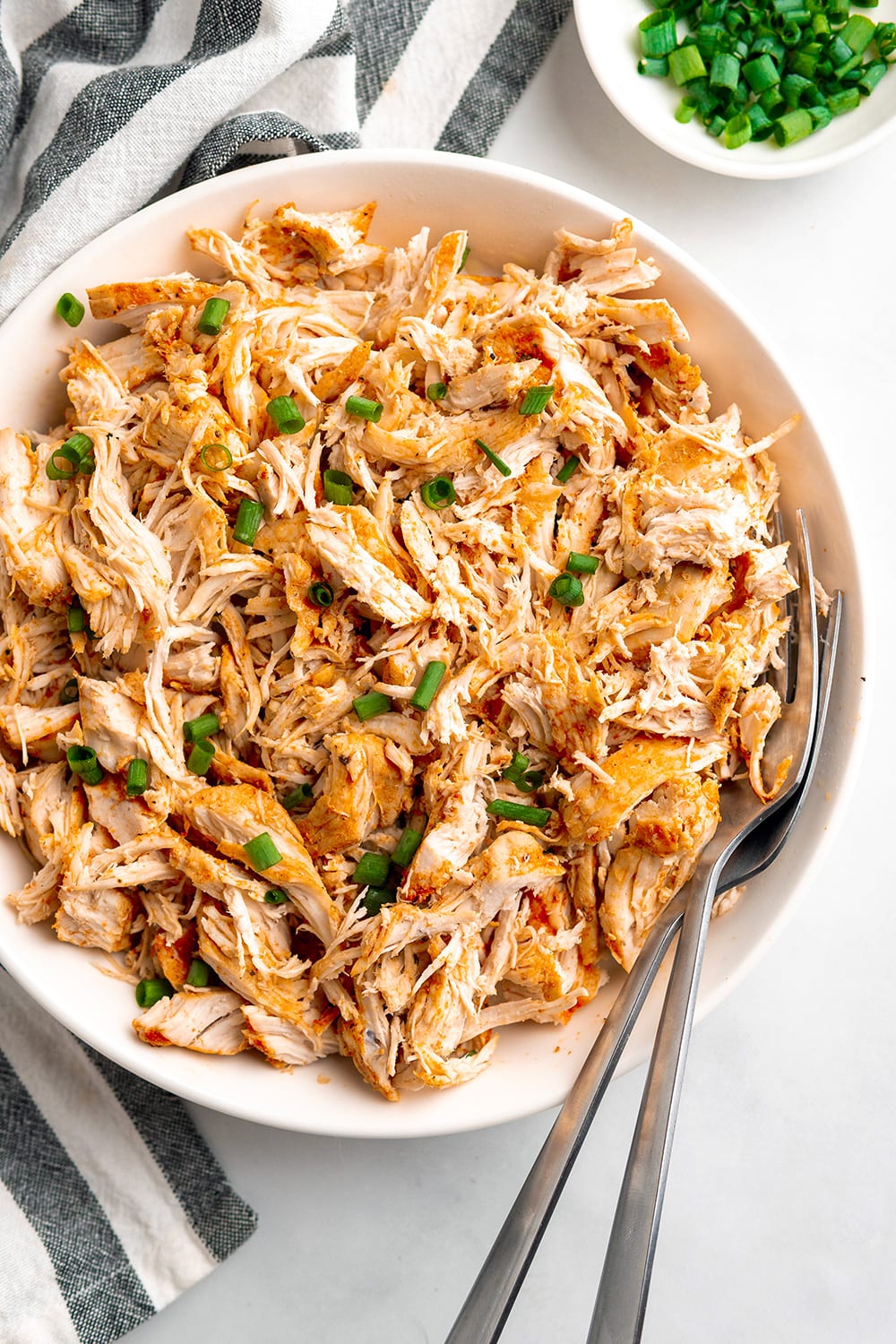 A versatile protein that can be used in multiple meals such as shredded chicken wraps, healthy salads or a delicious, easy ramen noodle soup. Great for meal prep and batch cooking ahead of time. Get the recipe on our blog.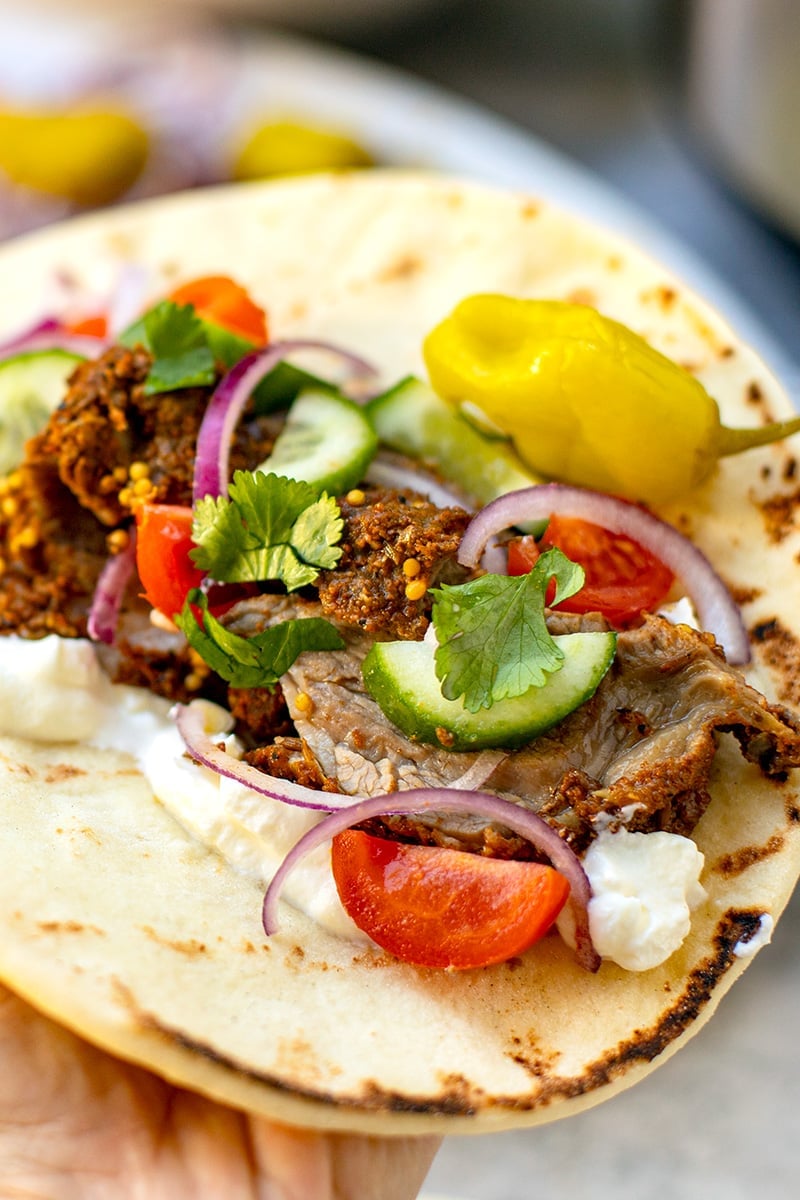 Filled with succulent, spiced lamb meat, cucumbers, tomatoes, red onion, pickled pepperoncini peppers, and garlic yogurt, these souvlaki wraps are perfect for lunch or dinner. Get the recipe on our blog.
A classic, veggie-packed pasta dish with lightly cooked vegetables finished in a lemony, cream sauce. Get the recipe on our blog.
Super nutritious Instant Pot tomato sauce recipe is perfect for using up summer produce. This multi-purpose Italian sauce can be used in many dishes such as pasta, meatballs, enchiladas and ragu and is great for batch cooking and make-ahead meal prep. This recipe is sugar-free, gluten-free, vegan, paleo and Whole30 friendly. Recipe from Instant Pot Eats.
A pressure cooker take on the classic Italian dish that combines spaghetti, shrimp, garlic, lemon, and butter. Get the recipe on our blog.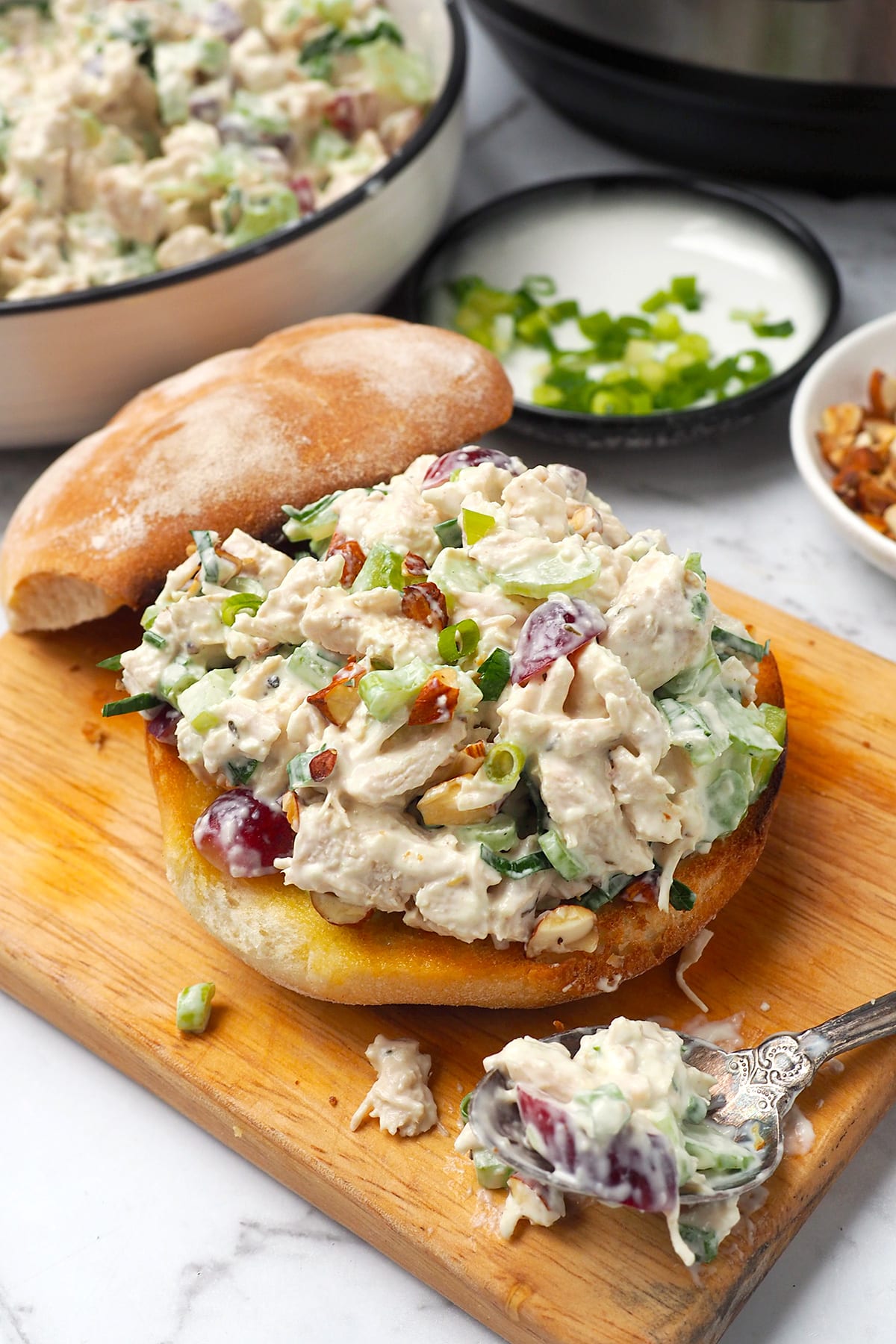 The tastiest classic, American-style salad. It's deliciously creamy, savory, and tangy with a hint of sweetness from the fruit. Get the recipe on our blog.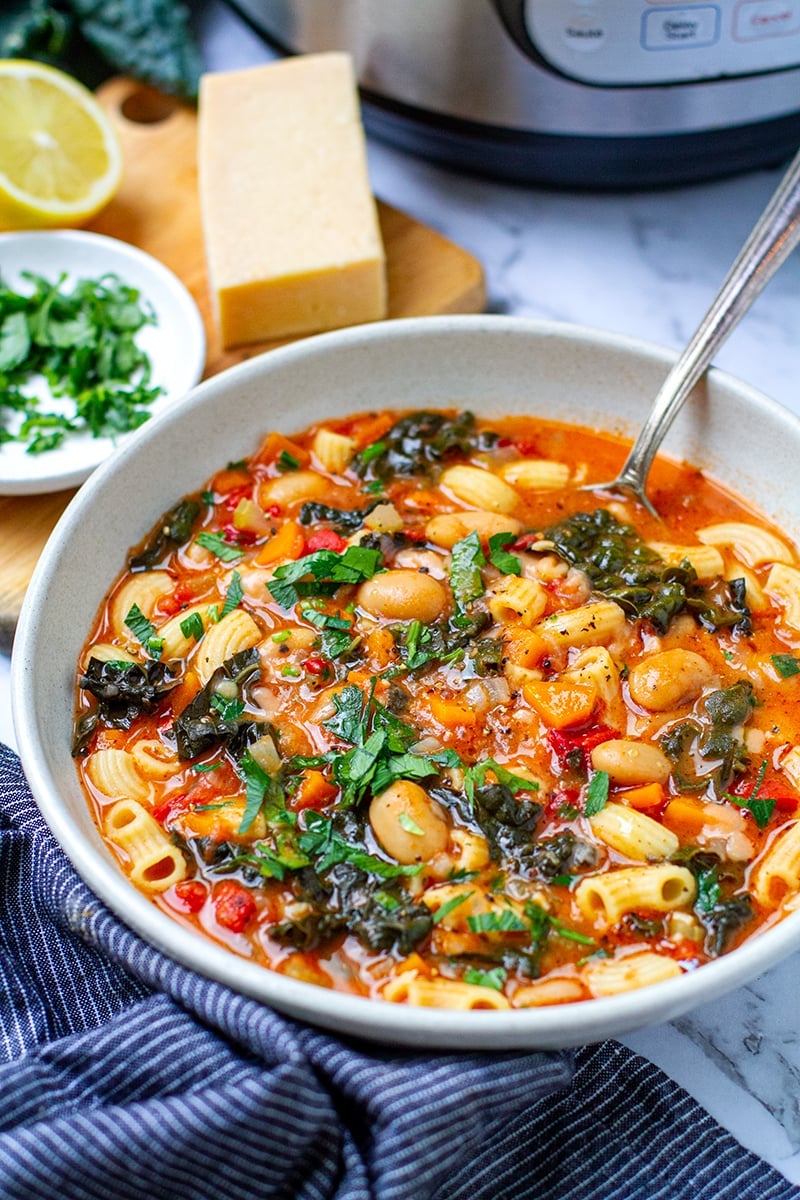 A heartwarming, thick soup, almost like a stew, that is perfect when you need a hit of comfort food. It's super simple, vegetarian, and vegan-friendly. Get the recipe on our blog.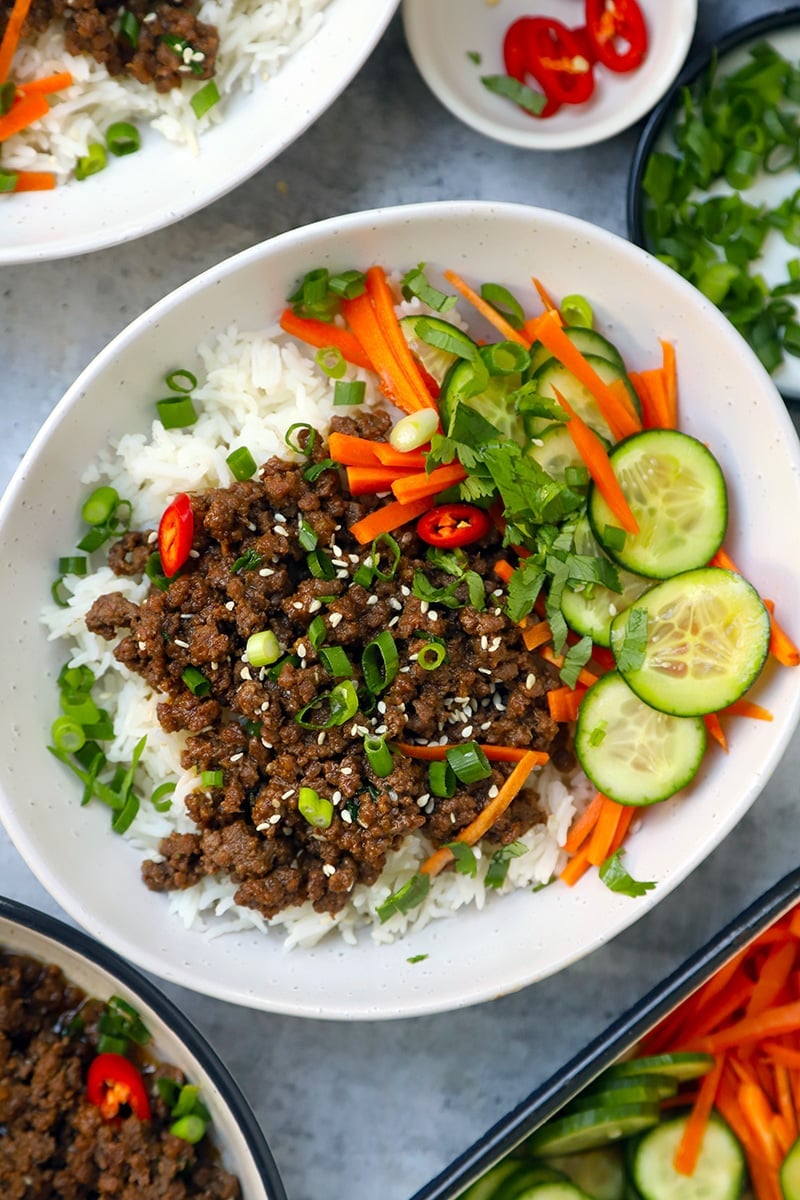 This is a more affordable bulgogi beef adaptation, in which the flavorful meat is served over cooked rice alongside quick-pickled vegetables for a refreshing, tangy touch. Get the recipe on our blog.
Just because it's summer doesn't mean you can't eat soup. It's so easy to make a batch to heat up later. The perfect blend of comforting and freshness for the season. Packed with all the fresh summer produce and super customizable to whatever you have on hand! Recipe from Pinch of Yum.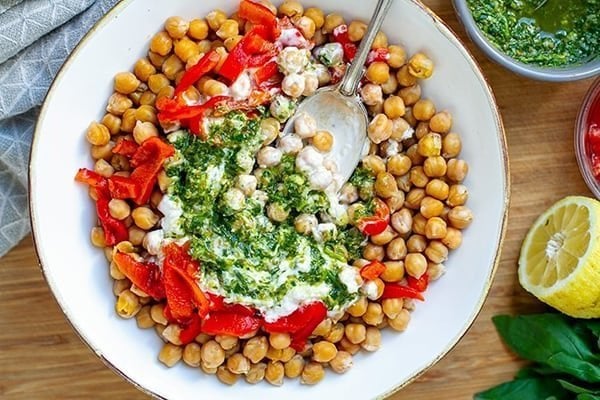 Yotam Ottolenghi inspired Instant Pot chickpeas with salsa verde, roasted red peppers and yoghurt. Whether you like them in salads, hummus, stews or soups, cooking chickpeas in Instant Pot is super convenient and affordable. This dish is gluten-free, vegetarian and vegan-friendly. Get this recipe from our blog.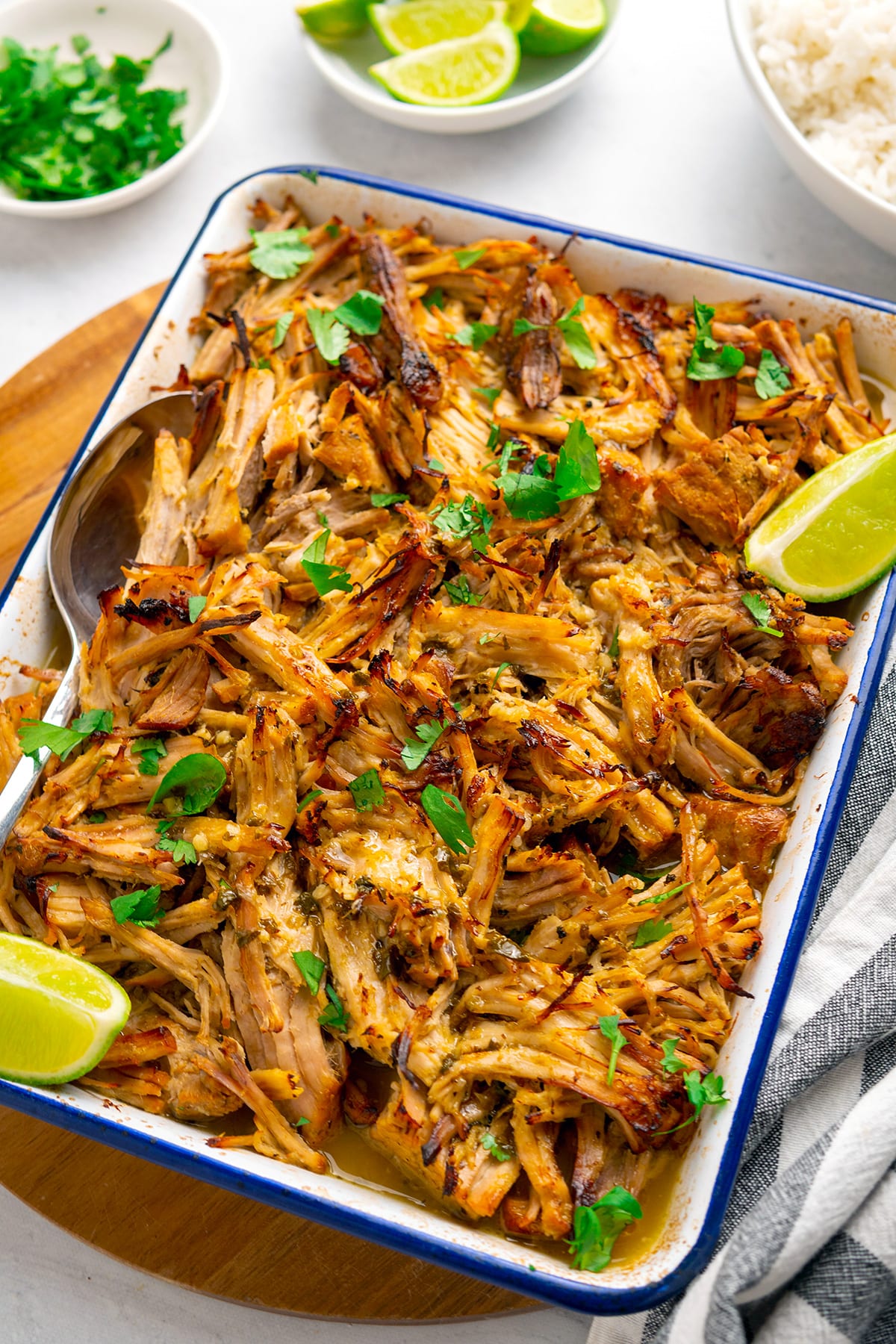 Mojo marinade infuses the meat with flavor and helps to tenderize it, resulting in a juicy and delicious final product. The dish is often served with rice and beans, but it's amazing in Cuban sandwiches. Get the recipe on our blog.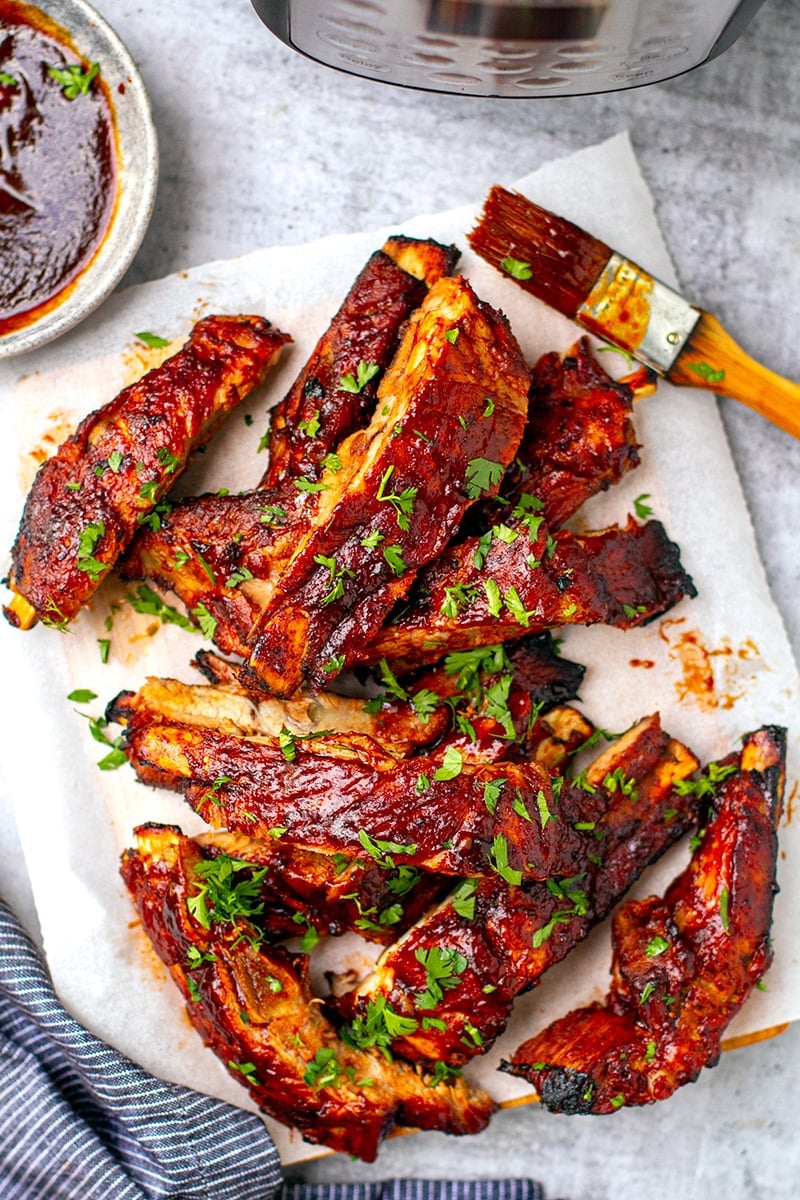 BBQ ribs using the classic Instant Pot or the Duo Crisp + Air Fryer model. Serve with your favorite sides for a finger-licking meal or as a game night potluck dish. Get the recipe on our blog.
These Instant Pot Mojo Chicken Tacos are deliciously inspired by the flavors of the Cuban Mojo. Tender, juicy, and bold-flavored chicken, wrapped in a warmed corn tortilla. These tacos are a taste of paradise any day of the week, not just on Taco Tuesdays! Recipe from Mommy's Home Cooking.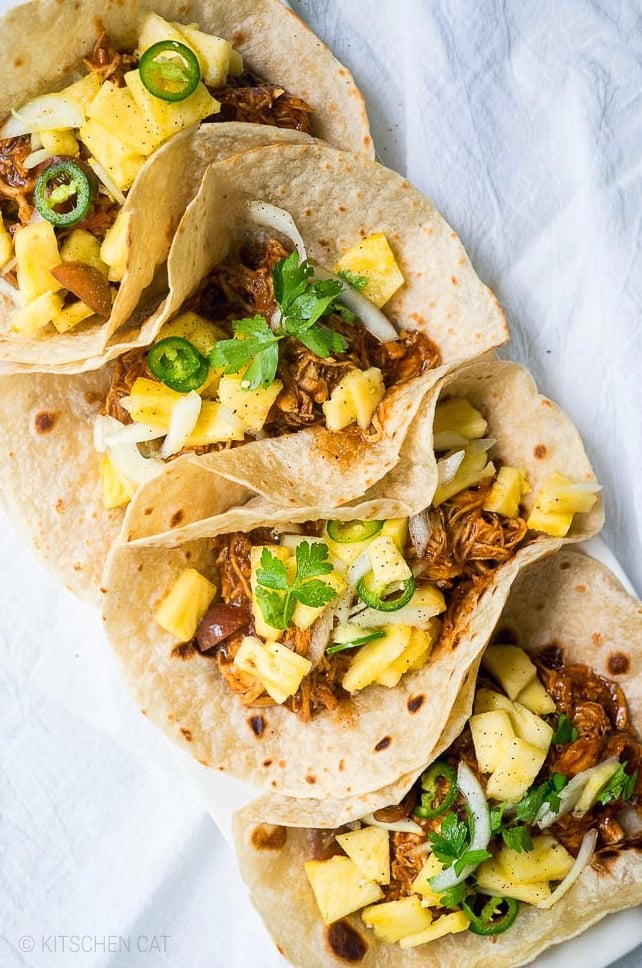 These Instant Pot BBQ chicken tacos are both healthy and delicious. Made with shredded, saucy meat and topped with zesty and sweet pineapple salsa for that unforgettable tropical twist. Find this recipe on our blog here.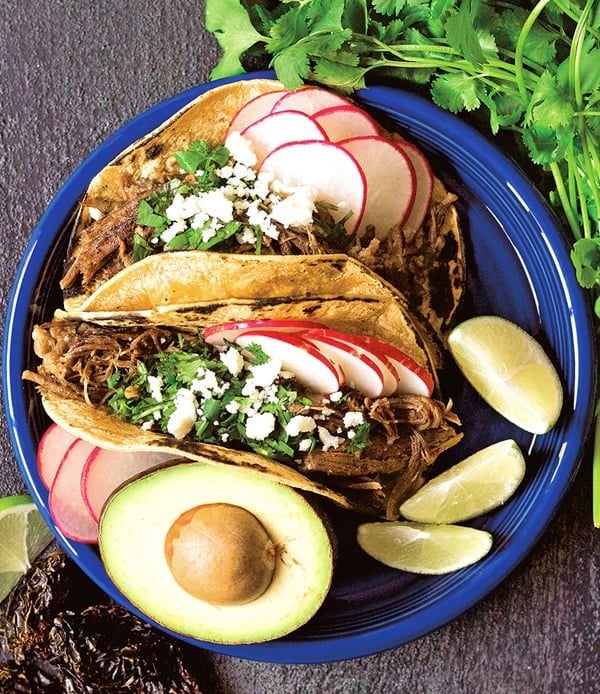 We love making shredded beef using our Instant Pot because they can be used in so many ways, from tacos, wraps and burgers to salads and casserole fillings. We were excited to try this recipe from Amazing Mexican Favorites with Your Instant Pot by Emily Sunwell-Vidaurri and Rudy Vidaurri because it has a lovely twist in a form of Mexican chorizo (which adds extra richness and flavour) and the unmistakably smoky chipotle chiles. Find the recipe on our blog here.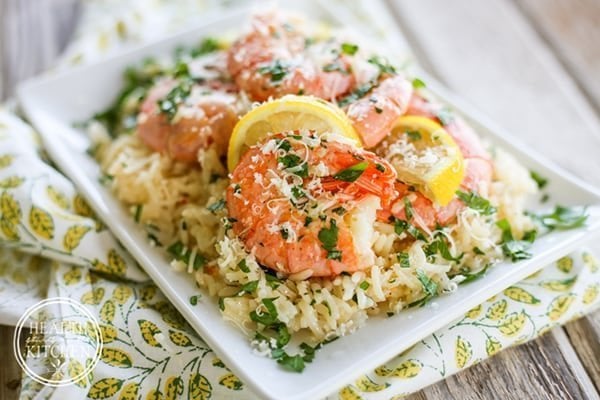 Who'd have ever thought that you can literally toss together a delicious meal using frozen shrimp and uncooked rice in just 5 minutes? This Pressure Cooker Shrimp Scampi Paella is the perfect example of how you can take a basic technique (like cooking rice) and layer in flavors to make a one-pot meal once you become comfortable with the fundamentals of pressure cooking. Recipe from Health Starts in the Kitchen.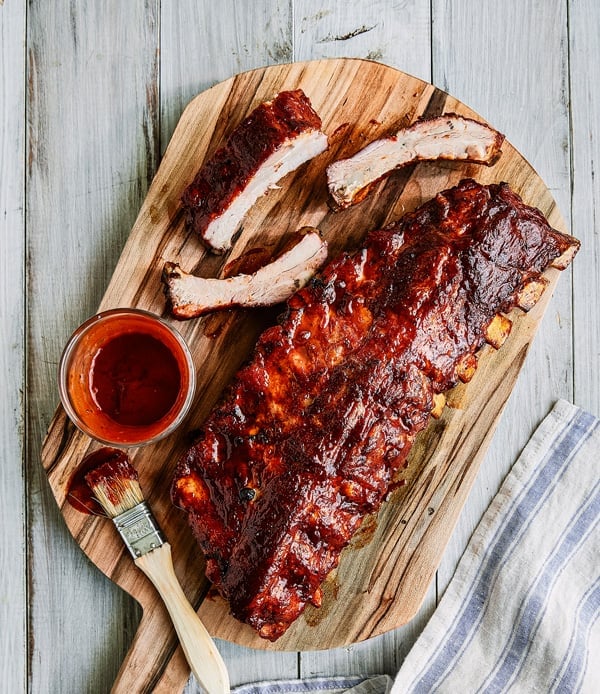 This delicious rack of smoky Instant Pot barbecue ribs is low-carb and keto-friendly. The pressure cooker method guarantees tender meat perfect for BBQ affairs and finishing up in the smoker, on the grill or in the oven with your favorite sauce. Get the recipe on our blog.
This better-than-P.F. Chang chile-flavored orange chicken lettuce wrap recipe is incredibly easy to make thanks to the Instant Pot pressure cooker that does double duty as a self-serve, low-carb appetizer or as a healthy main meal that's quick to make and even more fun to eat. Recipe from Foodie Crush.
Besides the nutrient-dense brown rice, this hearty salad features a lot of other healthy ingredients such as crunchy red cabbage, peppers, carrots, and herbs. The Asian peanut butter dressing is full of healthy fats and is a shining star of this dish. With perfectly balanced salty and sweet flavors, it coats the salad with the most gorgeous flavors. This recipe is vegan and gluten-free friendly. Get it on our blog here.
Risotto never looked so good or as colorful until now with great texture. Bacon, of course, doesn't hurt either for giving this dish a ton of flavor without having to try too hard. It's deliciously easy to make for a quick dish for a hungry family. Recipe from Cabot. Cheese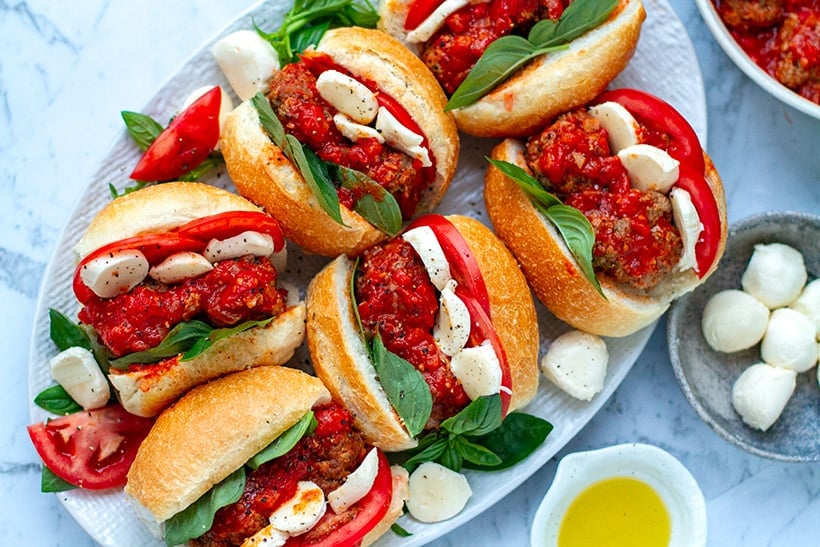 Juicy, tomato meatballs, squishy mozzarella, fresh tomato and aromatic basil are sandwiched together for a perfect bite in this Instant Pot recipe. These Caprese meatball sandwiches are great for a party, picnic, weekend family lunch or speedy dinner. Get the recipe on our blog.
---
Instant Pot Summer Salads & Sides
Loaded with three types of beans, ground beef, bacon, onions, and bell peppers, this tangy and sweet Southwestern classic is a perfect for gatherings, potlucks, and barbecue parties. Get the recipe on our blog.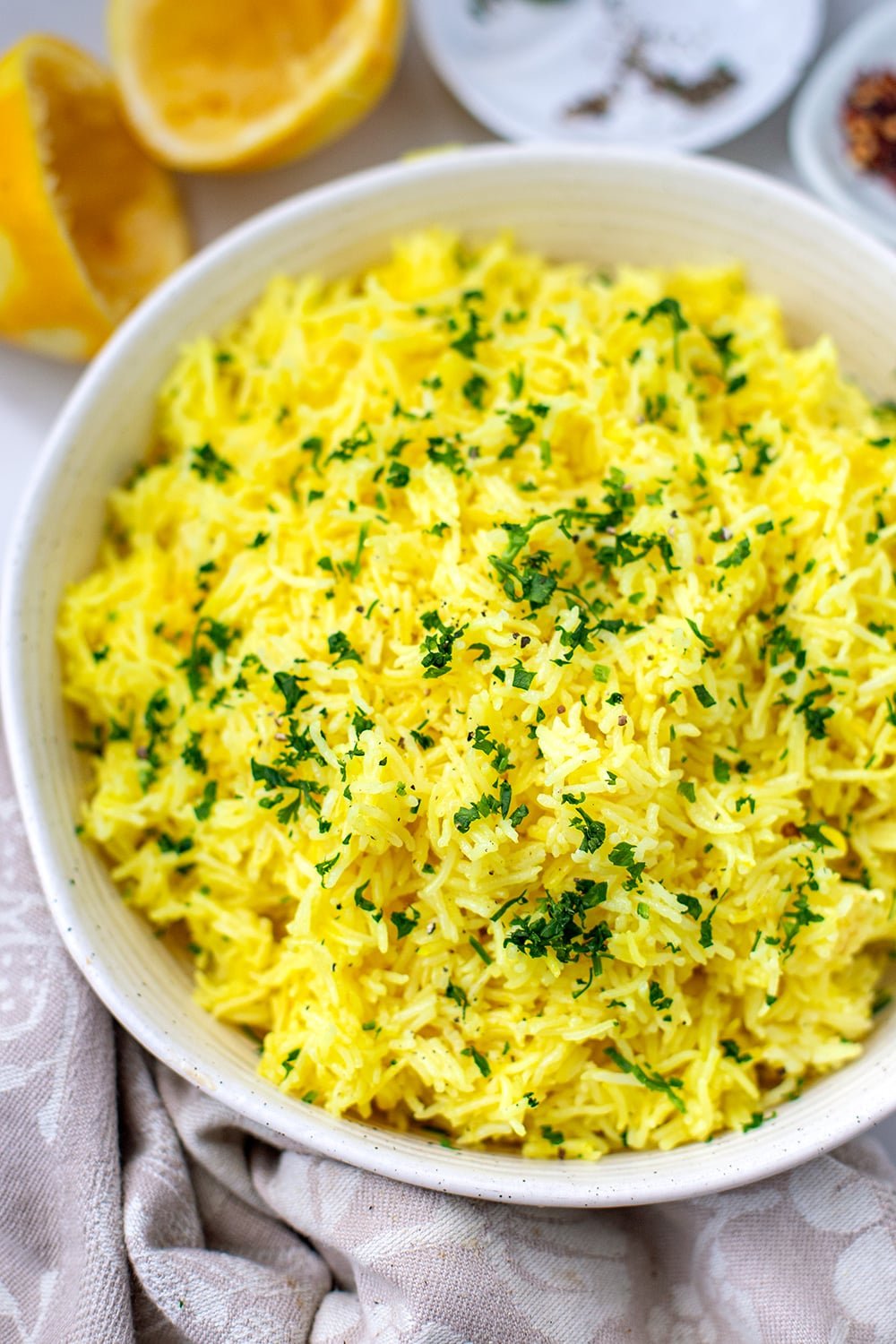 The flavor of the rice is subtly tangy with hints of citrus but it's not too sour or too lemony. Adding butter gives the rice a luxurious, fluffy texture and glossy shine and softens the lemon flavor. Get the recipe on our blog.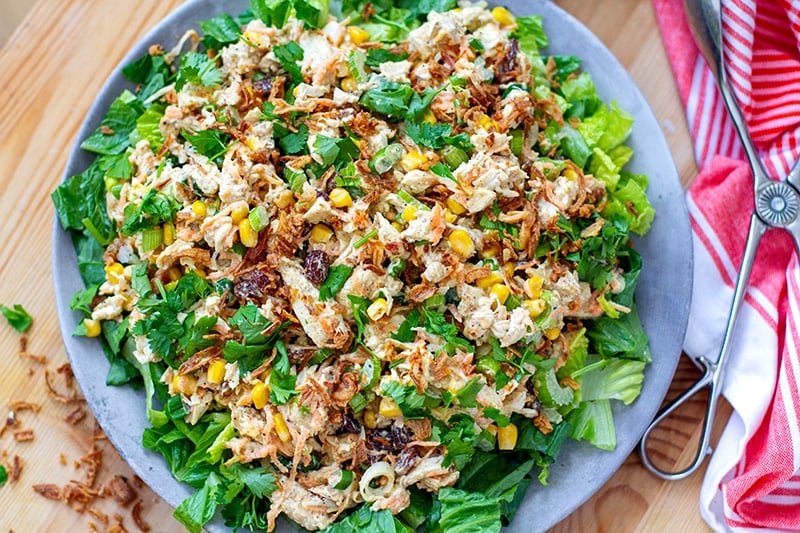 Great for summer potlucks and picnics, this Brazilian-inspired curry chicken salad with raisins, sweet corn and creamy dressing is super simple to make, especially with the help of your Instant Pot pressure cooker. Get the recipe on our blog here.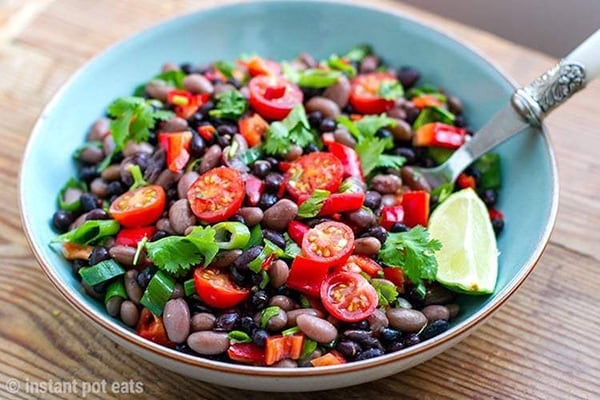 This Mexican bean salad is a great dish to use the Instant Pot for batch cooking the base ingredients, legumes and fresh veggies, required to make a satiating, healthy salad. It works as its own summer meal or you can bring it as a side dish to a picnic or a barbecue. It's vegan and gluten-free friendly. Recipe from Instant Pot Eats.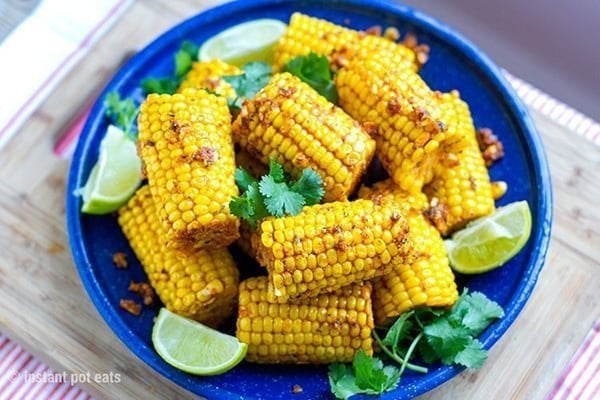 There is nothing like fresh corn on the cob, cooked just right, and smothered in butter and sea salt. Perfect for families and big groups, this Instant Pot corn on the cob recipe comes with a spectacular flavor twist. Smothered in Cajun butter and lime juice, sweet corn takes on a whole new meaning and will take your love for fresh corn to the next level. Get the recipe on our blog here.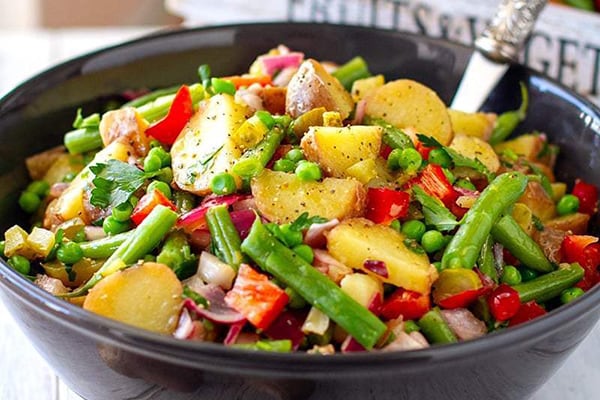 This is a fantastic salad to bring to a barbecue party, picnic in the park or to enjoy as a nutritious, balanced meal at home. Instant Pot cooked potatoes and green beans take very little time, just enough to dice up the other ingredients and to whisk up that delicious tangy vinaigrette. It's vegan, gluten-free and Whole30-friendly. Get this recipe here.
Perfect for hot summer evenings or when you simply don't have the energy or will to turn up the stove. The Instant Pot doesn't generate much heat in the air. This dish is light, healthy and only takes 10 minutes of your time. Plus, it gives that Sauté key function a new purpose! Recipe on our blog here.
This recipe will show you how to quickly hard boil a ton of eggs in your Instant Pot, then chop it all up. No peeling necessary! It's tossed with all the good stuff like crispy bacon, smoky paprika, a dab of mustard, and mayo. Make sure you check out this alternative way of making hard-boiled eggs! Recipe from Ruled Me
Hearty and filling, this easy Instant Pot side dish is sure to be a hit in your kitchen. It's definitely not boring or ordinary but will definitely jazz up the idea of salad for your summer. For a vegetarian option, omit the bacon, saute the Brussels sprouts in olive oil, and cook the farro in vegetable stock. Get it from My Recipes.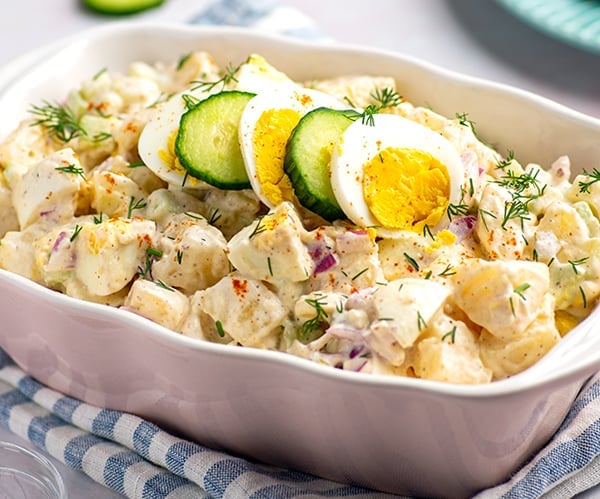 Making egg and potato salad in the Instant Pot is quick and easy and saves you from having to use a hot stove in the summer. You can prepare the creamy salad dressing and other ingredients while the potatoes and eggs are pressure cooking with the whole dish taking 20 minutes.  Recipe on the blog
This classic creamy macaroni salad with peas, ham and corn is perfect for any time of the year but especially in summer. In this recipe, we show you how to make the macaroni, peas and corn in the Instant Pot, speeding up the time and saving you from using the hot stove. Recipe on our blog.
Beets are an acquired taste, but those who love them are obsessed with them. This Instant Pot Beet Salad is dressed simply with a zesty lime-yoghurt, and a bit of a kick with some thin-sliced jalapenos and cilantro. It's a healthy salad that can be beautifully plated. Recipe from Platings and Pairings.
---
Snacks & Drinks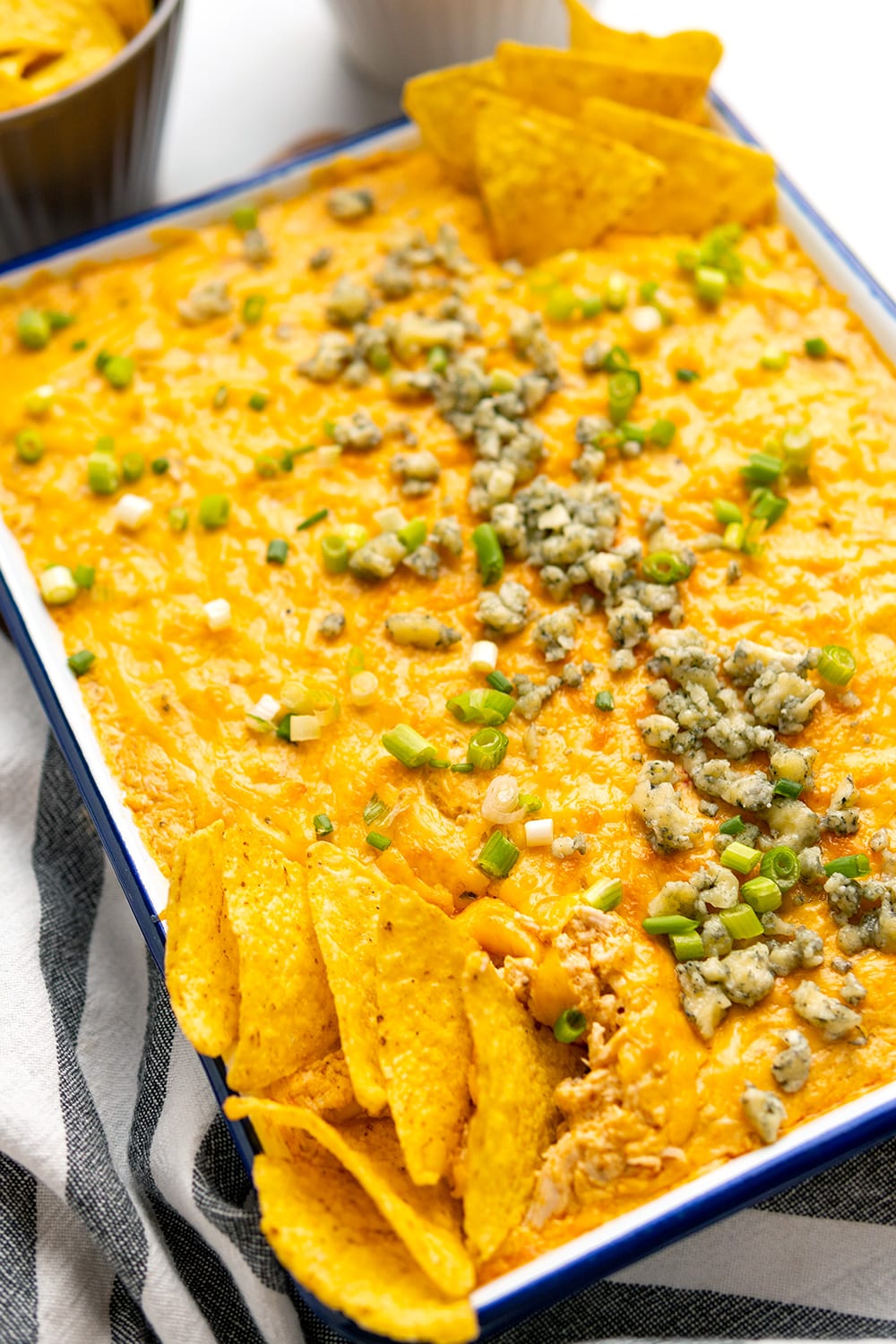 Creamy, cheesy dip with a signature hot sauce butter flavor. Easily cooked in the Instant Pot and then finished in the oven. Dip your favorite crackers while watching the next game or movie. Get the recipe on our blog.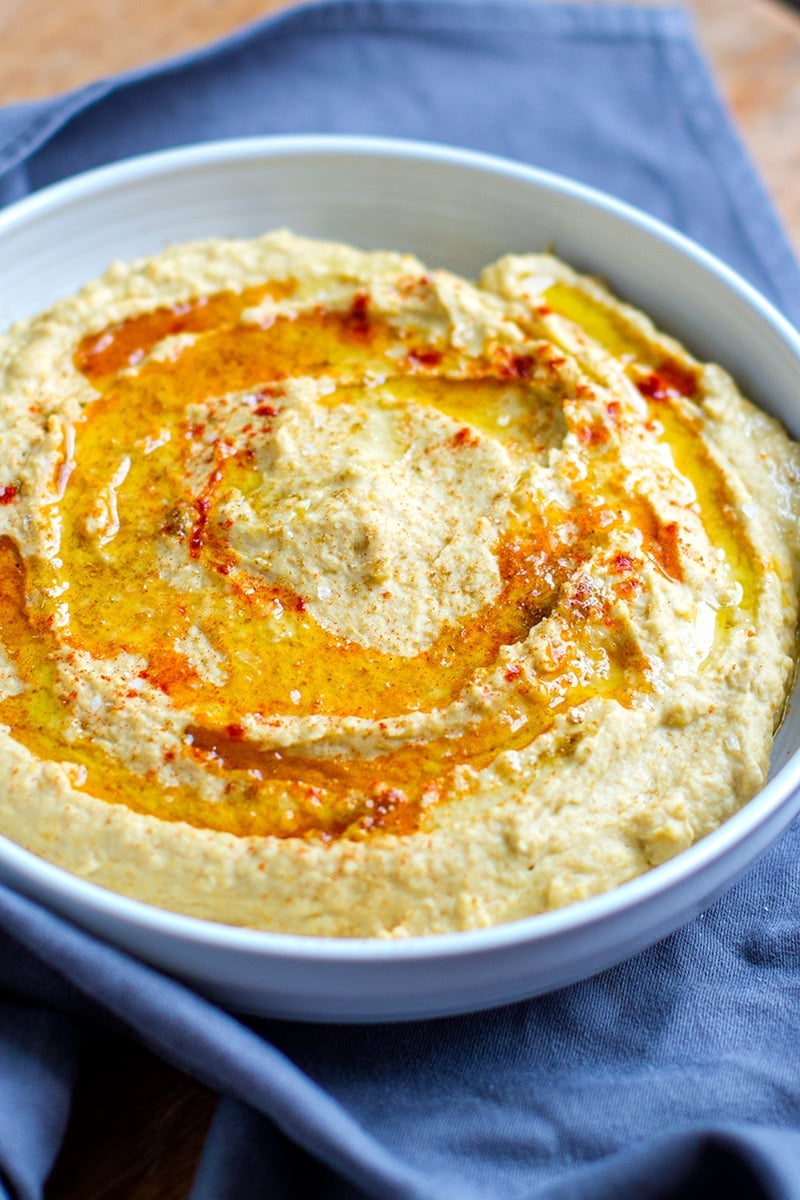 Yes, it's very easy to get a tub of pretty decent hummus from any supermarket, but there is something rather satisfying about making your own batch. The best thing about hummus is that it can be enjoyed by vegans and omnivores alike; it's great for snacking or packing in a lunchbox; and, it's high in protein and fiber. Recipe on our blog.
We all need that crowd-pleasing appetizer, the one that feeds an army but doesn't require too much work. Oh, and preferably one that doesn't require the oven. This is one of the easiest dips to make with the help of the Instant Pot. It takes care of all the work for you in just 3 minutes using frozen chopped spinach that doesn't require any kind of thawing. Recipe from Damn Delicious.
We love a good salsa and guacamole but to complete the trio you need a Black Bean Dip. Have you seen one this colorful or gorgeous? It's a fiesta in each bite. Instant Pot makes cooking dry beans so much faster and healthier. Recipe from Peas and Crayons.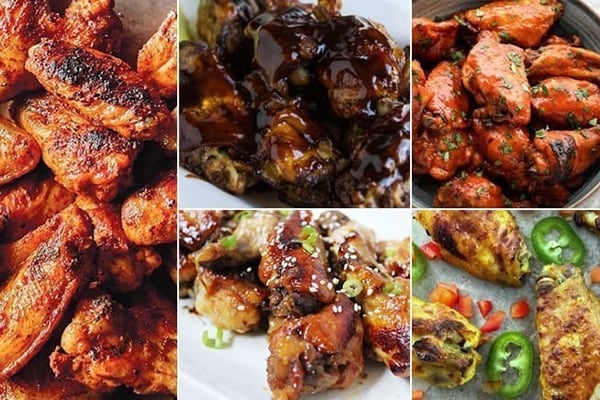 Break out the napkins! You're about to make a finger-licking mess. No matter what your craving, spice or sauce preference is, we've got an Instant Pot chicken wings recipe for you.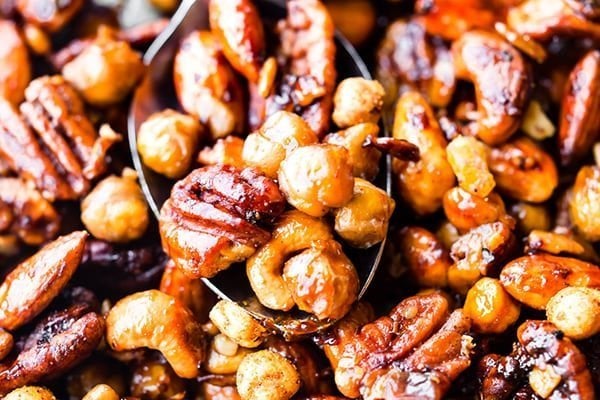 This candied cajun trail mix is the perfect quick and healthy snack and a total crowd-pleaser. Cajun Spices, maple syrup, nuts, seeds, and chickpeas all cooked together then mixed with dried mango for a sweet touch. It's vegan-friendly and naturally grain-free! Recipe from Cotter Crunch.
Inspired by a Ukrainian family recipe, often prepared for celebratory feasts and parties. Great as a dip or salad, and perfect for using up leftover eggs! It uses hard-boiled eggs, grated cheese such as Cheddar or Mozzarella, mayonnaise, and a little garlic. It's super simple but you will be surprised by how delicious it is. You can serve it on top of vegetable slices or sticks (as a dip), in lettuce cups (for a low-carb and keto version) or with your favorite crackers. Recipe on our blog.
Any sweet tea lovers out there? Sometimes when you make it traditionally on the stove and don't pay attention to the heat or cook time and the tea can end up with a bitter-tasting. The Instant Pot cooks at the perfect temperature and time and allows you to have a simplistic sweet tea each time. Recipe from Awe Filled Homemaker.
---
Using Up Fruit In The Instant Pot
Take advantage of all those seasonal berries and a few minutes of free time and make this Instant Pot Mixed Berry Jam. All of the lower sugar, organic, fancy jellies and jams are expensive so with berry season make your own to put on your PB&J sandwich. Recipe from Meg's Everyday Indulgence.
Instant Pot Stuffed Peaches are summer perfection. Juicy peaches stuffed with cinnamon cobbler goodness and topped with delectable ice cream. This easy treat tastes just like peach pie but only takes minutes to make in the Instant Pot®. Recipe from Recipes to Nourish.
Do you need a little variety in your life? Waking up to the same breakfast day after day can be convenient and reliable, but it can get a bit boring. This breakfast cobbler is a great way to use pressure cooking in a less obvious way, and it simultaneously brings a delicious variation to your morning meal! Recipe from Epicurious.
Clafoutis, pronounced KLA-foo-tea, is a French dessert which is traditionally made with un-pitted cherries. However, you can adapt this recipe to any kind of fruit of the season. If possible, keep it small, round and red – in keeping a little bit with tradition! Suitable substitutions for cherries are blackberries, raspberries, large blueberries whole small strawberries, seedless dark red grapes. Recipe from Hip Cooking.
Instant Pot Cinnamon Apples are a warm and gooey brown sugar and cinnamon delight that is a perfect eaten as is or used as a delicious apple cinnamon dessert topping on pound cake, pancakes or waffles, as a pie filling, or over a bowl of vanilla ice cream. Recipe from Flour On My Face.
---
Summery Cakes & Desserts With Instant Pot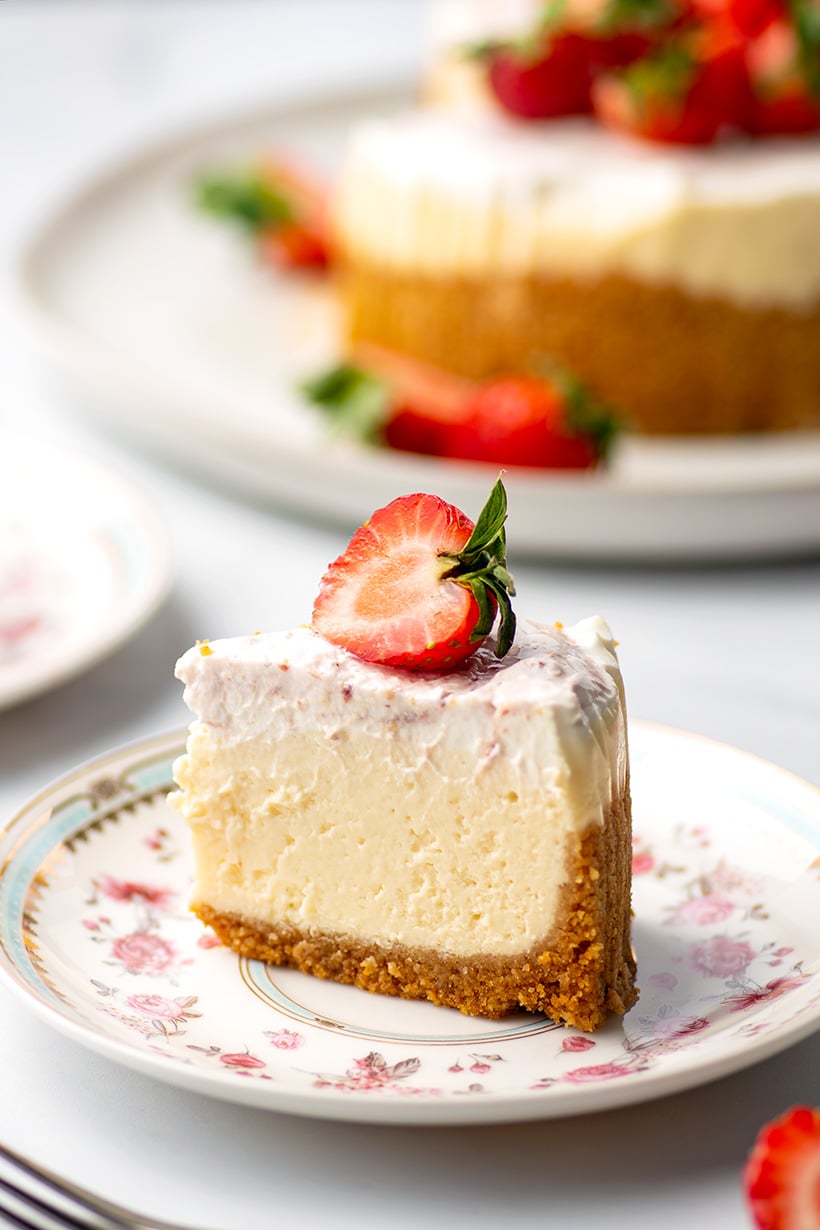 This is a simple cheesecake with vanilla cream cheese filling and strawberry jam whipped cream topping and is beginner-friendly for those of you new to pressure cooking or the kitchen in general. Get the recipe on our blog.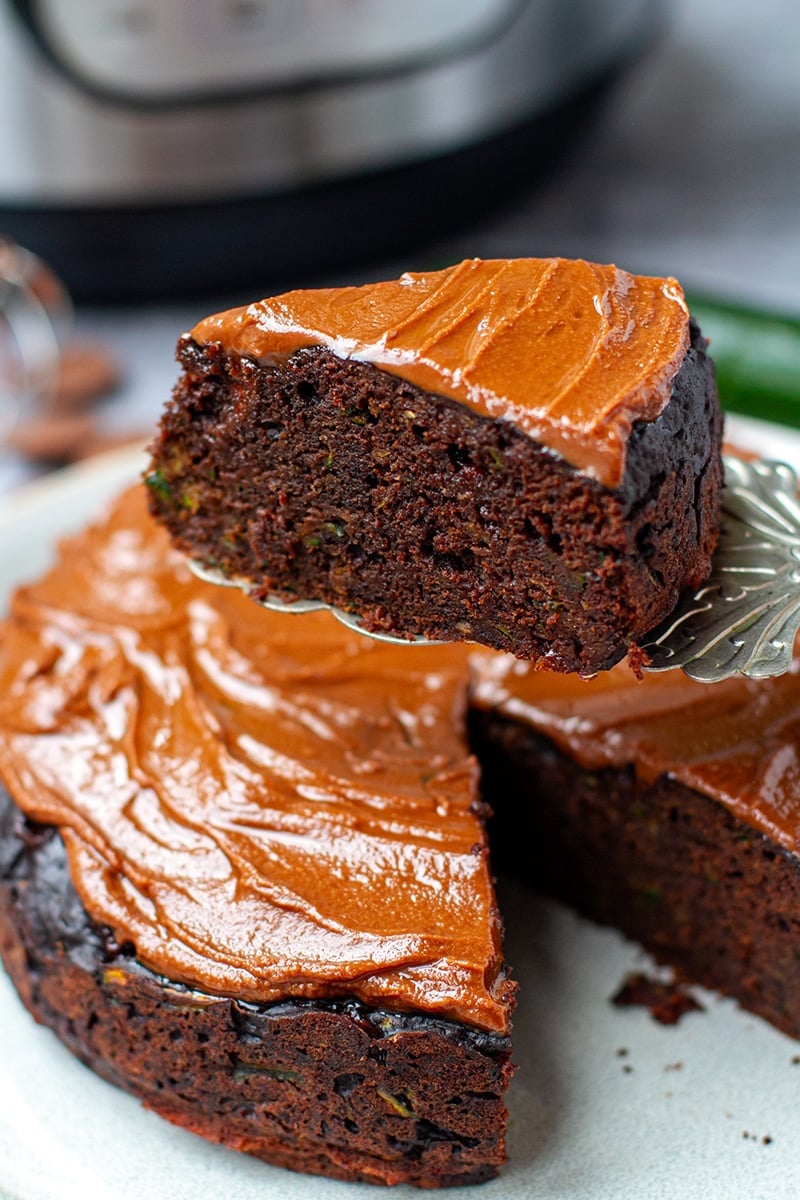 This chocolate zucchini cake is a great way to use up in-season summer squash or when you have some leftovers in the fridge. Get the recipe on our blog.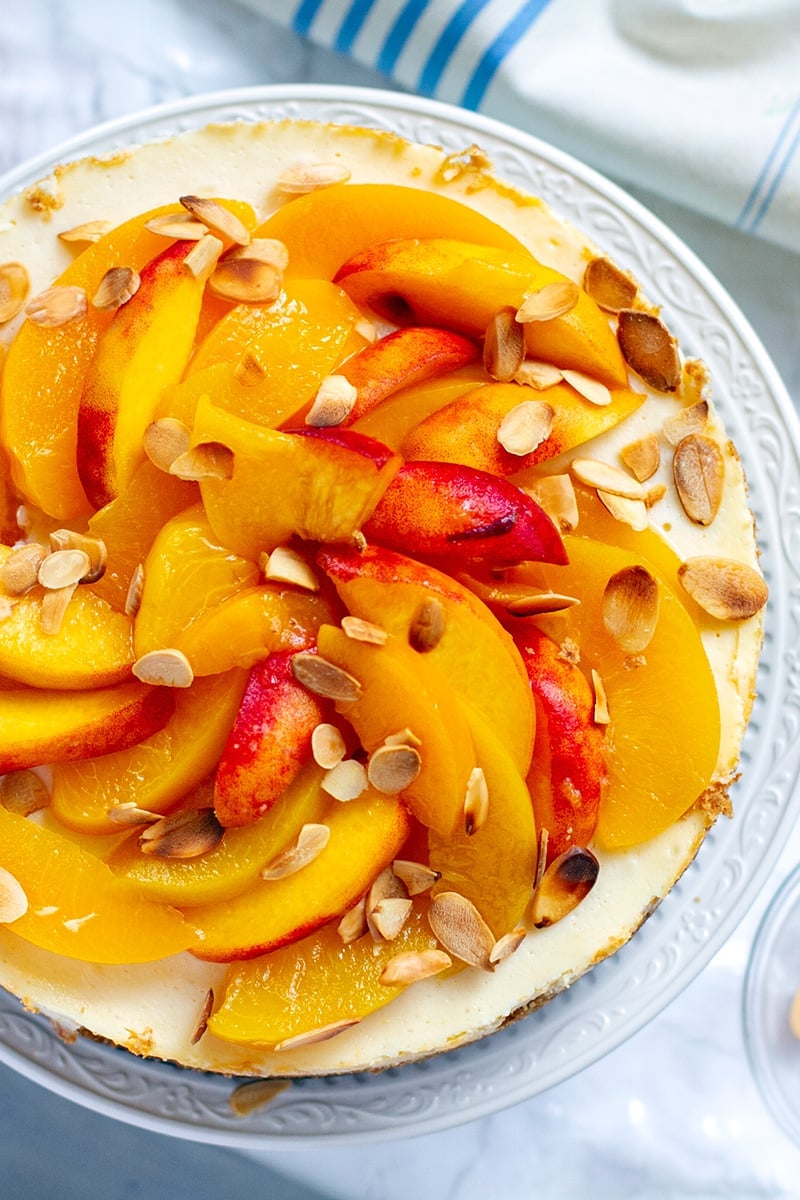 Make a healthy Instant Pot peach cheesecake with light cream cheese, Greek yogurt and sugar-free sweetener alternatives. Perfect for summer when you want a guilt-free dessert that pleases a crowd. Get the recipe on our blog.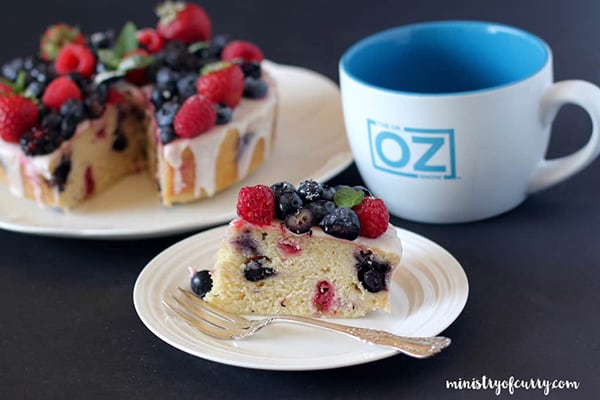 A perfect tea cake for summer made with mixed berries. The lemony glaze drizzled over the cake is DELICIOUS and enhances the flavors of this not-too-sweet cake. Plus can't go wrong with more fresh berries on top along with some fresh mint? Recipe from Ministry of Curry
Do you sometimes find your fridge overwhelmed with too many apples? This easy Instant Pot Apple Cinnamon Cake recipe is a perfect excuse to use up all of these apples. Instant Pot Apple Cake is so moist and tender! Serve it warm with a scoop of vanilla ice cream. Or, let it cool and sprinkle some powdered sugar on top. Recipe from What's In The Pan?.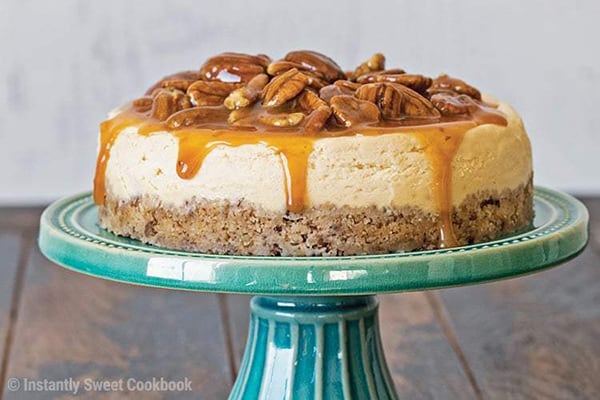 Look at that caramel drip down the sides! Indulge in a creamy filling sweetened with brown sugar on a shortbread pecan crust with a decadent caramel topping studded with toasted pecans. Recipe on our blog.
Not only is instant pot cheesecake easy to make; it's just as good as it's oven counterpart. It starts with a buttery graham cracker crust and is topped with a velvety smooth cream cheese mixture and then pressure cooked for a little less than an hour. NOTE: To avoid savoury odours attaching themselves to your sweet treats consider getting a new seal. Recipe from Little Spice Jar.
Lime Cheesecake is creamy, tangy, fast and ready for summer. When made in the Instant Pot there's no cracking as with baked cheesecake. It's the perfect dessert for a summer gathering that mixes traditional with a twist. Recipe from Boulder Locavore.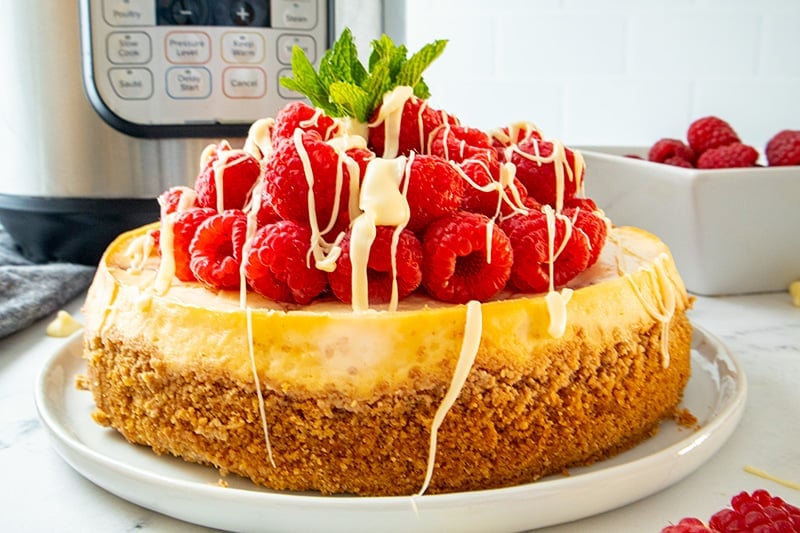 While white chocolate sounds rich and decadent, this raspberry cheesecake is actually quite light and fluffy and not too heavy. This smooth, creamy dessert is packed full of raspberries and is perfect for showing off summer berries — strawberries or blueberries work just as well! Get the recipe here.
---
GET OUR FREE SUMMER MEAL PREP IDEAS eBOOK
---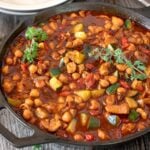 Rate This Recipe
Instant Pot Summer Recipe: Chicken Chickpea & Vegetable Stew
This Instant Pot summer stew showcases the vibrant colors and fresh flavors of the season. It's a delightful combination of vegetables, chicken, chickpeas, and aromatic herbs, perfect for enjoying on a hot summer day. Can be served cold with a side or crusty bread. Make it vegetarian by replacing the chicken with sliced mushrooms or more chickpeas.
Print Recipe
Pin Recipe
Ingredients
2

tbsp

olive oil

1

onion

medium, diced

1

chicken breast

cut into small pieces

3

garlic

cloves, minced

1

carrot

medium, peeled and sliced

1

celery

stalk sliced

1

zucchini

medium, diced

1

 red bell pepper

diced

14

ounces

tomatoes

1 can diced

14

ounces

chickpeas

1 can drained and rinsed

2

cups

vegetable broth

1

tbsp

thyme

or oregano fresh or 1 tsp dried thyme

1

tbsp

basil

chopped fresh or 1 tsp dried basil

1

tsp

salt

1/2

tsp

pepper

1

tsp

paprika

1

tbsp

tomato paste

1

tbsp

soy sauce

oregano

or basil, freshly chopped for garnish (optional)
Instructions
Set your Instant Pot to the sauté function. Heat the olive oil and add the diced onion. Sauté for 2-3 minutes until fragrant and slightly softened.

Add the diced chicken and cook for 2 minutes, stirring a couple of times. Skip this time if not using chicken.

Add the minced garlic and sauté for an additional minute.

Add the carrots, celery, zucchini, and red bell pepper, to the Instant Pot. Stir well to combine with the onion, chicken and garlic.

Pour in the diced tomatoes (including the liquid) and add the chickpeas to the pot. Mix everything together.

Add the vegetable broth, dried herbs, tomato paste, salt, pepper and give it a good stir.

Close the Instant Pot lid and set the valve to the sealing position. Select the "Pressure Cook" or "Manual" setting and set the timer for 5 minutes.

Once the cooking time is complete, allow for a natural pressure release for 5 minutes. Then carefully perform a quick pressure release to release any remaining pressure.

Carefully open the Instant Pot lid and give the stew a gentle stir. Taste and adjust the seasoning if needed.

Allow the stew to cool to room temperature before transferring it to the refrigerator. Let it chill for a few hours or overnight to enhance the flavors.

Serve the Instant Pot Summer Stew hot or chilled, garnished with fresh parsley or basil. It's great with a dollop of sour cream.
Notes
Remember to adjust the seasoning before serving, as the flavors may slightly mellow when served cold. Feel free to customize the recipe by adding other summer vegetables or herbs that you enjoy. If not using chicken, add another cup of chickpeas or 2 cups of sliced mushrooms.
Nutrition
Calories:
1548
kcal
|
Carbohydrates:
197
g
|
Protein:
100
g
|
Fat:
47
g
|
Saturated Fat:
7
g
|
Polyunsaturated Fat:
10
g
|
Monounsaturated Fat:
25
g
|
Trans Fat:
0.03
g
|
Cholesterol:
145
mg
|
Sodium:
6344
mg
|
Potassium:
5105
mg
|
Fiber:
52
g
|
Sugar:
67
g
|
Vitamin A:
39247
IU
|
Vitamin C:
277
mg
|
Calcium:
549
mg
|
Iron:
22
mg