Today, we're sharing a tasty and super nutritious 10-vegetable Instant Pot tomato sauce recipe. This multi-purpose Italian sauce can be used in many dishes such as pasta, meatballs, enchiladas and ragu and is great for batch cooking and make-ahead meal prep. This recipe is sugar-free, gluten-free, vegan, paleo and Whole30 friendly. Let us know in the comments if you make it and don't forget to rate this recipe. We hope you enjoy it!
---
Are you struggling with picky eaters and looking for ways to feed them vegetables in disguise? Would you like to boost your meals with extra vitamins, minerals and antioxidants? Do you need a multi-purpose tomato sauce that ticks a lot of the boxes and comes with no added sugar?
This Instant Pot tomato sauce made with 10 vegetables (that's right, 10!) will give a nutrient boost to your meals without anyone even noticing how much goodness is hidden inside. Kids (and grownups) will love the sauce as it has a natural sweetness from carrots, beets and onion and gorgeous summery flavor.
This is a great sauce to make as part of your batch cooking or make-ahead meal prep and it's one of those must-have recipes for using up leftover produce or excess garden harvest. It's great for freezing.
WHAT'S IN THE 10-VEGETABLE TOMATO SAUCE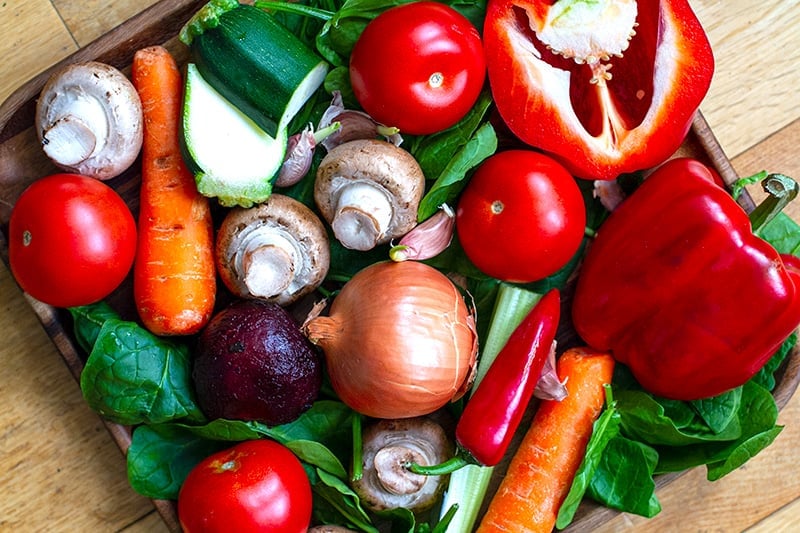 Let's see what's inside this kids-approved, sugar-free tomato sauce! There are 10 nutritious, antioxidant-rich vegetables in this sauce:
Organic whole canned tomatoes (best to use organic tomatoes for maximum nutrition and flavor)
Onion – you can use white or red onion here
Garlic
Celery
Carrots
Red pepper – feel free to use yellow or green bell peppers
Mushrooms – any type you like
Zucchini
Spinach (you can use fresh or frozen)
Beets (fresh or canned)
Plus, a little chilli, salt, thyme and olive oil.
That's it, only natural, plant-based ingredients that bring an array of nutrients in one pot. This vegetable tomato sauce is rich in vitamins C, A, E, K, B3 and B6, extra antioxidants such as lycopene, beta-carotene and allium sulphur compounds, fibre and healthy fats.
What about tomato sauce calories? For those of you counting your macros, this sauce has 200 calories per serving (1/2-2/3 cup), 33 grams carbs (11 of those from fibre!), 5 grams protein and 5 grams fat (monounsaturated). See the full nutritional profile below.
Marinara vs tomato sauce
Are you wondering about the difference between this tomato sauce and marinara sauce? Both are great over pasta, however, marinara is more of a fresh and quick sauce made with just a handful of ingredients, while tomato sauce is a slow-cooked, complex dish that allows tomatoes and seasonings to develop richer flavor and darker color. Mariana – fresh and quick, tomato sauce – rich and slow-cooked.
HOW TO MAKE INSTANT POT TOMATO SAUCE
The reason we love making tomato sauce in Instant Pot is that it takes half the time. If you were to slow-cook this sauce on the stove, it would need about 1 hour. The Instant Pot takes 30 minutes (with pressure build-up and release) and pressure cooking really locks in all those nutrients.
To make this recipe, you will need an emersion blender (stick) to puree the soup inside the pot once it's ready. Alternatively, you can blend the sauce in a food processor or a blender in batches once it has cooled down slightly. Here is a handy video on how to make this tomato sauce. You will find a full list of ingredients, instructions and nutrition breakdown below.
Print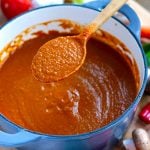 Instant Pot Tomato Sauce (With 10 Vegetables)
Author:

Prep Time:

20 minutes

Cook Time:

30 minutes

Total Time:

50 minutes

Yield:

8

-

10

cups

1

x

Category:

Sauce

Method:

Instant Pot

Cuisine:

Italian
---
Description
This versatile 10-vegetable tomato sauce is made in the Instant Pot to lock all the nutrients and to speed up the cooking time by half. This is a sugar-free tomato sauce with all the sweetness coming from the vegetables (carrots, beets, onions, tomatoes) and can be used in many ways. Gluten-free, vegan, paleo, Whole30.
---
4 tablespoons olive oil

1 medium onion, diced

2 small to medium carrots, diced

2 celery sticks, diced

3 teaspoons salt

1 teaspoon thyme leaves

2 bay leaves

2 small beets (canned or fresh)

1 cup diced red bell pepper

5 mushrooms, diced

1/2 zucchini

2 cups fresh spinach leaves (or 1/2 cup frozen)

5 garlic cloves

1 jalapeno red chili (mild, or use half or less for desired spice level)

3 x 400 ml cans whole tomatoes in juice (organic, if possible)

1/2 cup water
---
Instructions
Turn the Instant Pot on and press the Saute function key. Once hot, add the olive oil, onions, carrots and celery and cook for 5 minutes, stirring a few times.
Add the rest of the ingredients and half a cup of water. Press Cancel to stop the Saute process. Stir the contents and pop the lid on top.
Lock the lid, making sure the top valve is pointing to Sealing. Set to Manual/Pressure Cook on HIGH pressure for 10 minutes. The Instant Pot will take 5-10 minutes to build up the pressure and the timer will begin.
Once finished, allow the pressure to release naturally for 10 minutes and then move the top valve to Venting do a quick release of the remaining pressure.
Open the lid and stir. Using an emersion blender, puree the contents into a thick sauce. You can also do this in a blender or a food processor but make sure to cool the sauce down slightly and do this in batches.
Pour the sauce into containers or mason jars for storage or use right away.
Notes
You can use a variety of vegetables in this sauce. For example, spinach can be replaced with frozen spinach or Swiss chard, collard greens or other leafy greens. Broccoli or asparagus could be added instead of zucchini. Pumpkin, winter squash or sweet potato instead of carrots.
Stovetop: Use a heavy saucepan with a lid. Repeat the Saute step, add all vegetables, canned tomatoes and water and cook for 1-1.5 hours over medium-low heat covered, stirring a few times. Repeat the puree step as above.
Nutrition
Serving Size:

1/2-2/3 cup

Calories:

203

Sugar:

22.7 g

Sodium:

552.1 mg

Fat:

5.4 g

Saturated Fat:

0.7 g

Carbohydrates:

33.7 g

Fiber:

11.8 g

Protein:

5.9 g

Cholesterol:

0 mg
Keywords: Gluten-free, Sugar-free, Paleo, Whole30, Vegan
HOW TO USE THIS 10-VEGETABLE TOMATO SAUCE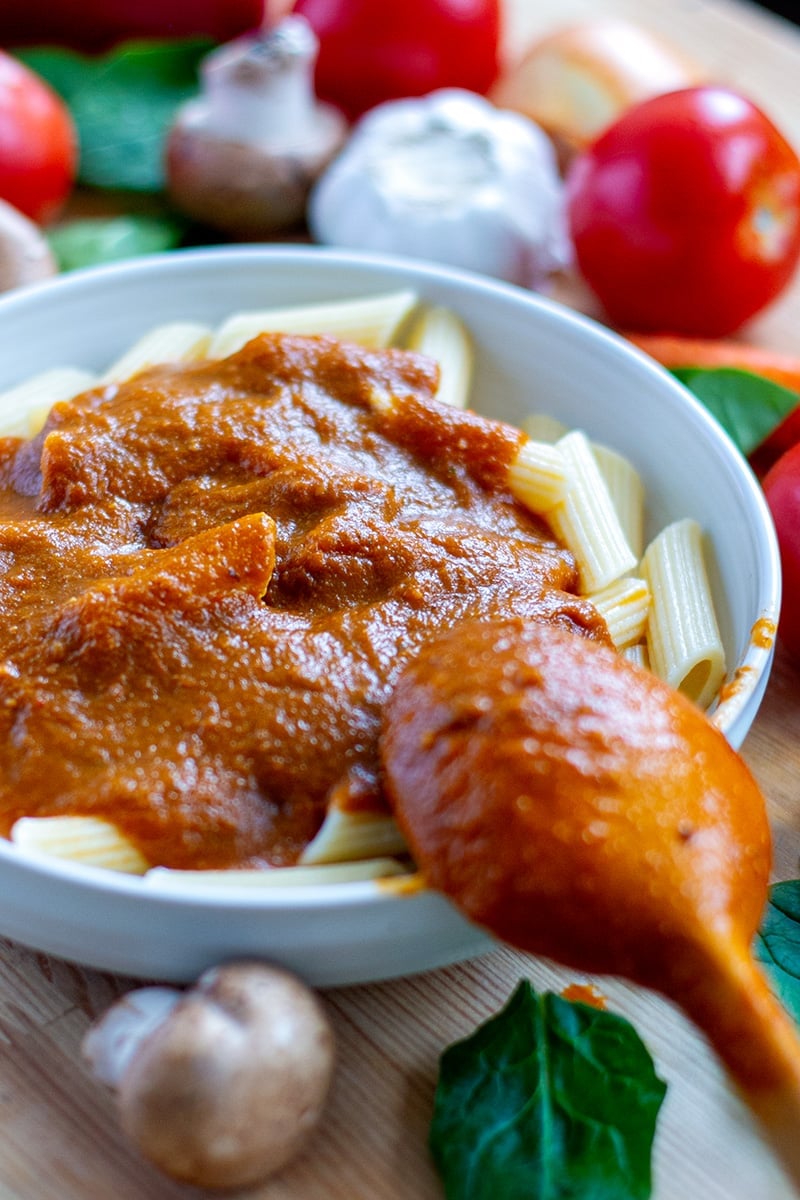 This is the best thing about this Instant Pot tomato sauce – it's super versatile. You can use it in the same way as you would regular pasta tomato sauce from a jar but let's get your creative cooking juices flowing with these ideas:
Make vitamin-rich pasta. Pour hot vegetable tomato sauce over any kind of pasta, grate some Parmesan and enjoy! Check out some pasta ideas here.
Add a little cream or yoghurt to make a creamy pasta dish.
Use it as a base sauce for Sunday gravy, ragu, Bolognese or any other meat sauce. Try this vegan Bolognese.
Cook up a batch of meatballs and smother them in the sauce. You could use it in this Instant Pot meatball dish.
Use it to make lasagna, cannelloni and pasta bakes. Also great in a Shepherd's pie.
Briefly bake a few chicken breasts, cover with the sauce and bake in the oven for 20 minutes.
Place a few fish fillets in the sauce and bake for 20 minutes.
Use it to make Eggplant Parmigiana or Chicken Parmigiana.
Use as a sauce with enchiladas, burritos or tacos
Make hearty chilli with or without meat
Dilute it with some vegetable stock or water to make a nutritious tomato soup
Puree canned beans and mix with the sauce to make a healthy dip
Use it as a sauce to make ratatouille or any kind of braised vegetables
Make tomato-based mac'n'cheese in your Instant Pot
Use it as pizza sauce.
Braise some lamb shanks, beef ribs, pork or any other meat
Add to rice dishes or make a tomato risotto
HOW LONG DOES TOMATO SAUCE LAST IN THE FRIDGE or fREEZER?
This recipe makes a large batch of vegetable tomato sauce, about 1.8-2 litres, so you will have plenty to use for dinner and leftovers.
How long does homemade tomato sauce last in the fridge or freezer? Stored in an airtight container or mason jar, homemade tomato sauce or pasta sauce will last for 5-6 days in the refrigerator. Make sure to store the sauce as soon as it has cooled down enough.
The sauce can be stored in the freezer for 4-6 months. You can use Tupperware containers, heavy-duty freezer bags or Ziploc bags. Once thawed, use right away or store in the refrigerator for 3-4 days.