These Instant Pot creamy pasta recipes can feed a crowd and make weeknight dinners comfy for everyone in the family. Pasta is so wonderful for its versatility with meat, seafood, vegetarian and vegan options.
---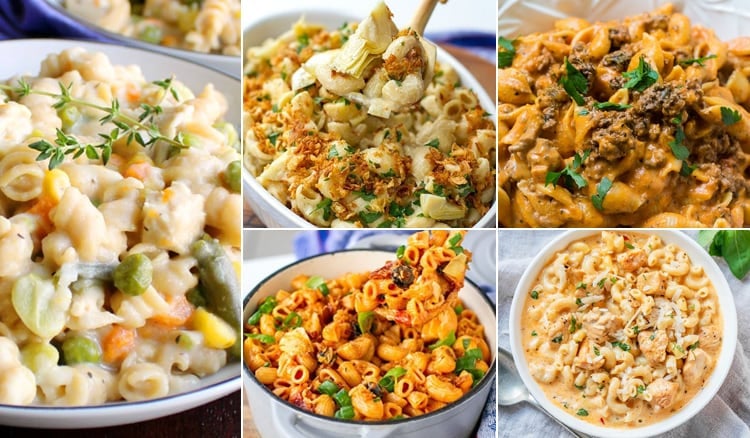 One of the greatest things about pasta is how little it has changed over the centuries. It is still made with the same basic ingredients and preparations that it has been since it's inception. It's interesting how the variety of noodle shapes can attribute to a better experience of the ingredients. When we eat pasta, it connects us to a long time tradition of the past. Originate in China, migrating to Italy and then over the seas throughout the world.
A pasta meal is one of the best meals to feed a crowd and keep a happy family. Especially, when it's creamy and cheesy. Pasta just summons the idea of comfort and satisfaction to a hungry stomach. It's an easy meal that can be made with tons of variations. You can add meat, seafood, and veggies. Or you can keep it vegetarian or vegan. It's a great option to bring everyone to the table and create memories.
1. CREAMY INSTANT POT CHICKEN & NOODLES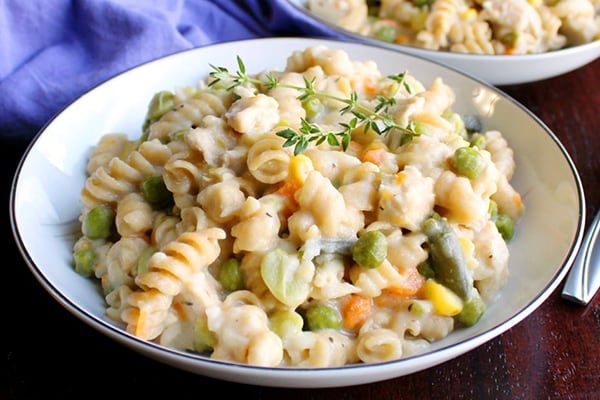 Looking for a quick and easy dinner that can be done in no time and using chicken and veggies from the freezer? This hearty meal of Instant Pot chicken and noodles is it! It's creamy, delicious and will please the whole family. This recipe is by our contributor Carlee from Cooking With Carlee. Recipe from Instant Pot Eats.
2. CREAMY INSTANT POT SPAGHETTI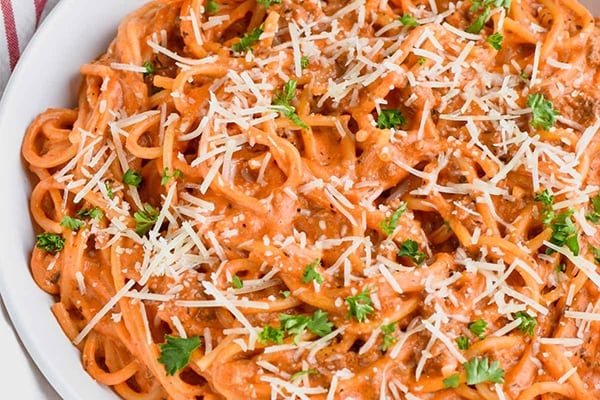 This Creamy Instant Pot Spaghetti is the amazing creamy spaghetti you love made super simple in a pressure cooker in about 30 minutes! Serve this with a nice easy side salad and have an easy amazing dinner on the table fast! Recipe from Wine and Glue.
3. Creamy MAC AND CHEESE (ITALIAN-STYLE)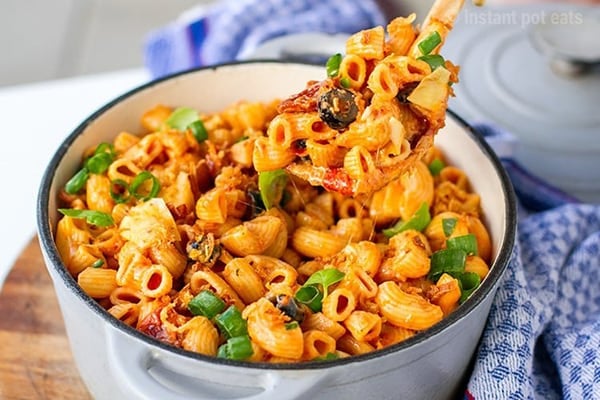 This Instant Pot mac and cheese recipe has a rustic, Italian flare to it. With the addition of olives, artichokes and sun-dried tomatoes, and a hearty helping of mozzarella, this vegetarian wonder will have you drooling for days. Recipe from Instant Pot Eats.
4. Dump and Start Instant Pot Creamy Ziti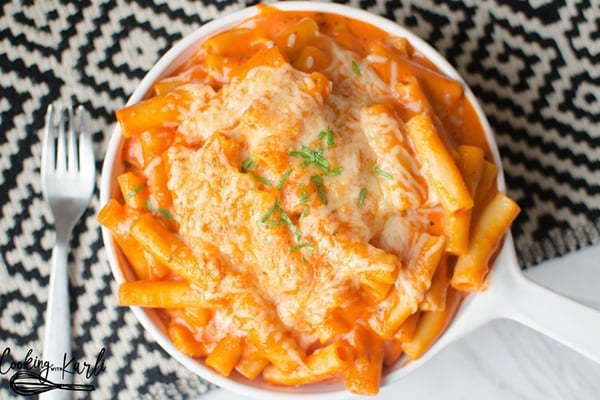 Dump and Start Instant Pot Creamy Ziti is saucy, cheesy and delicious. 20 minutes is all you need to make this creamy red sauce pasta dish! Recipe from Cooking with Karli.
5. Creamy Garlic Parmesan Chicken Pasta
If you get a craving for a creamy, spicy, easy one-pot dish, this Instant Pot chicken pasta is incredibly easy to make, so it's perfect for weeknight dinners. This hassle-free chicken and pasta in the Instant Pot is simmered in a rich and creamy cheese sauce and brings you "instant" comfort. Recipe from Eat Well 101.
6. Instant Pot Creamy Tuscan Chicken Pasta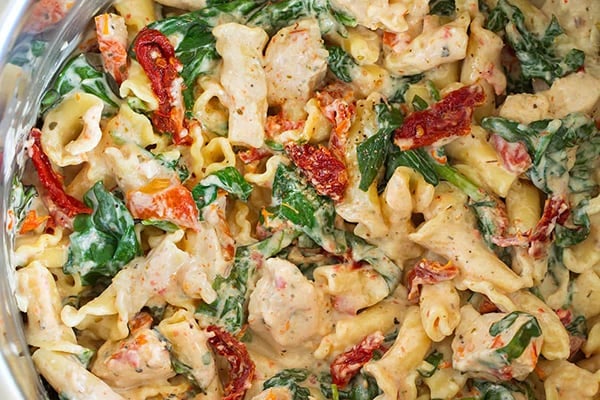 This Instant Pot Creamy Tuscan Chicken Pasta is deliciously creamy, amazingly hearty and just perfectly satisfying. Recipe from Cooking Classy.
7. Creamy Tomato Basil Pasta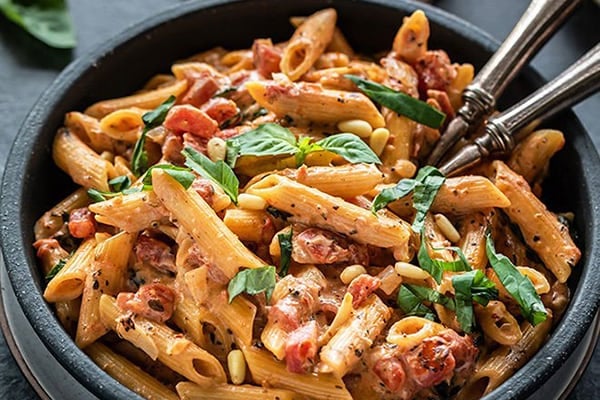 Creamy Tomato Basil Pasta made in only 20 minutes to cook with the pasta cooked at the right amount and no burn message. Recipe from Cook with Manali.
8. Instant Pot Creamy Shells and Beef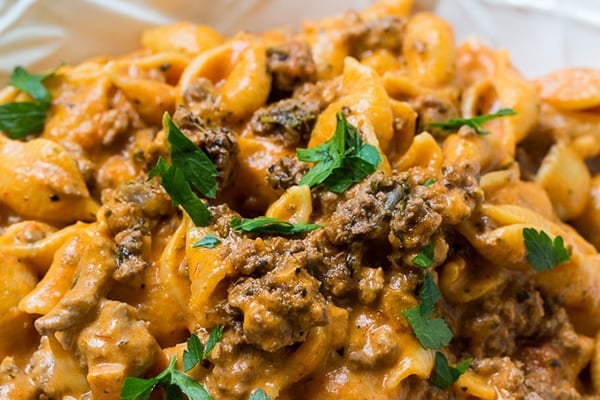 Instant Pot Creamy Shells and Beef is so creamy and cheesy. Pasta shells and ground beef are cooked in a tomato sauce and then Parmesan cheese, cream, and cream cheese get mixed in. Recipe from Spicy Southern Kitchen.
9. CHICKEN ALFREDO PASTA
If your kids are tired of sandwiches for lunch, these leftovers make a great lunch in a thermos the next day! Recipe from The Recipe Rebel.
10. Creamy Mushroom pasta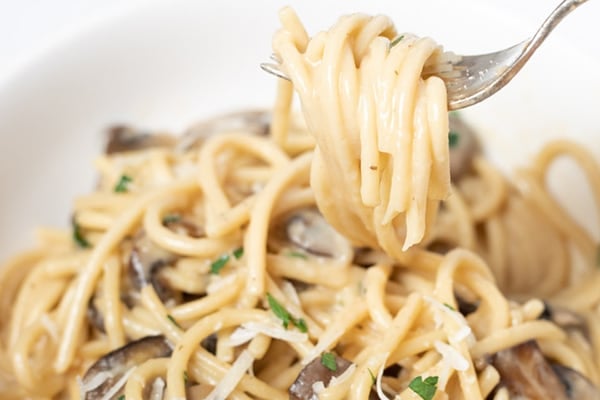 If you love mushrooms, this creamy mushroom pasta is going to be your new favorite. Make this amazingly delicious creamy dreamy pasta in the instant pot in less than 30 minutes! Recipe from Piping Pot Curry.
11. Creamy Pesto Penne Pasta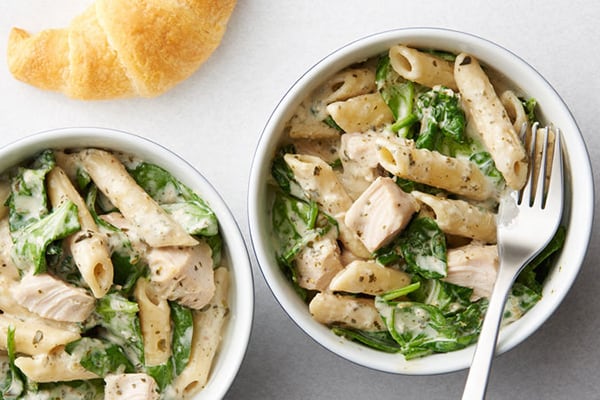 From start to finish, this incredibly satisfying creamy pesto penne pasta with chicken is done in just 45 minutes. The only way this Instant Pot meal can possibly get better is with a side of warm crescent rolls brushed with garlic butter. Recipe from Pillsbury.
12. Dump&Start Instant Pot Creamy Bacon Pasta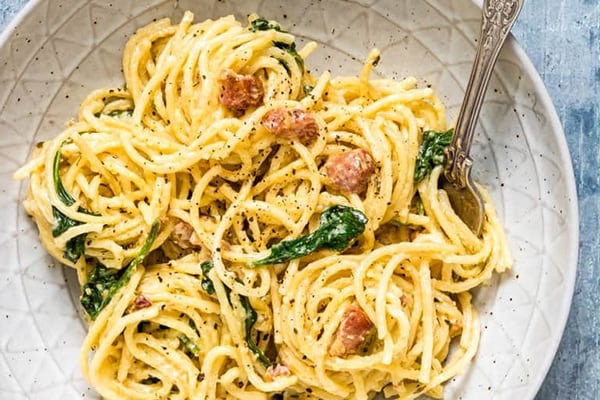 Instant Pot Bacon Pasta is the ultimate comfort food. This is a one-pot, dump and starts recipe that is ready to serve in just minutes. Rich, creamy and full of bacon goodness, this family-friendly dish makes a perfect easy weeknight meal. Recipe from Recipes From A Pantry.
13. VEGAN MAC & CHEESE WITH ARTICHOKES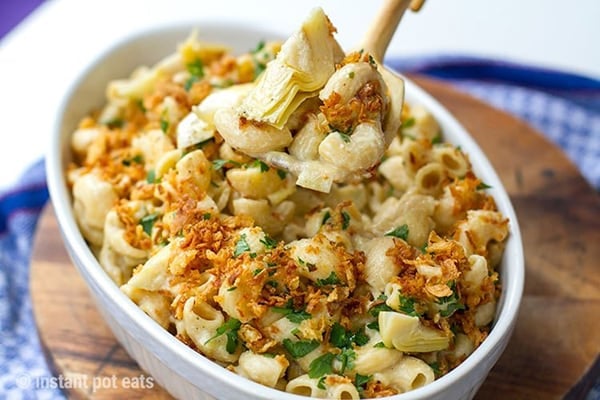 This vegan Instant Pot mac and cheese is made with dairy-free cashew sauce and artichokes and is velvety, creamy and full of flavor. Vegan doesn't mean you're missing out. Recipe from Instant Pot Eats.
14. ONE-POT VEGAN CREAMY GARLIC PASTA
This one-pot creamy garlic pasta is so tasty you won't even question the creaminess. Recipe from Yup It's Vegan.
15. Instant Pot Creamy Vegan Pasta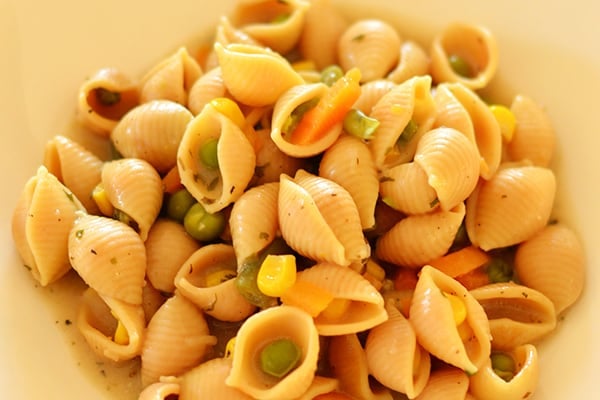 This Instant Pot Creamy Vegan Pasta is the ultimate kid-friendly dinner! A guilt-free meal that only takes 4 Instant Pot Minutes, made with chickpea pasta it's high in protein and grain-free! The pasta takes their eyes off the vegetables, it's almost like they're not even there! Recipe from Instant Loss.
16. INSTANT POT MAC & CHEESE WITH CORN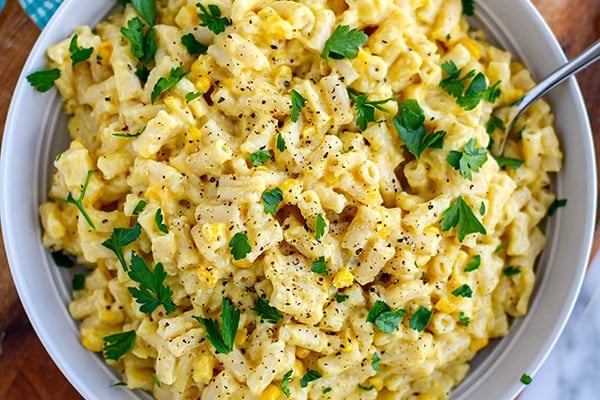 A great twist on a traditional cheesy macaroni dish using up the best of summer produce. Frozen or canned corn can also be used to make this mac and cheese dish. Recipe from Instant Pot Eats.
---