When there is no bread, "Qu'ils mangent de la brioche." If you don't know French, that translates to, "Let them eat cake." That's what this roundup is all about: best Instant Pot cake recipes! We've covered chocolate cakes, fruity bundt cakes, cheesecakes, lava cakes and more.
---
INSTANT POT CAKE RECIPES
With the Instant Pot, you don't even need to be good at baking. If you have trouble with all the instructions and measurements, rest assured – most of these Instant Pot cake recipes are nearly failproof.
When pressure cooking, the cake steams through giving you even cooking results and fantastic moisture retention every time. All you need is a bundt ban or a cake tin that fits into your inner pot and you're basically ready to indulge.
We've got a little something for every taste on this menu. From fruity treats to all things chocolate, you are bound to find your new favourite cake dessert here. If you're looking for other dessert ideas, check out our round-up on Instant Pot cheesecakes and bundt cakes here.
---
1. Instant Pot Berry Vanilla Cake
This stunning bundt cake is the perfect centrepiece for any dessert table. The cake itself is soft and moist, steamed through and "baked" to sliceable perfection. A cream cheese glaze keeps things sweet. The berries are strewn throughout the cake itself and as a topping will encompass those fresh summer flavors, making it a great option for picnics, potlucks, and parties. Cool down with this seasonal treat, or use frozen berries for a warm-weather treat in the winter. Recipe from Cook with Manali.
2. Caramel Pecan Cheesecake
Try this amazing Instant Pot cheesecake recipe and indulge in a creamy filling sweetened with brown sugar on a shortbread pecan crust with a decadent caramel topping studded with toasted pecans. This recipe is from the Instantly Sweet Cookbook. Get the recipe here.
3. Chocolate Lava Cake
Chocolate lava cake is the perfect single-serving dessert to make you feel fancy at home. Whether you're serving it with some homemade pizza as a finisher or you're enjoying yours with a glass of gorgeous red wine, you won't be disappointed with its ooey-gooey filling as you slice into it. Every bite is sure to be savoured with this simple recipe. Top off with a sprinkle of fresh berries and powdered sugar for the most decadent results. Recipe from Favorite Family Recipes.
4. Apple Cinnamon Cake
This apple cake is perfect to welcome the cooler seasons with, using up the best of the autumn harvest for a just-sweet-enough slice. The spongey cake is packed with warming spices and a nostalgic aroma that will waft through your kitchen when you release the pressure. Our suggestion is to serve it warm out of the pot with a scoop of vanilla ice cream, melting atop. You can also garnish it with powdered sugar when cooled for added sweetness. Recipe from What's in the Pan.
5. Instant Pot Fudge Brownie Cake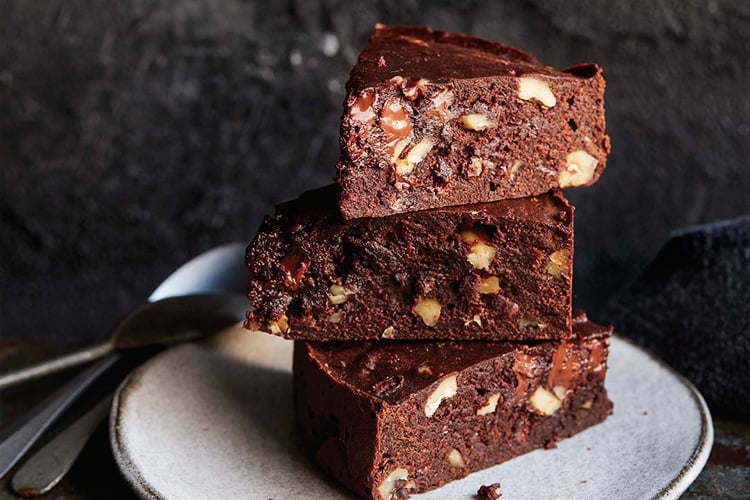 Are you ready for some chocolate?! Instant Pot Chocolate Fudge Brownie Cake with toasted walnuts will be a dessert that impresses everyone at the table and makes your chocolate lovers very happy. This recipe is from The Ultimate Instant Pot Cookbook. Get the recipe here.
6. Instant Pot Vegan Chocolate Cake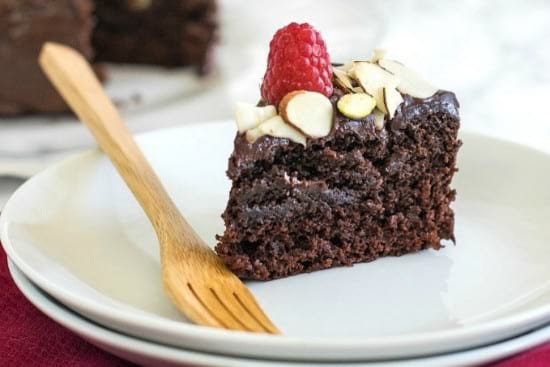 Of course, we had to include a classic chocolate cake without the dairy or eggs. This super moist and rich slice is vegan and the best part is arguably the two-ingredient chocolate ganache that goes on top. Toss a few sliced nuts and berries on top, and you'll be indulging the healthy(ish) way in no time. This recipe only takes 50 minutes from start to finish. Recipe from Carve Your Craving
7. Rhubarb Upside-Down Cake
Rhubarb is a beautiful and unique summer produce staple, especially at the farmer's market or in a local farm box. It can admittedly be difficult to use, so why not bake with it? This upside-down cake is the perfect recipe to add these vibrant and slightly sweet stalks to. Citrus and warm spices make it versatile for any season. Add some ice cream or whipped cream to take it to the next level. Recipe from Rachel Cooks.
8. Raffaello Cheesecake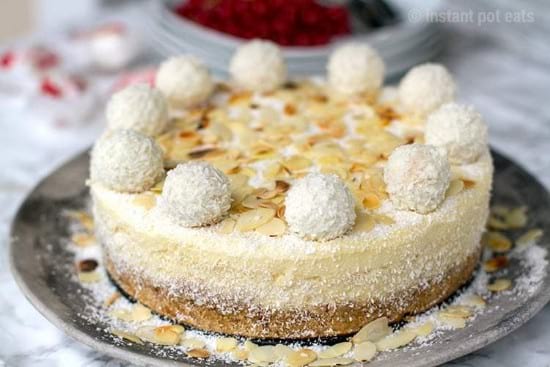 White chocolate, coconut, and almond infuse this cake with fantastically rich flavour and texture. With a little more pizzazz than your average cheesecake, this dessert is the perfect recipe to break out when you're entertaining or you just want to mix things up. This one is three layers of pure bliss… and maybe a bit of a sugar high. Get the recipe on our blog here.
9. Gluten-free Peach Melba Breakfast Cake
Who doesn't want cake for breakfast? This hearty slice just works, and it'll make you a morning person practically overnight. Peach melba is originally vanilla ice cream with sweet peaches and a raspberry sauce, and the flavours are recreated in this cake. You can easily refrigerate or freeze this cake too for easy-to-prepare leftovers. The kids will go nuts over this! Recipe from Tidbits Marci.
10. Semolina Orange Cake
Fluffy and moist, this egg-free cake is made with semolina and topped off with a sticky-sweet orange glaze that lends both flavours an exceptional colour. Semolina is often used in Indian cuisine, setting it apart from your average wheat flour cake. Top it off with crunchy crushed almonds and pistachios for the perfect nutty touch. Recipe from Piping Pot Curry.
11. Instant Pot Funfetti Cake
Funfetti cake mix is the humble beginning of this fun, festive, and colourful cake. If you want the perfect boxed cake that feels homemade, this recipe will do the trick. You can opt for homemade frosting or get it pre-made, although we prefer the latter for a super easy dessert. Top with sprinkles of your choice – the more colours and shapes, the better! Recipe from Aileen Cooks.
12. Peanut Butter Chocolate Bundt Cake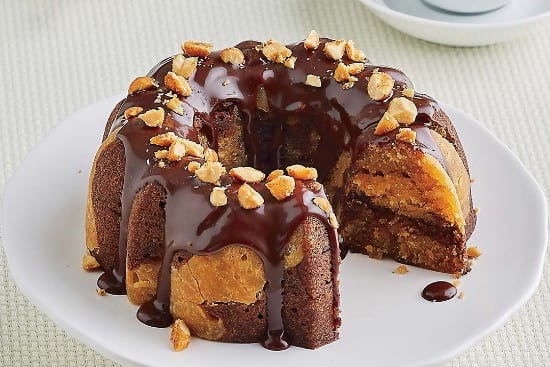 Peanut butter and chocolate go together like any good duo. They're a timeless combination, and they're highlighted in this ridiculously good-looking bundt cake. With both a layer of chocolate ganache and peanut butter glaze, your mouth will hardly be able to contain the explosive and downright sinful flavour in each bite. This one is a chocolate lover's dream, and it's almost as easy as buying a pack of Reese's cups. Recipe form Instant Pot Official.
This carrot cake is moist, packed with fresh carrots, dried apricots, and a variety of seeds that lend fabulous texture to each bite (and making it nut-free). It's the perfect treat to serve during any season, highlighting whatever seasonal fruits you'd like to top it off with. The cream cheese frosting is a must though. Just try not to lick the spoon – bet ya can't! Get the recipe on our blog here.
14. Instant Pot Date Cake
This simple blend and "bake" recipe is a great date pudding or cake recipe for the Instant Pot – it's even easy enough for the kids to make. Naturally sweet with dates, you can opt to make things even sweeter with a drizzle of powdered sugar over top. A little bit of coffee and cocoa give this subtle yet rich flavour. It's pretty failproof, and you'll get great results even if you don't bake often. Recipe from Simmer to Slimmer.
15. Pressure Cooker Red Velvet Cake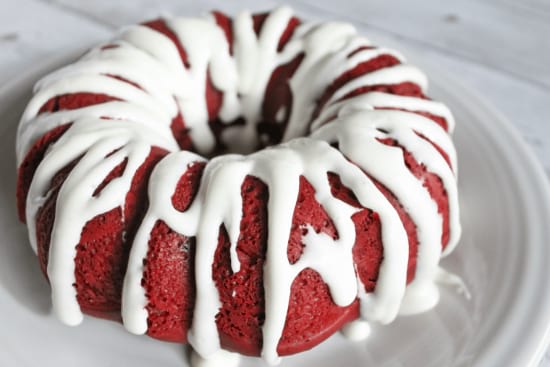 Everyone loves a good red velvet cake. With its hidden chocolate-y goodness and a creamy glaze on top, it's an absolutely divine treat. Moist, tender, and with the perfect rise, you can adapt your favourite red velvet recipe to the Instant Pot with a bundt cake pan and a few simple baking ingredients. Recipe from Margin Making Mom.
16. Mini White Chocolate-Cherry Bundt Cakes
White chocolate, vanilla and almond paired with maraschino cherries is the perfect afternoon tea treat. Plus, everything is tastier when it's mini – right? These are the perfect little indulgence for a single-serving sweet tooth fix. Because the cake is steamed, it's a bit denser than your average cake making it a rather filling choice for dessert (or lunch). Recipe from The Speckled Palate.
17. Chocolate Cake With Salted Caramel & Pretzels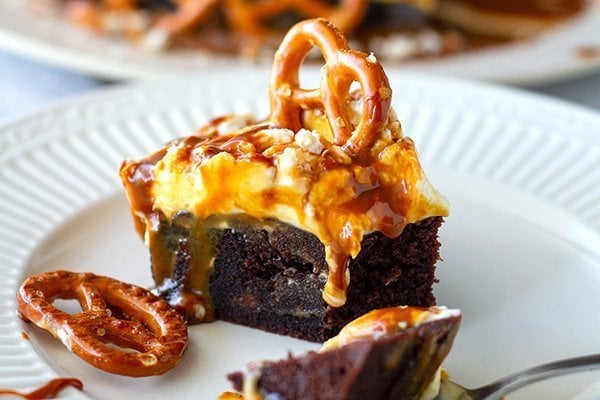 This particular Instant Pot chocolate cake recipe is great to have in your repertoire as you can use it as a template for other desserts. In this case, we were inspired by the classic pretzel cake and used salted caramel and whipped cream and cream cheese to pimp up our chocolate cake. Get the recipe on our blog here.
18. Instant Pot chocolate zucchini cake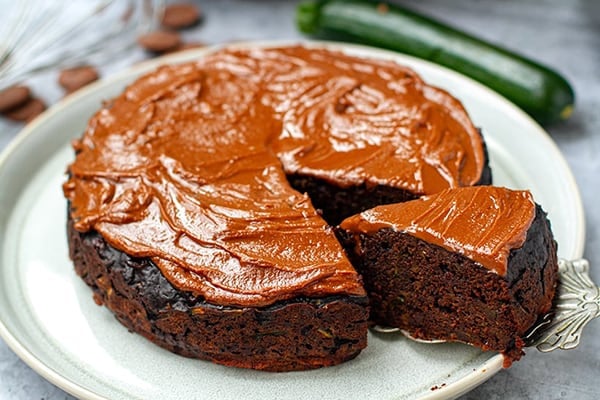 Make this moist and fudgy Instant Pot chocolate zucchini cake with silky, smooth chocolate glaze on top. This is a great cake using up summer zucchini. You can also top it with vanilla or chocolate cream frosting. Get the recipe on our blog here.
19. INSTANT POT FRUIT CAKE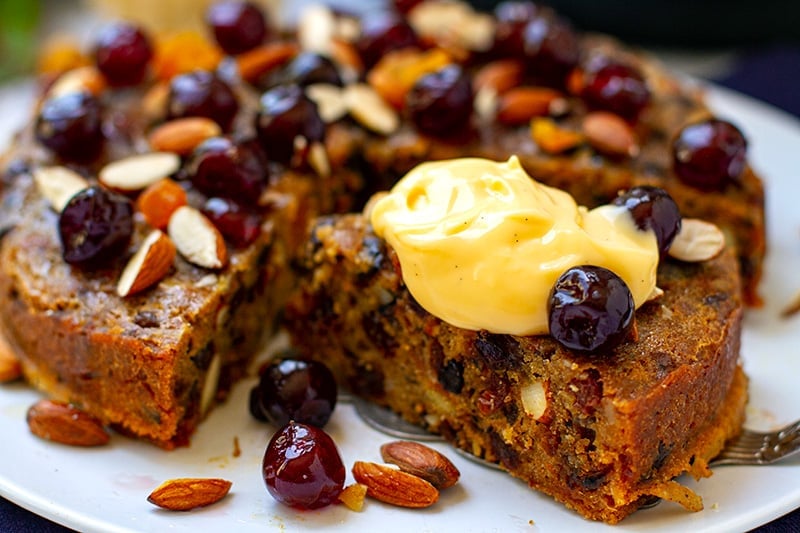 This festive Instant Pot fruit cake is a quick and easy, delicious dessert to enjoy in the fall and winter. Our recipe is made without alcohol and less sugar but is just as decadent tasting and heady as the classic. Serve with custard, cream, or ice cream! Get the recipe here.
20. INSTANT POT RASPBERRY LEMONADE CHEESECAKE

Sweet and tangy, this Instant Pot raspberry lemonade cheesecake is inspired by the old-fashioned summer drink and is perfect for a celebratory occasion or to enjoy with the family on the weekend. Made with fresh raspberries and citrus, this cheesecake is a fabulous summer dessert. Get the recipe here.
Indulge wisely and enjoy your cake. We hope you found a recipe that curbs your cravings. Happy pressure cooking and let us know your favorite Instant Pot cake recipe below in the comments.