This Instant Pot fruit cake is a cross between a Christmas pudding and the classic baked fruit cake with delicious and festive flavors of dried and candied fruit, citrus, and spice. Quick and easy to make, our version has no added alcohol and contains less sugar but it's just as decadent tasting and heady as the traditional fruit cake. Perfect for fall or winter, Christmas or Thanksgiving. Serve with custard, cream or ice cream!
---
What is a fruit cake?
Fruit cake or fruitcake is a festive cake made with dried or candied fruit, nuts and spices, often soaked in brandy or another spirit. It's a sweet, fruity, rich cake that tastes a little like a fortified wine or port with fluffy, a little sticky and crunchy texture. It's similar to Christmas pudding, although fruit cake is baked while the pudding is steamed.
Both are served to celebrate Christmas or weddings and are particularly popular in the United Kingdom, Europe and Australia.
Some fruit cakes are iced or decorated with frosting or served with cream or custard.
Instant Pot Fruit Cake
Unlike the classicly baked fruitcake, which can often take hours of preparation, our Instant Pot fruit cake is quick and easy. Our recipe is also alcohol-free and the dried fruit is briefly soaked in orange juice and vanilla.
Pressure cooking the fruit cake on top of the trivet with water inside the pot achieves a crossover between a classic Christmas cake and a pudding, with the texture being somewhere in the middle. The flavors and aromas are deliciously festive and spirituous.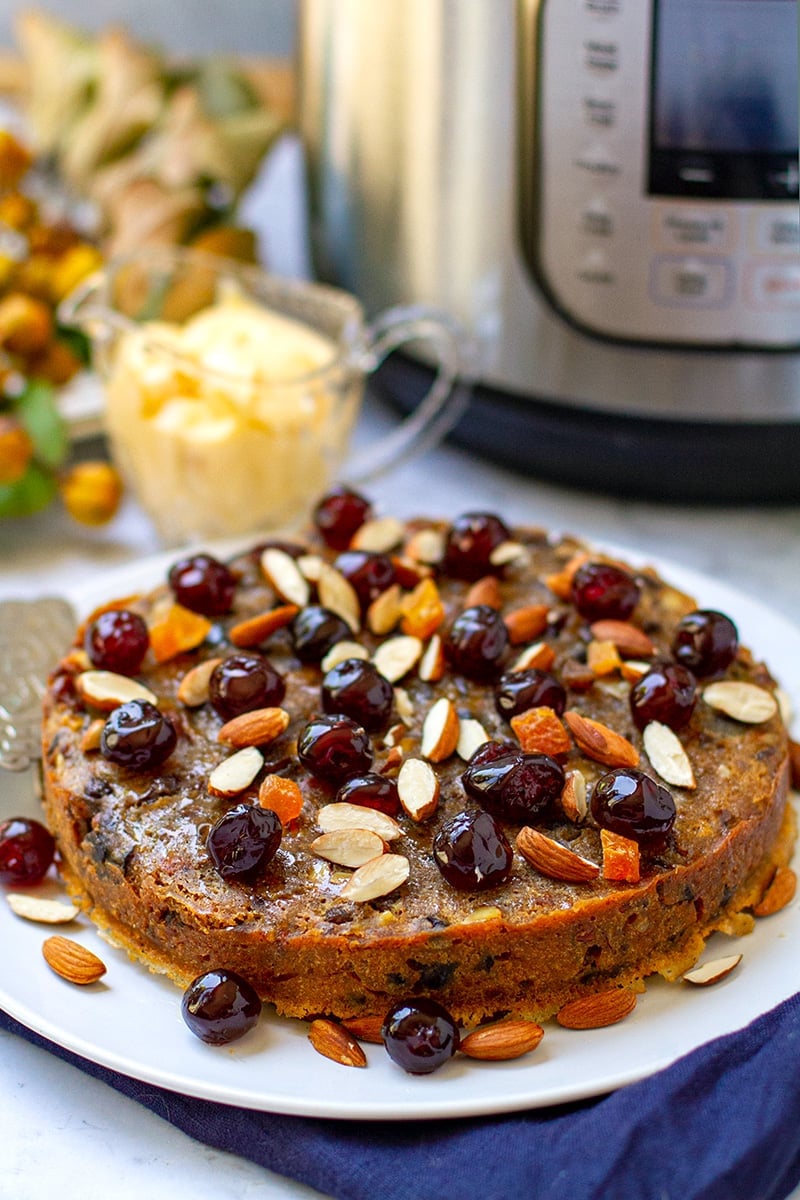 Fruit cake ingredients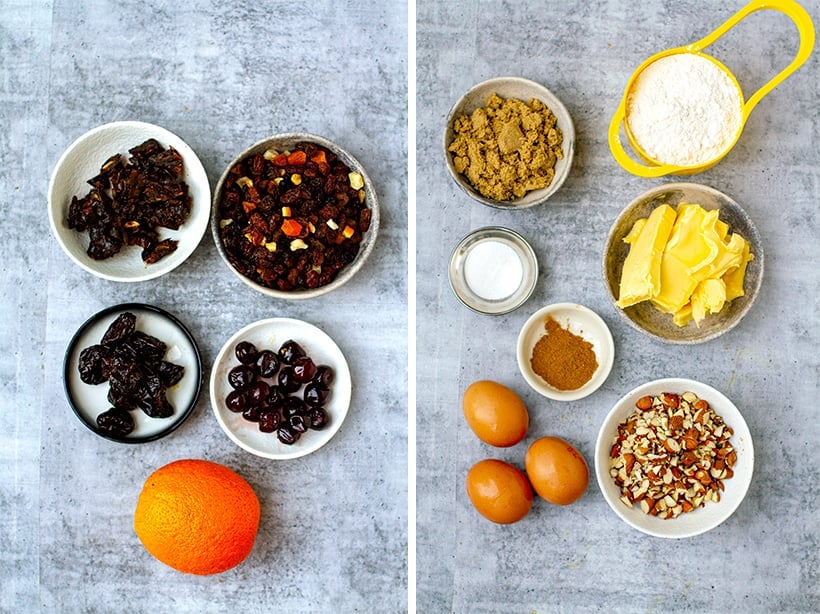 For the fruit mix
You can use a variety of dried fruit and candied fruit in this recipe. Some of the classic dried fruit options for a Christmas cake include raisins and sultanas, dried currants and cranberries, candied or glace cherries, prunes, dates, dried apricot, candied orange, ginger and figs. Orange zest and juice are also pretty standard and you can add a little brandy or port if you wish.
Soaking rehydrates the dried fruit and infuses it with the citrus or brandy flavor and is usually done overnight if not longer. In our case, you can soak for just 20 minutes for the quick and easy version.
For the cake batter
The rest of the ingredients for the fruit cake are pretty standard including eggs, butter, all-purpose flour, baking powder and mixed spice (a blend of cinnamon, ginger, nutmeg and so on). You can make your own mixed spice or buy a pre-made blend. Plus, some chopped nuts such as almonds, hazelnuts, walnuts or pecans, or a combination of such.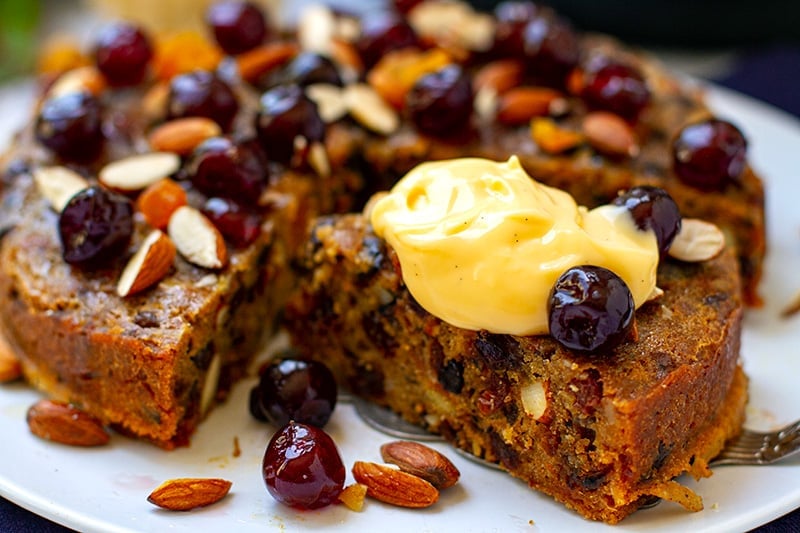 How to make fruit cake in the Instant Pot
We used a 6-quart Instant Pot Duo to make this fruit cake recipe. You will need a trivet and a springform cake pan that can fit inside the pot (about 7″ pan), or any other round, heatproof cake pan.
You will find the full list of ingredients, instructions and nutritional breakdown in the recipe card below. Here are some handy step-by-step photos to guide you along.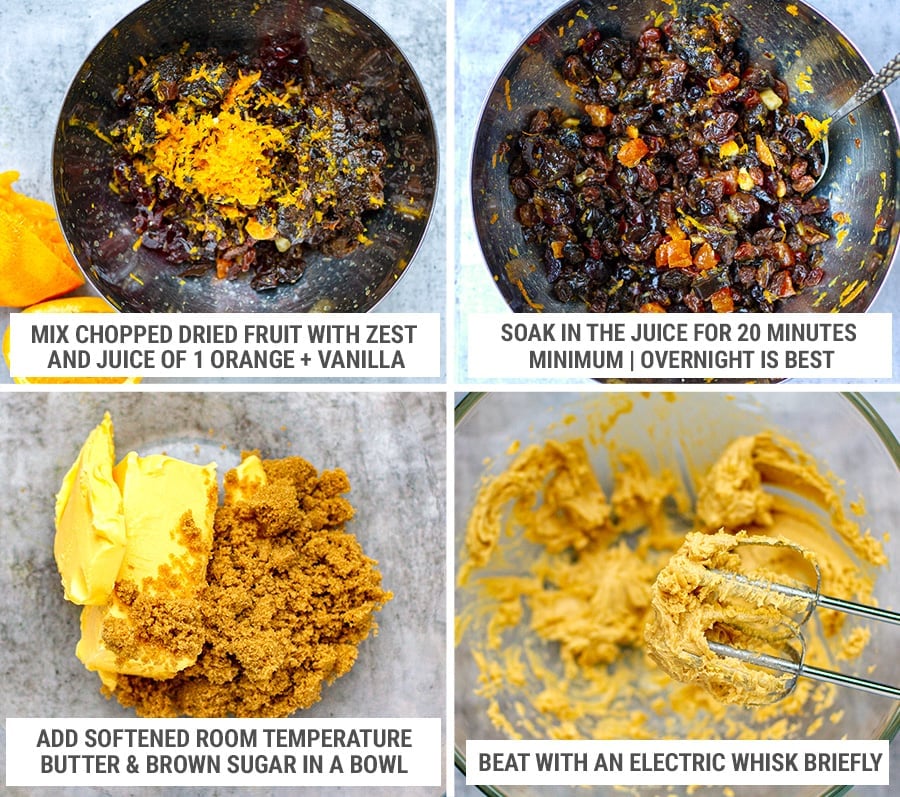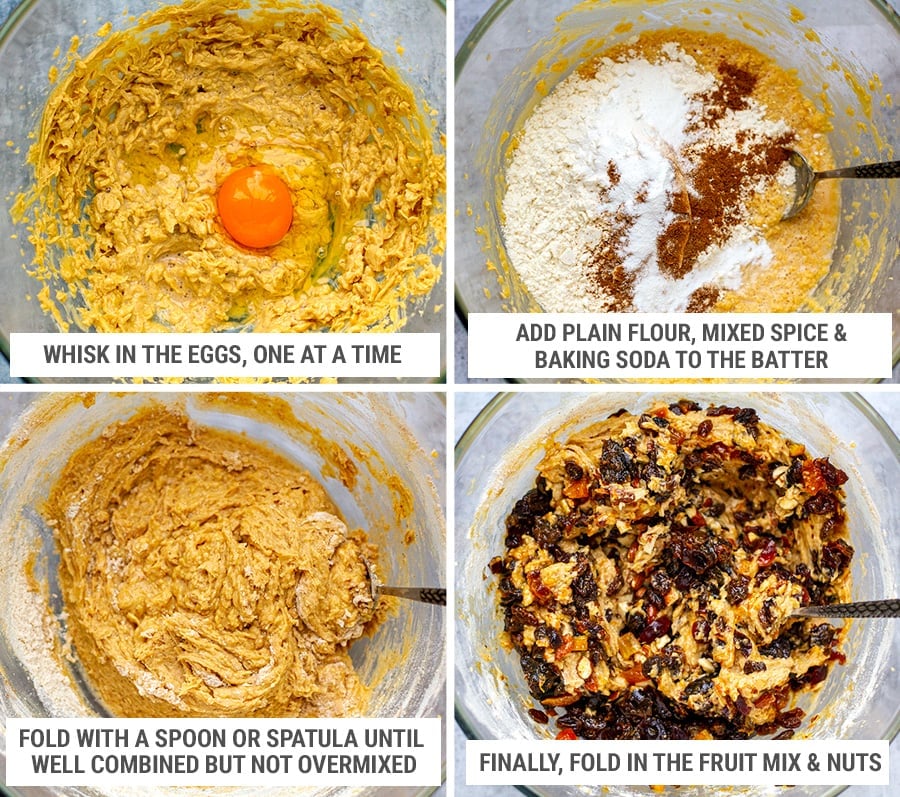 ---
MORE INSTANT POT CAKE RECIPES
---
Print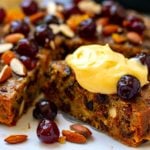 Instant Pot Fruit Cake (Perfect Winter & Christmas Dessert)
Author:

Prep Time:

20 minutes

Cook Time:

1 hour 10 minutes

Total Time:

1 hour 30 minutes

Yield:

8

-

1

0

1

x

Category:

Dessert

Method:

Instant Pot

Cuisine:

British

Diet:

Vegetarian
---
Description
This festive Instant Pot fruit cake is a quick and easy, delicious dessert to enjoy in the fall and winter, for Christmas or Thanksgiving. Our recipe is made without alcohol and less sugar but is just as decadent tasting and heady as the classic fruitcake or Christmas pudding. Serve with custard, cream or ice cream!
---
For the fruit mix
1 cup (5 oz / 150 g)  mixed dried fruit (raisins, sultanas, candied orange peel, candied ginger, dried apricot)

1/4 cup pitted dates (2-2.5 oz, about 50–60 g), chopped

1/4 cup glace/candied cherries (2-2.5 oz, about 50–60 g), chopped

1/4 cup prunes (2-2.5 oz, about 50–60 g), chopped

Zest of 1 orange

Juice of 1 orange

1 tablespoon vanilla essence/extract (optional if you have it) 

For the batter mix
1/4 cup brown sugar (2 oz, 50 g)

5 oz butter (about 150 g), room temperature, softened

3 medium eggs 

1 cup (125 g) plain, all-purpose flour

1 teaspoon (5 g) baking powder

1 heaped teaspoon mixed spice (or use 1/2 tsp cinnamon, 1/2 tsp ginger, 1/4 tsp nutmeg)

1/2 cup chopped nuts (almonds, walnuts, pecans or a mix)

For garnish
Extra glace cherries and chopped almonds

Cream cheese frosting, if you wish
---
Instructions
Combine all dried fruit in a bowl with orange zest and orange juice. Leave to soak for a minimum of 15-20 minutes. You can soak these overnight in the fridge. You can add 1/4 cup brandy or port to the mix if you wish to use alcohol.
To make the batter, beat the butter and brown sugar with an electric whisk on low to medium speed until fluffy. Add one egg at a time and whip into the butter-sugar mix.
Once incorporated and fluffy, add flour, baking powder, and mixed spice and whisk to combine. Then add the chopped nuts and the fruit mix, including any juices. Fold to combine.
Grease a 7″ inch springform pan with soft butter or oil. Transfer the batter mix into the pan and spread evenly on the top.
Add 1.5 cups of cold water to the Instant Pot. Place the trivet inside with the handles folded down (this allows you to fit the springform pan better).
Cover the cake pan with a piece of foil to catch condensation drops during cooking. Make a foil sling and place it under the cake pan. Lift both sides and lower the cake tin into the pot on top of the trivet.
Check the sealing ring on the lid to make sure it's fitted properly. Secure and lock the lid on the pot. Set to Pressure Cook and adjust the time to 45 minutes on HIGH pressure. The Instant Pot will take about 10 minutes to build up the pressure, then the 45-minute timer will start. Once down, allow the pressure to release naturally.
Open the pot and use the foil sling to lift the cake pan out. Place it on a plate and remove the foil from the top. Allow it to cool down for 5-10 minutes, then run a knife around the cake edges and release the springform cake.
You can flip the cake upside down onto a plate to then carefully remove the bottom of the pan. Flip the cake back onto a serving plate. Decorate with extra glace cherries and chopped nuts or some cream cheese frosting.
Serve this Instant Pot fruit cake with vanilla custard, ice cream or whipped cream.
---
Notes
Soaking fruit mix: 15- 20 minutes | Coming to pressure: 10-12 minutes | Pressure cooking time: 45 minutes | Natural pressure release: 15 minutes
This can be made in advance and it will keep for up to a week out of the fridge and longer in the fridge or freezer. See more info on this below!
Fruit mix can be used (about 2 cups) instead of individual dry fruit ingredients.
Nutrition
Serving Size:

1 slice

Calories:

407

Sugar:

24.9 g

Sodium:

32.1 mg

Fat:

21.6 g

Saturated Fat:

10.4 g

Carbohydrates:

49.8 g

Fiber:

2.9 g

Protein:

6.9 g

Cholesterol:

101.7 mg
Keywords: Instant Pot, Pressure Cooker, Fruit Cake, Fruitcake, Christmas, Cake, Dessert
How long does fruit cake last?
Traditional fruit cake with eggs but without alcohol will last up to 1-2 weeks at room temperature, a few weeks in the fridge and up to six months in the freezer (tightly wrapped). If alcohol is added to the recipe, fruitcake can last much longer both out of the fridge and in the freezer. However, the dried or candied fruit and nuts may start turning rancid after a couple of years.
Our Instant Pot fruit cake is made with eggs, without alcohol and less sugar than the classic fruitcake, so we recommend storing it tightly wrapped in foil or Clingwrap or in an airtight Tupperware container for up 1 week out of the fridge, 2 weeks in the fridge and up to 6 months in the freezer.
Can I make this fruit cake in advance?
Yes, it keeps really well due to the present sugar. Make sure to wrap it tightly to preserve moisture, then place it in an airtight Tupperware container. The cake can be enjoyed cold or warmed up in the oven or microwave.