These Air Fryer Christmas Recipes will help you put your trusted kitchen friend to good use this holiday season with delicious appetizers, mains, sides and desserts to choose from.
---
Whether you have a standalone air fryer or the Instant Pot with an air fryer lid, these festive recipes are perfect for Christmas or any other special occasion.
Using the air fryer will free up the oven for other dishes and will make some of the most popular holiday dishes just a little bit healthier, making the whole celebration a little less overindulging.
In this collection, we've picked out our favorite air fryer Christmas recipes including appetizers, mains, sides and desserts. Enjoy!
---
Air Fryer Appetizers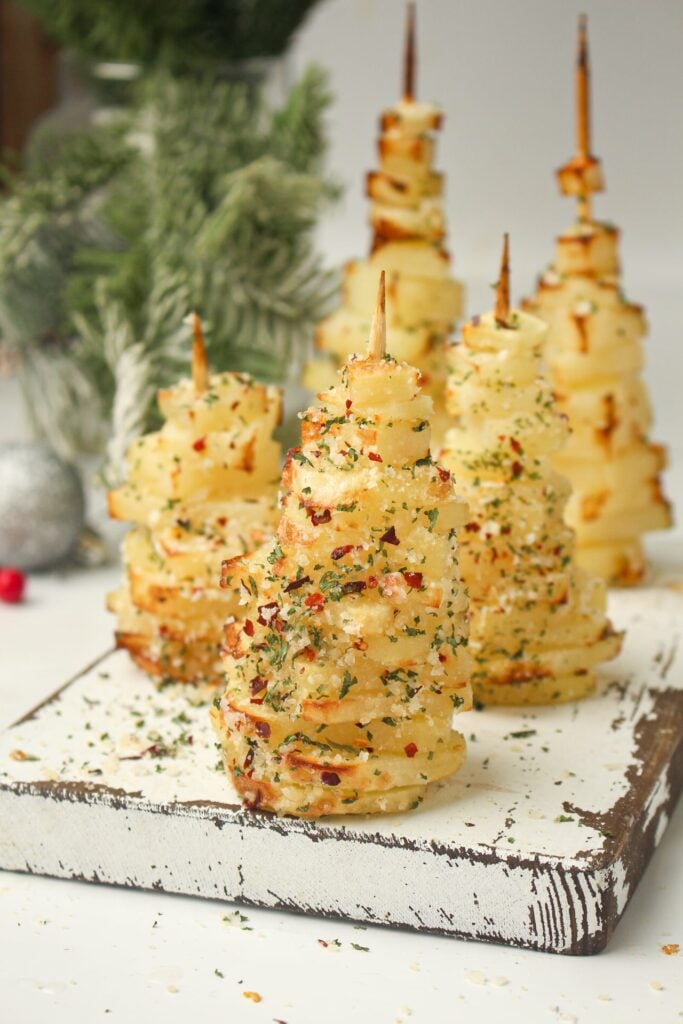 This recipe went viral on Tik Tok and for good reason, it's super easy and fun to make! The original creator of this idea was @Foodmadesimple: watch it on Tik Tok here. Recipe from The Flexible Fridge.
These mouth-watering Instant Pot Air Fryer Stuffed Mushrooms are restaurant-worthy! Garlic, breadcrumbs and cream cheese stuffed mushrooms are perfect as an appetizer, finger food or a side dish. Get the recipe here.
This air fryer blooming onion looks difficult to make, but it really isn't. Once you learn how to cut the onion you can make this fun appetizer and amaze your family and friends! Make this restaurant quality appetizer at home. Recipe from Upstate Ramblings.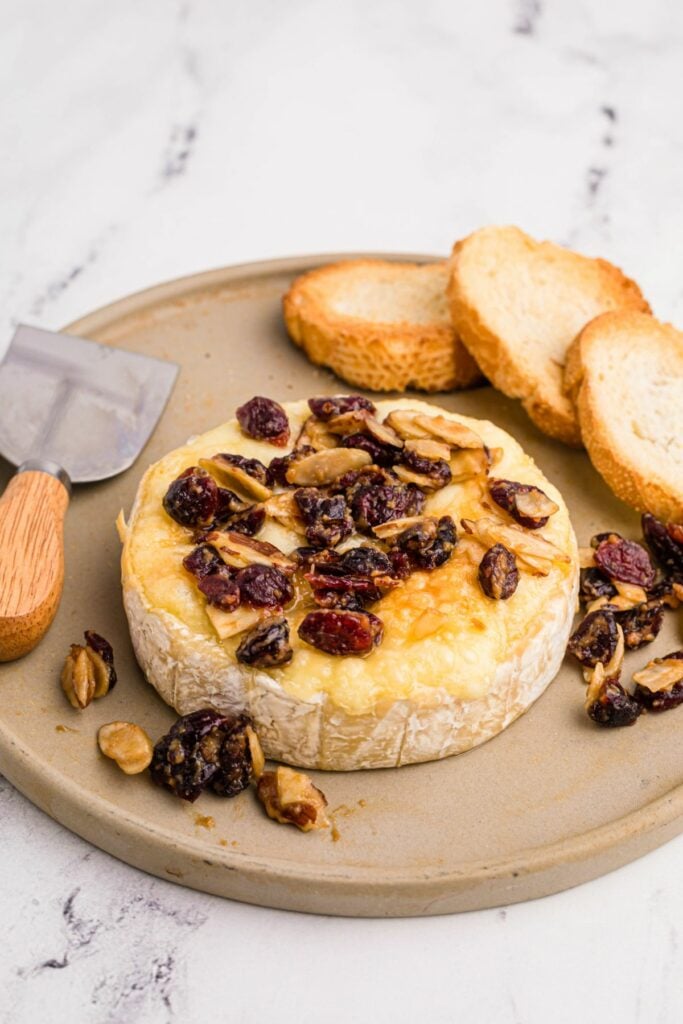 Air Fryer Brie is so creamy and absolutely delicious with every gooey bite. It is the perfect appetizer for holiday parties, game days, or just as a snack. Recipe from Air Frying Foodie.
A super tasty appetizer. Kid tested & adult approved! Pasta lovers will flip for these crunchy, "fried" bites, especially when served with marinara or pizza sauce. Recipe from Life Currents Blog.
Crusty bread infused with butter, garlic and herbs plus that perfect cheese pull that you get in every crispy bite. Recipe from Savory Sweet Spoon.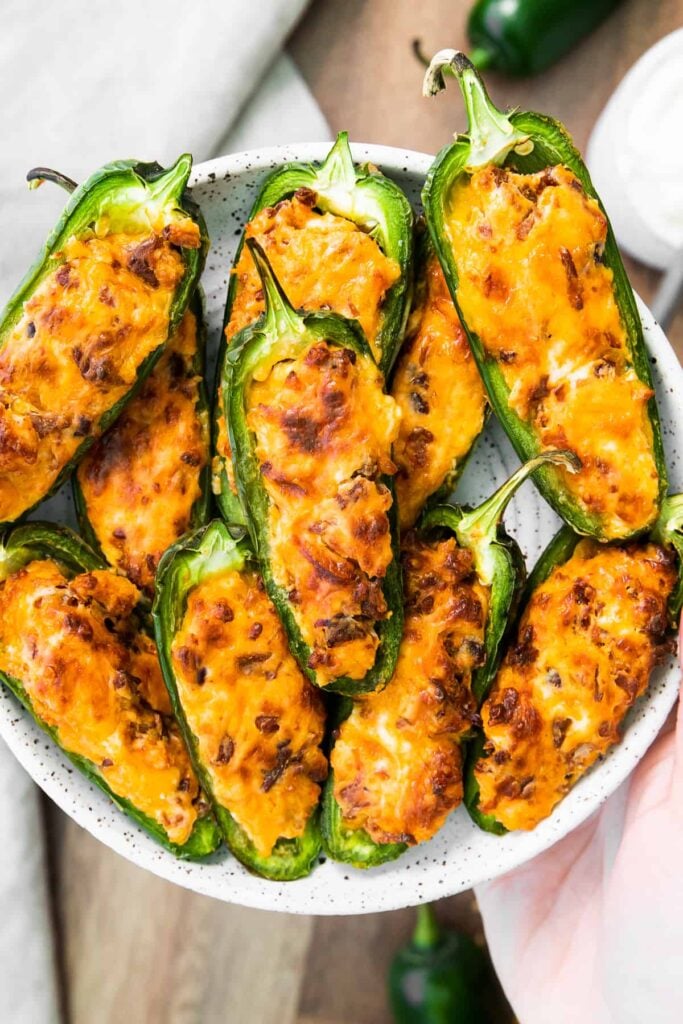 Stuffed with cream and cheddar cheese and topped with bacon bits for one delicious appetizer. Recipe from The Cookie Rookie.
"Chestnuts roasting on an open fire…" is from a classic Christmas song everyone knows. But, what are chestnuts and what do they taste like? Recipe from No Plate Like Home.
---
Christmas Mains
This delicious recipe of Instant Pot roast chicken and potatoes with herb and garlic butter is made in the 8-quart Instant Pot Duo Crisp + Air Fryer model using the Pressure Cooking + Roasting functions. Get the recipe here.
Boneless ham is basted with a savory-sweet brown sugar and pineapple glaze, and then air-fried until warm, golden, and perfect. Great for the holidays, or anytime! Recipe from The Novice Chef Blog.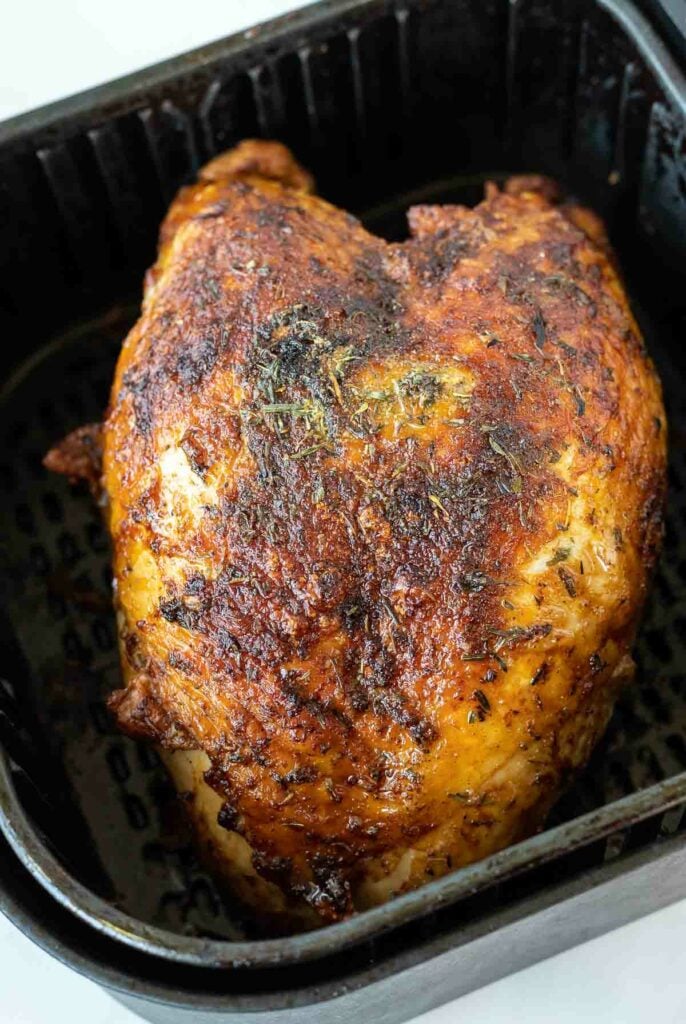 A quick way to roast a bone-in turkey breast. Turkey roasted in the air fryer will be crisp on the outside while remaining juicy on the inside. Recipe from Tasty Air Fryer Recipes.
When more than two people want the leg. Now you can cook up some extra seperately. These are nice and crispy on the outside while perfectly juicy on the inside. Recipe from My Forking Life.
Air Fryer Duck can be a perfect holiday meal or special occasion dinner. This roasted duck is just dripping in flavor. Recipe from Air Frying Foodie.
An elegant meal in only 10 minutes? These Air Fryer Lamb Chops are marinated with rosemary and garlic and are an easy, flavorful main dish you can enjoy on festive occasions. Recipe from The Almond Eater.
---
Air Fryer Sides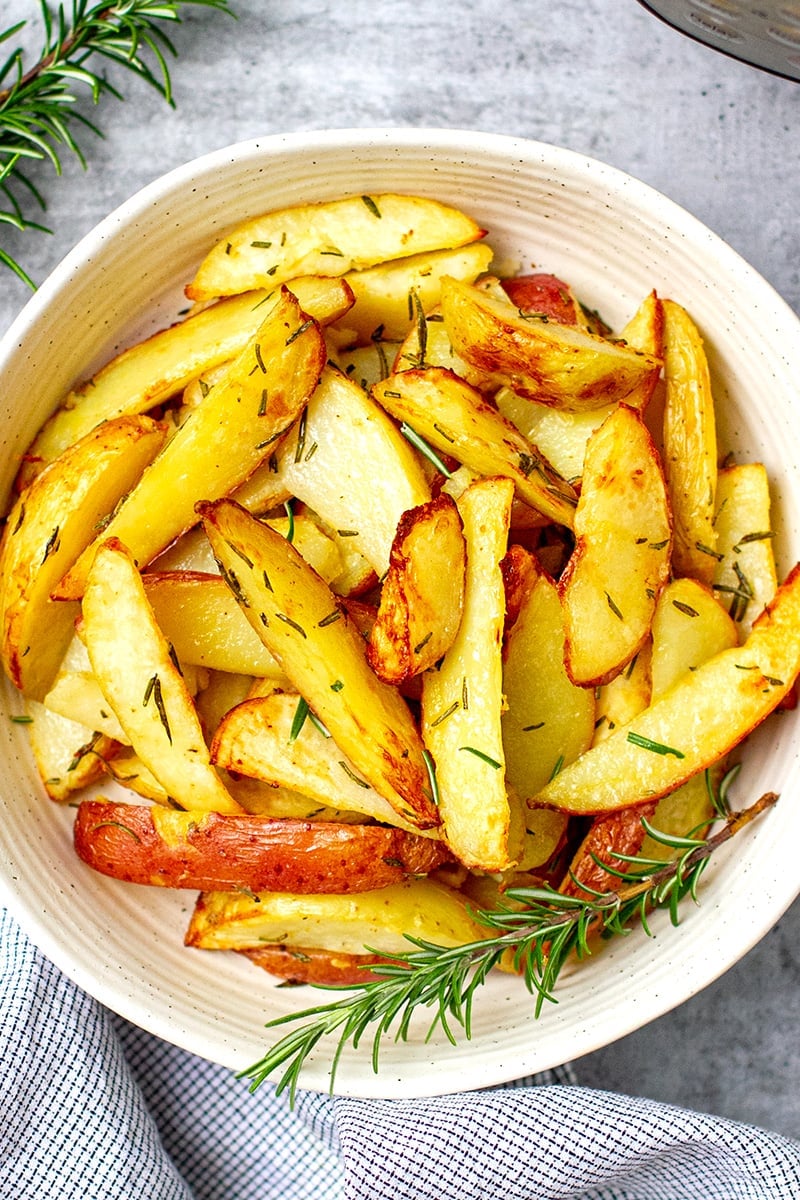 Simple, yet delicious, this recipe for Rosemary Potatoes is a trusty side dish that works as well on weeknights as it does for a special occasion. You can serve rosemary roasted potatoes with pretty much anything from meat to fish or vegan sausages. Get the recipe here.
These potatoes are perfectly seasoned, crispy on the outside, fluffy and tender on the inside! A super easy and delicious side dish that goes with any meal. Recipe from Sweet And Savory Meals.
Also check out these Air Fryer Rosemary Potatoes.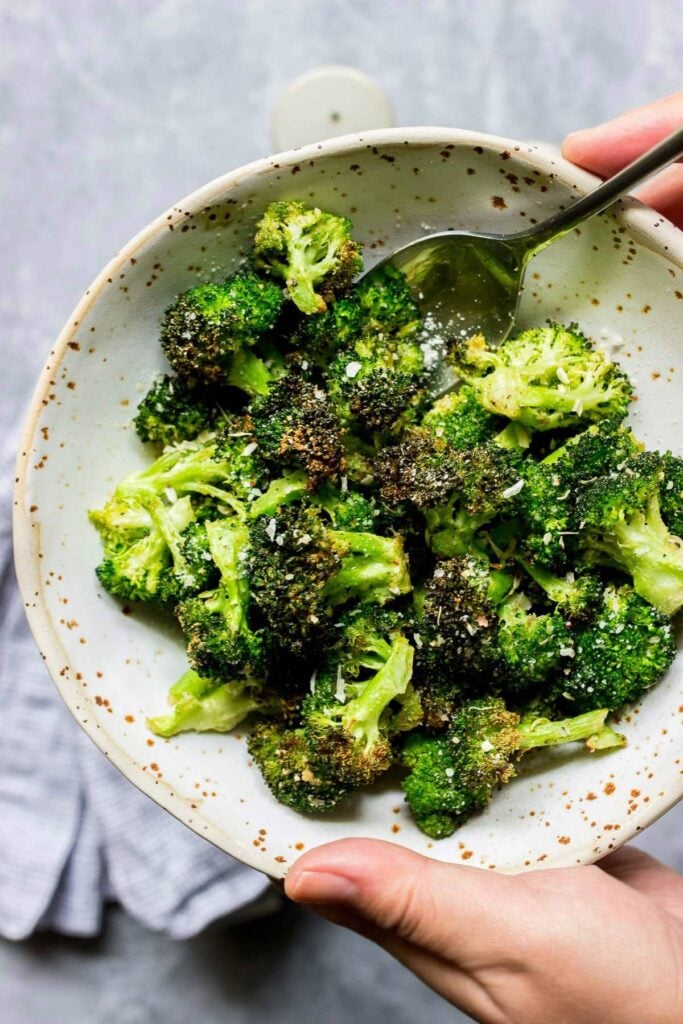 The air fryer transforms this broccoli dish from your average vegetable to these ultra-crispy, Parmesan-infused veggies with a peppery bite. Recipe from The Cooking Jar.
Create these delicious crispy Brussel sprouts with olive oil, salt and pepper and parmesan cheese. They are healthy, crunchy, and kids usually love them. Recipe from Andi Anne.
A quick and easy recipe that is the perfect side dish for dinner. You can also serve with crumbled bacon if you wish. Recipe from Stay Snatched.
Make them sweet or savory, whichever you prefer, in less time than it takes to roast them in the oven. Recipe from My Forking Life.
These easy roasted Air fryer beets are ready in 15 minutes and great as a side dish, snack, or topping. Perfectly tender and caramelized, they're Whole30, Paleo, Vegan, and Gluten-free. Recipe from Love And Other Spices.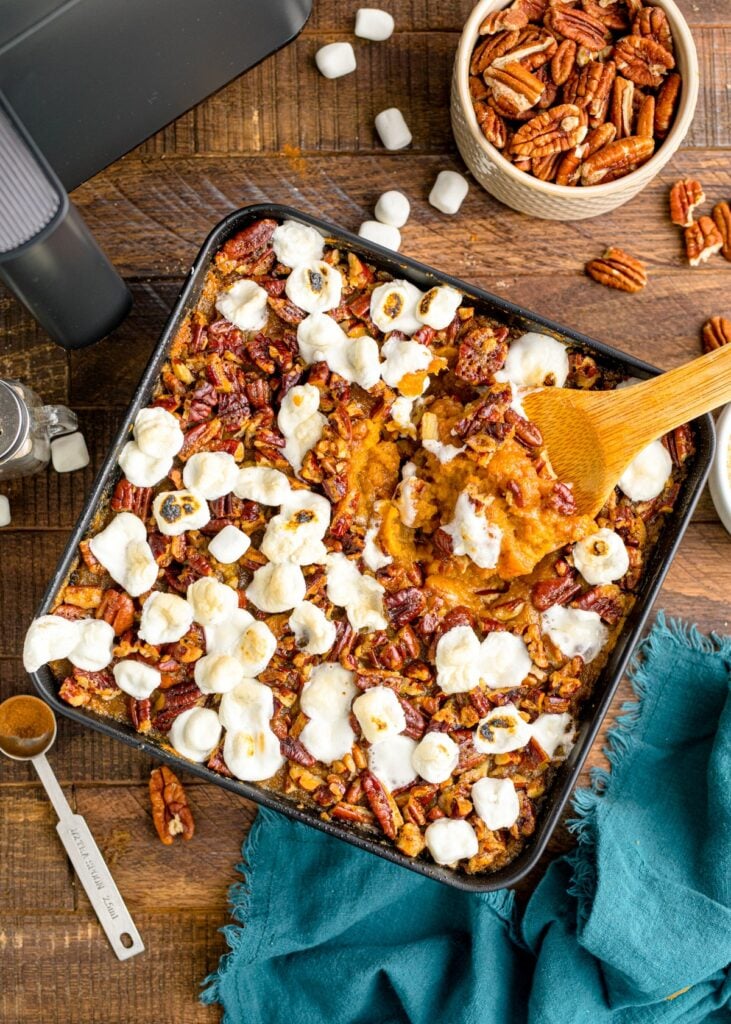 This recipe is a quick and easy take on the classic sweet and savory Thanksgiving dish. Topped with the crunchy pecans and the lightly toasted marshmallows, this one's going to be a star dish on your table! Recipe from My Air Fryer Kitchen.
---
Air Fryer Christmas Desserts
No home should be without fruit cake during the holiday season. Whether it tickles your fancy or not, there's something nostalgic and sentimental about the rich, dense decadence of a jewelled slice of fruitcake over the December holiday. Recipe from Daily Maverick.
This light, fluffy, chocolate cake is the perfect dessert to bring to a holiday dinner because who doesn't love chocolate. Recipe from Air Frying Foodie.
Pie crust filled with corn syrup, brown sugar, eggs, vanilla, and chopped pecans. Ready in under 30 minutes. Recipe from Plain Chicken.
There is nothing better for a dessert than a simple one. And this is galette is gorgeous to serve up! Recipe from Fork To Spoon.
Did you know you can make S'mores Dip in the Air Fryer? This dessert is so easy and is perfect for a quick and delicious treat. Recipe from Air Frying Foodie.
This homemade snack recipe is quick and easy to make in minutes in your air fryer! Perfect for salads, holiday snacks or gift giving. Each bite is crunchy, sweet and delicious. Recipe from Simply Stacie.
---
SAVE THESE AIR FRYER CHRISTMAS RECIPES TO PINTEREST