Nutrient-dense and delicious, these paleo Instant Pot recipes will make your grain-free and gluten-free diet so much easier to manage.
---
This round-up of paleo pressure cooker recipes is for you, modern-day cavemen and cave-women!
The paleo diet means no grains, no dairy, no soy, no legumes, and no sugar. If you've been following the "diet" for a while, you've probably been asked, "Well then, what can you eat?" The answer comes down to meat and veggies for the most part, and if you've cooked enough paleo-compliant recipes, you know it's not as restrictive as it sounds.
Still, that doesn't take away from the fact that cooking for your dietary needs takes a little time and a little extra attention. It's easy to run into a rut in the kitchen whether it's a lack of creativity or you just can't bring yourself to cook after a long day at work. The Instant Pot basically suits every individual's needs from the busy mums to college students, and the paleo dieter is no exception. It makes hands-off healthy meals a possibility when you need it, and we've rounded up some of our favorite paleo-friendly recipes to make in the pressure cooker.
Chicken recipes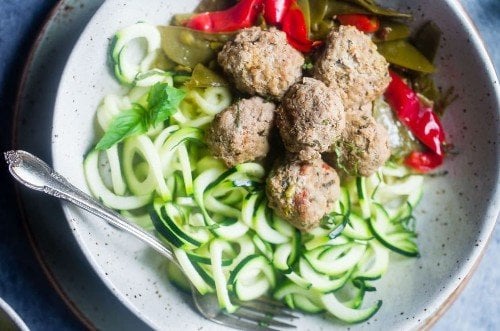 If you've ever had pasta primavera, you know the taste! The paleo diet eliminates pasta, so this recipe substitutes zucchini noodles for the base. The star of the dish is definitely the meatballs, though. Ground chicken, fresh basil, and Italian seasoning come together as the dynamic trio bringing home that classic flavor. Recipe from Food Faith Fitness.
Mushrooms, Marsala cooking wine, chicken stock, and fresh basil are all you need to get that tastebud explosion going with yet another paleo-friendly "pasta" dish. Recipe from Mama Instincts.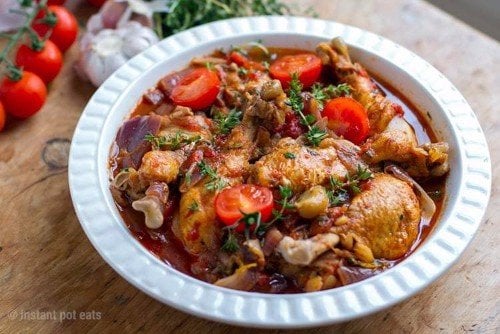 These chicken drumsticks are fall-off-the-bone tender so you can serve them on the bone or shred them off in the beautiful tomato sauce with garlic and thyme that they're cooked in. Either way, it's going to be good eats with a dose of protein, fat, and veggies for the win!
You'll see pretty soon that we've got an Instant Pot recipe for basically every takeaway dish imaginable. Kung Pao chicken is like a peanut chicken, but this recipe uses cashews to keep it paleo alongside coconut aminos and red pepper flakes for the infamous sauce. Recipe from Sweet C's Designs.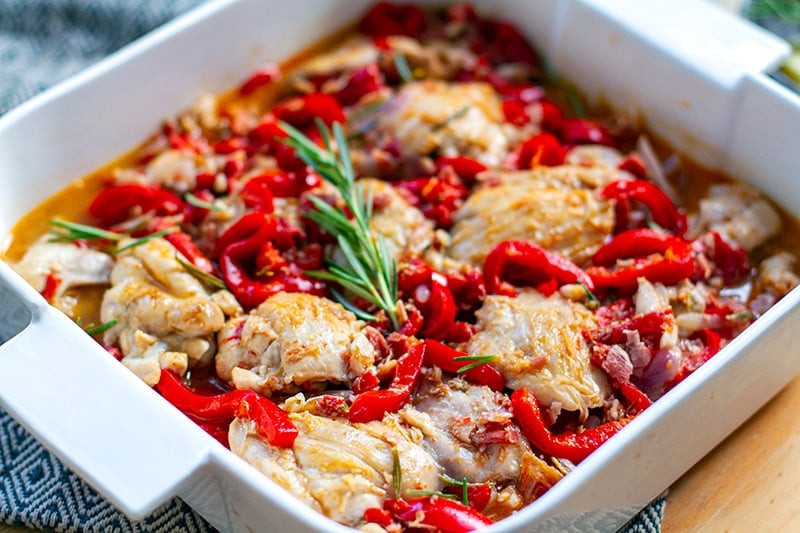 This Instant Pot chicken scarpariello recipe is a pressure cooker version of the American-Italian classic dish made with poultry and sweet and sour sauce of pickled roasted red peppers and rosemary. This sensational dish can be served over your favourite pasta, polenta, rice or vegetables.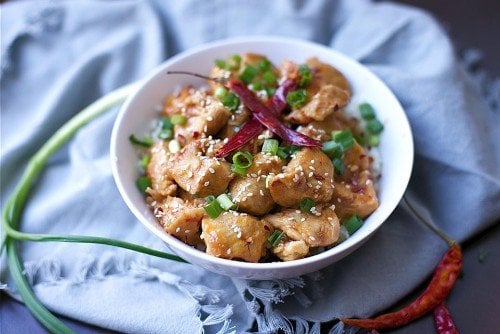 Instead of soy, this recipe uses coconut aminos. Instead of sugar, we have a touch of honey and coconut sugar instead. Basically, this is everything you love about General Tso's without the junk, making it totally paleo-friendly. Recipe from Wholesomelicious.
This is cozy, comforting winter food at its finest. Naturally, the Instant Pot makes a mean chicken soup but when you take it to the next level with this creamy base? It's like a hug in a bowl. Recipe from Tasty Yummies.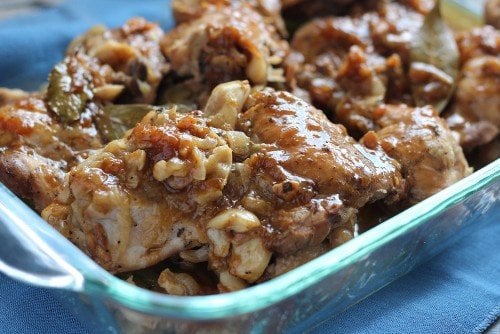 Tangy and tender, this Filipino-inspired dish is easy to make paleo-friendly. Bonus? It's also AIP-friendly, so it's nut-free to boot. The vinegar braise is what makes this adobo chicken unique, and the rest of the ingredients are pretty simple. Serve these up with some fresh slaw – sure to be a BBQ hit. Recipe from Food and Sunshine.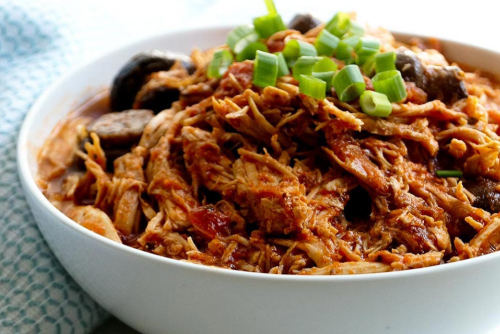 Most pulled chicken recipes call for a BBQ sauce or some Mexican flair, but not THIS dish. Instead, you'll have a gorgeous shred with Italian flavor infused in every single bite. Plus, there are just three ingredients: chicken, marinara sauce, and mushrooms. Who said good home cooking needs to be complicated? Recipe from Food Renegade.
Pork recipes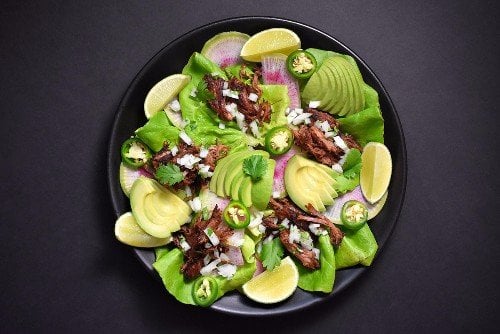 A perfect Whole30-friendly porktastic Instant Pot Carnitas recipe that will rival what you'd order at your favorite taqueria! It's so simple and delicious that you'll make homemade carnitas all the time! Recipe from Nom Nom Paleo.
Instead of the roll, put it in a bowl. This is a good rule of thumb for paleo eating anyways, and it will probably be a pleasant surprise most of the time. Rolls, wraps, and sandwiches are off the table, but you can take those same ingredients and flavors to make something ultra-tasty like egg rolls… without the deep-frying and stuff. Recipe from The Curious Coconut.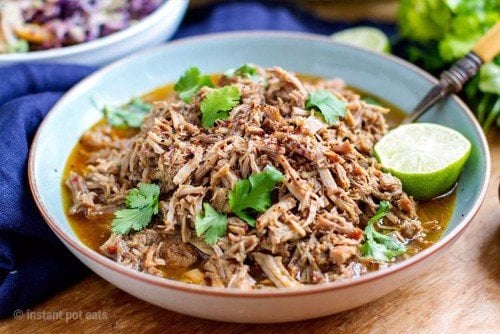 Every night is taco night. The Instant Pot clearly does a great job at making delicious, tender, pulled meats and this pork is a fabulous example of just that. Inspired by barbacoa, this is delicious with some guac and cauliflower rice for a full paleo meal. Recipe from Instant Pot Eats.
These ribs are sticky, sweet, fall-off-the-bone perfection for your summer BBQ needs, and they come together in just an hour. Plus, the tamarind and maple glaze is uniquely delicious! This recipe is also AIP-friendly. Recipe from Grazed and Enthused.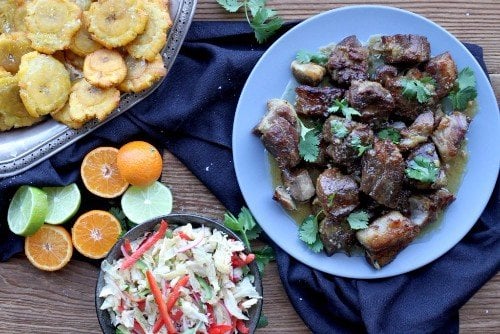 Need we say more? Serving suggestions definitely include a fresh batch of colorful slaw and some fried plantains or tostones. Mojo pork has got it going on in all of its citrus-infused glory, finished off with a glorious crisp. Recipe from Zenbelly.
These meatballs are all about the sauce, and you'll quickly see why. Cherries are used to get that sweetness that usually comes from sugar in barbecue sauce lending both big flavor and a lovely burst of red in the glaze. Recipe from Plaid & Paleo.
Beef recipes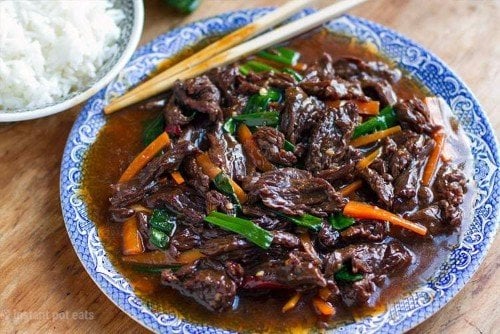 Playing the guessing game with a takeaway is kind of risky with the paleo diet. While you can do your best, you're likely going to end up with some less than ideal ingredients like sugar, soy, wheat, corn, or MSG. This dish has none of that while encompassing all that is good about Mongolian beef. Recipe from Instant Pot Eats.
No beans? No problem. You'll love this legume-free meaty mix-up with all the chili flavor you adore. Plus, you get a healthy dose of veggies in this recipe with cabbage and carrots in the blend. Recipe from Homestead Chic.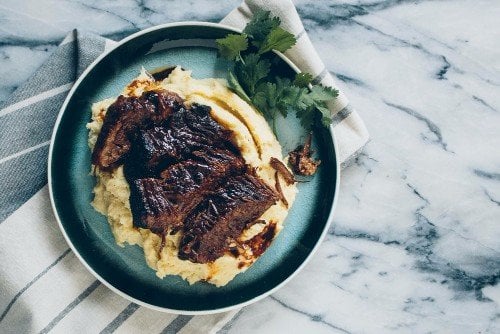 You get a touch of sweetness in this brisket from the maple, and then you balance it out with a dose of smoke – all without having to use the smoker which takes up both time and space! The Instant Pot does it well and yields a seriously tender and divine brisket, in the end, to serve over your favorite veggie mash. Recipe from Bare Root Girl.
This is one of the first recipes many people make in their Instant Pot. It's easy, it's affordable, and it's a crowd-pleaser. The entire family will gladly chow down on a bowl of beef stew and its leftovers. Recipe from Predominantly Paleo.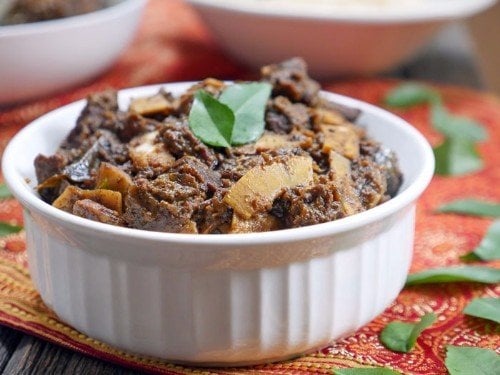 Beef isn't often used in Indian recipes, but this is an exception to the rule. With the Instant Pot, tackling new and inventive feats in the kitchen is made simple, easy, rewarding, and fun. Kerala beef fry is made with coconut slices and curry leaves. Yum! Recipe from My Heart Beets.
Short ribs are often underlooked for a main dish, but they're inexpensive and oh so delicious cooked low and slow. The pressure cooker removes the need and cooks them fast to tender perfection. These are smothered in a beautiful sugar-free BBQ sauce. Finger-lickin' good! Recipe from Instant Pot Eats.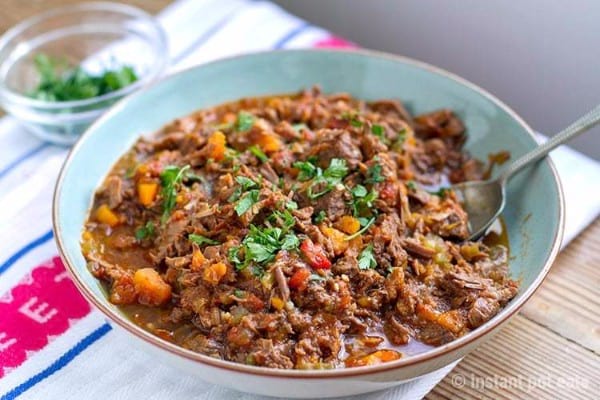 This blend of stew and bolognese is a fabulous freezer meal. It's good on its own or with your favorite pasta/rice substitution. The best part? The veggies hiding out! This protein and iron-packed dish couldn't be easier than with the IP. Recipe from Instant Pot Eats.
Spaghetti and meatballs might be cutting it close to SWYPO during the Whole30, but a humble combination of homemade sugar-free tomato sauce, grass-fed beef, and innocent zoodles save the day. Have your cake (or pasta) and eat it too with this dish. Recipe from Instant Pot Eats.
Turkey recipes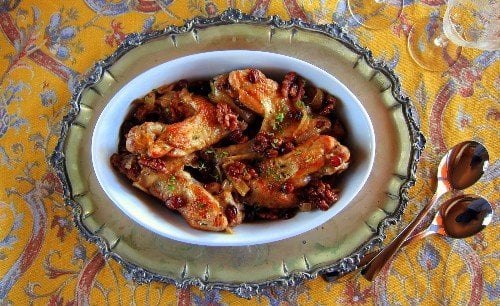 Braising made easy? The Instant Pot makes it happen. This simple recipe is a stunner with cranberry, bursts of citrus from orange juice, and crunchy walnuts. Swap out the butter for coconut oil or ghee to make it strict paleo, and you've got yourself something scrumptious to gnaw on – like a real caveman. Recipe from Hip Pressure Cooking.
We all need meal prep when it comes to sticking to the paleo diet. We also need no-cook, easy protein options to mix and match with different meals or toss into a salad when the hunger sets in and you just can't cook. Instead, batch cook this deli meat in the IP. Recipe from Meal Plan Addict.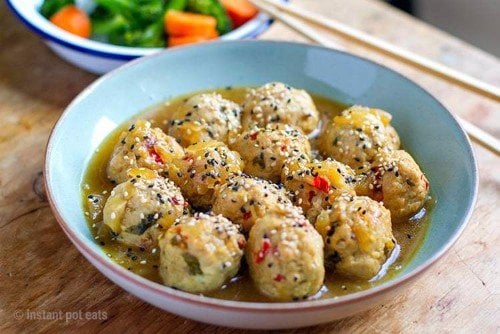 These turkey meatballs are dished out in a wonderful, Japanese-inspired Teriyaki sauce. There are options for no refined sugar or soy with this one, instead of using honey and coconut aminos to bring in those same flavors while keeping it paleo. Recipe from Instant Pot Eats.
There are tons of apple hiding out in this dish, and you know just how well it pairs up with poultry. Ah, this dynamic duo can only be made more delectable by knowing we can whip this one up in the Instant Pot. The meatballs are grain-free to boot, using almond flour as the binder instead. Recipe from Once a Month Meals.
Seafood recipes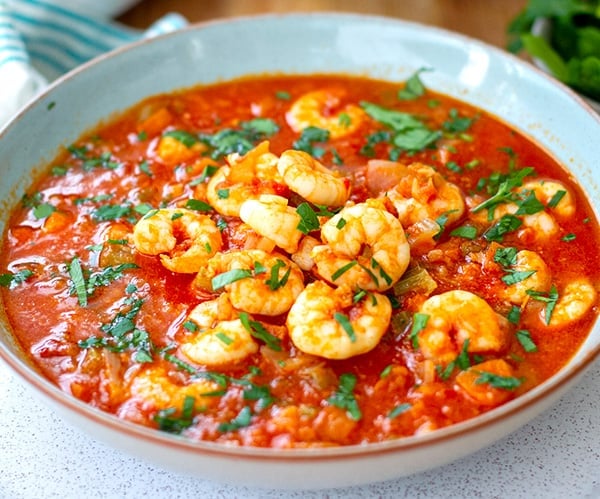 Cooked from frozen, this tomato garlic shrimp dish can be made in 15 minutes using the Instant Pot. It's gluten-free, paleo, Whole30 and low-calorie and can be served with a variety of sides. Recipe from Instant Pot Eats.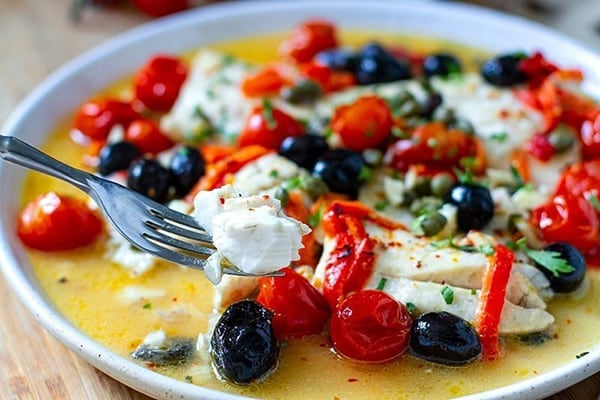 The frozen fish is cooked in the Instant Pot in Italian broth flavored with classic Mediterranean ingredients: olives, garlic, capers, tomatoes, and healthy olive oil. The flavors are tangy and savory with a little sweetness from cherry tomatoes, and it infuses the fish while it braises in the broth. It's a dump-n-cook recipe that is fantastic even for Instant Pot beginners.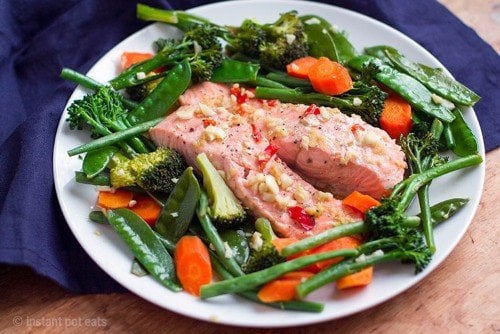 Seafood is one of the easiest things to make in the Instant Pot since it's cooking time is notoriously quick. This salmon dish takes around 15 minutes and you've got a complete meal a la pressure cooker. Getting in those omega-3s has never been simpler. Recipe from Instant Pot Eats.
You can use any firm fish for this gorgeous stew with a tomato base and a bit of wine (because you know the cavemen loved their wine). A glug of olive oil brings depth to this hearty fish stew which would easily please any seafood enthusiast! Recipe from Simply Recipes.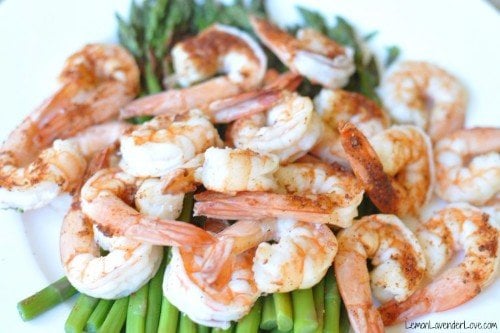 Simple experiments can yield some tasty results. This tasty and light meal is good on its own or served up with some potatoes or mash. The best part? Well, it takes like… 3 minutes. No joke. Recipe from Lemon and Lavender Love.
Lamb recipes
Lamb curry is a gorgeous dish to curb the takeaway cravings with on the paleo diet. If you kick it primal, you can serve it atop some rice cooked in the Instant Pot. Otherwise, whip up some grated cauliflower "rice" for the bed. Either way, it's what's on top that counts. Recipe from The Real Food RDs.
Potatoes are paleo if you ask us. If you include them in your version of the paleo diet, this recipe is comfort food at its finest. If you don't, simply swap them out for sweet potatoes! Either way, the Instant Pot makes a fancy lamb dinner easy peasy. Recipe from Gnowfglins.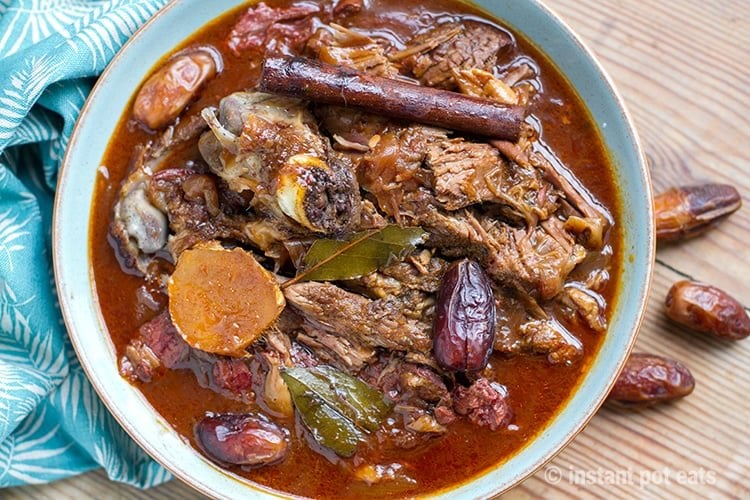 This one is a little less Irish and a little more Moroccan with naturally sweet dates, cinnamon, and ginger stewed in a delicious and flavourful broth. The lamb is fall-off-the-bone tender, and this dish is perfect served atop a bed of cauliflower rice.
What's lamb stew without a side of savory soda bread? Both are grain-free and paleo-friendly, so you can have your bread and dip it too! This gorgeous stew comes together in the Instant Pot for tender lamb every time, and a gorgeous sauce you'll want to keep soaking up! Recipe from Food by Mars.
Veggie recipes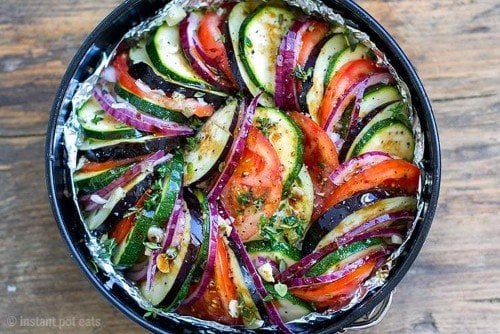 This simple dish transforms into a rainbow of nourishment and deliciousness you'll look forward to serving for guests or for the family. A blend of tomato, eggplant, and zucchini with some herbs de Provence are all you need… besides a little pressure, of course. This will pair up well with Italian dishes or any simple grilled protein. Recipe from Instant Pot Eats.
This is also one of our favorite spins on Indian food in the Instant Pot. This warming soup is the perfect blend – literally – of creamy butternut squash, coconut milk, and curry powder. This is a simple side dish you'll want to revisit. Recipe from Detoxinista.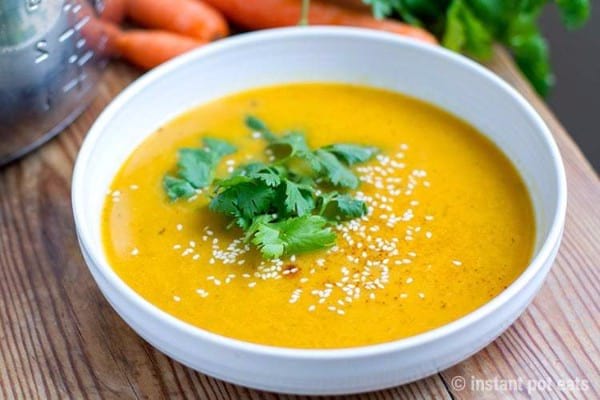 This creamy soup has a base of slightly sweet carrots and dairy-free coconut milk, perfect for a paleo side dish. Lemongrass and cilantro bring home the flavor with a dash of sesame seeds on top. Top it off with a squeeze of fresh lime and you've got one tasty soup to slurp on.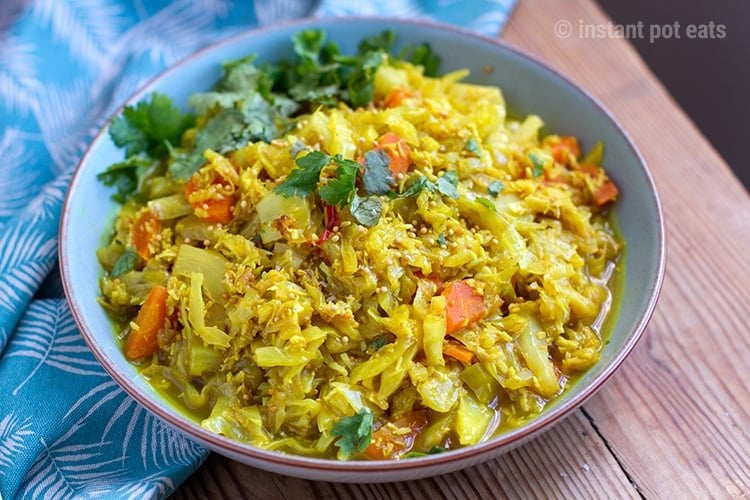 Not many people are familiar with Sri Lankan-style food. Change the game with this recipe, taking cabbage to the next level. Mustard seeds, turmeric, and shredded coconut bring this dish together making it the perfect fiber-rich side dish. Recipe from Instant Pot Eats.
Beets are a fabulous addition to your Whole30 menu with natural sweetness and beautiful color. This soup is rich in nutrients and it's fantastic served hot or cold. Simply replace the sour cream on top with coconut cream and voila!
The moral of the story? The Instant Pot makes eating paleo pretty simple and supremely delicious! What recipe are you most excited to try? Let us know!
---