These amazing Instant Pot rice recipes are a delicious vehicle for protein, veggies, beans and more in these flavorful dishes, from Italian risotto and Spanish paella to rice pudding for your sweet tooth!
---

Rice is quite simply one of the best foods for the Instant Pot. It's generally known for being a time-intensive food to cook, but the Instant Pot sort of takes the pressure off – no pun intended. While you may have a rice cooker, you can probably retire it if you now own an Instant Pot, since it serves the same purpose and so much more.
These amazing Instant Pot rice recipes are generally pretty good for you, and they are all gluten-free. Rice can be a fantastic and delicious vehicle for protein, veggies, beans and more in these flavourful dishes, from risotto to rice pudding for your sweet tooth!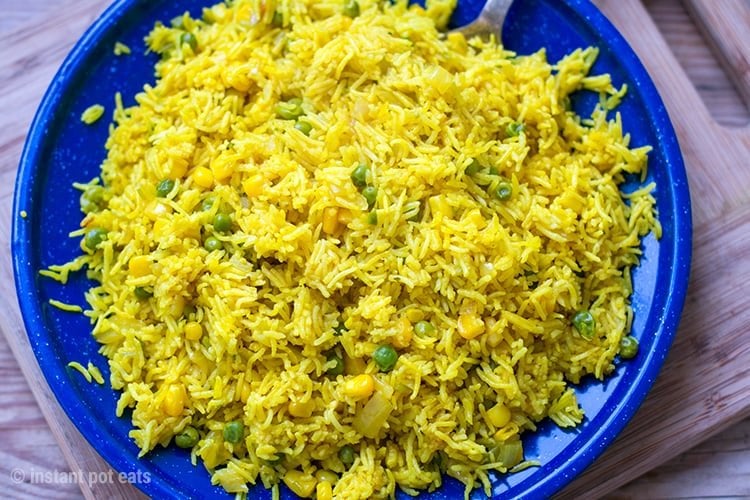 Forget about MSG, color numbers or preservatives! This homemade yellow rice is tasty and nourishing, minus any nasty additives. It's naturally gluten-free and vegetarian/vegan-friendly. Recipe from Instant Pot Eats.
With our first risotto, we have some Japanese-Italian fusion which encompasses quite a few surprising commonalities, but the most notable is the strive for excellence. That is what we believe this recipe delivers above all. Recipe from Pressure Cook Recipes.
You simply can't go wrong with mushroom risotto. You'll get the perfect, creamy outcome every single time with this recipe, using both fresh and dried mushrooms for intensely brilliant flavor in every bite. Recipe from Serious Eats.
We'll get to the real deal next, but we do love this paella-esque dish with a scampi sauce. The trick to injecting flavor into the rice is to cook it with the shrimp, shell on. Saffron, fresh parsley, and lemon juice have this gorgeous dish bursting with flavor, and it's pretty to serve! Recipe from Health Starts in the Kitchen.
Paella is a gorgeous feast to serve, but it's not exactly notorious for being a simple affair. Paella, meet your match! It takes just 20 minutes to cook, and fortunately, that includes all of the ingredients. Rice, chorizo, and seafood truly make a decadent dinnertime treat. Recipe from William Sonoma.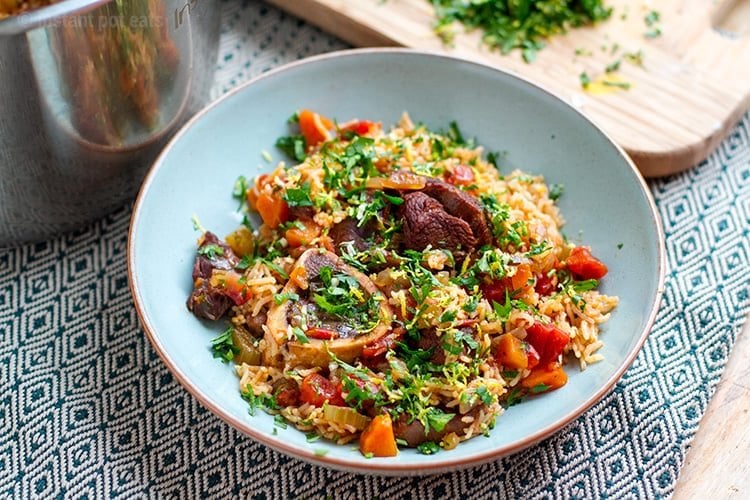 Osso buco is a fabulous Italian dish of slowly braised cross-cut veal shanks with vegetables, wine, and tomatoes. It's traditionally served with risotto and topped with gremolata. This is a one-pot osso buco rice using your trusted Instant Pot. Recipe from Instant Pot Eats.
Coconut rice is probably one of the most well-known rice recipes. It makes a super tasty bed to soak up flavors from Thai food, Hawaiian dishes or Chinese fare. Really, it's every food's best friend. This makes the fact that you can cook it in the Instant Pot just a little bit sweeter of a deal. Recipe from Pressure Cooking Today.
Who wants dessert? We do, we do! This rice pudding is refined sugar-free, so you can feel good about snacking on it. It also includes substitutions for dairy if you're avoiding milk! We love this healthy Instant Pot rendition. Recipe from Traditional Cooking School.
Simple is the whole point of the Instant Pot, and results like these are what truly make it a kitchen miracle. Chicken and rice is pretty standard fare, but it simply doesn't get old. This is a go-to dinner for so many people; why not make the recipe even more foolproof and quick? Recipe from Budget Bytes.
Sometimes, plain ol' Mexican rice is all you need. Making it at home is so much more satisfying than making it out of a box. It's an easy list of ingredients to give this the perfect flavor, and white rice takes just THREE minutes to make in the Instant Pot. This recipe makes a versatile leftover to use throughout the week in burrito bowls or stir-fries. Recipe from Eat Within Your Means.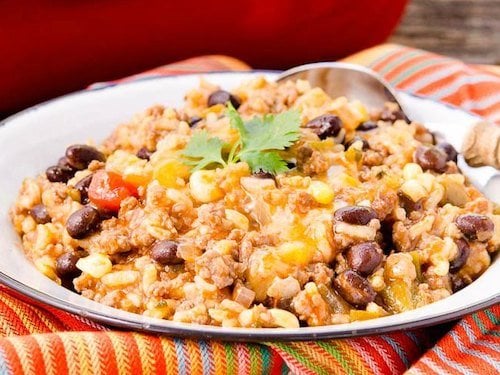 This dish is perfectly indulgent with cheese, beans, rice – the whole bit! You can serve it up Southwestern style in bowls, or load up lettuce cups with this healthy, protein-packed mixture. Chunky salsa, corn, and cheese bring this recipe together. Recipe from Magnolia Days.
Red beans and rice is a delicious, one-pot meal that you can totally begin at 5 p.m., even if you're looking at dinner for 6 p.m. The chicken andouille sausage makes a lovely addition alongside a mix of veggies. It serves 10, so you can look forward to leftovers. Recipe from A Pinch of Healthy.
If you're not familiar with congee, it's an Asian-inspired, savory porridge. You start with rice, chicken, and ginger with a mild spice but deep flavor. You can top it with whatever you like – nuts, Sriracha, eggs, pickled vegetables, fried onions or shallots, sesame seeds, or steamed greens. Recipe from Budget Bytes.
In just eight minutes, this Jambalaya-style rice is ready to go. Simply layer in the ingredients which include rice, chicken and tons of veggies. This plate is loaded with nutrition for a healthy spin on fried rice. Recipe from Omnivore's Cookbook.
Standard Chinese takeout will get you some rice whether you like it on the side, or your classic order is fried. This recipe comes together with whole foods for a much healthier version. It incorporates a huge flavor with dried shrimp and mushrooms plus the addition of Chinese sausage for seriously authentic taste. Recipe from Steamy Kitchen.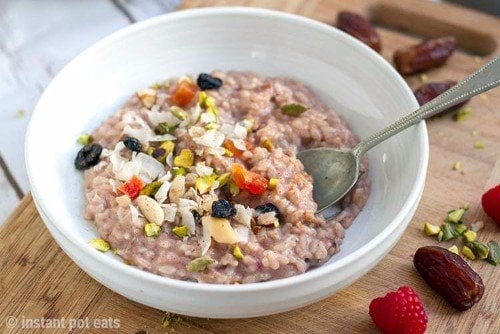 Rice is a versatile ingredient. Infused with chai spice and topped off with a colorful blend of fruits and nuts, this dish is the perfect dairy-free and gluten-free breakfast or dessert. You even get a little caffeinated kick from the chai. Recipe from Instant Pot Eats.
This risotto dish is bursting with summer flavor. Fennel and asparagus make a unique and stunning vegetable combination is this cheesy, creamy rice dish. This recipe is both vegetarian and gluten-free. Recipe from Instant Pot Eats.
Step up your rice pilaf game with some fancy ingredients! Ground lamb and figs make a sweet and savory duo like no other in this Persian-style recipe. It's topped off with crunchy almonds completing this balanced and healthy meal. Recipe from Instant Pot Eats.
What's your favorite rice dish? Have you made it in the Instant Pot? We love this versatile food and how simple it is to make in the pressure cooker. We hope you found a new recipe you're excited to try here!