These amazing Instant Pot rice recipes are a delicious vehicle for protein, veggies, beans and more in these flavorful dishes, from Italian risotto and Spanish paella to rice pudding for your sweet tooth! These are must-try pressure cooker rice dishes.
---
Cooking Rice In Instant Pot
Rice is quite simply one of the best foods to cook in that Instant Pot. It's generally known for being a time-intensive food to cook, but the Instant Pot sort of takes the pressure off – no pun intended. While you may have a rice cooker, you can probably retire it if you now own an Instant Pot, since it serves the same purpose and so much more.
Learn how to make basic rice in Instant Pot here
These amazing Instant Pot rice recipes are generally pretty good for you, and they are all gluten-free friendly. Rice can be a fantastic and delicious vehicle for protein, veggies, beans, and more in these flavourful dishes, from risotto to rice pudding for your sweet tooth!
Also, check out 23 GORGEOUS WILD RICE RECIPES.
---
WATCH OUR TOP 10 VIDEO RECIPES
---
Best Instant Pot Rice Recipes
Below are some of our favourite Instant Pot recipes with rice, including our content and from bloggers and recipe authors around the world.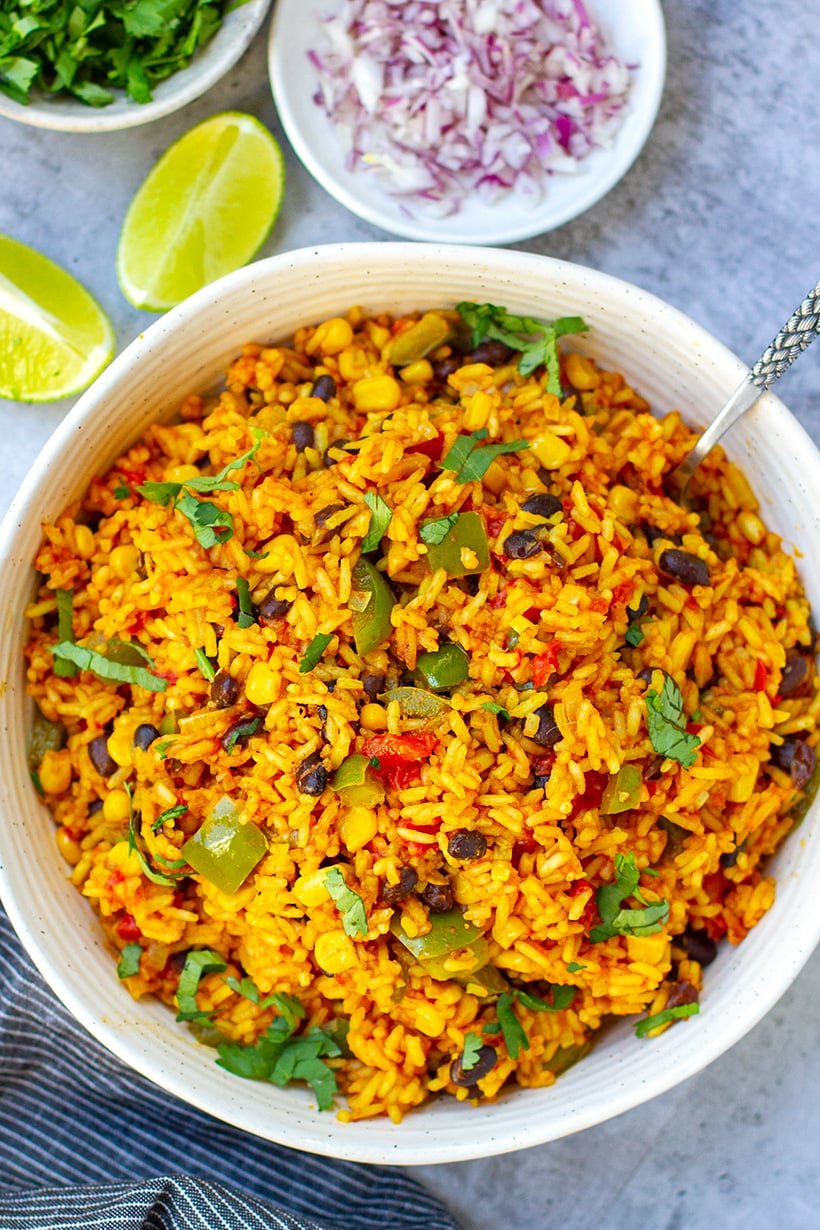 A one-pot dish that can be finished and served in five different ways such as cheesy casserole, crispy pan-fried patties, burritos, or a salad. Made with sweet corn, black beans, and green bell peppers. Get The Recipe Here.
Forget about MSG, color numbers or preservatives! This homemade yellow rice is tasty and nourishing, minus any nasty additives. It's naturally gluten-free and vegetarian/vegan-friendly. Get The Recipe Here.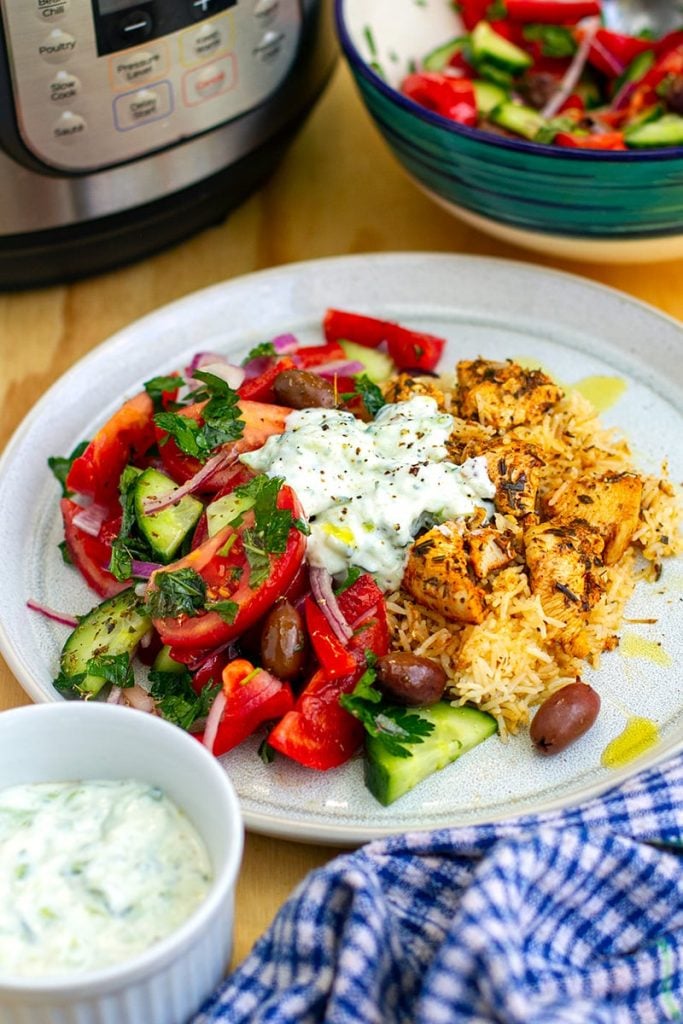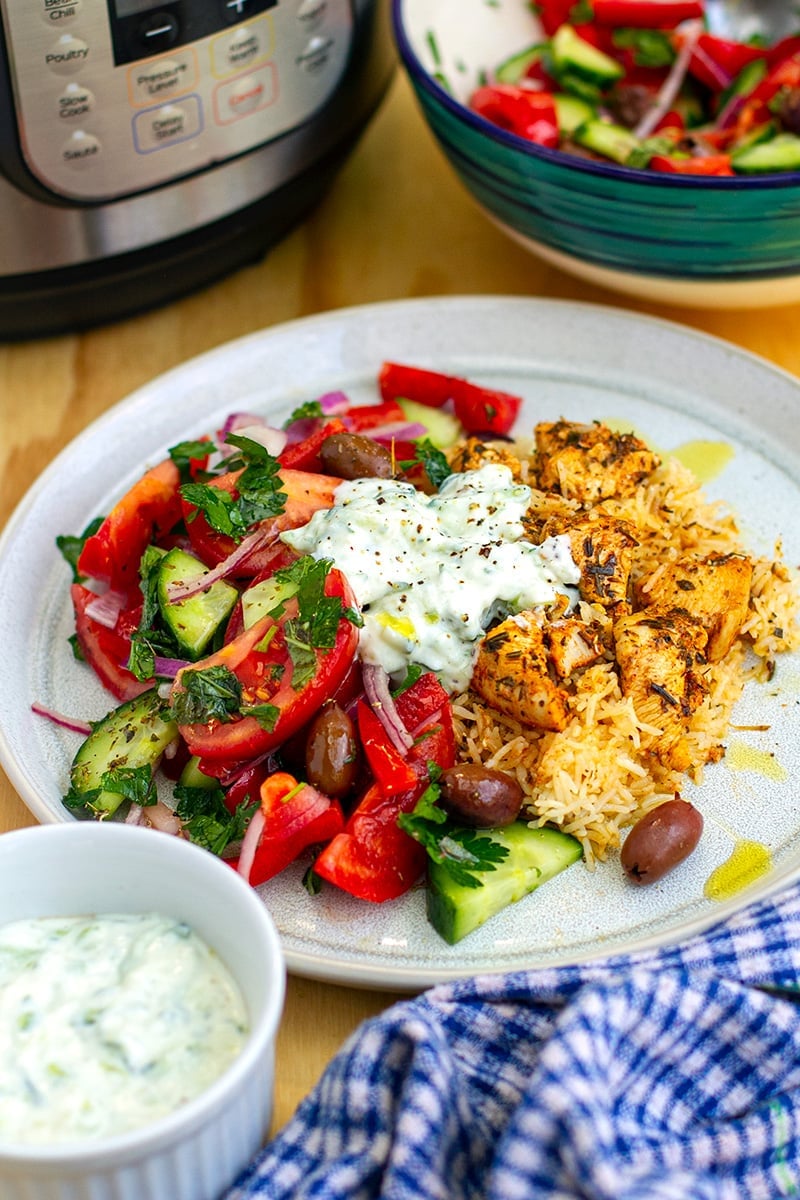 You and your family will fall in love with this recipe for Instant Pot chicken souvlaki rice served with Greek salad and yummy tzatziki yogurt sauce. Marinated chicken and rice are cooked as a one-pot dish, freeing up your hands to make the salad and the sauce. Get The Recipe Here.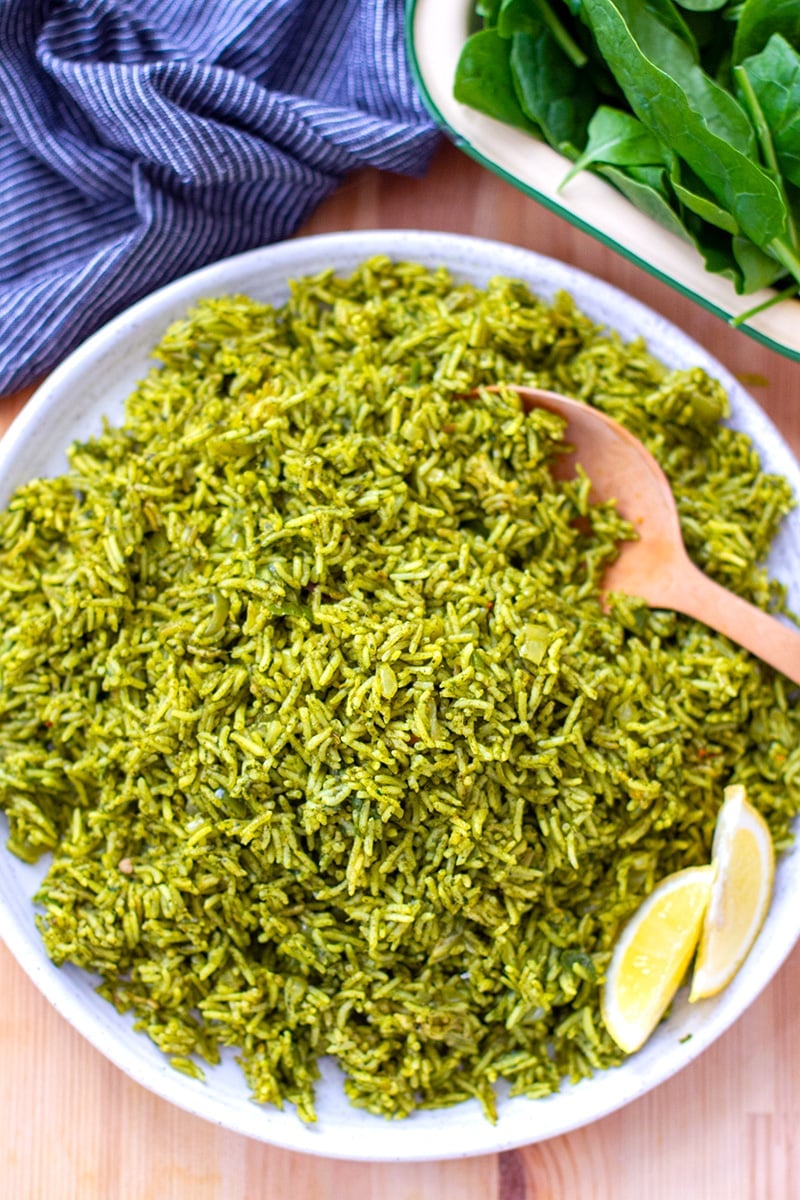 A nutritious and healthy dish that can be served as a side dish with your favorite curry or a main dish with some vegetables or salad on the side. This rice recipe is super simple and is gluten-free, vegetarian, and can be made vegan-friendly. Get The Recipe Here.
We'll get to the real deal next, but we do love this paella-esque dish with a scampi sauce. The trick to injecting flavor into the rice is to cook it with the shrimp, shell on. Saffron, fresh parsley, and lemon juice have this gorgeous dish bursting with flavor, and it's pretty to serve! Recipe from Health Starts in the Kitchen.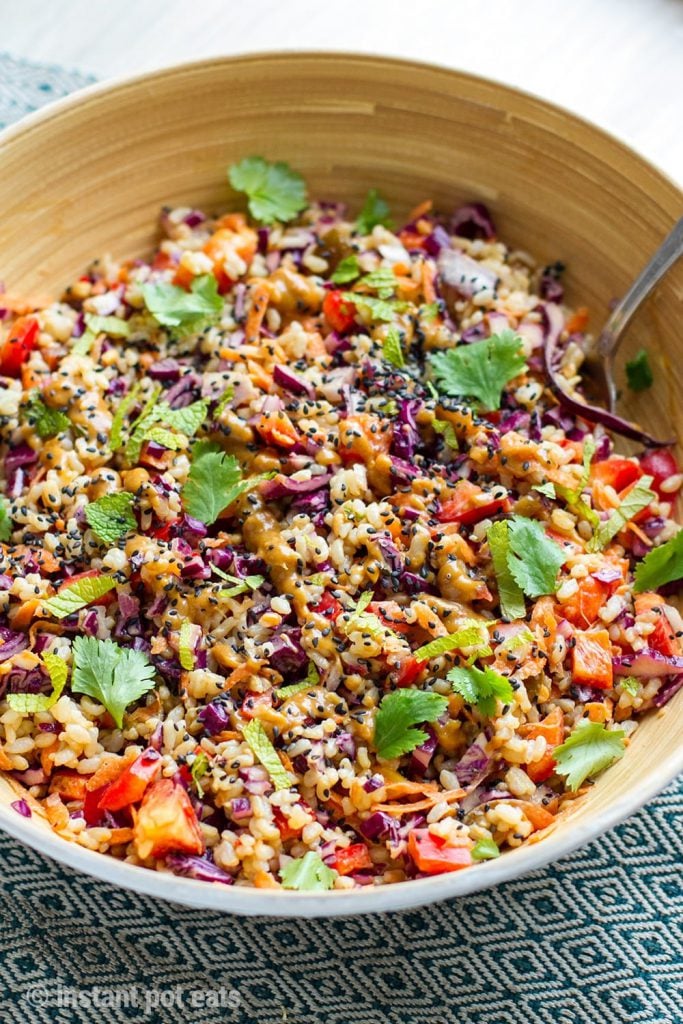 If you like meal planning and batch cooking, this salad is a great dish to add to your menu. This dish is full of veggies with a delicious peanut butter dressing. Get The Recipe Here.
Paella is a gorgeous feast to serve, but it's not exactly notorious for being a simple affair. Paella, meet your match! It takes just 20 minutes to cook, and fortunately, that includes all of the ingredients. Rice, chorizo, and seafood truly make a decadent dinnertime treat. Recipe from William Sonoma.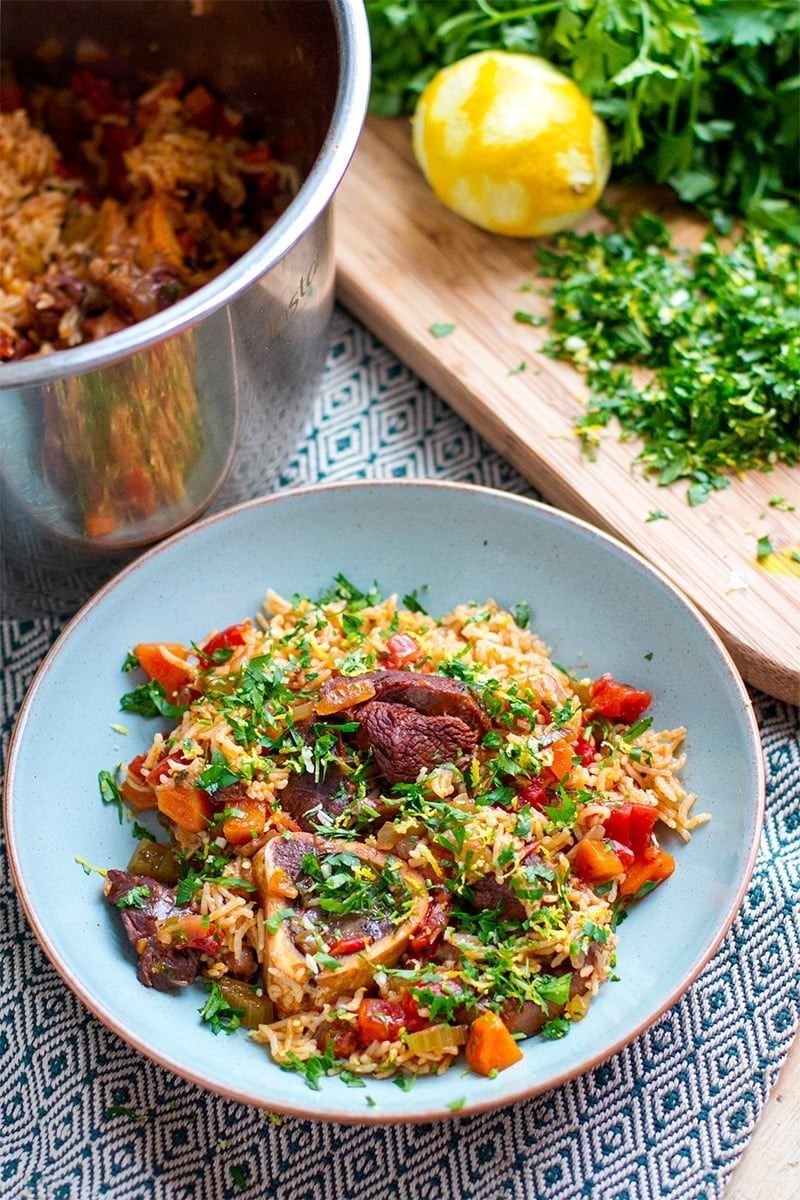 Osso buco is a fabulous Italian dish of slowly braised cross-cut veal shanks with vegetables, wine, and tomatoes. It's traditionally served with risotto and topped with gremolata. This is a one-pot osso buco rice using your trusted Instant Pot. Get The Recipe Here.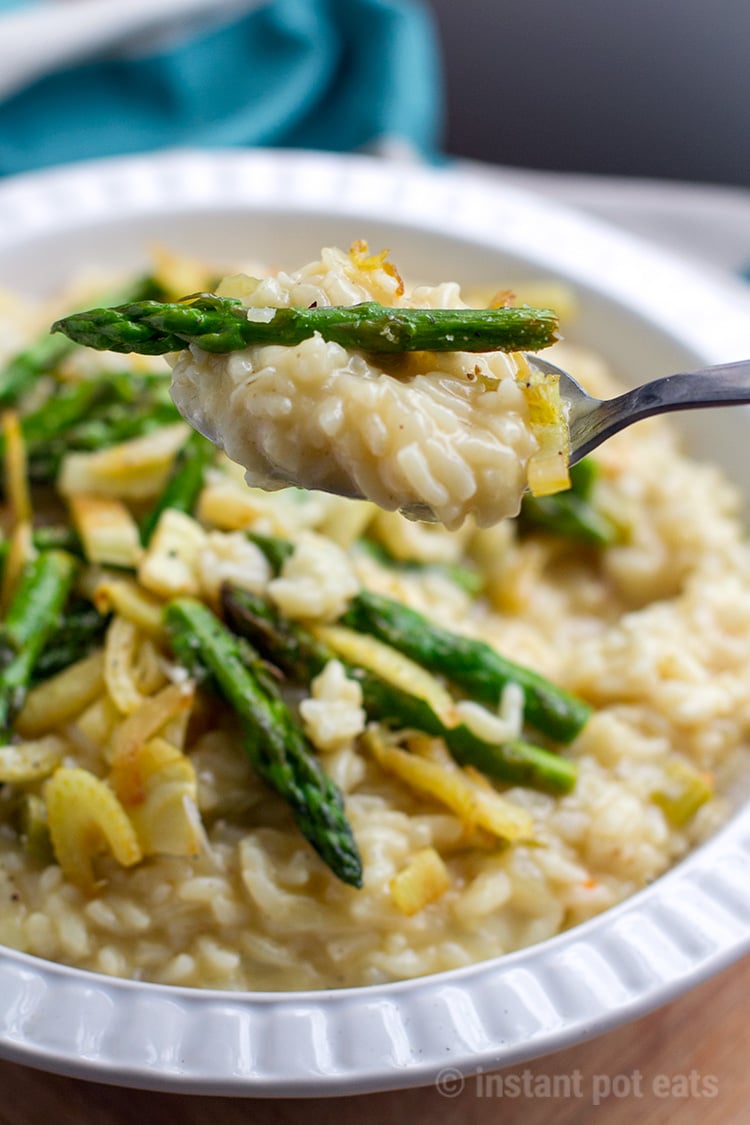 This risotto dish is bursting with summer flavor. Fennel and asparagus make a unique and stunning vegetable combination is this cheesy, creamy rice dish. This recipe is both vegetarian and gluten-free. Get The Recipe Here.
Perfect for any season but is especially popular served at a summer picnic or barbecue. This brown rice salad is gluten-free, vegetarian and vegan-friendly. Get The Recipe Here.
Who wants dessert? We do, we do! This rice pudding is refined sugar-free, so you can feel good about snacking on it. It also includes substitutions for dairy if you're avoiding milk! We love this healthy Instant Pot rendition. Recipe from Traditional Cooking School.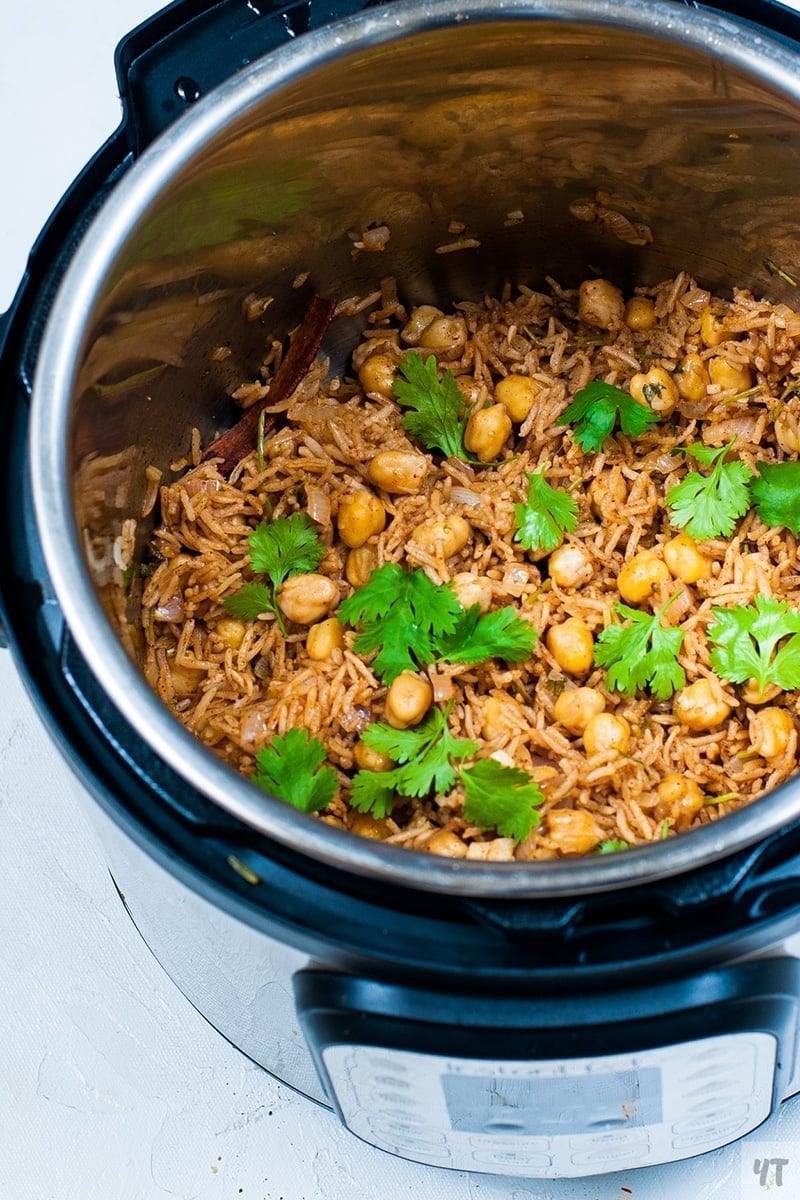 This healthy and delicious Instant Pot rice pilaf is made with protein-rich chickpeas (garbanzo beans), warm spices, and cilantro for a perfect vegetarian, vegan, and gluten-free main or side. Get The Recipe Here.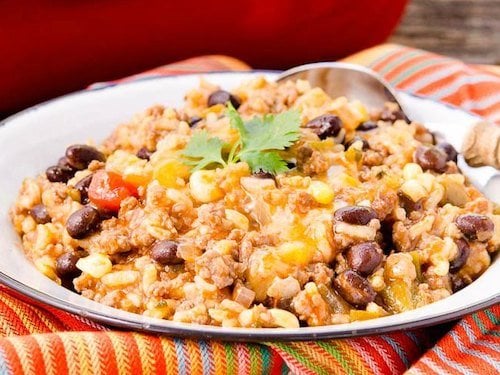 This dish is perfectly indulgent with cheese, beans, rice – the whole bit! You can serve it up Southwestern style in bowls, or load up lettuce cups with this healthy, protein-packed mixture. Chunky salsa, corn, and cheese bring this recipe together. Recipe from Magnolia Days.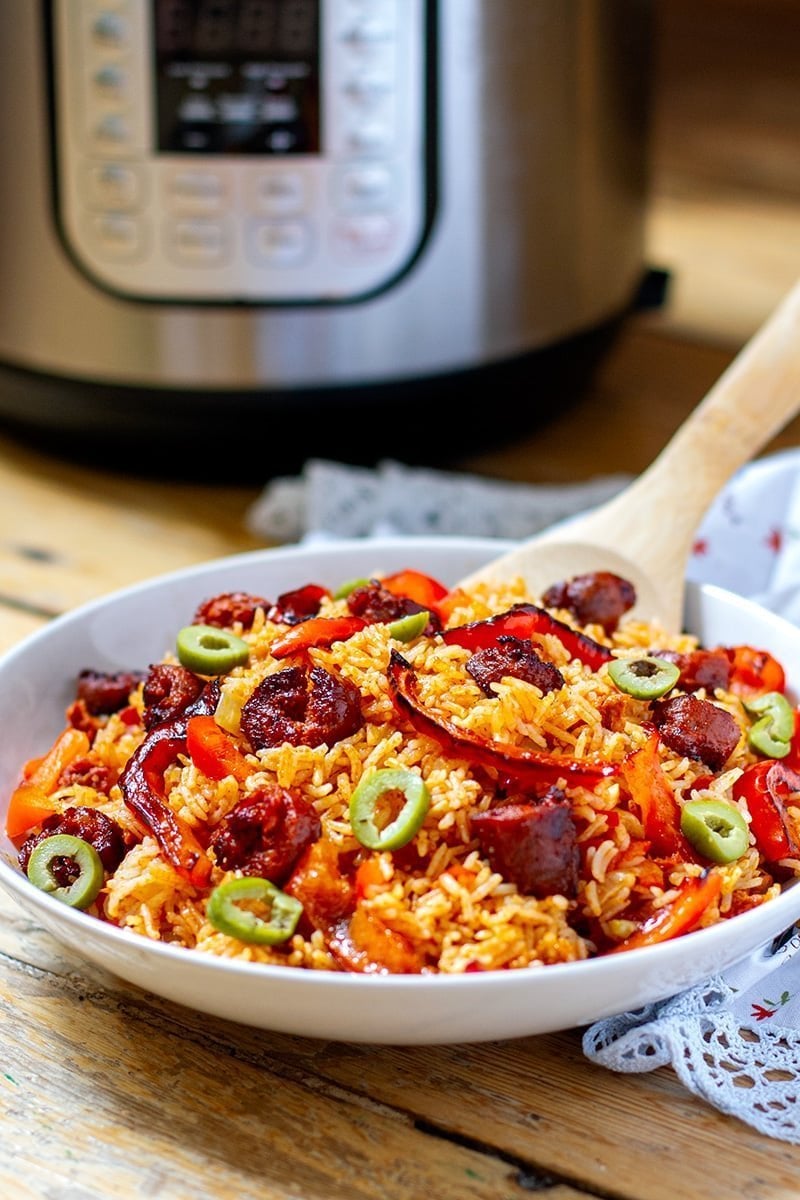 This dish is made with chorizo sausage and sautéed peppers and tomatoes that give this family-friendly meal a lot of fun flavours. It's gluten-free and super easy to make, making it a midweek dinner favorite. Get The Recipe Here.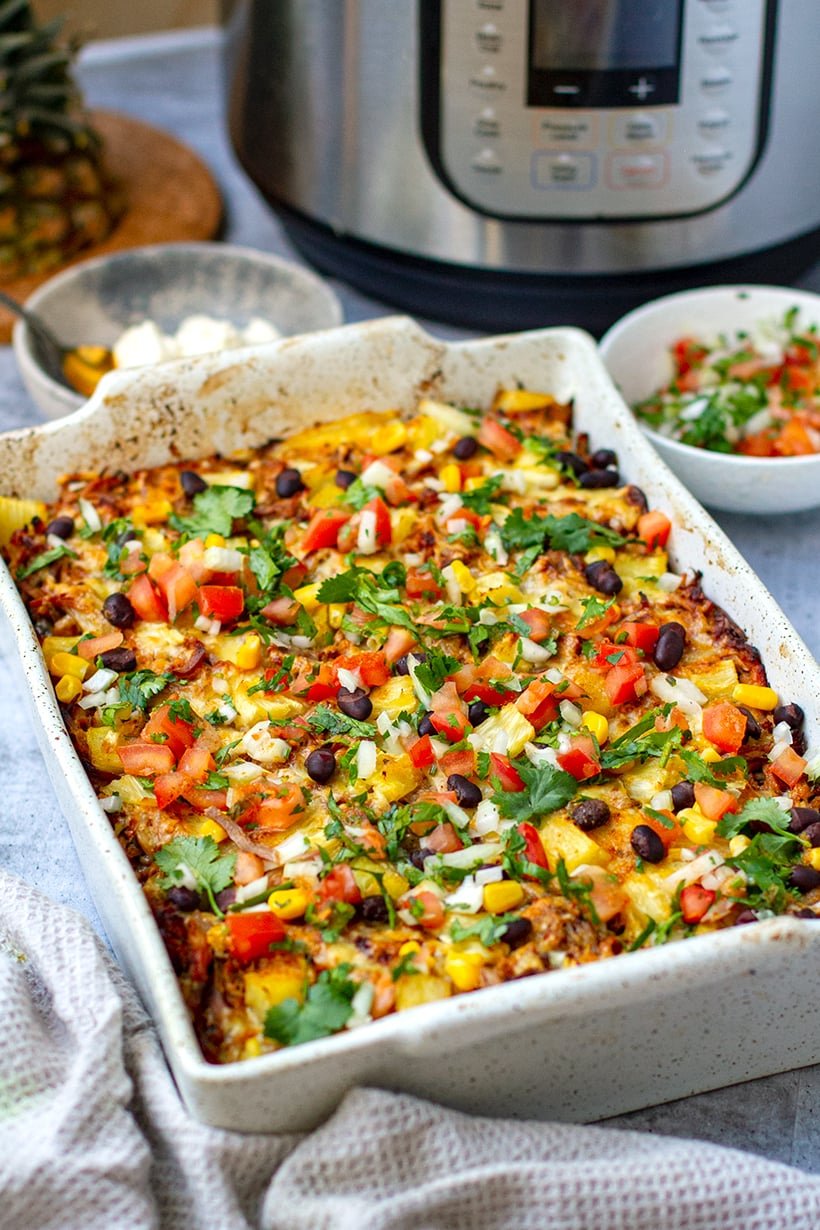 Pork shoulder meat marinated with chipotle chillies, herbs and pineapple then pressure cooked in the Instant Pot for that perfect tender and succulent result. The meat is paired with rice, beans, corn and cheese and finished in the oven for a must-try casserole. Get The Recipe Here.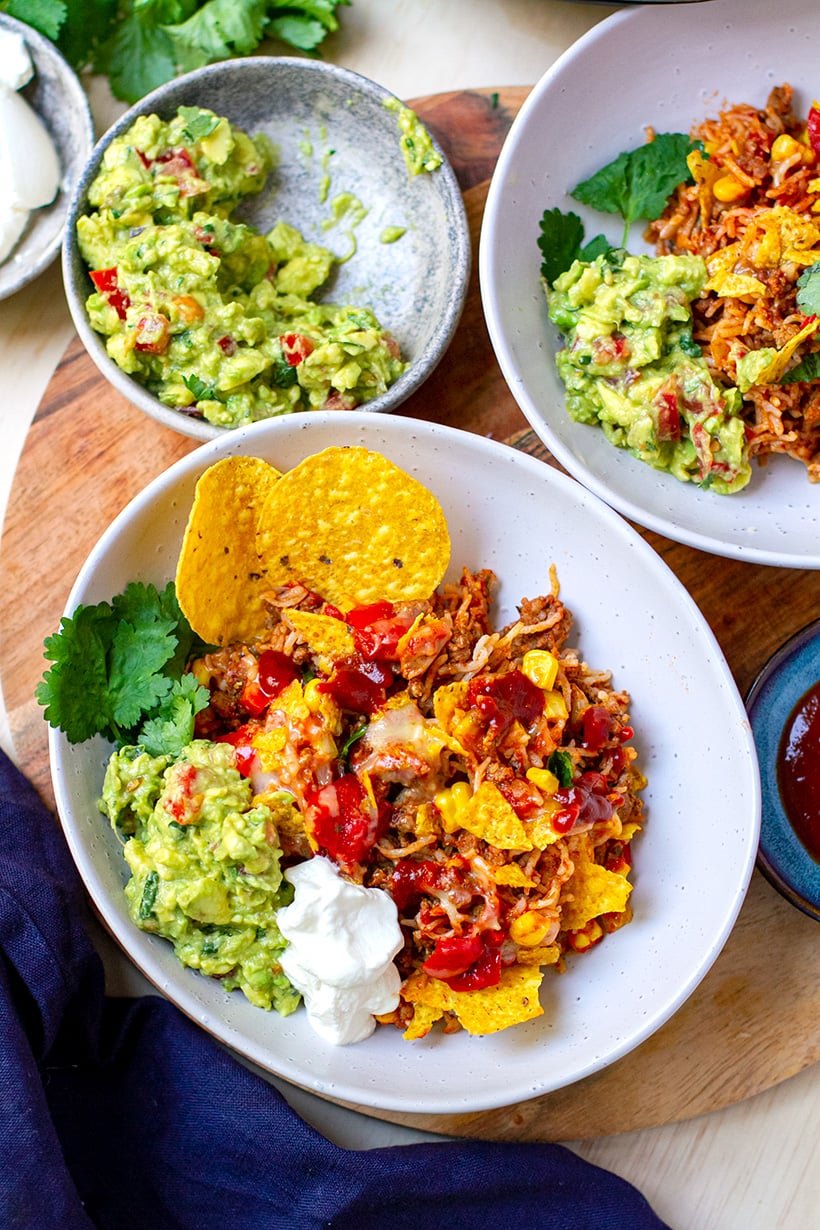 A hearty, delicious meal made with ground beef, rice, tomatoes, and a few pantry staples. It's gluten-free friendly and can also be made with chicken, pork, or vegetarian-friendly beans or lentils. Get The Recipe Here.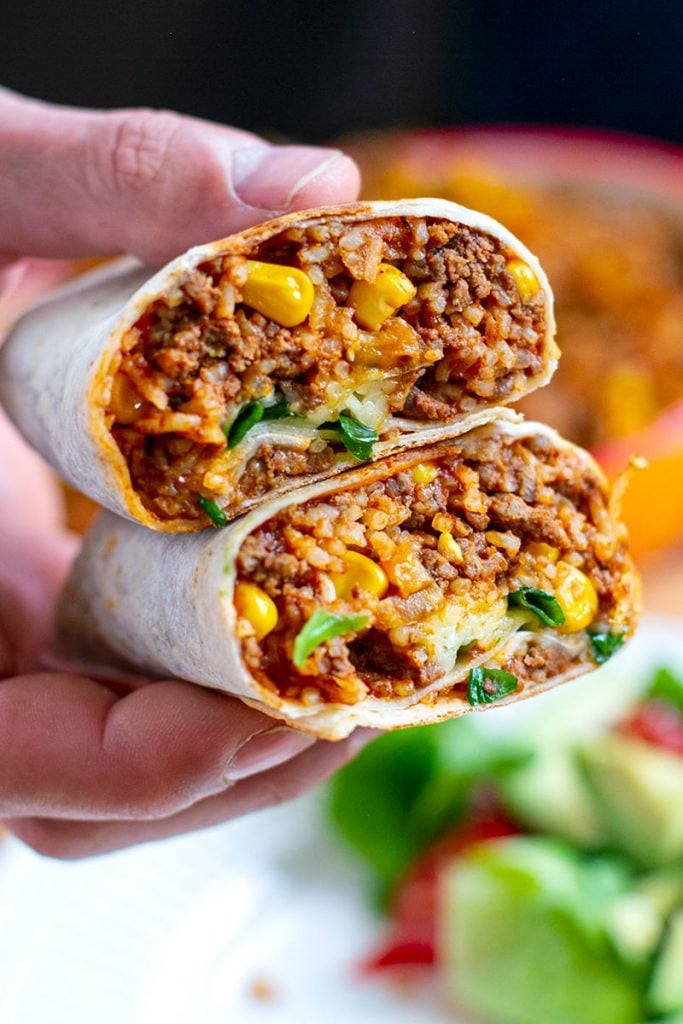 Featuring tasty, spiced rice, beef, and corn filling, grated cheese and fresh cilantro wrapped in a soft tortilla. Grill for a crispy finish, serve right away, or make-ahead for later as they store and freeze well. Get The Recipe Here.
Red beans and rice is a delicious, one-pot meal that you can totally begin at 5 p.m., even if you're looking at dinner for 6 p.m. The chicken andouille sausage makes a lovely addition alongside a mix of veggies. It serves 10, so you can look forward to leftovers. Recipe from A Pinch of Healthy.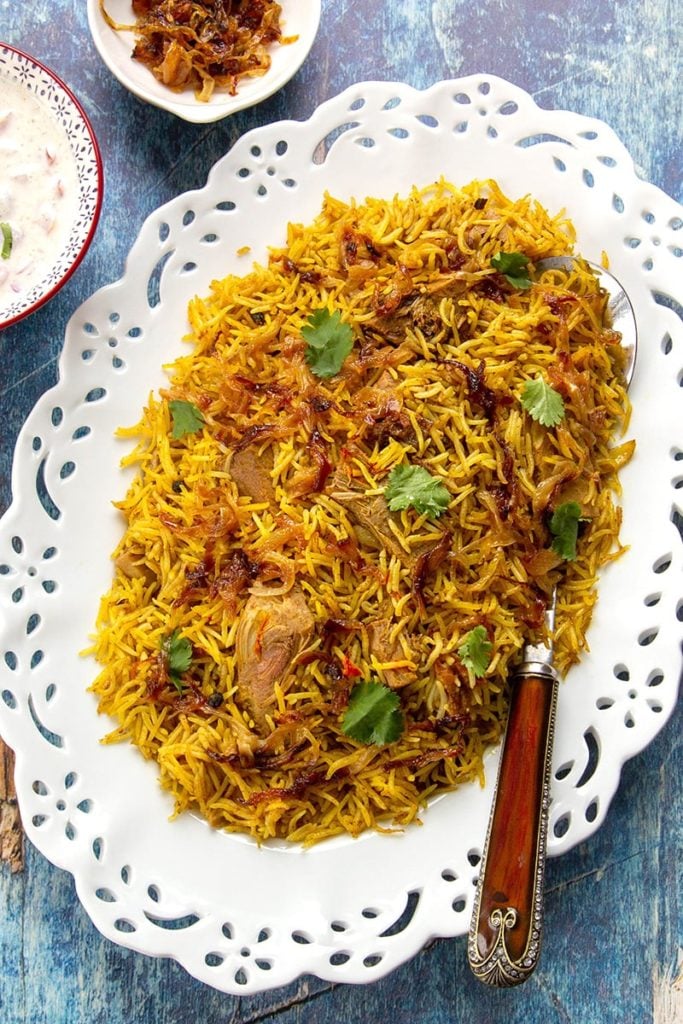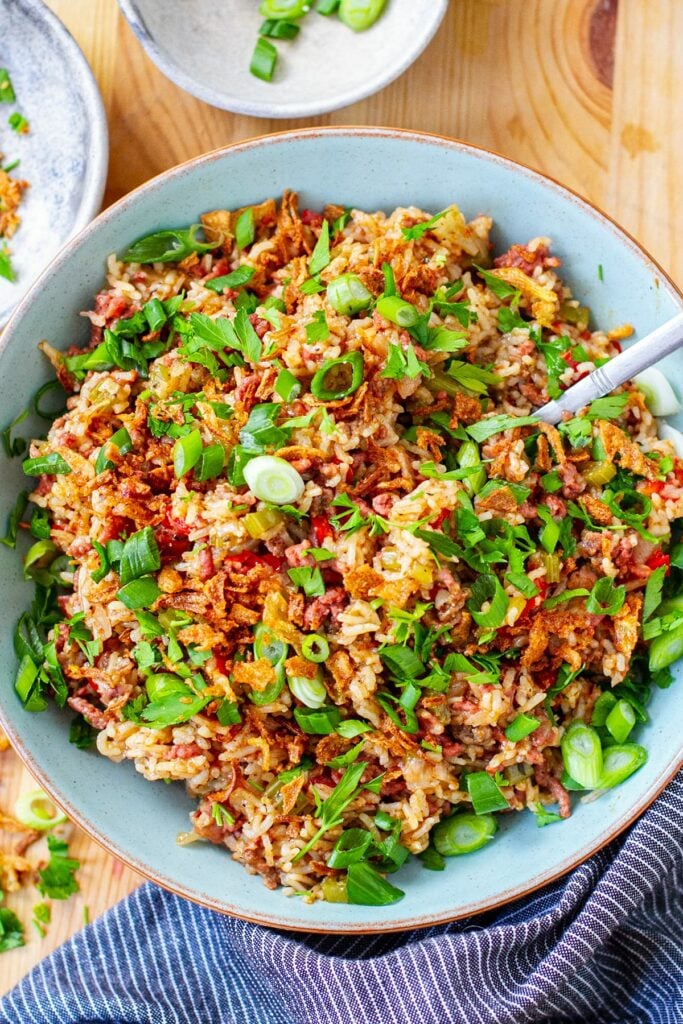 It's a popular Creole dish in America's south and more specifically in the regions of Louisiana. Ground beef, bacon, peppers, and Cajun seasoning mix makes this dish all about the flavor! It's a delicious one-pot recipe the whole family will love. It's also gluten-free. Get The Recipe Here.
If you're not familiar with congee, it's an Asian-inspired, savory porridge. You start with rice, chicken, and ginger with a mild spice but deep flavor. You can top it with whatever you like – nuts, Sriracha, eggs, pickled vegetables, fried onions or shallots, sesame seeds, or steamed greens. Recipe from Budget Bytes.
Plov is originally an Uzbek type of pilaf made with rice, fried onions, carrots, meat and spices. The rice is well infused with the all these delicious flavors. Get The Recipe Here.
In just eight minutes, this Jambalaya-style rice is ready to go. Simply layer in the ingredients which include rice, chicken and tons of veggies. This plate is loaded with nutrition for a healthy spin on fried rice. Recipe from Omnivore's Cookbook.
A bowl of aromatic Instant Pot turmeric jasmine rice is not only delicious but it comes with many health benefits. In only 10 minutes, you can have perfectly cooked rice as a side dish to any main. Gluten-free, vegan-friendly recipe. Get The Recipe Here.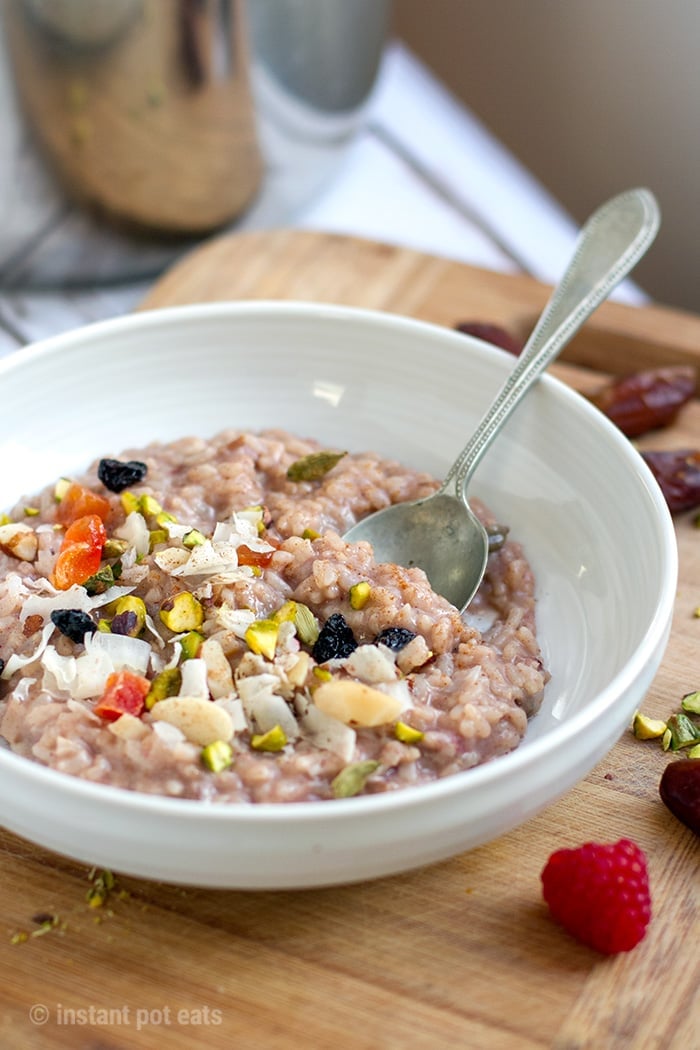 Rice is a versatile ingredient. Infused with chai spice and topped off with a colorful blend of fruits and nuts, this dish is the perfect dairy-free and gluten-free breakfast or dessert. You even get a little caffeinated kick from the chai. Get The Recipe Here.
The chipotle and lime flavor in this rice is just enough without being too strong and overwhelming. Serve it with your favorite Mexican Dish or turn it into burritos or burrito bowls. Get The Recipe Here.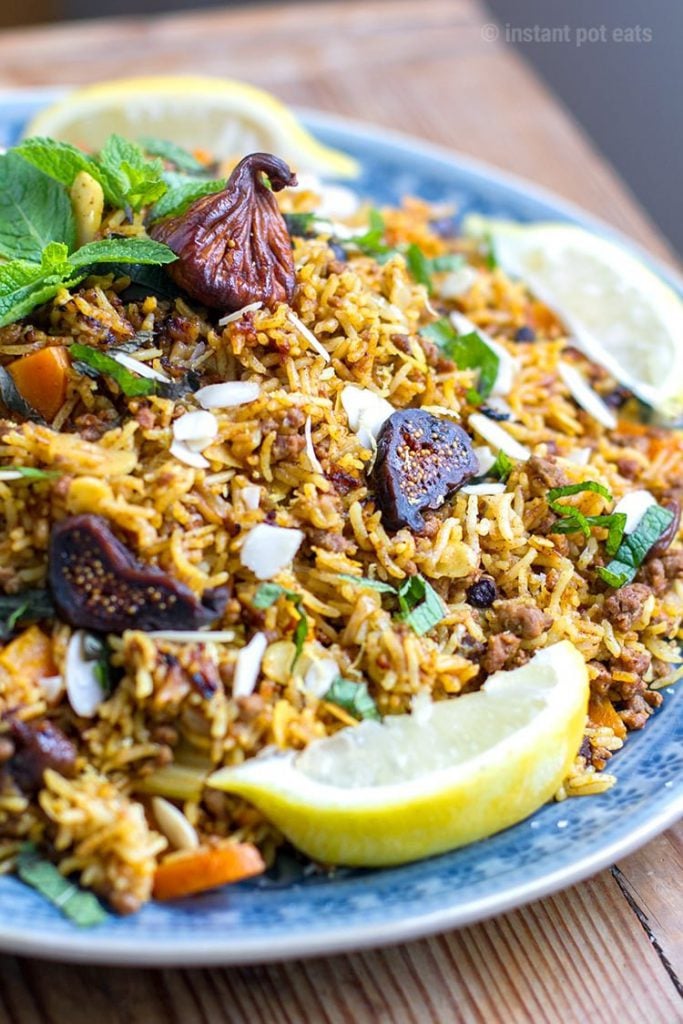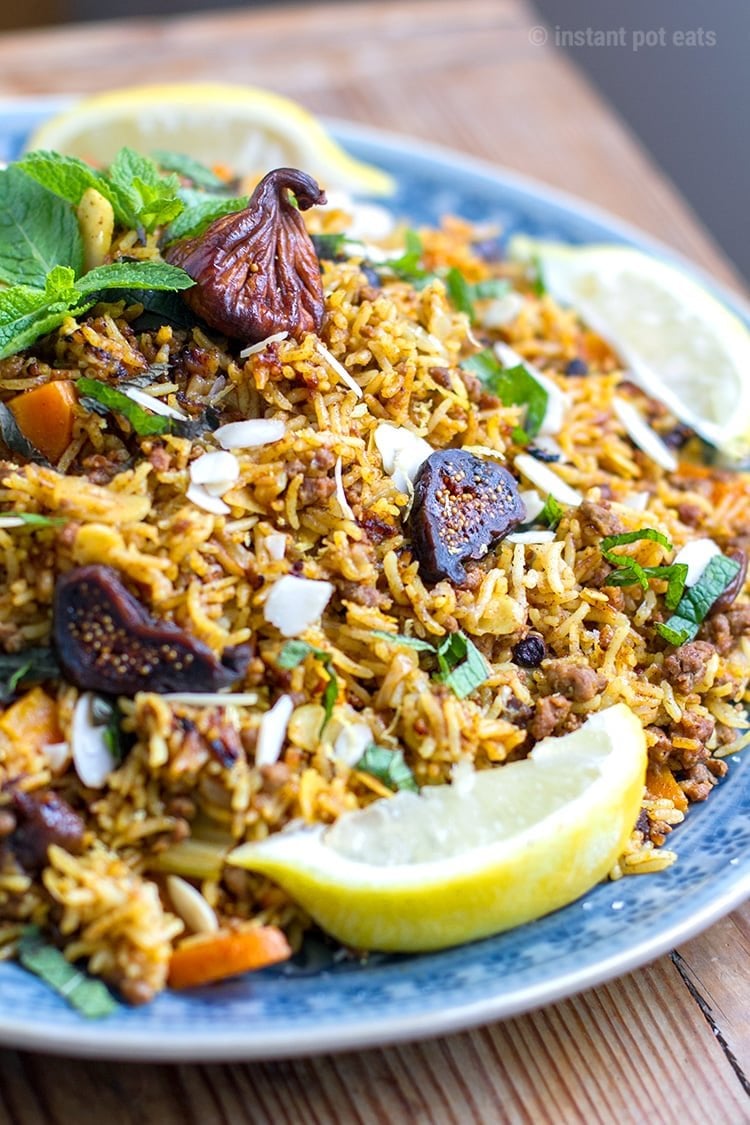 Step up your rice pilaf game with some fancy ingredients! Ground lamb and figs make a sweet and savory duo like no other in this Persian-style recipe. It's topped off with crunchy almonds completing this balanced and healthy meal. Get The Recipe Here.
This comforting and creamy Instant Pot butternut squash risotto comes with a twist of blue cheese instead of the classic Parmesan cheese. It's perfect for a quick weeknight meal but fancy enough for company. This recipe is by our contributor Lucy Parissi of Supergolden Bakes blog. Get The Recipe Here.
A fast and easy one-pot meal. With simple ingredients like rice, chicken, egg, carrots and peas, your for a meal prep lunch! Get The Recipe Here.
This risotto features lemon, peas, and frozen shrimp, which works great with timings as you can cook everything together. Butter and Parmesan are added at the end for extra flavor and creaminess. Get The Recipe Here.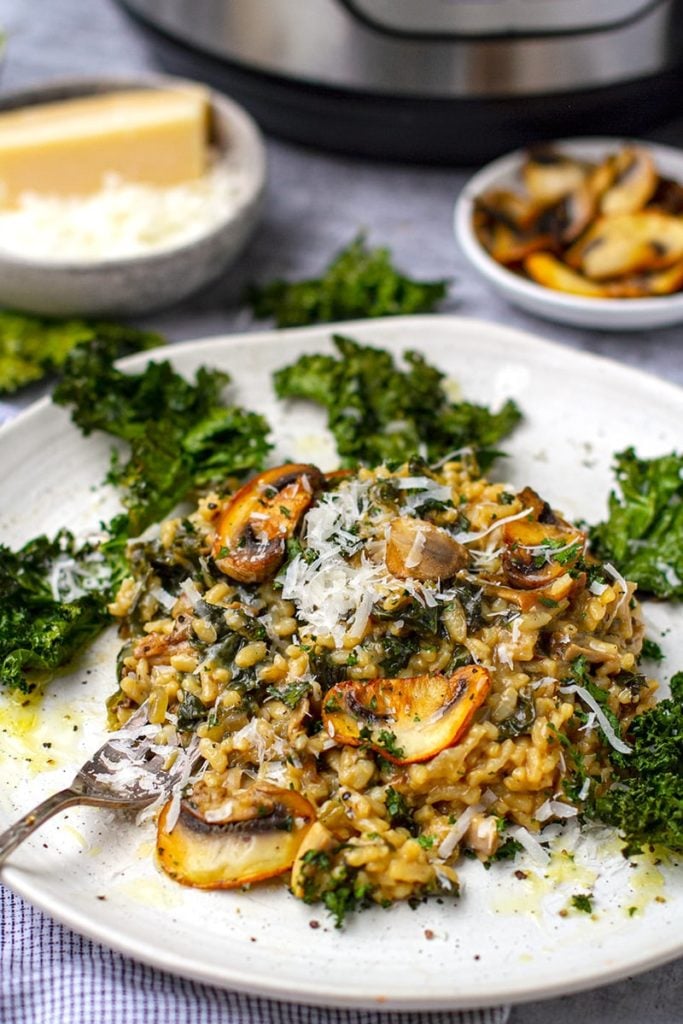 This vegetarian-friendly, gluten-free dish is great for a family dinner and is of restaurant quality but made in your kitchen. Serve with extra pan-fried mushrooms and roasted kale chips to garnish for texture and presentation. Get The Recipe Here.
Coconut rice is probably one of the most well-known rice recipes. It makes a super tasty bed to soak up flavors from Thai food, Hawaiian dishes or Chinese fare. Really, it's every food's best friend. This makes the fact that you can cook it in the Instant Pot just a little bit sweeter of a deal. Recipe from Pressure Cooking Today.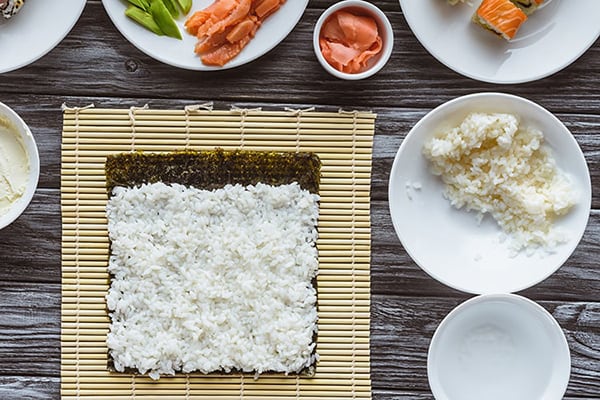 We all know that sushi can run up quite a bill when eating out, and being able to DIY it can save you big bucks! Plus, it's a super fun dish to make with a group. Get The Recipe Here.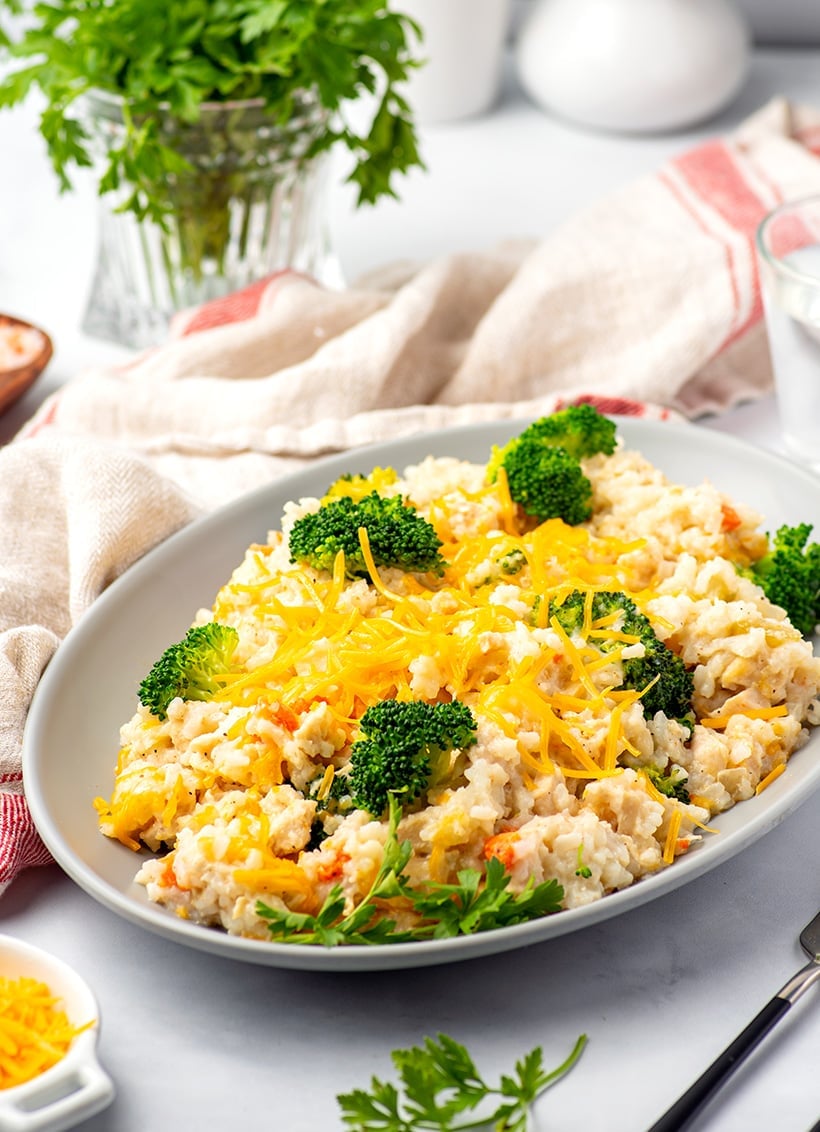 Learn how to make a nutritious and hearty casserole dish that is beginner-friendly. This pressure cooker one-pot meal is comforting and easy to make with simple ingredients. Get The Recipe Here.
Have you ever had leftover broth from cooking brisket or beef roast in the Instant Pot? Instead of pouring it down the sink, you can use it to make delicious brisket broth rice. This dish is somewhere between southern brown rice or stick of butter rice recipes, where the grain is cooked in the rich beef broth so it gets infused with all the flavors and turns out silky and buttery. Get The Recipe Here.
What's your favorite rice dish? Have you made it in the Instant Pot? We love this versatile food and how simple it is to make in the pressure cooker. We hope you found a new recipe you're excited to try here!
---