Cooking wild rice is easier than you think and given its nutritional benefits and versatility, it's a grain/seed you want to add to your repertoire. In today's post, we will talk about how to cook wild rice, including the stovetop, Instant Pot, and rice cooker methods; and, we will share all the delicious wild rice recipes and dishes you can make with the raw and cooked grain.
---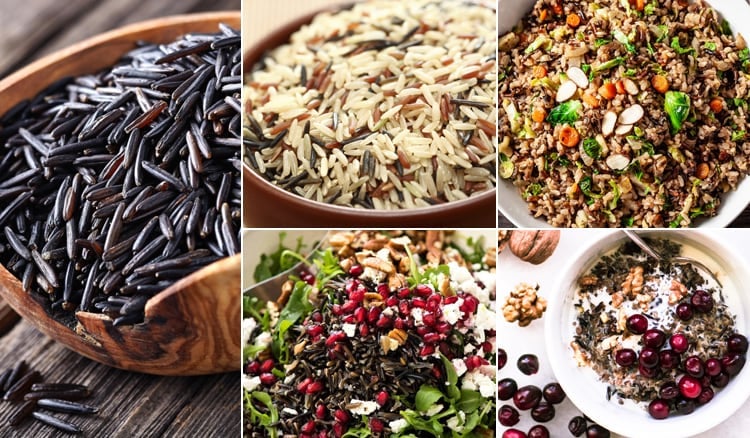 What Is Wild Rice?
Wild rice is the seed of aquatic grass that grows naturally in shallow freshwater marshes of streams and lakes. There are four different species of wild rice. Three are native to the Great Lakes region of North America and the fourth is native to Asia.
Wild rice has a nice chewy texture since it's longer, thicker, and more rigid which gives soups and casseroles substance. There's a toasted nutty earthy flavor that's not too overpowering but enhances a salad or dessert.
You can buy wild rice cultivated or wild-grown. To get the seeds out farmers bend the seed heads into a canoe and beat it with paddles to loosen them quickly. Since there is so much labor, it is more expensive than most other types of grains.
Wild-grown tends to be light to dark brown, or slightly greenish. It has a mild, more subtle flavor that borders on smoky. Cultivated wild rice is a deeper dark brown, almost black. It's a bit tougher and takes longer to cook, but it still has a deep nutty flavor. Most wild rice is cultivated in farms to mimic its native growing conditions.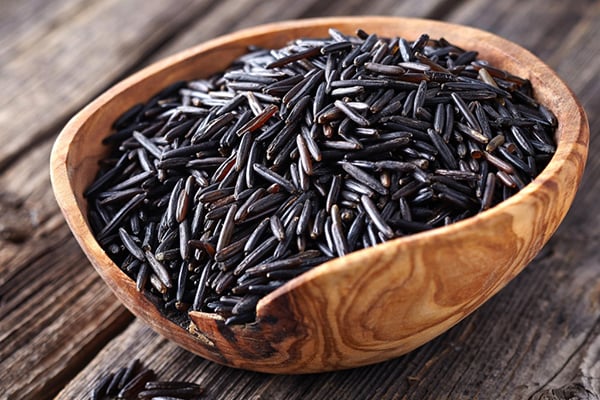 Wild Rice Nutrition & Benefits
Is wild rice healthy? Yes! It's full of antioxidants, fibre, and protein. In an analysis of 11 samples of wild rice, it was found to have 30 times greater antioxidant activity than white rice. It is considered a complete protein containing all nine essential amino acids. It has less protein content than oats but more than quinoa. A 3.5-ounce (100-gram) serving of wild rice provides 4 grams of protein, which is twice as much as regular brown or white rice.
Wild rice contains folate, magnesium, phosphorus, manganese, zinc, Vitamin B6, and niacin. It is gluten-free, low in fat, and high in both lysine (an amino acid). The fiber content of wild rice is the same as brown rice, with each providing 1.8 grams of fiber per 3.5-ounce (100-gram) serving. Healthier than white rice which provides little to no fiber.
It's also lower in calories and carbs than regular rice and has a lower glycemic index. The slow-burning complex carbohydrates in a bowl of wild rice porridge will keep you feeling satisfied longer and help carb cravings.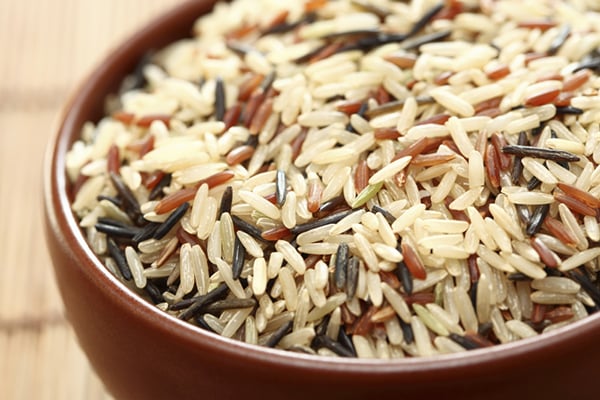 ---
How To Cook Wild Rice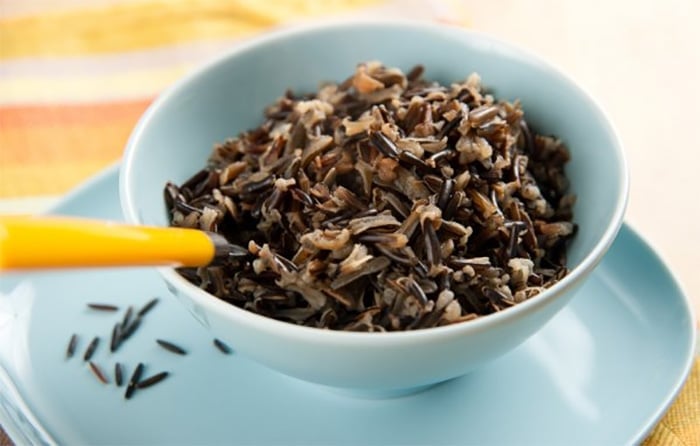 Preparing Wild Rice For Recipes
You can prepare wild rice just as you would with white or brown rice. Take note that longer cooking time is required since the seed absorbs water slowly. It can take anywhere from 45 minutes to an hour to fully cook.
When cooking on a stovetop many people prefer to cook wild rice in an ample amount of water, like pasta, so they aren't tied to the stoved waiting. Then drain the remaining water once the rice is fully cooked when it cracks open and curls.
Cooking times can vary depending on how the wild rice was dried, how long it's been stored, and whether it's true wild rice or cultivated wild rice. Check on it along the way when you are cooking. In most cases use water, but if you want some extra flavor try using vegetable or chicken stock.
No matter which method you choose below, always rinse wild rice thoroughly in cold water before cooking it. Soaking overnight is optional. Some people do this for a fluffier softer texture and it can skim off some cooking time.
Wild Rice Stovetop Method
Ingredients
1 cup (185 g) rinsed wild rice
3 cups (700 ml) water
1/2 teaspoon salt
Instructions
Rinse the wild rice with cold water. Place it in a saucepan and add the water and salt.
Bring it to a boil over high heat. Reduce to a simmer and cover the pan. Simmer covered for 40–60 minutes until the water is absorbed.
Strain the rice and fluff it with a fork before serving.
---
Instant Pot Wild Rice Recipe
Cooking wild rice in an Instant Pot requires less water than the traditional stovetop method. When you cook food in a pressure cooker, the cooking liquid has nowhere to evaporate. Therefore, the rice absorbs all the liquid so that you have perfectly cooked wild rice that is ready to serve without draining.
You do not need to soak wild rice before cooking it in a pressure cooker. One cup of uncooked wild rice will yield approximately 2 ⅓ cups of cooked wild rice. If you decide to double the recipe, the timing should still be the same. However, if you plan to cook more than that, you should add only a couple of minutes to the cooking time.
Ingredients
1 cup (185 g) rinsed wild rice
A pinch of salt
1 teaspoon olive oil
Instructions
Place rice, water, salt, and olive oil in the pressure cooker.
Set the Instant Pot on Manual/Pressure Cook, at HIGH pressure for 15 minutes. Allow 10 minutes for Natural Release. The total time should come to about 35 minutes.
Fluff the now-cooked wild rice with a fork or a wooden spoon and serve.
Add your cooked wild rice into soups, salads, and casseroles, or serve it as a side dish.
Or, check out this handy video for how to cook wild rice in Instant Pot

---
Wild Rice In A Rice Cooker
Wild, long-grain rice takes longer to cook compared to white rice because it has a thick, outer layer that takes longer to soften.
Rinse the rice a few times to rid any impurities. Soaking is an option for a fluffier texture and softer consistency.
If you have a rice cooker with various settings, you can use the brown rice setting. This cycle runs about 30 minutes. Check to see if the rice is thoroughly cooked. Allow the rice to heat in the "keep warm" setting for 30 minutes more if it is not fully cooked. If there is residual water in the container after the rice is cooked, simply drain it off the rice.
1 cup(185 g) rinsed wild rice
2 cups (473 ml) water /chicken stock
Add salt to taste
Add a bit of butter
Cook for 40-50 mins and allow 10 mins to rest then it is ready to eat.
---
Storage Rips & Can You Freeze Cooked Wild Rice?
Store uncooked dry wild rice in an airtight container in a dark, cool spot like a pantry or cupboard. This ingredient will keep for years.
Store cooked wild rice in a closed container in the fridge for up to a week.
If you decide to freeze, drain it first and then place it in airtight containers that portion size is already allocated for ease later on. It will keep up to 6 months. It is best to thaw in the fridge overnight a day before you intend to use it. When reheating in the microwave, add a wet paper towel on top to add moisture.
---
Best Wild Recipes Recipes
You can use wild rice to cook stews and soups, in which case you would often add raw grain to a dish and cook it all together; but, oftentimes, you will cook the rice first and then use it in salads, stuffings, burgers, casseroles and more. Here are some wild rice recipe ideas to get you started.
Wild Rice Risotto With Mushrooms
Most of us are familiar with using arborio as the go-to rice preferred choice for making risotto. Why not try wild rice instead? You get this nutty flavor and more texture to an already beloved staple dish. Recipe from Kathryn Bruton.
Wild Rice Pilaf
This stovetop wild rice blend pilaf recipe creates a side dish that's full of delicious flavor. You can make this easy rice pilaf ahead of time, as it reheats well. Recipe from Chew Out Loud.
Chicken & Wild Rice Soup
This is a classic soup that's very popular and there are different ways you can make it.
Slow-Cooker: Chicken and Wild Rice Soup
Pure creamy comfort food made right in your crockpot! So quick, easy, and hearty with veggies, rice, and chicken! Recipe from Damn Delicious.
Stovetop: Healthy Chicken Wild Rice Soup
Make creamy and healthy chicken wild rice soup without heavy cream, flour or butter in a slow cooker, Instant Pot, or on the stove. It is a great freezer meal. Easy, low fat, and simply the best healthy comfort food in a bowl. Recipe from I Food Real.
Instant Pot: Wild Rice Soup With Chicken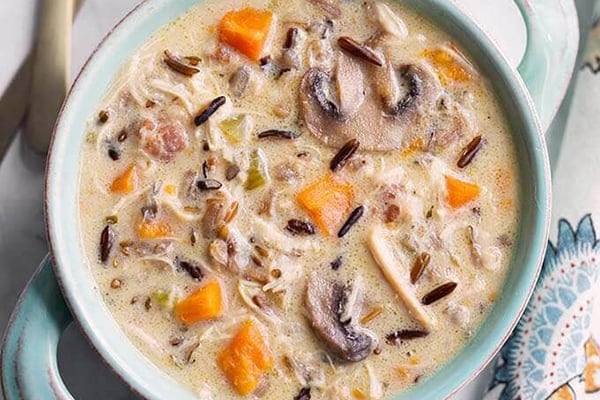 Earthy seasonings, mushrooms, and chicken makes up this hearty classic soup. Recipe from Simply Happy Foodie.
Instant Pot Mushroom Wild Rice Soup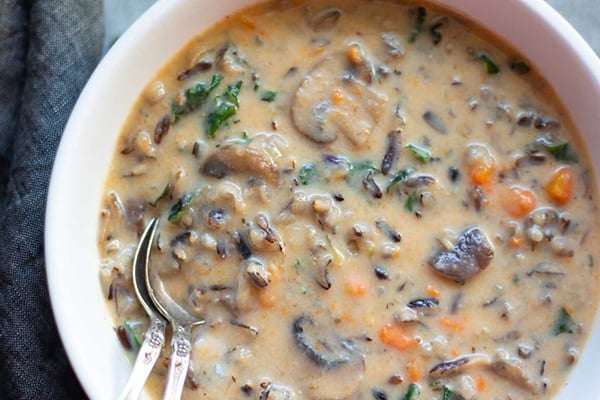 Instant Pot Mushroom Wild Rice Soup is a creamy vegetarian dish that is packed with protein and veggies. Hearty wild rice is combined with mushrooms, carrots, celery, and kale, then is brought together with a creamy soup base. Recipe from Piping Pot Curry.
Cozy Autumn Wild Rice Soup
This cozy autumn soup is full of hearty seasonal vegetables and wild rice (plus chicken, if you would like), it's wonderfully creamy and comforting, and easy to make in the Instant Pot, Crock-Pot or on the stovetop. Recipe from Gimme Some Oven.
Wild Rice Salad
Using wild rice is very popular in salads, here are some recipes we recommend.
Wild Rice Salad With Orange Maple Vinaigrette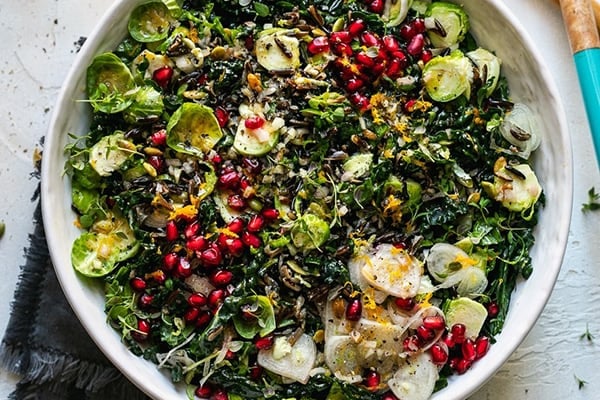 This Wild Rice Salad with Orange Maple Vinaigrette is a salad worth serving on a special occasion! It is hearty, filled to the brim with texture, and tossed with a mouthwatering orange maple vinaigrette. It's made with wild rice, shredded Brussels sprouts, pomegranate arils, thinly sliced shallots, kale, toasted pepitas, and fresh thyme. Recipe from Spices In My DNA.
Wild Rice Salad With Pomegranate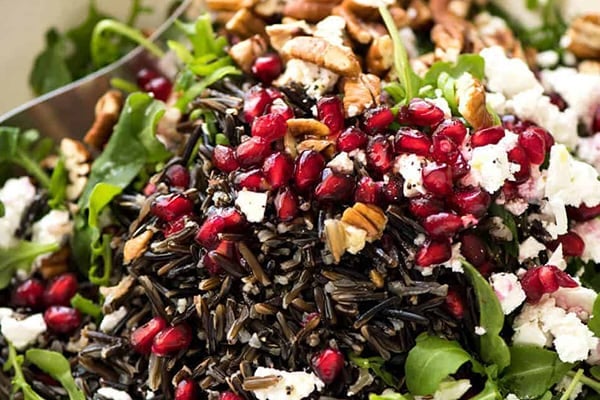 This gorgeous Wild Rice Salad is a celebration of vibrant colors and textures! Made with wild rice, pomegranate, pecans, rocket/arugula, green onions, dried cranberries, and feta, dressed with a simple vinaigrette to let the salad flavors shine. Recipe from Recipe Tin Eats.
Wild Rice Salad With Seared Salmon
Whatever journeys of the mind and travels of the heart you're taking on this year, arm yourself well with a bowl of something healthy, something warm. This Thai Wild Rice Salad with Salmon ought to do the trick. You can make this Rice Salad for lunch, for a lighter dinner, or as a side dish. Recipe from Some The Wiser.
Butternut Squash Salad With Wild Rice Blend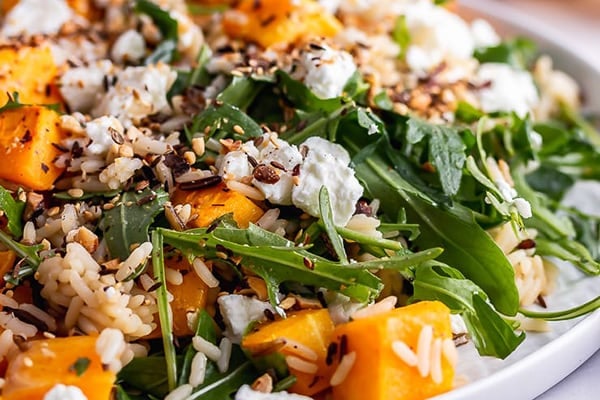 This roasted butternut squash salad is great served warm or cold. It's made with wild rice, goat's cheese and drizzled with a lemon honey dressing. It's so filling you won't even notice you are eating a salad. Recipe from The Cook Report.
Wild Rice Stuffing
Wild rice has that lovely firm texture, making it great for stuffing. This could mean a casserole dish stuffing or to use the rice to stuff vegetables like squash or peppers. Here are some ideas to try!
Sausage & Wild Rice Stuffing
This wild rice sausage stuffing is the perfect side dish for a large family meal. This hearty stuffing is packed full of flavors and textures. Perfect to serve with chicken, Cornish hens, turkey, or ham. Recipe from The Cookie Rookie.
Herbed Wild Rice & Quinoa Stuffing (Vegetarian)
Specked with fresh herbs, apples, cranberries, and pecans, everyone will love this flavor-filled stuffing – and nobody will guess its little secret: it's vegetarian, vegan, and gluten-free! Plus, the addition of protein-rich quinoa gives this hearty stuffing main-dish cred – perfect for those that prefer to skip the turkey. Recipe from Kitchen Treaty.
Wild Rice Stuffed Acorn Squash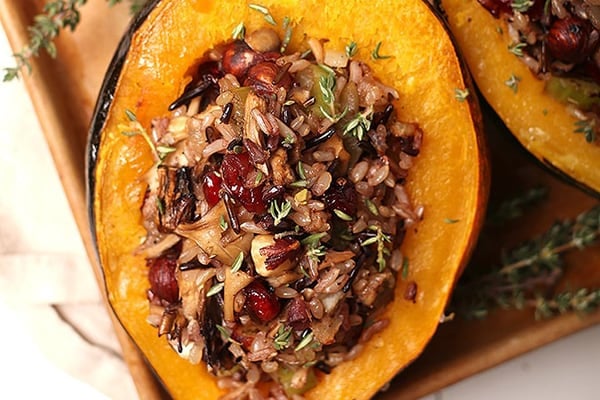 Perfectly baked squash filled with wild rice, dried cranberries, toasted hazelnuts, and Maitake mushrooms for a delightful vegan and gluten-free meal. Recipe from My Darling Vegan.
One-Pan Chicken & Wild Rice Casserole
This autumn chicken and wild rice casserole is cozy, healthy, filling, and all things delicious. Start off by cooking up some mushrooms, add some apples, wild rice, and chicken. Next some broth and a splash of wine for good measure. Recipe from Half Baked Harvest.
Wild Rice Burgers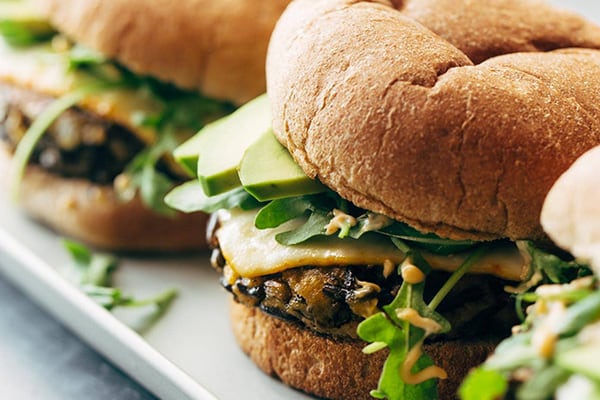 These are THE ULTIMATE wild rice vegetarian burgers. The recipe comes from the Duluth Grill Cookbook. Serve these crispy-chewy patties up on a bun or stand-alone with melted cheese and olive-oil-arugula-avocado-hot-sauce combo on top. Get the recipe from Pinch of Yum.
Creamy Chicken Pot Pie Wild Rice Skillet
Creamy Chicken Pot Pie Wild Rice – tastes just like the traditional chicken pot pie but without the crust. Super easy, no need to fuss with the pie crust. Recipe from Julia's Album.
Sweet Potato & Wild Rice Sushi
Since sweet potato sushi is obviously an Americanized version of the cuisine, why not take things a few steps further? Replace the sushi rice with a wild rice mix for a chewy texture to go nicely with the creamy sweet potato. Recipe from Veggie Primer.
Wild Rice Porridge Recipes
Cranberry Walnut Wild Rice Porridge (Mahnomin Porridge)
There's more to hot cereal than oats, you can make porridge out of all kinds of grains and seeds, including wild rice. The Native Americans called it mahnomin porridge. Try this cozy hot cereal full of antioxidants, protein, and fiber. Recipe from The View From Great Island.
Cranberry Hazelnut Wild Rice Porridge
This recipe is rich, hearty, and amazingly sweet. Simply bring almond milk, spices, and cornstarch to a boil and simmer until thick. Add the rice, hazelnuts, and cranberries and stir until all the flavors are happily married in the pan. Serve warm with extra cranberries and nuts and a drizzle of maple syrup on top! Recipe from Destination Delish.
---