In this post, we share how to make Instant Pot sushi rice. It's an easy way to prepare the perfect base for your favourite sushi rolls or simple rice ball snacks for kids. Plus, we provide a few sushi rice recipes to try.
---
Sushi rice is perhaps the most necessary component in a good sushi roll. Not only does it provide bulk and something to soak up the delicious soy sauce you'll be using, but it keeps things held together. Even the most amateur sushi chef can make a tasty roll at home if they cook their sushi rice right.
We all know that sushi can run up quite a bill when eating out, and being able to DIY it can save you big bucks! Plus, it's a super fun dish for entertaining – especially if you get everyone on board with making their own rolls.
That's why today, we're sharing with you how to make sushi rice in the Instant Pot.
Find more of our Instant Pot rice recipes here.
---
WHAT IS SUSHI RICE?
Not all rice is created equal. While the Instant Pot does a great job of cooking all different types, you'll want to make sure your sushi rice comes out with the right consistency and texture. Sushi rice is sometimes called sticky rice. It's what makes it easy to use when using delicate nori and fish alongside it to create sushi rolls, bowls, and more. It holds together well and takes on the shape of whatever you mould it into.
The first step in making beautiful sushi rice is choosing the right type of rice to craft your recipe with. You should look for short-grain Japanese rice or medium-grain California rice. Most times, you will find rice simply labelled sushi rice. It may also be called Calrose rice. Either option will do the trick! Medium or short-grain rice is preferable because it cooks to a stickier consistency than long-grain rice, which is traditionally fluffier and useful in many other dishes.
HOW TO MAKE SUSHI RICE IN INSTANT POT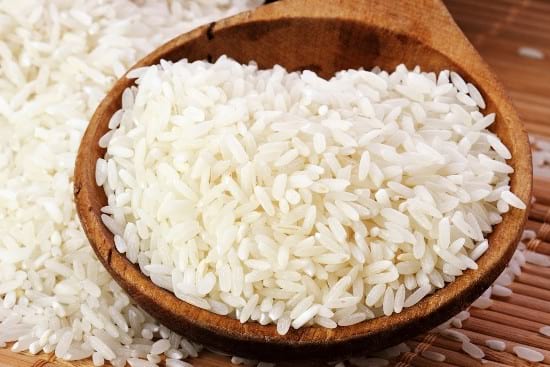 Now, let's learn how to achieve perfectly pressure-cooked sushi rice at home. Fortunately, you'll only need a couple of ingredients to getting started. Later, we'll share some homemade sushi rice recipe ideas for you to make the most of it – no matter your taste, cravings, or dietary preferences.
Print
Instant Pot Sushi Rice Recipe
Author:

Prep Time:

5 minutes

Cook Time:

10 minutes

Total Time:

15 minutes

Yield:

3 cups

1

x

Category:

Side

Method:

Instant Pot

Cuisine:

Japanese

Diet:

Gluten Free
---
1 cup

of short-grain Japanese rice or medium-grain California rice (uncooked)

1.25 cups

of water

1 tablespoon

white wine vinegar, rice vinegar or apple cider vinegar (UPDATED!)

1 tbsp

sugar

1 tsp

of salt, or to taste
---
Instructions
Begin with short or medium-grain sushi rice. Rinse the excess starch off the rice before cooking while rubbing it through a fine-mesh strainer. If rinsing in a bowl, you should do it 4-5 times using clean water. The water should run clear when the rice is thoroughly washed. Give it a few minutes to dry before beginning to cook.
Add rice and water to the Instant Pot. Usually, white rice is cooked in 1:1 water to grain ratio. With sushi rice, it's usually 1:1 plus a little bit extra. Think 1 cup of rice will need 1.25 cups of water.
Cook for 5 minutes at HIGH pressure.
Allow for a natural pressure release for five minutes before releasing steam manually.
While the rice cooks, combine the vinegar, sugar, and salt in a bowl until blended. Gently heat if needed.
Blend the mixture into the rice gently, evenly distributing it throughout.
When the rice is finally done, spread it into an even layer on a wooden cutting board.
When the rice is sufficiently cooled, you can get to making sushi!
---
Notes
If you use apple cider vinegar, the sugar is more important to balance flavour which is what the addition of vinegar lends to this recipe. You may want to increase the amount to 2 tablespoons. if you choose apple cider vinegar instead of white wine vinegar.
Nutrition
Serving Size:

1/2-2/3 of a cup of cooked rice

Calories:

193

Sugar:

3.1 g

Sodium:

582.1 mg

Fat:

0.3 g

Saturated Fat:

0.1 g

Carbohydrates:

42.7 g

Fiber:

0 g

Protein:

3.3 g

Cholesterol:

0 mg
SUSHI RICE RECIPES TO TRY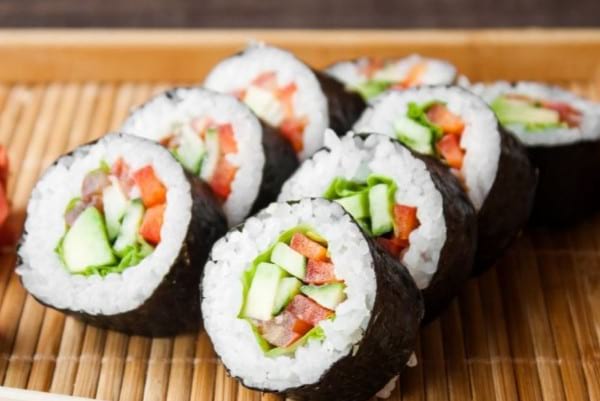 Now what? Well, let's put your perfectly sticky rice to the test! Here are some of our favourite sushi rice recipes to try at home. P.S. if you don't have a sushi roller or don't feel confident in your rolling skills, you can take the easy way out and make 'hand rolls.' Simply wrap up your favourite fillings in a sheet of durable nori and roll like an open-ended burrito for a delicious and healthy, low-effort snack.
We hope you found this post helpful, and it inspires you to make sushi rice at home. It couldn't be simpler, more reliable, or more consistent than it is with the Instant Pot! Get creative and share your homemade sushi ideas with us in the comments below.
---
Once you've mastered this recipe, make sure to check out our Instant Pot Japanese Curry, Thai Brown Rice Salad With Peanut Butter Dressing, and Instant Pot Yellow Rice With Peas & Corn.
---