We've adapted the traditional Mexican dish to create this family-favourite Instant Pot pork Al Pastor and rice casserole. Pork shoulder meat is marinated with chipotle chillies, herbs and pineapple and pressure cooked in the Instant Pot for that perfect tender and succulent result. The meat is paired with rice, beans, corn and cheese and finished in the oven for a must-try casserole.
Find step-by-step photo instructions below the recipe. Don't forget to rate this recipe and leave a comment!
---
Before we get to the recipe, here is some useful info on pork al pastor and our casserole ingredients. You can click on the Jump To Recipe button above to skip this part.
What is pork al pastor?
You might be familiar with tacos al pastor or pork al pastor, both refer to the way in which the pork meat is prepared and cooked. Al pastor comes from central Mexico and the authentic method involves marinating the meat in dried chiles, spices, achiote, and pineapple, then grilled on a vertical spit, often with pineapple skewered on top so that the juices can drop down on the pork while it broils. The meat is then shredded into strips and is typically served on tortillas with pineapple, onions, and cilantro.
What does Al Pastor mean? The name refers to the preparation method, which means "shepherd style." This post by the Pioneer Woman has more on the history of this dish.
Which cut of pork is used for Al Pastor?
Al pastor is generally made with boneless pork shoulder. Once marinated, the meat is skewered tightly on a vertical spit and grilled shawarma style.
For our recipe, we used diced pork shoulder cooked in the marinade in the Instant Pot. The meat is then shredded and finished in the oven in the casserole dish. It's not the authentic al pastor cooking method but the meat still comes out super succulent and full of flavor.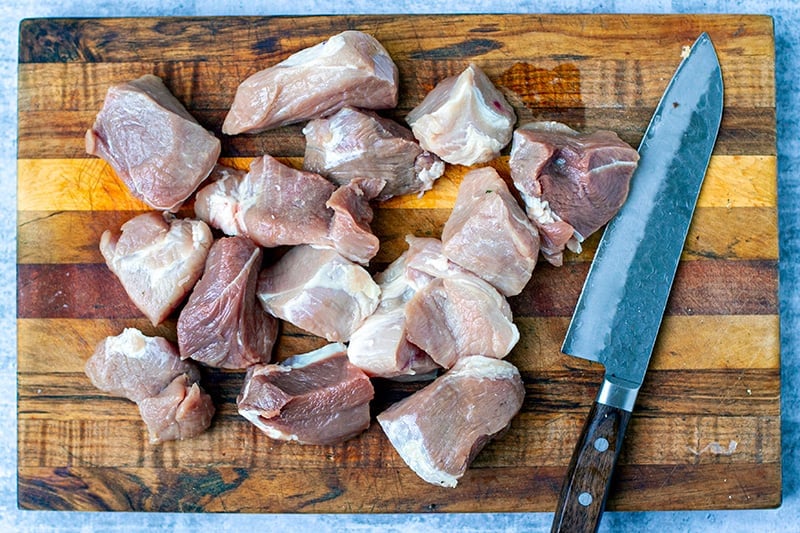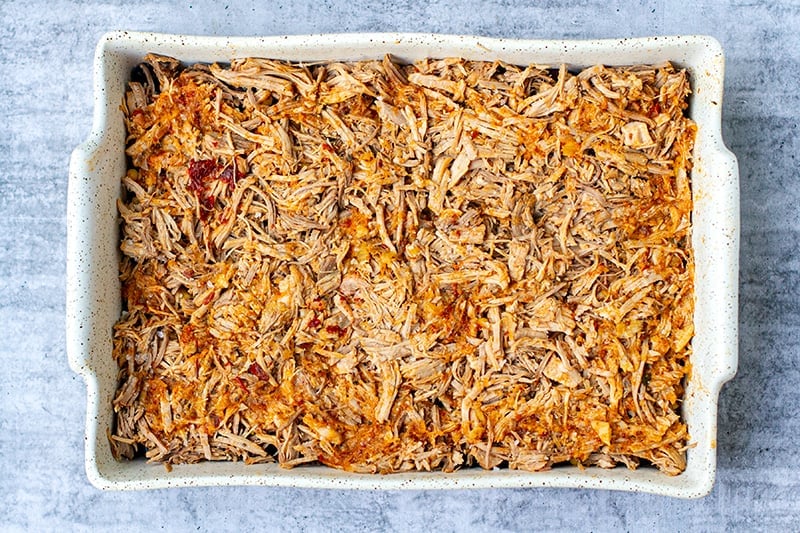 What does Al Pastor taste like?
With the ingredients used in the marinade, you'll taste sweet, spicy, smoky and tangy flavours which work very well with pork. The traditional recipe calls for achiote and other chilies, but we used just the chipotle chilies, plus some cumin and paprika for simplicity. All of these are easily available in most supermarkets.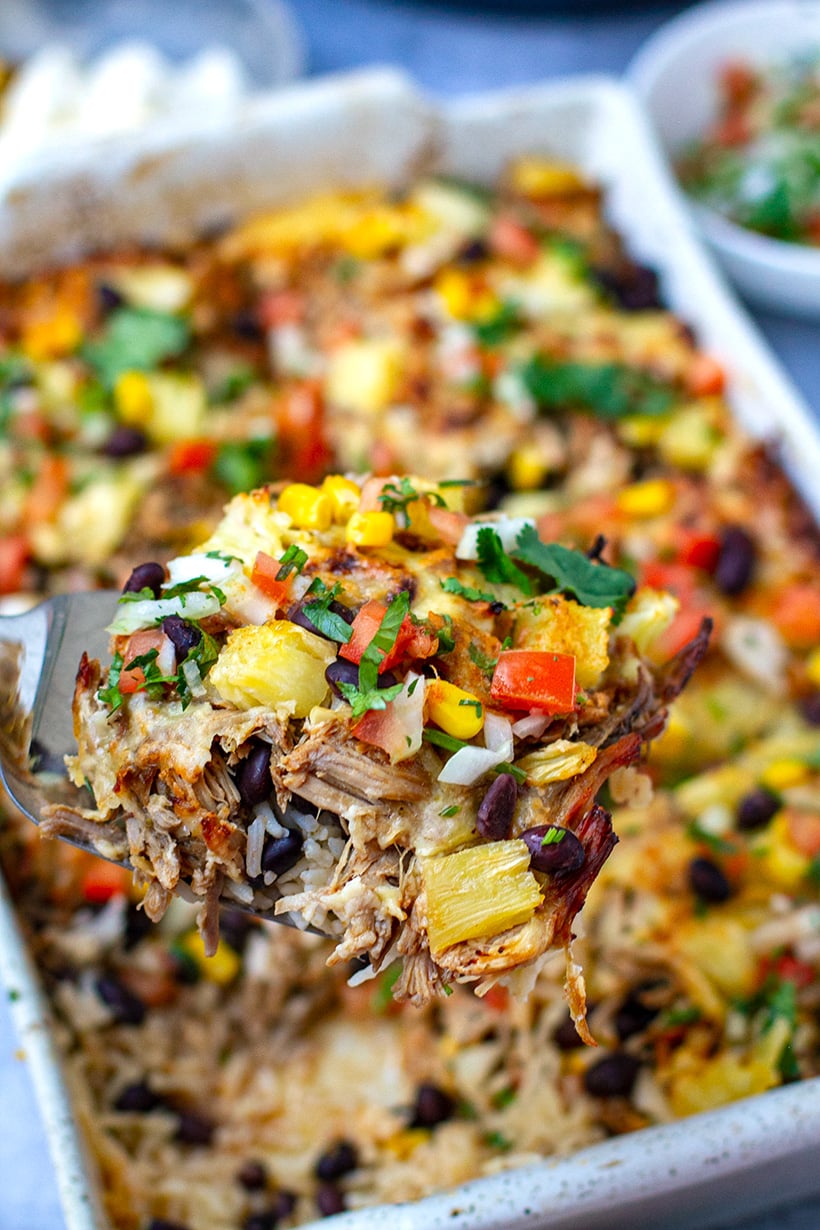 The casserole also features pre-cooked rice (you can use those 2-minute rice packets for ease and convenience), canned black beans, sweet corn and cheese (any melt-friendly type).
INSTANT POT PORK AL PASTOR INGREDIENTS
Pork shoulder pieces are marinated in a mixture featuring the following ingredients:
Pineapple – we used fresh pineapple, diced and core removed, that has been pureed with a blender. If you want to use canned pineapple, make sure it's unsweetened. You can also use pineapple juice.
Seasonings – garlic, salt, pepper, sweet or mild paprika, cumin and dried oregano. Easy, you probably already have all of these!
Smoky chillies – we are using chipotle in Adobo sauce for our chili and smoky flavor; these come as whole chili peppers in a sauce or as a puree. If using whole peppers, dice them or mash with a fork to make a puree.
Stock – chicken stock works best in this recipe, you can use bone broth or stock cube here.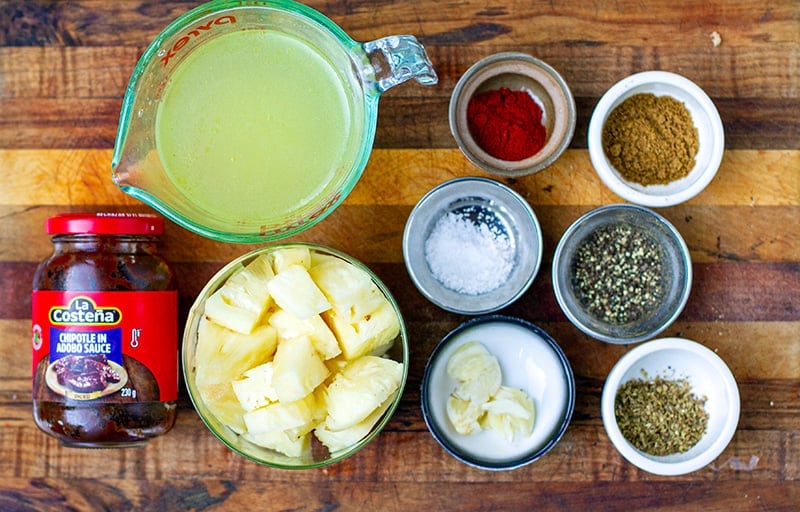 CAN I USE CHICKEN OR BEEF IN AL PASTOR CASSEROLE?
You can! Chuck steak or chicken breasts/thighs can easily be marinated and cooked in the same way.
CONDIMENTS FOR PORK AL PASTOR CASSEROLE
If you were to have tacos al pastor, you would typically have diced pineapple, fresh cilantro and some raw onions on top of the pork. Salsa verde is also a typical condiment. For our pork and rice casserole, we finish the dish with pineapple grilled on top of the dish and cilantro, onions and tomatoes with a little lime juice are added just before serving. Sour cream is a very nice addition, too!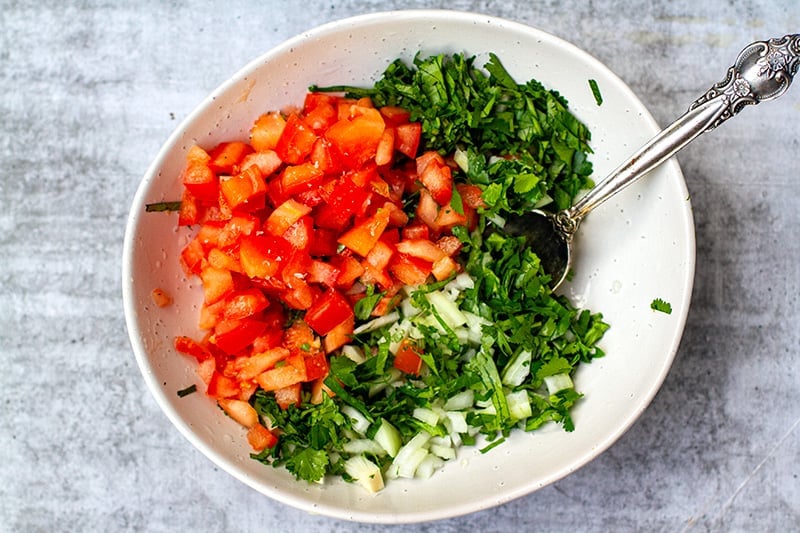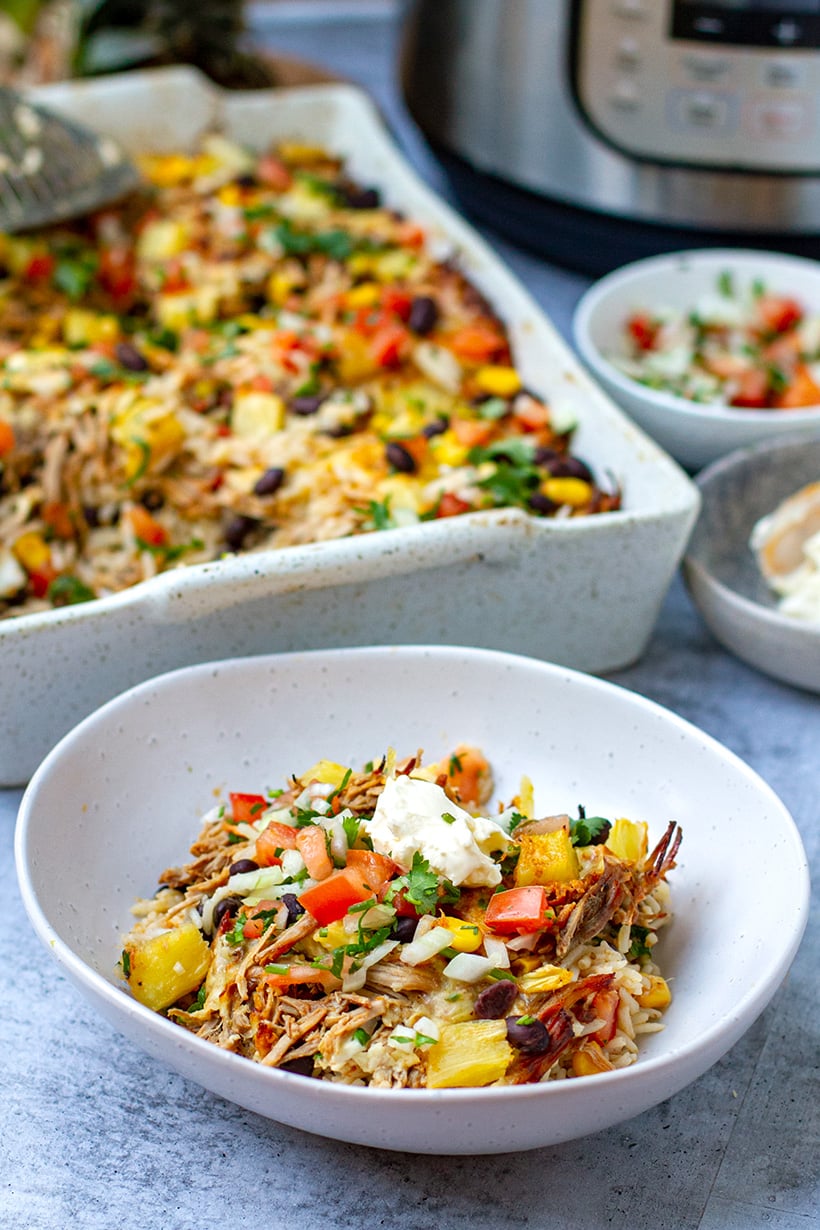 ---
MORE TEX MEX INSTANT POT RECIPES
---
Print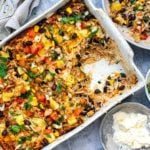 Instant Pot Pork Al Pastor & Rice Casserole
Author:

Prep Time:

20 minutes

Marinating:

60 minutes

Cook Time:

60 minutes

Total Time:

2 hours

Yield:

4

-6

1

x

Category:

Main

Method:

Instant Pot + Oven

Cuisine:

Tex Mex

Diet:

Gluten Free
---
Description
Learn how to make delicious, family-friendly Instant Pot pork and rice casserole inspired by the pork al pastor tacos. Featuring beans, corn and cheese, this pork al pastor dish is hearty, healthy and a great twist on the Mexican classic.
---
FOR COOKING PORK AL PASTOR
2 lb / 900 g pork shoulder, cut into large cubes/chunks

0.5 lb / 250 g ripe pineapple cubes (1/4 of pineapple)

1.5 tsp salt

1/2 tsp pepper

1 tsp cumin

1 tsp oregano leaves

1 tsp paprika

3 garlic cloves, roughly cut or crushed

3 tbsp chipotle chili in adobo (pureed or chopped)

1 cup chicken stock


FOR RICE CASSEROLE
3–4 cups pre-cooked white rice (see notes)

1 can (14-16oz) black beans, drained and rinsed

1 small can of sweet corn (about 4-5oz)

1.5 cups shredded cheese (Mozzarella, Cheddar, Tasty)

About 1 cup cubed pineapple (about 1/4 of pineapple)

CONDIMENTS/TOPPINGS
1/2 white onion, diced finely

1 medium tomato, seeds out and diced into small cubes

1/3–1/2 cup chopped fresh cilantro

Juice of 1/2 lime

A good pinch of salt

1/2 cup sour cream
---
Instructions
Prep. Remove any thick layers of fat or skin from the pork shoulder (a little bit of fat here and there is fine). Cut into large cubes or chunks, about 2 inches. Set aside.
Make the al pastor marinade. Puree the pineapple chunks with an immersion blender stick or a food processor until smooth-ish. Transfer to a mixing bowl. Add salt, pepper, spices, garlic and chipotle peppers and mix.
Add the pork chunks and mix with the marinade. Cover the bowl with Clingwrap and marinate for at least 1 hour (overnight is ideal).
Cooking the pork. Add 1 cup of chicken stock to the Instant Pot. Transfer the pork and all of the marinade to the pot, don't need to stir. Secure and lock the lid. Press Meat/Poultry Button or Pressure Cook and change the time to 35 minutes on high pressure. It will take about 10-15 minutes to come to pressure. Once done, release the pressure naturally (if in a rush, release manually after 10 minutes).
Finish the meat. Remove pork pieces with a slotted spoon to a bowl and shred with a fork and spoon. Set aside. Reserve the cooking broth as we will need it for later.
Preheat the oven to 430 F / 220 C.
Assemble the casserole: Spread pre-cooked rice on the bottom of a deep casserole dish or baking tray. Evenly pour about a cup of the pork cooking broth over the rice, this will flavor it. Scatter sweet corn and black beans on top of the rice.
Top the casserole with shredded pork and pour another 1/2 – 2/3 cup of the broth over the top. Then top with grated cheese (as much as you like) and pineapple cubes (press them into the pork a little). Pop in the preheated oven, middle shelf, for about 30-35 minutes until cheese is melted and golden and the pineapple looks slightly caramelised. Bits of meat sticking through should look a little browned.
Make the condiments. In the meantime, combine diced white onion, cilantro and tomato with lime juice and a little salt and set aside. Serve the casserole with some of the fresh salsa scattered over the top and the rest on the side along with some sour cream.
---
Notes
Rice – you can cook the rice ahead of time or use leftover white rice from the day before (not earlier, rice doesn't keep well). 2-Minute rice packets are super convenient for this dish as well. White rice of any kind or brown rice can be used here. You can also add quinoa or any other pre-cooked grains.
You can use chicken or beef meat in this recipe!
Canned pineapple can be used, make sure it's unsweetened ideally. Pineapple juice can also be used in the marinade.
Nutrition
Serving Size:

1/5 of the casserole with the salsa and 1-2 tbsp sour cream

Calories:

621

Sugar:

9.9 g

Sodium:

1442.9 mg

Fat:

14.7 g

Saturated Fat:

6.9 g

Carbohydrates:

63.1 g

Fiber:

6.5 g

Protein:

55.2 g

Cholesterol:

145.6 mg
Keywords: Instant Pot, Pork, Chipotle, Mexican, Al Pastor, Pineapple, Rice, Beans, Dinner, Tex Mex, Gluten-Free
HOW TO MAKE INSTANT POT PORK AL PASTOR CASSEROLE
Here are step-by-step instructions for making vegetable lentil stew in the Instant Pot. We made it in the Instant Pot Duo Classic & Nova 6-quart pressure cooker.
Step 1. Prepare the marinade ingredients and cut the pork shoulder removing any excess fat (leave a little bit of fat on). Puree the pineapple and mix with the spices, garlic and chipotle in adobo sauce puree.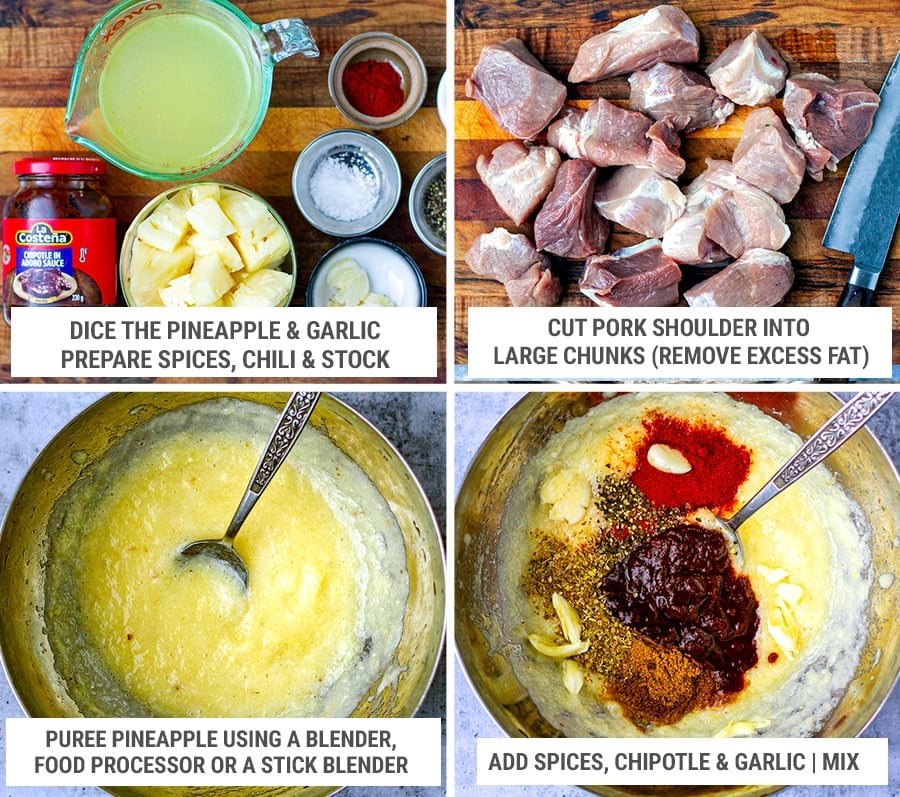 Step 2. Mix the pork in the marinade and leave it for at least 1 hour in the fridge. The longer you leave it, the more flavorsome the meat will be.
Step 3. To cook the pork, add 1 cup of chicken stock to the Instant Pot, then add the pork and all of the marinade on top. Stir gently to combine. Secure and lock the lid. Set the Instant Pot to Pressure Cook/Manual on high pressure for 35 minutes or press the Meat/Poultry button (Normal). Once cooked, allow the pressure to release naturally and if in a rush, use the quick release after about 10 minutes of NPR.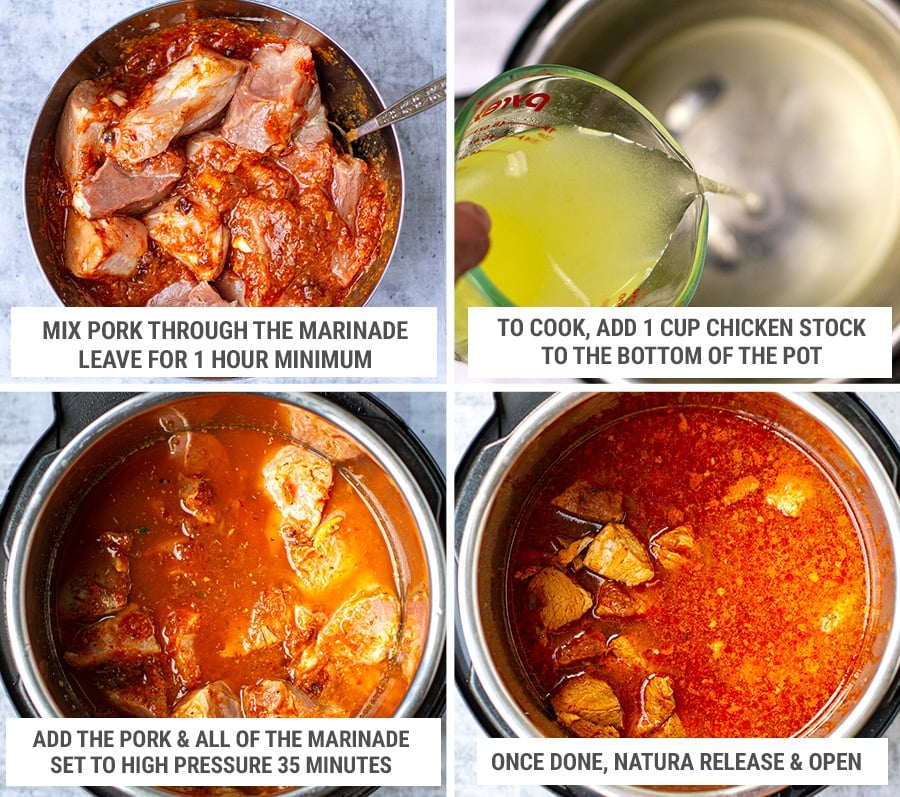 Step 4. Remove the pork to a bowl and reserve the cooking marinade broth. Shred the meat with a fork.
Step 5. Start layering the casserole. Add a few cups of pre-cooked rice and pour a cup of pork cooking broth on top (this will flavor the rice). Top with canned black beans and sweet corn.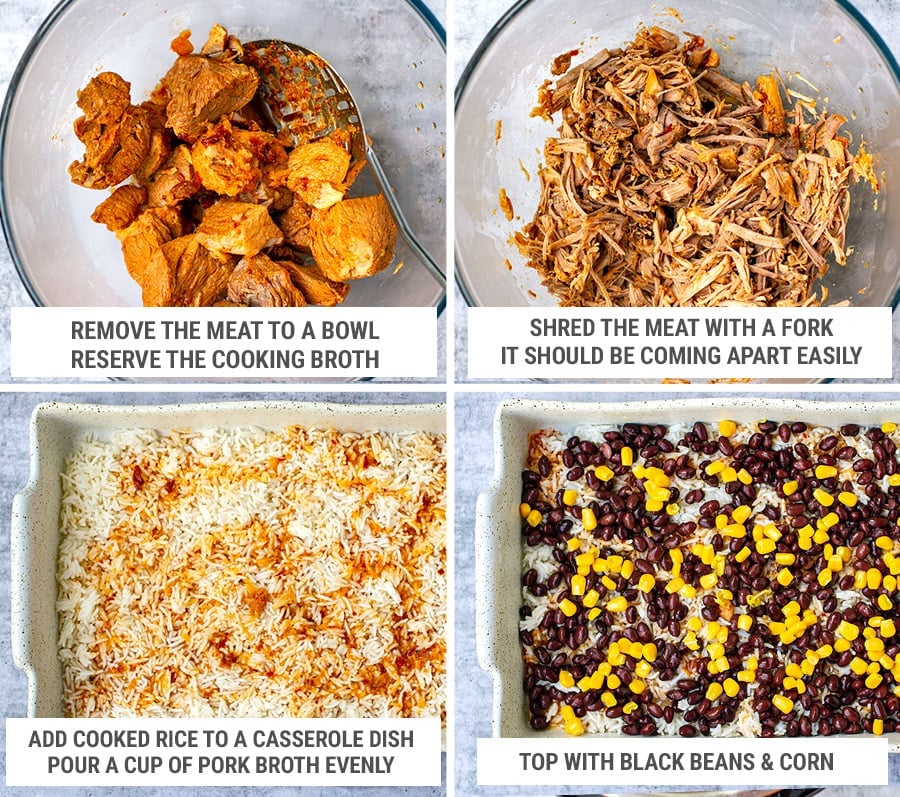 Step 6. Follow with the shredded pork and pour another 1/2 to 2/3 cup of the cooking broth on top. Finish with grated cheese (Mozzarella, Cheddar etc) and pineapple cubes.
Step 7. Bake the casserole in a hot oven (430 F / 220 C) for about 30 minutes until the cheese is melted and golden and the pineapple is slightly caramelised. In the meantime, prepare diced tomatoes, cilantro and raw onions for condiments.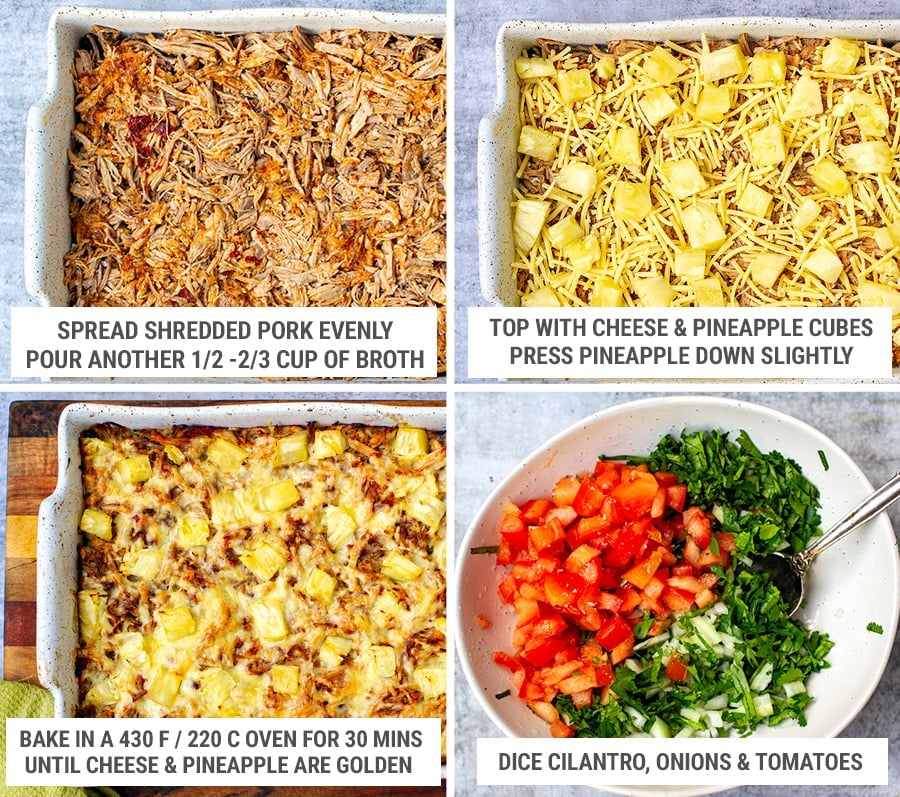 Serve in bowls topped with extra tomato, cilantro and onions and sour cream. You can also serve salsa verde on the side.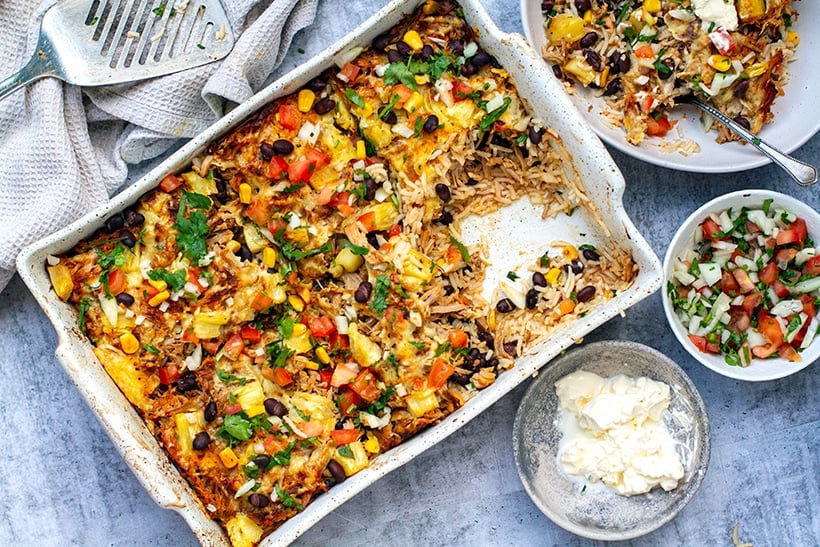 ---