Learn how to make Instant Pot dirty rice with ground beef, bacon, peppers and Cajun seasoning mix. While the name might not sound appetizing, this dish is all about the flavor! It's a delicious Creole one-pot recipe the whole family will love. It's also gluten-free.
---
---
In This Post:
And if you like this recipe, make sure to check out our Instant Pot Southwest rice (with 4 ways to serve it), Tex Mex beef and rice casserole, or Spanish rice with chorizo.
---
What Is Dirty Rice?
If you've never heard of or made dirty rice before, here is what you need to know. It's a popular Creole dish in America's south and more specifically in the regions of Louisiana, in which thite rice is cooked together with ground beef, pork or chicken, often some liver, as well as bell peppers, celery, onions, and spices. These additions change rice's color from white to grey or brownish, hence the name 'dirty rice'.
Of course, there is nothing dirty about it and it's a very delicious and comforting dish. Other names include rice dressing or chicken and rice. It's a bit like a rice casserole.
Since we love cooking rice in the Instant Pot, it was a no brainer to try making a dirty rice creation in the pressure cooker. It was quick and easy and worked well as a one-pot dish.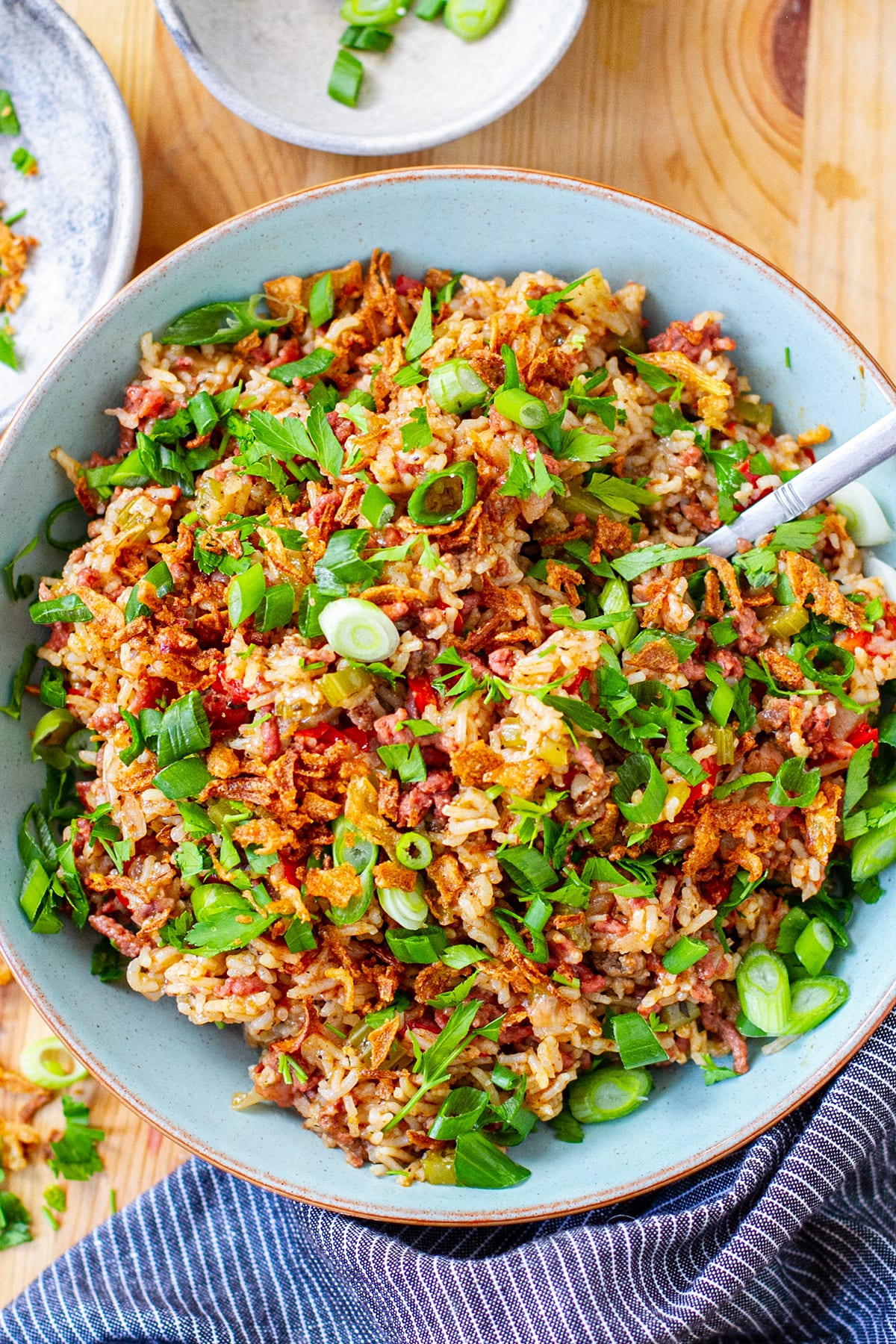 Ingredients For Dirty Rice
There are many versions of dirty rice with the most traditional recipes featuring ground beef and chicken liver. We decided to go for more of a crowd-pleaser option and used some salty bacon instead of chicken livers, which are not to everyone's taste.
Other usual suspects include the trio of onions, celery and bell peppers (you can use any color you like), aromatic garlic, and Cajun or Creole spice mix (we have provided a DIY blend in the recipe notes).
As for rice, long-grain white rice such as Jasmine or Basmati will work great in this dish. And you will need some common garnished like scallions and parsley or cilantro.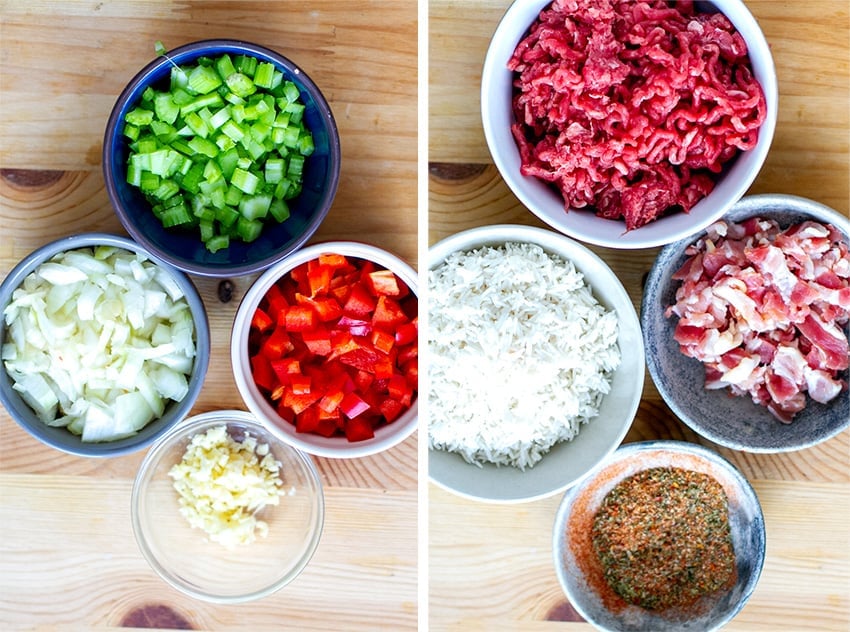 How To Make Dirty Rice In Instant Pot
You will find the full list of ingredients, instructions and nutritional breakdown below. Here are some simple steps and how to video. Using the Instant Pot to make this dirty rice recipe is super simple: there are two stages of cooking.
Step 1. Sauté
Use the Saute setting on Normal mode to saute the onions, bacon,bell peppers and celery in some olive oil. Once softened, add the garlic and beef and cook for a further few minutes.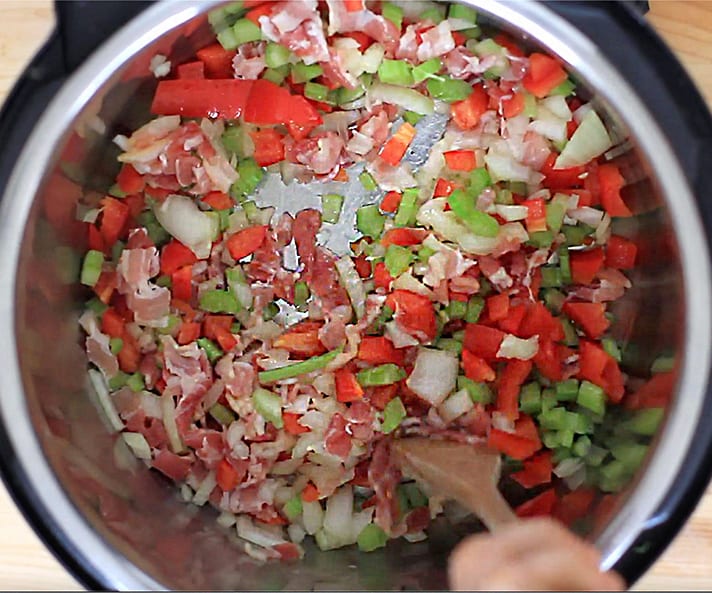 Step 2. Cook The Rice
Then add the rice, spice and stock. Stir everything through and Cancel the Saute setting. Secure and lock the lid and set to Pressure Cook on HIGH for 4 minutes with 4-5 minutes of natural pressure release at the end (leaving the pot undisturbed). Then quick release the remaining pressure.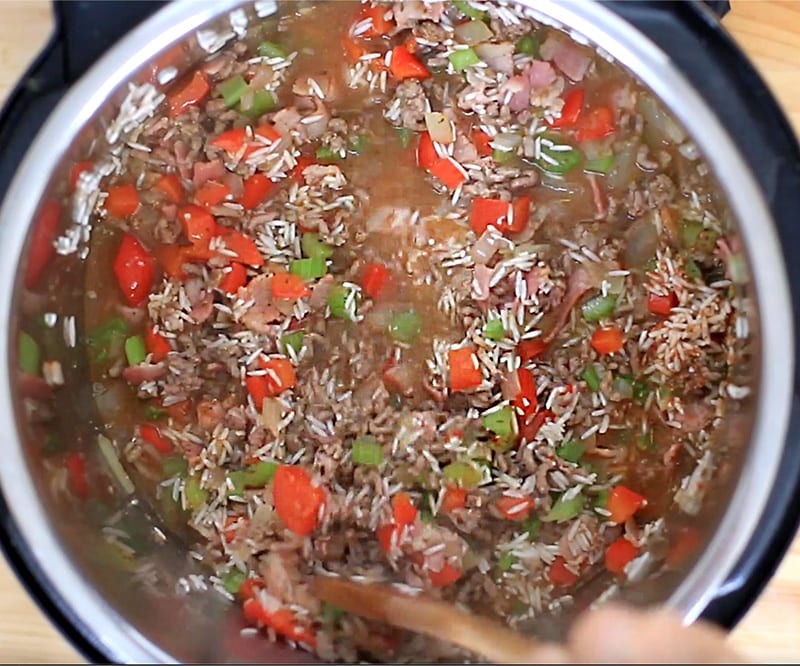 Once done, open the lid and stir the rice. Garnish with scallions.
Watch How To Make It
Serving Suggestions
When deciding what to serve with dirty rice, you'll want to choose sides that complement its rich and savory flavors by providing some contrast and balance (read, vegetables!) Here are some ideas:
Vegetables will provide a refreshing contrast. Steamed or roasted vegetables can work well, such as broccoli, green beans, or Brussels sprouts.
Cornbread is a classic choice as its slightly sweet and crumbly texture can balance out the spiciness and richness of dirty rice. We love this simple cornbread recipe.
Coleslaw can provide a cool and tangy contrast and its crunchiness can also add a nice textural element to the meal.
A light salad with fresh greens, tomatoes, cucumbers, and a tangy vinaigrette can help balance the meal and add some brightness.
Fried or sautéed okra is a Southern favorite that complements the flavors of thid dish.
Collard greens are a classic Southern side dish and can add a touch of bitterness that complements the richness of the rice.
Fried Plantains are great for a slightly sweet and caramelized contrast.
Pickles or pickled vegetables will add some tangy and pickled elements to your plate can cut through the richness of the dish and provide a burst of flavor.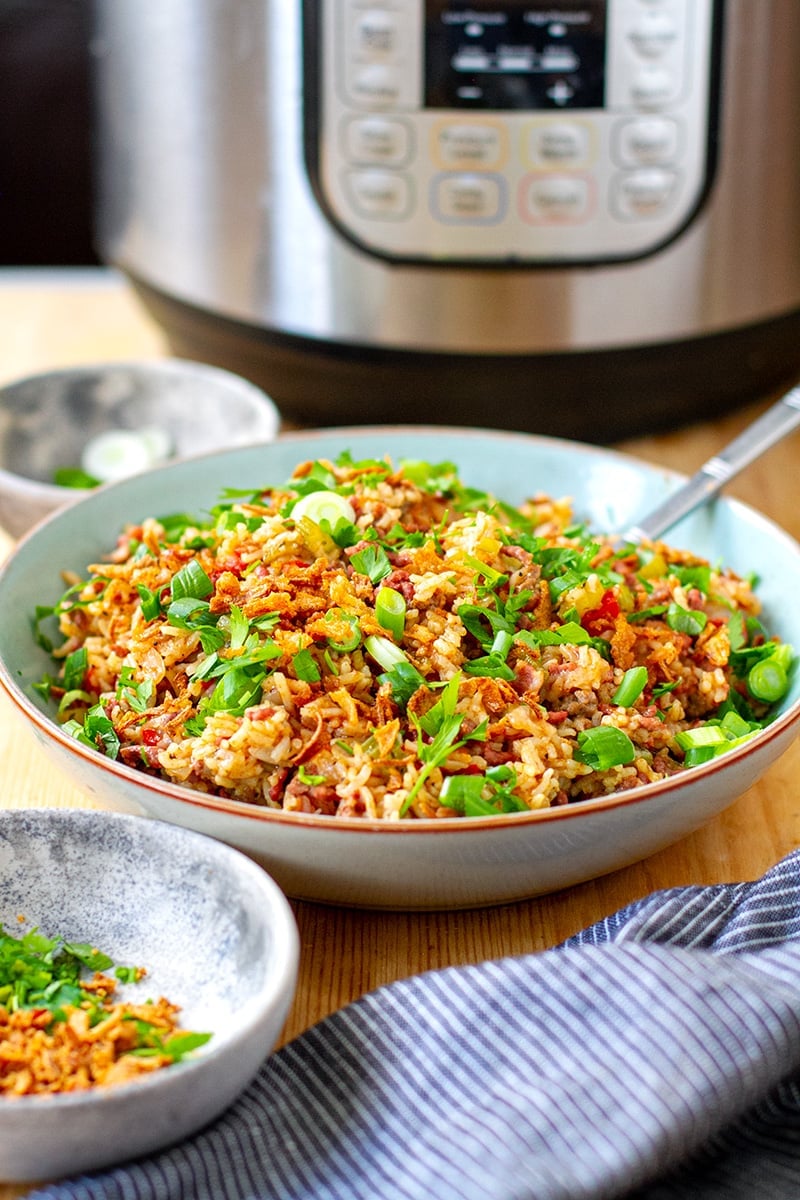 Storing Cooked Rice
Refrigerating: Cooked rice, including dirty rice, should be consumed within 3-4 days of cooking. Reheat only the portion you intend to eat to avoid reheating the entire batch multiple times.
Reheating: When reheating dirty rice, make sure it reaches an internal temperature of 165°F (74°C) to ensure it's safe to eat. You can reheat it in the microwave, on the stovetop, or in the oven. Add a splash of water or broth to help prevent the rice from drying out during reheating.
Freezing (Optional): If you want to store dirty rice for a longer period, you can freeze it. Portion the rice into smaller airtight containers or freezer bags. Remove as much air as possible to prevent freezer burn. Be aware that rice can become slightly softer when thawed and reheated, but the flavor should remain intact.
---
Full Recipe
Find the full list of ingredients, instructions, and a nutritional breakdown below. If you have questions or cook this recipe, please let us know in the comments, and make sure to rate this recipe so it's easy for others to find.
Print
Instant Pot Dirty Rice
Author:

Prep Time:

15 minutes

Cook Time:

20 minutes

Total Time:

35 minutes

Yield:

4

1

x

Category:

Main

Method:

Instant Pot

Cuisine:

Creole

Diet:

Gluten Free
---
Description
This Instant Pot dirty rice is our version of a popular Creole dish with ground beef, bacon, onions, peppers and celery and a tasty mix of Cajun spices. It's a one-pot, family-friendly dish that can be served a with a side salad, coleslaw or steamed greens. We used a 6-quart Instant Pot for this recipe.
---
1.5 tablespoons olive oil

1 medium onion, finely diced

1/2 cup diced celery (about 1 large stalk/rib)

1 cup diced red or green pepper (about 1 bell pepper)

3 oz / 90 g streaky bacon, diced

3 cloves garlic, finely diced

0.5 lb / 250 g ground beef (we used 95% meat, 5% fat)

1.25 cups dry Basmati or Jasmine rice, rinsed really well

2 tablespoons Cajun spice mix such as this (or see notes below)

1 tablespoon Worcestershire sauce or A1 sauce

350 ml vegetable or chicken stock

Garnishes
A handful of parsley, chopped

1–2 scallions, chopped

Fried shallots like these (optional but adds a lovely flavor and texture)
---
Instructions
Turn the Instant Pot and press the Saute function key. Once hot, add the oil, onions, celery, peppers and bacon and cook for 2 minutes, stirring a couple of times.
Add garlic and beef and cook for 2 more minutes, breaking the meat apart with a spatula until its color turned from red/pink to greyish.
Add 1.25 cups of well-rinsed rice, about 2 tablespoons of Cajun spice mix (see notes), a tablespoon of Worcestershire sauce and 350 ml of veggie or chicken stock. Mix through and press Cancel to stop the Saute function.
Pop the lid on top, lock and make sure the top valve is pointing to Sealing. Press Manual/Pressure Cook and set the time to 4 minutes at HIGH pressure. The Instant Pot will take 5-8 minutes to build up the pressure first. Once the timer is finished, allow about 5 minutes for natural pressure release (NPR) but not much longer as the rice will keep cooking.
Use the quick release (point the valve to Venting) to let off the remaining pressure and open the lid. Stir through the rice and serve garnished with chopped scallions and parsley. We topped our rice with some fried shallots as well.
---
Notes
You can use a store-bought Cajun spice mix like this or make your own.
Cajun spice blend: 1 teaspoon smoked paprika, 1 teaspoon thyme, 1 teaspoon oregano,1/2 teaspoon pepper, 1 teaspoon onion powder, 1 teaspoon garlic powder, 1/2 teaspoon chili powder or cayenne pepper.
Nutrition
Serving Size:

1.5 cups cooked rice dish

Calories:

327

Sugar:

4.4 g

Sodium:

1469.7 mg

Fat:

16.4 g

Saturated Fat:

4.7 g

Carbohydrates:

25.1 g

Fiber:

1.6 g

Protein:

18.9 g

Cholesterol:

52.4 mg
Keywords: Dirty Rice, Rice Recipes, Beef And Rice, One-Pot Rice Dish, Southern rice, Creole Rice, Cajun Rice, Instant Pot recipe recipes
More Instant Pot Recipes With Rice
---
Save This Dirty Rice To Pinterest