Get inspired with these delicious Instant Pot lentils recipes for healthy and budget-friendly eating. Perfect for weeknight cooking, comfort food cravings, and meal prep.
---
What's not to love about lentils? If you've been cooking with your Instant Pot long enough, you've likely made quite a few dishes with this pantry staple. They're a truly versatile food, and they fit in just about everyone's budget. You can get a ton of lentils without breaking the bank, and you can always find a beautiful rainbow of variety in the bulk section. The vegan eaters already know what's up with lentils.
Not only are they cheap, but they're healthy too. Naturally gluten-free, this tiny-but-mighty lentil is a fabulous source of plant protein coming in at 18 grams per cup! They're also high in vitamin B6 and B1, iron, folate, and magnesium, helping you to eat a bit less meat while still getting in those essential components. Finally, lentils are full of fibre to help keep you fuller for longer, and make digestion smooth.
Generally speaking, you want to soak lentils prior to cooking just like with any legume. Not only does this increase nutrition by reducing the amount of phytic acid (which binds to nutrients), but it decreases cooking time too. It will also give you a chance to sift through the lot and find any stray pebbles hiding out amongst the lentils.
Did we mention they're tasty? With all the different ways you can cook and create with this legume, you'll never get bored. This is especially true if you're using your Instant Pot which takes cooking time down, giving you perfectly tender and delicious results every time. Here are some of our favourite Instant Pot lentils recipes.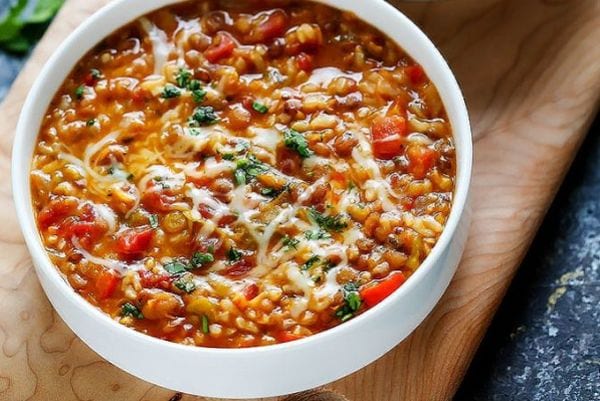 Just one look at these comforting cheesy lentils is drool-worthy! Just imagine how they taste… or y'know, make the recipe. The combination of lentils and brown rice lends a healthy and hearty base, perfect for taking on zesty Southwestern flavour. This is bursting with green chiles, bell pepper, and onion. Fresh mozzarella and cheddar are the dynamic duo on top, melting throughout for a creamy spoonful each and every bite.
Need a winter warmer? Look no further. Combining the joys of cabbage soup with lentil soup yields brilliant and cosy results in this veggie stew. Tons of spices add flavour, and there's even a little jalapeno for a spicy kick. It only takes 15 minutes to make 6-7 cups of soup, so you can expect to have leftovers with minimal effort. This is the kind of meal we love!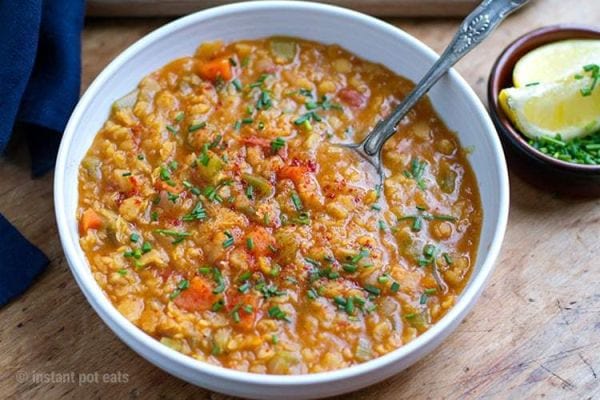 Is it a soup or a stew? Well, it depends on how you look at it or how you work it. Either way, this recipe is a fantastic way to use split peas or lentils. Split peas are a bit different though they are still a legume. They don't require pre-soaking, and they yield a creamy and delicious addition to stew, but your favourite type will work in this recipe. It's a vegan and gluten-free dish loaded with aromatics and flavour for a Turkish-inspired, protein-rich lunch or dinner.
Humble beginnings are often the start of a good, down-home, comfort food meal. This is one of those. The combination of brown lentils, green lentils, and white rice adds variety to the mix, soaking up delicious veggie broth and spices with anti-inflammatory turmeric in the mix. A dash of nutritional yeast gives these a cheesy flavour that can't be beat while remaining plant-based and dairy-free.
Double the protein, double the fun. This dish incorporates chicken and lentils together for a truly luscious and filling blend. The dish is packed with diced pancetta, crimini mushrooms, parsnips, and fennel for a good dose of hidden veggies and nutrients, perfect for serving over rice. Beluga lentils are tiny and black, resembling caviar!
Can you think of a more powerful plant-based trio? You get your starches, fibre, and protein in this dish with a variety of texture and flavour going on. The yams add a touch of sweetness and colour to this simple blend, coming to life with earthy rosemary and a little time. This is the perfect meal to batch cook and enjoy with salad greens or topped off with some of your favourite vegan cheese.
For the serious eaters, this one is for you. A stew is meant to be thick and rich, and this one certainly fits the bill. Boasting creamy lentils, perfectly cooked chicken, and smoky bacon to add depth to the tremendous flavour in this recipe, you'll love how easy it is to assemble something so satisfying in short order. French or Le Puy lentils plus skin-on, bone-in chicken are the key here. Oh, and it's not all about the meat – there are carrots, too!
This lentil dish is a bit like curry, served in a turmeric-infused coconut broth with white rice. To adapt to Instant Pot, simmer the garlic and onions on saute mode first, and add in the rest of the ingredients, cooking for around 15 minutes which cuts this recipe time in half. You can use either green or yellow lentils, or a mix of both if you're feeling adventurous.
An array of rainbow toppings on this soup and corn tortilla chips to dip are the key, but we all know it's what's on the inside that counts. Tucked away in this recipe is a blend of both black and pinto beans, corn, and red lentils. Mexican-inspired spices bring that flavour home, blended with heavy cream, tomato sauce, and salsa verde. This recipe yields six side dish servings or three big bowls.
Sometimes, you just need veggies – and a lot of them. This soup is perfect for embracing seasonal produce or cleaning out the fridge, and it takes on any veggie pretty well. The lentils stand in for protein adding some bulk to the dish, soaking up all of those beautiful flavours for a nourishing and colourful bowl of comfort food.
11. Lentil chili from Jeanette's Healthy Living
No beans or meat? You'd be surprised at just how chunky and satisfying this tasty bowl of chili is! It's a simple meal that takes on all the flavour, and we know lentils are fantastic for soaking all that tomato goodness and the spices right up. This vegan chili is budget-friendly and gluten-free.
We love a meaty bolognese, but you can sub in the meat for lentils in this vegan dish. It's perfect for those of you missing that classic pasta topping with texture, flavour, and protein that takes on your favourite tomato sauce. This dish is vegan and gluten-free, perfect for leftovers and it's totally kid-friendly!
13. Dal makhani from My Heart Beets
You can use any combination of whole and split lentils in this recipe – black lentils, mung beans, red lentils, kidney beans – so get creative! Dal makhani comes to life with the spice blend garam masala, perfect for topping off with fresh cilantro, some yogurt, and roti.
Aloo palak dal is a lentil dish with spiced potatoes and spinach, helping you use up those greens and get your nutrients in. It's a bit like a curry. It's best served with rotis – the pita on the side – so don't skip that extra step! You'll have plenty of time to make them if you use your Instant Pot.
How exactly does one make gumbo without meat? Don't knock it 'til ya try it. This Southern delicacy is nurturing for the mind, body, and soul while packing in flavour that cannot be beat – even with meat. You start with the Southern base of green bell pepper, celery, and onion, and build upon it with Cajun spice, okra, and lentils. You can even add some riced cauliflower to keep it more authentic yet grain-free.
Bonus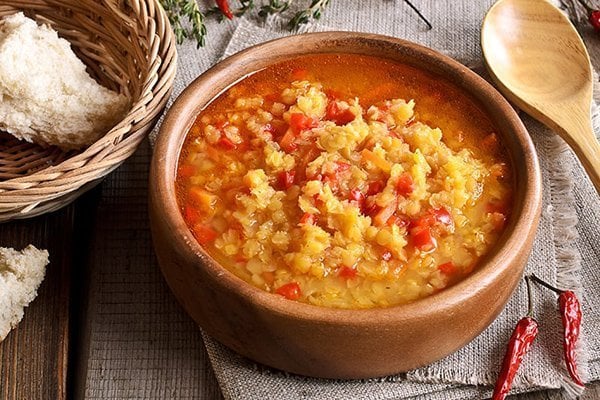 This gorgeous Instant Pot lentil soup is a delicious and healthy meal full of plant-based protein, fiber, and nutrients. It's tasty, simple to make and is vegan-friendly and gluten-free.
We hope you enjoy these amazing ideas to use one of our favourite pantry staples – lentils! Cooking them has never been easier or more delicious. If you enjoy these recipes, make sure to share this roundup.