Check out our favorite fabulously fresh Instant Pot fish stew and seafood recipes, including hearty soups and classic chowders, and lightened up versions for healthy eating.
---
The definition of stew is this: a dish of meat and vegetables cooked slowly in liquid in a closed dish or pan.
With the Instant Pot, we can change the 'slow' to 'fast,' and a world of culinary opportunity opens itself up to us. Today, we're going to talk about fish stew. While beef stew is one of the first recipes everyone makes in their Instant Pot, there's something wonderful about a seafood stew.
It's lighter, often paired with similar ingredients to beef – carrots, onion, potato, celery – and served in some sort of broth. Not only will we be talking about seafood stews; we'll be sharing some seafood curries, soups, and more with you. After all, it still fits the definition of meat and vegetables cooked in a closed dish!
Enough with the technicalities. Let's get into the good stuff!
This stew is the perfect way to use firm white fish. Something sturdy and mild like sea bass lends itself incredibly well to this dish. The composition really allows the fish to be the main ingredient here and stand out as the star of the dish through and through. For bulk, add some potatoes and tomatoes for flavor. This light dish is perfect for using your Instant Pot in the summer. Serve with crusty bread and fresh herbs to round things out. Recipe from Bowl of Delicious.
Just one look at this creamy fish chowder and you're probably convinced. This stew blends what you love about classic New England clam chowder and creamy, chunky, smoky potato soup. You end up with a love child that epitomizes comfort food! Its humble beginnings include bacon and mirepoix, and the bulk of the stew is made up of potatoes, frozen corn, and haddock. This is the ultimate winter warmer, and it's plenty nourishing too. It takes just 5 minutes to make, and it's naturally gluten-free. Recipe from Health Starts In The Kitchen.
This gumbo is boasting a list of classic gumbo ingredients, so you can bet the flavor is good. This recipe is even paleo-friendly and Whole30-compliant! While a good gumbo can be rather indulgent, this is the perfect weeknight meal or office lunch that won't be weighing you down with heavy ingredients for hours to come. Onion, bell peppers, diced tomatoes, shrimp, and sea bass combine for a healthy twist on classic Southern cuisine. You can serve it with white rice or cauliflower rice if you need to bulk it up. By the way, this dairy-free dish makes a great choice for a freezer meal! Recipe from The Movement Menu.
This fancy little number combines tender, fresh Alaskan cod for protein, zingy fennel, deep flavor from olive brine and even more crushed green olives, and of course potatoes. This recipe comes from the south of France, so if you've visited, you might be familiar. It's not your typical stew. This one is for the adventurous eater with a deep need for a unique and interesting flavor. For those folks though, it's truly a treat that you'll want to savor every last bite of. Recipe from The Tasting Table.
Of course, we had to include a classic clam chowder. This one hardly deviates from the standard recipe, so it's the perfect Instant Pot rendition to recreate your favorite soup. Chopped clams, bacon, butter, fresh thyme, potatoes, half and half, and a garnish of chives stand out in this recipe with your standard soup ingredients, giving it unbeatable texture and a creamy deliciousness you just can't beat. That's what chowder is all about, right? You'll feel like you're on the sea with this recipe! Recipe from Simply Happy Foodie.
This recipe is great for the person who wants to get their protein in! With a tomato broth base mixed with Old Bay, thyme, oregano, and spicy cayenne for a kick, every bite is injected with fabulously fresh flavor. Shrimp and lentils make up the bulk of the stew lending lean protein, fiber, and so much awesome nutrition. We especially love the addition of riced broccoli! This tasty gluten-free and dairy-free dinner is done in less than 15 minutes. Recipe from Aimee Mars.
If you want to take a trip to Louisiana without leaving your kitchen, this gumbo is the perfect dish for you. Packed with awesome protein from prawns, chicken, and sausage, you get all that meaty goodness that defines gumbo. Still, this recipe is lightened up so you won't break the bank with it! Don't forget the okra and green peppers – the other key ingredients. Gumbo has never been easier than with the Instant Pot, including the side of perfectly cooked white rice. Recipe from Stay Snatched.
Cioppino is a seafood stew that originated in San Francisco. It has Italian roots with a tomato and wine base, and it features a TON of fish. Basically, whatever you can get your hands on! When Italian immigrants in California had a scarce fishing day, they'd walk around collecting what they could from the community. They must have made some pretty incredible stews. This version features scallops, shrimp, sablefish, crab legs, and clams. This is a truly fun dish to make. Recipe from Denimelon Eats.
Many curry recipes feature standard Thai flavor which is fantastic and all, but have you ever tried Japanese curry? If not, this pressure cooker recipe is going to change the game. Test your culinary prowess with this flavor-infused dish. The recipe includes a tutorial for making a rich curry roux – the secret to the distinct taste in this stew! The seafood blend features clams, shrimps, scallops, and calamari. Recipe from Just One Cookbook.
Finally, we have a more traditional red curry featuring shrimp. This healthy dish encompasses Thai takeout flavor with a simple list of staple ingredients like prawns, coconut milk, curry paste, fresh ginger, and fresh garlic. It's a nourishing choice and perfectly paleo-friendly if you substitute white rice for cauliflower rice. Recipe from Wholesomelicious.
Bonus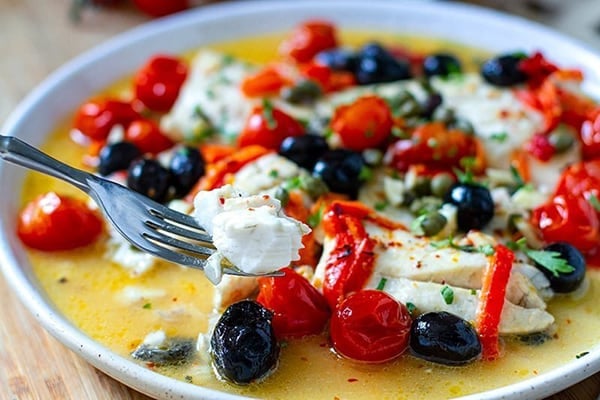 Super quick and easy recipe for Instant Pot fish braised in Italian broth of cherry tomatoes, olives, capers, and roasted peppers. It's bursting with Mediterranean flavors and you can make it with frozen white fish or salmon. This dish is healthy and nutritious and is perfect for gluten-free, paleo, low-carb and Whole30 diets. Recipe from Instant Pot Eats.
We hope you seafood lovers enjoy these fresh and fabulous fish stews, soups, and curries. They are so nourishing and comforting, there's just something for every taste on this list! Make sure to share if you enjoyed it.
---