Full of flavor and spice, these Instant Pot curry recipes will leave you craving for more. We've lined up aromatic, warm stews and braises from Indian butter chicken to mango coconut tofu.
---

Curry dishes can be the most intimidating meals to make considering the complexity of flavors and the variety of spices used.
From Indian to Thai to Sri Lankan, where does one start? We have our collected our favorite Instant Pot curries that include meat and vegan recipes to get you hungry for something a little more exotic.
This gluten-free Instant Pot butter chicken is perfect for a warm flavorful meal when you want something different without having to leave your cozy home. This is a guest recipe from The Essential Indian Instant Pot Cookbook by Archana Mundhe. This creamy curry highlights the robust flavors of Kashmiri chile, dried fenugreek leaves, and garam masala to serve with classic>basmati rice and naan. Recipe from Instant Pot Eats.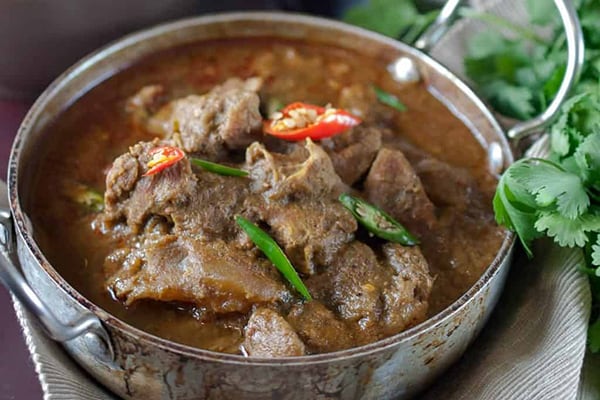 An easy peasy Instant Pot Indian beef curry recipe, well flavored with spices. An authentic Kerala-style beef curry pressure cooked in an Instant Pot. It goes well with chapati, parotta/paratha, pathiri (rice bread), any rice variants ( pulao, ghee rice, regular rice), appam (rice pancake) or any other Indian breads. This curry works out well for Paleo/Gluten-free/Keto lifestyle. It can accompany low-carb cauliflower rice. Recipe from A Little Bit of Spice.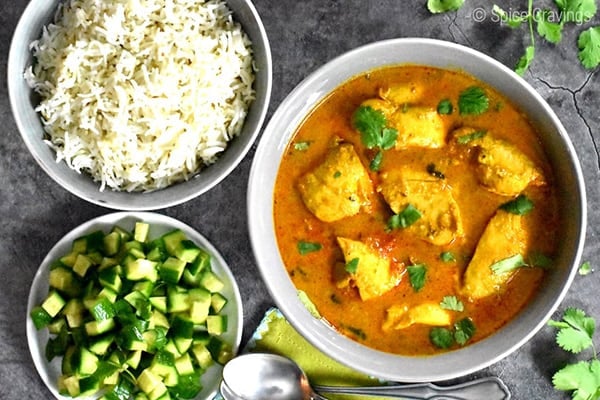 Not only can you make a hearty curry in a hurry, but you can also do the rice in the same pot! This guest recipe is from Aneesha of Spice Cravings. Recipe from Instant Pot Eats.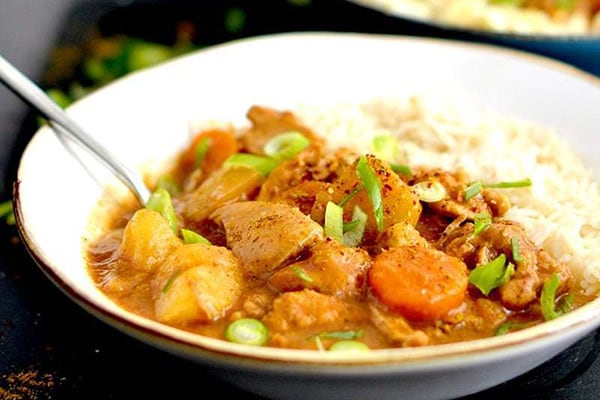 This simple homemade recipe is made from scratch rather than using ready-made boxed curry and is super delicious. We used chicken, carrots, and potatoes but you can make a vegetarian/vegan version as well. Recipe from Instant Pot Eats.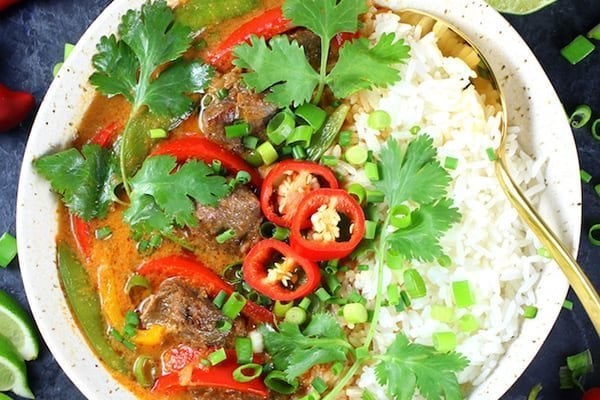 Instant Pot Beef Thai Red Curry is so flavorful, creamy, hearty, and absolutely delicious! It's full of hearty tender pieces of beef, plenty of veggies and aromatics like onions, garlic, ginger, sweet peppers and snap peas, and of course that yummy curry and coconut milk flavor that makes this authentic Thai red curry recipe just scrumptious! Recipe from Taste and See.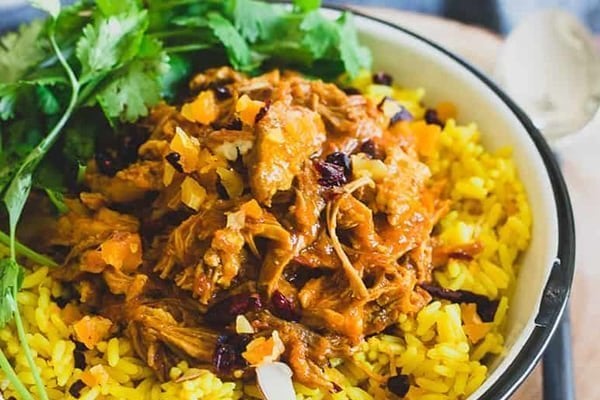 This Instant Pot coconut pork is cooked with turmeric, ginger, cinnamon and cardamom. It's aromatic, juicy and tender and perfect served over turmeric ginger rice with dried fruit and sliced almonds. Recipe from Running to the Kitchen.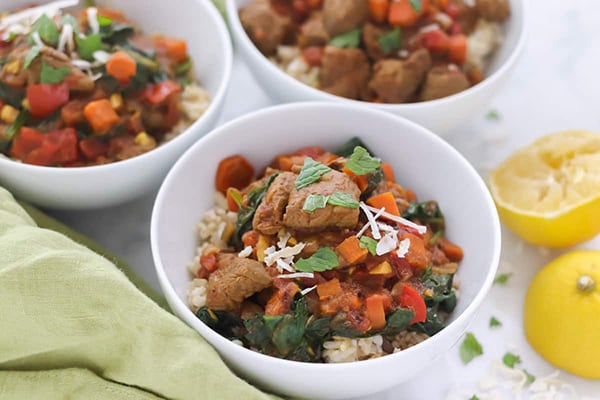 This simple Lamb Curry has warming spices, nourishing lamb, and nutrient-rich veggies. It'll make you feel good from the inside out. Lamb serves up a significant amount of nutrients essential for an immune function like zinc, selenium, protein, and iron. So this dish is great for the cooler months when you need an immune system boost. Recipe from Living Well Kitchen.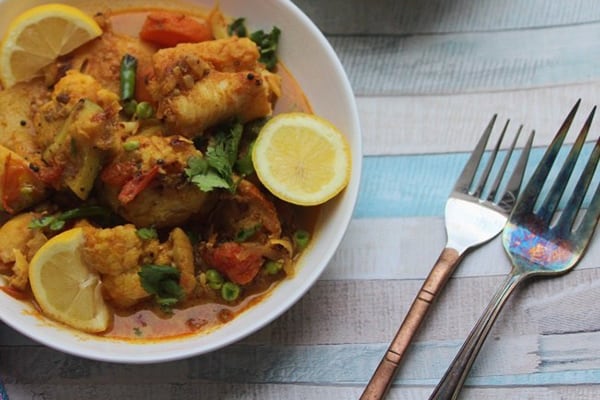 This Bengali fish curry is a very simple thin broth like stew, or in Bengali, it's call patla jhol. Seasoned with a mélange of a few key spices, this curry is packed with loads of vegetables and chunks of firm white fish. Recipe from Spice Chronicles.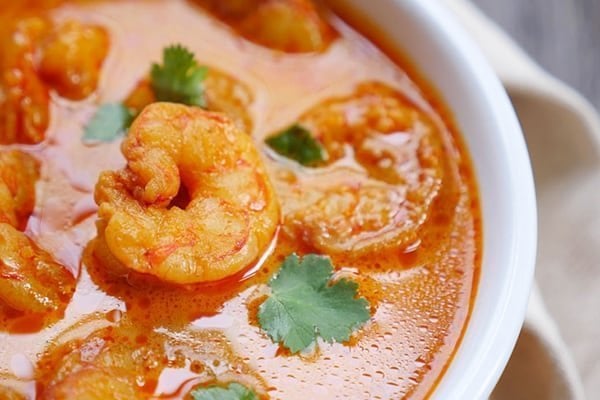 It's called "1 minute Shrimp Curry" because if you make this in an instant pot, you set the cooking time to 1 minute (plus time to reach pressure before it begins countdown). Still, this dish takes basically no time at all and is super duper simple to make. It's a "dump and cook" type of recipe. Recipe from My Heart Beets.
This easy Instant Pot chicken curry with eggplant recipe is full of Indian flavors that will have you making it again and again for quick weeknight dinners. This type of Indian curry is naturally dairy-free and gluten-free of course so its a good option for feeding guests with dietary restrictions. Recipe from Feasting Not Fasting.
This Paleo Whole30 Instant Pot Chicken Curry is so fast and flavorful! It is so easy to make and only has 7 ingredients. Using the Instant Pot saves time and the result is moist chicken, creamy sauce, and rich flavor. You will love it! Gluten-free, dairy-free, and low fodmap. Recipe from Real Food with Jessica.
---
Vegetarian & Vegan Instant Pot Curries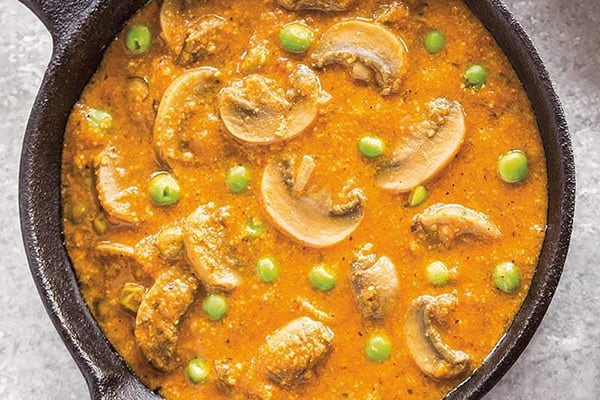 <
This is one recipe that even the mushroom haters will eat! This Instant Pot Mushroom & Green Pea Creamy Tomato Curry (Matar Mushroom) is made with sliced white mushrooms that pair perfectly with the sweetness of green peas in a tomato-cashew–based sauce. This guest recipe is from the cookbook Vegetarian Cooking With Your Instant Pot by Manali Singh. Recipe from Instant Pot Eats.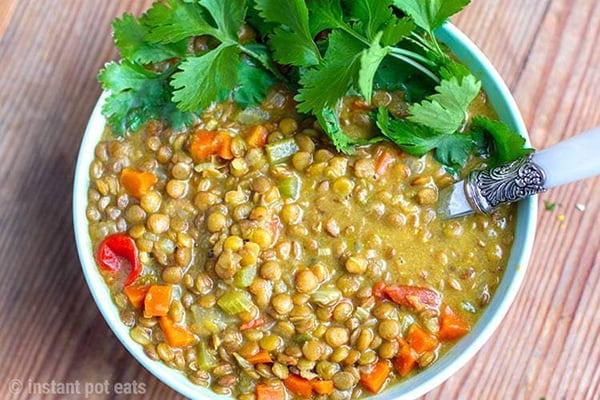 These creamy, beautifully spiced Instant Pot lentils are super easy and nutritious, perfect for a plant-based weeknight dinner for the whole family. It's a creamy stew, similar to dal, but with a creamy coconut twist. It can be served as is, over rice or quinoa, cauliflower rice or zucchini noodles. The choice is yours! Recipe from Instant Pot Eats.

This simple and healthy black-eyed pea recipe is from Indian Instant Pot Cookbook by Urvashi Pitre. Instead of using canned beans, try it from scratch with your Instant Pot for the best foundation for this curry. Recipe from Healthy Slow Cooking.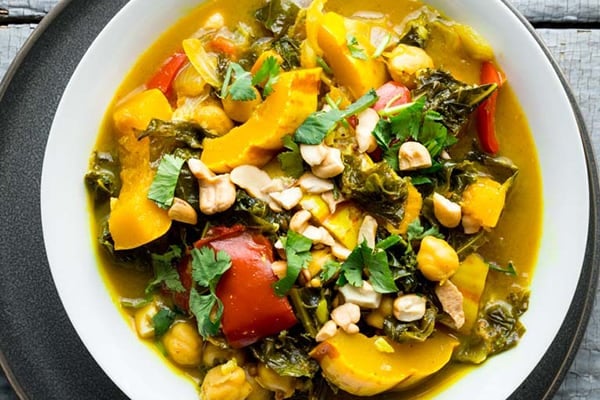 In this Instant Pot Veggie Curry Recipe, there are tender chunks of squash, kale, red bell peppers, and chickpeas are enveloped in rich tasting coconut and spice for the coziest (vegan) fall meal. Recipe from Healthy Seasonal Recipes.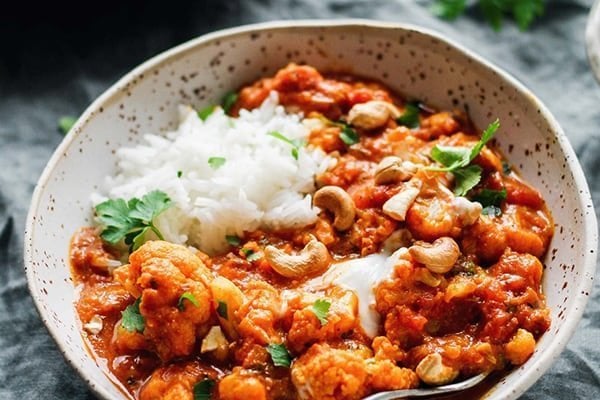 This flavorful cauliflower curry is made in only one pot and comes with a creamy masala sauce that is infused with Indian spices. The recipe is super simple and requires very little active time. It's so easy you will be surprised by how good it tastes! Recipe from Full of Plants.
Do you love mangoes and coconut? Then you will love this spiced vegan curry with tofu! This curry has a sweet taste that is well balanced with all the spices and seasoning—a comforting curry for cold nights! Recipe from One Green Planet.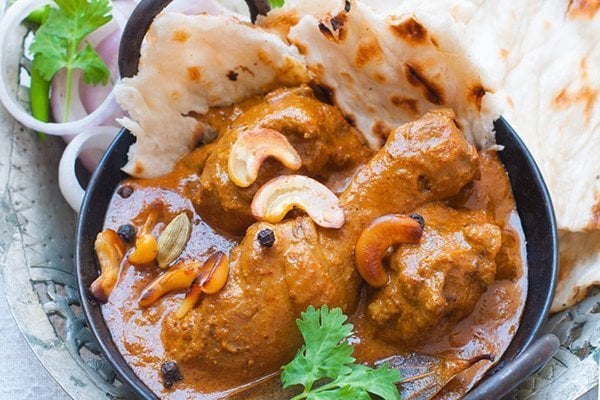 The word "Korma" in Instant Pot Chicken Korma, is synonymous with opulent, rich creamy aromatic gravy made with cashew nuts, poppy seeds, yoghurt, cream, and khoya. The deep flavor of this curry is a pure indulgence. Recipe from Yellow Thyme.
---