Learn how to make the most delicious Instant Pot Minestrone soup with vegetables, tomatoes, potatoes, pasta and beans. It's super hearty, thick, flavorful, kids-approved and nutritious. And did we mention easy? Oh, so easy!
---
Hearty, thick and full of flavor and veggies, this Instant Pot Minestrone will leave you feeling satiated and nourished. Making this classic Italian tomato broth-based soup with pasta, potatoes and beans gives you plenty of fibre and protein and you will be getting a ton of antioxidants and vitamins from all the veggies.
Our finished minestrone was enjoyed by the whole family including three boys aged 8, 11 and 14 who all gave it big thumbs up!
WHAT IS MINESTRONE?
Minestrone is a popular thick and hearty Italian vegetable and tomato soup with the addition of pasta or rice and often beans. Traditionally, minestrone is made to use up leftover vegetables, so feel free to use whatever you have on hand or what's in season. We made this Instant Pot minestrone adaptation in early fall when zucchini and spinach are plentiful but you could also add snap green beans, cabbage, pumpkin, peas and so on. Find out what to cook in your Instant Pot in September here.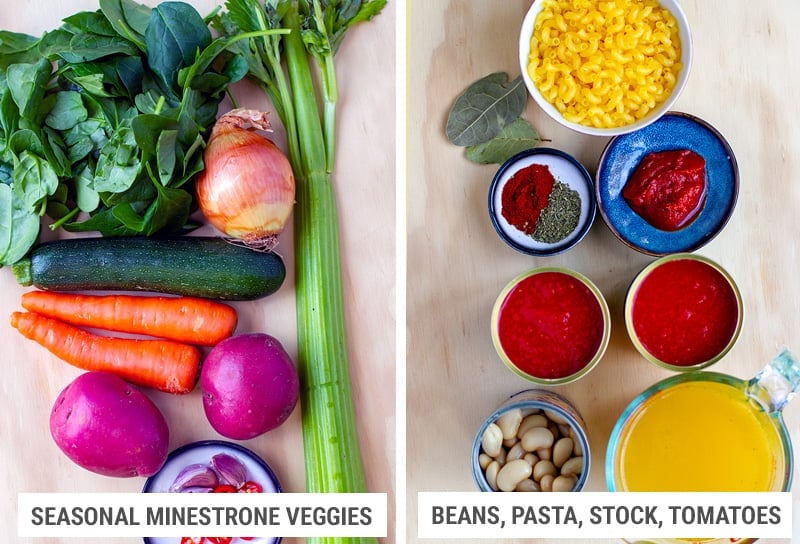 What's nice about minestrone is that the potatoes and pasta release their starches into the broth during cooking, which is what thickens the soup and gives it so much body. We used gluten-free elbow pasta but you can use the regular stuff.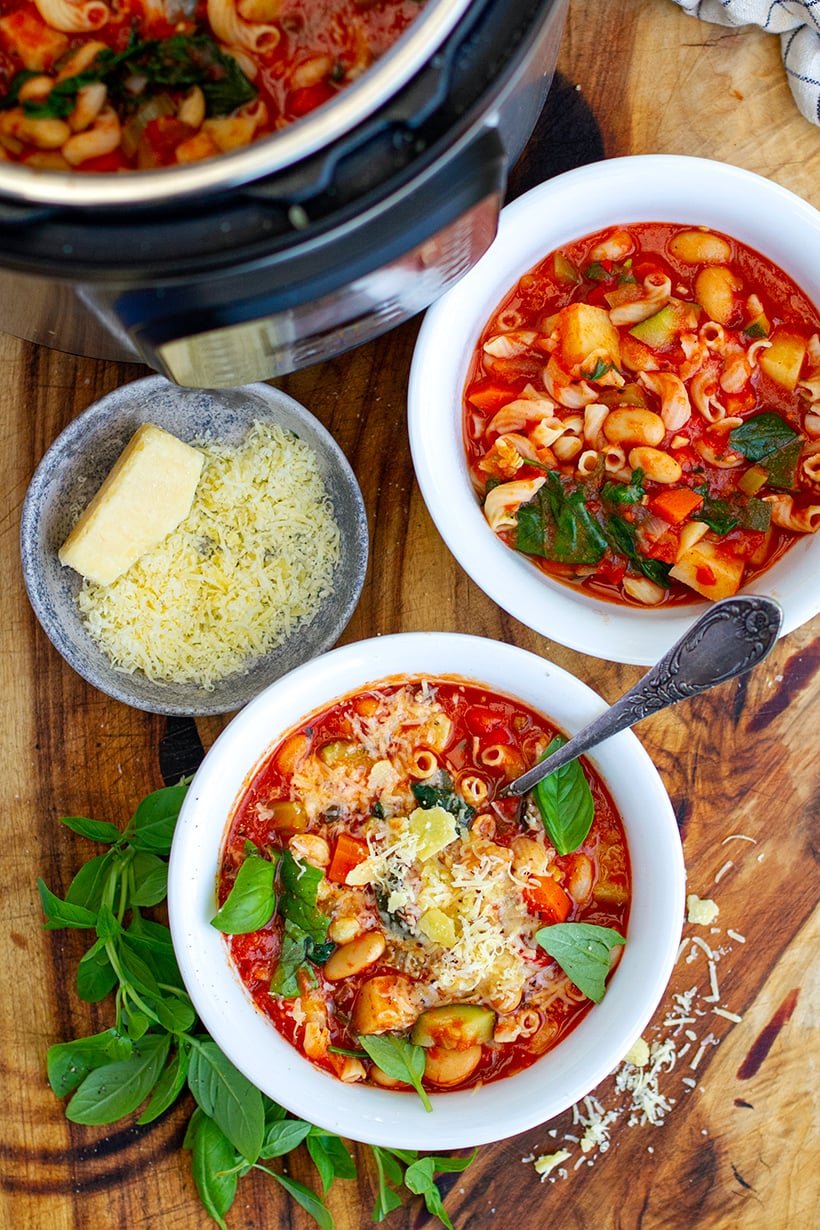 HOW TO MAKE MINESTRONE IN THE INSTANT POT
You will find the full list of ingredients, instructions, notes and nutritional breakdown in the recipe card below. Here is a hand step-by-step video for how to make this popular Italian soup in the Instant Pot.
TIPS FOR SUCCESSFUL INSTANT POT MINESTRONE
The beauty of this recipe is that it's a dump-n-cook, one-pot kind of dish in which all ingredients are cooked for the same amount of time. When it comes to pressure cooking, it's important to pick ingredients which can cook together for the same amount of time.
Dicing all vegetables into similar sized cubes and using smaller shaped pasta and pre-cooked beans allows you to cook them all for the same amount of time. Make sure potatoes aren't cut into too large cubes so they cook properly.
The cooking time at HIGH pressure is only 1 minute! That's because the Instant Pot will take about 15 minutes to come to pressure (due to the number of ingredients and amount of liquid) and the cooking will begin during this stage. Once the 1 minute at HIGH pressure is done, allow 7-8 minutes (maximum 10 minutes if using larger pasta shapes) for natural pressure release. The ingredients will continue to cook during this depressurizing stage.
DO NOT leave on natural pressure release for longer than that or your pasta will get too soft. Not a big deal if it happens but it's nice to have a little bite on the pasta.
Using good quality tinned tomatoes makes a big difference to the final flavor of the soup. We love Italian and organic brands as they tend to be sweeter.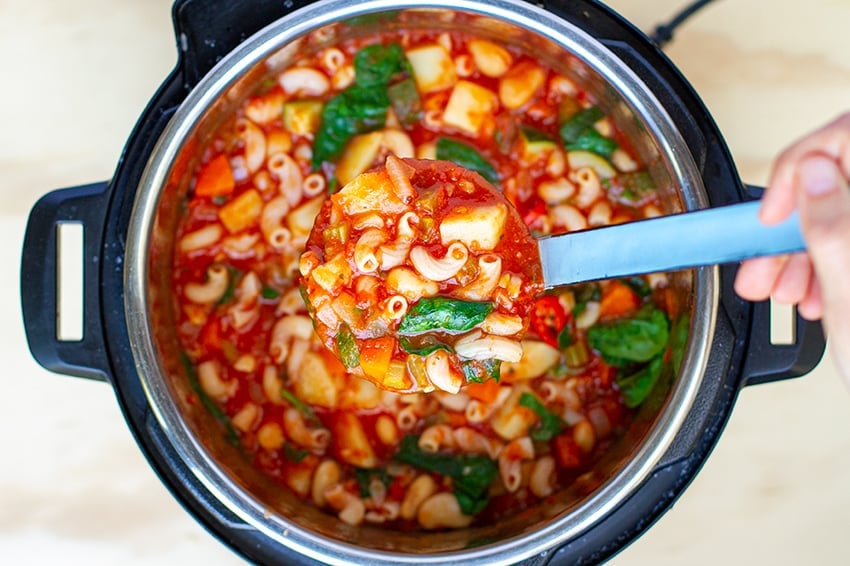 WHAT TO SERVE MINESTRONE SOUP WITH
This Italian soup is hearty and thick, almost like a stew, and because it already contains pasta, potatoes and beans, you don't need to serve anything on the side. A piece of toast or dinner roll is very enjoyable with any soup but not essential.
A good handful of fresh basil leaves right at the end gives this tomato vegetable soup incredible aroma. You can also use Italian herbs like parsley or oregano.
Unless you want to keep it vegan-friendly, a good sprinkle of shaved or grated Parmesan or vegetarian-friendly hard cheese on top is highly recommended. The cheese will melt into the soup giving it even more flavor. Any sharp-tasting, aged hard cheese will work like Cheddar.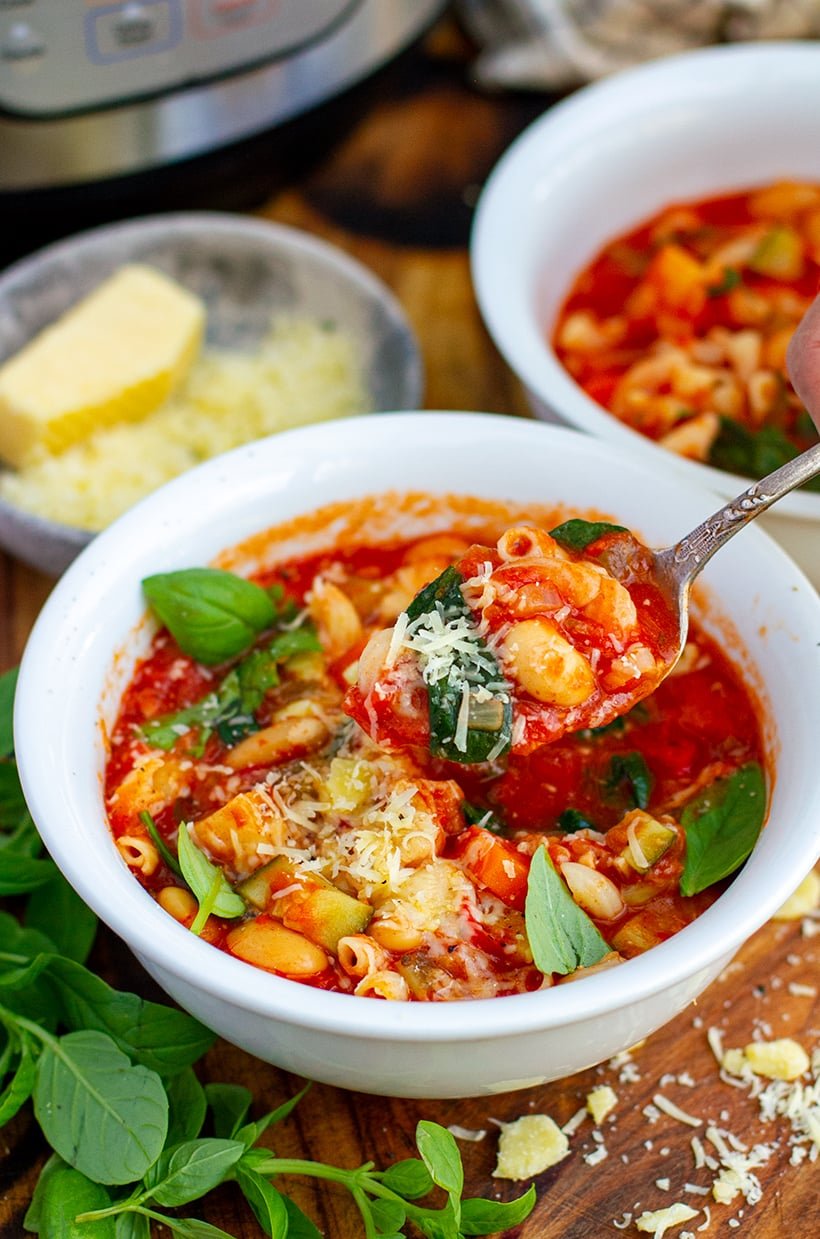 Print
Instant Pot Minestrone Soup
Author:

Prep Time:

15 minutes

Cook Time:

25 minutes

Total Time:

40 minutes

Yield:

6

Category:

Soup

Method:

Instant Pot

Cuisine:

Italian

Diet:

Vegetarian
---
Description
Learn how to make the most delicious Instant Pot Minestrone soup with vegetables, tomatoes, potatoes, pasta and beans. It's super hearty, thick, flavorful and nutritious. Kids-approved! 
---
2 tbsp olive oil

1 onion, finely diced

1 large carrot (or 2 small), diced into cubes

1 large rib of celery, diced into cubes

1 teaspoon salt

A pinch of pepper

2 medium potatoes, peeled and diced into small cubes

1 large zucchini, diced into cubes

3 garlic cloves, finely diced

1/2 red chili, sliced or diced

2 bay leaves

1 tsp mixed herbs or Italian herbs

1 tsp sweet paprika powder

1 tbsp tomato paste

2 cans diced tinned tomatoes (28 oz /800 g)

1 can cannellini beans (14 oz / 400 g, drained, other beans could also be used)

3.5 cups vegetable stock

1 cup of uncooked small pasta such as elbows or macaroni (we used gluten-free)

TO FINISH

3 cups loosely packed with baby spinach

1/4 cup sliced basil leaves (plus extra to serve)

1/2 cup grated Parmesan or other hard cheese (to serve)
---
Instructions
Turn the Instant Pot on and press the Sauté function key. Once hot, add the olive oil, onions, celery and carrots and season with a teaspoon of salt. Cook for 2-3 minutes, stirring a few times. Press Cancel to stop the Sautéing
Add the rest of the ingredients and stir through. Pop the lid on, lock and make sure the top valve is pointing to Sealing. Set to Manual/Pressure Cook and adjust to 1 minute at HIGH pressure. The pressure will take about 15 minutes to build up as there is quite a lot of liquid. Please note, the soup starts cooking during the pressurization and we only need it to stay at HIGH pressure for that 1 minute.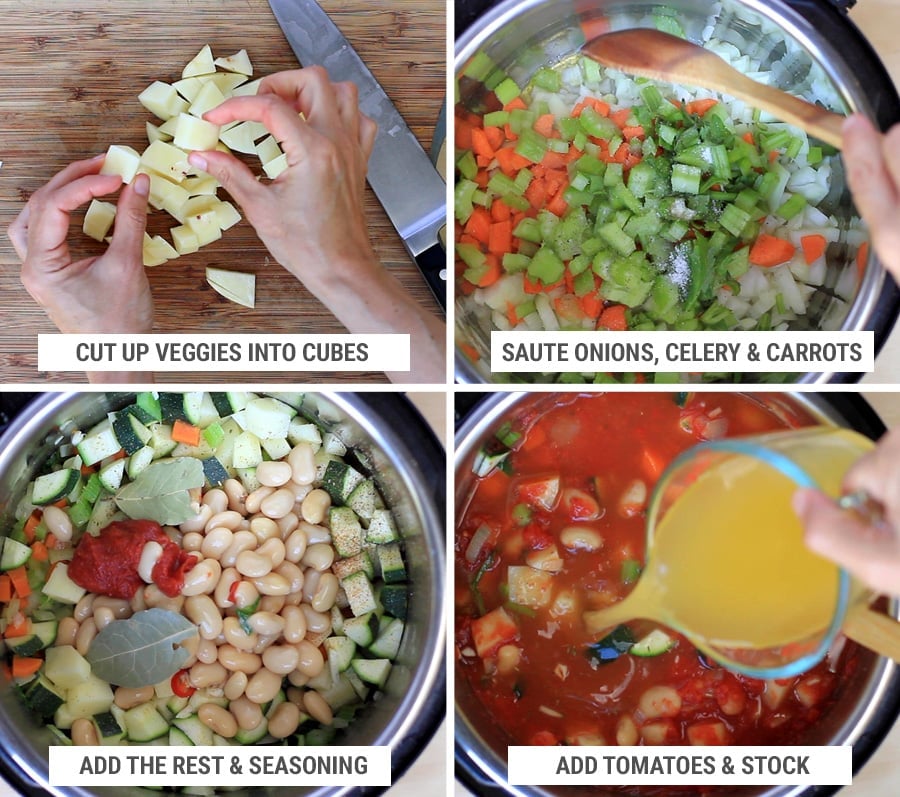 Once the timer is up, a new countdown will begin – the natural pressure release stage. Allow 8-10 minutes (max!) to release the pressure naturally and then point the top valve to Venting (or press it down on new models) to let off the rest of the pressure and steam. Don't leave on natural pressure release for much longer or the pasta will get too soft.
Open the lid and while the soup is still very hot, stir in the baby spinach. It will wilt into the soup within minutes. Stir in the fresh basil and add some cracked pepper, if you like. Taste for seasoning.
Serve the minestrone in deep bowls with a generous sprinkling of grated Parmesan cheese or other hard cheese on hand. Enjoy!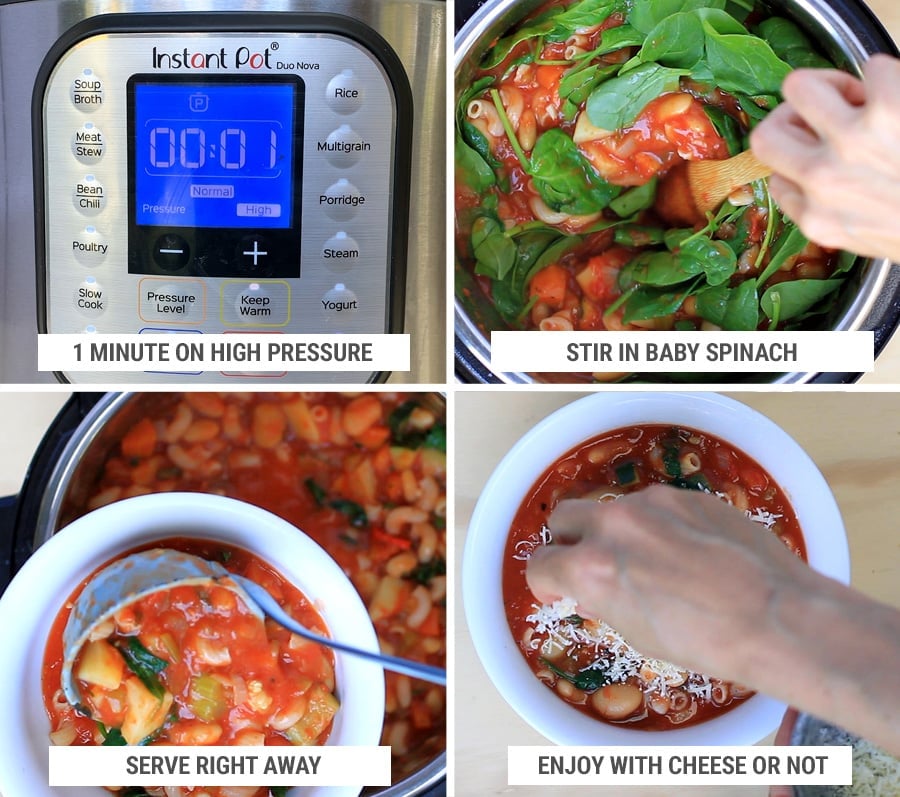 Notes
Vegan version: 

Omit the cheese addition and serve as is or use plant-based cheese on top. Nutritional yeast flakes could be sprinkled on top.

Whole30 version: 

Omit the beans and pasta and add extra vegetables or shredded chicken to the soup. 

Other toppings: 

Sour cream, Greek yoghurt or a dollop of heavy cream is lovely in minestrone. If you want extra protein (although this soup is quite satiating already), feel free to add diced cooked chicken or beef. 

Storage & freezing tips: 

The soup will keep for 3-4 days in the fridge in an airtight container. The flavor will develop even further the day after. Make sure to reheat the soup well.

It does not freeze well because of cooked pasta. If you make the soup without pasta, you can freeze it for up to 3 months. Once defrosted, simply stir in some separately cooked pasta and enjoy as if it was all made together. 
Nutrition
Serving Size:
Calories:

293

Sugar:

6 g

Sodium:

1136.2 mg

Fat:

9.2 g

Saturated Fat:

3.2 g

Carbohydrates:

41.3 g

Fiber:

6.6 g

Protein:

13.3 g

Cholesterol:

9.6 mg
Keywords: Italian, Soups, Vegetarian
MORE INSTANT POT SOUPS YOU MIGHT LIKE