From the classic chicken and egg noodles to tomato pasta noodles and aromatic Asian ramen, these warm and cozy Instant Pot noodle soup recipes are sure to comfort and satisfy.
---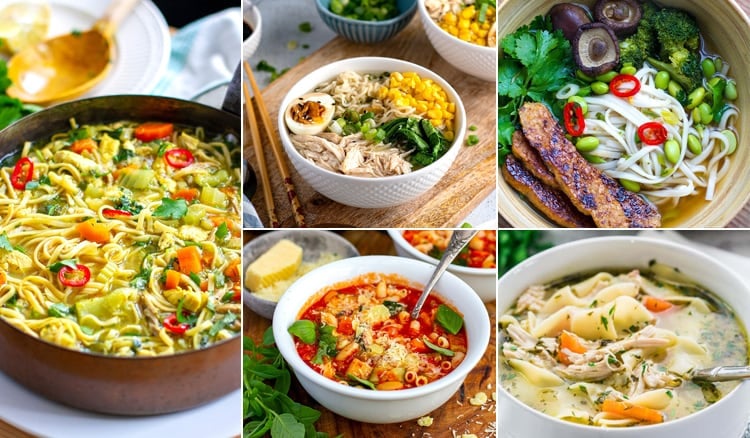 Need a hug in a bowl? What could be better than a steaming bowl of tender noodles, meat, or vegetables floating in hot soup?
A noodle soup refers to a variety of soups with noodles and other ingredients served in a tasty broth. Various types of noodles can be used, such as rice noodles, wheat noodles, and egg noodles and these can be long and thin or short and curly.
Noodle soups are very common across Asia from Japanese ramen or udon soup to Thai laksa and Vietnamese rice noodle soup. In the US and Europe, you've got a classic chicken noodle soup or a tomato-based minestrone with pasta noodles.
---
BEST INSTANT POT NOODLE SOUP RECIPES
We've put together a collection of Instant Pot noodle soups to make for dinner tonight and every night!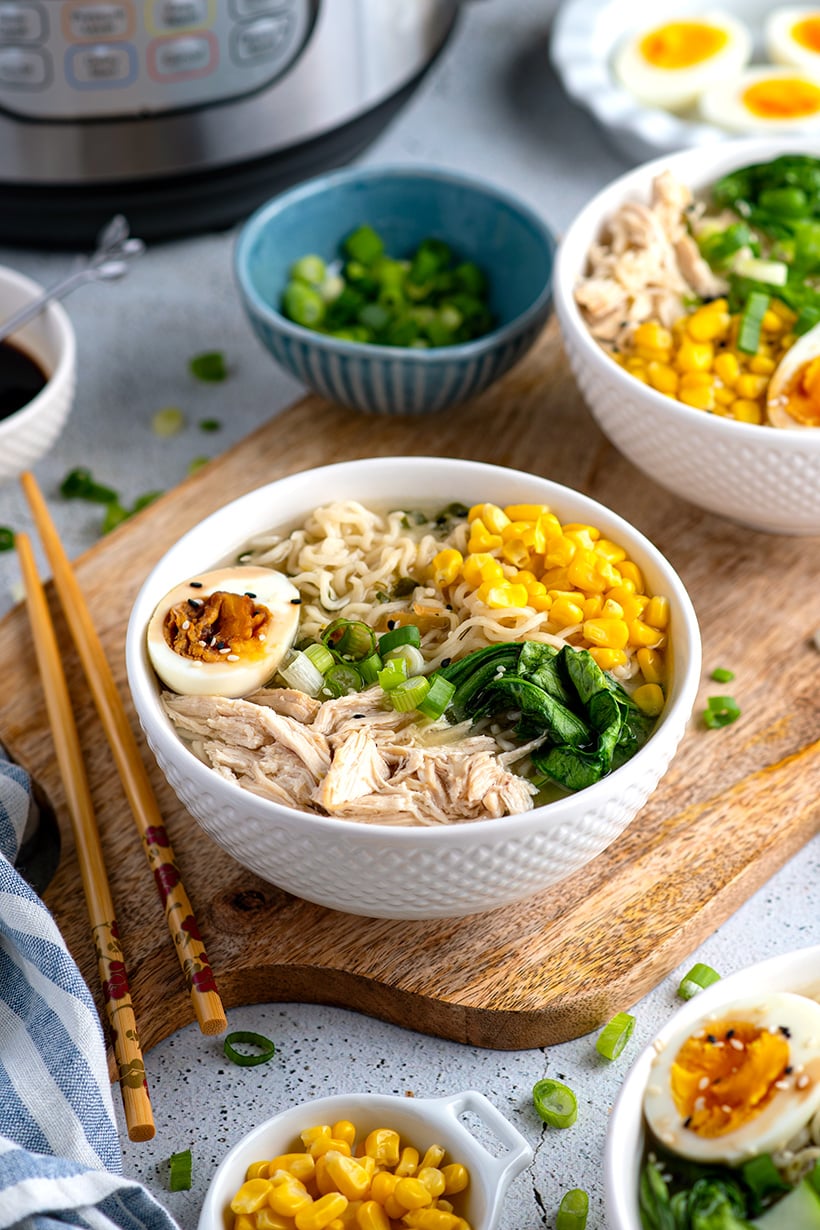 Inspired by the Japanese miso ramen, this noodle soup is topped with Asian greens, sweet corn, and a boiled egg and is perfect for a quick lunch or dinner that both kids and grown-ups will love. Get the recipe on our blog here.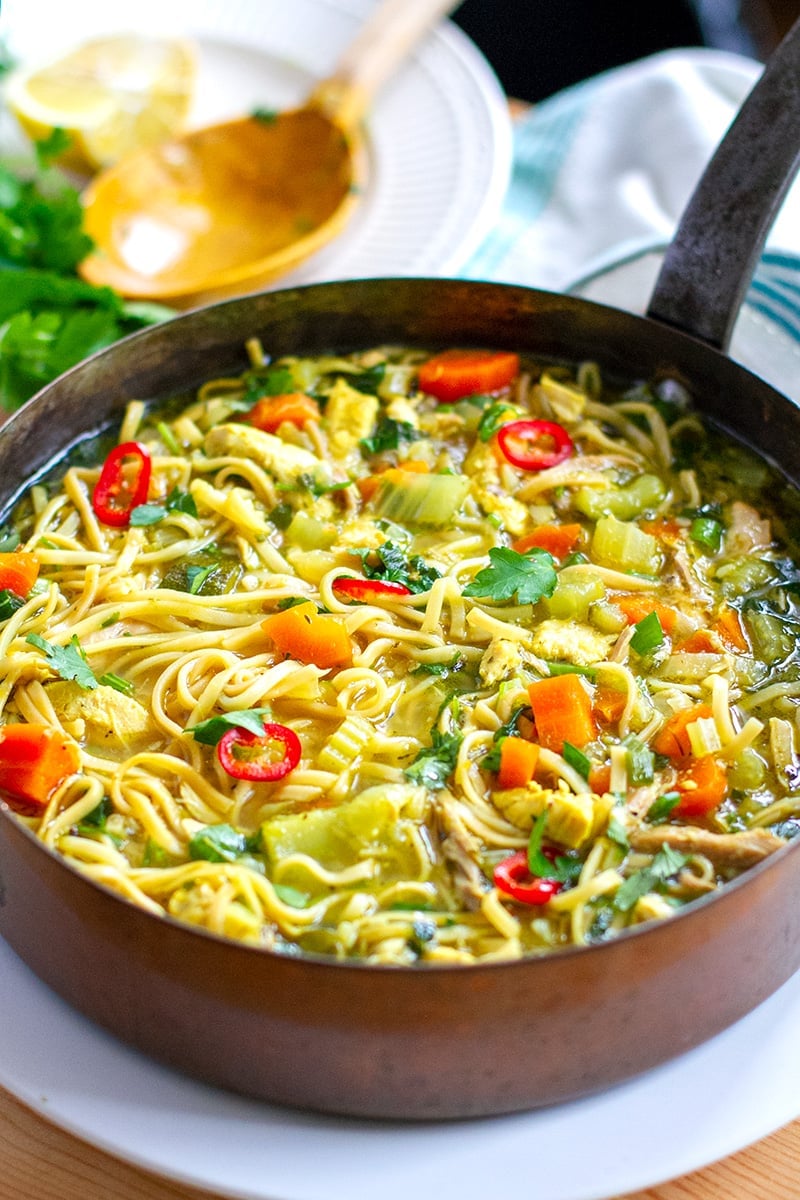 Who doesn't love a good chicken noodle soup? It's a family-friendly dish loved by kids and grownups and it's one of those classic comfort meals that make even the coldest, rainiest of days seem a little warmer and brighter. Get the recipe on our blog.
How many different ways can there be to prepare chicken noodle soup? A bit of "creaminess" added to the broth with the heavy cream and then the flour-and-broth mixture really takes a boring, been-there-done-that-a-million-times soup and turns it into something guest-worthy! Recipe from Le Creme De La Crumb.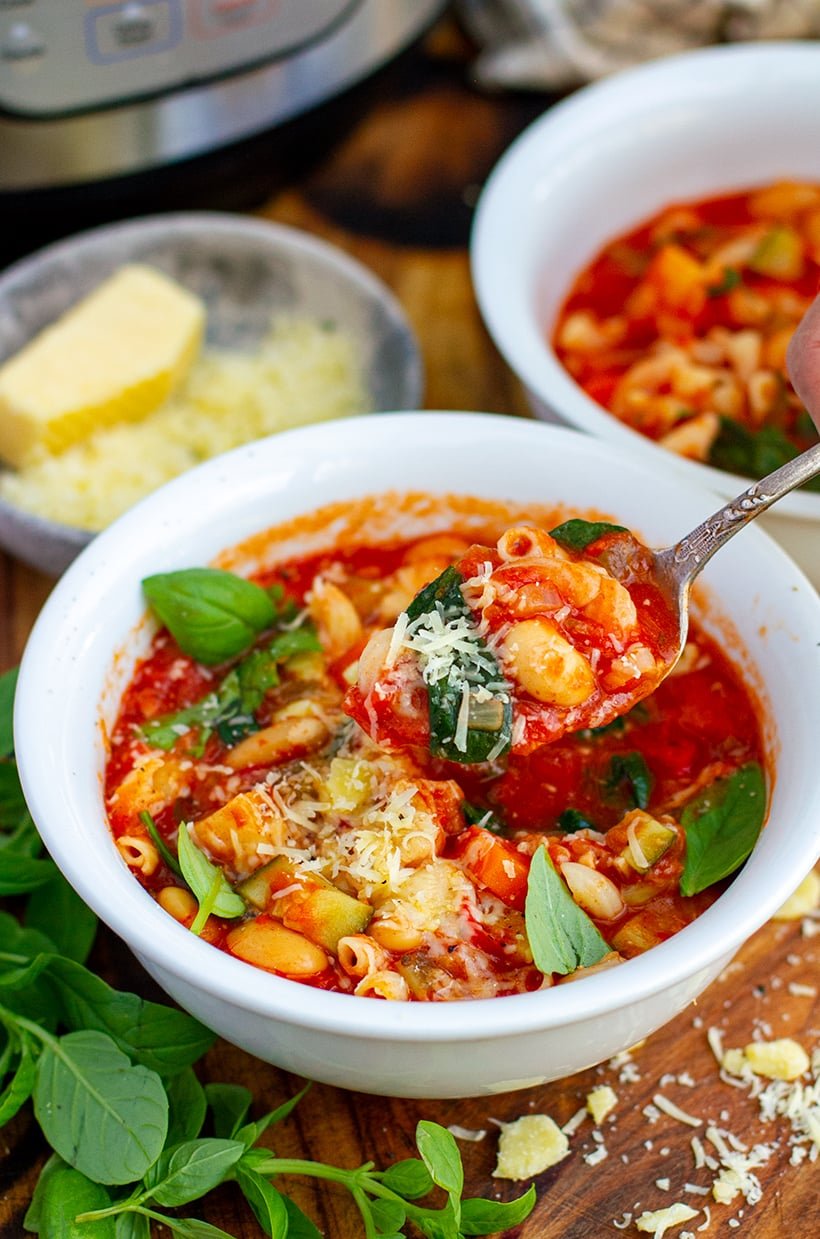 Hearty, thick, and full of flavor, this Instant Pot Minestrone with pasta noodles will leave you feeling satiated and nourished. Get the recipe on our blog.
Instant Pot chicken soup with thick pasta noodles made from scratch and in a fraction of the time. Delicious and hearty, loaded with noodles and chicken, this soup will warm your heart. Recipe from Jo Cooks.
Tender pieces of chicken, bouncy glass noodles, and a light yet flavorful broth with notes of ginger. There's a trick to get a smoky aroma for a more complex and deeper flavored broth. It's a simple yet necessary step that will take the broth to the next level. Recipe from Beyond Sweet and Savory.
Instant Pot lasagna soup tastes just like lasagna without all the work. Your electric pressure cooker makes it super simple. Part of the process is totally hands-off, which means you have some bonus time to open up that bottle of Italian red wine and have a few sips. Recipe from Platings and Pairings.
Tender beef, a rich and slightly spicy broth, fresh noodles, a little bok choy, and that absolutely necessary fistful of Chinese pickled mustard greens along with fresh scallions and cilantro. The result is a perfectly orchestrated bowl of spicy, savory, fresh, salty deliciousness. Recipe from The Woks Of Life.
Super flavorful Instant Pot coconut red curry noodle soup combines two amazing things about an Asian soup – a delicious broth, and a bowl full of noodles! Recipe from Simply Happy Foodie.
This classic soup is full of easy-to-find, everyday ingredients making it an ideal last-minute meal. So stay warm and keep healthy this season with a big bowl of this comforting soup! Recipe from Where You Get Your Protein.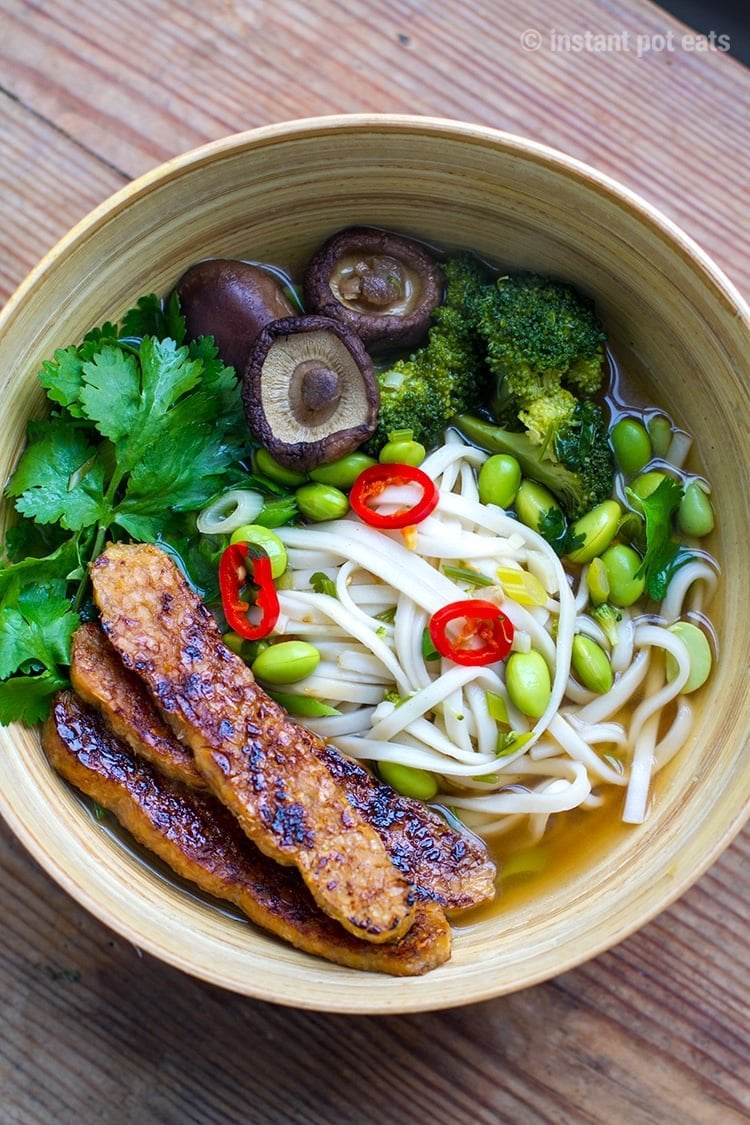 There are three elements to this dish: the tasty broth with mushrooms and vegetables, the udon noodles, and the crispy tempeh. For a plant-based meal, it packs in a substantial amount of protein that will keep you well satiated. Get the recipe from our blog.
Not quite a traditional Thai green curry paste, but this ingredient combination really packs flavor into this soup and it's ready in less than 20 minutes. Recipe from Slimming Eats.
Cuban Noodle Soup is also called Sopa De Pollo. It's a broth based soup but loaded with flavor. ade with chicken, onions, carrots, potatoes and pasta. Recipe from Mama's On A Budget.
Delicious, nutritious, and ready in less than an hour, this soup is hearty comfort food at its best. Recipe from My Gourmet Connection.
One of the classic dishes of Northern Vietnamese cuisine. Light yet flavorful, simple yet sophisticated, this fragrant noodle soup can warm your heart and soul. Recipe from Delightful Plate.
Do you have a favorite noodle soup recipe for the Instant Pot? Let us know in the comments!
---
---
SAVE INSTANT POT NOODLE SOUP RECIPES TO PINTEREST