While there are many recipes for how to make regular spaghetti or penne in a pressure cooker, we wanted to share a few tips for how to cook gluten-free pasta in the Instant Pot. As it's made with different ingredients and has a slightly different texture, the cooking times and liquid requirements vary from the traditional pasta.
---
Cooking pasta in the Instant Pot is simple and straightforward and you can make comforting pasta dishes like mac'n'cheese, chicken, ham and vegetable fusilli or spaghetti cacio e pepe using just one pot for everything. But what if you want to use the Instant Pot for gluten-free pasta? Do you follow the same method? We've got a few tips for that! But first, let's look at how you would cook regular pasta in the Instant Pot.
COOKING REGULAR PASTA IN A PRESSURE COOKER
When it comes to regular pasta, these are the basic steps:
Add dry pasta to the inner pot.

Add the liquid, salt and a little oil or butter (optional) and stir well.

Set the Instant Pot to Manual/Pressure Cook at HIGH pressure

Adjust the time to 3.5-5 minutes depending on the pasta type (see notes below). Make sure the top valve is pointing to Sealing.

Instant Pot will take 5-7 minutes to build up the pressure, the timer will start.

Once the timer stops, move the top valve to Venting to release the pressure. This is called Quick Release. Some of the built-up foam in the liquid will squirt out together with the steam, this is normal for pasta. More on that below!

Don't leave the pressure to release naturally for too long as the pasta keeps cooking during this time. That's why we do the quick release, usually.
Calculating cooking time for pasta
Check out the recommended cooking time on the packet of the pasta. Most pasta cooks in 8 to 12 minutes. Often, you will have a range, say 9-11 minutes (9 for al dente, 11 for softer) in boiling water. Al dente means it's cooked but still has a little firmness when you bite through it, so it maintains its structure without being too soft or mushy. Al dente is the Italian way!
To cook the pasta in the Instant Pot, you would divide its regular (lowest) cooking time by 2 and deduct 1 extra minute. So it would be (9 minutes/2)-1 minute=3.5 minutes at HIGH pressure followed by a quick release of the pressure. On average, 4-4.5 minutes should work for most types of pasta.
Water to pasta ratio
The recommended amount is around 1.5 cups for every 4 ounces (115 grams) of pasta + around 1/2 teaspoon salt. If you have more water, it's not a problem as you can always discard it; it's worse if you don't have enough because the pasta will be absorbing the liquid as it expands during cooking, so you need enough liquid for it cook through.
Adding a dollop of butter or a teaspoon of oil helps to reduce the foam build-up and helps to keep the pasta separated, but it's not essential.
Check out this post from TidBits.com for other regular pasta cooking tips.
HOW TO COOK GLUTEN-FREE PASTA IN INSTANT POT
Gluten-free pasta production has come a long way and these days, if cooked properly, you will hardly tell the difference between regular and gluten-free varieties. Making the dough of gluten-free pasta is different and uses a combination of flours to get the best results. That is, to get a similar protein content and stretch of the dough and to get a similar texture. Usually, you will find a mixture of brown rice and corn flour; often, quinoa flour or lentil flour might be added for extra protein.
We find that corn, brown rice and quinoa flour tends to have the most similar texture to regular pasta.
Even though the texture is quite similar, gluten-free pasta tends to be starchier and expands more while cooking, therefore it needs a little extra cooking liquid. As a rule of thumb, add an extra 1/4-1/2 cup or so. Adding salt and fat is the same for regular and gluten-free pasta!
It also means that when overcooked, gluten-free pasta really doesn't hold its texture or firmness well and is much softer and mushier than regular pasta. Therefore, the main rule with gluten-free pasta is DON'T OVERCOOK IT!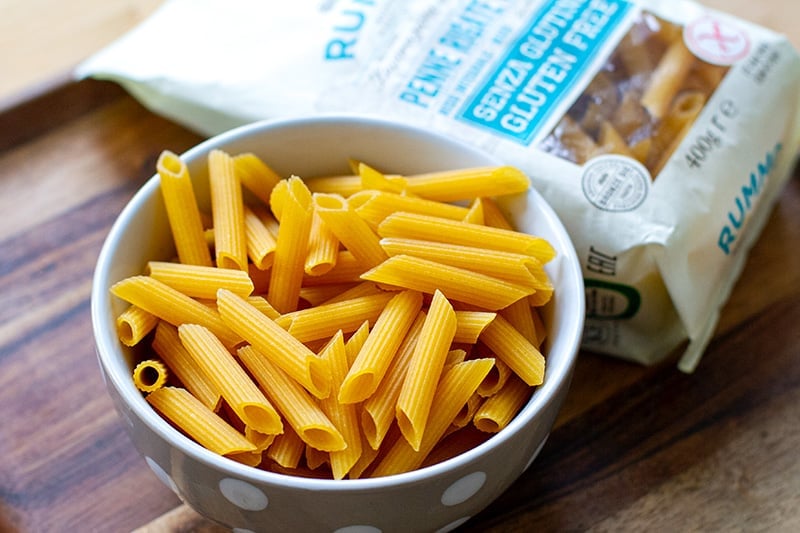 Foam build-up
Usually, cooking pasta in the Instant Pot will produce a bit of foam. This is why when you use Quick Release to let off the pressure, some of the foamy liquid will squirt out of the valve. It's not a biggy and you can use a towel to shield yourself and the ceiling above. The foam will stop squirting after a few seconds.
With gluten-free pasta, you're dealing with a bit of extra foam due to higher starch amount, which will release into the cooking water. This is why the best way to make gluten-free pasta in Instant Pot is by using lower cooking time at HIGH pressure and longer natural release so that the foam can settle.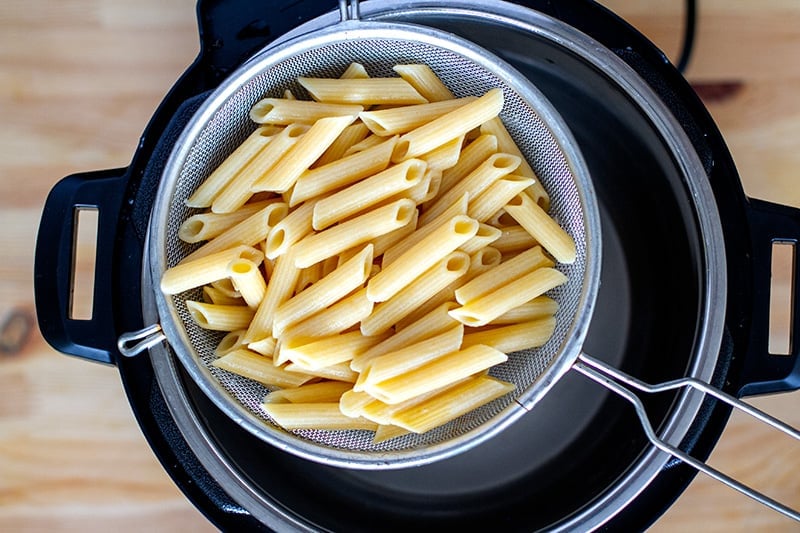 Gluten-Free Pasta Cooking Times In Instant Pot
Spaghetti: 0 Minutes at HIGH + 8 Minutes Natural Release
Smaller Macaroni: 0 Minutes at HIGH + 10 Minutes Natural Release
Penne: 1 Minute at HIGH + 10 Minutes Natural Release
Fusilli: 2 Minutes at HIGH + 10 Minutes Natural Release
If you like your pasta a little softer than al dente, add a couple of extra minutes to the natural release time. You can more or less guess the time for other types of pasta. Smaller shapes will only need 1 minute at HIGH +10 minute release, while something like large shells might need 2 minutes + 12 minutes natural release.
Once the natural release time has elapsed, use the quick release method to let off the rest of the pressure.
Print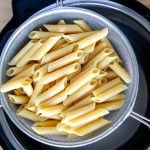 Gluten-Free Pasta In Instant Pot
Author:

Prep Time:

1 minutes

Cook Time:

17 minutes

Total Time:

18 minutes

Yield:

3

-4

1

x

Category:

Side

Method:

Instant Pot

Cuisine:

Italian

Diet:

Gluten Free
---
Description
Here is a basic recipe for gluten-free Instant Pot pasta using penne. Please read the notes in post above for other tips and tricks.
---
0.5 lb / 250 g gluten-free penne

1 teaspoon salt

3–3.5 cups / 750-800 ml water

Optiona: 1-2 teaspoons  olive oil
---
Instructions
Add the penne pasta to the inner pot together with water, salt and a splash of oil. Stir really well. 

Put the lid on top and lock.

Set the Instant Pot to Manual/Pressure Cook at HIGH pressure.

Adjust the time to 1 minute (see notes above for other types). Make sure the top valve is pointing to Sealing.

Instant Pot will take 5-7 minutes to build up the pressure, the timer will start. 

Once the timer stops, natural release (or resting) timer will begin. Allow 10 minutes for natural release. During this time the pasta will continue to cook but this rest will allow the foam to settle. This will give you al dente pasta. For a softer result, you can let it sit for 2-3 more minutes.

After 10 minutes, use the Quick Release to let off the rest of the pressure. Open the lid, stir the pasta and strain. It's a good idea to reserve 1/4 cup of the starchy cooking liquid to add to your pasta sauce, especially if the recipe calls for it.

Don't leave the pressure to release for too longer as the pasta will keep cooking.
---
Notes
For this recipe, we used gluten-free penne made with brown rice and corn flour.
Nutrition
Serving Size:

150 g cooked pasta

Calories:

279

Sugar:

0 g

Sodium:

296.7 mg

Fat:

2.7 g

Saturated Fat:

0.4 g

Carbohydrates:

57.1 g

Fiber:

2.1 g

Protein:

4.8 g

Cholesterol:

0 mg
Now that you know how to make basic gluten-free pasta in the Instant Pot, you can try using it in one of these recipes.