Instant Pot has a great line of products offering different designs of air fryers to meet different consumer needs, from traditional basket style to freestanding oven, and the latest trending air fryer lid. The options are endless and so is the potential for recipe creation. We have a collection of Instant Pot Air Fryer recipes for each design to keep your meals healthy and crispy.
---
Anything fried tastes better but not necessarily healthier. Air fryers have given many households the option with less guilt. While recipes are still able to be crispy, they aren't submerged in a bath of oil. Air fryers use less oil and rely on the circulation of heat similar to a convection oven.
The way air fryers are designed has significantly evolved in recent years giving the public more options. While more options are great, a consumer can get lost in the decision-making process. Instant Pot has a great line offering different designs of air fryers to meet different needs.
We've reviewed the Air Fryer Vortex Oven here. It's a great stand-alone option when you want to cook a small batch without heating a whole oven or house. There are trays that stack so that you can air fry a larger amount than the traditional basket style air fryer. Instant Pot still offers the basket style that most people are familiar with and comfortable using for ease of cleanup. A lot of Instant Pot veterans are excited about the Air Fryer Lid. The hassle of transferring dishes to broil in the oven are long gone with this new accessory.
What is Instant Pot Air Fryer Lid?
This air fryer lid turns your Instant Pot into an Air Fryer enabling you to Air Fry, Broil, Bake, Roast, Reheat, & Dehydrate food. You can pressure cook in the Instant Pot, then switch the lid to the Air Fryer Lid. Please note that Air Fryer Lid is only compatible with stainless steel inner pots and NOT compatible with ceramic inner pots. Air Fryer Lid is NOT compatible with the following models: Smart WiFi 60, Smart Bluetooth, Duo Evo Plus 60, Duo SV 60 or Max 60 nor is it interchangeable with other pressure cookers brands. Before purchasing check the model you currently own.
The Instant Pot® Duo Crisp™ + Air Fryer
If you are on the market for a pressure cooker, you can buy the 2-in-1 Instant Pot Duo Crisp Air Fryer & Pressure Cooker. With 11-in-1 functionality, it does everything a regular Instant Pot does but simply switching the pressure cooker lid for the air fryer lid, you've got an air fryer at the touch of a button. The removable lids help cut down on the weight when you have to move your IP from one place to another. It is currently only available in the 8-quart size. Keep in mind most online recipes are created for 6-quart pressure cookers, so only some slight adjustments will be needed to compensate for the size.
Helpful Sources:
Instant Pot Duo Crisp Pressure Cooker & Airfryer Review
Air Fryer Cookbooks:
Air Fryer Revolution: 100 Crispy, Healthy, Fast & Fresh Recipes by Urvashi Pitre
The Essential Air Fryer Cookbook for Two: Perfectly Portioned Recipes for Healthier Fried Favor by Gina Kleinworth
---
---
Instant Pot Air Fryer With A Basket RECIPES
APPLE FRITTERS WITH BROWN BUTTER GLAZE
Made with fresh apples and an easy batter, the fritters are baked in the air fryer until the edges are crispy and golden, then drizzled with a brown butter glaze while still warm. Recipe from Wine A Little Cook A Lot.
INSTANT POT AIR FRYER PUMPKIN BISCUITS
Serve these flaky pumpkin biscuits for breakfast or as an anytime snack. What's great about making biscuits in an air fryer is that you don't have to heat a whole oven and a whole house when you only need a small batch. Recipe from Recipes From A Pantry.
GARLIC PARMESAN AIR FRYER FRENCH FRIES
Garlic Parmesan Air Fryer French Fries provide the perfect crunch without the guilt! Parmesan and garlic seasoning give these fries five-star flavor. This recipe is so easy and delicious you'll want to make it often. Recipe from Barbara Bakes.
Crispy Air Fryer Cauliflower
Roasted cauliflower makes such a wonderful side. It goes so well with many dishes. Add to buddha bowls, salads, and even soups. It can also make a great low-calorie snack! Recipe from Little Sunny Kitchen.
Marinated Air Fryer Vegetables
These Marinated Air Fryer Vegetables are a great flavorful and healthy side dish. Easy and quick to prep, they are a great way to get a bit of goodness on your plate in a tasty way. Recipe from My Forking Life.
---
Instant Pot Air Fryer Lid Recipes
AIR FRIED PICKLES
Fried pickles are no longer just for summer festivals or pubs. These healthier air fried pickles are coated with seasoned breadcrumbs and are easy to make right at home in your Instant Pot Air Fryer Crisp Lid. Recipe from Champagne Tastes.
AIR FRYER BRUSSELS SPROUTS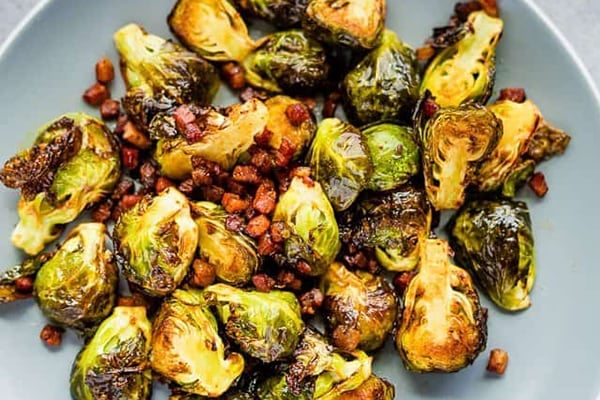 This brussels sprouts recipe only requires four ingredients that you can customize to your liking. The pancetta and balsamic vinegar just complete the dish. Recipe from Enjoy Clean Eating.
Instant Pot Crispy Pork Belly
The wonderful thing about pork belly is the three-layer of experiences. Ultra crispy-crunchy crackling skin, soft & melt-in-your-mouth layer of buttery fat, and savory, juicy, tender, flavorful, & aromatic belly meat. First, cook the pork in your pressure cooker and then finish it up with your Air Fryer Lid. Recipe from Pressure Cook Recipes.
Instant Pot Pot Roast (with air fryer lid)
Pot Roast is great on its own, but browning it with the air fryer lid at the end makes it crazy delicious. Recipe from A Pinch of Healthy.
INSTANT POT WHOLE CHICKEN IN THE DUO CRISP
The best part about Instant Pot Duo Crisp is that you can pressure cook and air fry in the same pot. This makes a big difference when you don't want to go through the hassle of transferring your dish, especially a whole chicken. Who doesn't love chicken with crispy skin? Recipe from Instant Pot Cooking.
AIR FRYER STEAKS
Delicious tender steaks with a crunchy crust and tender, perfectly cooked middle. Using an air fryer or pressure cooker's air fry function is capable of high temperatures, and cuts down on smoke and strong smells. Recipe from Sweet C's Designs.
---
Instant Pot Air Fryer Oven RECIPES
INSTANT VORTEX WHOLE ROTISSERIE CHICKEN
A whole rotisserie chicken is now possible at home. Easily! Don't let the accessories intimidate you! Recipe from Meal Plan Addict.
Air Fryer Tornado Potatoes
Tornado Potatoes are a hybrid of french fries + potato chips – they are a super fun snack. Can you imagine handing these out to the kids?Recipe from Food Is A Four Letter Word.
Instant Vortex Air Fryer Beef Jerky
Jerky is so expensive to buy in the stores. So try making it at home for less this weekend to have as a yummy snack. Recipe from Vortex Recipes.
AIR FRYER HOMEMADE BLUEBERRY HAND PIES
These are so easy to make, and they are absolutely fabulous to eat. Great work, for afternoon coffee break and snack. Pack them in the kid's lunchbox for school days. Recipe from Fork To Spoon.
AIR FRYER OREOS
One of the most popular items at State Fairs is deep-fried Oreos. Now you can have them anytime at homemade in your Instant Vortex Plus or Instant Omni air fryer. Recipe from Instant Pot Cooking.
SAVE Instant Pot Air Fryer Recipes TO PINTEREST