Instant Pot vs Air Fryer – which one should you choose? Or, should you own both appliances in your kitchen? We outline the benefits and most popular uses of both cookers, compare features, costs, ease of use, and share the findings from our reader survey.
---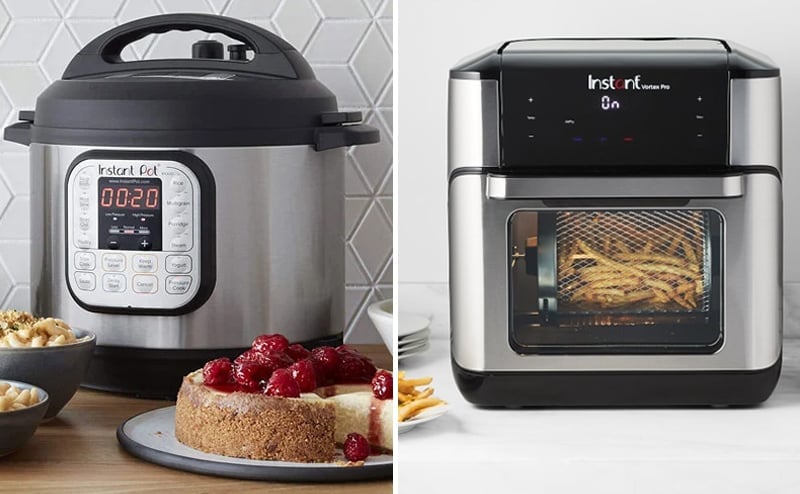 INSTANT POT vs AIR FRYER – WHICH IS BETTER?
Both the Instant Pot and the Air Fryer have stormed the world of home cooking in recent years. And while many kitchen appliance trends come and go, the popularity of these two gadgets keeps on growing.
For many cooks, choosing between the Instant Pot and air fryer is simple – they get both! But what if you can only afford one or you have limited space in the kitchen? Which one will you get the most use out of?
The choice will ultimately come down to your cooking preferences and what dishes you like to cook often.
Both appliances allow you to cook foods quicker or more efficiently, or they provide healthier recipe alternatives. Plus, they open up opportunities to cook foods you couldn't with your current kitchen set-up or that was too difficult on the stove or in the oven.
Before we get to comparing the Instant Pot vs air fryer, let's first recap what each appliance is and does. We will then look at the types of foods and dishes you can cook, the cost, size, and ease of use.
To prepare this guide, we ran a survey with our Instant Pot Eats followers. We asked them to share their favorite things about the Instant Pot and the air fryer and which one they would ultimately choose. We share our findings throughout this guide and our final verdict at the end of this article.
---
WHAT IS THE INSTANT POT?
The Instant Pot is an electric pressure cooker with multiple functions. It creates a pressurized controlled environment inside the pot, which safely cooks food quickly. It cuts down the time spent in the kitchen and makes it more efficient to cook healthy, nourishing meals that taste good.
Using low or high pressure, sauteeing and slow-cooking functions, you can use the Instant Pot to make something as simple as white rice or soup or get adventurous and cook a whole chicken or blueberry cheesecake.
If you're brand new to the Instant Pot, these are the guides you might want to check out:
What is an Instant Pot? The basics you need to know!
How to use the Instant Pot for beginners
WHAT YOU CAN COOK IN THE INSTANT POT
Depending on the model of the Instant Pot you have, some of the most commonly used functions include sauteeing, cooking rice, making a meat stew or pot roast, whipping up a soup or chili, steaming vegetables, or pressure cooking a cheesecake. You can also use the Instant Pot to make yogurt, bone broths, cook quinoa, beans and lentils or whole potatoes.
Here are some recipe examples.
---
WHAT IS THE AIR FRYER?
In simplest terms, this gadget fries the food with hot air. However, an air fryer does not actually fry food. It is more like a convection oven that circulates hot air rapidly to cook food evenly making it crisp, similar to deep-frying, but without the vat of oil.
Air frying is a healthier cooking alternative for those desiring dishes like chicken wings or fries.
100 of the BEST Instant Pot Recipes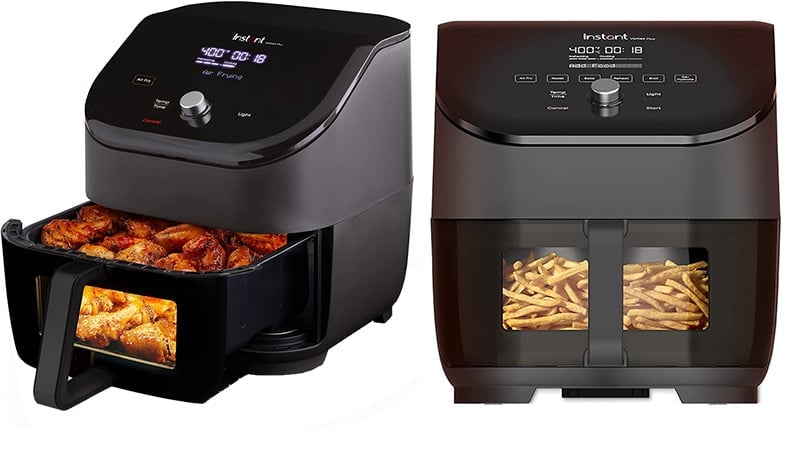 WHAT YOU CAN COOK IN THE AIR FRYER
Think of anything deep-fried, fried, roasted or grilled – you can most likely make it in an air fryer. From simple French fries to chicken wings and jalapeno poppers, you can get pretty creative with the air fryer.
Here are some air fryer recipe examples:
---
WHAT PEOPLE LOVE ABOUT THE INSTANT POT
Based on our personal experience of cooking with the Instant Pot for many years and on the results of our reader surveys, here are some of the features and benefits of the Instant Pot.
Versatility – you can use it to make savory food AND desserts like cakes and cheesecakes; you can even make homemade yogurt.
One-pot cooking – making a family pasta dish, chicken and rice or pot roast and vegetables in one go is a timer saver!
Multiple dish cooking – you can cook two different foods or dishes at the same time, like rice and curry.
Hands off cooking – once you pop all ingredients in the pot, you can set the timer and walk away! You don't need to stand and stir the dish while it's cooking. Risotto is so easy! Our readers love the fact that you don't have to worry about turning it off.
Speed – Instant Pot is a pressure cooker which means it cooks pretty much every food much quicker than the oven or the stovetop method. Perfect rice in 10-15 minutes! Steams veggies super quickly! Instant Pot is a real time saver, according to the survey.
Less items to clean – oftetimes, you can cook the dish in one pot, which saves you on the dish washing.
Great fo batch cooking and meal prepping – you can make a batch of boiled eggs easily, cook dry beans without pre-soaking much quicker, make a heap of shredded chicken for salads and sandwiches.
Moist, tender food, especially meat. Plus, you can cook meat without having to defrost it!
No heating up the kitchen, which makes it a great kitchen appliance in the summer!
Portable for travel like a crockpot for parties or vacations.
WHAT PEOPLE LOVE ABOUT THE AIR FRYER
Here are some of the most popular features and benefits of using an air fryer:
Crispy food with little to no oil – much healthier option to frying!
Reheat fried food – enjoy those fried chicken wings the following day!
No preheating or very little time before the air fryer starts cooking at full heat.
Speed – from frozen to golden in minutes!
Adjustable temperature
You can check on food midway through cooking, in fact it notifies you to flip food over.
Small batches without heating up the kitchen, great for sing servings.
Safe and easy, it turns itself off when time is up.
Easy to clean in a dishwasher or by hand
Ability to dehydrate foods like fruit, nuts, seeds, beef jerky.
Versatility – you can roast veggies, bake cookies, fry chips!
---
INSTANT POT vs AIR FRYER – QUICK FACTS
Let's look at the basic model of Instant Pot Duo 6 Quart, 7-in-1 Multi-Use Programmable Pressure Cooker:
Features: Pressure cook manully or select one of the following pre-programmed functions: Soup, Meat/Stew, Bean/Chili, Poulty, Slow Cook, Saute, Rice, Multigrain, Porridge, Steam, or Yogurt. Check out our guide to all the buttons here.
Cost: $79.21
Size: 6 Quart / 5.7 L
Product Dimensions: (L x W x H): 19.70 x 16.80 x 9.00 Inches
Ease of use: Easy once you get yourself familiar with the basic functions, you can use our begginer's guide here.
Cleaning: Dishwasher-safe lid and inner pot for quick and easy cleanup; also super easy to clean by hand.
Versatility: Highly versatile BUT it doesn't brown or crisp up the food; you will sometimes pre-cook dishes in the Instant Pot and finish them off in the oven or under the broil/on the BBQ if you want to brown them or to grill the cheese over.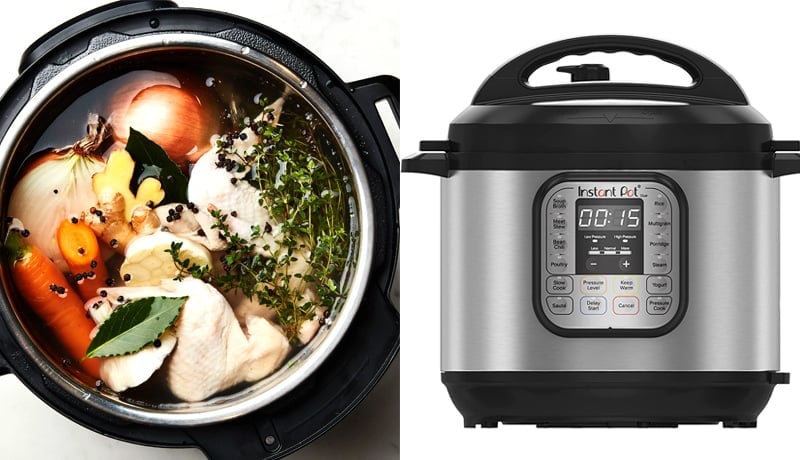 ---
Now, let's recap some basic info on the Instant Vortex Plus Air Fryer with ClearCook, 6 Quart, 6-in-1
Features: Air Fry, Roast, Broil, Bake, Reheat, Dehydrate
Adjustable cooking temperature from 95 to 400° F (35 to 205° C)
Cost: $96.00
Size: 6 Quart
Product Dimensions (L x W x H): 12.80 x 11.80 x 14.90 Inches
Ease of use: Easy
Cleaning: Dishwasher-safe lid and inner pot for quick and easy cleanup
Versatility: 6-in-1 Multi-Use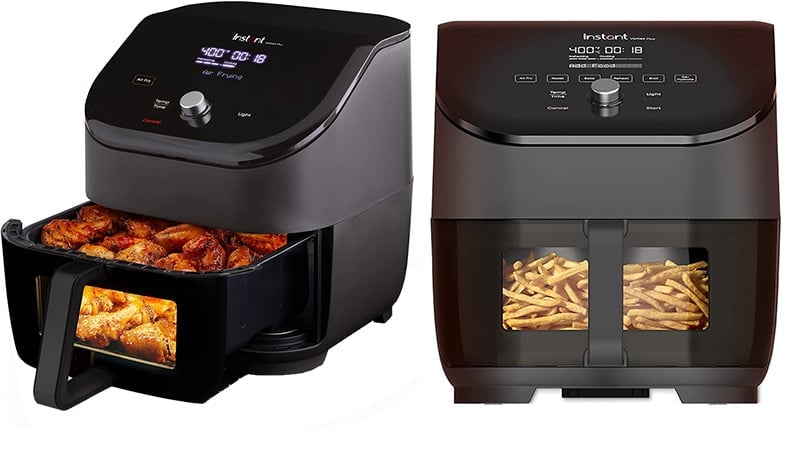 ---
INSTANT POT + AIR FRYER IN ONE
If you can't decide, you don't have to. You can get both in one! The Instant Pot Duo Crisp + Air Fryer is the best of both worlds. With 11-in-1 functionality, it does everything a regular Instant Pot does. But swap out the pressure cooker lid for the innovative air fryer lid, and you've got a whole new set of cooking features available with the touch of a button. You don't even have to transfer the food.
There are two options for how to purchase this setup. You can purchase the 6-quart Instant Pot Duo ($79.21) and a separate Air Fryer Crisp Lid ($65) or you can purchase the combo, Instant Pot Duo Crisp + Air Fryer that is sold as one appliance which is 8-quarts.
The main difference with the Duo Crisp + Air Fryer is that it doesn't have the same pre-programmed pressure cooking buttons like Rice, Meat/Stew, Soup etc. Instead, you simply use the Pressure Cook button and switch between Low or High pressure and adjust the time. This isn't a problem as most recipes provide the pressure level and time.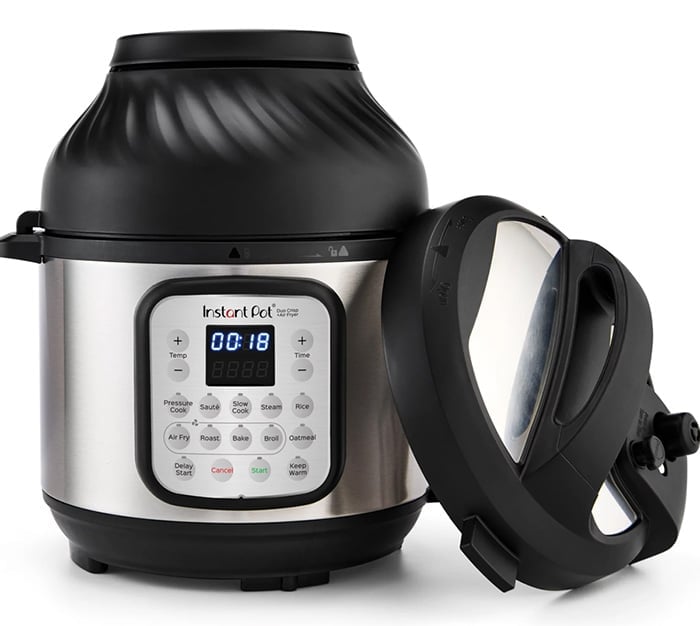 Instant Pot 8-Quart, Duo Crisp Air Fryer + Multi-Use Pressure Cooker
Features: Pressure cooker (manual set-up), slow cooker, steamer, sauté pan, food warmer, sous vide, air fryer, roaster, mini oven, broiler, and dehydrator.
Adjustable cooking temperature from 95 to 400° F (35 to 205° C)
Cost: $159.95
Size: 8-Quart
Product Dimensions (L x W x H): 22.30 x 15.70 x 17.80 Inches
Ease of use: Easy to Moderate
Cleaning: Dishwasher-safe inner pot air-fryer basket and pressure cooker lid only. Air fryer crisp lid is NOT dishwasher safe and should be wiped with a damp cloth.
Versatility: 11-IN-1 Multi-Use – okay, so it doesn't juice or blend but it can do so many things, highly versatile appliance.
Note: Prices are based on US Wal-mart Online Stores
---
VERDICT: WHICH SHOULD YOU CHOOSE?
According to our poll on Instagram with 578 voters, the Instant Pot is the winner with 329 votes. The air fryer wasn't too far behind with 249 votes. Ultimately, the choice is yours and it should be based on your cooking lifestyle.
If you have a small household that has a habit of eating fast fried foods, then an air fryer is something that could be beneficial to your health and wellness.
If you like to make large batches of stews, steam veggies, and cooking grains then a pressure cooker would suit you better.
If would like to have both but can't justify more appliances taking up space, purchasing the combo of the pressure cooker and the crisp air fryer lid would satisfy both styles of food cravings.
SAVE THIS INSTANT POT VS AIR FRYER ARTICLE TO PINTEREST