The Instant Vortex Plus Air Fryer Oven is Instant Pots' latest appliance. We got one and tested out making chicken wings, sweet potato fries, crispy bacon, sausage balls, and more. Here's our Instant Pot Air Fryer review!
---
Kitchen counter spaces across the nation were being filled with incredible gadgets this year and the number one was our beloved Instant Pot. Now, Instant Pot introduced its new buddy Instant Vortex Plus Air Fryer Oven to share some cooking time.
There are plenty of other brands cornering the air fryer market. Instant Pot took its time to see the true needs of their consumers to develop one that was just right.
So, what is this Instant Pot Air Fryer?
The Instant™ Vortex™ Plus Air Fryer Oven is a multi-use countertop appliance that prepares dishes by circulating super-heated air around the food, with little or no cooking oil, to achieve crunchy golden "air-fried" meals. It features an advanced microprocessor and 7-preset Smart Programs. With 1500 Watts of power, you will be able to cook anything fresh or frozen with a perfectly golden crispy outside and tender inside.
Unboxing!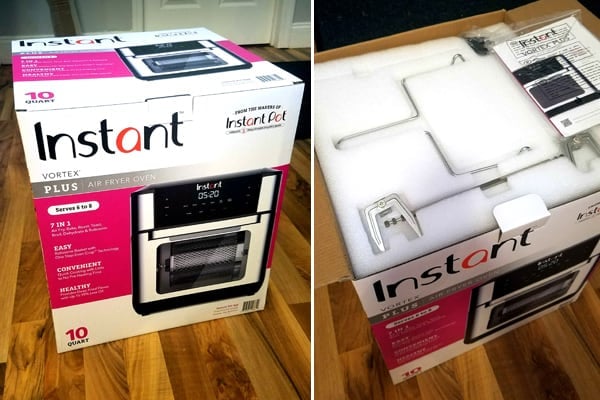 I was excited to finally get my new Instant Pot air fryer in the mail. Emphasis on finally because I searched several Walmart stores in the New York tri-state area to purchase it with no success. I'm the type of person who likes to see products in person and have the joys of taking it home the same day. It's the shopping therapy endorphins that really makes the shopping experience.
So, after my failed attempts I finally went online and clicked the button. So keep that in mind and just go straight to Walmart's website where it is sold exclusively to make your purchase of $119. Note, you can not buy the Instant Vortex air fryer on Instant Pot's official website or Amazon at the moment.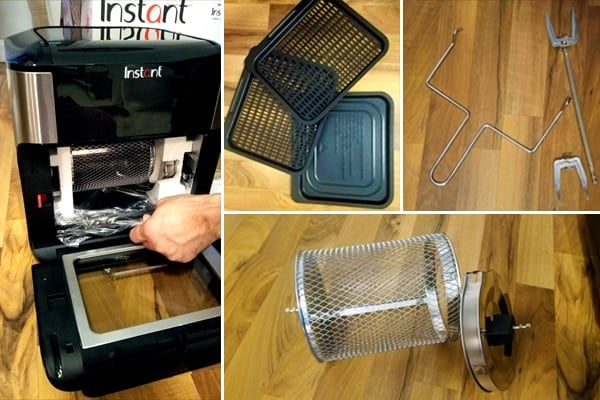 Main Features and Specs
Instant Vortex Plus 7-in-1 Air Fryer Oven, 10-Quart
Compact Design with stainless-steel front
Easy-to-navigate touchscreen panel up top with 14 simple touch controls
Customize the time and temperature to cook manually
Assembled Product Weight 6.6 lbs
Assembled Product Dimensions (L x W x H) 14.17 x 13.86 x 14.96 Inches
Multi-Use Programmable Air Fryer with Rotisserie – mid-size air fryer oven, 10Qt capacity
7 Built-In Smart Programs – Air Fry, Roast, Broil, Bake, Reheat, Dehydrate, Preset Smart Programs with an option to Rotate for Rotisserie-style cooking
Accessories included – Drip pan, 2 cooking trays, rotisserie spit and forks, rotisserie basket, rotisserie fetch tool
Rotate Function – Cook a rotisserie-style chicken up to 4 lbs, and enjoy juicy, tender, flavorful results with a beautiful crispy skin
Removable door for an easy cleanup
10 Quart capacity can fit both cooking trays at once so you can cook for up to about 6 people
Power: 1500 Watts
How do air fryers work?
Air fryers are actually small convection ovens. They have a topside heating element and a motorized fan which rapidly circulates the hot air so food cooks evenly creating the same crispiness as in traditional fried foods. Because of the size of the cooking chamber and rapid air circulation, the cooking time can be effectively reduced by 20% or more when compared to other cooking methods.
Air fryers technically don't fry food at all. The heated air that contains fine oil droplets takes the moisture out of the foods. The result is similar characteristics as fried foods, with significantly lower levels of fat, since they remove high-fat and high-calorie oils from the typical cooking process.
Air-frying triggers a chemical reaction, the Maillard Reaction , the browning color and flavoring of food, like many other cooking methods.
What's the difference between a convection oven and an air fryer?
In principle, they are the same: hot air that is blown around in a chamber to create even heating. Convection is the natural rise and fall of heat that's caused by uneven temperatures. Most household ovens have heating elements, which is that coil of wire on the top and bottom of the oven chamber (unless broiling).
The current is converted into slow, even, radiating heat. This heat rises, and the fan in the back of the convection oven will blow the air around for temperature consistency. However, the air fryer's generated heat is pulled up with the fan, so there is no direct heat source on the food. It's dispersed on the outside of the chamber and then ascends from the open bottom to heat from all around making it gentler processes for the food.
Because air fryers have smaller chambers and higher speed air circulation than a convection oven, it takes less time than a traditional convection oven to bake/fry foods. Recipes that say foods need to be heated for 10 minutes may only require 6 minutes in an air fryer.
See more Go Wise USA: Convection Oven vs. Air Fryer
What to air fry first? Bacon!
If you don't know what to cook first in the Instant Pot's air fryer then make some bacon!
Proceed with caution. I got a little overly ambitious and decided to do the whole package of bacon. This resulted in my smoke alarm going off because the grease from the bacon started to burn and smoke.
I realized quickly to do things in moderation with this machine. Despite my smoke mishap, the bacon was perfectly delicious. I wrapped the drip catch tray with aluminum foil and set the temperature to 375 degrees for 10 min with 4 pieces of bacon per tray.
I had to rotate/ switch the 2 trays so they would get the same crispness. The whole ordeal is a greasy mess inside the Vortex. That's one reason I thought to do the whole package of bacon, to have some for later with one-time cleanup. You can do several small batches, but make sure to discard the bacon grease and put in new aluminum foil.
But, the dilemma is how to get rid of pipping hot oil safely. The manual states to not clean anything until the machine has cooled completely. Maybe it's not worth spilling hot oil everywhere. Don't be a glutton, just stick to 8 pieces of bacon.
I had to come up with a system for taking out the trays and safely putting them on a heat resistant surface and also could still catch the grease that would leak out of the graded trays that the bacon was laying on. This was really tricky at first. An easy solution was laying the little trays on a baking sheet.
Instant Pot Air Fryer Chicken Legs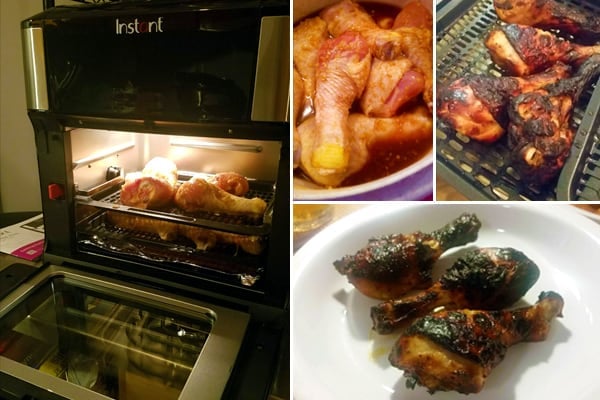 I was not conservative with my choice of chicken parts or the amount. Again, learn from me and be moderate in your portions. I
air-fried at 400 F for 30 minutes with 2 tiers of trays that held 3 chicken legs each. I found that they were too big to put on the top ledge because they would touch the heating element. And placing two trays at the same time meant the bottom tray was squished. You need to rotate the bottom and top trays as well as flip each of the food items.
Regardless of the trials and errors, the actual taste and texture of the chicken were very tender and good. I made a ginger soy sauce honey marinade which looked burnt when it was done but it didn't taste burnt.
Halfway through the cooking time, there was a beep to indicate when to flip the food so that both sides would evenly crisp. I can see how this will be helpful once you get comfortable using the machine. But I was standing there watching it like watching paint dry or water boil.
It is really important to use long tongs to flip food items. You don't want to take any chances of dropping the food or burning yourself. There was a lot of grease left on the aluminum foil. I'm extremely glad I put the foil to make clean up less of a headache later.
Air Fryer Chicken Wings
Chicken wings fit a little better than chicken legs in the air fryer. I cooked them at 400 F for about 15-22 minutes. I used 2 trays with 3 wings breaded and 3 wings not breaded to see what the difference would be. Again, I had to rotate the trays and flip each wing.
I liked the non-breaded version better and it browned faster. The breaded version took longer to get the right coloring and it was extremely messy. There was flour everywhere and in the door hinges from flipping them with the tongs. I tried to use a silicon matt to shield the door but still didn't help because the door was already greasy from the cooking process. I used fresh poultry for this test run. I think using frozen and small wings would make this go a lot smoother and time-efficient.
Air Fryer Sweet Potatoe Fries
This was the food item that I really want to perfect. I air-fried at 400 F for 15 min. I would suggest experimenting with this temperature and time. I found mine to be dry, not crisp.
I used fresh raw sweet potatoes and first coated them with corn starch, then put coconut oil, cinnamon, salt, brown sugar, and cayenne to the mixture. Next time I would try olive oil instead of coconut oil or maybe use frozen packaged fries instead of raw.
The rotisserie basket was a definite selling point for this air fryer compared to any other on the market. It's important to read the manual to see that there is a red button on the side (see picture) that lets you install the basket inside. It also releases the basket, but don't worry after the cooking cycle, the red button is warm but not hot to touch.
When you use the basket, you have to select Rotate on the touch screen to start the rotation. I notice it holds a lot but if you fill it too much it won't be able to complete a rotation because of the weight. Also, there's a rotisserie fetch tool that makes it easy to handle the basket, but still wear a glove on opposite hand when you try to place and open the basket on a heat resistant surface. Again, I used a baking tray.
Air Fried Breakfast Potatoes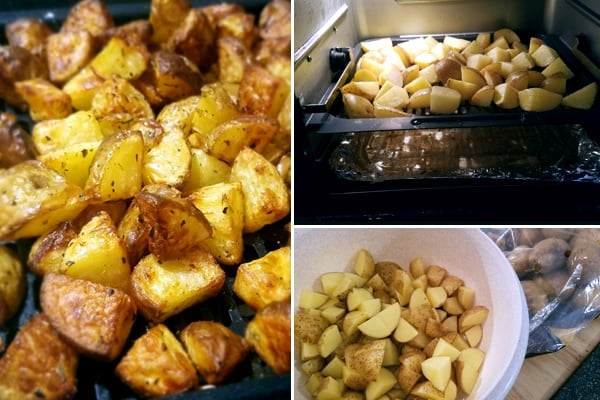 These yellow baby potatoes were so good! I air-fried at 400 F for 10 min. My first batch I tried with bacon on top to get the flavor of bacon grease drippings. Don't do this, there was no flavor, just grease.
The next time I drizzled with a tiny bit of olive oil, then seasoned it with garlic, salt, thyme, basil, and oregano. I filled up 2 trays and made sure to switch trays and move the potatoes around for even crispness.
You do have to each immediately because if you leave sitting they lose that crispy crunch. These are perfect for breakfast with a sunny side up egg.
Air Fryer Sausage Balls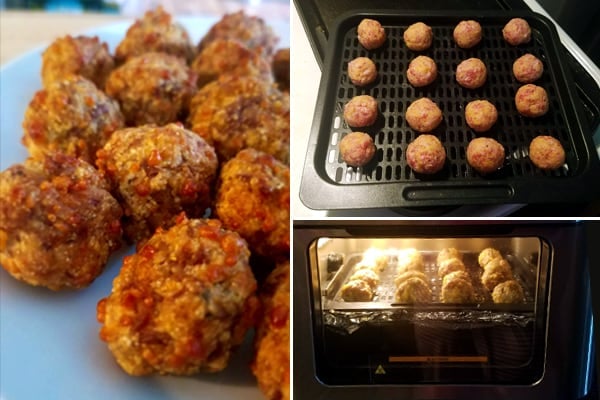 This time I tested out the baking function instead at 350 F for 10 min for super easy, party-friendly, 3-ingredient sausage balls. It's shredded sharp cheddar cheese, ground sausage and a box of Jiffy Corn Muffin Mix.
The air fryer was 5 minutes faster than baking in a traditional oven, with better, even coloring. The oven always has one flat dark side no matter if you rotate or turn them.
One great advantage of baking in this machine instead of the traditional big oven is keeping that heat all contained. That's the main reason the Instant Pot is so wonderful on hot summer days. So this air fryer follows the same standard of cutting energy cost and heat. I can also see this as a nice addition when your kitchen oven is already cooking other dishes for dinner, you need to bake a cake. Just bake the cake in the air fryer. It's more gentle on baked desserts anyway.
Air Fryer Dehydrated Sweet Potato Chips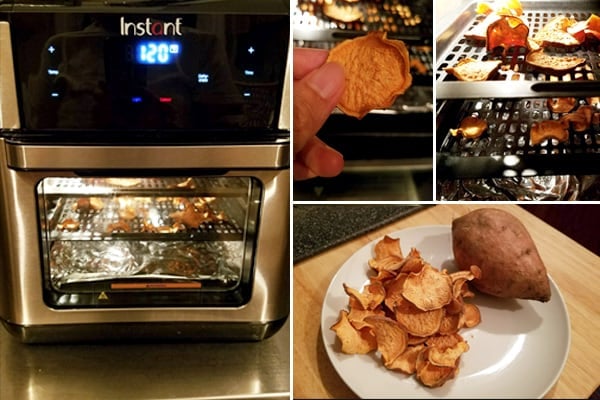 These sweet potato chips looked so perfect but honestly, the texture did not match. I think I didn't leave them long enough to reach their full potential. Mine tasted dehydrated (like the life was sucked out of it) but they were not crispy like a chip.
I personally think purchasing store versions would be easier, cheaper and tastier. But I do understanding how the satisfaction of knowing what is in your foods and going into your body would be invaluable. Dehydrated cinnamon apple chips or teriyaki beef jerky would be amazing to try.
Cleaning the air fryer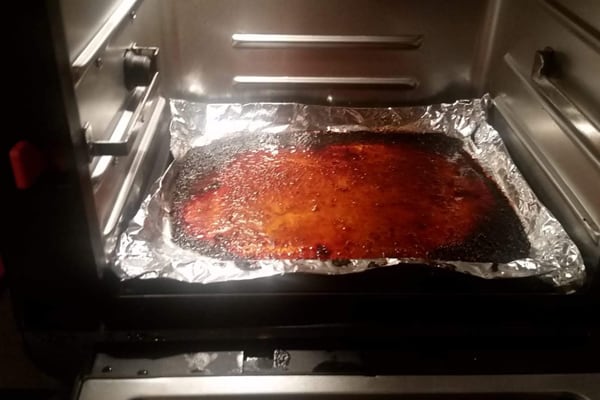 Always wrap the drip tray in aluminium foil simply to save you time and potential frustration. You can simply throw the greasy foil away.
The trays are dishwasher safe and are really easy to wash by hand due to the nonstick coating. There's a lot of parts to clean depending on what you decide to make. Be careful when cleaning the rotating basket by hand. Invest in using a brush instead of a sponge and watch out for your knuckles from scraping against the metal graded sides.
Now, the hard part: the door and its hinge. Crumbs and flour easily get stuck in the door hinge no matter how careful you try to cover or protect this area. It makes sense that they designed the door with that in mind so you can take the door off to wipe down. This takes a bit of fearless practice to get the hang of it. Naturally, your first instinct is to not want to break your new gadget toy over bread crumbs. There are Youtube videos to show you how to do take the door off.
Storing the air fryer
If you have a pantry to store this air fryer, that would be ideal. It's average in size when you compare it to other kitchen gadgets that may be already sitting on your countertop. It weighs 6.6 lbs with dimensions of 14.17L x 13.86W x 14.96H Inches.
It's very sleek in design so it seems less obtrusive compared to its egg-shaped contemporaries. All the accessories can be stored inside it, with the exception of the fetching tool. The power cable is attached so unlike Instant Pot, you can't store that inside itself. Some people use their air fryers so frequent that it has earned its place on the kitchen counter.
Note: Air frying does not guarantee a healthful diet
There has been a lot of talk about how air fryers are revolutionizing peoples diets. While 100 grams (g) of fried and battered chicken breast contains 13.2 g of fat, compared to just 0.39 g of fat in an oven-roasted chicken breast, you reasonably see how that can be a sound conclusion.
You are using just 1 tablespoon of cooking oil rather than multiple cups, producing similar results as deep fryer with a fraction of the fat and calories. This lowering oil intake can be beneficial for a person's health dealing with heart disease and inflammation. However, it is not guaranteed that air-fried chicken is more healthful than roasted, grilled, slow-cooked, or pan-seared chicken.
Just replacing all deep-fried foods with air-fried foods in no way guarantees a healthful diet. People should focus on a diet filled with vegetables, fruits, whole grains, and lean protein. Maintaining a variety of foods and cooking methods will help people obtain a more healthful diet.
See more Medical News Today: Are air fryers healthy?
How does it stack up amongst the rest?
The real difference among air fryers comes down to convenience. It has a 10-quart capacity, which rivals many air fryers on the market, which tend to be around 5-quart size. Many air fryers are built in an egg shape, the Instant Vortex Plus air fryer looks more like a traditional countertop oven with the capacity to cook for up to six people at a time when using both cooking trays and has enough room for a 4-pound chicken. That's dinner for the whole family on the table without preheating your oven.
Other things to consider…
Cost: It's exclusive to Wal-mart at $119
Space: Bigger than a toaster, the air fryer is not a small appliance.
Skills: You'll need to take time to play with different functions.
Taste and texture: Results are close to deep-frying but it's still not the same.
Healthier: Depends on your current lifestyle if you eat fried foods.
Our Verdict!
At the end of the day, this is a pretty nice gadget. When you're cooking up things like french fries or bacon. The results are much healthier than frying, and your kitchen stays cool.
If you don't normally eat deep-fried foods, it's probably not worth the investment, honestly. It's not for everyone but it is for certain lifestyles.
It's great for students in a college dorm with limited kitchen access or someone who needs small simple quick meals. If you have a large family to feed or diet that leans towards steamed or raw then stick to your trusted Instant Pot pressure cooker. What's great is that Instant Pot is progressively moving forward to create various small appliances for all sorts of lifestyles, diets, and people. In this post, we tested and reviewed the Instant Pot blender.
Recipes Made For You Instant Vortex Plus
This air fryer is still new to the market, so you might have some limited resources at first. However, as bloggers continue to develop and perfect recipes, you will definitely see more coming through the pipeline in the future.
In the meantime, you can use almost any air fryer recipe with some adjustments on how the food sits. Try using recipes that resemble the same mini-oven shape as the Vortex. At first, it might be a trial and error process until you've honed your own Vortex skills.
Remember, you can't make anything with a liquid batter unless you freeze it first and you also can't make anything in large quantities.
---