The Ace Multi-Use Cooking & Beverage Blender is Instant Pots' newest appliance. We got one and tested out making a smoothie, hot soup, ice cream and nut milk. Here's our Instant Pot Ace Blender review!
---
Instant Pot is changing things up while staying true to their roots. Instant Pot has joined the Blender arena! You may have seen it at Wal-Mart this fall while looking at other blenders. Maybe it confused you or spiked your curiosity. Just like its staple product, it promises to fulfill your every need, or at least a variety of your kitchen needs that you didn't know you had.
We decided to take the Instant Pot blender for a test drive to see how it performs and if it's worth the hype. Here is what we made and our review of the Ace blender.
First, Instant Pot blender overview!
While other blenders may require that ingredients be cooked before blending, the Ace Multi-Use Cooking and Beverage Blender can cook from fresh, blend, and serve, all in one pitcher. It is designed with 8 Smart One-Touch programs and with the ease of pressing a button, you can choose various cycles to make a Smoothie, Purée, Crush Ice, Ice Cream, Soy, Rice, Nut/Oat Milks, and Soup. It features 3 manual blending speeds, 4 cold blending programs, and 4 hot blending programs. This means not only can you create homemade milk beverages, you can also prepare hot soups, purée vegetables, and baby food all in one-pitcher.
Main Features
Designed with a large 60ounce (1.75 liters) premium-quality glass pitcher that is highly resistant to changes in temperature. The display will provide you with real-time cooking temperatures. Perfect for soup making! There is a concealed heating element that makes the Ace Blender stand out in the crowd because it is able to heat up to create a hot & silky soup. It also has 8 stainless steel blades to chop anything you give it.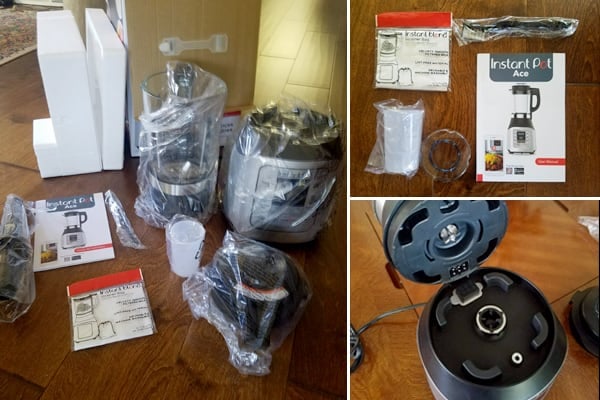 A clever feature the blender has is that it won't operate unless the lid is securely on. Who hasn't had this exploding mishap? Finally, someone, Instant Pot helps us out on this. It's a powerful and somewhat quiet motor with a speed of 23,000 RPM which allows you to crush, blend and pulverize ingredients. The Pulse / Clean cycle is a great way to thoroughly clean the blender.
The little extras it comes with:
Food tamper to help break down food (it doesn't reach the blades)
150mL / 5oz measuring cup
Cleaning brush with bristles to clean under and around the stainless steel blades
Food-safe strainer bag with drawstring, for filtering soy, rice, oats nuts or seeds, made with lint-free material and is machine washable
Instruction Manual book is included but you can also download from their website
Downloadable Recipe Book is on Instant Pot's website
Trouble-shooting resource on Instant Pot's website FAQ
The Ace is exclusively available at Wal-mart (USA).
Specs
Pitcher : 75 L / 60 oz
Dimensions
cm: 23.4L x 21W x 48.7H
in: 9.2L x 8.2W x 19.1H
Total weight: 7 lb / 5.3 kg
Instant Pot smoothie test
Smoothies and blenders go hand in hand. This is a pretty basic function. It did a good job overall. I think a lot has to do with the actual ingredients that you choose to blend. I made a basic peanut butter citrus fruit smoothie and also an apple and orange smoothie. It was hard to judge how much it would make. So compared to a Magic Bullet or NutriBullet where the container is the obvious serving size, with the Ace you would have to test it out. The texture and smoothness were on point, again pending on the choice of ingredients.
HOT Soup test
The soup function was absolutely perfect and definitely its crowning glory of what makes this blender shine. It took me a while to figure out what I wanted to make and of course what was actually in the fridge. Finally, decided on a cauliflower celery soup. I chopped 1 head of cauliflower and roasted it in a toaster oven with drizzled oil, just to have some extra flavor. I roughly chopped the celery and onion, then put in the pitcher with four cups of vegetable broth, then seasoned with some salt and red pepper flakes. I ran out of garlic, otherwise, I would have added that too. I pushed the soup button and waited for some action.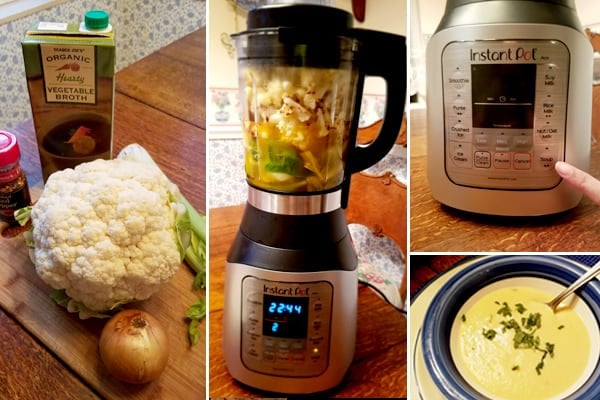 I suggest you just walk away at this point and find something to do because it's like watching paint dry at first. But once the thing heats up, it's really entertaining to watch it bubble and boil. After a minute I was over it though and walked away again. Then as soon as I heard blending noise I literally ran back into the kitchen to watch it do its thing for the last two minutes. After a total of 22 minutes and 44 seconds, I had hot soup!
The results were a perfectly smooth mixture. I loved that I didn't have to transfer contents in batches from point A to B to blend. This was one pitcher cleanup. I also loved that I could walk away. Most soups you have to stir and be attentive to make sure nothing bubbled over.
Ice Cream test (made with frozen fruit)
Everyone makes nice-cream out of frozen bananas. So I didn't! Instead, I got the recipe for Tart Cherry Sorbet from the Cooking for Hormone Balance cookbook by Magdalena Wszelaki. It uses three cups of frozen cherries instead as its' base. Then a ¼ cup of coconut butter is added with a pinch of salt. The recipe had one teaspoon of star anise, but to make it AIP diet friendly I replaced with ½ teaspoon of cinnamon.
Finally, I pushed the ice cream function. Which was not as easy compared to the other functions on the Ace. The blades had some trouble with the frozen cherries. I used the food tamper to help it along. At one point I cancelled the cycle to get deeper in the blades to mix the frozen bits. Then I tried crushed ice cycle for a second and then smoothie cycle. The smoothie cycle used for less than a second annihilated the frozen bits.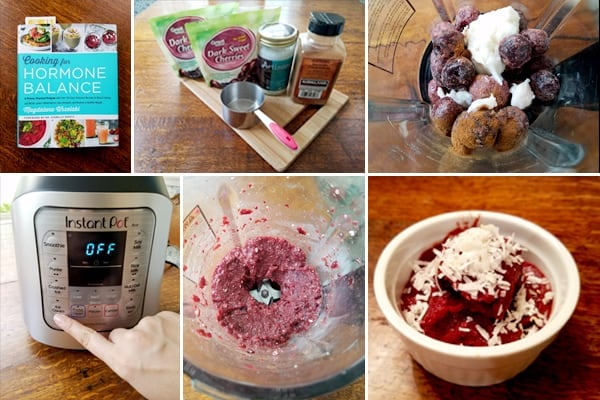 The recipe suggested adding water if blades were having trouble. The smoothie cycle made it have more liquid than desired so I stuck it in the freezer. It's not necessary to leave it in the freezer long, but if you do store it, allow some time for it to sit out so you can be able to scoop it because it's a solid rock.
Once it was scoop-able, it was the most amazing sorbet I've ever had. It had a beautiful coloring of deep cherry red. Sometimes how the food is blended will affect the color on other blenders. The texture was perfect even with my trial and error system. It made enough for 4 little ramekins. You could really taste the cinnamon notes in the flavor with the added texture of sprinkled coconut flakes on top!
Instant Pot Blender Nut Milk
Ace Blender definitely lived up to its' promise in this category. I made Almond Milk with the provided recipe on Instant Pot's website and it was delicious. It's one of those moments when you ask yourself, why haven't I done this before? It was easy.
Soak 1 cup of raw almonds in a bowl of water for at least an hour. I covered with plastic wrap and let it soak overnight. The next morning I peeled the skin off the almonds. The skin easily comes off but beware it takes some time to peel. After they are peeled simply put them in the blender with 6 cups of water then push the Nut/Oat Milk button cycle.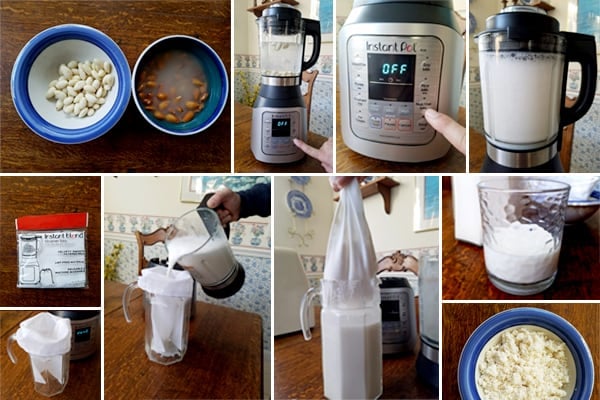 In 4 minutes and 36 seconds, I had MILK! Beautiful white almond milk. I strained the milk using the provided cloth bag into a glass pitcher. The strainer bag was perfect for the job and I carefully squeezed it to get as much milk out of it. Inside was almond pulp that I plan to repurpose as almond flour. Check out One Green Planet for other cool ideas for repurposing almond pulp.
Besides being easy I loved how the milk actually tasted, the texture and consistency. Often, the store bought kind is diluted with water, gritty and other "stuff" is added to it. So you barely get actual almonds in your "milk".
By making your own you can instantly see that it's a true white rather than murky water. And you can taste the flavor of the almonds. And then there's the obvious that it's completely natural. If you wanted it to have more sweetness you can add dates to the blending mix. True other blenders have the capability to make milk, but I liked that Ace had the preset cycle so I didn't have to calculate anything.
Cleaning the blender
Cleaning was as easy as pushing a button. I recommend rinsing the lid and pitcher immediately after you are done and not letting it set and dry, then get crusty. Fill with new water half way and add a small drop of dish soap. Push clean and watch it spin. Once cycle completes rinse out the soapy water.
Do not submerge the pitcher in water. It is not dishwasher safe because of all the electronics inside. Some may not like this, however, cleaning was so easy I didn't find this as an issue. Just be careful since the pitcher is glass.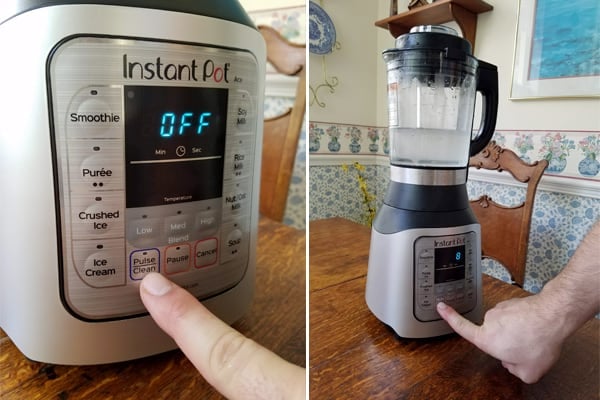 Storage
It's certainly not petite. Storage could be an issue for most because of its height. On the counter, it does not fit under kitchen cabinets. I've had to take it apart, the base and pitcher, to store it away. However, moving it around isn't difficult compared to a Kitchen Aid Mixer or Vitamix, which are proudly displayed on the kitchen counter because it's too much work to move them.
How does it stack amongst the rest?
Compared to other major blenders the Ace does shine with its easy push button function and heating function. Many buyers have not liked that you have less control over the setting, while others like to have the guesswork done for them. This really depends on the type of person you are and your preferences.
Vitamix is the leading contender in the blender market. Considering the price point the Ace being at $99, it holds it's own against it's $500 opponent. It doesn't have the same power but it gets the job done.
Our verdict!
Ace Blender is a great blender for someone on the prowl for a blender that's reliable with multiple functions to offer. If you already own a blender and are completely content, then honestly there's no need to change. But if you hate the one you have and are in need of an upgrade without breaking the bank, the Ace Multi-Use Cooking and Beverage Blender is for you.
At the moment, the Instant Pot Ace Blender is only available from Wall-Mart but we guess it will be making its way into more stores and onto Amazon in a matter of time. Also, check out our Instant Vortex Plus Air Fryer Oven Review.
---
SAVE THIS POST TO PINTEREST