Hearty, flavorful and nutritious, these Instant Pot white beans with rosemary, garlic and olive oil are the perfect example of healthy Mediterranean cuisine. Learn how to make this delicious dish inspired by Italian and Greek recipes and enjoy it as a main or side dish for dinner, lunch or breakfast. Gluten-free, vegan-friendly. Weight Watchers: 7 Smart Points (green) or 6 points without olive oil.
---
The Mediterranean diet is considered one of the healthiest in the world and it heavily features foods like beans and lentils, lots of vegetables, herbs and heart-healthy olive oil. Today's recipe for Instant Pot white beans is something you would commonly find in Mediterranean and Italian cooking: slowly braised with aromatic rosemary or other herbs and garlic and finished with a little olive oil. It's easy, affordable and super healthy.
WHY COOK WHITE BEANS IN INSTANT POT
This applies to all beans, which benefit from Instant Pot cooking in the following ways:
Pressure-cooking helps to break down the sugars in the beans quickly, making them easier to digest and less gas-inducing.
A long soak and adding some baking soda also helps to reduce the gassy effects of all beans and lentils.
Cooking the beans in the Instant Pot takes a fraction of the time of stovetop cooking, speeding up your meal prep or dinner making.
Pressure cooking locks in and retains more nutrients in the foods, and some argue more flavor.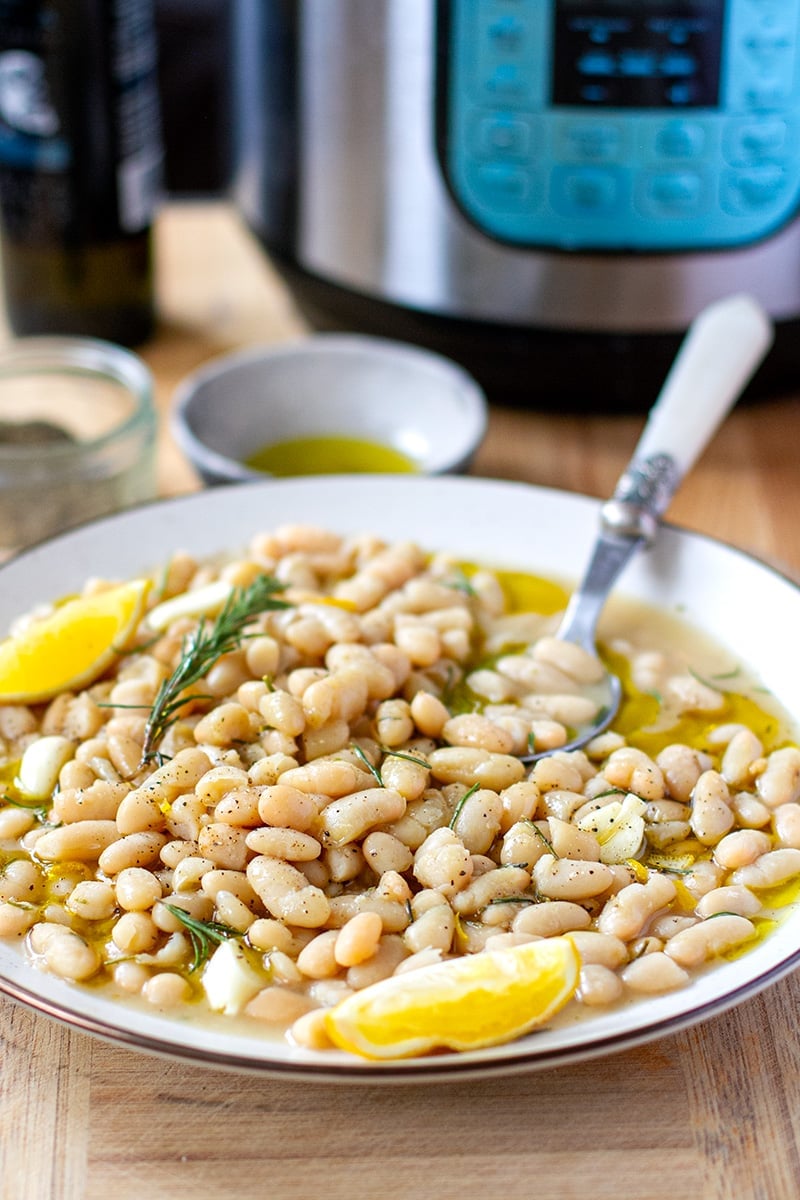 HOW TO MAKE BRAISED MEDITERRANEAN BEANS
Our recipe uses pre-soaked dried white beans and you can use any variety: cannellini, Great Northern, Haricot, Navy. White beans have a nutty, earthy flavour with tender flesh. The beans are braised in vegetable stock infused with garlic, rosemary and onion. Once cooked, they release a bit of starch which adds thickness and creaminess to the broth. This recipe is very easy, however, there are a few steps involved.

Soaking white beans
Pre-soaking the beans overnight with a little added bicarb soda (optional) will rehydrate the dried beans and will soften the fibres, making them easier to digest. Pre-soaked white beans take less time to cook and by using the Instant Pot, you're looking at about 34-40 minutes from start to finish. You will need 8-12 hours for soaking, so do it overnight or in the morning if you plan to cook these at dinner time.
PS. Adding bicarb/baking soda to soaking beans helps to degas them even more but it is optional.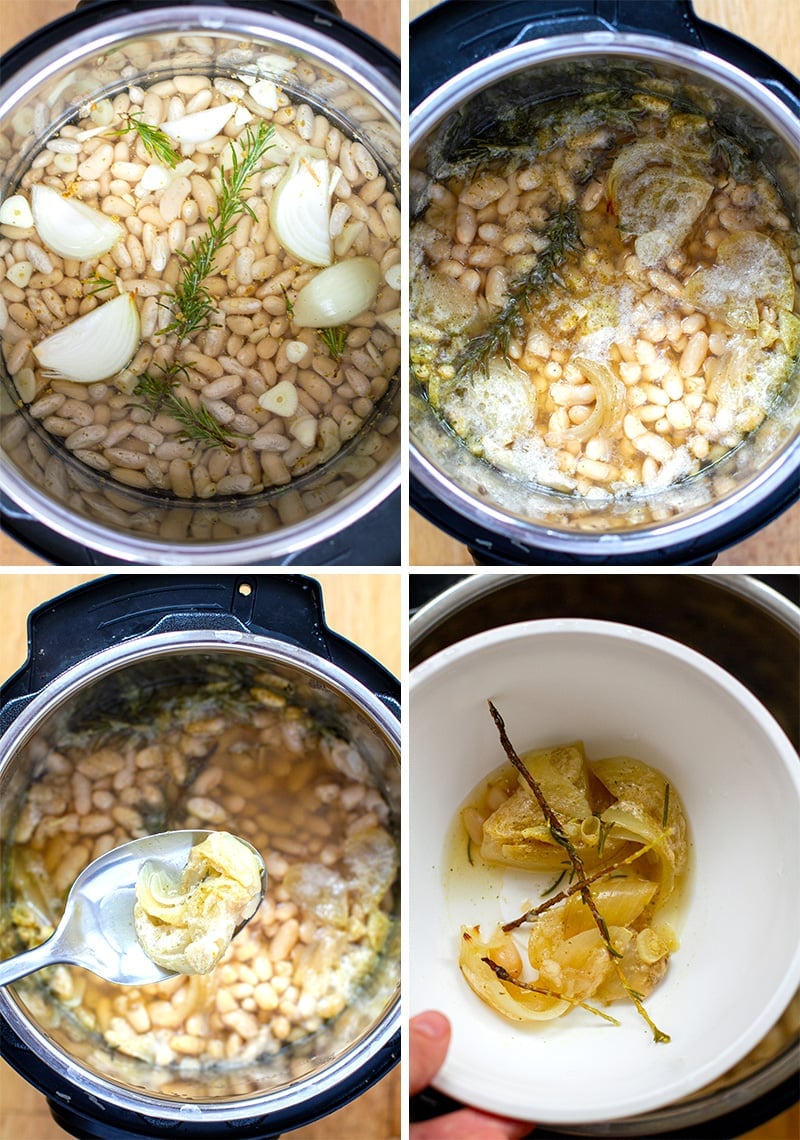 Once the beans are cooked, together with herbs, onions and garlic, which infuse a lot of flavor into this dish, the next step is to turn the cooking liquid into a creamy and thick stew-like sauce. There is a very simple trick to do this! Remove rosemary sprigs and onion from the dish. Scoop a cup of the cooked beans AND liquid and add to a blender or a food processor. Whiz a few times until smooth and return to the beans. This will thicken the broth nicely.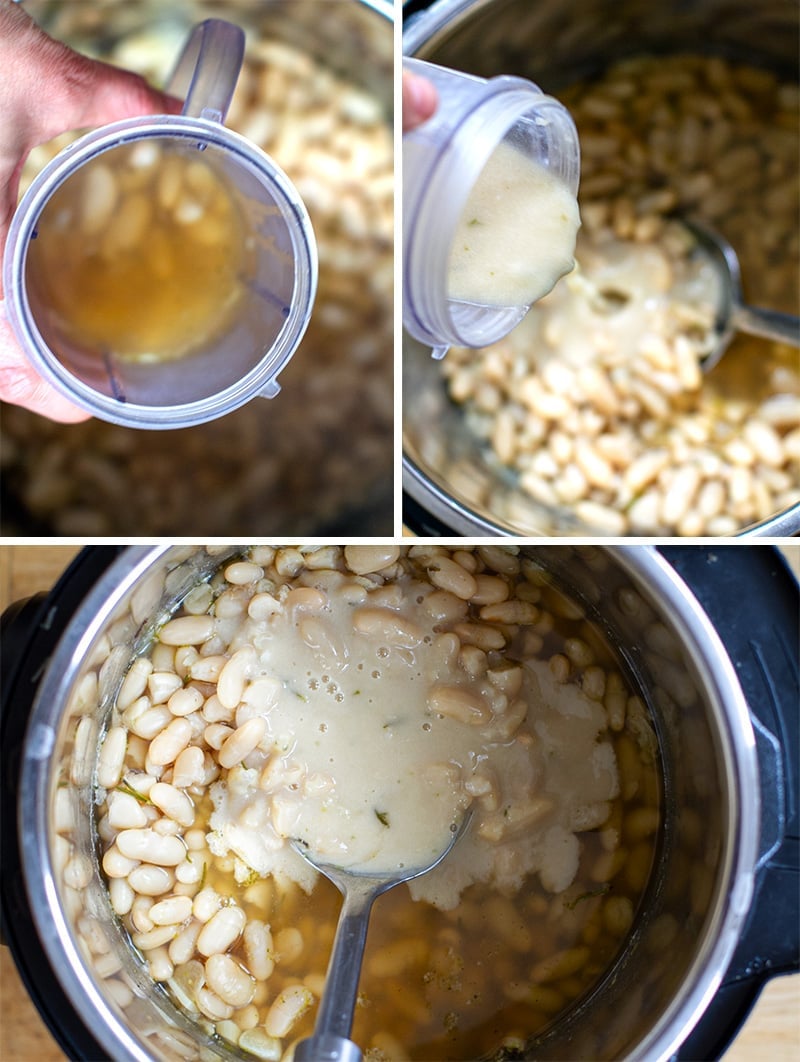 Finish the dish by drizzling good quality olive oil over the top. The finished beans can be stored in the fridge for 4-5 days and in the freezer for 3 months.
WHAT TO SERVE WHITE BEANS WITH
These rustic beans can be eaten as a stew with a side of crusty bread or crostini as a main dish or you can have them as a side dish with extra protein like lamb, fish or chicken or some pasta or rice. A side of green vegetables or a salad will complete this meal.
Oftentimes, braised beans are served on some toasted bread for breakfast. You can add a fried egg on top or some lovely cherry tomatoes.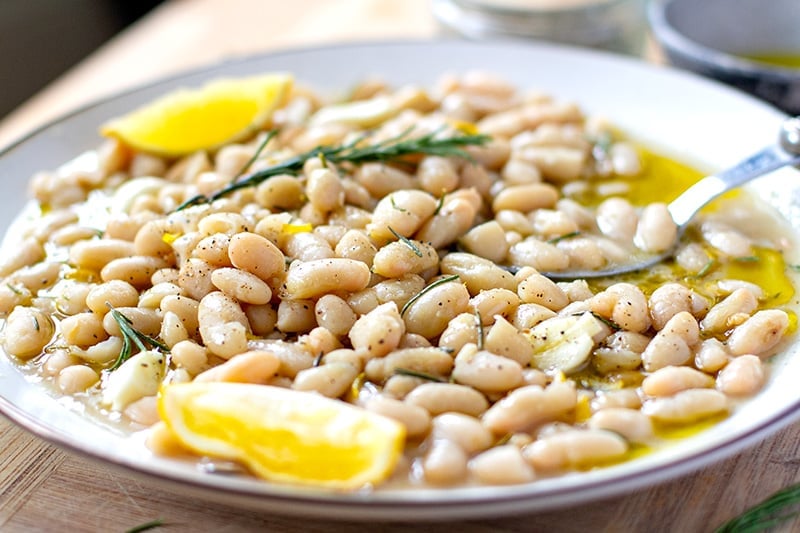 MORE MEDITERRANEAN RECIPES FOR INSTANT POT
Print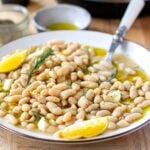 Instant Pot White Beans With Rosemary & Garlic
Author:

Prep Time:

10 minutes

Cook Time:

35 minutes

Total Time:

45 minutes

Yield:

6

1

x

Category:

Side

Method:

Instant Pot

Cuisine:

Mediterranean

Diet:

Vegetarian
---
Description
Rustic, hearty braised Instant Pot white beans with rosemary and garlic, finished with olive oil. Serve as a main, side dish or with toasted bread for breakfast. A perfect Mediterranean dish for any time of the year.
---
Soaking the beans
2 cups dry white beans such as cannellini, Great Northern or Haricot

4 cups water

1 teaspoon bicarb soda 

For the cooking part
4 cups soaked white beans (yielded from 2 cups of dry beans)

4 cups water

1 cube of vegetable stock (see notes)

5 cloves garlic, roughly diced

3 sprigs of rosemary

1/2 medium onion, cut into 4 wedges

1 teaspoon salt

To finish
2 tablespoons olive oil (see notes for WW adjustments)

1.5 tablespoons lemon juice (1/3 lemon)

A little lemon zest (optional)
---
Instructions
Soak the beans in water and bicarb soda for 12 hours (overnight or during the day). They will double in size. Rinse and use right away or refrigerate in an airtight container for a maximum of 12-24 hours.
Add the beans, water, vegetable stock cube, garlic, rosemary, onions and salt to the pot and mix through. Pop the lid on top, lock and make sure the top valve is pointing to Sealing. Press Manual/Pressure Cook, HIGH pressure and set for 10 minutes. The pressure build-up will take about 7-10 minutes. Once 10 minutes are up, allow the pressure to release naturally for 20-25 minutes.
Open the lid (after quick release, if needed) and skim off the onions from the top. Remove the rosemary sprigs (the needles should fall off into the soup and can be eaten). Stir the beans.
Depending on how soupy or thick you like your braised beans, you might want to discard about 1/2 cup of the cooking liquid.
Now, to thicken the beans, add some of the cooked beans and the broth liquid to a blender or food processor (about 1 cup, see pics above) and blend until smooth and thick. Return the puree to the pot and stir through the beans. The starched puree will thicken the mixture.
Finally, add the lemon juice and olive oil and stir through before serving. You can also add the olive oil once it is served.
---
Notes
White beans: you can use most types of mature white beans such as Cannellini, Haricot, Great Northern, Navy.
Vegetable stock: we used water and vegetable stock cube; you can also use 2 cups water and 2 cups pre-made vegetable stock. Of course, you can also use all straight stock – 4 cups (in this case reduce the added salt by half).
Stovetop: Bring the beans to a boil, reduce the heat to low and simmer for 1-2 hours or until the beans are nice and tender, depends on their size. Skim off some of the froth from the top at the start.
Dietary notes: gluten-free, vegetarian, vegan, nut-free, egg-free, dairy-free, Mediterranean Diet, high-fibre, protein-rich.
Weight Watchers: 7 smart points (green) per serving with added olive oil as per the recipe above. Or 6 points if you omit the olive oil at the end.
Nutrition
Serving Size:

1 cup of cooked beans

Calories:

274

Sugar:

2.2 g

Sodium:

582.3 mg

Fat:

5.3 g

Saturated Fat:

0.8 g

Carbohydrates:

42.9 g

Fiber:

10.5 g

Protein:

15.9 g

Cholesterol:

0 mg
Keywords: Italian, Greek, Mediterranean Diet, Beans