We've put together a round-up of 21 leftover pulled pork recipes, which is one of the most popular Instant Pot dishes, this post is for you. We're going to showcase the versatility of pulled pork and give you fabulous ideas for using it up in more than just tacos.
---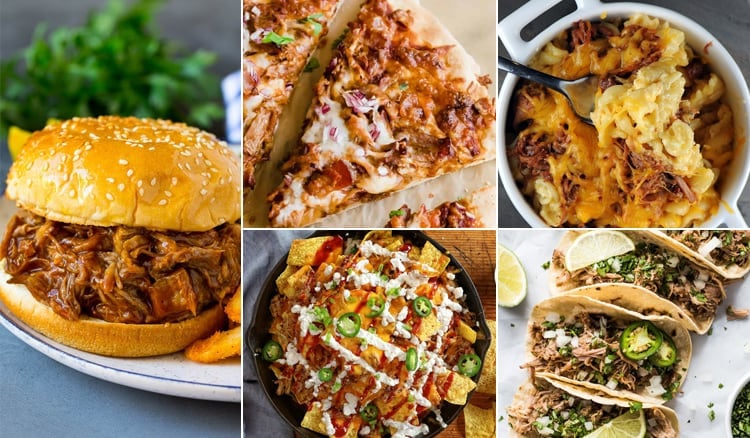 When it comes to batch cooking or meal prep of meat dishes, pulled pork is one of those versatile foods that can be used in many ways. You might have only used it in nachos or sliders but today you will learn many more leftover pulled pork recipes and ideas.
DIFFERENT WAYS TO COOK PULLED PORK
Before we begin, let's cover the basics: how to cook pulled pork. You can do this on the stove, in the oven, in a slow cooker or in the Instant Pot or another type of pressure cooker, which is the fastest method.
For Instant Pot pulled pork, check out our super tasty and fast recipe here. You can use it as a template and add your own rub seasoning and sauce. We use a 6-quart Instant Pot and it only takes about 70 minutes from start to finish.
Stovetop: in this method, you are braising the pork meat until super tender, then shred it and either finish under a grill or barbecue or as is. The stovetop method takes about 3 hours. Check out this recipe for stovetop BBQ pulled pork.
Oven: Slow cooking the pork in the oven is the most popular method as the meat gets tender and browned at the same time. This method requires long, slow cooking for optimal results, so you're looking at anywhere between 3-6 hours. Here is an easy oven pulled pork recipe to try.
Crockpot/Slowcooker pulled pork: If you have a crockpot at home, this method is a great hands-free, make-ahead alternative. It might take up to 8 hours but it's a set and forget method, which suits many cooks. Try this popular slow cooker pulled pork recipe.
Whichever your preferred cooking method is, here are some fabulous leftover pulled pork recipes.
---
1. PULLED PORK SANDWICHES
When it comes to pulled pork recipes, sandwiches are always a winner! The buns are a perfect balance to soak up the sauce and keep everything intact for an amazing flavour-packed bite.
You can have it the classic way with BBQ sauce and a side of fries or make a lovely coleslaw on the side or inside the sandwiches.
Or try to take it up a notch on the flavor meter with some Caribbean jerk seasoning and garnish with mango salsa.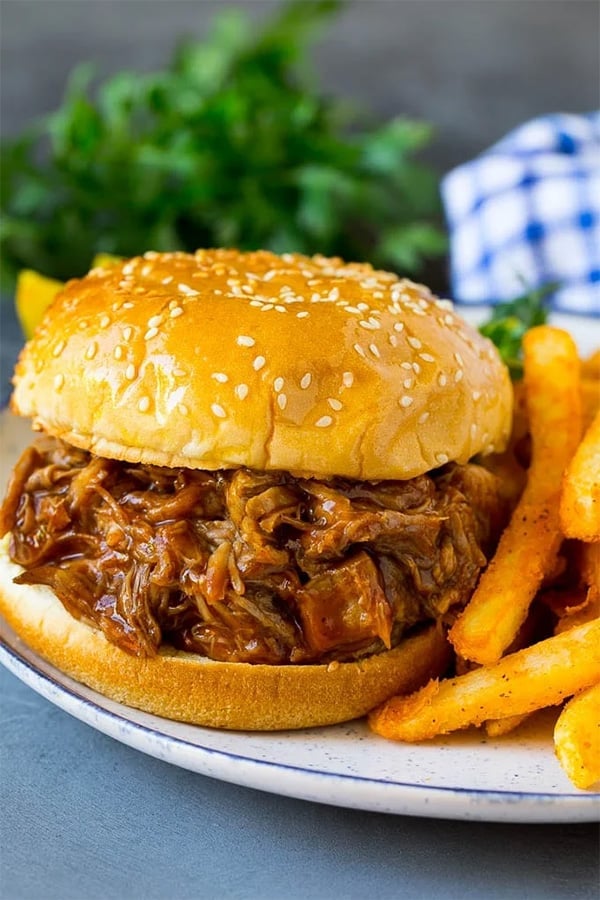 2. CROWD-PLEASING PULLED PORK SLIDERS
Sliders are a nice way of not committing to a full sandwich especially when you want to try other dishes on the BBQ buffet table. You can make a bunch to set on a platter for an easy grab and go option for those sitting at the pool.
You can make pulled pork sliders using mini-buns or slider buns and serve them with BBQ sauce and coleslaw or create something a little more tropical like the Hawaiian or Korean pulled pork sliders (stir in Korean spices and make quick-pickled cucumber kimchi)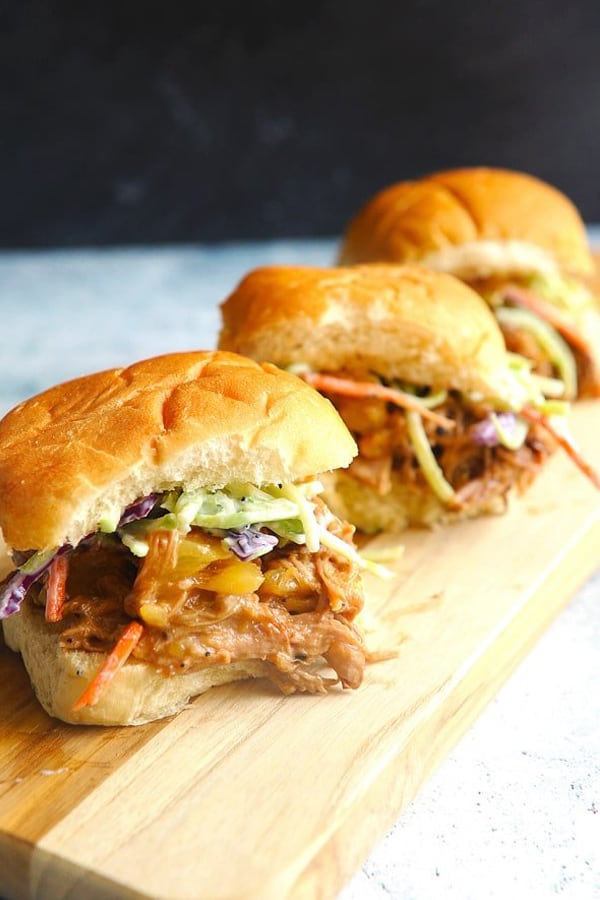 3. PULLED PORK NACHOS
When it comes to recipes with leftover pulled pork, nachos always pop to mind. They are the ultimate food to share! Having pulled pork already stored in the fridge or freezer makes it easy to whip up a tray for an unexpected crowd.
Just add some tomatoes, peppers, and cheese. For some kick top it off with jalapenos shown in this Pulled Pork Nachos from I Am Homesteader. But this will be so good you won't want to share.
4. PULLED PORK PIZZA
Lately, I've been very into pizza and mixing things up with different sauces and toppings. I'm basically head over heels in love with the sauce on this Thai pizza. Sweet and spicy chili sauce – it's absolutely mouth-wateringly delish. I could eat it with a spoon.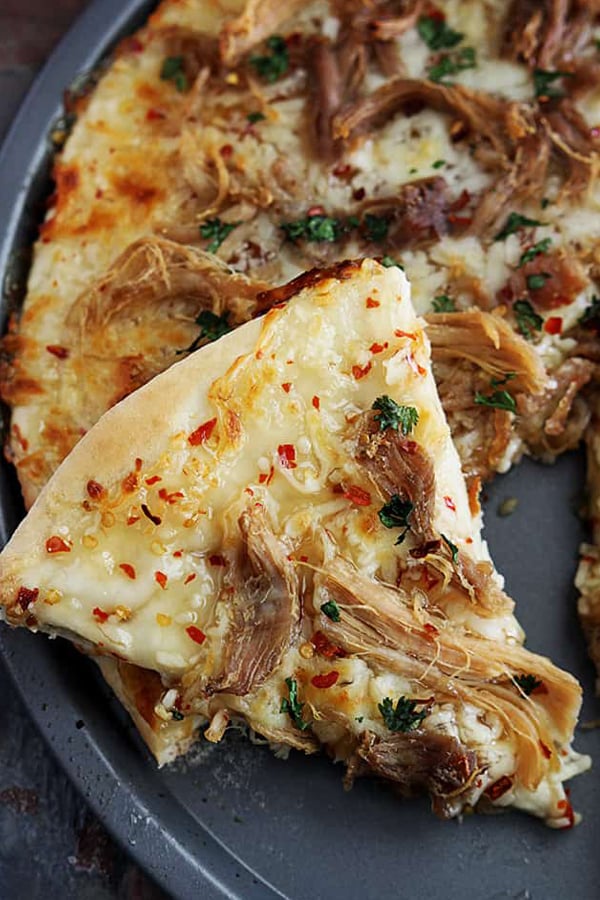 5. Pulled Pork Mac and Cheese
Mac and cheese in itself is a childhood favorite that no one can deny. Throw in some pulled pork and you just made this a grown-up meal that speaks to your guilty pleasure. Each bite will tempt you to take another with all that cheese.
Try BBQ Pulled Pork Macaroni and Cheese from Sweet Recipes.
6. Pulled Pork Enchiladas
Enchiladas are a great family meal to put together on a weeknight. Roll a few to put in a casserole dish with sauce and cheese. While it's in the oven prepare some beans and rice. Margaritas would be nice too and would make this a fiesta.
Try Pulled Pork Enchiladas (Pork Carnitas) from Recipe Tin Eats.
7. Pulled Pork Chili
Nothing is as cozy and comforting as a warm bowl of chili. You don't need anything else in the world. There are so many recipes and versions of chili to satisfy everyone's craving.
Adding leftover pulled pork only makes it better and jazzes up the texture of traditional ground beef and beans. Get inspiration from these recipes.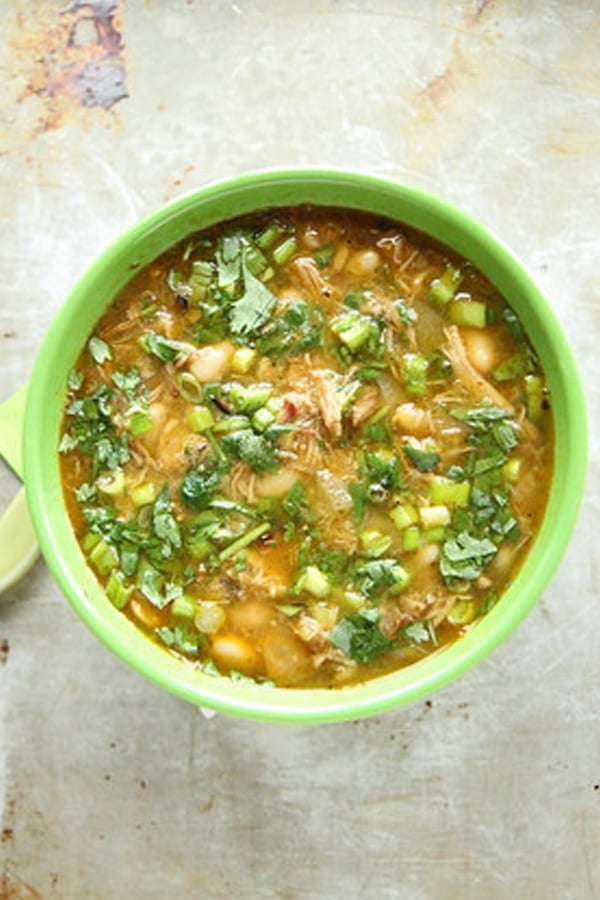 8. Pulled Pork Burritos
You can put anything in a burrito and that's what is wonderful about this food pouch of possibilities. It's definitely a Tex Mex favorite!
Using leftover pulled pork, smokey BBQ sauce, rice and shredded, melted cheese in a soft tortilla – this sure sounds like a satisfying meal without having to line up at the food truck.
Try these Cheesy Smothered Pulled Pork Burritos Recipe for Two from Zona Cooks.
9. Pulled Pork Skillet
An iron skillet is a treasure in the kitchen. It holds so much flavor from so many meals cooked with it. Adding this Pulled Pork Enchilada Skillet from Buns In My Oven to its life will just enrich the seasoning history. Garnish with cilantro and you will have the whole house sizzling.
10. Pulled Pork Casserole
Casseroles are great for a party to feed a crowd. When you are short on time between cooking and getting ready, this is perfect to throw together with leftover pulled pork and bake. Throw in some veggies, pasta or rice, sauce of choice and cheese and you have a tasty one-pot meal!
It's easy to transport too since it's all in one dish. They have fashionable travel casserole bags in the stores that keep it warm and not burn you when transporting.
11. Pulled Pork Loaded Fries
Who doesn't love fries? Can we make them any more addictive? Yes! Pulled Pork will take ordinary stripes of potato into something ready to score on game day.
Load up on this recipe for BBQ Pulled Pork Fries from Taste Made with cheese, sour cream, and extra bbq. Everyone will be cheering you on.
12. Pulled Pork Cuban Style
A hot freshly pressed Cuban sandwich with stringy cheese melting as you take a bite will leave mustard on your smiling face. Pork is king in Cuba and it's added to everything. Why have just a plain ham sandwich when you can dress it up with pulled pork and pickles? Serve with a side of fried rice with more leftover pulled pork.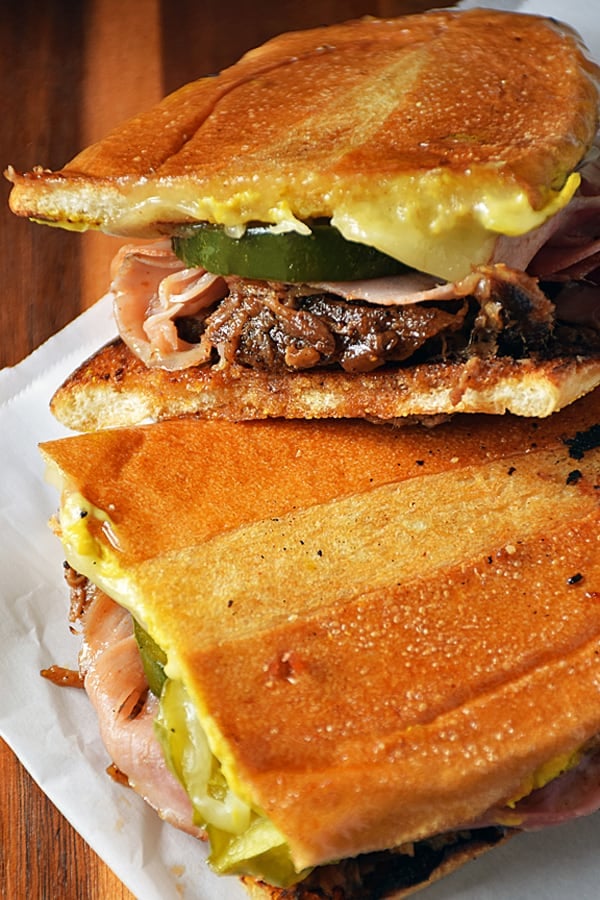 13. Pulled Pork Wontons & Egg Rolls
When you think of leftover pulled pork recipes, you might not think of egg rolls or pork wontons but you're in for a treat. Imagine succulent, sweet, and zesty pulled pork wrapped in a crispy egg roll with silky smoked gouda cheese. Or serving as an appetizer with mango jalapeno salsa. A perfect example of fusion cuisine.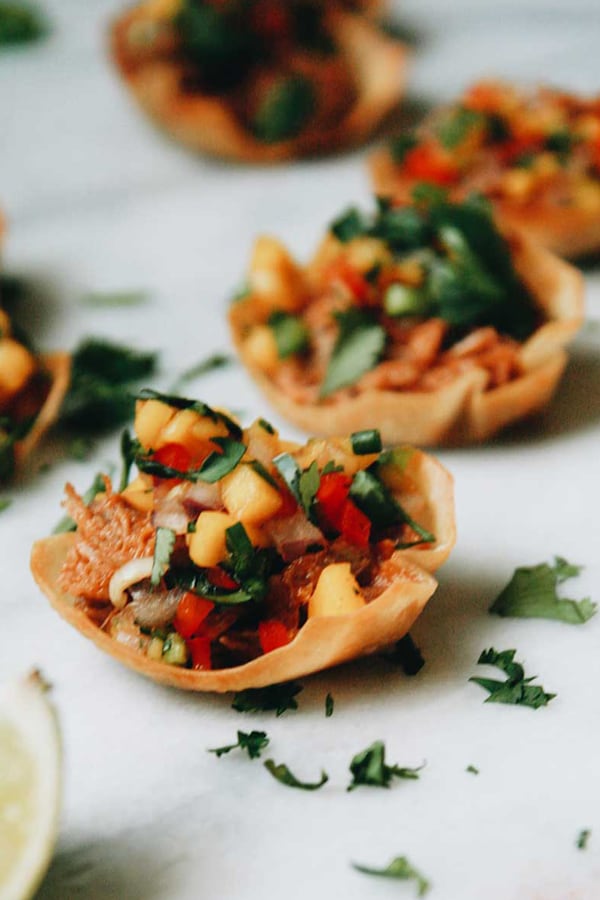 14. Pulled Pork For Breakfast
Breakfast doesn't have to be cold cereal or boring oats. You can make a breakfast hash out of anything.
Common ingredients that you already have such as potatoes, onions, and vegetables can be great paired with pulled pork. Quiche is another elegant way of combining leftover ingredients from the fridge.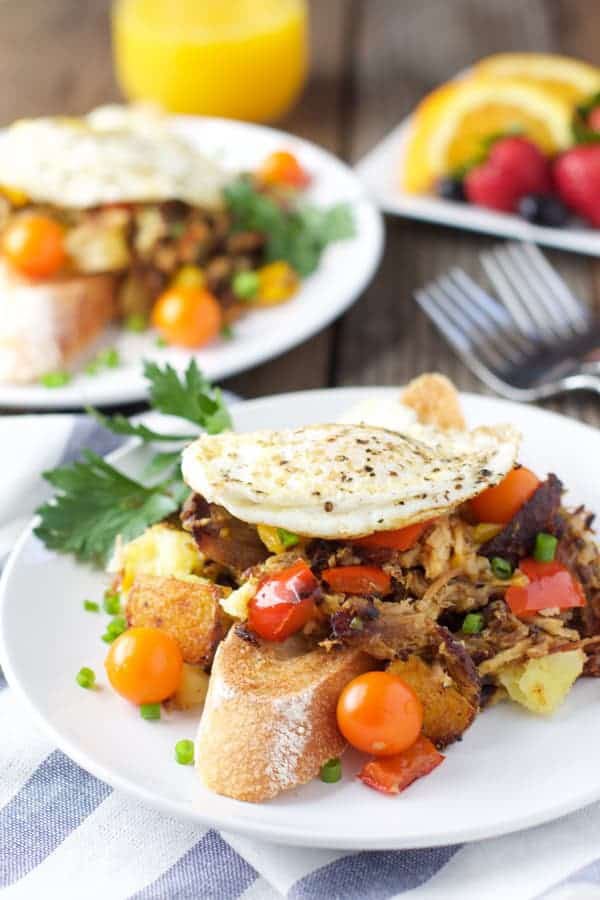 15. Pulled Pork Tacos, of course
Taco Tuesdays are a thing for a reason – everyone loves tacos. They are easily customizable, which makes them a great option for a crowd.
Use leftover pork with some Mexican flavors thrown in – oregano, cumin, smoked paprika, chili powder, and lime juice. Make a few sides of tomato salsa and chopped onion and avocado. Warm up the tortillas and you're ready to serve!
Or, try an Asian influence by smothering the meat in savory, sweet, and spicy sauce. Then, pile with fresh Pineapple Salsa and Sriracha.
16. LEFTOVER PULLED PORK RAGU
Tender shreds of pork in a rich marinara sauce with lots of garlic, fresh herbs, and a healthy dose of red wine. This Pulled Pork Ragu from Our Salty Kitchen is a flexible main dish that can be served over pasta, polenta for a gluten-free version, or zucchini noodles if you're paleo.
17. Sweet Potato Pulled Pork Hash
An absolutely delicious one-skillet Sweet Potato Pulled Pork Hash recipe from Babaganosh using leftover pulled pork. Add an egg on top to make this a complete meal. Naturally gluten-free.
18. Pulled Pork Shepherd's Pie
Shepherd's pie is normally made with ground beef, but pulled pork would work well and give the dish a nice BBQ flavor. So toss the pork in your favorite BBQ sauce and top with mashed potatoes and grated cheese. This shepherd's pie from I Am Homesteader.
19. BBQ Pulled Pork Grilled Cheese
It is hard to go wrong combining succulent pulled pork in a sweet, tangy, and spicy BBQ sauce and then smothering it in ooey gooey melted cheese!
Add some cool and creamy coleslaw right inside this grilled cheese sandwich from Closet Cooking for a slightly messier sandwich to indulge.
20. FIRE-ROASTED PULLED PORK STUFFED PEPPERS
Perfect to make for a crowd or just dinner for a few. These stuffed peppers from How Sweet Eats is great to prep ahead of time, very customizable, super satisfying, and delicious.
You can use the mini peppers and stuff them for an appetizer, or you can use regular bell peppers and stuff those for dinner!
21. Best BBQ Empanadas
These empanadas are an excellent example of Southern-South American fusion. They're filled with sweet pulled pork BBQ, melted cheese, and a touch of creamy aji Amarillo chile pepper sauce—a great combination of flavors for empandas from The Spruce Eats.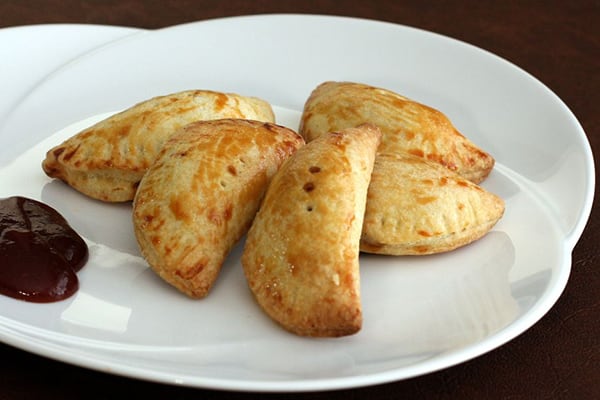 ---
How Long is Leftover Pulled Pork Good For?
Pulled pork is a fantastic make-ahead food that will last for up to 3 months when stored properly in the freezer. To store in the refrigerator, keep it airtight for up to 4-5 days and reheat to piping hot!
Can You Freeze Leftover Pulled Pork?
Yes, you can! Spread the pulled pork and some of the juices on a flat tray or dish to cool it down as quickly as possible. Transfer to airtight containers or freezer bags. We recommend individual servings so you can defrost the amount you need easily.
Don't stuff the containers too much as there will be some expansion during freezing, BUT if using freezer bags, squeeze out as much excess air as you can before sealing. Don't forget to label with a date and freeze for up to 2 to 3 months.
Tip: You can wrap the containers with extra plastic wrap to prevent freezer burn.
Defrost in the containers or bags in the fridge overnight and reheat in the oven, skillet or the Instant Pot on Saute. Add some of the juices or a splash of water/stock to keep it moist.
If you have more ideas for leftover pulled pork recipes, let us know in the comments!