These delicious, protein-rich vegan burgers are made with the help of the Instant Pot pressure cooker. We show you how to cook the navy and pinto beans and make the burger patties; plus, two ways to cook them and to serve them. This recipe comes with a gluten-free option.
---
You don't need to be a plant-based diet enthusiast to enjoy these vegan bean burgers. Made with a variety of nutritious beans (navy and pinto) and tasty ingredients like sun-dried tomatoes, carrots, garlic and warm spices, these hearty and satiating burger patties will please the omnivores and vegetarians alike.
USING INSTANT POT FOR BEAN BURGERS
We are sharing a way to make these ingredients for the burgers with the Instant Pot. The pressure cooker allows you to cook the dried beans much quicker (while retaining more nutrients) and we will also use it to sauté onions and carrots that will go in the burger mixture.
The burger patties can be made ahead of time and stored in the fridge or freezer (perfect for batch cooking and meal prepping) and or you could choose to cook them right away. You have a choice of pan-frying or baking the burger patties.
If you don't have an Instant Pot, you can also buy pre-cooked tinned beans and use a pan to sauté the veggies, or you can cook the beans on the stove, which will take a bit longer.
Two ways to serve vegan burger patties
For a lower-carb version, serve the cooked vegan burgers with your favourite slaw salad (we made a beetroot and cabbage slaw), sliced avocado, pickled red onions, and fried shallots.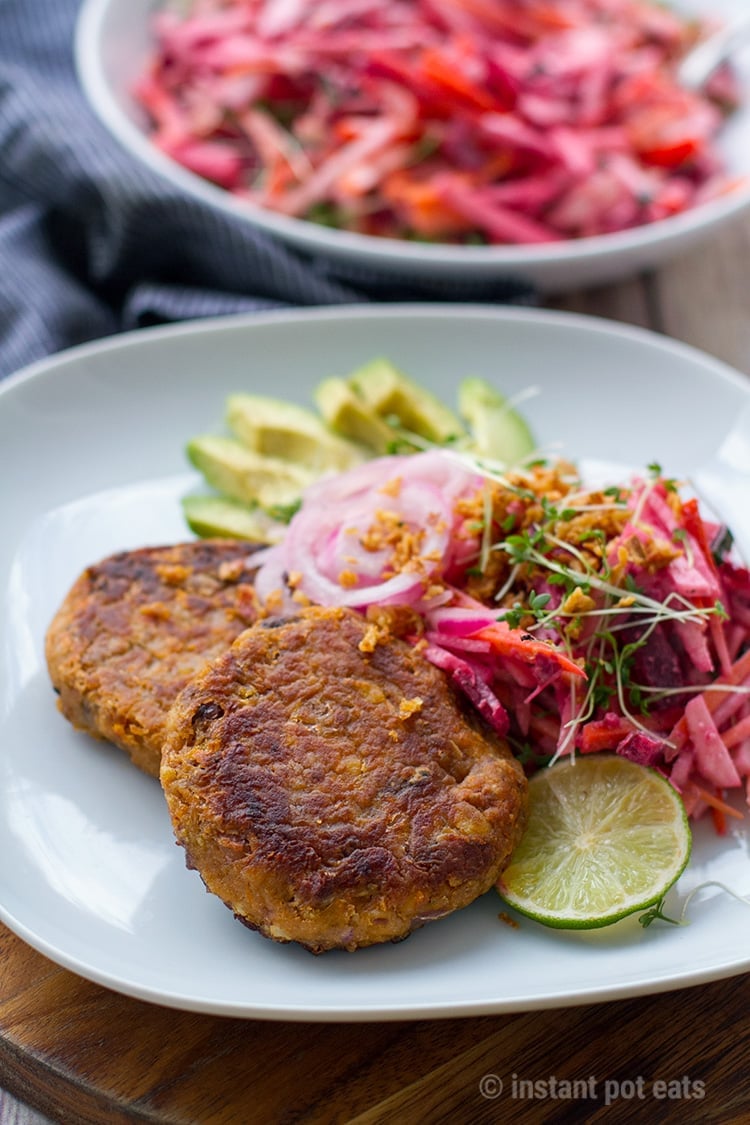 If you want a full eat-with-your-hands burger version, serve these patties on your favourite buns with sliced avocado, slaw, vegan mayo, fried shallots, and anything else you love on your burgers.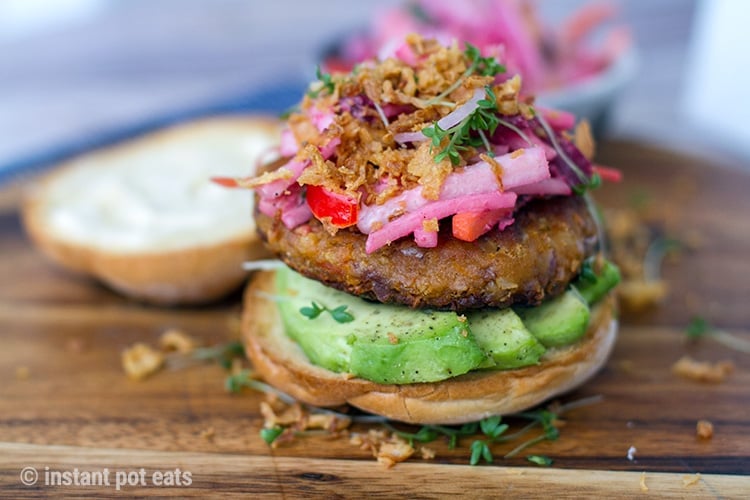 MORE VEGAN RECIPES WITH INSTANT POT
Print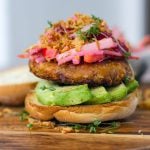 Vegan Bean Burgers Two Ways (Instant Pot, Freeze For Later)
Author:

Prep Time:

35 minutes

Cook Time:

45 minutes

Total Time:

1 hour 20 minutes

Yield:

12

patties

1

x

Category:

Main

Method:

Instant Pot

Cuisine:

American

Diet:

Vegan
---
Description
These vegan bean burgers take a little bit of effort and time (even though we use the Instant Pot to speed things up) but they are totally worth it. Delicious, hearty, filling and nutritious!
---
To cook the beans
1 cup navy beans or white cannellini beans (dried, like these)

1 cup similar size darker beans such as pinto beans (dried, like these)

6 cups water

1 cube of vegetable stock (we love this brand)

1/2 teaspoon salt

For the burger mixture
1 large red onion, finely diced (you can use a food processor)

1 large carrot, grated

3 cloves of garlic, crushed or grated

6–7 sun-dried tomatoes, finely chopped (in oil, like these)

1 teaspoon cumin powder

1 teaspoon paprika powder

1 teaspoon coriander seed powder

1/2 teaspoon cinnamon powder

1 teaspoon salt

1/2 teaspoon pepper

Pinch of chilli flakes or powder

1 tablespoon lemon juice

1 tablespoon Tamari soy sauce (gluten-free version)

1 cup wholemeal flour or gluten-free flour

Extra flour for dusting

Coconut oil or olive oil for cooking

Serving additions: sliced avocado, favourite coleslaw, pickled onions, vegan mayo, sriracha or other hot sauce, pickles, fried shallots.
---
Instructions
First, soak the dried beans in twice as much water and half a teaspoon of salt overnight or for at least 4-6 hours. Strain and rinse well.
Add to the rinsed beans to the Instant Pot together with 6 cups of water, half a teaspoon of salt and one vegetable stock cube. Set to Manual, HIGH, for 10 minutes. After 3 beeps the Instant Pot will start to build up the pressure and cooking will begin. While the beans are cooking, prepare the other ingredients.
Once the cooking stops, allow the pressure to release naturally (this will take about 20 minutes). Strain and rinse the cooked beans.
Rinse the inner part and return back to the pot. Set to Sauté and add 3-4 tablespoons of olive oil.
Add the chopped onions and carrots and cook for 3-4 minutes, until softened and golden.
Add the cooked beans to a food processor and pulse a few times to grind them into a coarse puree. Don't process them too much or they will turn into a smooth, which is not the ideal texture for our burgers. We want some puree and some beans are just broken up. You can also use a potato mash to do this, or even a fork.
Add the mashed beans to a large mixing bowl together with the cooked onions and carrots. Add the garlic, sun-dried tomatoes, and the rest of the seasonings (but not the flour). Mix through really well.
Finally, add the flour and mix through as the mixture starts to thicken and come together slightly. Place the bowl in the fridge for 20-30 minutes for the mixture to set slightly, or you can roll the burgers right away.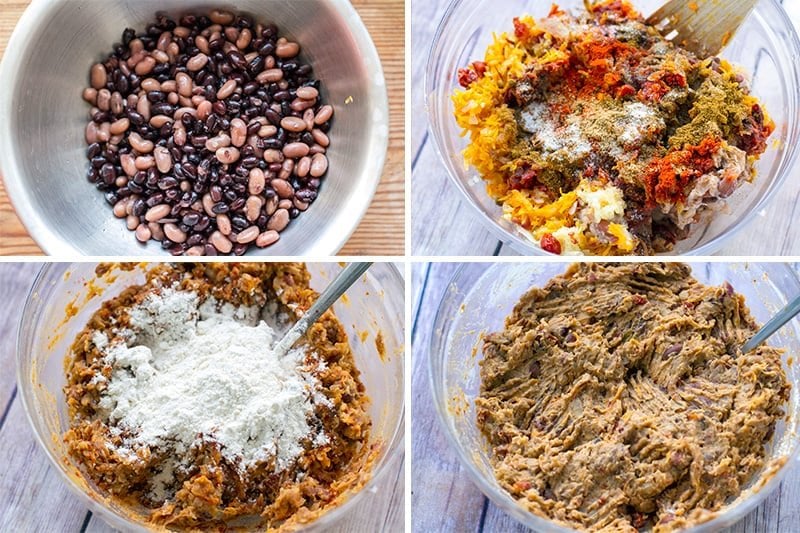 To shape the burgers, we recommend the following. Dust a large board or a platter with flour so that the burgers don't stick once we place them on. Wet your hands slightly and use a measuring cup or a spoon to scoop the bean mixture into your hands (about 1/2 cup to a 2/3 of a cup per patty). Shape it into a round patty and place on the dusted board. Repeat with 2-3 more patties. Your hands will start to get sticky, so simply rinse them quickly and continue.
Once all the burger patties are made, dust the tops with extra flour (see photo). Dusting will help to keep them less sticky and easier to pick up later.
Depending on how many burgers you want to cook, you have the following options: you can cook them all right away or you can store them in the fridge for a few hours to set and firm up or overnight (just cover the plate with some Clingfilm or foil); another option is to cook some now and freeze the rest for later (see instructions in the notes).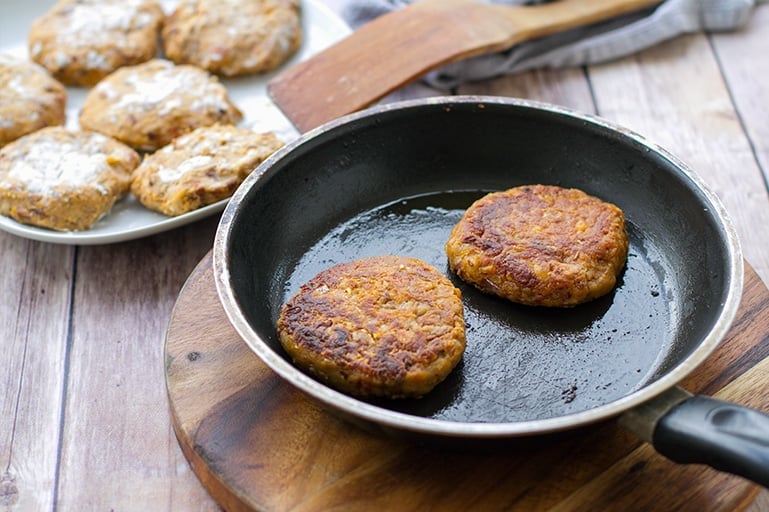 To cook the patties in a pan, heat a couple of tablespoons of oil over medium-high heat in a large skillet. Add the burgers and cook for 4-5 minutes each side, or until golden brown and crispy.
To bake, preheat the oven to 210 C/ 420 F and lay a piece of parchment paper on a flat baking tray. Brush the paper with oil and place the burgers on top. Brush each burger top with a little oil. Bake for 20 minutes, middle shelf, or until golden brown.
Serve the bean patties with your favourites sides and condiments, either on a plate or on a bun.
---
Notes
Freezing the burgers: To freeze the uncooked burgers, simply place them on a dusted, flat plate or tray, cover with foil and place in the freezer for an hour. Once the patties are semi-frozen, you can stack them in a container or transfer them to a Ziploc bag. They'll be good for up to 3 months. Defrost overnight or in a microwave and cook as per instructions.
Nutrition
Serving Size:

2 bean burgers

Calories:

282

Sugar:

3.8 g

Sodium:

835.9 mg

Fat:

7 g

Saturated Fat:

1 g

Carbohydrates:

45.3 g

Fiber:

7 g

Protein:

11.4 g

Cholesterol:

0 mg
---