We are continuing our Instant Pot Meal Plan series with a third edition and this time we're going meatless! This week's vegetarian meal plan features 5 dinner meals, 2 lunch dishes and 1 breakfast, all made in your Instant Pot pressure cooker. We've curated a plan that is nutritionally balanced and features a variety of foods, cuisines and protein sources. Downloadable PDF with shopping list included.
---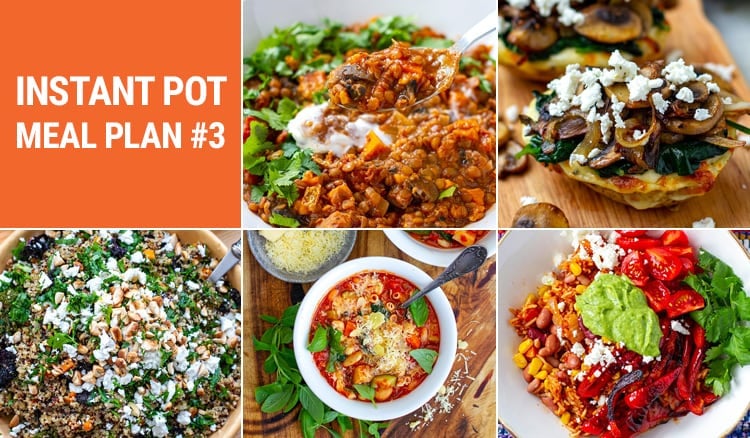 You can find our Meal Plan #1 and Meal Plan #2 for omnivores here.
ABOUT THIS VEGETARIAN INSTANT POT MEAL PLAN
The goal of our meal plans is to give your ideas and inspiration for your daily meals. This menu contains some eggs and dairy, so it's for lacto-ovo vegetarians, however, you can modify most of the recipes to make them plant-based. We choose recipes based on a variety of protein sources (legumes, soy, nuts, seeds, dairy, eggs), carbohydrates (rice, pasta, quinoa, potatoes), and plenty of vegetables.
Having a meal plan takes a lot of the guesswork out and means that you can stock up on all the food and ingredients you need ahead of time. The plan provides you with 5 dinner meals to choose from – you can cook all of them or pick a few you like – plus a couple of lunch-friendly recipes and breakfast.
You can download this meal plan with the shopping list here.
Happy Meal Planning!
PS. If you make one of our recipes, take a picture and share it on Instagram. Use the hashtag #instantpoteats! We want to see what you are making in your kitchen. And don't forget to follow us on Instagram!
INSTANT POT VEGETARIAN MEAL PLAN
We'll kick off with five delicious dinner meals you can make in your Instant Pot.
Loaded with vegetables, tomatoes, potatoes, pasta and beans, this minestrone soup is well-balanced in nutrients, hearty and delicious. Kids love it, too! Omit the cheese at the end to make it vegan. Get the recipe here.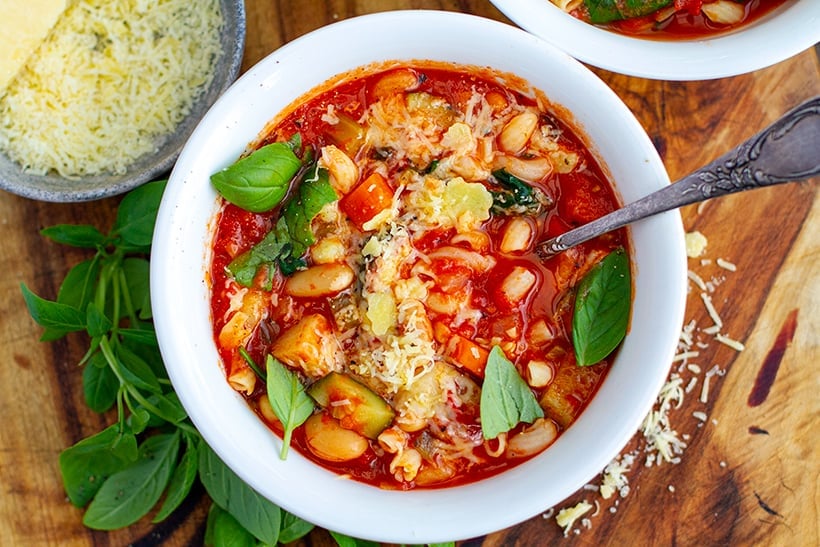 Shopping list: 2 tbsp olive oil, onion, carrot, celery, 2 potatoes, zucchini, 3 garlic cloves, 1/2 red chili, 2 bay leaves, 1 tsp mixed herbs or Italian herbs, 1 tsp sweet paprika powder, 1 tbsp tomato paste, 2 cans of tomatoes, 1 can cannellini beans, 3.5 cups vegetable stock, 1 cup of uncooked small pasta, baby spinach, basil leaves, and grated Parmesan.
Prep tips/make-ahead: This soup keeps well in the fridge (up to 5 days) so you can easily make it ahead of time.
Recommended sides: A dollop of sour cream is lovely and grated cheese of any kind is fabulous! Crusty bread or dinner rolls on the side if you wish but it's quite filling as is.
Using pantry staples like rice, beans and sweet corn, this burrito bowl is filled with nutritious ingredients and classic Tex-Mex flavors. Paired with grilled sweet red peppers, fresh tomatoes and delicious cilantro avocado crema, this dish is a total crowd-pleaser and will be a hit with the whole family. It's gluten-free and vegan-friendly. Get the recipe here.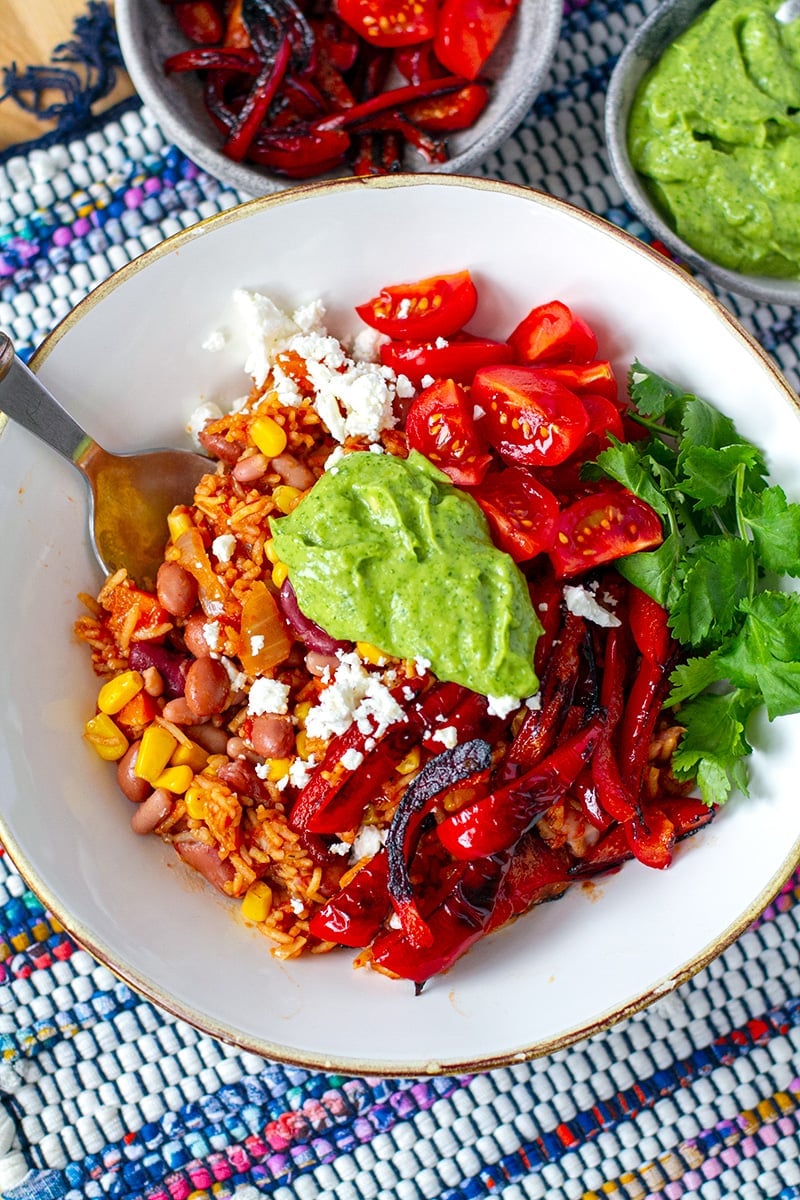 Shopping list: olive oil, onion, carrot, 1/2 tsp chipotle chili flakes, 1 tsp ground cumin, 1 tsp paprika powder, 1 tsp ground coriander seed powder, 1/2 tsp dried oregano, 1.5 cup long-grain rice, 2 cups vegetable stock, 2 cups cherry tomatoes or 2 tomatoes, 1 can of tomatoes or salsa, can of mixed cooked beans, canned sweet corn, 1 avocado, 2 cloves garlic, cilantro, 2 tablespoons lime or lemon juice, red pepper, and crumbled feta cheese.

Prep tips/make-ahead: You can make all main elements of this dish ahead of time, however, the avocado cream is best made fresh so it retains its color and freshness. Rice, beans, and corn can also be frozen once cooked so you can easily get them out of the freezer, defrost in the microwave, and dish up.
Recommended sides: Whatever is recommend in the recipe but you're welcome to add corn chips or serve this dish wrapped up in tortillas as tacos or as an actual burrito. Another twist is to turn it into a cheesy casserole.
This delicious and healthy one-pot pilaf is a fantastic vegetarian meal bursting with gorgeous flavors and textures. Cooked in a tasty broth and served with freshly chopped parsley, goat's feta cheese and toasted almonds, this dish will quickly become your favourite. Quinoa and nuts are fantastic plant-based protein sources and you can make it vegan by omitting the cheese. Get the recipe here.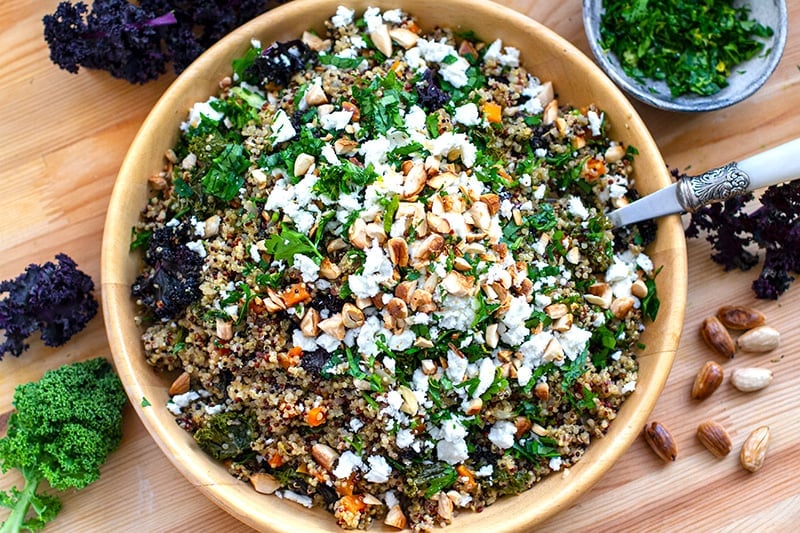 Shopping list: 2 tbsp olive oil, 1.5 cups dried quinoa, kale, onion, carrot, raisins, 1 garlic clove, lemon, 1 vegetable stock cube, 1/2 tsp cumin powder (or paprika), 1/3 cup crumbled feta cheese (omit for vegan version), fresh parsley, and 1/2 cup toasted almonds.
Prep tips/make-ahead: The main part of the dish can be made a few days ahead and stored in the fridge. You can swap kale for a different leafy green and use other nuts on top.
Recommended sides: Great as is but you can serve an additional side of vegetables or a green salad.
Hearty, deliciously spiced and a little smokey, this vegan-friendly Instant Pot lentil stew with sweet potatoes and mushrooms is super easy to make and will quickly become a favorite. Get the recipe here.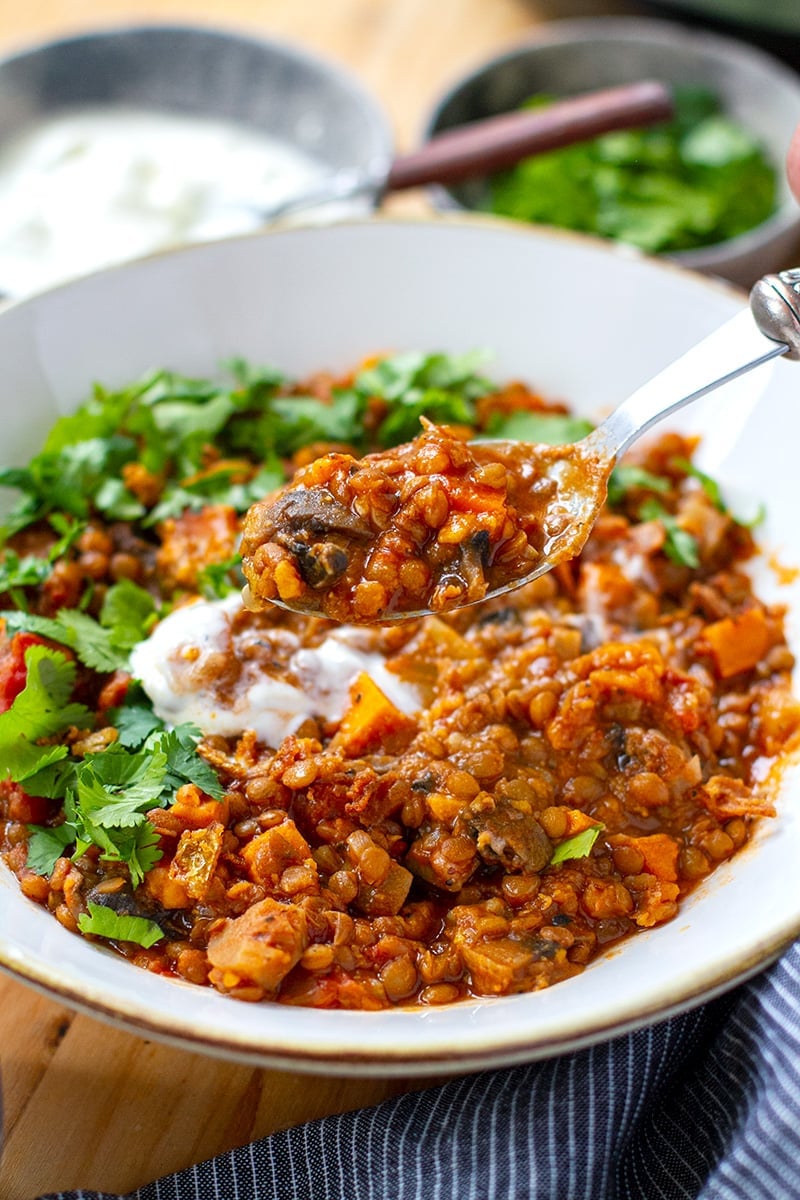 Shopping list: 2 tbsp olive oil, onion, 2 celery sticks, carrot, 3 large cloves of garlic, mushrooms, sweet potatoes, 2 tsp smoked paprika, 1 tsp cumin powder, 1 tsp dried thyme, 1 cup dry green lentils, 1 can tinned chopped tomatoes, 1 tbsp Worcestershire sauce, 1 tbsp tomato paste, vegetable stock, greek or dairy-free yogurt or sour cream, cilantro, and shallots.

Prep tips/make-ahead: Freezers well so you can make it way in advance, otherwise store in the fridge for up to 5 days.
Recommended sides: Serve it with rice, potatoes or a side of toasted bread rolls or baguette.
A simple, easy vegetarian weeknight dinner that is creamy and hearty and full of delicious depth and flavor! This version is vegan-adaptable and can be made on a stovetop. Get the recipe here.
Shopping list: 3 tbsp olive oil, ½ a red onion, 3 garlic cloves, 16 ounces mushrooms, 1 tablespoon flour,¼ cup cooking sherry (or sub white wine or more broth), 2 cups veggie broth, 1–2 tbsp whole-grain mustard, and 3 cups/8 ounces uncooked pasta (rotini, penne).
Prep tips/make-ahead: You can use any type of pasta but the cooking times might vary depending on size. A good rule of thumb is to halve the cooking time on the pasta directions on the package and subtract one minute. For example, 9 minutes on the package would be 4 minutes in the pressure cooker. For a vegan version, you can use a dairy-free cream alternative or a cashew cream sauce. You can add spinach into the hot pasta for extra greens or chickpeas for extra protein.
Recommended sides: A crispy green salad with cherry tomatoes would be lovely here or steamed or grilled broccoli with a drizzle of olive oil. You can top this pasta dish with cheese or fried garlic breadcrumbs.
This Instant Pot cauliflower soup is thickened naturally with white beans and cashews, so it's luscious and creamy but dairy-free. It's a quick and easy dump-and-go recipe that's made with just 10ish ingredients, so it's perfect for easy lunches or quick dinners too. Get the recipe from Rainbow Plant Life.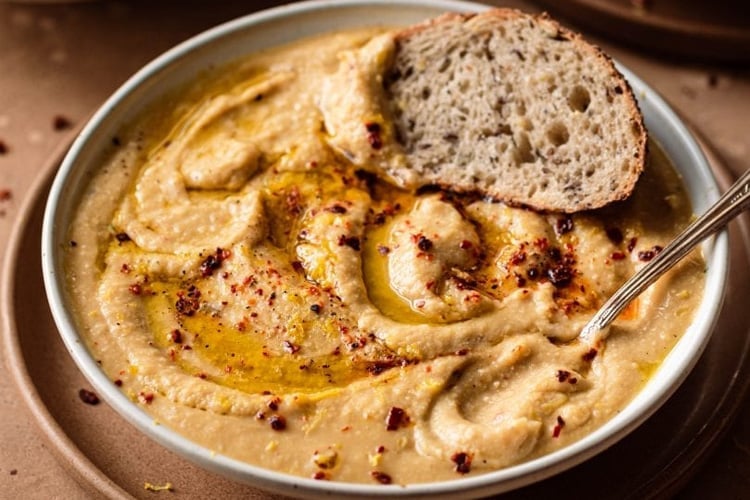 Shopping list: olive oil, 4 garlic cloves, 1 large head cauliflower, 1 cup raw cashews, 2 cans of cannellini beans, 4 cups low-sodium vegetable broth, 8 fresh thyme sprigs, 1 large fresh rosemary sprig, 1 bay leaf, 5 tablespoons nutritional yeast, lemon zest, crushed red pepper flakes, and bread for serving (optional)

Prep tips/make-ahead: The soup can be made with other types of beans or even with potatoes for creaminess if you don't have cashews or beans. This soup freezes quite well. Defrost in the fridge before reheating.
Serving suggestions: Bread roll or some pita bread for dipping. You can also make some homemade croutons.
We have a full post on making baked stuffed potatoes with the Instant Pot and it has a great vegetarian option for mushrooms, spinach and feta topping. Alternatively, you can top cooked whole potatoes with something as simple as baked beans and grated cheese for a super simple lunch!
Shopping list (for spinach, mushroom & feta option): olive oil, 5 x potatoes (8–9 oz /250 g each), 1.5 cups button mushrooms, 1/2 onion, 2 cups baby spinach leaves, 2/3 cup grated cheese, and 1/3 cup crumbled feta.
Prep tips/make-ahead: Whole potatoes can be cooked in the Instant Pot ahead of time and stored in the fridge for 3-4 days. Cut them in halves, reheat and top with a dollop of butter or olive oil and your favorite toppings. You can pop them under the grill with some cheese on top first.
Recommended toppings: Baked beans and cheese, mushrooms, spinach and feta, mayo corn and chickpeas with chopped red onion, pesto, cheese and cherry tomatoes…so many options!
Perfectly cooked egg bites with red peppers, sun-dried tomatoes and feta cheese. This protein-rich breakfast recipe is partly inspired by the Starbucks sour vide egg bites but are made with whole eggs and nutrient-dense ingredients. They are delicious and convenient and can be stored in the fridge for up to 3 days for those on-the-go breakfasts, lunchboxes and snacks. Get the recipe here.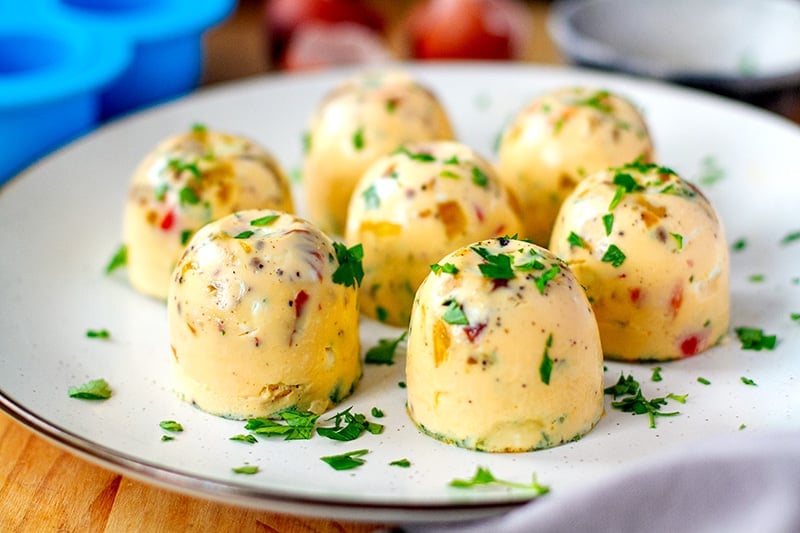 Shopping list: olive oil, onion, 1/2 sweet red pepper, 6 eggs, 1/4 cup milk of choice (we used almond milk), 1/4 cup chopped sun-dried tomatoes (about 4 tomato halves, preserved in oil), 1/3 cup feta cheese, and chopped parsley
Prep tips/make-ahead: You will need a silicone egg bite mold like this, which you can purchase online. It's quite handy for making all sorts of things from mini muffins to individual jellies. If you don't have one of those, you can make this as a whole frittata in a round casserole dish that fits inside the Instant Pot. See our breakfast casserole ideas here. Store in the fridge for up to 3 days for those on-the-go breakfasts, lunch boxes, and snacks.
Recommended sides: Toast or breakfast roll, baked beans, avocado.
Download this MEAL PLAN & COMPLETE THE SHOPPING LIST here.
PS. For a non-egg based breakfast, try making your own Instant Pot baked beans.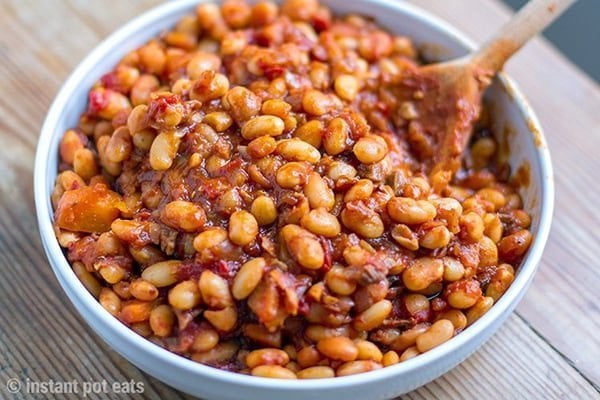 ---
---
SAVE This Instant Pot Meal Plan #3 TO PINTEREST