We've collected the best Instant Pot Vegan Thanksgiving recipes to help you in your endeavour for a healthier holiday. From sides and entrees to desserts, we've got your covered plant-based style!
---
Enjoying time with family with traditional dishes such as homemade cranberry sauce is what memories are made of. In this list we did not sacrifice flavor for nutrition, rather they worked hand in hand. Keeping it simple, easy and fast means more time spent together.
It's a busy time of year for those in the kitchen. It seems like lately everyone has dietary restrictions for one reason or another. The last thing a host would want is for a guest to go hungry or worse, get sick from something you fixed. It can be stressful figuring out what dishes will make everyone happy and full. There are plenty of options out there to satisfy the variety of needs when friends and family come to the table. So here are some Instant Pot vegan recipe ideas to help you out in preparing your menu.
INSTANT POT VEGAN THANKSGIVING ENTREES/MAINS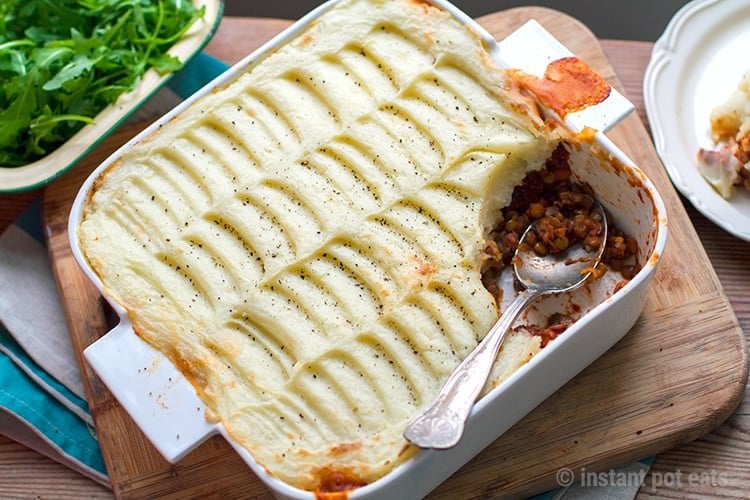 This hearty Instant Pot shepherd's pie is made with nutritious lentils, mushrooms and vegetables, then topped with creamy mashed potatoes. Making this dish vegan and gluten-free friendly. You can add sun-dried tomatoes to the filling for that extra rich sweet and umami flavor.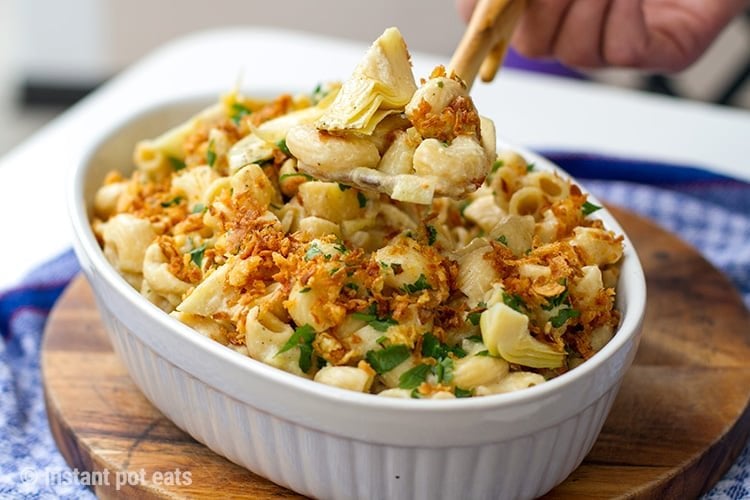 This plant-based friendly Instant Pot mac and cheese is made with dairy-free cashew sauce and marinated artichokes and is velvety, creamy and full of flavour. Enjoy this healthier, lighter version as a centrepiece or as a side dish this Thanksgiving or Christmas.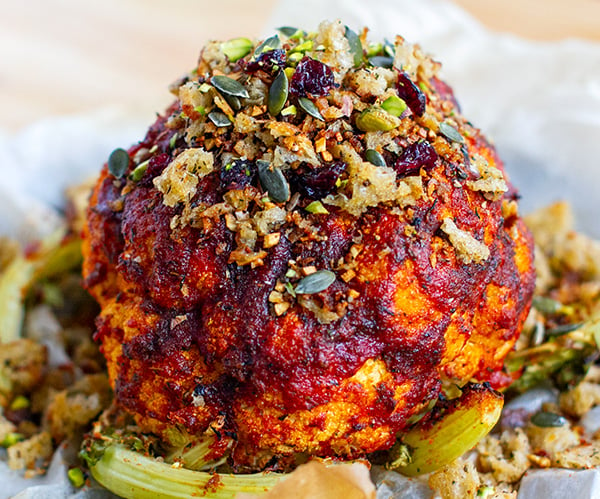 A whole head of cauliflower is perfectly pressure cooked with a delicious spice rub, then finished with a sweetened glaze and garlic, thyme bread crumbs. It's beautiful, impressive, festive and easy to make. Serve it as a plant-based, vegetarian main or as a side for Thanksgiving or Christmas.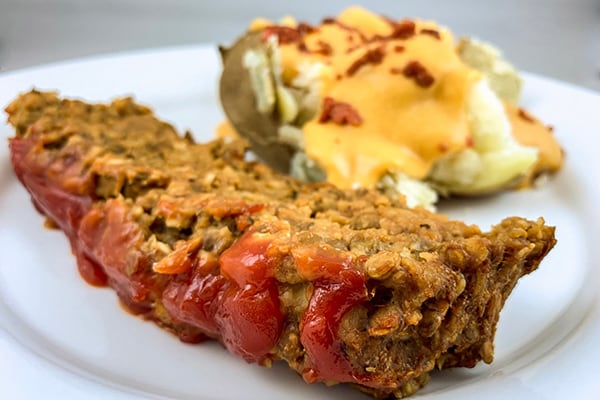 This replacement for the meatloaf is a real stick-to-your-ribs comfort food kind of meal. Instant Pot shaves off about 20 minutes of cooking time from the original method of baking! Recipe from Kev Cooks Plants.
The ultimate one-pot family meal – Vegan Instant Pot Portobello Pot Roast! We're talking meaty portobello mushrooms, meltingly tender vegetables and a thick, really rich and flavourful gravy. Recipe from A Virtual Vegan.
Khichdi or Kitchari is dal and rice risotto-like preparation that usually is very lightly spiced and served as a light meal to give the tummy a break with a simple nourishing meal. Khichdi is generally overcooked to be more of a mash for easy digestion. You can add different spices, some vegetables, and tomato to make it a hearty meal. Recipe from Vegan Richa.
This vegan mushroom bourguignon is the perfect veggie alternative to the traditional French stew that is made with beef. For an extra boost of flavor, this mushroom bourguignon is cooked in the slow cooker, which makes the recipe incredibly easy. The red wine makes it super decadent! Recipe from Vegan Heaven.
Vegan Instant Pot BBQ Meatballs are a modern spin on the classic party appetizer. This recipe calls for already made frozen ones you can get at the store for a quick dump and go dish. Recipe from Fried Dandelions.
---
INSTANT POT VEGAN THANKSGIVING SIDES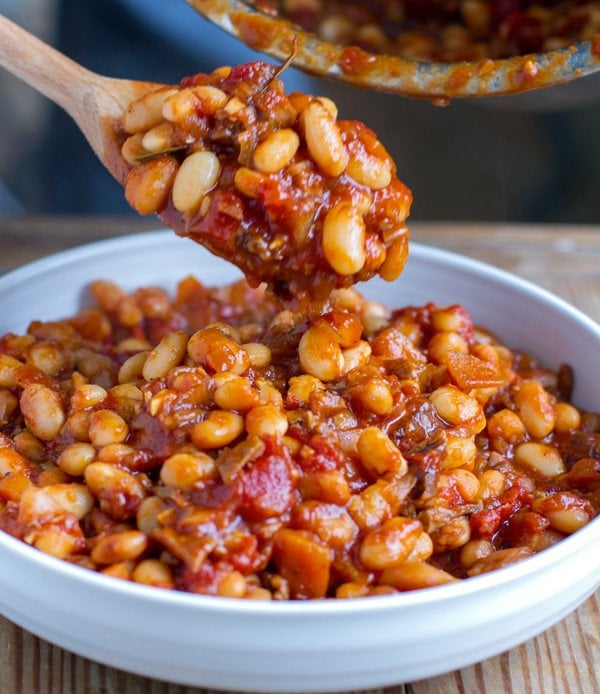 Homemade baked beans are both comforting and nutritious. Full of beneficial fibre, protein and nutrients, beans are the staple in many cuisines and are perfect for health-conscious eaters. This recipe has a couple of secret ingredients that make this a must-have dish for the table.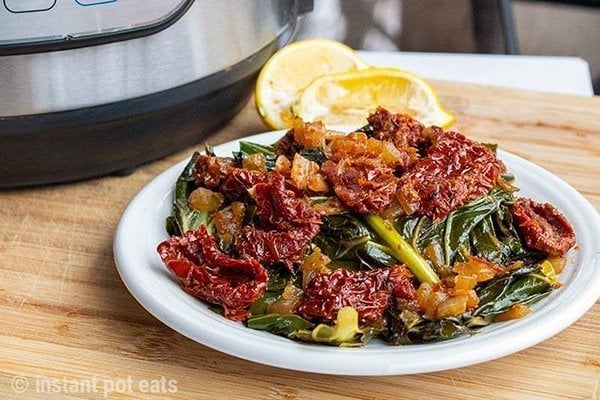 We're swapping bacon for sun-dried tomatoes to add saltiness (and sweetness) in this vegetarian-friendly versions of Instant Pot collard greens. This delicious side dish is also gluten-free, Whole30 and paleo-friendly. It's a lovely twist that turns this classic dish into a plant-based version and we think it can give the bacon version a run for its money.
Potatoes are always a crowd-pleaser. Especially when they are golden and crisp to perfection. A great side dish to compliment all the other flavors at the table. Recipe from Nom Nom Paleo.
When the cranberries go on sale in November. That's when you know it's really fall. The tart and sweet combo flavor is so easy to do from scratch and so much tastier than the canned stuff. Recipe from Real Food Real Deals.
Enjoy perfectly cooked fresh green beans or super quick & easy yet deliciously healthy 5-ingredient Stir-Fried Garlic Green Beans! Garlic and saltiness really enhance the natural flavor & fragrance of the fresh beans. Recipe from Pressure Cook Recipes.
Sweet, buttery-tasting Sweet Potato Casserole that is healthy and satisfying enough to eat for breakfast, dinner, dessert, and everything in between. Discover how bananas and oats can be a game-changer in this recipe. Recipe from Tidbits.
Carrots and sweet potatoes are full of vitamins and antioxidants, and their sweet flesh is perfect for making gorgeous soups and stews. We particularly love combining these vegetables with aromatic lemongrass and cilantro, for that lovely exotic flavor twist. Made with coconut milk, this soup is vegan and dairy-free and is also suitable to those following a Whole30, paleo or gluten-free diets.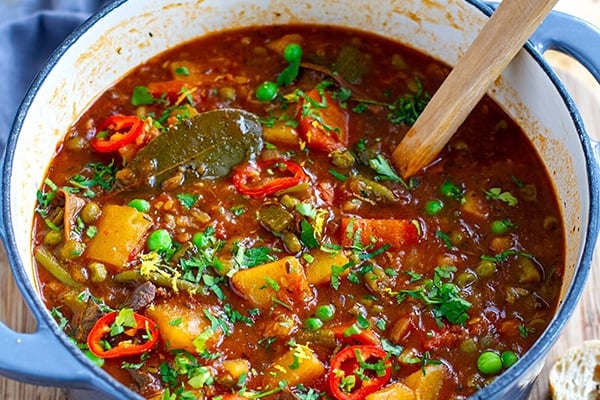 Made with almost 10 veggies and healthy ingredients, this nutritious stew is vegan and gluten-free friendly. It's great for batch cooking and meal prepping as it keeps well and can be used over a few days. Recipe from Instant Pot Eats.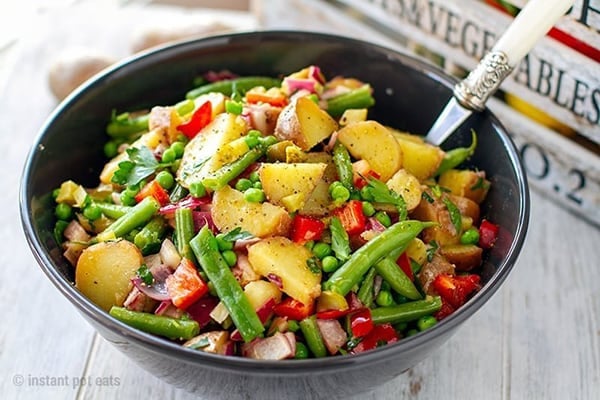 You can make this ahead to save time. Cooked potatoes and green beans will last well in the refrigerator and the onion mustard dressing is even better when made a day earlier. All you need to do to finish the salad is dice up the rest of the fresh ingredients and toss everything together.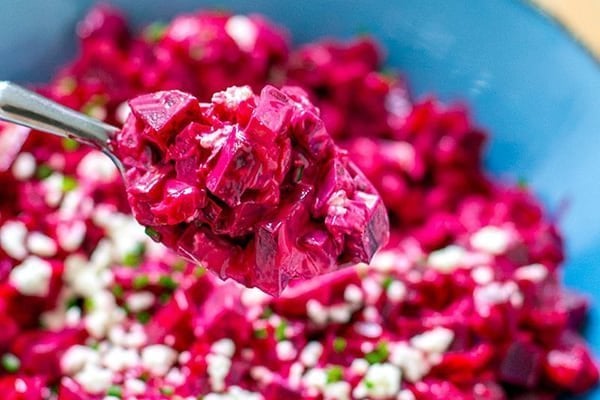 These Instant Pot creamed beets make a perfect side dish or served as a vegetarian main dish. Similarly to creamed spinach, this recipe features cooked diced beets (we used the Instant Pot for that), softened onions, garlic, and heavy cream and it's all topped off with a little sharp feta and chives. This dish is vegetarian, gluten-free and can be made dairy-free and vegan if you like.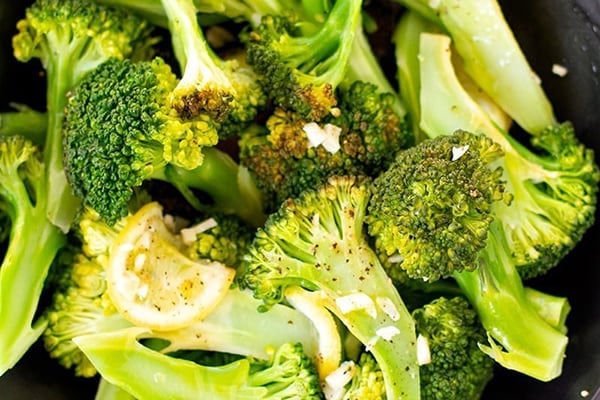 This recipe for Instant Pot broccoli is quick and easy making it a great side dish when you have no time. Steamed with lemon and garlic and drizzled with a little olive oil, it's nutrient-dense and deliciously simple. It's gluten-free, vegan, keto, paleo and Whole30 friendly.
This vegan cauliflower queso may be dairy-free, but it's so rich and creamy that you won't even realize that it's actually healthy. Great appetizer dip with some veggies to keep hungry stomachs at bay until dinner is ready. Recipe from Tasting Page.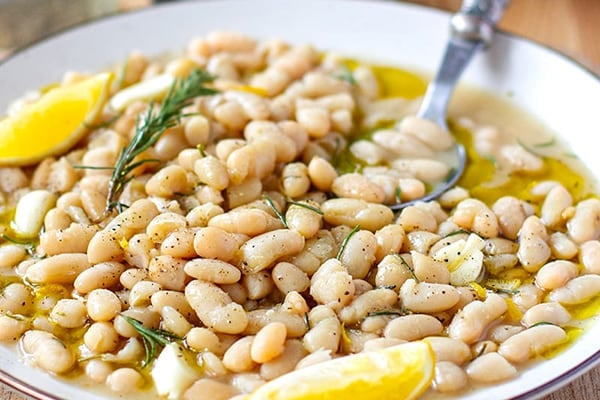 Hearty, flavorful, and nutritious, these Instant Pot white beans with rosemary, garlic and olive oil are the perfect example of healthy Mediterranean cuisine. It's gluten-free, vegan-friendly. Weight Watchers: 7 Smart Points (green) or 6 points without olive oil. Recipe from Instant Pot Eats.
---
INSTANT POT VEGAN DESSERTS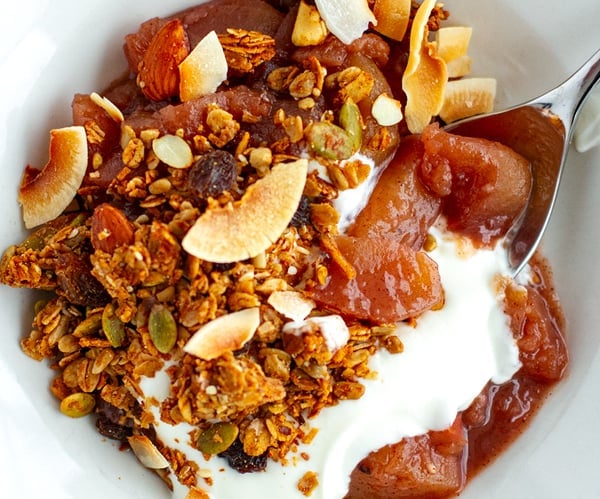 Instant Pot stewed apples in mulled wine. It's exactly as it sounds – apples stewed with brown sugar in red wine and spices – resulting in soft, sweet, spiced, and slightly boozy-flavored fruit (but not alcoholic!). You can serve these pressure cooked apples as a dessert with delicious vanilla ice cream. Recipe from Instant Pot Eats.
These Instant Pot Brownies are fudgy, moist, and full of flavour. They are the Vegan Pumpkin Brownies you need to make to celebrate pumpkin season before it's gone. Recipe from Recipes from a Pantry.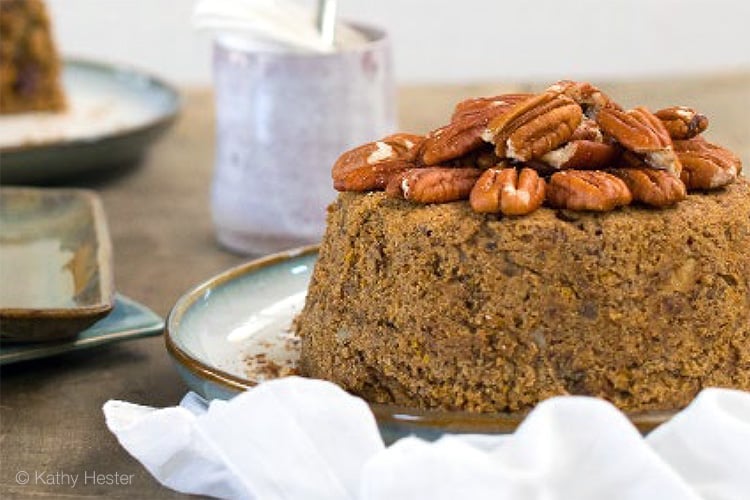 This beautiful orange spice cake is from The Ultimate Vegan Cookbook for Your Instant Pot by Kathy Hester. It is super moist because it's steamed and will remind you of an English pudding. Perfect with a cup of tea while catching up with some friends.
This vegan chocolate cake is so versatile and screams decadence. It's moist, fluffy and soft. No one will believe it's egg-free and dairy-free. Recipe from Carve Your Craving.
Instant Pot helps keep things simple, easy and fast so that you can spend more time together. Enjoying time with family and friends is what memories are made of. These nutritious recipes will help everyone stay healthy and keep the memories going.