These Instant Pot creamed beets make a perfect side dish (especially for Thanksgiving or Christmas) and can also be served as a vegetarian main dish. Similarly to creamed spinach, this recipe features cooked diced beets (we used the Instant Pot for that), softened onions, garlic, and heavy cream and it's all topped off with a little sharp feta and chives. This dish is vegetarian, gluten-free and can be made dairy-free and vegan if you like.
---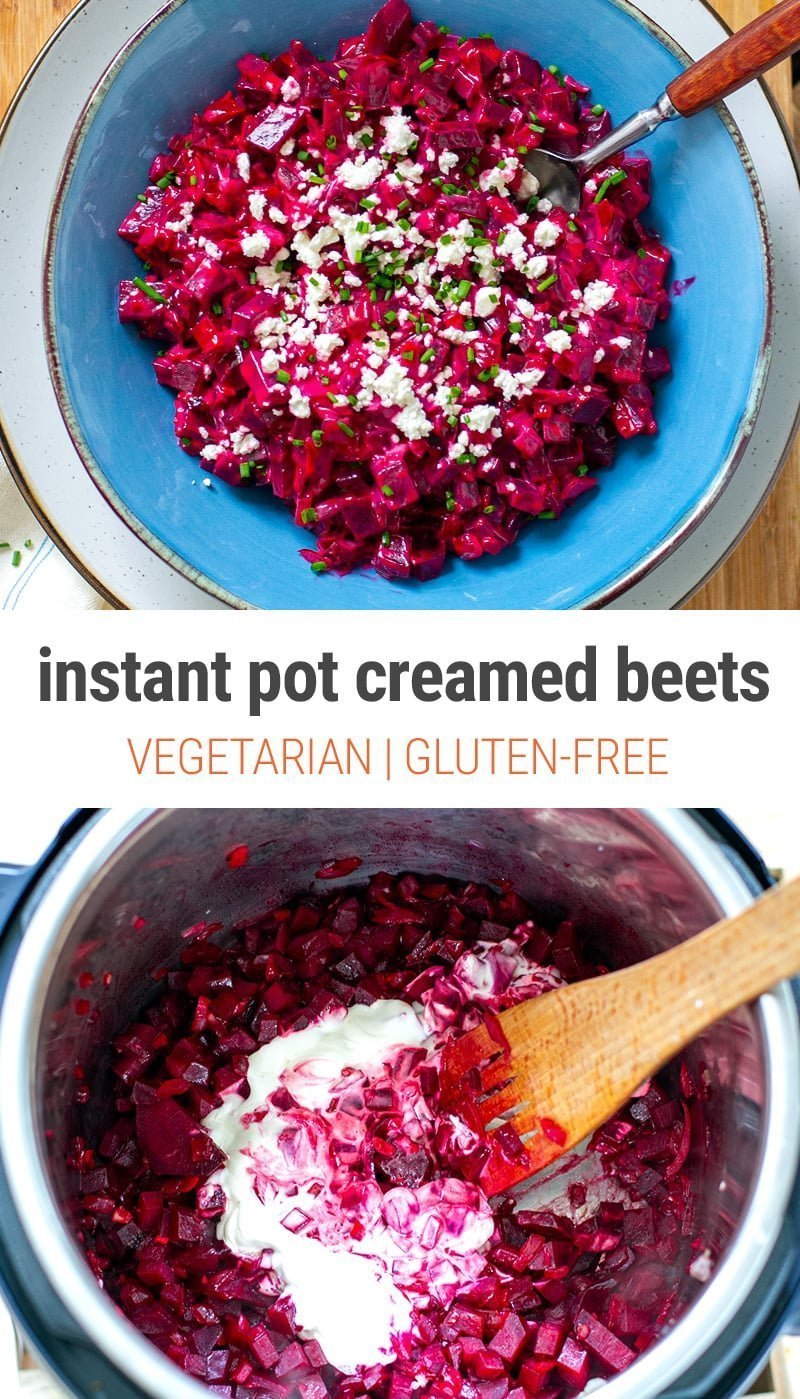 Forget creamed spinach! This season we're all about making Instant Pot creamed beets. The pressure cooker is perfect for making this dish from scratch using fresh, raw beets. It's a nutritious side dish that can be served with your weeknight dinner, Sunday roast, or added to your festive menu plan.
Cooking beets in Instant Pot
While you could use canned beets for this recipe, we love the idea of preparing our own beets with the Instant Pot. Using the pressure cooker allows you to steam the beets in a shorter time compared to stove-top and locks in more nutrients than boiling the beets.
If you boil any vegetable, a lot of the nutrients escape into the cooking water but cooking the beets on top of a trivet means that all those nutrients stay inside the root.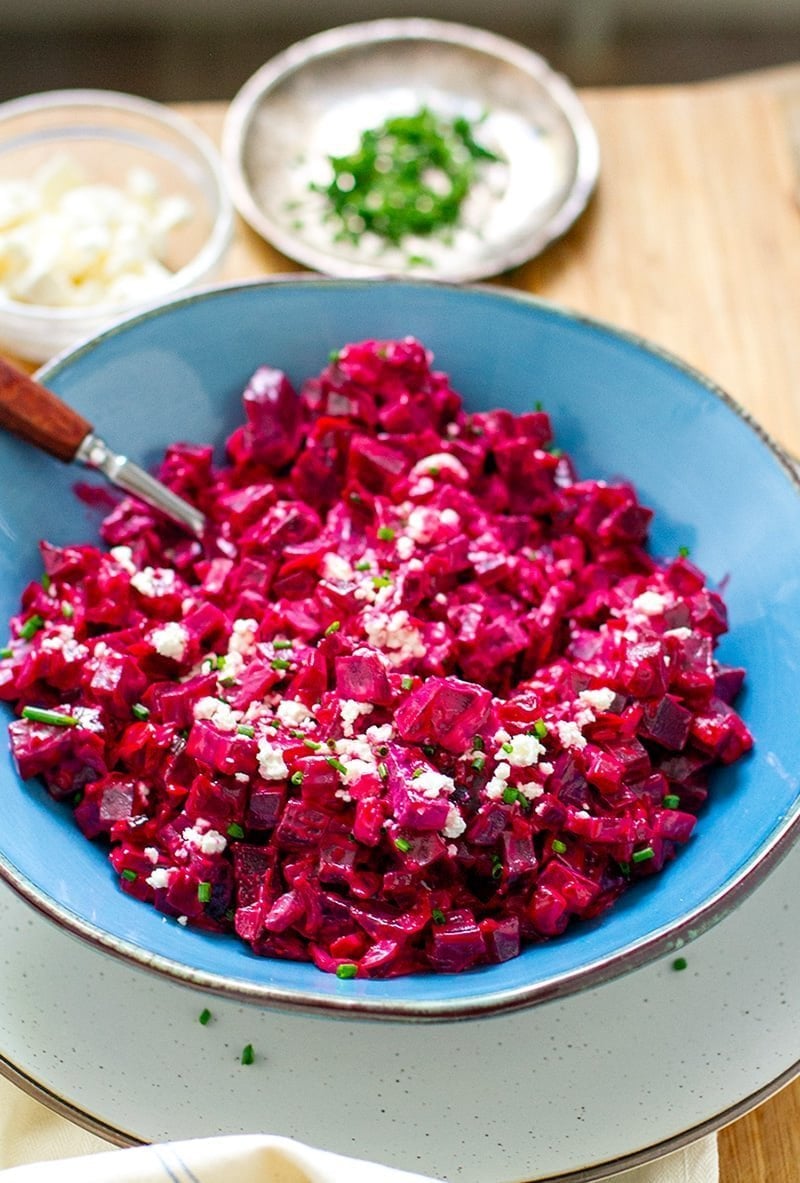 How to make Instant Pot creamed beets
If you've never cooked the beets in the Instant Pot, make sure to check out our detailed how-to post here. Full recipe and ingredients are below but here are some basic steps and how-to pics.
The first step is to trim the stems and leaves, which you can save for a soup, juice, stew or salad.
Place the beets on top of the trivet with some water on the bottom. Cook on HIGH pressure for about 15 minutes with natural pressure release or 20 minutes with quick release. This is for medium-sized beets and will give you semi-soft beets with a little crunch in the middle. Again, see our Instant Pot beets cooking guide for timing variations.
Once the beets are cooked, cool them and peel using gloves or under running cold water. For this recipe, we diced the beets into small cubes but you could also grate them, which works well in a creamed dish.
We finish the dish in the Instant Pot as well. Using the Sauté function, we cook off the onions with a little butter and garlic, add a few spices and seasonings and then stir the beets together with cream and lemon juice. Super simple yet so delicious!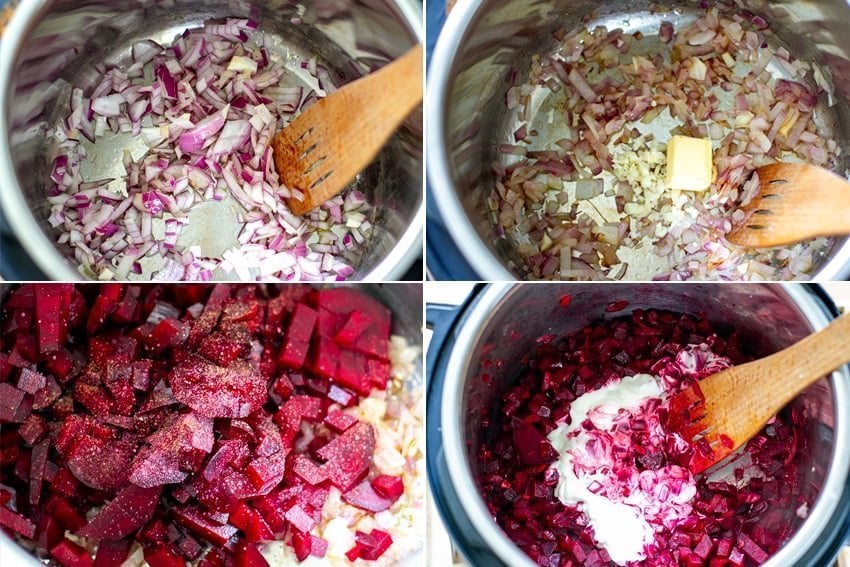 How amazing is the color of these creamed beets? Seriously, it's such a beautiful dish and is always a crowd-pleaser. You can use coconut cream or another dairy-free cream to make a vegan version of this dish.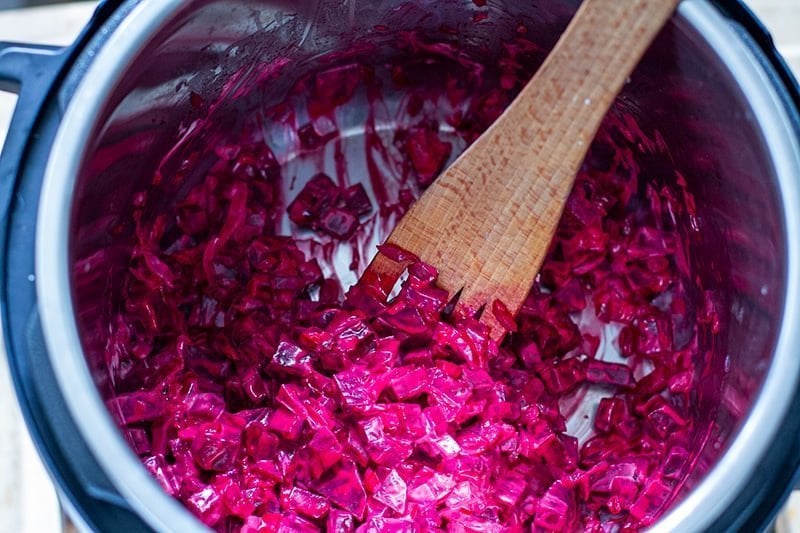 What to serve creamed beets with
We think that creamed beets should ideally be served as a side dish. However, it could also be an amazing plant-based main served alongside brown or white rice, quinoa or couscous.
As a side dish, creamed beets go really well lamb roast, grilled chicken or beef, meatloaf or as a side on a festive table. It's particularly fabulous for Thanksgiving.
You can add creamed beets to burgers and leftovers are delicious in wraps and sandwiches.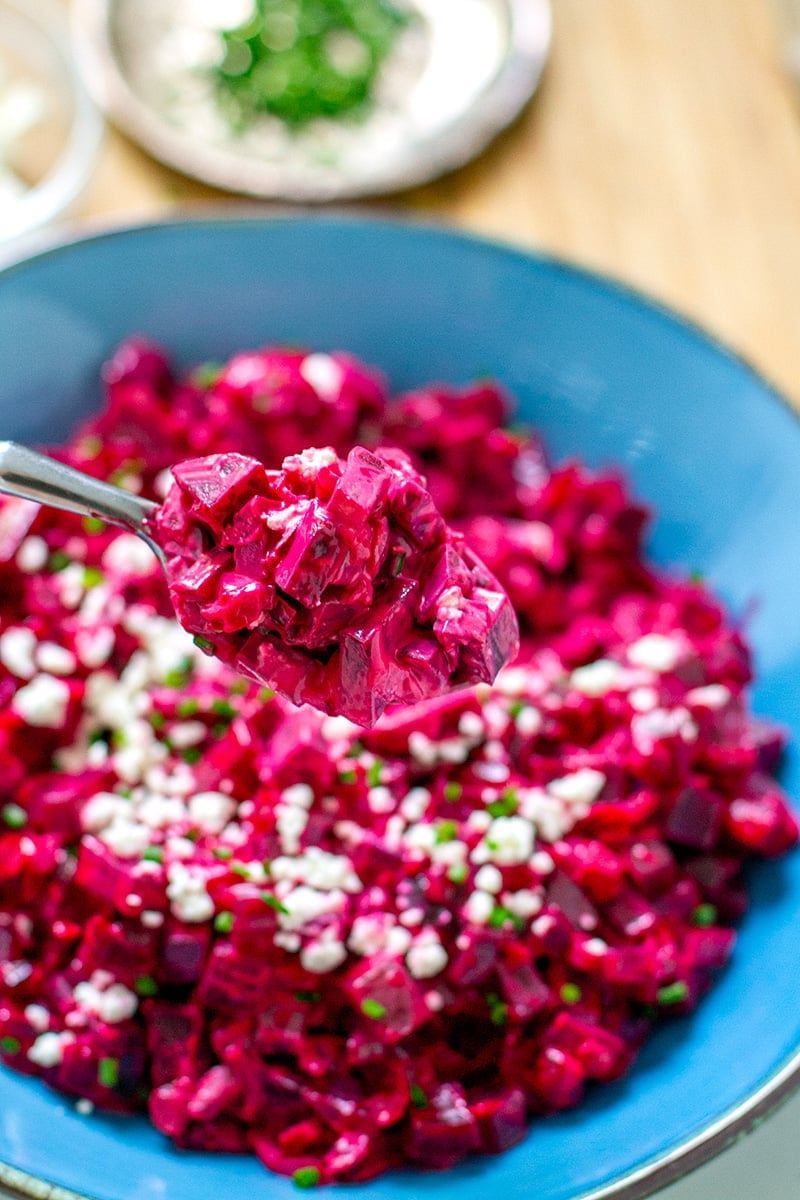 MORE INSTANT POT BEETROOT RECIPES
Instant Pot Beet Risotto With Thyme & Goat's Cheese
Instant Pot Beet Soup (Borscht)
Instant Pot Beet Salad from Yang's Nourishing Kitchen
Print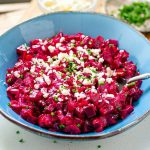 Instant Pot Creamed Beets
Author:

Prep Time:

15 minutes

Cook Time:

40 minutes

Total Time:

55 minutes

Yield:

4-6

Category:

Side

Method:

Instant Pot

Cuisine:

European