We've collected the ultimate Thanksgiving Instant Pot recipes for pressure cooking omnivores. Our list includes savoury main dishes, sides, and desserts. We have a whole turkey and pumpkin pie on the menu!
---
It's the time of year when you can eat whatever you want with a fabulous great excuse. Simply put weight loss diets and guilt to the side and just enjoy. Appreciate time with family and the layers of love it took to make these traditional dishes. Savor the flavors of real butter, brown sugar and other luxury ingredients that make eating food an experience.
Looking for something more plant-based and dairy-free? We have put together the best vegan Thanksgiving Instant Pot recipes here and even more vegan festive sides here.
---
INSTANT POT THANKSGIVING MAINS
Let's start with the star of the meal. Most people make a big turkey for Thanksgiving. If you've used your pressure cooker for long enough, you know it's fantastic for cutting back time to cook large chunks of meat, including but not limited to entire birds. Yes, it's possible! You can cook a whole turkey in the Instant Pot. Using an 8qt model of the Instant Pot, it can handle an 8-9lb turkey on a trivet. Recipe from Bacon Is Magic
Check out Instant Pot Turkey & Gravy from The Novice Chef Blog
Check out Instant Pot Sausage Stuffing from Sweet and Savory By Shinee

Sometimes you just don't want to fix a whole turkey. So why follow a tradition just for a picturesque table? The turkey breast comes out juicy and flavorful with pan drippings that are perfect for gravy. If you want crispy skin then just place the turkey breast under the broiler for a few minutes. Recipe from Crunchy Creamy Sweet
Check out What to do with Leftover Turkey.
Maybe your family does a ham instead of turkey on Thanksgiving. The same rule still applies here: you can use your Instant Pot for that. Case in point? This beautiful Instant Pot ham is juicy, flavorful and so easy to make in the pressure cooker in under 30 minutes. It's made with a delicious low-carb, Keto, Paleo glaze. Recipe from Life Made Sweeter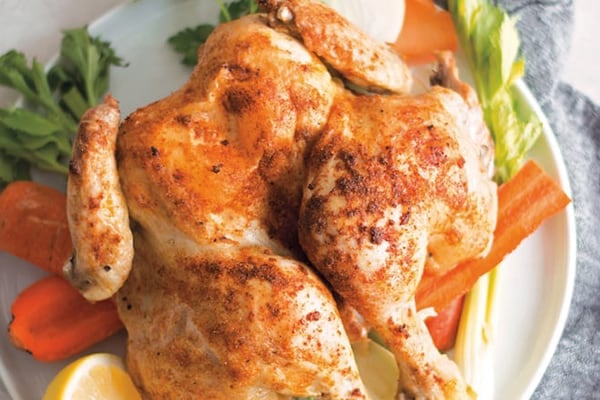 When you aren't a fan of turkey but still want to have a bird on the table, try a whole chicken instead. Serve with green beans, lemon garlic asparagus or baby potatoes for a complete meal. Check out more tasty, juicy Instant Pot whole chicken recipes here.
You might also like our Instant Pot Chicken Pot Pie (Two Ways)
Here is something completely different from tradition but will definitely be a celebration with each bite. Bacon always takes food to the next level. Recipe from Instant Pot Eats
---
INSTANT POT THANKSGIVING SIDES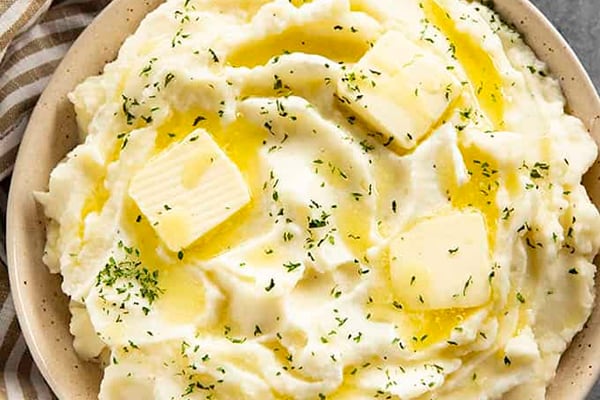 Instant Pot Mashed Potatoes are rich and creamy. Making mashed potatoes has never been quicker or tasted better than these Instant Pot mashed potatoes ready in 20 minutes! Recipe from The Salty Marshmallow
Check out Perfect Pressure Cooker Cauliflower Rice from Low Carb Delish
These mashed sweet potatoes are just heaven! Pure buttery, garlicky heaven that you can eat every day for breakfast, lunch and dinner. This dish has a permanent spot on any Thanksgiving and Christmas dinner. Recipe from Yellow Thyme.
A simple, paleo-friendly side dish made entirely in the pressure cooker, saving you valuable oven space. No pre-boiling of the potatoes required! Recipe from Life Made Sweeter
Do you take your candied sweet potatoes with or without marshmallows? Either way, this pressure cooker recipe only took 4 minutes to cook! Recipe from Make It Love It
It all starts by sauteing the bacon to take this southern Instant Pot Green Beans and Potatoes side dish to the next level. Recipe from Oh Sweet Basil
Check out Instant Pot Orange Ginger Carrots from Meatloaf and Melodrama
This sauce is too good to only be with turkey. Think pancakes, sandwiches, cream cheese with crackers, buttermilk biscuits, swirled into oatmeal, over vanilla ice cream. Recipe from Mel's Kitchen Cafe
Comfort food must-have for any table with kids. Now just sprinkle some bacon on top for the adults at the table. Recipe from Deliciously Sprinkled
Check out Instant Pot Spicy Creamed Corn from Went There 8 This
Try these simple Instant Pot green beans with melted butter, sea salt and cracked pepper for a perfect hit of nutrients and fiber. The key to using the pressure cooker for lightly cooked, steamed-like veggies is to use LOW pressure and this is where the adjustability of the Instant Pot is so useful. Recipe from Instant Pot Eats
Check out Instant Pot Cornbread With REal Crispy Crust from Imagelicious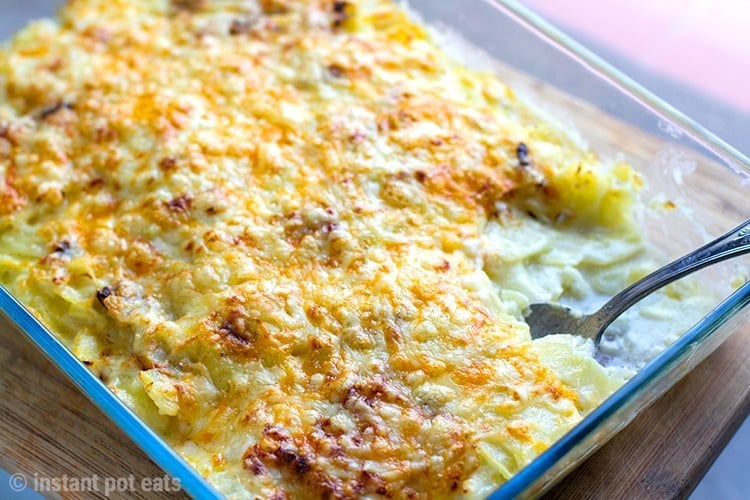 When you don't have room in the oven, but don't have time for the slow cooker, the Instant Pot is an excellent solution. You can use cheddar cheese, or a combination of cheddar and mozzarella or even Monterey Jack or Colby cheese, basically cheese is good no matter what.
Check out Instant Pot Polenta from Feasting At Home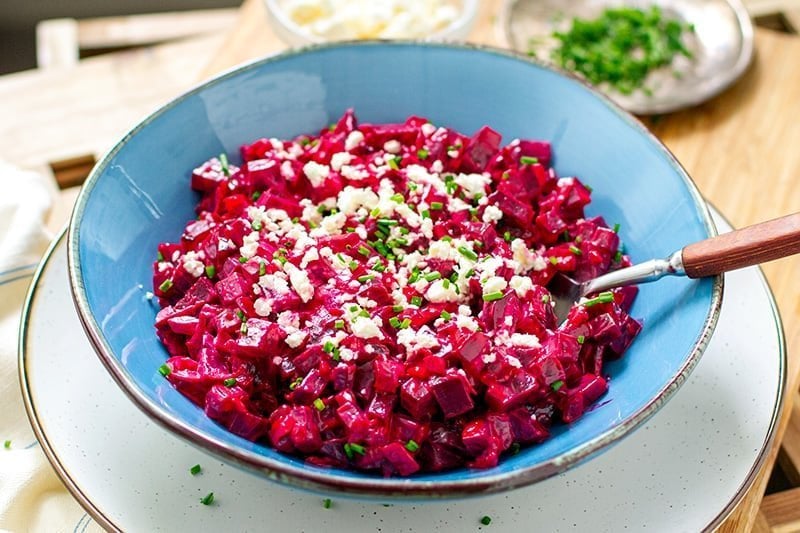 These Instant Pot creamed beets make a perfect side dish (especially for Thanksgiving or Christmas) and can also be served as a vegetarian main dish. Similarly to creamed spinach, this recipe features cooked diced beets (we used the Instant Pot for that), softened onions, garlic, and heavy cream and it's all topped off with a little sharp feta and chives.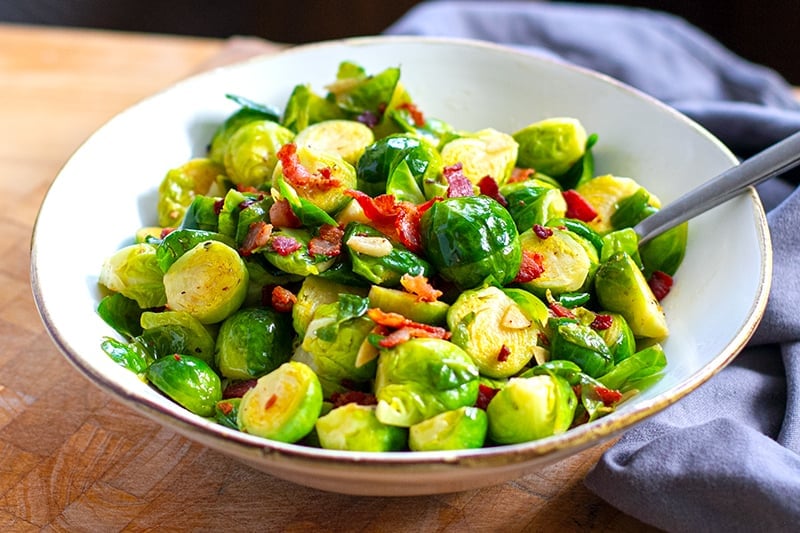 With only a handful of ingredients, this recipe for Instant Pot Brussels sprouts with crispy bacon and garlic is a must-have not just for Christmas or Thanksgiving, but for any day of the week. These mini cabbages have a nutty, sweet flavour and make for a great side dish to any mains.
Smoky Pecan Brussels Sprouts: a little bit sweet, a little bit smoky, with a nutty crunch. Only four ingredients and only take about 15 minutes to make! Recipe from Glue & Glitter.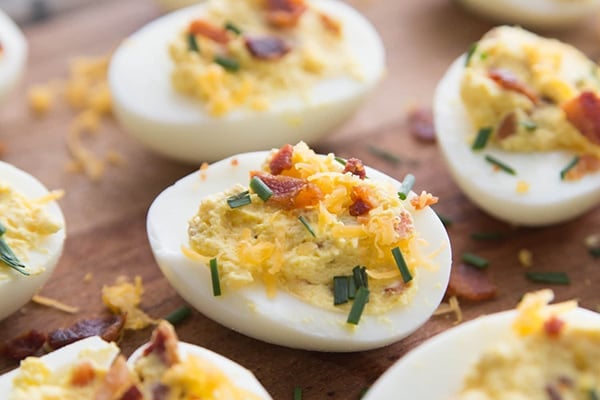 A fun and festive twist on the classic party appetizer. They are perfect for the 21 Day Fix, Weight Watchers, and anyone following a Keto or low carb plan. This deviled egg mixture has bacon, cheese, mayo, greek yoghurt, salt, and a tiny bit of mustard. Then topped again with extra bacon, chives, and cheddar because why not. Recipe from Confessions Of A Fit Foodie
---
INSTANT POT THANKSGIVING DESSERTS
Some traditions are simply delicious and pumpkin season doesn't seem to last long enough. So take advantage while it's in the stores. Recipe from Pressure Cooking Today
Checkout Grain-Free Instant Pot Pumpkin Pie from Instant Loss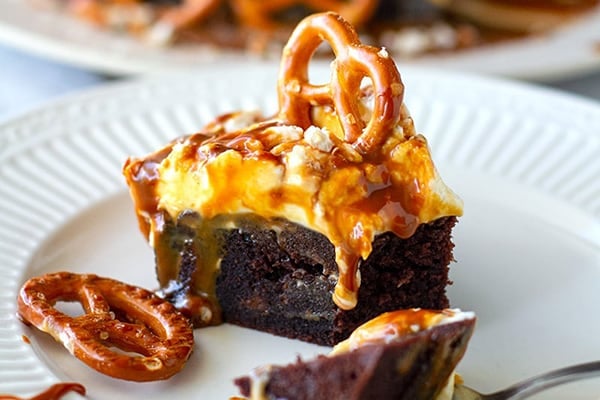 Incredible Instant Pot chocolate cake with salted caramel and pretzels sounds more indulgent then pie, right? An absolute crowd-pleaser. Recipe from Instant Pot Eats
Some people like pumpkin, but others like apple. This rustic crisp is the perfect way to end the evening with a fun addition of fennel to really embrace that seasonal produce. Your foodie friends and family will adore this dish, and you can feel good about serving it because it's free of grains and refined sugar. Nobody will know, and you'll be doing everyone a favor serving up a little something healthy after that huge meal! Recipe from Recipes to Nourish.
---
SAVE THIS ROUNDUP TO PINTEREST