Going plant-based this holiday season or have relatives following a vegan diet? We've collected the best Instant Pot Thanksgiving vegan sides to make your prep easy peasy and stress-free, so you can spend more time with your loved ones. These are so tasty, you'll want to serve them to your omnivore guests as well.
---
When the kitchen is full of aromas and the oven is filled to the max, your Instant Pot can be a second pair of hands in the kitchen for quick easy side dishes. Instant Pot recipes that are dump and go, take little prep time, and pressurize in no time can turn your holiday kitchen from a chaotic disaster into a well-oiled machine.
In today's roundup, we wanted to focus on vegan Instant Pot side dishes for Thanksgiving. Many of these dishes could also be served for Christmas or other holidays you celebrate. You will find a few starters and some recipes could easily be centrepiece main dishes.
Enjoy time with family instead of being stuck watching the stove and juggling recipes. Make sure to also check out our round-up of best vegan Thanksgiving recipes, including appetizers, mains and desserts.
This hearty Instant Pot shepherd's pie is made with nutritious lentils, mushrooms and vegetables, then topped with creamy mashed potatoes. Making this dish vegan and gluten-free friendly. You can add sun-dried tomatoes to the filling for that extra rich sweet and umami flavor. Recipe from Instant Pot Eats.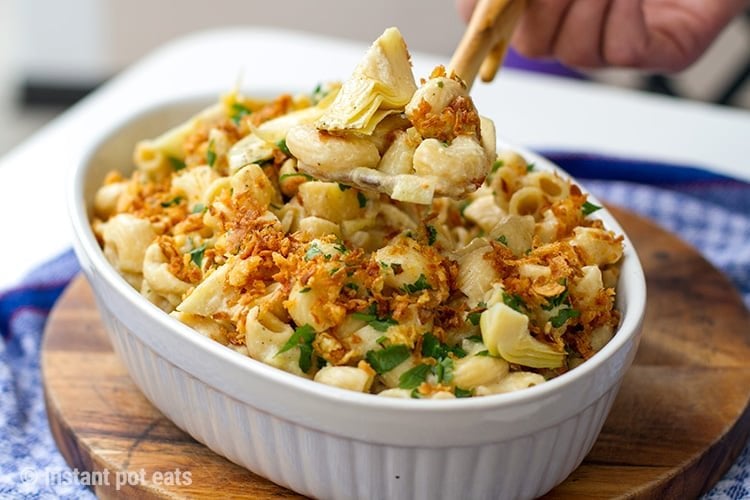 This Instant Pot mac and cheese is made with dairy-free cashew sauce and marinated artichokes and is velvety, creamy and full of flavour. Enjoy this healthier, lighter version as a centrepiece or as a side dish. Recipe from Instant Pot Eats.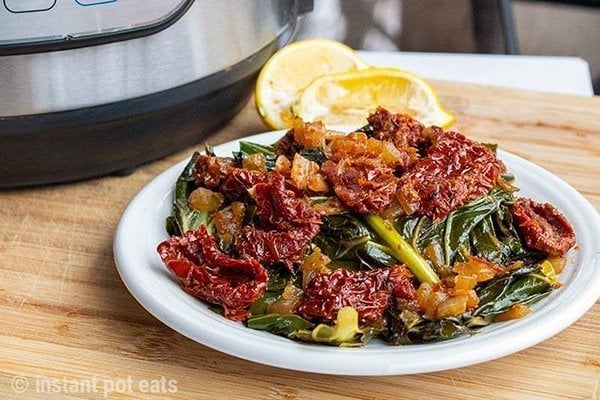 We're swapping bacon for sun-dried tomatoes to add saltiness (and sweetness) in this vegan-friendly versions of Instant Pot collard greens. This delicious side dish is also gluten-free, Whole30 and paleo-friendly. It's a lovely twist that turns this classic dish into a plant-based version and we think it can give the bacon version a run for its money. Recipe from Instant Pot Eats.
Carrots and sweet potatoes are full of vitamins and antioxidants, and their sweet flesh is perfect for making gorgeous soups and stews. We particularly love combining these vegetables with aromatic lemongrass and cilantro, for that lovely exotic flavor twist. Made with coconut milk, this soup is vegan and dairy-free and is also suitable to those following a Whole30, paleo or gluten-free diets. Recipe from Instant Pot Eats.
---
WATCH OUR TOP 10 VEGETARIAN VIDEO RECIPES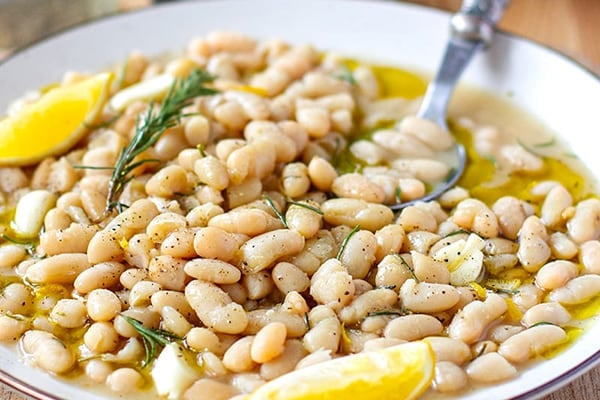 Hearty, flavorful, and nutritious, these Instant Pot white beans with rosemary, garlic and olive oil are the perfect example of healthy Mediterranean cuisine. It's gluten-free, vegan-friendly. Weight Watchers: 7 Smart Points (green) or 6 points without olive oil. Recipe from Instant Pot Eats.
This Instant Pot wild rice pilaf with mushrooms and pine nuts is the perfect low-effort side dish for your holiday table! Cook it ahead in the Instant Pot and re-warm when you're ready to serve. Gluten-free and vegan recipe from Sweet Peas & Saffron.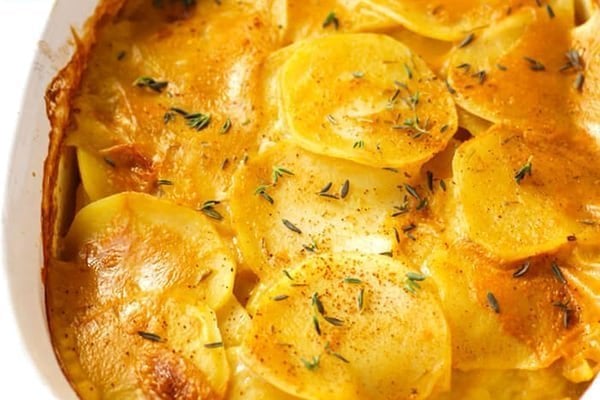 They're tasty, filling, low in fat, budget-friendly, and so incredibly delicious. These vegan scalloped potatoes are also oil-free, soy-free, and gluten-free. Perfect as a side dish or a main. Recipe from Karissa's Vegan Kitchen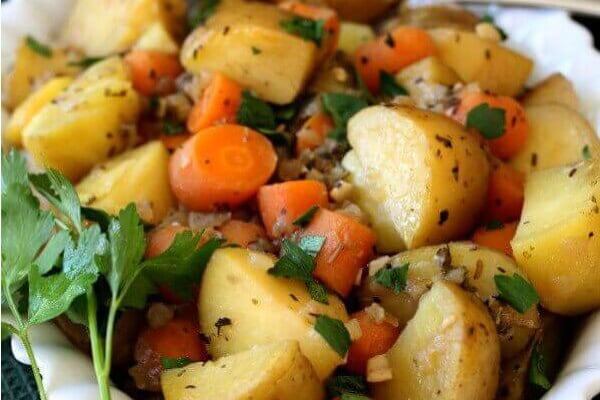 Here is a recipe that would probably take 45 minutes in the oven and would heat up the house while everything was baking. This root vegetable medley is packed full of goodness. Recipe from Vegan In The Freezer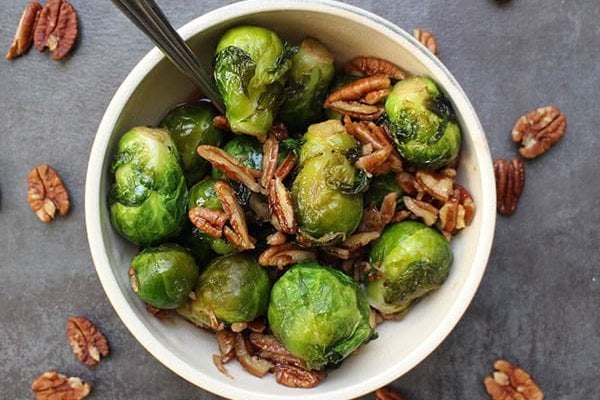 Brussels sprouts are very popular for Thanksgiving and this recipe has a little twist. A little bit sweet, a little bit smoky, with a nutty crunch, these Instant Pot cooked Brussels sprouts only take about 15 minutes to make with only four ingredients. Recipe from Glue and Glitter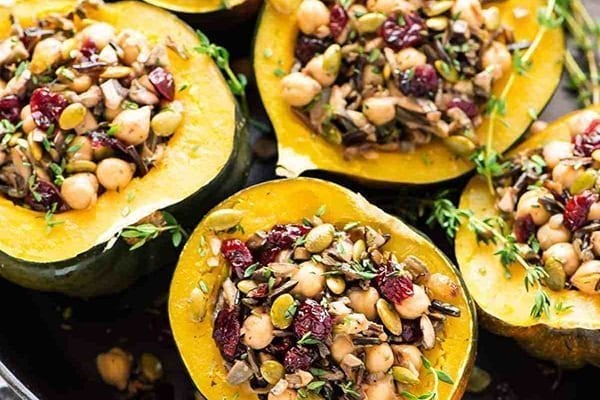 This stuffed acorn squash tastes unique enough to serve as a side at a special meal but is healthy and hearty enough to stand on its own for a light lunch or dinner. It's packed with cozy flavors and ingredients such as cranberries, nutty wild rice, and thyme. Recipe from Well Plated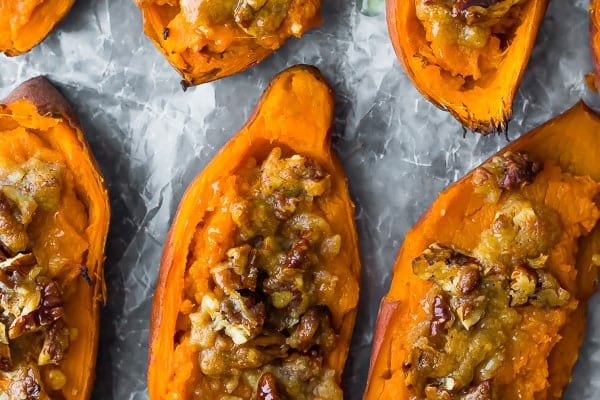 Twice-baked sweet potato casserole is a delicious, single-serve side dish for your table. You can prep them ahead and reheat before serving. Gluten-free, paleo and vegan options! Recipe from Sweet Peas and Saffron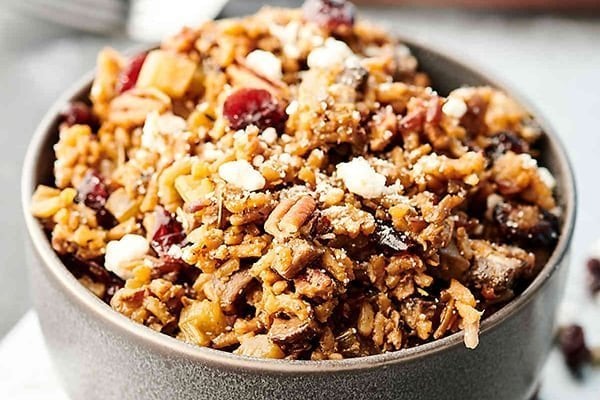 Instant Pot wild rice stuffing is loaded with onion, celery, mushrooms, garlic, sage, thyme, rosemary, balsamic, cranberries, pecans, goat cheese, and parmesan! Quick and delicious! Perfect side dish. Recipe from Show Me The Yummy
This rutabaga (swede) gratin makes a great alternative to the regular mashed potatoes! It's slightly sweet, spiced with ginger, white pepper, and cinnamon, and topped with crispy breadcrumbs! Recipe from Full of Plants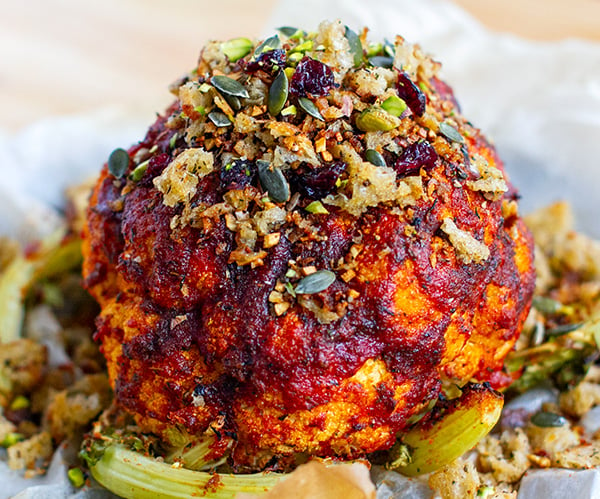 A whole head of cauliflower is perfectly pressure cooked with a delicious spice rub, then finished with a sweetened glaze and garlic, thyme bread crumbs. It's beautiful, impressive, festive and easy to make. Serve it as a plant-based, vegetarian main or as a side for Thanksgiving or Christmas.
Khichdi or Kitchari is dal and rice risotto-like preparation that usually is very lightly spiced and served as a light meal to give the tummy a break with a simple nourishing meal. Khichdi is generally overcooked to be more of a mash for easy digestion. You can add different spices, some vegetables, and tomato to make it a hearty meal. Recipe from Vegan Richa.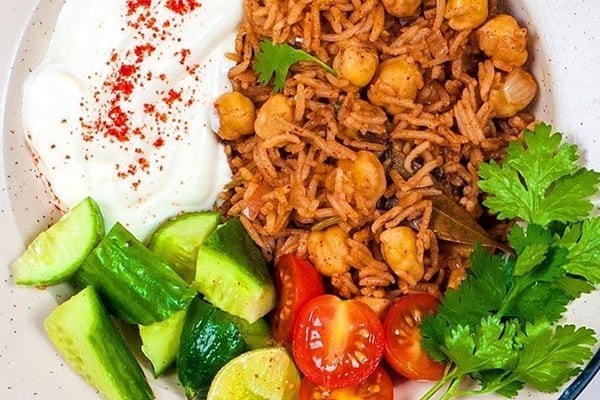 This healthy and delicious Instant Pot rice pilaf is made with protein-rich chickpeas (garbanzo beans), warm spices and cilantro for a perfect vegetarian and gluten-free main or side. This is a guest recipe from Chhavi of Yellow Thyme food blog. Get the recipe from Instant Pot Eats.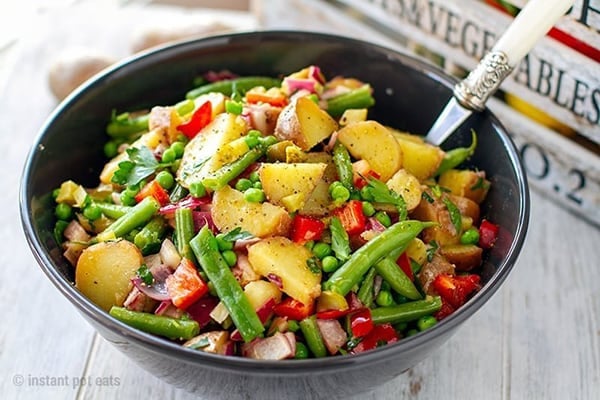 You can make this ahead to save time. Cooked potatoes and green beans will last well in the refrigerator and the onion mustard dressing is even better when made a day earlier. All you need to do to finish the salad is dice up the rest of the fresh ingredients and toss everything together. Recipe from Instant Pot Eats.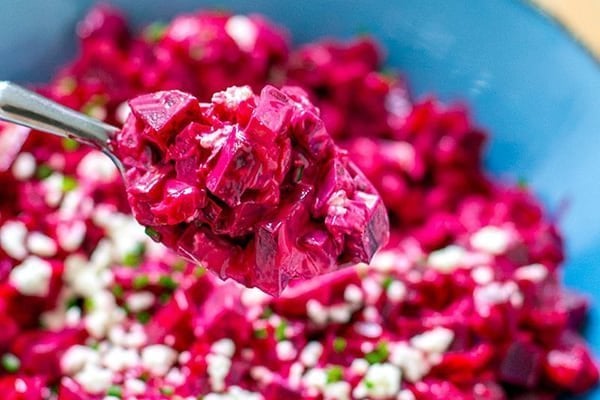 These Instant Pot creamed beets make a perfect side dish or served as a vegetarian main dish. Similarly to creamed spinach, this recipe features cooked diced beets (we used the Instant Pot for that), softened onions, garlic, and heavy cream and it's all topped off with a little sharp feta and chives. For a vegan version, simply swap the cream for dairy-free alternative or coconut cream. Recipe from Instant Pot Eats.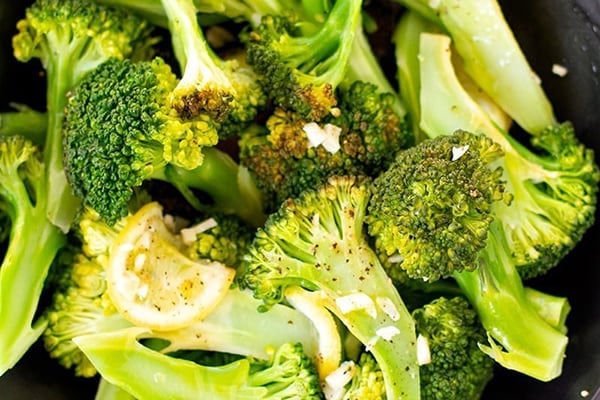 This recipe for Instant Pot broccoli is quick and easy making it a great side dish when you have no time. Steamed with lemon and garlic and drizzled with a little olive oil, it's nutrient-dense and deliciously simple. It's gluten-free, vegan, keto, paleo and Whole30 friendly. Recipe from Instant Pot Eats.
Related: 25 Christmas Instant Pot Recipes (With Vegan & Gluten-Free Options)
---
SAVE VEGAN INSTANT POT RECIPES TO PINTEREST