We've collected 25 Christmas Instant Pot recipes to help you create a delicious menu for your family and friends. From appetizers to sides, to main dishes, to desserts, we've got it all for you! We have options for vegan and gluten-free/paleo dishes too.
---

When it comes to the holiday season, one thing we can all agree on is that food is something everyone is most excited about. Our favorite comfort dishes and tasty drinks make their annual appearance and it's probably one of the few times that you don't have to feel guilty about eating them. At least that's what we tell ourselves.
But, with big appetites comes the stress of festive menu planning, shopping and preparing all those delicious holiday dishes. One thing we're thankful for during this season is the Instant Pot because it can really lighten the load when it comes to Christmas meal prep. For us, it acts as an additional stove or oven, so we can have a few dishes on the go at the same time.
To help you with festive menu planning and cooking, we've put together a few essential Christmas recipes you can make using the Instant Pot. Perhaps you only make one thing from this list, but we hope that you can try a dish or a drink from each of the categories as many of them can be made ahead of time.
Oh, and we have included a few vegan and gluten-free/paleo-friendly options as well.
---
INSTANT POT APPETIZERS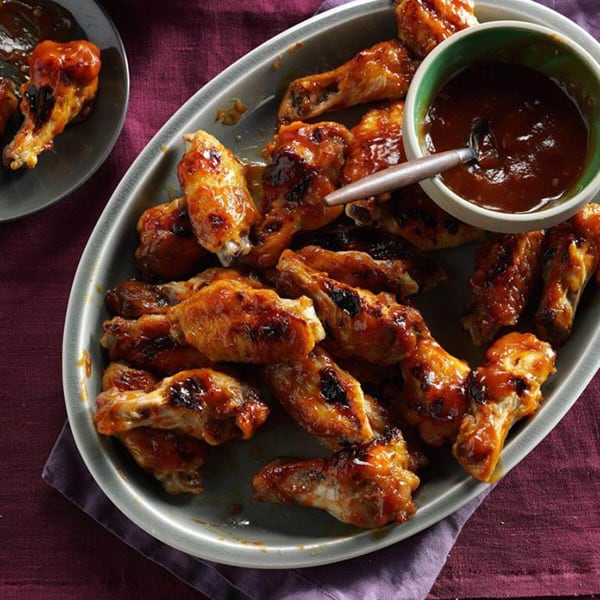 Eating wings is a messy thing. You want to be in a place you feel comfortable and in a judge-free zone. What better place than at home with your family. Recipe from Taste of Home.
These Instant Pot Swedish meatballs are cooked with mushrooms and broth for a tasty gravy finish created by Andrea Wyckoff of Forest & Fauna from The Paleo AIP Instant Pot Cookbook. This AIP, paleo, and keto-friendly recipe is sure to become an appetizer obsession.

Deviled eggs are a classic recipe and perfect for the holidays, potlucks, parties and other gatherings. They are inexpensive and made with ingredients you always have on hand. Making hard-boiled eggs in the Instant Pot will give you perfect, easier to peel eggs every time. For something a little different, you can also try our tasty Egg & Cheese Salad Dip (we make the eggs in the Instant Pot to save time and space). Recipe from Skinny Taste.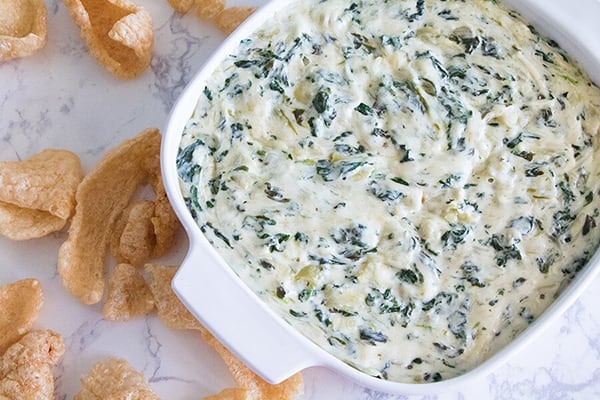 This artichoke and spinach dip is just like your favorite restaurant appetizer, but you can make this one at home in just a few minutes. It's great for gluten-free and KETO friendly diets. Recipe from Ruled.me.

If you've ever made Buffalo chicken dip in the Crock-Pot, you know what an amazing appetizer that is. This Instant Pot Buffalo ranch chicken dip is just as good, if not better, and it's so much faster than the slow cooker version! It's spicy, creamy, cheesy and a lot easier to eat than wings. Recipe from Meatloaf and Melodrama.
For a vegan dip option, try this Instant Pot dairy-free cheese sauce from Cook With Manali
---
INSTANT POT MAIN DISHES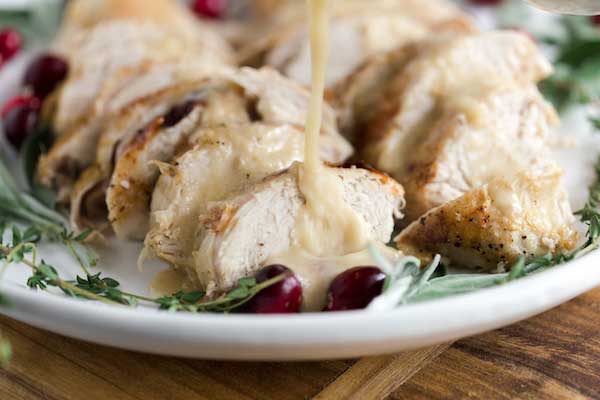 The perfect solution to a smaller dinner! It has an easy overnight marinade of butter, maple syrup, dijon mustard, and garlic, and is cooked in your Instant Pot in 35 minutes. Then you make the gravy right in the Instant Pot! Recipe from Greens & Chocolate.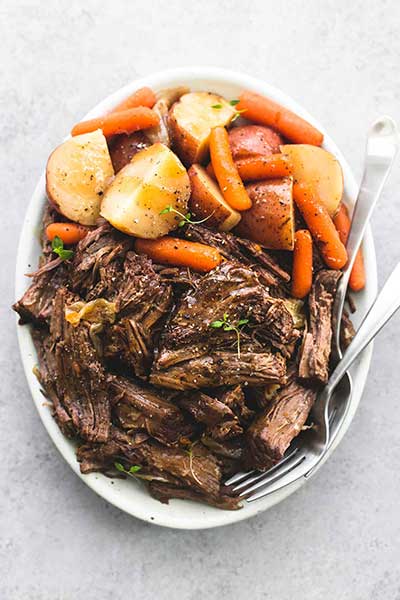 Tender Instant Pot Pot Roast and Potatoes with gravy makes the perfect family-friendly dinner. This easy one-pot dinner recipe will please everyone in the family this season. Recipe from Creme de la Crumb.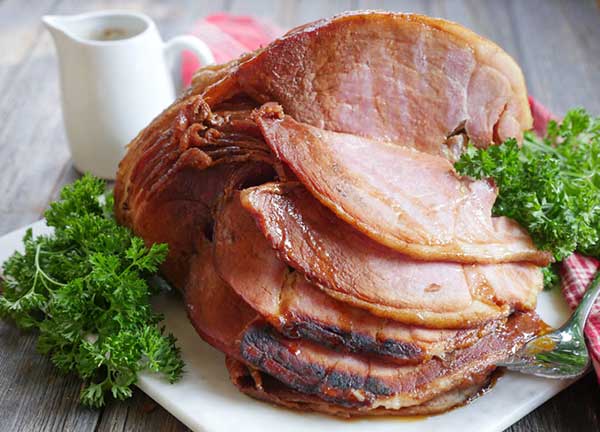 Forget using an oven, the Instant Pot makes for the juiciest and most flavorful ham you've ever had. Using an oven to heat ham can dry the ham out, especially a pre-sliced spiral cut ham. By using an Instant Pot, the flavors of the glaze infuse into the meat. Recipe from My Heart Beets.
Portobellos have a rich juicy, deep meaty texture that, although will never be mistaken for meat, can be equally satisfying to vegans and omnivores alike. This pot roast is made with portobellos, carrots, and potatoes, all cooked inside an Instant Pot for the ultimate easy meal. Recipe from My Darling Vegan.
For another vegan-friendly option, try our Instant Pot Lentil Shepherd's Pie
This hearty Instant Pot shepherd's pie is vegan and gluten-free friendly and is made with nutritious lentils, mushrooms, and vegetables, topped with creamy mashed potatoes. It's a perfect side dish for a balanced meal. Recipe from Instant Pot Eats.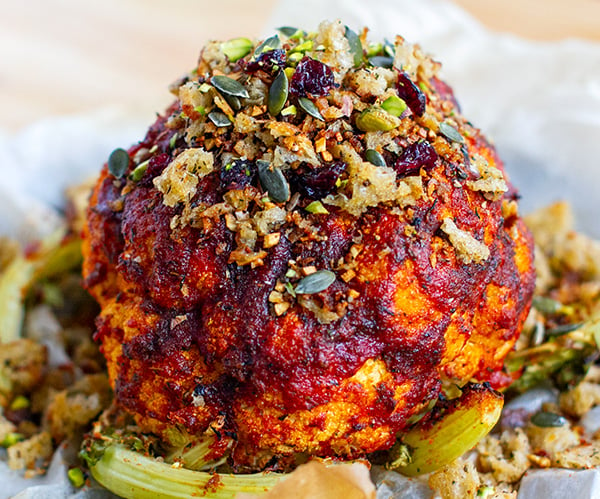 A whole head of cauliflower is perfectly pressure cooked with a delicious spice rub, then finished with a sweetened glaze and garlic, thyme bread crumbs. It's beautiful, impressive, festive and easy to make. Serve it as a plant-based, vegetarian main or as a side for Christmas.
---
INSTANT POT CHRISTMAS SIDES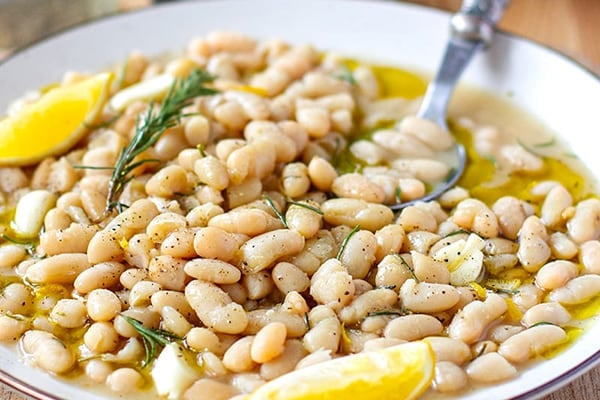 Hearty, flavorful, and nutritious, these Instant Pot white beans with rosemary, garlic and olive oil are the perfect example of healthy Mediterranean cuisine. It's gluten-free, vegan-friendly. Weight Watchers: 7 Smart Points (green) or 6 points without olive oil. Recipe from Instant Pot Eats.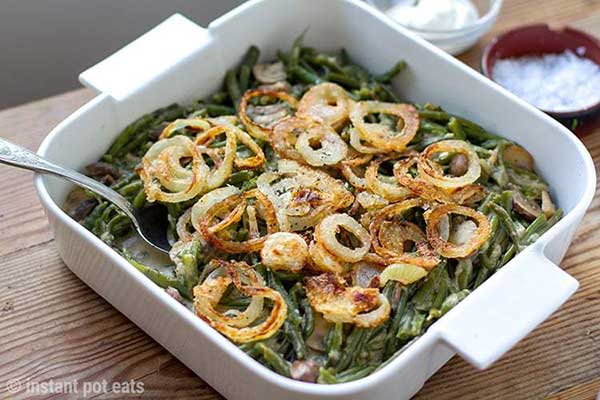 Don't fall into the trap of pre-made canned mushroom soup for the sauce. This delicious side dish is from scratch with whole ingredients. Homemade creamy mushroom sauce and crispy fried onions made with gluten-free flour (not in the Instant Pot!). It tastes so much better and is super easy. Recipe from Instant Pot Eats.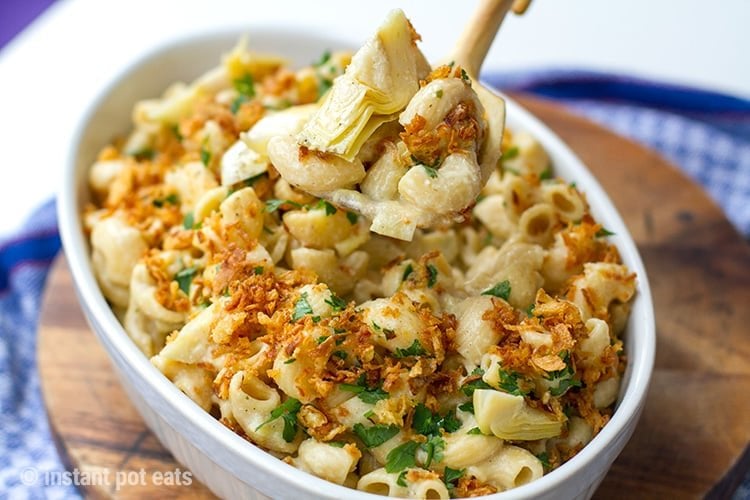 This creamy, yet dairy-free and vegan-friendly mac'n'cheese can be a side dish or the main dish – you decide! It's a real crowd pleaser and won't make your guests feel heavy or bloated from too much cheese. Recipe from Instant Pot Eats. You can also check out this recipe if you want a regular Instant Pot mac and cheese.

It's a desert disguised as a veggie side dish. But no one is going to complain about that. It's loaded up with marshmallows for sweetness and walnuts for some crunch. If scalloped potatoes are more your speed, make sure to check out our recipe for Instant Pot potatoes au gratin. Recipe from Zen & Spice.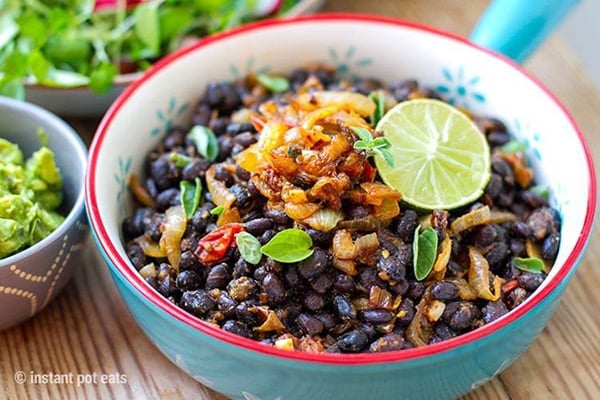 Black beans are great for meat-free cooking. These have a wonderful combination of sticky, fried onions, cherry tomatoes, garlic, and warm spices take plain ol' beans to the next level. Recipe from Instant Pot Eats (Vegan & GF).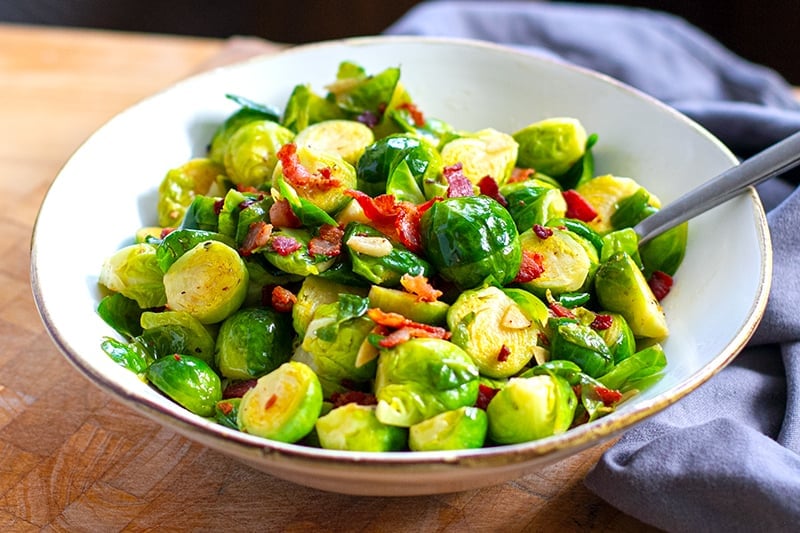 These Brussels sprouts are healthy, quick, easy and so amazingly tasty to balance out a heavy menu. You can make it with fresh or frozen, with bacon or sun-dried tomatoes for a vegetarian version. This recipe is Low Carb, Keto, Gluten-Free, Paleo and Whole30 friendly.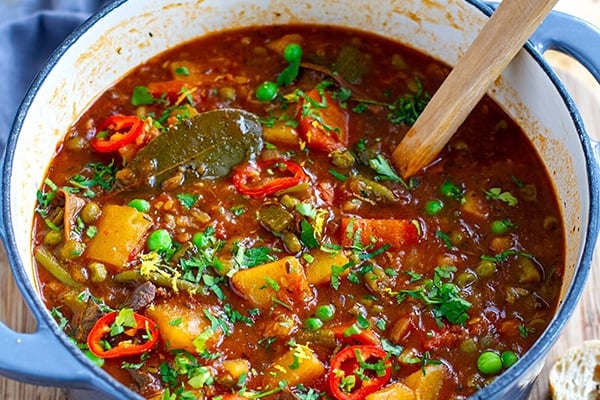 Made with almost 10 veggies and healthy ingredients, this nutritious stew is vegan and gluten-free friendly. It's great for batch cooking and meal prepping as it keeps well and can be used over a few days. Recipe from Instant Pot Eats.

Mushrooms can take a long time to cook down and brown in a pan for the right flavor. They cook faster under pressure. If you use less liquid in the dish, then they also brown and pick on a caramelized flavor under pressure which is perfect for gravy. Recipe from Vegan Richa.
For a regular chicken gravy with Instant Pot check out this recipe from Every Nook & Cranny. For a lovely Instant Pot cranberry sauce, check out this recipe (it's naturally sweetened, too).
---
INSTANT POT DESSERTS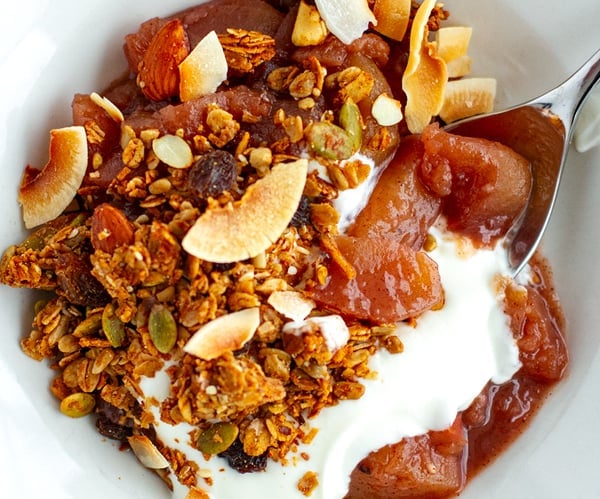 Instant Pot stewed apples in mulled wine. It's exactly as it sounds – apples stewed with brown sugar in red wine and spices – resulting in soft, sweet, spiced, and slightly boozy-flavored fruit (but not alcoholic!). You can serve these pressure cooked apples as a dessert with delicious vanilla ice cream. Recipe from Instant Pot Eats.
Why only have cranberry on the side when you can have it on top. Better yet on top of a ginger molasses cheesecake! Serves well on the dessert table next to the traditional pumpkin and pecan pie. Recipe from Kitschen Cat.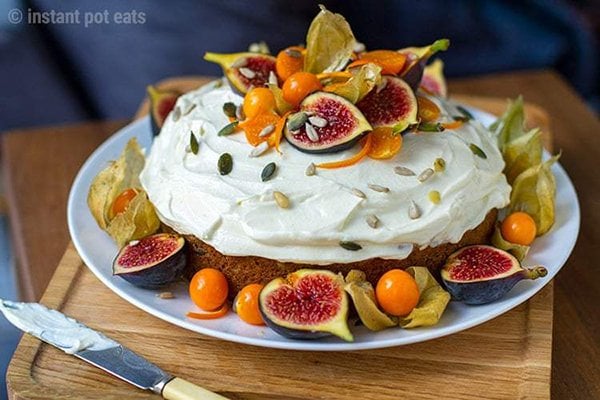 It's all about the presentation when it comes to impressing. This cake is decorated with figs and is nut-free. There's plenty of substitution options to make all your guest satisfied. Recipe from Instant Pot Eats.

Indulge in a creamy filling sweetened with brown sugar on a shortbread pecan crust with a decadent caramel topping studded with toasted pecans. This recipe is from the Instantly Sweet Cookbook. Get the recipe here on Instant Pot Eats.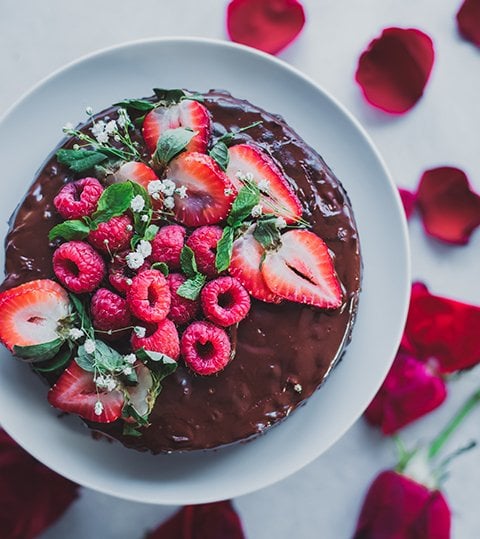 Look at this beauty with strawberries and raspberries garnishing the top with a hint of mint. The silky chocolate ganache shines and couldn't be easier with just two ingredients and five minutes. Recipe from Rainbow Plant Life.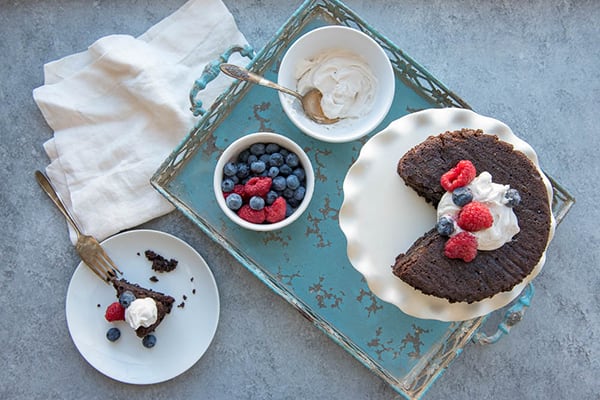 Why make a cake in an Instant Pot when you have an oven? Because your oven is already full of other things baking and you want a foolproof failsafe moist fudgy paleo chocolate cake you can rely on. Recipe from Thriving on Paleo.
For a dessert with the holiday spirit, make this fabulous Instant Pot eggnog cheesecake with gingersnap crust and caramel drizzle. Spiked with a little rum, cinnamon, and nutmeg, this pressure-cooked cheesecake is creamy and decadent, perfect with a little whipped cream or ice cream. Recipe from
Instant Pot Eats.
---
INSTANT POT HOLIDAY DRINKS
Mulled wine is the perfect winter's drink for a festive party or cozy get-together. This recipe will serve 12, but you can increase it for more. Since the spices in this recipe are divisible by three, and not two, when adding another bottle of wine (half recipe), err on the side of more, and not fewer spices. Recipe from Hip Cooking.
This homemade hot apple cider is made from fresh apples. Citrus and fall spices are added to it to make it a perfect spiced treat for a winter night. It's naturally vegetarian, vegan and gluten-free. Recipe from Curry Tail.
This rich, Real Food version of white hot chocolate is creamy and warming on a cold day. It is loaded with nourishing ingredients and extra protein. Enjoy it with someone you love! Recipe from Traditional Cooking School.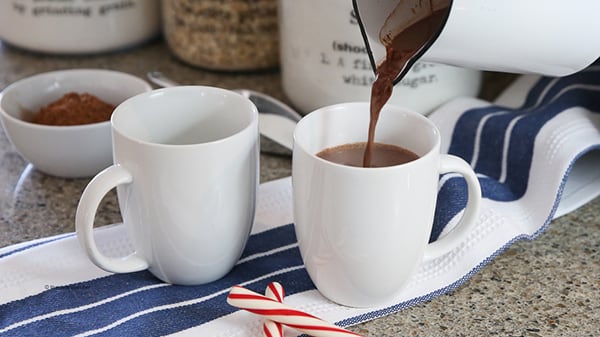 After a long day up in the mountains skiing or after an afternoon of playing in the snow or sledging in the backyard. It is so easy to make this hot chocolate drink to warm up your fingertips. Recipe from The Idea Room.

One of the most difficult things to do when changing eating habits, especially for kiddos is having to tell them they can no longer have something they enjoy eating. Hot chocolate is a tradition for winter for most family's hands down. Instead of cutting out this winter treat, here is a dairy-free substitute. Recipe from Instant Loss.
Make something special for everyone to enjoy without getting burnt out in the kitchen. Your time and energy are precious so with the help of your Instant Pot, more memories can be made with family and friends. Each moment should be cherished, so let's spend them wisely.