This is the ultimate comfort food recipe collection for Instant Pot to take you back home to warm memories and full bellies. Creamy pasta, chicken noodle soup, hearty stews, braised meats, and yummy desserts like a cobbler or crip will make everything cozy and familiar.
---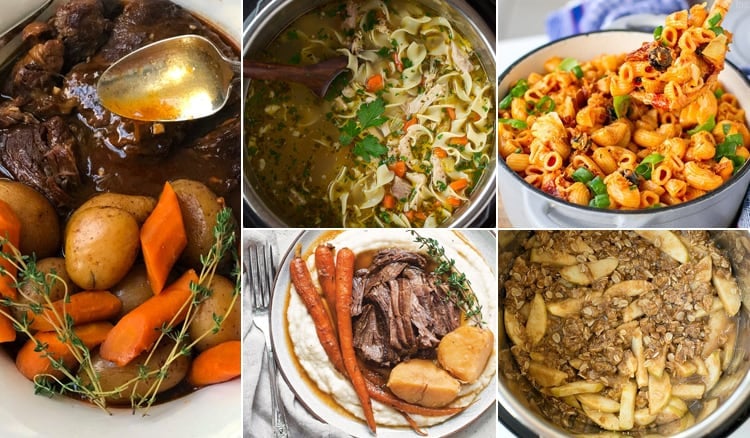 Comfort foods are focused on the quality of a good tasting meal. They are hearty and nutritious to give you the energy to accomplish a hard day's work. There's no fixation on trendy diets and calories. Just food that makes you feel good inside.
What do you think of when you hear 'comfort food'? Maybe something that takes you back to your childhood. Like chicken noodle soup after building a snowman outside. Holding that bowl of soup to warm up those tiny fingers while swinging your feet because you still can't touch the floor.
As we grow older and leave the nest to different parts of the country to pursue strides in life, we can easily feel a touch of homesickness. Comfort food is usually synonymous with thoughts of home. So when a mouthwatering meal reminds you of those comforting memories, somehow that homesickness subsides. Creamy pasta, hearty stew, braised meats, and yummy desserts like a cobbler or crip can warm your tummy and your heart.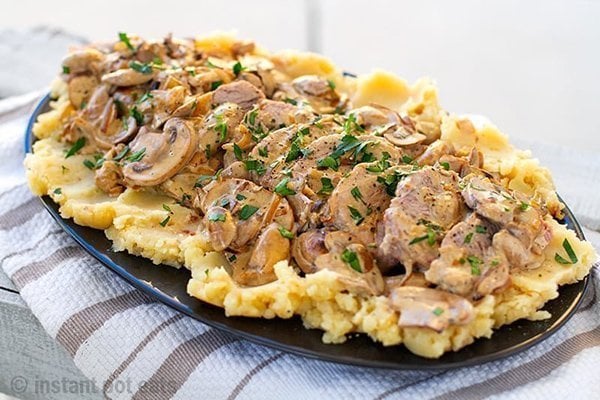 This hearty and comforting meal of Instant Pot pork tenderloin and potatoes with creamy mushroom sauce will please the whole family and is great for serving at a dinner party. This recipe will feed 4-6 people and keeps well for leftovers.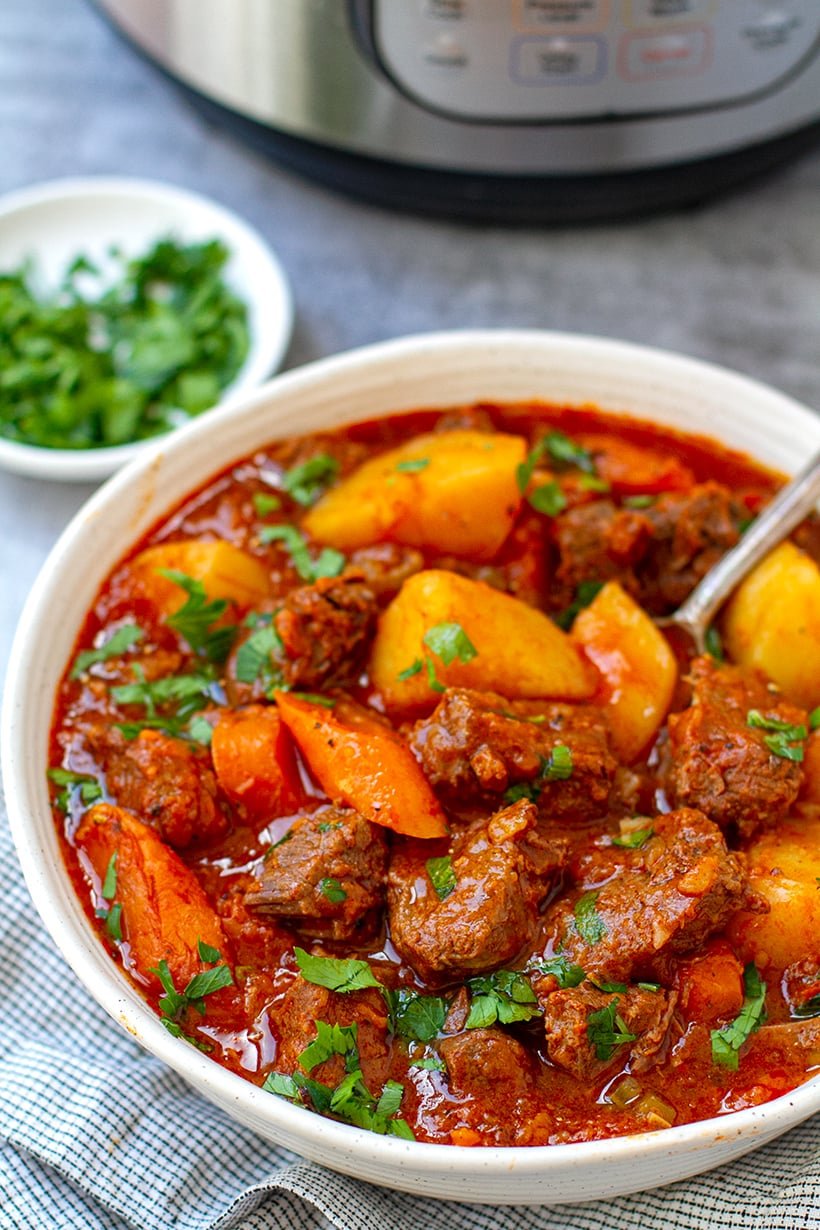 Made with a few special flavor twists for that extra umami hit, this stew is great on its own or with a side of cauliflower rice, vegetables, or any other sides you like with a stew. Get the recipe here.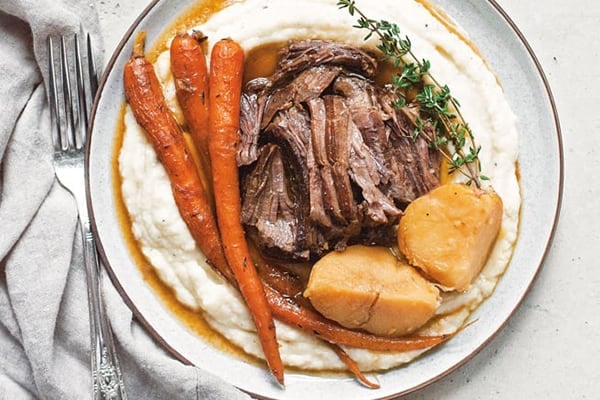 Perfect for family dinners or entertaining friends, this Instant Pot Balsamic pot roast with Dijon mustard is heaven on a plate. Served with creamy potatoes and carrots for a delicious meal. This recipe is gluten-free and Whole30-friendly. Recipe from Instant Pot Eats.
When you're sick what's the only thing you want? Chicken noodle soup. This soup is so good it's not just for sick days. You can make it with Asian egg noodles or more traditional pasta egg noodles of your choice.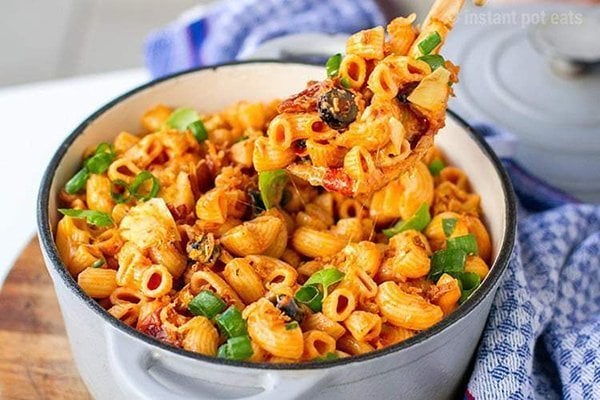 This Instant Pot mac and cheese recipe has a rustic, Italian flare to it. With the addition of olives, artichokes and sun-dried tomatoes, and a hearty helping of mozzarella, this vegetarian wonder will have you drooling for days. Recipe from Instant Pot Eats.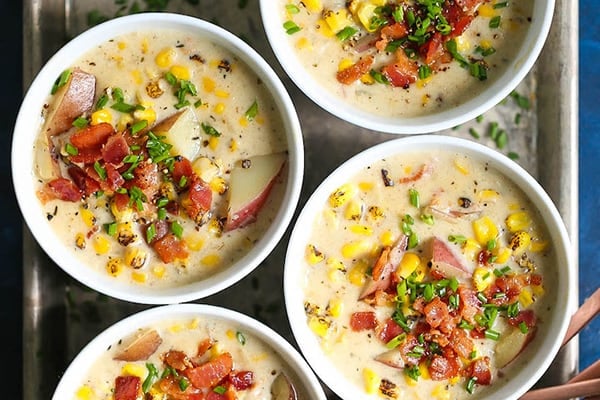 So hearty, cozy and creamy – perfect for those cold nights! And it's made right in your pressure cooker so effortlessly! It's comfort food at it's easiest! Recipe from Damn Delicious.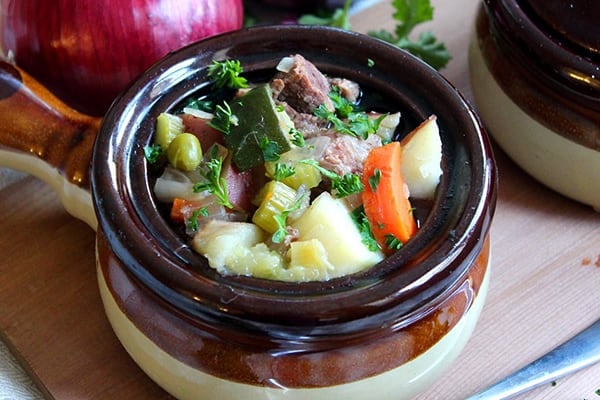 This nutritious Instant Pot beef vegetable Soup is filled with hearty ingredients and will keep you cozy and warm until the end of winter. This recipe is Whole30 and gluten-free friendly.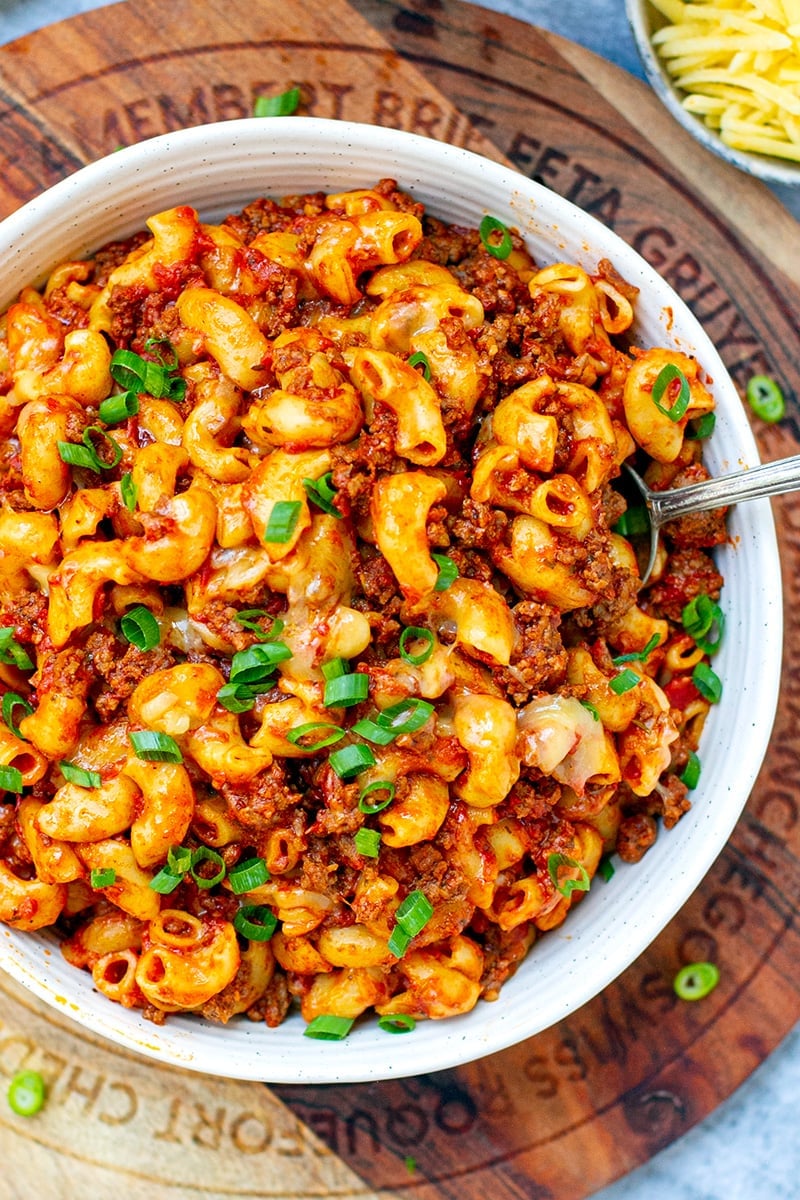 A crossover between pasta Bolognese, goulash, and mac'n'cheese. Three family favorites in one dish homemade with simple pantry ingredients, ground beef, and elbow macaroni pasta. Takes 30 minutes to put this beauty on the table! Get the recipe here.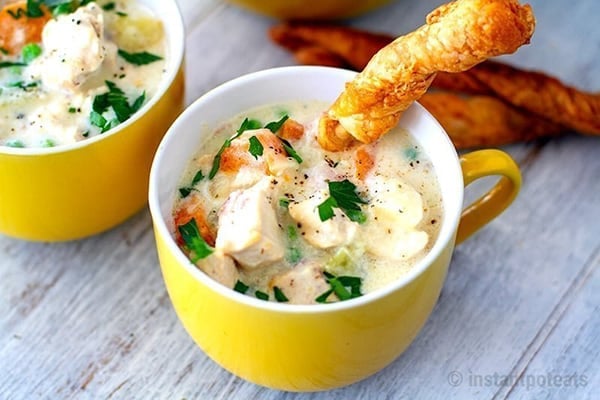 Is there anything more comforting than a hearty, creamy chicken pie? In this recipe, we show you how to make an Instant Pot chicken pot pie that can be done in two ways: finished with the puff pastry crust or served open with pastry twist sticks. Recipe from Instant Pot Eats.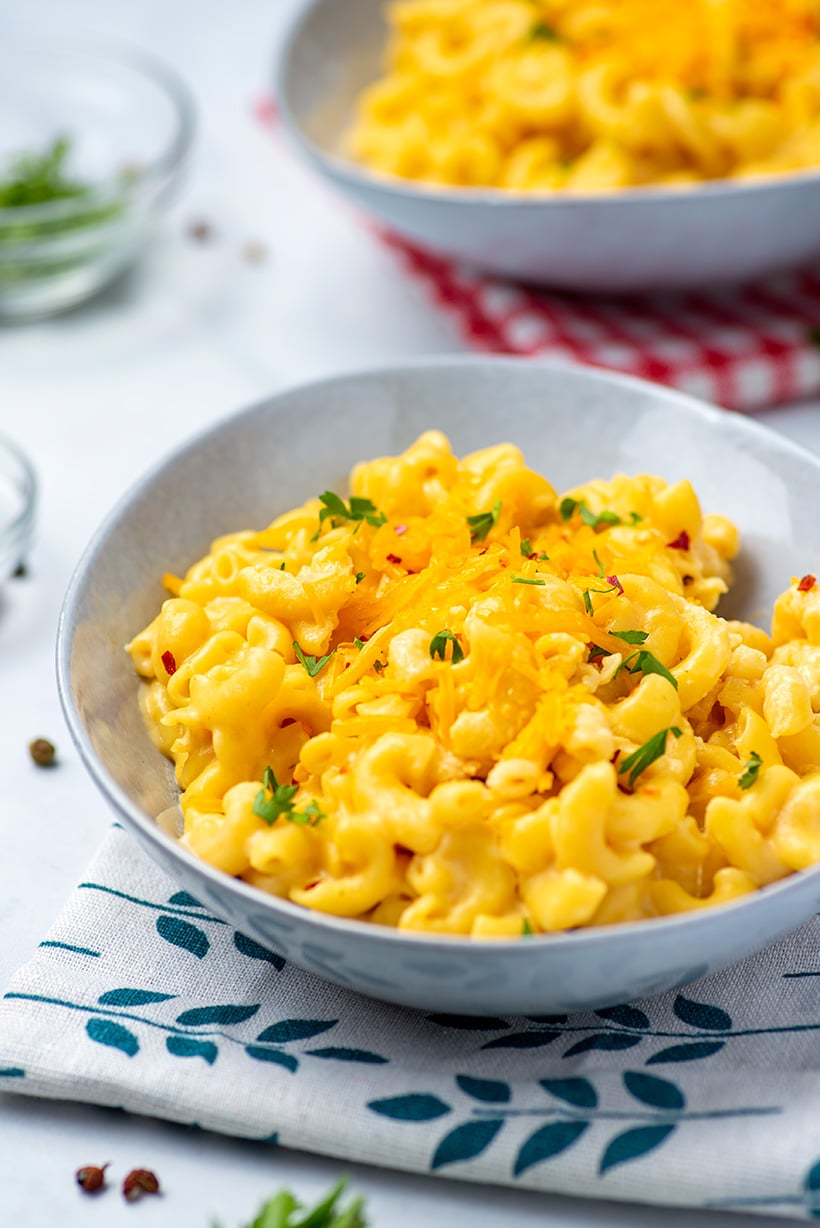 Creamy macaroni and cheese is a dish that everyone should master. Who doesn't love a good, creamy, cheese pasta? This is a detailed guide for how to make a super simple version for beginners. Get the recipe here.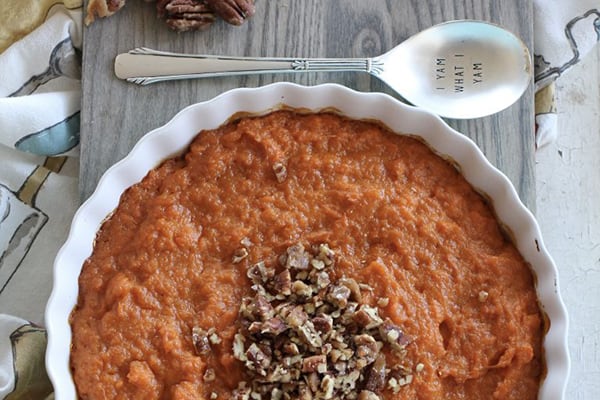 Instant Pot Mashed Sweet Potatoes with Candied Pecans is quick, easy, rich in flavor, and topped with a bit of sweet crunchiness, you can have this dish ready in half the time as the traditional version. Recipe from A Bountiful Kitchen.
This hearty Instant Pot beef ragu is a great recipe for cooler weather or when you want to make a versatile meat dish as part of your weekend meal prep. It's paleo and Whole30-friendly, gluten-free, high in protein and iron, and full of flavor. Recipe from Instant Pot Eats.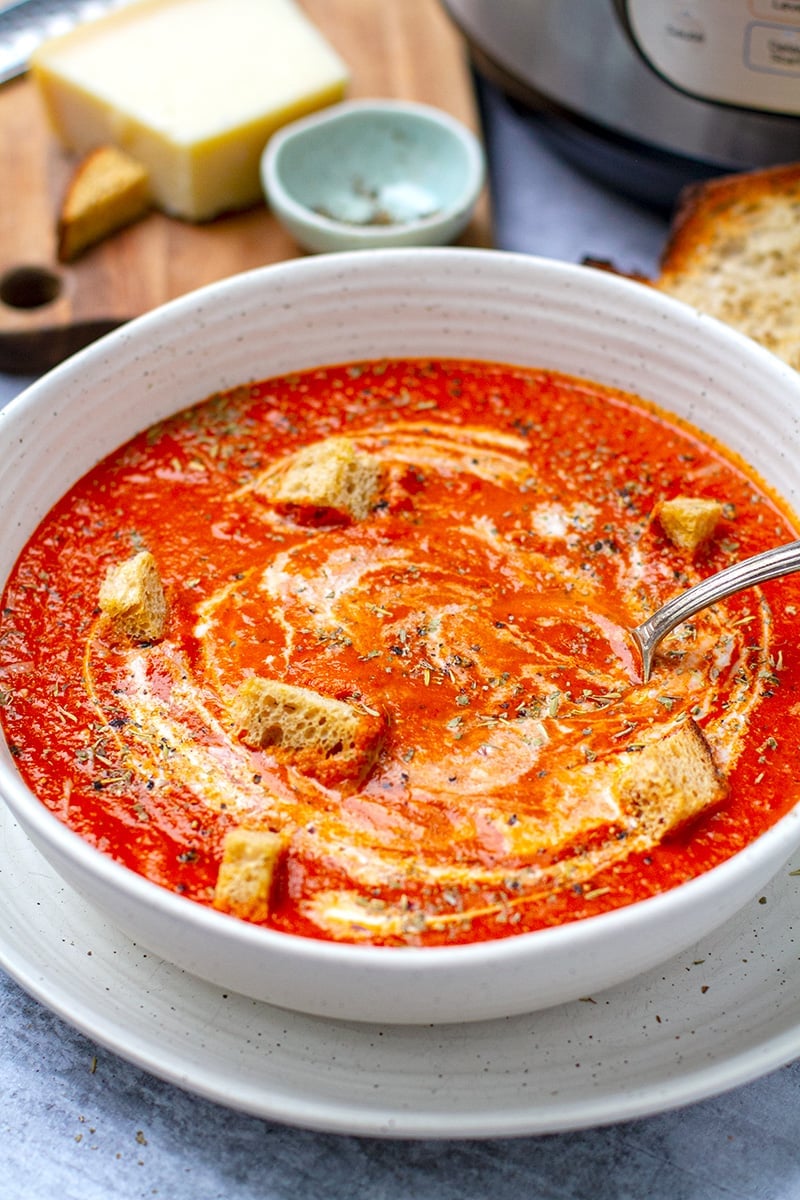 Velvety smooth and full of flavors bringing comfort and nutrients in one bowl. Made with canned Roma tomatoes, garlic, onions, Italian herbs, and a little secret ingredient that brings out the umami flavor in the soup. Get the recipe here.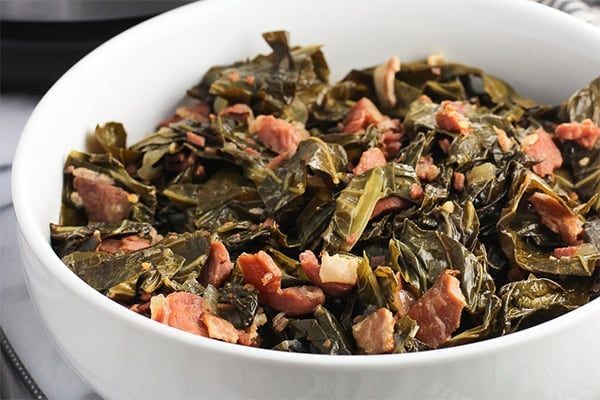 Instant Pot collard greens are a Southern-inspired side dish made much quicker in an electric pressure cooker. These Southern greens have a ton of flavor from bacon and ham, and you'll want to drizzle the cooking liquid on everything! Recipe from My Sequined Life.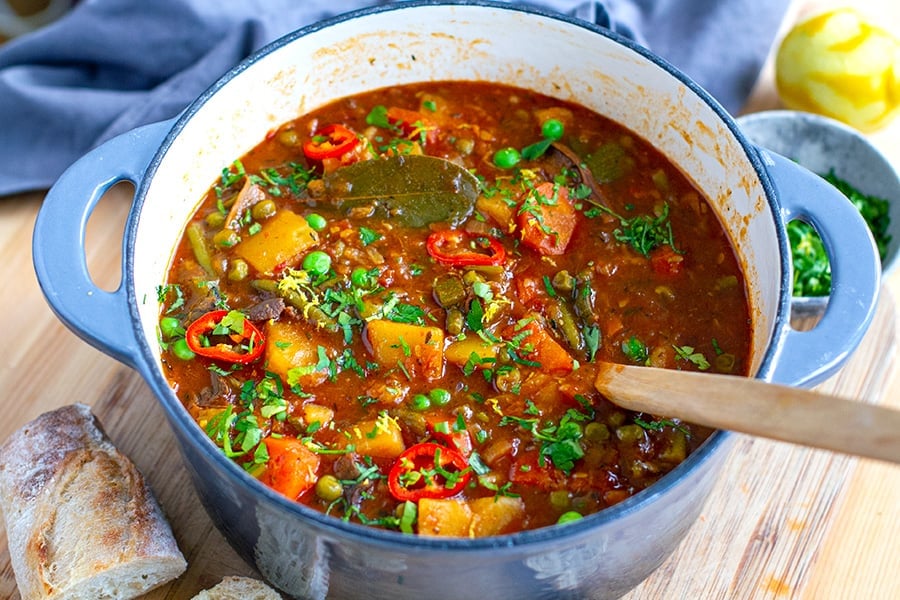 This warm and hearty Instant Pot vegetable stew recipe is super easy to make. Made with almost 10 veggies and healthy ingredients, this nutritious stew is vegan and gluten-free friendly but it certainly doesn't lack that comfort factor. It's great for batch cooking and meal prepping as it keeps well and can be used over a few days.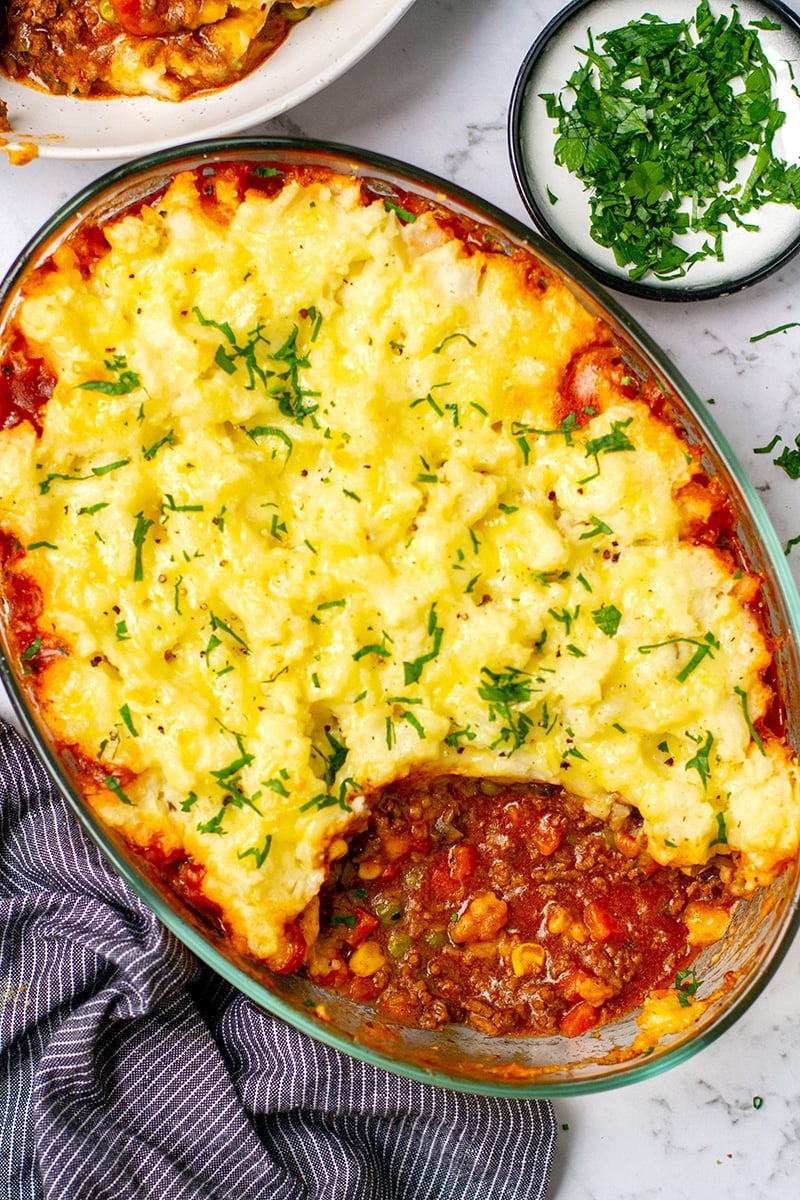 Savory, rich ground meat with veggies and gravy topped with creamy mashed potatoes and a little golden cheese crust on top of this casserole dish is true comfort food. Get the recipe here.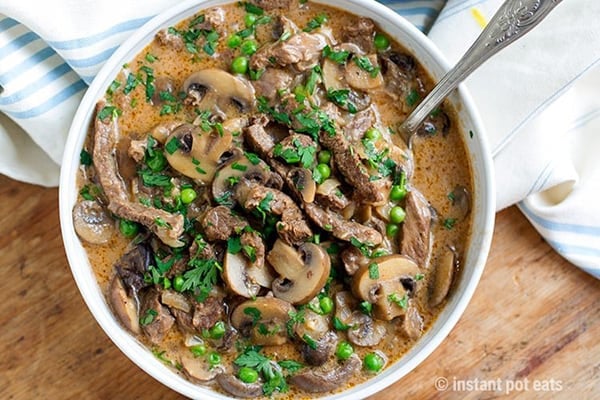 This quick and easy Instant Pot beef stroganoff recipe is made with a creamy sauce of onions, mushrooms, and peas. It's delicious over anything and is gluten-free and keto-friendly. Serve with pasta, rice, potatoes or zucchini noodles. Recipe from Instant Pot Eats.
A classic recipe that everyone should try making at home because it's pretty easy and is a favorite with kids and grownups. You can serve broccoli and cheese soup as a main dish or a starter. It's vegetarian and gluten-free friendly, with a keto/low-carb option. Recipe from Instant Pot Eats.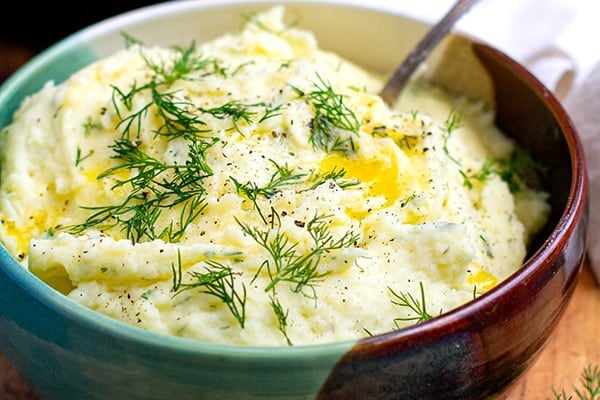 Fluffy and flavorful, this cream cheese mashed potatoes with fresh dill is the perfect side dish that will please the whole family. It's quick and easy to prepare and is gluten-free and vegetarian-friendly. Recipe from Instant Pot Eats.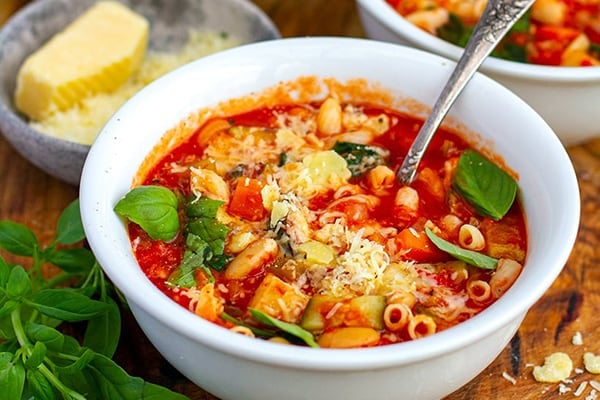 Hearty, thick, and full of flavor and veggies, this Instant Pot Minestrone will leave you feeling satiated and nourished. Making this classic Italian tomato broth-based soup with pasta, potatoes, and beans gives you plenty of fiber and protein and you will be getting a ton of antioxidants and vitamins from all the veggies. Recipe from Instant Pot Eats.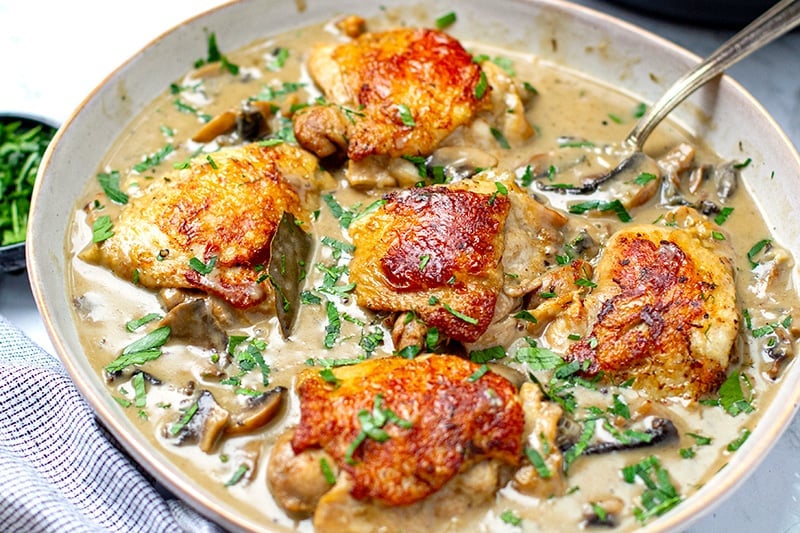 A traditional French stew made with browned chicken pieces braised in a delicious, creamy white mushroom sauce. The sauce is heavenly and the dish is rustic comfort food at its best. Recipe from Instant Pot Eats.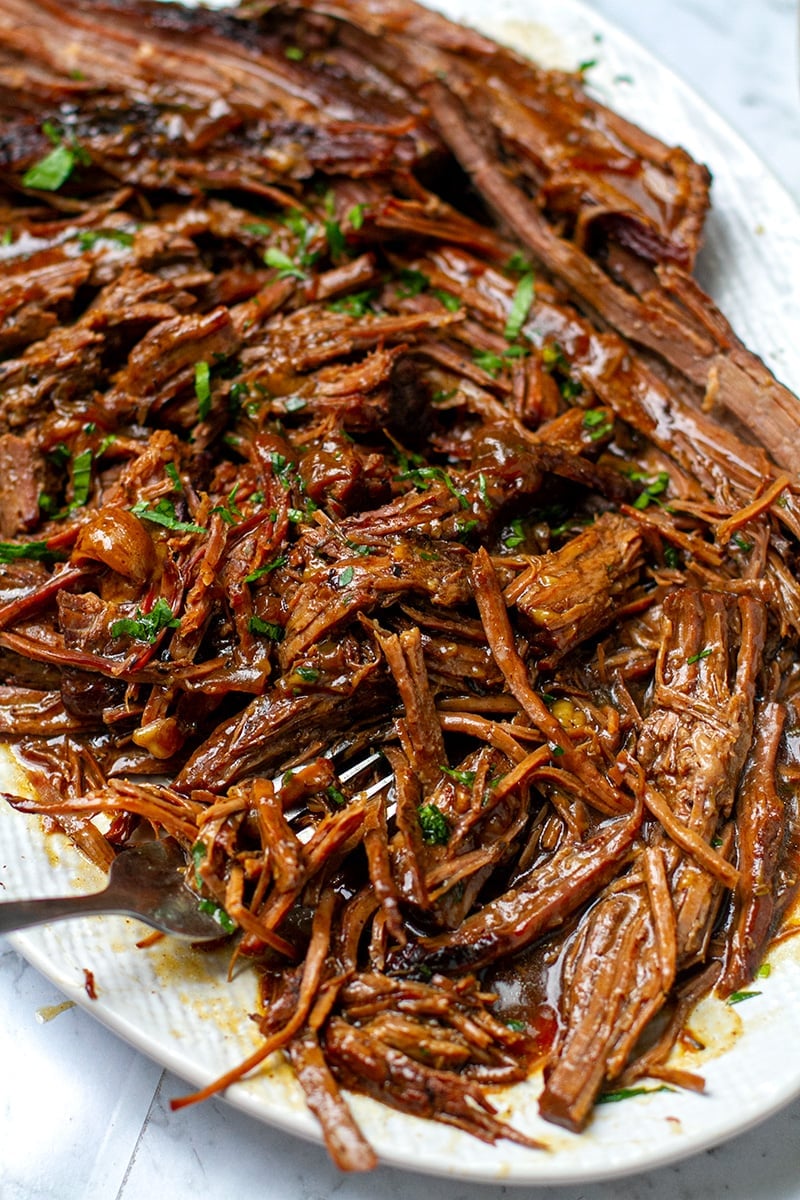 Warm, hearty, and full of flavor chuck seared and pressure cooked pot-roast style in a delicious red wine brown gravy resulting in fall apart, tender meat. Served with a side of mashed potatoes and vegetables for a perfect dinner meal. Get the recipe here.
Inspired by the famous signature Dal Makhani from London's Indian restaurant chain Dishoom. Made in a fraction of the time compared to the original, this incredible lentil dish will delight with its complex flavors and heavenly texture. It's gluten-free and vegetarian-friendly. Recipe from Instant Pot Eats.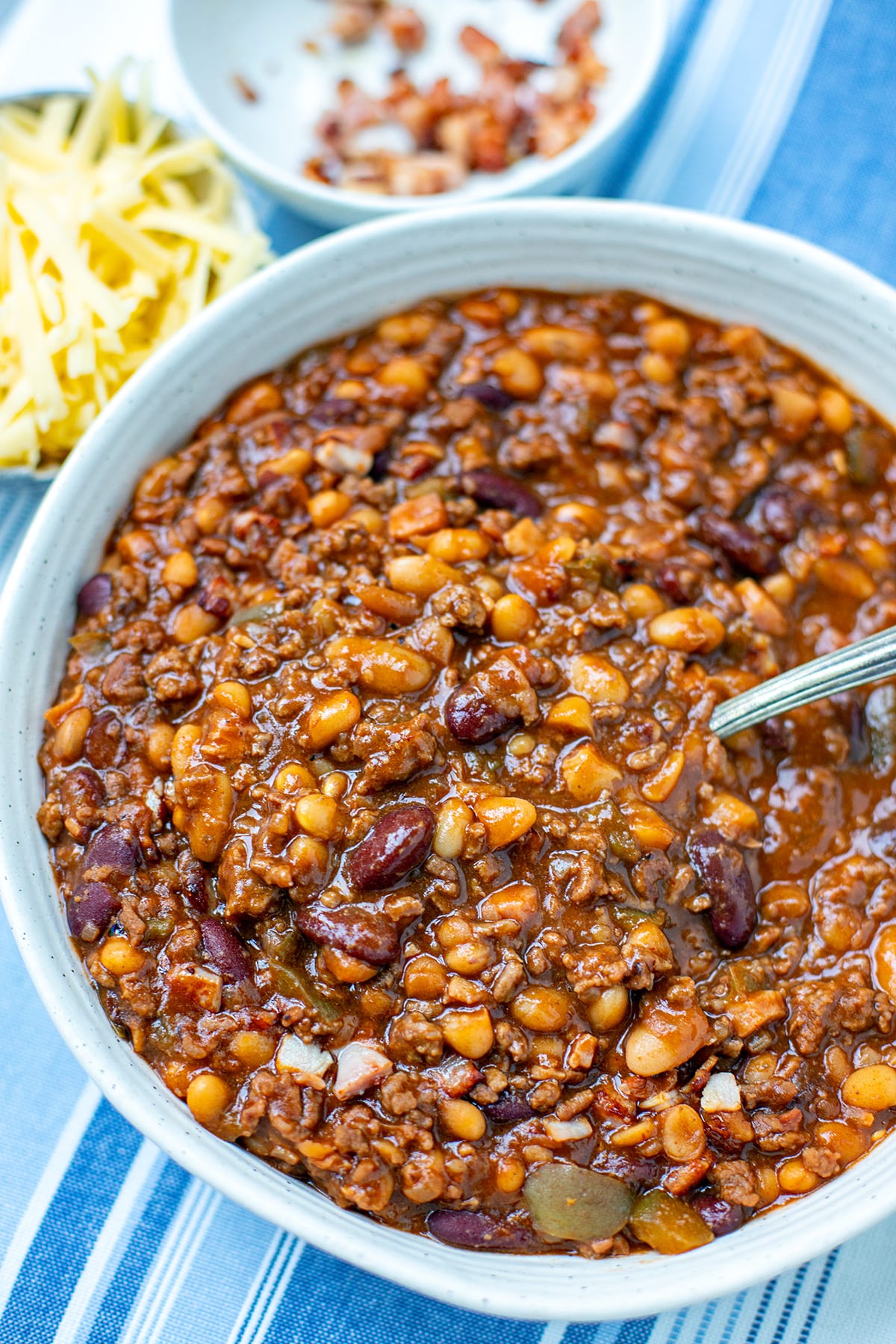 Loaded with three types of beans, ground beef, bacon, onions, and bell peppers, this tangy and sweet Southwestern classic is a family favorite. Perfect for holiday gatherings, potlucks, game days, and barbecue parties. Get the recipe here.
---
Sweet Treats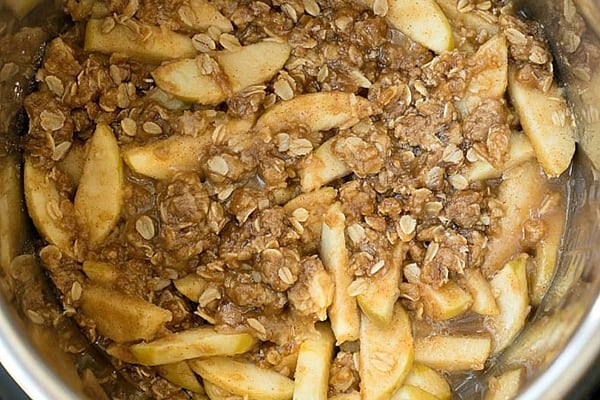 This Instant Pot apple crisp recipe is amazing! Tastes like copycat Cracker Barrel baked apples we love but made in less than 10 minutes total. Warm cinnamon apples coated with a gooey brown sugar glaze your family will go crazy over for sure. Recipe from The Typical Mom.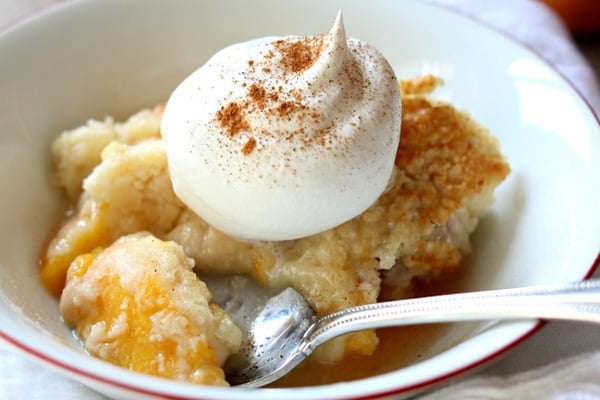 Instant Pot 3-Ingredient Peach Cobbler–fresh peaches, a cake mix, and butter are all you need for this simple but totally delicious recipe. Make it quickly in your electric pressure cooker so you can enjoy it faster! Recipe from 365 Days of Slow and Pressure Cooking.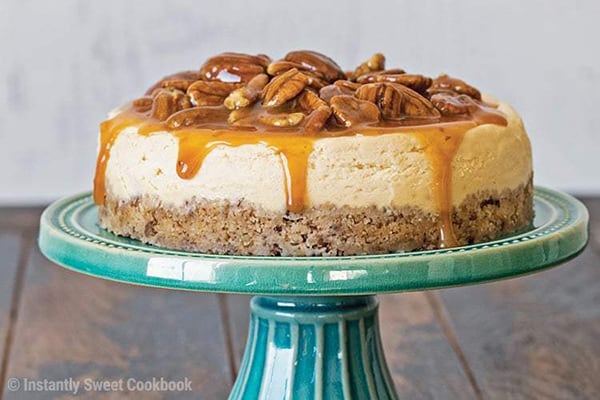 Try this amazing Instant Pot cheesecake recipe and indulge in a creamy filling sweetened with brown sugar on a shortbread pecan crust with a decadent caramel topping studded with toasted pecans. This recipe is from the Instantly Sweet Cookbook.
---