Whether you're following a plant-based diet to improve your health or as a lifestyle and ethical choice, giving up animal foods doesn't mean saying no to your favorite sweet treats. While it may seem like giving up eggs, dairy and honey might make baking more challenging, there are plenty of variations and substitutes. We have collated an assortment of the best Instant Pot vegan desserts from fluffy cakes and fudgy brownies to fruity crisps and cheesecakes. Time to satisfy your vegan sweet tooth!
---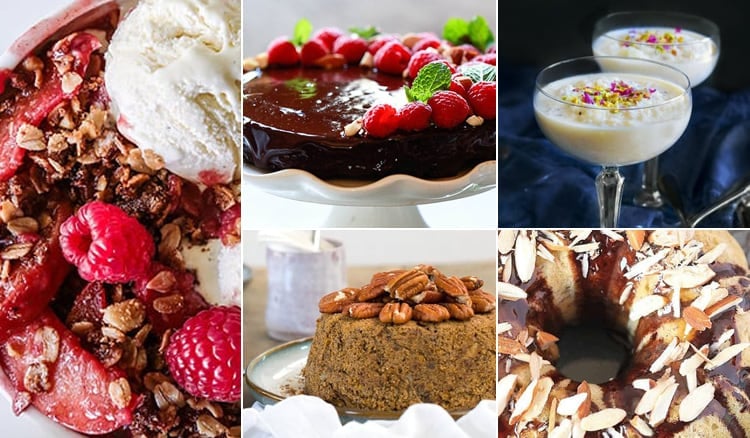 With the World Vegan Month happening in November, we decided to round up some delicious plant-based desserts you can make in the Instant Pot. Whether you're going vegan for the month of January (also known as Veganuary) or you're simply adding more plant-based meals to your diet, these Instant Pot desserts will help you make the switch easier.
VEGAN DIET & DESSERTS
A vegan diet avoids ingredients from animals, including eggs, dairy (cheese, milk, cream) and honey. Many of these ingredients are used in traditional desserts and baking. As you might know, making great "baked" desserts is more about science than freestyling so swapping and eliminating ingredients from a traditional recipe doesn't always result well. The best way to successfully create a delicious vegan dessert is by following a tested recipe. So we have collected an assortment of vegan Instant Pot dessert recipes for the sweet tooth.
---
More Vegan Instant Pot Inspirations
WATCH OUR TOP 10 VEGETARIAN RECIPE VIDEOs
---
Coconut Rice Pudding (Vegan + Glutenfree)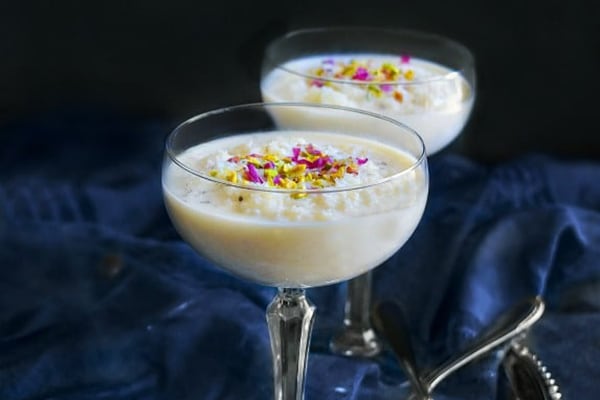 Creamy, Rich, and Flavorful Instant Pot Coconut Rice Pudding is a gluten-free, vegan rice pudding made using coconut milk, rice, cardamom, coconut sugar and decorated with pistachio – rose petals. It can be served hot or cold and can be made a day in advance. Recipe from Easy Cooking With Molly.
INSTANT POT ORANGE SPICE CAKE (VEGAN)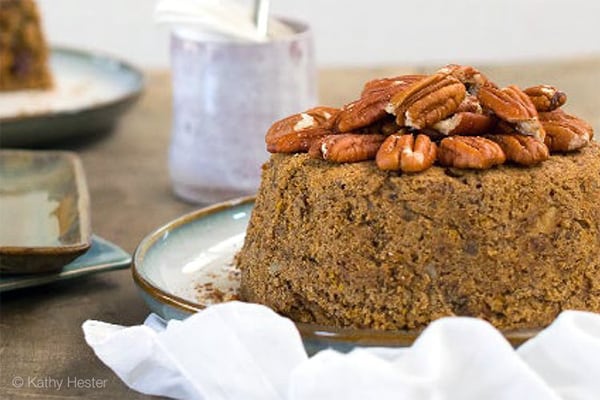 Spice cake is good any time of the year, but especially around the holidays. This vegan-friendly Instant Pot orange spice cake is super moist because it's steamed and will remind you of an English pudding. Recipe from Instant Pot Eats.
INSTANT POT VEGAN BROWNIES WITH PUMPKIN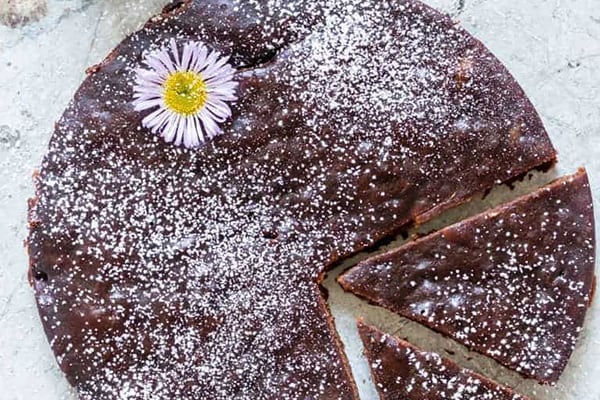 These Instant Pot Brownies are fudgy, moist, and full of flavor. They are the Vegan Pumpkin Brownies you need to make to celebrate pumpkin season. Get the recipe from Recipes From A Pantry.
Date Sweetened VEGAN Carrot Cake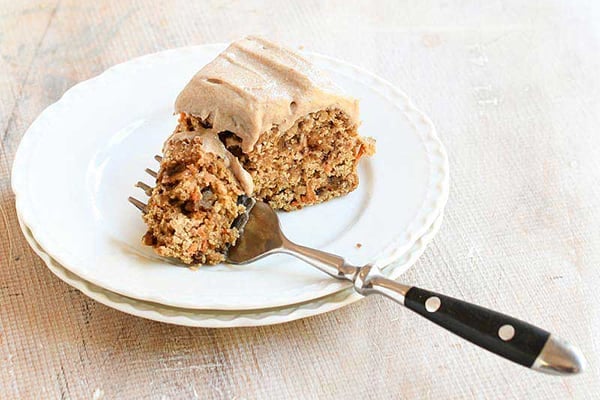 This Instant Pot Carrot Cake is sweetened with dates instead of refined sugar and uses whole wheat pastry flour. The wet heat of the electric pressure cooker creates an extremely moist cake. It's almost between a cake and a steamed English pudding. Recipe from Plant-Based Instant Pot.
Instant Pot Apple Crisp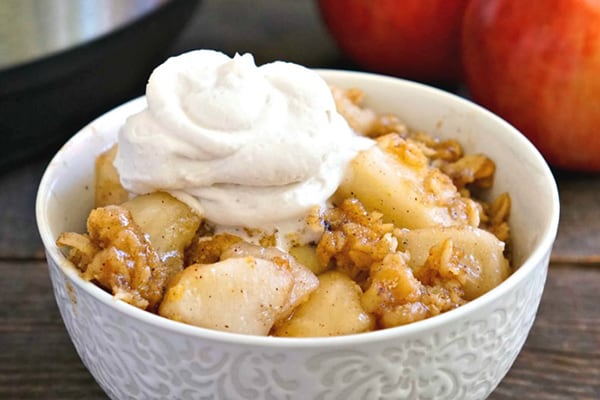 Do you love to go apple picking? Apple crisp is a must treat during the fall season after a day at the orchard. Recipe from Real Food Real Deals.
Instant Pot Vegan Apple Cake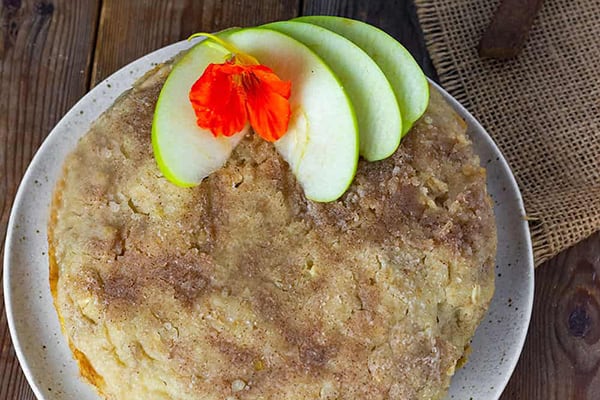 Easy Instant Pot vegan apple cake is so moist and delicious, this cake is vegan gluten-free, oil-free. This flavorful apple crumb cake is loaded with fresh apples and a hint of spice. Serve it as a snack, breakfast cake, or dessert. Recipe from Healthier Steps.
BEST VEGAN CHOCOLATE CAKE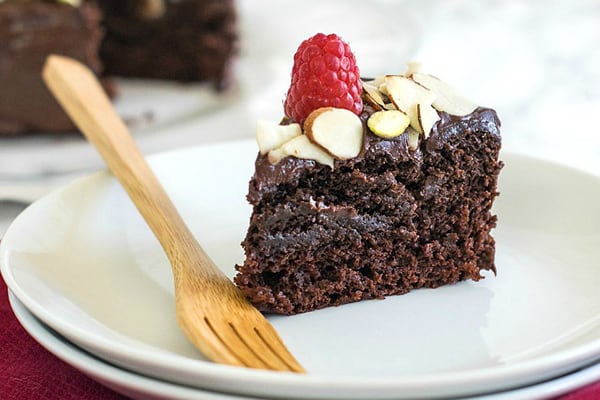 This vegan chocolate cake is so versatile and screams decadence. It's moist, fluffy, and soft. No one will believe it's egg-free and dairy-free. A very easy recipe for a vegan cake made with ingredients found at your home. Recipe from Carve Your Craving.
INSTANT POT STRAWBERRY CAKE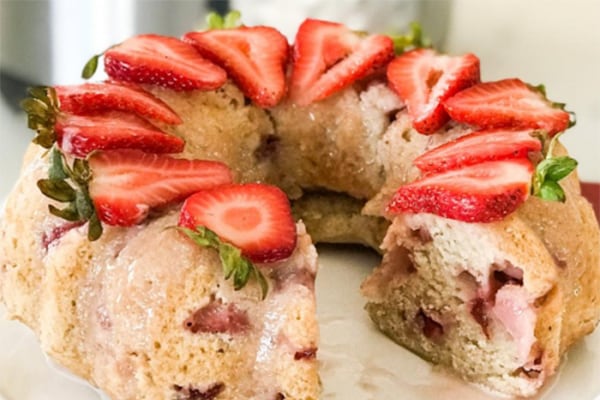 "Let me take you down. Cause I'm going to Strawberry Fields. Nothing is real. And nothing to get hung about. Strawberry Fields forever" Great song while eating this great dessert. Recipe from Mrishtanna.
Carrot Cake Oatmeal (Vegan & Gluten-free)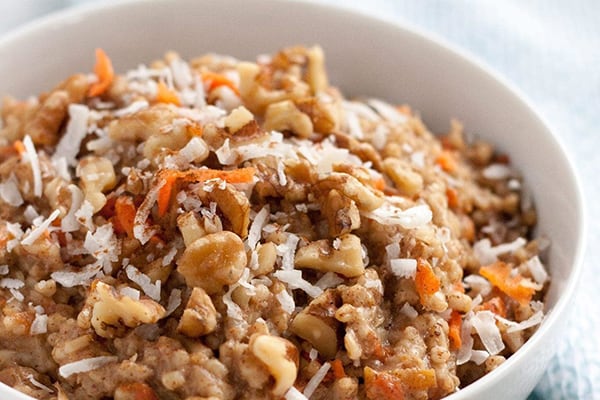 This Carrot Cake Oatmeal recipe is creamy, cinnamon-y, and stick-to-your-ribs satisfying. It's entirely hands-off and can be customized depending on how sweet you like your breakfast. Recipe from Well Vegan.
Apple-Pecan Crumble (grain-free, dairy-free, vegan)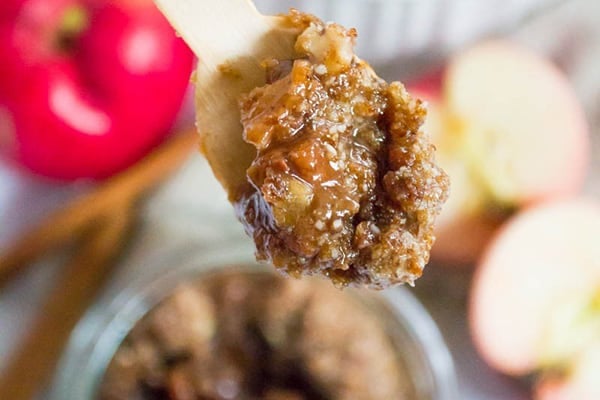 A healthy and delicious Fall treat. It's grain-free, gluten-free, and vegan, and cooks perfectly in your pressure cooker. We love it as an easy paleo and vegan dessert or breakfast! Recipe from All The Nourishing Things.
Healthy Flourless Brownies (Paleo& Vegan Options)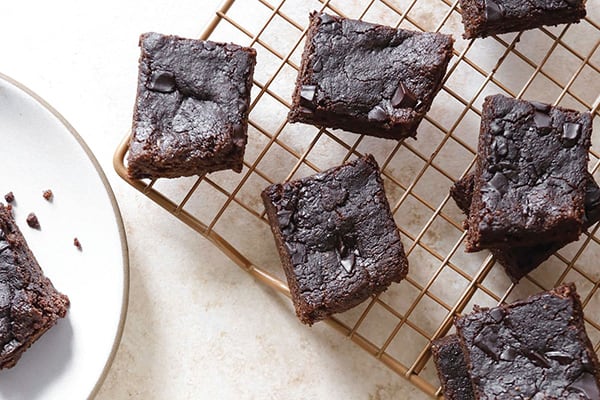 These brownies are lower in sugar and fat than traditional brownies, but they still taste decadent enough to satisfy a sweet tooth. Baking in the Instant Pot keeps the brownies moist, with no risk of overbaking. Splurge with some dark chocolate chips for added texture in these naturally sweetened brownies. Recipe from Go Dairy Free.
INSTANT POT BREAD PUDDING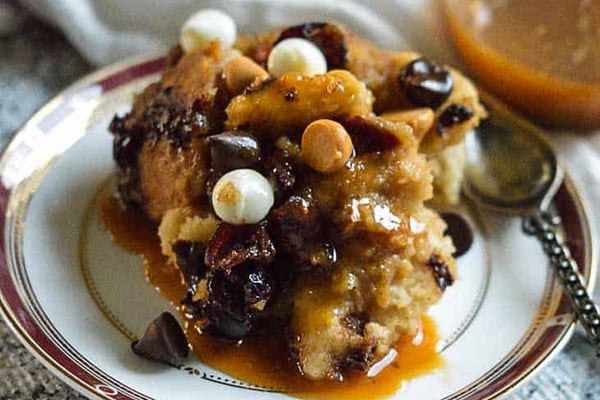 A popular holiday staple that should be made all year long. Even without any dairy or eggs, this pudding is rich and creamy and has a very nice, custard-like consistency. This recipe has a caramel sauce but it goes well with a rum sauce or a chocolate sauce too. Recipe from My Dainty Soul Curry.
VEGAN CHOCOLATE CAKE WITH GANACHe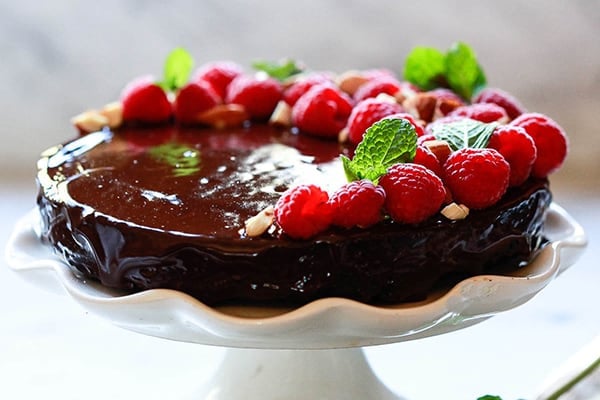 Inspired by the depression era "crazy cake" or "wacky cake" recipes, this chocolate cake has no eggs or dairy. It also has much less sugar and oil than traditional cakes and works beautifully with whole wheat pastry flour. Make it in the Instant Pot or in the oven. Recipe from Yummy Mummy Kitchen.
Instant Pot Banana Bread (eggless + Vegan)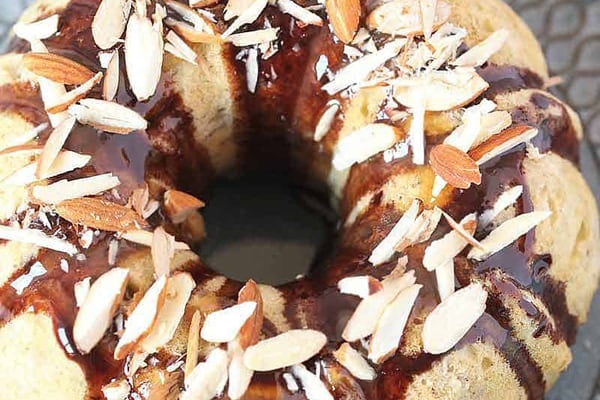 What do you do with your leftover overripen bananas? Banana bread is usually the go-to recipe for those long-awaited ripened bananas. This instant pot banana bread produces dense bread, slightly different than oven bread but it is moist with s very light brown in color which is perfect for pouring a chocolate sauce over top. Recipe from Cooking Carnival.
Instant Pot Tapioca Pudding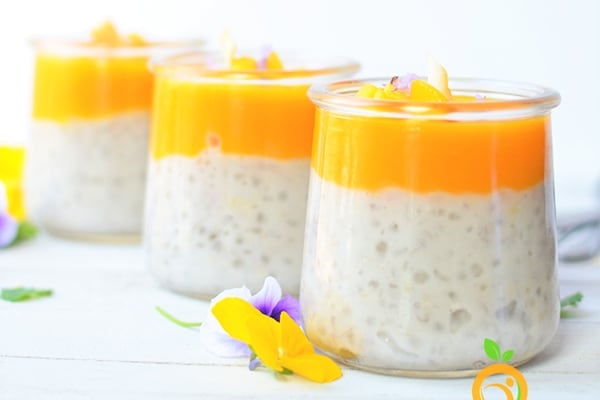 Naturally sweetened with no refined sugar. It does not require continuous stirring and avoids sticky bottom pots and it cooks in just 1o mins with only 5 ingredients. It's portion-controlled, vegan, gluten-free, and paleo. Need we say anything more, this is a must-try. Recipe from The Belly Rules The Mind.
VEGAN Peach-Raspberry Crisp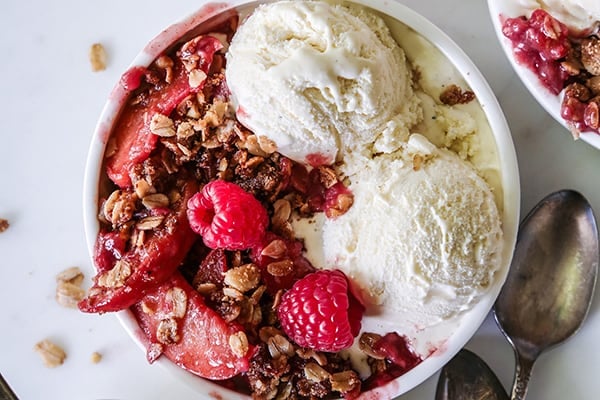 A beautiful combination of color and of flavors served with a double scoop of vanilla ice cream. This recipe is courtesy of "The Vegan Instant Pot Cookbook" by Nisha Vora. Get the recipe at Wife Mama Foodie.
PRESSURE COOKED "BAKED" APPLES! (VEGAN + GF)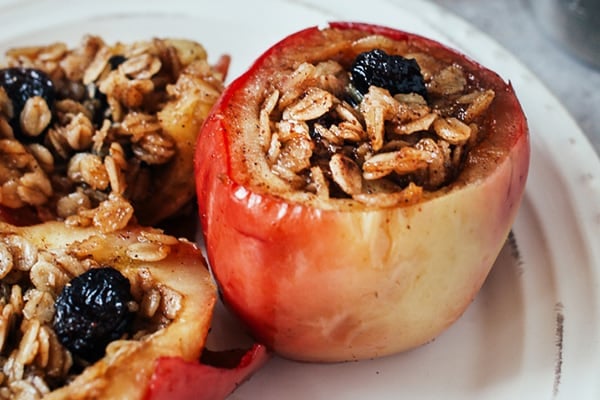 Only took three minutes to cook but tastes like you've been slaving away in the kitchen for hours. Incredibly easy and mouth-wateringly tasty baked apples filled with sweet, spiced oats and raisins. Recipe from Wallflower Kitchen.
---
SAVE THESE INSTANT POT REcipes TO PINTEREST