If you're following a plant-based or vegan diet or simply trying to cut down on meat and dairy, you might be missing some of those hearty, comforting dishes like cheesy lasagna, creamy risotto, juicy meatballs or Sunday roast. These Instant Pot vegan alternatives are great for satisfying those cravings while staying healthy.
---
When you think of comfort food or family favorites, dishes like tacos, stews, casseroles, pies, and curries come to mind. Often times, these recipes call for meat or poultry or some kind of dairy like butter or cheese. This can be tricky if you're trying to avoid these ingredients due to health or other dietary reasons.
In this roundup, we decided to curate a selection of Instant Pot vegan-friendly recipes that are based on these crowd favorites. From dairy-free creamy pasta to pies and cheesecake, these are dishes that are plant-based yet don't compromise on flavor.
We hope you enjoy these vegan alternatives to your favorite dishes.
Hearty Stew (No Meat Required)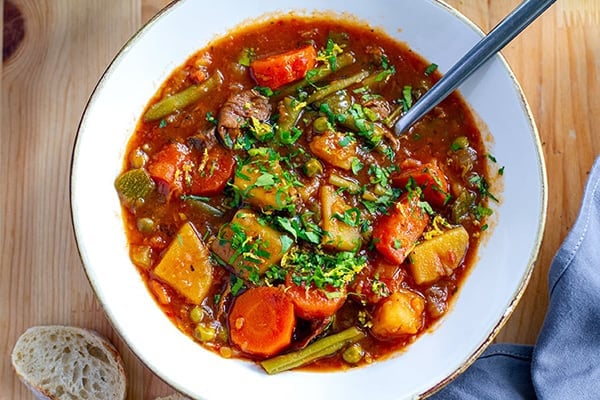 If you think that only meaty stews can be hearty, wait till you try this warm, Instant Pot vegetable stew. It's loaded with 10 veggies and healthy ingredients, so it's super nutritious and it tastes hearty and comforting. It's great for batch cooking and meal prepping as it keeps well and can be used over a few days. Stovetop instructions included. Get the recipe on our blog here.
Bolognese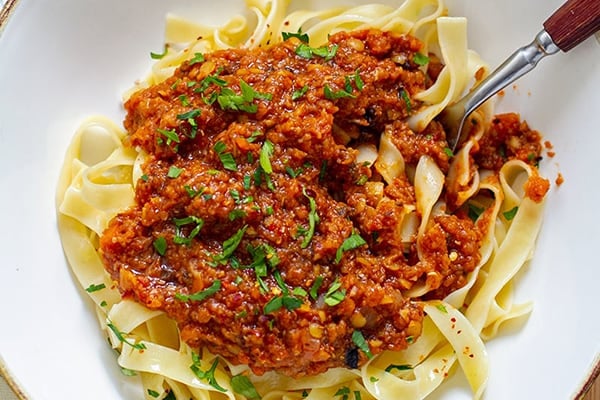 If you love homemade Italian cuisine, you must try this meat-free version of a Bolognese sauce made with lentils and mushrooms in a rich tomato sauce. You'll be surprised by how satiating and hearty this dish is, making it a worthy rival to its traditional meaty cousin. Get the recipe on our blog here.
Risotto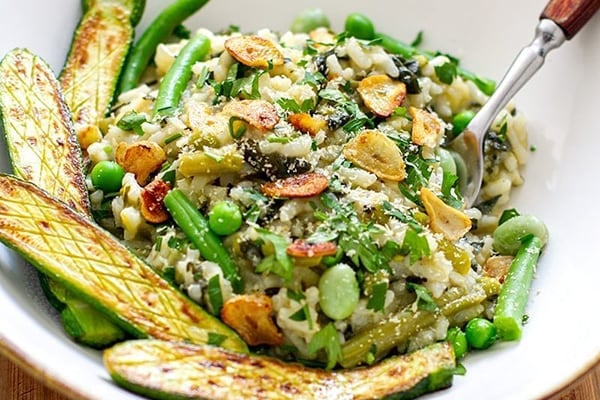 If you think that butter and Parmesan are essential to make a good risotto, you're in for a pleasant surprise with this Instant Pot risotto recipe. The rice cooks perfectly in the pressure cooker, releasing just enough starch to create that famous creamy consistency you're after. Filled with tasty green veggies and topped with aromatic fried garlic, this dish will satisfy even the fussiest risotto snobs. Get the recipe on our blog here.
Mac'n'Cheese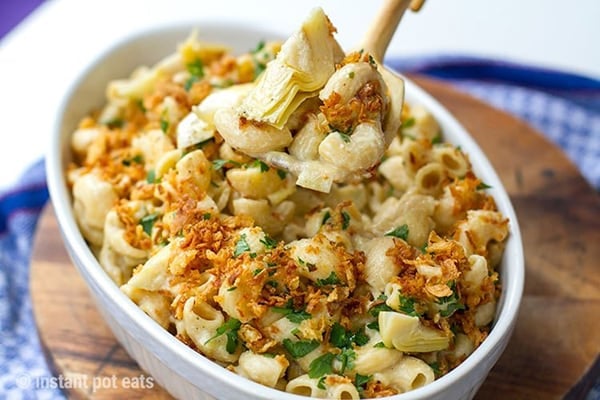 Made with dairy-free cashew sauce and canned artichokes, this plant-based version of mac and cheese is velvety, creamy and full of flavour. Enjoy this healthier, lighter version in about 35 minutes with your Instant Pot. Get the recipe on our blog here.
Shepherd's Pie (Meat-Free)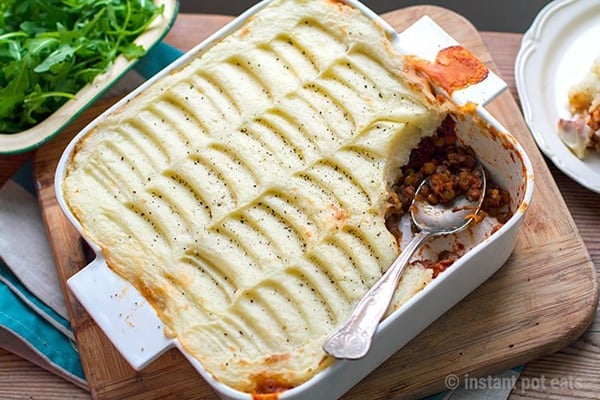 A family favorite, Shepherd's Pie is known for its hearty, meat sauce and creamy mash crust hearty. This recipe will show you how to make a vegan alternative made with nutritious lentils, mushrooms, and vegetables, topped with creamy mashed potatoes. Just as good and much healthier. Get the recipe on our blog here.
Tortilla Soup (With Sweet Potato)
If you're a fan of traditional tortilla soup but want to make a meat-free version, try this version with beans and sweet potatoes. It's super easy and has all your favorite characteristics of good tortilla soup with vegan-friendly ingredients. Get the recipe on our blog here.
Tacos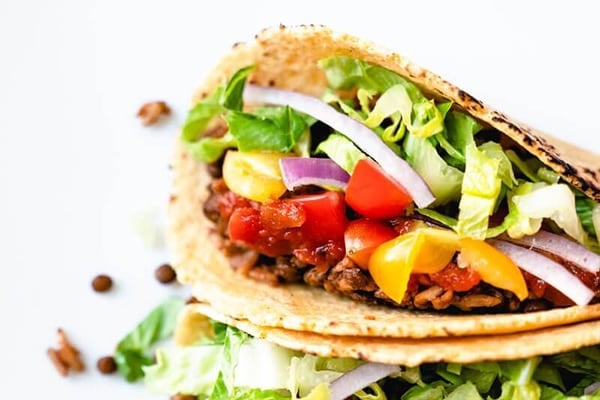 These Instant Pot tacos are fresh and tasty, filled with an irresistible smoky lentil taco meat and topped with all the crunchy veggies. It's an easy healthy dinner recipe that pleases everyone: set out the taco toppings and let everyone choose their own. Make up a big pot of the not-meat taco mix and it will feed you for the week! Recipe from A Couple Cooks.
No-Meat Meatballs
These vegan Instant Pot BBQ meatballs are a modern spin on the classic party appetizer, But, they aren't just for parties! They also make delicious sub sandwiches, slider filling and can be served as a perfect weeknight meal with some roasted potatoes and quick veggie slaw. Recipe from Fried Dandelions.
Mushroom Stroganoff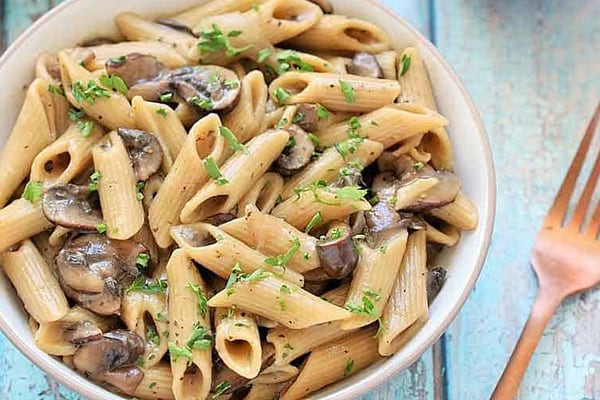 This vegan-friendly Stroganoff recipe will show you how mushrooms make a perfect replacement for meat in this classic family favorite. Made with pasta, this creamy yet dairy-free version is satisfying and easy to make. Recipe from Cooking Carnival.
Tikka Masala
If you're a fan of Indian dishes such as Tikka Masala, make sure to try out this vegan-friendly cauliflower cashew nuts curry. It is perfectly spiced, creamy, and nutritious and You can serve it with rice, quinoa, or tofu for a protein-packed meal. Recipe from Full Of Plants.
Sunday Roast
Who says you need meat to make a hearty Sunday roast meal? How about a festive looking, whole cauliflower spiced and glazed with a delicious sauce. You can make it in the Instant Pot and use the oven to roast a tray of favorite sides like spuds, carrots, and pumpkin. Get the recipe (with video) on our blog here.
Or how about Portobello Mushroom pot roast with potatoes and carrots. Recipe from Gimme Some Oven.
Cream Pasta Alfredo
Let's face it, pasta Alfredo is all about that creamy sauce. This Instant Pot friendly recipe will show you how to make a vegan pasta alfredo that is rich, creamy, lemony, garlicky and cheesy with simple healthy, dairy-free and gluten-free ingredients. Recipe from Carve Your Craving.
Comforting Chili
Crushed walnuts and sweet pumpkin give this vegan-friendly Instant Pot chili amazing flavor and texture. This recipe also features red lentils, fire-roasted tomatoes, black beans, and all the good toppings. You'll love it! Recipe from Pinch of Yum.
Lasagna
Lasagna in the Instant Pot sounds a bit kooky, but it works and means that you can enjoy this dish in the summer without turning on your oven. The tofu "ricotta" works perfectly in this vegan-friendly lasagna, lending a comforting, cheesy feel, along with a protein punch. Recipe from Instant Pot Official.
Instant pot Gumbo (Vegetarian)

This vegetarian and vegan Instant Pot Gumbo recipe is quick and easy to make and is great for a crowd. Rich in plant-based protein, with the addition lentils, this gumbo is grain-free, filling, and nourishing! Recipe from Cotter Crunch.
Ramen
These vegan and vegetarian-friendly Instant Pot ramen bowls feature a delicious and flavorful broth infused with garlic, ginger, onion, and mushrooms. This one-pot recipe is a tasty way to jazz up ramen! Recipe from Peas & Crayons.
Buffalo Dip
This Instant Pot buffalo cauliflower dip is a must-make for the Super Bowl, but also for any game day, picnic, or potluck! It's spicy, cheesy, and creamy, and you'd never guess it's healthy, vegan, gluten-free, and oil-free! Plus, it's made with just 10 ingredients and everything gets dumped in the Instant Pot! *includes stovetop instructions* Recipe from Rainbow Plant Life.
Lush Lemon Cheesecake
Serve this rich, popular dessert topped with cherry pie filling or sugared fresh blueberries, raspberries, or strawberries. Lemon cheesecake makes a fantastically decadent summertime dessert, after dinner, or even after lunch. Recipe from One Green Planet.
Creamy Yoghurt
This vegan cashew yogurt is so easy to make and is so worth the wait! It's only 3 ingredients and there's no straining, squeezing, or weird thickeners. Most nut-based yogurts contain locust bean gum or carrageean to thicken the yogurt but, the cashews are the only thickener you need! Recipe from The Spruce Eats.
---