This dish of Instant Pot scalloped potatoes and leeks is perfect for a family gathering such as Thanksgiving, Christmas, or a Sunday roast dinner.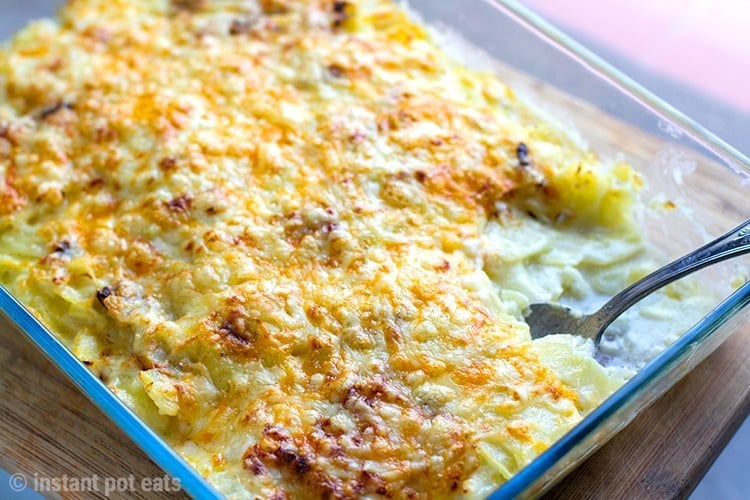 Scalloped potatoes take their origins from French cooking, specifically from the ' gratin' method in which a dish is baked with a browned (usually cheesy) crust on top. Dauphinoise potatoes or potatoes au gratin is another name you might have seen on French restaurant menus.
We've adapted the classic recipe to the Instant Pot and added leeks and a little Nordic touch. In Sweden, such creamy baked potatoes are often made with a few anchovies for that unbeatable umami or savoury flavour. I tried it when a friend brought a dish to a Christmas potluck lunch. I was surprised by how well the anchovies worked without giving the potatoes any overpowering, fishy taste.
In our recipe, we only used 2 finely diced anchovies for a little hint of that salty flavour, but feel free to leave them out for a vegetarian version or if you're really against anchovies. We thought they improved the dish and you can't really see them, but we'll leave it up to you.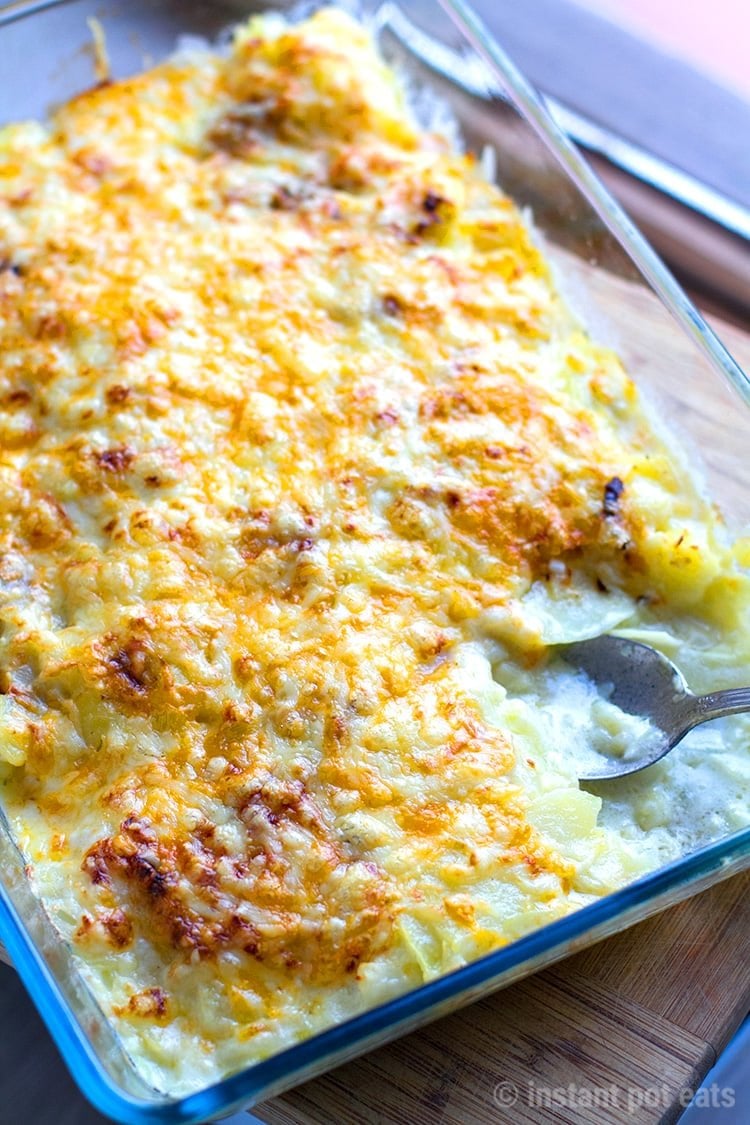 The recipe has two stages. Part 1 happens inside the Instant Pot and takes a lot less time than a regular oven-baked potatoes au gratin. But, once the dish is almost cooked, we move on to Part 2 and transfer the contents to a casserole dish to get that classic grilled cheese finish in the oven.
If you want to make this dish ahead of time, you can pre-cook the main components and transfer them to a baking dish. Cover with cheese, wrap with some Clingfilm and store in the fridge for up to 2 days. Then simply reheat and finish grilling the cheese in the oven when you're ready to serve this dish. Here are some step-by-step pics on how we made these Instant Pot scalloped potatoes (full recipe below). PS. This is a gluten-free recipe.
For more side dishes for your family gathering, check out our Instant Pot Green Bean Casserole, and our roundup of best Instant Pot Thanksgiving Recipes here.
Print
Instant Pot Scalloped Potatoes & Leeks
Author:

Prep Time:

20

Cook Time:

45

Total Time:

1 hour 5 minutes

Yield:

6

Category:

Side

Method:

Instant Pot

Cuisine:

French
---
Ingredients
For the cream sauce
30 g / 1 oz butter
1 + 1/2 cups cooking cream (about 300 ml)
2 cloves garlic, finely diced
2 anchovies, finely diced (optional)
1/4 teaspoon salt
1/4 teaspoon white pepper (black is fine as well)
For the leeks and potatoes
1 teaspoon butter
1 + 1/2 leeks (we used 1 large and 1/2 medium), washed and sliced thinly
8-9 medium white potatoes, peeled and sliced thinly
1 + 1/2 teaspoons salt
Other
1 + ¼ cup (250ml) vegetable stock
2 cups grated cheese such as Cheddar or Greyer (or both)
---
Instructions
Prepare all the ingredients before you begin. Combine the cream sauce ingredients in a bowl, whisk and set aside. Make sure the potatoes are sliced very thinly and evenly.
Turn the Instant Pot on and press the Sauté function key. Heat a teaspoon of butter in the inner pot and add one-third of the leeks. Spread them on the bottom and sprinkle with about ¼ teaspoon of salt.
Add a third of the sliced potatoes and spread over the leeks. Sprinkle with another pinch of salt (about 1/4 teaspoon). Pour over a third of the cream sauce evenly.
Add another layer of leeks and potatoes (another third of each). Sprinkle potatoes with another 1/4 teaspoon of salt. Pour another third of the cream sauce evenly.
Finish with the final layer of leeks and potatoes, a bit of salt and the final bit of the cream sauce.
Finally, evenly and gently pour over the vegetable stock. Use your hands to press down the potatoes and leeks so that the sauce comes up to the surface. They won't be completely covered but we just want to apply some pressure so everything is nice and tight. Potatoes will give out some juice as well, which will incorporate into the dish. Press Cancel to stop the Sauté process.
Cover the Instant Pot with the lid, lock it and make sure the venting valve is pointing at Sealing. Set to Manual, 12 minutes, HIGH pressure. After 3 beeps the pressure will start to build and the cooking will commence. Once the timer goes off, allow about 10-15 minutes for the pressure to release naturally. Then use quick release method to let off the rest of the steam and open the lid.
While the Instant Pot is cooking, preheat the oven to about 220 C/ 420 F (unless you want to finish the dish at a later stage).
Transfer the potato and leeks mixture into a large casserole dish. Instead of using a spoon, which will break up the potatoes, simply tilt the inner pot over the baking dish, allowing the mixture to 'slide into' it, so to speak. Pour over all the remaining sauce and bits over the top. You can see some of the more browned leeks from the bottom of the Instant Pot.
Sprinkle with cheese and pop in the hot oven under the grill for 12 minutes, or until the cheese is melted and turned golden.
---