Got too much leftover turkey after a festive dinner? Don't let it go to waste! You can use up the meat and bones in many delicious leftover turkey Instant Pot recipes. 
---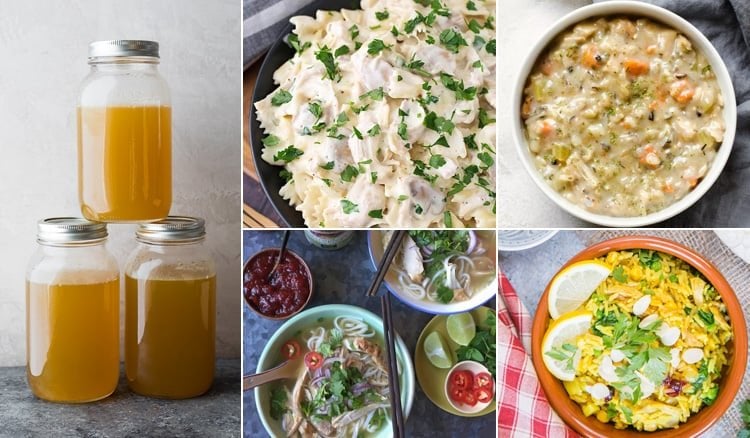 Leftover turkey – we've all been there before! While it's easy to throw the bones in the trash and feed the meat to your pets, don't be so quick. There are plenty of ways to turn all that extra meat into tasty meals. From creamy pasta to hearty stew and bone broth, we're sharing some excellent ways you can utilise all that leftover turkey in recipes using your Instant Pot.
Leftover turkey bone broth is the perfect way to use up your turkey leftovers! Nutrient-dense, immune-boosting, and the best way to use every part of the turkey. It's the bases to many amazing meals.
Instant Pot Leftover Turkey Pasta is a creamy, delicious one-pot meal that uses leftover turkey meat or chicken. This is a "dump and start" pressure cooker pasta recipe. It doesn't get much easier than this tasty dish!
While chicken wild rice soup is always a popular dish, turkey is a great spin on this classic soup recipe. This creamy Instant Pot turkey wild rice soup is the perfect way to use up any leftover roasted turkey you have this holiday season!
This easy leftover turkey casserole recipe is one of the easiest Instant Pot recipes you can make, because it starts with leftover turkey and uses just a few other ingredients. You can throw in some mixed vegetables, turkey stock, and pasta so it's perfect for using up those holiday leftovers!
Think comfort food! When you are not feeling so well after all the family, all the stress, all the heavy foods, and all the germs, what better go-to meal then a bowl of soup. This only takes 30 minutes in the Instant Pot Pressure Cooker then straight into your belly and into bed to rest.
Southwest Turkey Soup is a creamy, spicy broth that envelopes shredded turkey, corn, and beans for a bowl of hearty leftover turkey soup.
Do you cook during the holidays with leftovers in mind? There's so much involved in pulling off a holiday meal to feed a crowd why not think ahead about repurposing ingredients and using up scraps. All you have to do is channel the Viet pho spirit and idea of not wasting precious ingredients.
This leftover roast turkey biryani is a quick, easy and delicious one-pot meal for all the family to enjoy to use up the leftover roast turkey.
---