Whether it's a party or a picnic who doesn't love the addictive nature of a delicious creamy dip. From buffalo chicken to creamy spinach, crab or hummus, we got some Instant Pot dip recipes that are sure to become new favorites. Get your crackers, baguettes or celery sticks ready, just no double-dipping unless no one is looking.
---
Whether it's a party or a picnic who doesn't love the addictive nature of a delicious creamy dip. Time seems to stand still and then before you know it you've inhaled half the dip and a bag of chips. No regrets when it's as good as this collection of Instant Pot dip recipes. From buffalo chicken and luscious crab to creamy spinach and hummus, we got some dip favorites to get you through the summer season.
Now for some dipping etiquette! It's been a while since we've probably shared a bowl of dip with a crowd. So here are some reminders. The DOUBLE DIP: immediate family only. At a social gathering: NO! Avoid the temptation and just put a respectable portion on your plate. If you must, there is only one way: dip one end of the chip or vegetable and make sure that other dippers see you flipping the chip. If you catch a Double Dipper, remove the dip from the area.
Have you ever had a traffic jam when dipping? Or worse a broken chip in the dip. Never leave a chip behind. Simply rescue with a bigger chip. Last but not least, never take a dip to a gathering without something to dip with. Pair appropriately with pieces of bread, crackers, chips, nachos, celery, carrots, peppers, cucumbers, or nan. A little bit for everyone's tastes.
---
CREAMY PINTO BEAN DIP WITH CARAMELIZED ONIONS
This creamy pinto bean dip made with cream cheese and caramelized onions is delicious and healthy, perfect as an appetizer, finger food, or snack. Serve with your favorite corn chips, crackers, vegetable sticks, or as a side dish with tacos, burritos, or Mexican rice. Recipe from Instant Pot Eats.
Instant Pot Buffalo Chicken Dip
It's quick, easy, super creamy, and delicious! With a kick of spice and loaded with cheese, it'll be a go-to party appetizer! Recipe from Domestic Superhero.
EASY INSTANT POT BEEF ENCHILADA DIP
This is the perfect dip for a party, event, or movie night when you want something different from what you can buy at the store in the chip aisle. Recipe from Conservamome.
INSTANT POT HUMMUS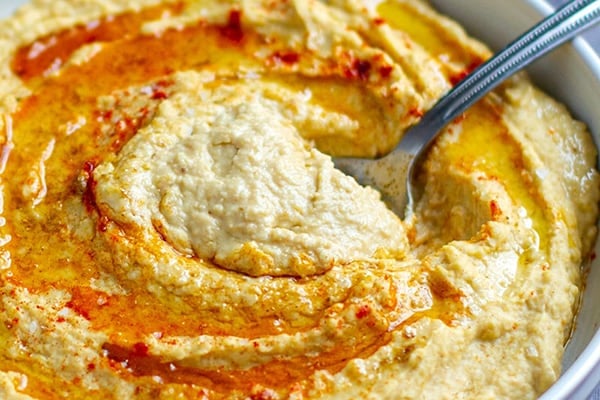 It's gluten-free, vegan-friendly, and can be used in wraps, salads, or as a dip. And yes, it's very easy to get a tub of pretty decent hummus from any supermarket, but there is something rather satisfying about making your own batch. Recipe from Instant Pot Eats.
CHEESY BUFFALO CAULIFLOWER DIP
A must for any game day, picnic, or potluck! It's spicy, cheesy, and creamy, and you'd never guess it's healthy, vegan, gluten-free, and oil-free! Plus, it's made with just 10 ingredients and everything gets dumped in the Instant Pot. Recipe from Rainbow Plant Life.
Instant Pot Crab Dip
Creamy, cheese crab dip with Old Bay Seasoning tastes great served on a sliced baguette, crackers, celery, or chips. It makes a lot so if you're hosting a party it's perfect. If not, you can halve the recipe or even freeze the leftovers. Recipe from 365 Days of Slow + Pressure Cooking.
INSTANT POT EGG SALAD (KETO, GLUTEN-FREE)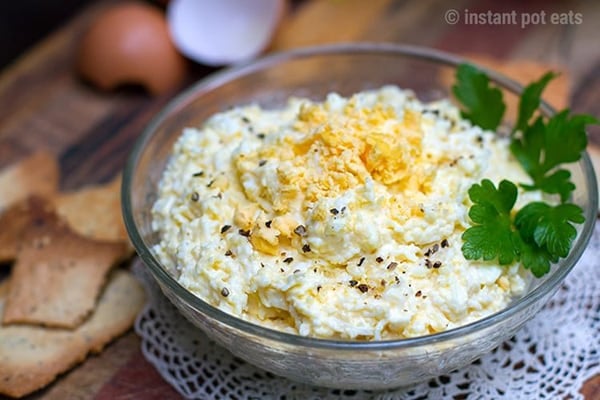 This tangy and sharp Instant Pot egg salad (or dip) is made with cheese, mayo, and garlic and is inspired by a Ukrainian family recipe, often prepared for celebratory feasts and parties. Perfect for using up hard-boiled eggs, this recipe is gluten-free, keto, and low-carb friendly. Recipe from Instant Pot Eats.
CREAMY SPINACH DIP

Whip up this delicious cheesy spinach dip that's loaded with flavor. Perfect with toasted baguette or veggies. Recipe from Sweet C's Designs.
Instant Pot Bacon Cheeseburger Dip
Bacon, cheese, and meat, what more could you ask for?! If you have never had this before, it's like eating a bacon cheeseburger without the bun. It's a rich meaty dip made with cream cheese, shredded cheese, tomatoes, bacon, and hamburger. It's so warm and filling! Recipe from I Don't Have Time For That.
BLACK DAL (CAN DOUBLE AS A DIP!)
You will love this creamy and buttery Instant Pot black dal recipe inspired by the famous signature Dal Makhani from London's Indian restaurant chain Dishoom. Made in a fraction of the time compared to the original (which is cooked for 24 hours in the restaurant), this incredible lentil dish will delight with its complex flavors and heavenly texture. It's gluten-free and vegetarian-friendly. Recipe from Instant Pot Eats.
Instant Pot Artichokes + Creamy Garlic Dip
Learn how to cook artichokes and eat them with a creamy garlic dipping sauce! Recipe from Eating Instantly.
Instant Pot Queso

Instant Pot Queso with Rotel tomatoes and white cheddar is begging to be scooped up with chips or poured over nachos. Make thick and creamy queso in minutes with your pressure cooker! Recipe from Shugary Sweets.
3-2-1 Dip
An EASY dip with just 3 different ingredients!! With 3 different choices on how to make it! The name comes because there are 3 blocks of cream cheese, 2 cans of Rotel, and 1 pound of Italian sausage used. Creamy, cheesy comfort food that's great for game day parties or TV nights on the couch. Recipe from Averie Cooks.
---
SAVE These Instant Pot Dip Recipes TO PINTEREST