Comfort autumn food that brings warmth to the belly and puts a smile on the face is on our list today. Perfectly cozy Instant Pot fall recipes that are hearty, use seasonal produce and warm spices that your family will love.
---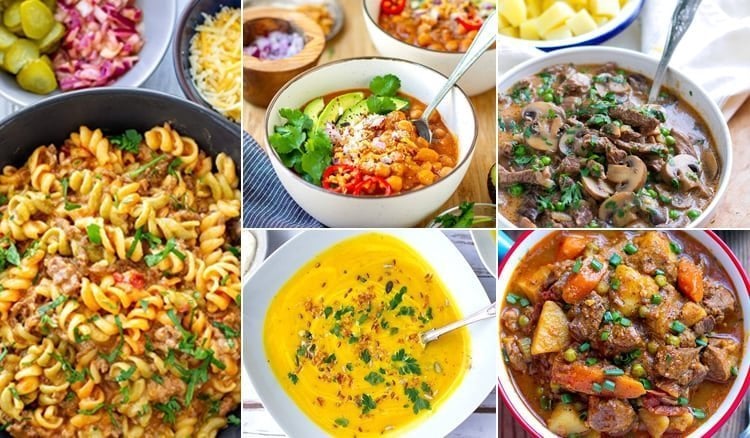 The leaves are changing to beautiful hues of orange, red and yellow. Walking outside you can hear the crunch of the leaves that have fallen under your feet. There's a crispness in the air that makes you bring the collar of your coat a little closer and a little tighter towards your neck. The days are getting shorter. Minute by minute, each day, sunset comes sooner to put everyone in the house to bed.
These are the signs of autumn. The beginning of that desire to hibernate like a bear or just curl up with a blanket and socks by the fire with a large cup of mulled apple cider. It's the season when cravings of warmth from inside out make the kitchen the heart of the home; it's about comfort food and cozy meals that belong in a bowl to hold close.
We want to share some of our favourite Instant Pot fall recipes including warming stews, soups and hearty dishes to bring a touch of gourmet to your nights in. We've broken them down into categories of meaty dishes, gluten-free and vegetarian and vegan-friendly options.
---
Hearty Dishes With Meat & Poultry

Have you ever heard of Zuppa Toscana before? The term literally means Tuscan Soup and is a traditional Italian soup recipe normally made with cannellini beans, carrots, celery, kale, zucchini, and bacon, and finished off with crusty Italian bread, that is often stirred into the soup and left overnight to thicken up.
Quick and easy Instant Pot chicken noodle soup that can be on the table in 30 minutes? Yes, please! We love nutritious and healthy meals the whole family can enjoy and that don't take much effort and this chicken soup is one of those recipes.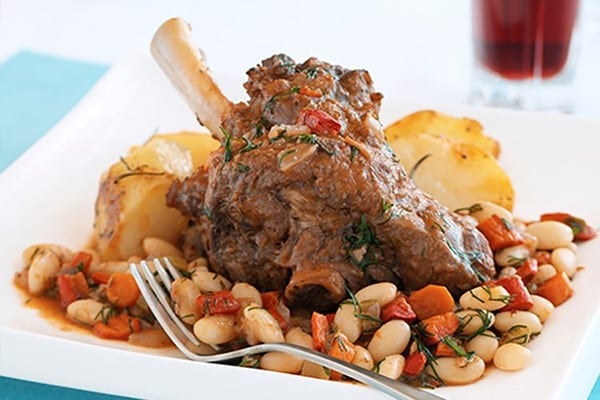 Bring a little Tuscany into your kitchen with these succulent Instant Pot lamb shanks served over soft white beans and tomatoes. There's a subtle liquorice flavor of fennel with lamb to play with your culinary taste buds.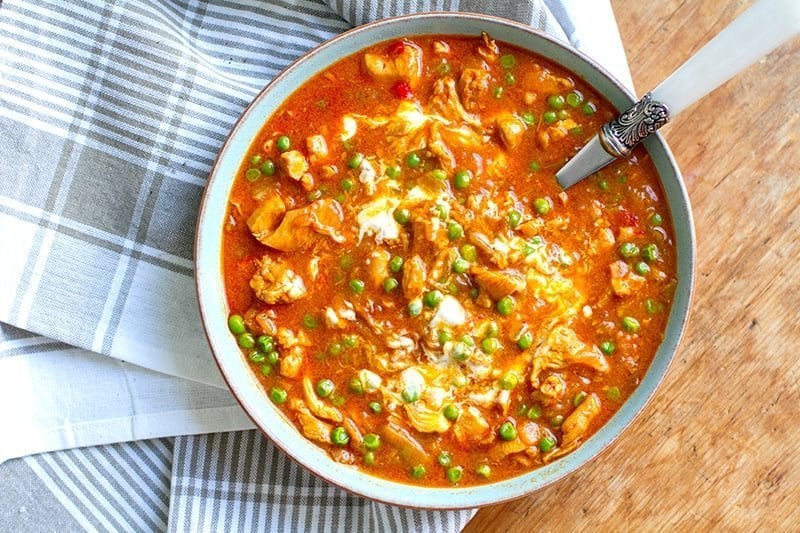 Chicken paprika (also known as paprikás csirke) is a popular Hungarian dish. This dish has two key ingredients: chicken and paprika. Some people add lots of onion, some butter, sour cream and garden peas. Other recipes call for green peppers or carrots. It is really up to you and what you like. Gluten-free.
If you haven't made beef Stroganoff before, it's a hearty stew of thinly sliced beef steak, onions, mushrooms, and sour cream. It's delicious over anything including pasta, rice, potatoes or zucchini noodles. It's also gluten-free and keto-friendly. Gluten-free.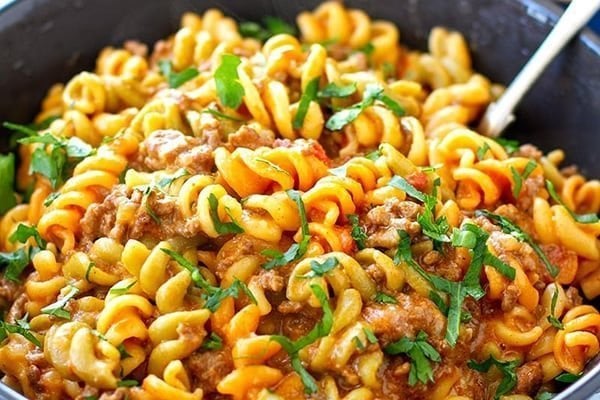 This Instant Pot hamburger helper inspired pasta is a great family meal and comes with a little cheeseburger twist. It's a perfect one-pot meal if you're looking for ground beef pasta recipes or needing a substantial meaty meal on the budget.
You don't have to travel to Morocco to experience its amazing, flavorful cuisine. This lovely Instant Pot lamb stew uses Moroccan-inspired ingredients and spices and is cooked up with soft potatoes, carrots and peas for an incredible one-pot dish. Serve it with rice, couscous or quinoa, or low-carb cauliflower rice. This recipe is dairy-free and gluten-free and can be made Whole30 and Paleo-friendly. Gluten-free.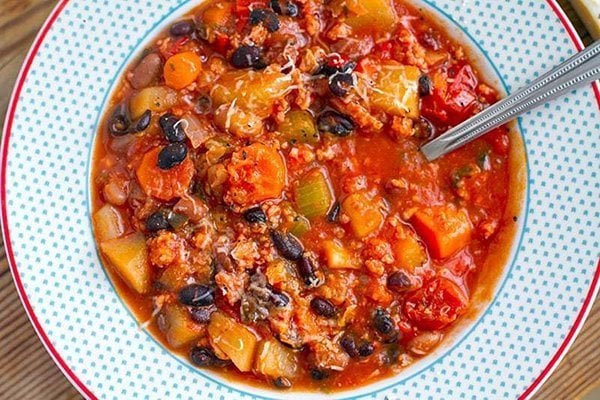 If you love an Italian minestrone or a good Bolognese sauce, you will love this gorgeous, Tuscan Instant Pot stew. It can be made with any ground meat of your choice – pork, turkey, chicken or beef – and is incredibly easy and quick to prepare. You can modify this into a vegetarian dish by replacing the meat with diced mushrooms instead. Gluten-free too! More Italian Instant Pot recipes here.
Gluten-free Instant Pot Dishes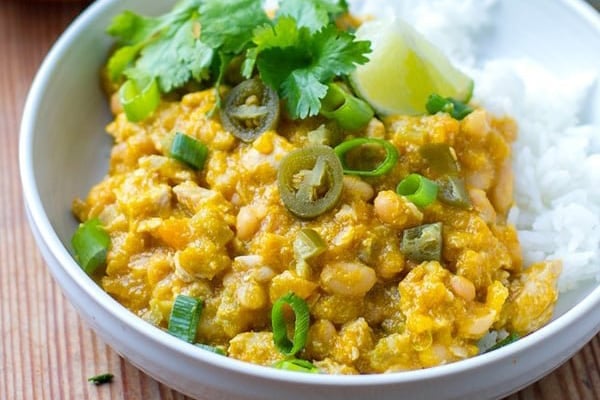 Departing from the classic beef and tomato chili, this dish is made with white poultry meat such as turkey, cannellini or other white beans and sweet pumpkin or winter squash, such as kabocha (Japanese pumpkin). The pumpkin softens and integrates into the broth during cooking, and paired with warm spices and a little green chile it develops into the most delicious sauce.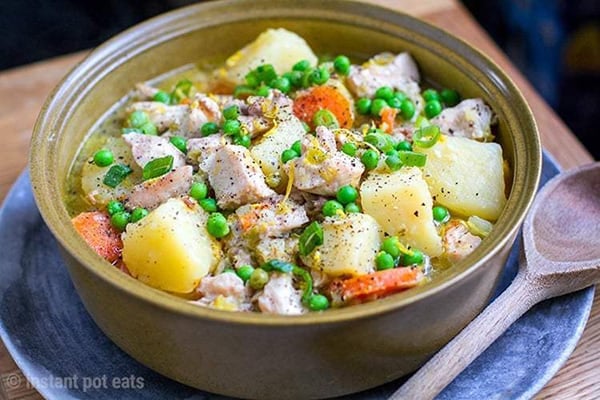 We love a good one-pot meal and with the Instant Pot, you can make this tasty and rustic meal of chicken and potatoes with minimal cleanup. Cooking the potatoes and chicken at the same time allows for the flavors of poultry, leeks, and vegetables to infuse the spuds, while the starch in them thickens the broth and makes it rich and hearty. It's one of our favourite Instant Pot chicken recipes.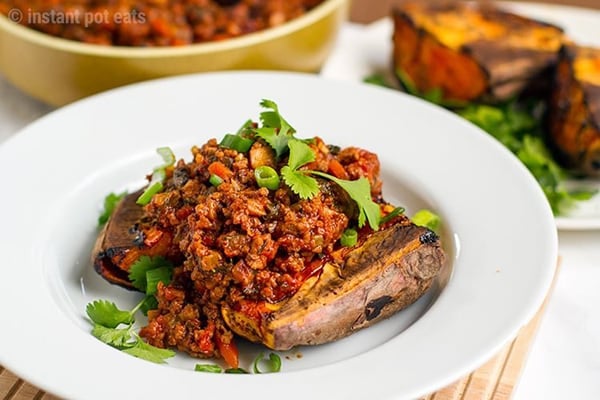 Who doesn't love a generous serving of sloppy joes over a soft bread roll? This Instant Pot sloppy joe is a bit healthier, by changing up the source of the sweetness and adding veggies in the process. Loaded with vegetables and made with grass-fed beef, these Instant Pot sloppy joes are more nutrient-dense version of your favorite comfort food. Paleo-friendly recipe.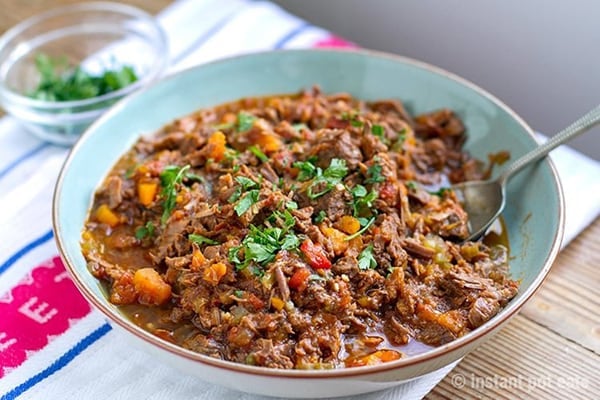 Originating from northern Italy, ragu or ragù is a meat-based sauce that is commonly served with pasta. This recipe is inspired by the Neapolitan ragu, made with whole diced beef, more onion and vegetables, and more tomato puree. It's paleo and Whole30 friendly, gluten-free, high in protein and iron, and full of flavor.
If you've always been intimidated to make a homemade risotto, make sure to give it a go in the pressure cooker. This delicious Instant Pot beet risotto is bursting with flavors and has the most beautiful color that will impress your family or dinner guests.
Almost every country in East Europe has its own version of this delicious beetroot-based soup. This Instant Pot Borscht is such a lovely, hearty beet soup and it's quick and easy when made with the pressure cooker. It's delicious, full of nutrients. vegan-friendly, and gluten-free.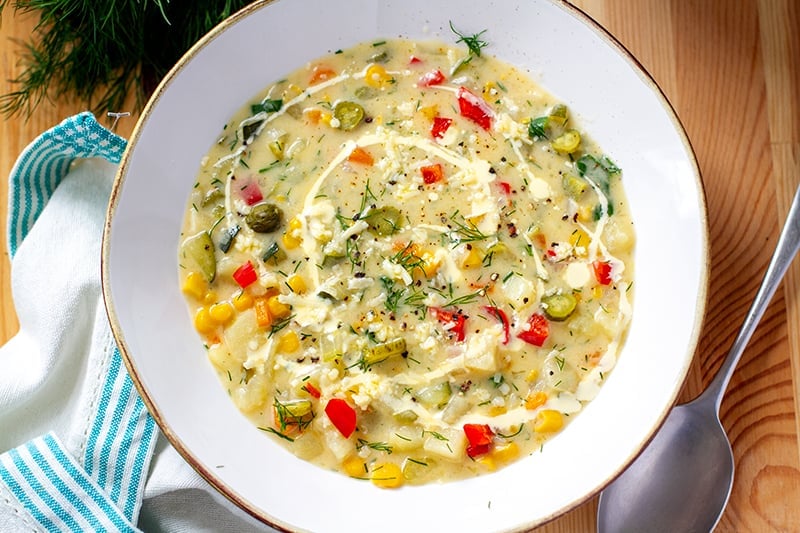 This chunky, creamy Instant Pot chowder is loaded with vegetables, including potatoes and sweet corn, and is thickened with cheese, cream and gluten-free starch slurry made with tapioca flour. We got inspired by a dill pickle soup and added a twist of finely diced gherkins and fresh dill right at the end. They add freshness and little bursts of flavor taking this classic soup to the next level.
Vegetarian/Vegan Instant Pot Recipes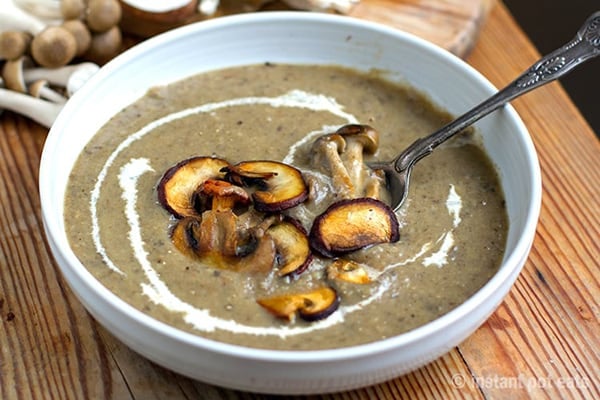 Forget the canned mushroom soup! Making your own cream of mushroom soup is quick and easy using an Instant Pot pressure cooker. You will achieve nutrient-density without the preservatives and additives. Pressure cooking not only makes it quick and easy, but it also helps to intensify the flavors of the ingredients.
Chai is a tea made with aromatic Indian spices such as cardamom, cinnamon, ginger, and clove, and often honey. This Instant Pot rice pudding is made with warm chai spices and sweet dates for an Indian-inspired breakfast or dessert. It's vegan, dairy-free and gluten-free. If you've never made rice porridge or anything similar before, check out our simple instructions on how to make Instant Pot rice pudding here.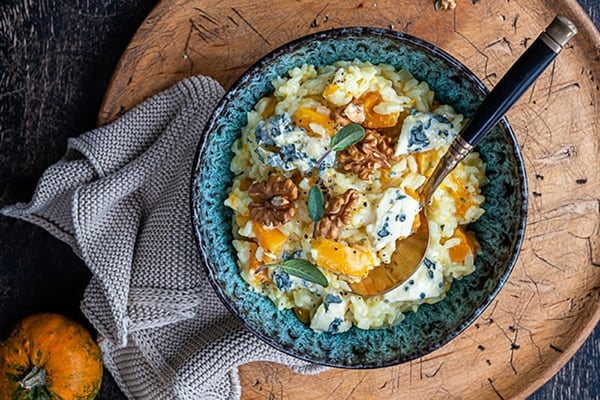 Risotto is the perfect comfort food: creamy, buttery and delicious. This comforting and creamy Instant Pot butternut squash risotto comes with a twist of blue cheese instead of the classic Parmesan cheese. This recipe is by our contributor Lucy Parissi of Supergolden Bakes blog.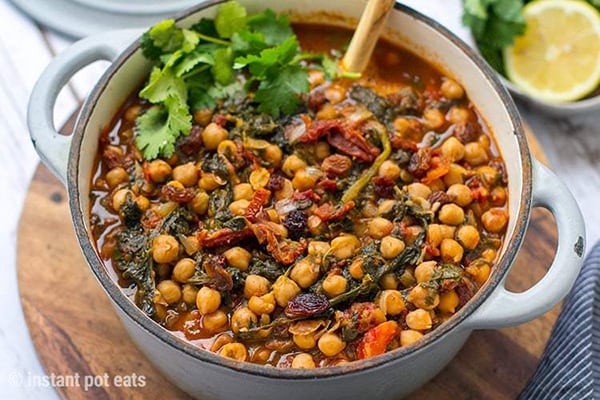 This vegan and gluten-free friendly Instant Pot chickpea stew is a delicious main meal full of Moroccan-influenced spices and flavors. Serve it over rice, couscous or with some crusty bread.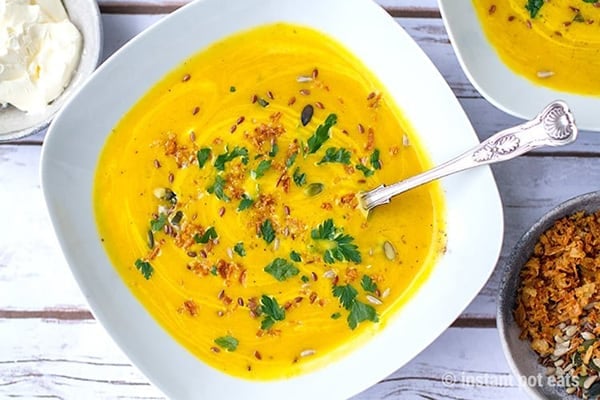 With fall comes the season for winter squash. Cooking soups is one of the easiest things with Instant Pot and it's a great way to use up all that gorgeous autumnal produce. Cooking with butternut squash is also very nutritious as this starchy root vegetable is full of vitamins, antioxidants, and fibre. Serve it with a topping of seeds, nuts or cooked chickpeas.
This gorgeous split pea stew is adapted from a classic Turkish lentil soup, also known as Mercimek Çorbası. It's simple, rich and nutritious stew is full of warm, aromatic spices and flavors that will get you asking for seconds. Made with yellow split peas, this vegan and gluten-free friendly stew is ridiculously easy and quick when made in an Instant Pot pressure cooker.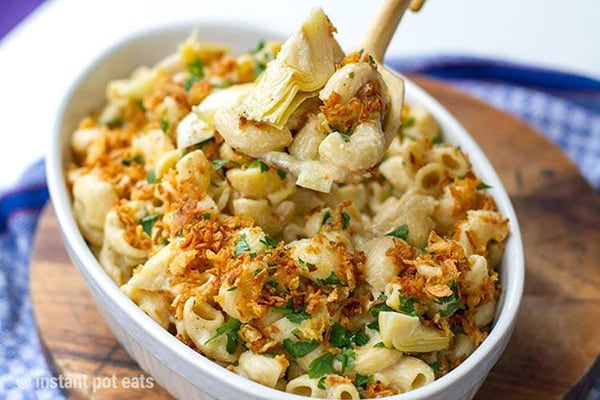 If you love a good mac and cheese but would like to avoid that heavy, bloated feeling you can get after too much dairy, this recipe is exactly what you need. This vegan Instant Pot mac and cheese is made with dairy-free cashew sauce. Artichokes add a lovely gourmet touch (not to mention the flavor) and extra fibre to this dish.

Made with butternut squash pumpkin and garbanzo beans (or chickpeas), this Instant Pot chili is comforting and hearty. Served with diced avocado and cilantro, this is a must-go gluten-free, vegetarian, and vegan chili for your pressure cooker. This is a great make-ahead, freezer-friendly recipe.
---