Our favourite Instant Pot Thanksgiving and holiday recipes, including savoury main dishes, sides, and desserts. Yes, pumpkin pie is on the menu!
---
Thanksgiving is right around the corner, and you know what that means: it's time to feast. For many of us, the holidays also bring a lot of stress with the joy and festivities. If you're lucky, the family will divvy up the prep work evenly and some people will bring the main dishes while others bring the sides. Either way, you have a duty to fulfill, and this year we want the Instant Pot do the hard work for you. Here are some of our favourite crowd-pleasing Thanksgiving Instant Pot recipes.
These dishes are going to be easy to make – even last-minute – and you can feel confident that you're really bringing good eats to the table. Don't let the fear of feeding a crowd hold you back!
Let's start with the star of the meal. Most people make a big turkey for Thanksgiving. If you've used your pressure cooker for long enough, you know it's fantastic for cutting back time to cook large chunks of meat, including but not limited to entire birds. Better yet? This recipe cooks the turkey from frozen, so you don't even need to worry about defrosting it. Let's face it – we've all been there on Thanksgiving eve! It's done in a little over an hour, and you can use the saute function to fix the gravy. BOOM!
Maybe your family does a ham instead of turkey on Thanksgiving. The same rule still applies here: you can use your Instant Pot for that. Case in point? This beautiful ham that comes to life with a sweet maple-honey glaze. For these bigger meat recipes, you will need a larger pressure cooker – something like a 10-quart. An 8-quart pot will work if you plan your size around it. With this method, there's no such thing as a dry slice. It's moist and tender all the way through, and your guests will be impressed by the homemade glaze broiled on to the fall-apart ham.
If whole roast chicken is more your speed this holiday season, make sure to check out this post on some of the tastiest, juiciest Instant Pot whole chicken recipes.
Now, let's move on to the sides. One of the most anticipated dishes at the Thanksgiving table are the cheesy scalloped potatoes. Making potatoes in the Instant Pot cuts away at the most labour-intensive parts of preparing scalloped potatoes. It's a two-step recipe, but you won't have to tend to potatoes just waiting for them to be ready. It literally takes one minute in the pressure cooker! Or you can try our Instant Pot Scalloped Potatoes & Leeks Au Gratin, which take a little longer but use the French cooking technique of cooking the potatoes and leeks in the creamy sauce in the IP and then finishing them under the grill.
Some people love it and others hate it, but you know you'll have your people who take seconds, so make sure this green bean casserole makes an appearance at the party this year. It's a simple list of ingredients, coming to life with just some heavy cream and sliced mushrooms in the mix. Oh, and don't forget the fried onions on top! You can even use frozen green beans to make it simpler, and if you're feeling up to it, add some bacon for an extra layer of mouth-watering flavour.
There will be more sweet potato and potato recipes to come. First, let's cover some ground with a Thanksgiving staple. There's really no other time of year when you bake sweet potatoes in a mess of sugar and top them off with marshmallows. If this is the treat you most look forward to, consider making it in the Instant Pot. In just four minutes, you get tender yams with a buttery thick syrup ready for their fluffy white topping.
If you prefer your sweets with a crunchy pecan topping, you know this casserole well. It's not overly sweet like the marshmallow candied yams, instead of enhancing the natural sweetness from the sweet potatoes. They're still quite decadent, blended with brown sugar, butter, egg, and cream for a seriously hearty side that will give way to that traditional Thanksgiving food coma.
The turkey is nothing without the stuffing. Many people look forward to what's on the inside just as much if not more than the main, so don't skip out on it! You can bake it in the bundt pan in just 15 minutes using your favourite bread. If you're feeling really ambitious, use that time saved to bake a loaf from scratch.
8. Corn bread from Whitney Bond
You need something to soak up all that gravy with, or just butter in the meantime while the chefs of the evening put their finishing touches on the main course. Corn bread is always welcome at the Thanksgiving feast, and it will certainly give you something to be thankful for. This recipe is suited for the slow cooker, but you can use the slow cooker function on your Instant Pot or experiment with quicker cooking times (reference other bread recipes) in a bundt pan.
9. Deviled eggs from Pressure Cook Recipes
Deviled eggs are the perfect snack. They're relatively light and healthy, so you won't spoil your appetite munching on a few before dinner, all the while trying to save room for dessert. This is one of our favourite ways to make eggs in the Instant Pot for a reason – it's so easy! Especially with the ease of peeling hard-boiled eggs out of the pressure cooker.
It's always nice to bring a soup to the table. It's light and comforting making it the perfect starter. This mushroom soup brings big flavour to a humble dish. Plus, cream of mushroom soup is often used in other holiday recipes, and you really can't beat making your own. Whether you use this to start some other magic or serve on its own, it's sure to be a game-changer.
Dessert generally takes the form of cake or pie, but rice pudding is another holiday favourite. This recipe features Indian inspiration with aromatics and chai spice for a warming and cosy treat. It's gluten-free and fairly light, so your guests can take a bit of this and a bit of that from the dessert table. We all like variety and getting a taste of everything!
Do your family and friends a favour, and blow them away with this stunning hybrid of cheesecake and Thanksgiving favourite, pecan pie. It's low-carb and keto-friendly, and everyone's blood sugar will thank them after a slice of this healthy indulgence without knowing it's healthy. Considering this cheesecake is done in just 30 minutes, it's the perfect last-minute dessert, even taking into account the time it will take to chill in the fridge.
Some people like pumpkin, but others like apple. This rustic crisp is the perfect way to end the evening with a fun addition of fennel to really embrace that seasonal produce. Your foodie friends and family will adore this dish, and you can feel good about serving it because it's free of grains and refined sugar. Nobody will know, and you'll be doing everyone a favour serving up a little something healthy after that huge meal!
15. Pumpkin pie from Pressure Cooking Today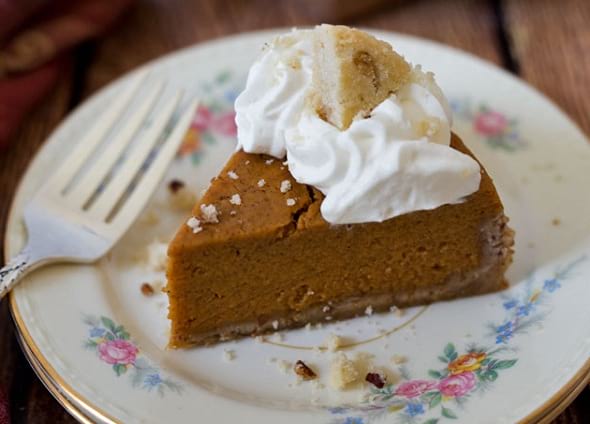 Now, for the grand finale! Do we need to say much about pumpkin pie? Everyone loves it, and it's basically the quintessential dessert at any Thanksgiving festivities. Here's the how-to when it comes to doing it up in the pressure cooker. You might want to make two…
Bonus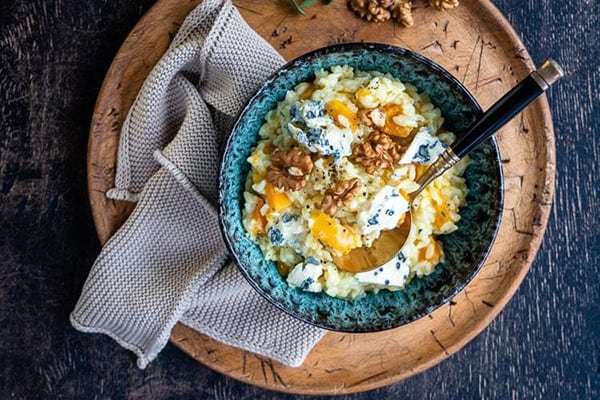 This creamy Instant Pot butternut squash risotto comes with a twist of blue cheese instead of the classic Parmesan cheese. It's perfect for a quick weeknight meal but fancy enough for company. This recipe is by Lucy Parissi of Supergolden Bakes blog.
Happy holidays! Let us know what you're making for friends and family this Thanksgiving in your Instant Pot.