From classic potato and leek to takeaway staples like ramen and pho, we have 20+ Instant Pot soup recipes that are so good, you'll want to make them all (again and again).
---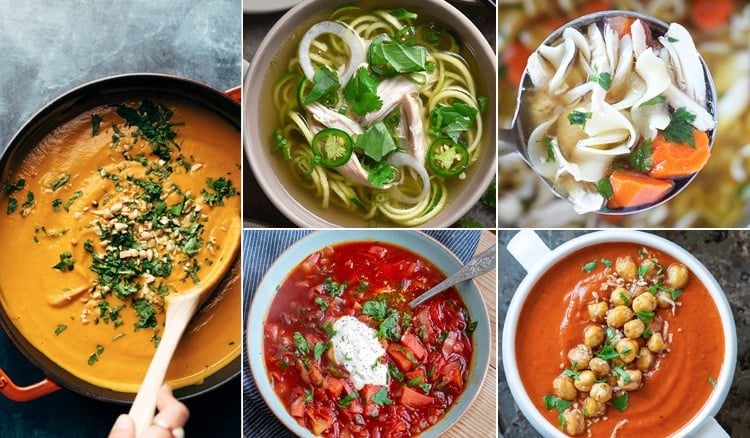 Mmm. What's that smell? Perhaps, it's the scent of your Instant Pot lid opening to the warming promise of a piping hot bowl of soup. We all have our go-to soup recipes, our childhood favourites, and our 'cleaning-out-the-fridge' soups, but it's always fun to experiment. This is especially true with the Instant Pot. Soups are undoubtedly one of its strongest suits, and there's nothing it can't handle.
From classic blends like broccoli cheddar and potatoes with leeks to takeaway staples like ramen and pho, we have 20 Instant Pot soup recipes that are so good, you'll want to make them all. You can find even more soup recipes here.
This hearty, creamy Instant Pot mushroom soup is so good, you'll be asking for seconds before you finish the first bowl. Pressure cooking not only makes it quick and easy – but it also helps to intensify the flavours of the ingredients. Winning!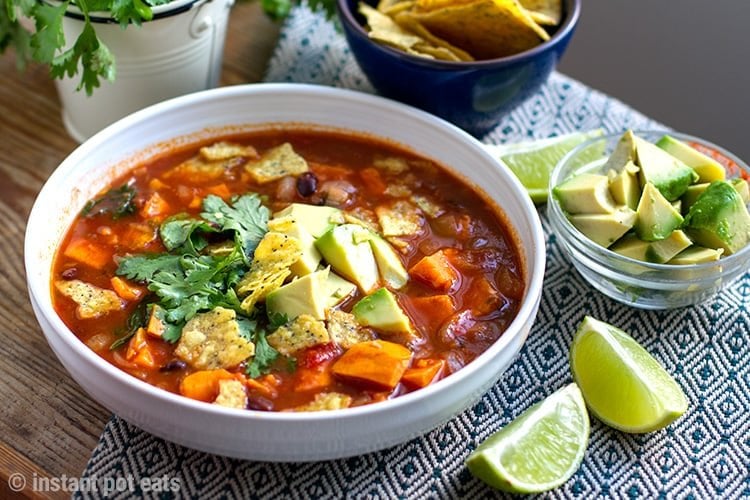 This hearty sweet potato tortilla soup is super fast and easy with an Instant Pot pressure cooker. Top with your favourite toppings such as avocado or sour cream. This recipe is vegetarian, gluten-free, and vegan adaptable.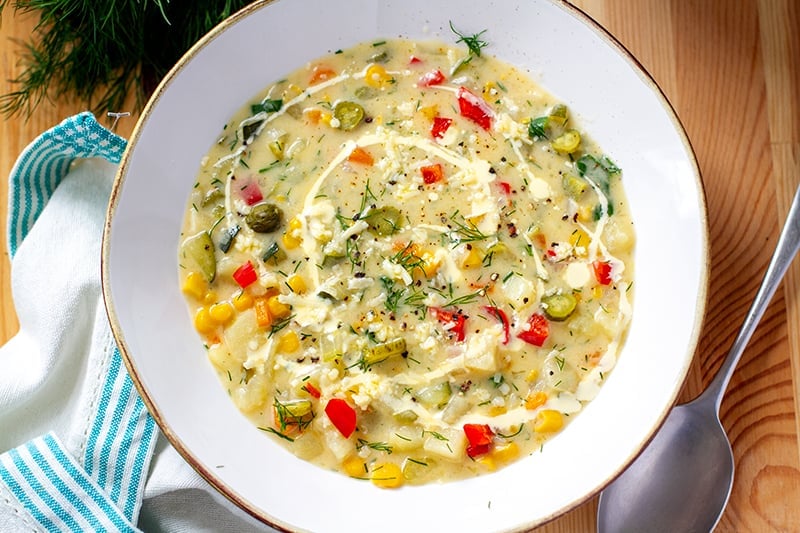 This chunky, creamy Instant Pot chowder is loaded with vegetables, including potatoes and sweet corn, and is thickened with cheese, cream and gluten-free starch slurry made with tapioca flour. We got inspired by a dill pickle soup and added a twist of finely diced gherkins and fresh dill right at the end. They add freshness and little bursts of flavor taking this classic soup to the next level.
Sometimes, tacos are simply meant to be enjoyed in soup form – especially when it looks THIS good. Skip the tortillas and turn on the Instant Pot! This paleo recipe is packed with creamy coconut milk, spicy green chiles, hearty ground beef, warm taco spices, and good-for-the-gut bone broth. You can top it off with whatever your heart desires, although we can't deny that avocado is a MUST. Whole30 Instant Pot Taco Soup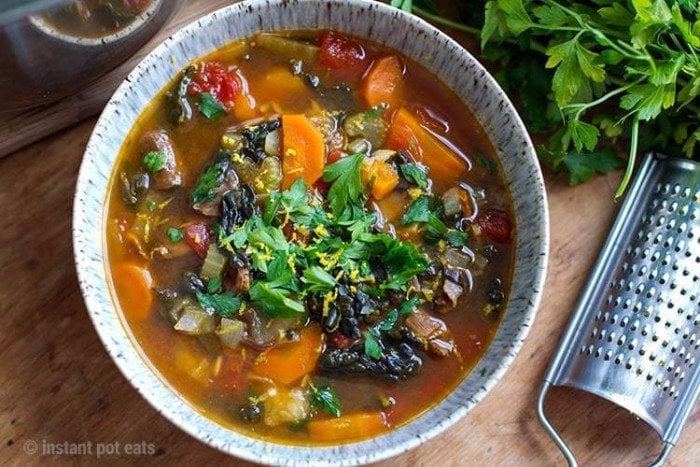 Sometimes, you just need a heaping dose of veggies. This soup features almost the full rainbow with a generous, Italian farmhouse-inspired mixture of carrots, mushrooms, kale, zucchini, and tomato. You can make it a bit heavier by adding potatoes or sweet potatoes to the mix, or you could easily top off with some shredded chicken for a full meal. On its own, this recipe is paleo-friendly and vegan-friendly.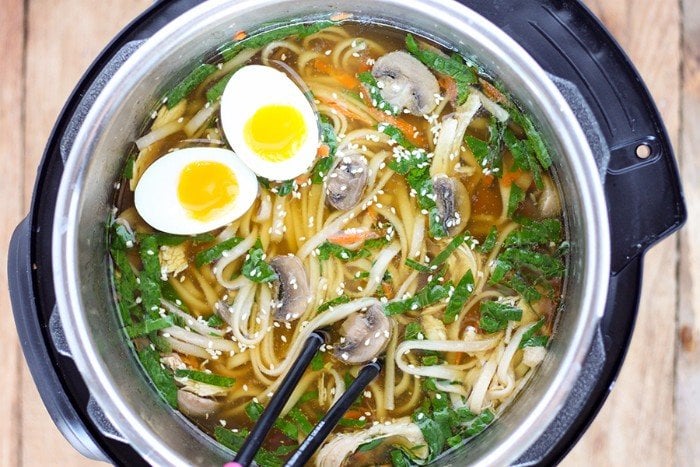 Skip the packaged stuff and opt for the real deal! It's nearly as budget-friendly – at least compared to making your way out the door and sitting down at a trendy ramen bar. You can really make it your own, too, and you don't have to feel like you're in college again while dipping into this bowl and sipping down every last bit of delicious broth! From Number 2 Pencil.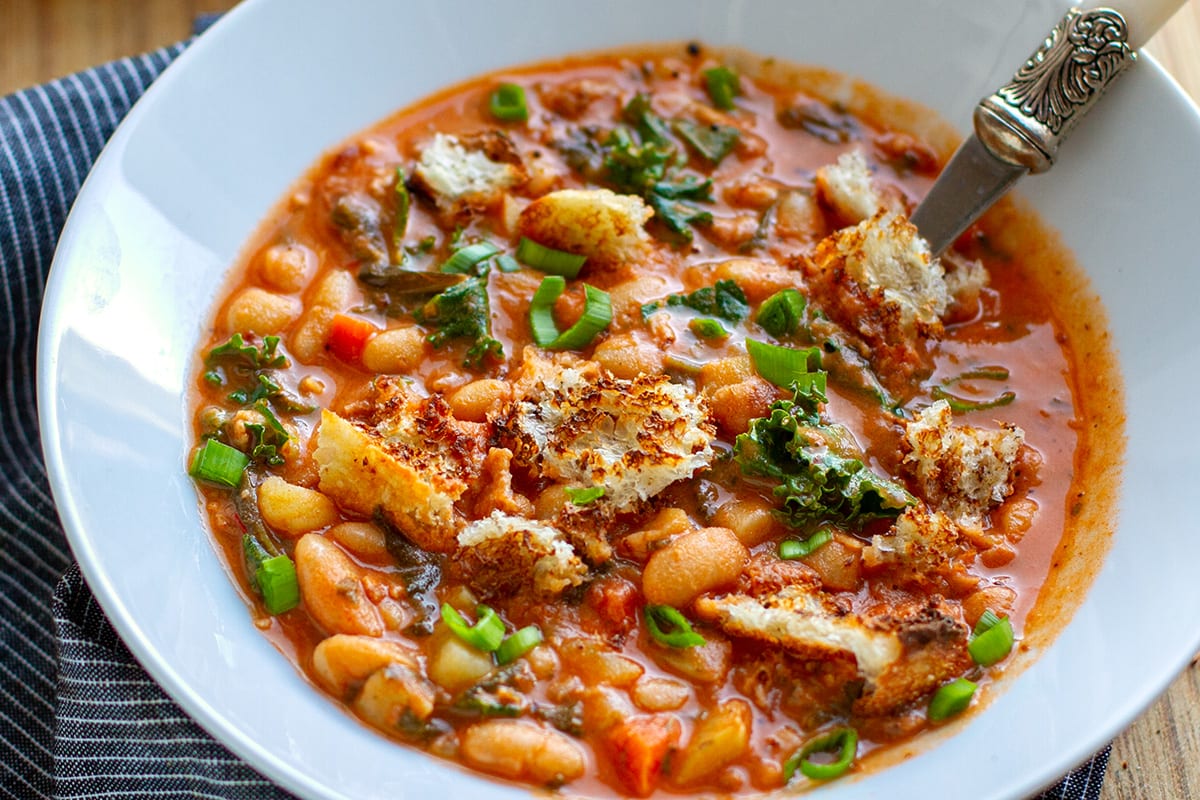 This Instant Pot Zuppa Toscana is the perfect mix of the authentic Italian recipe and the Olive Garden's favourite Tuscan soup recipe. It's hearty, nutritious and full of flavour.
Pho? Fo' sho'. But seriously, who could say no to pho? It's ALL about the broth, and once you've got that going on, you're ready to load up your bowl with noodles – or zoodles, in this case – tender chicken or beef if you prefer, aromatic herbs, diced jalapenos, and fresh lime. It's a simple equation for something truly special. From Nom Nom Paleo.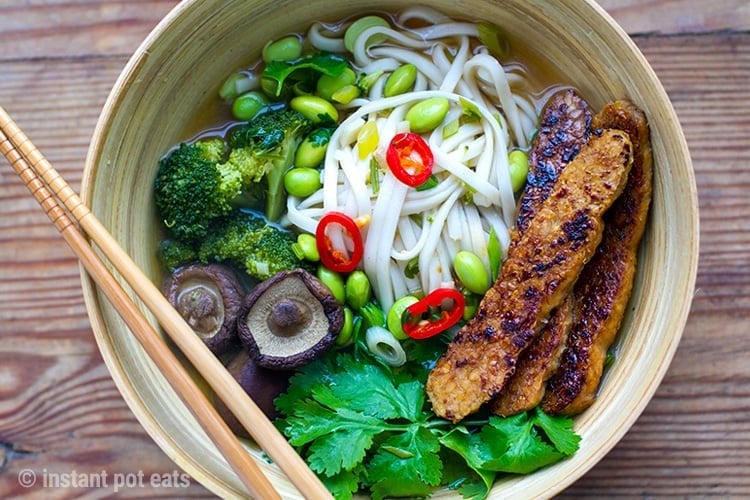 This healthy and light vegan Instant Pot udon soup is made with mushrooms and soy sauce infused broth and is served with protein-rich edamame and crispy tempeh. It's quick, easy, and perfect for a weeknight meal.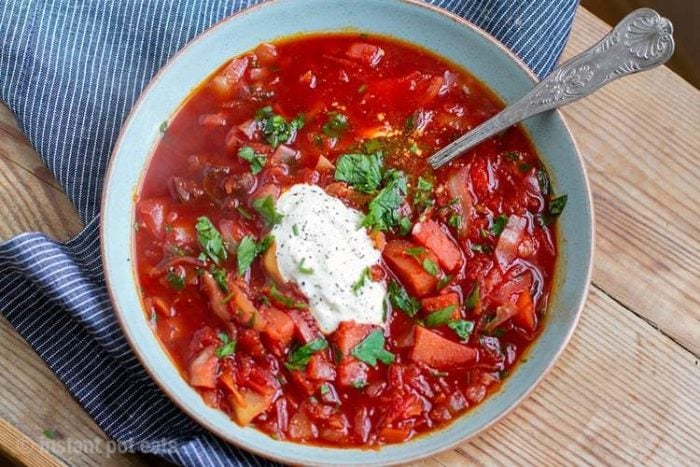 There are so many ways to make borscht, but any which way you make it happen, it's going to be a treat. Our Instant Pot recipe is simple, vegan-friendly, and so darn good for you! Beets are a fantastic food for detox, and this soup tastes really yummy served hot or cold so you have great leftovers to get your veggies in for days. Top with sour cream or non-dairy yoghurt.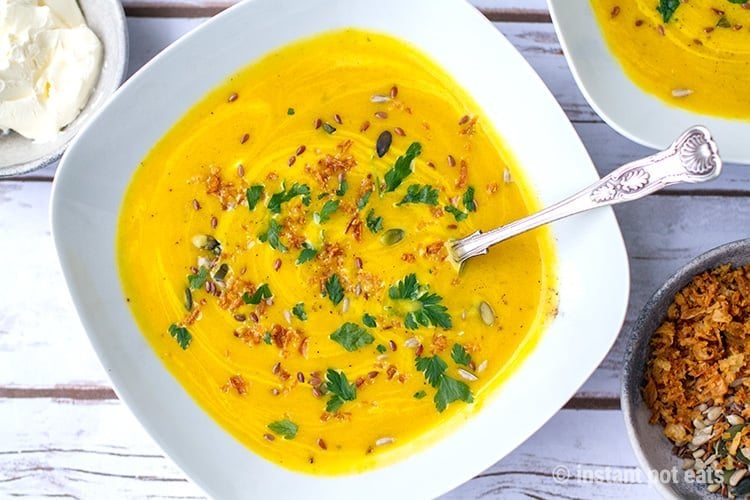 Perfect for fall and winter, this Instant Pot butternut squash soup only takes 20-25 minutes from start to finish. It's gluten-free, paleo, vegetarian and vegan-friendly.
Anything topped with bacon is a good idea, but it's an especially good idea if it's a thick blend of cauliflower and butternut squash with cream and delicious spices. This soup is a lightened up version of potato soup, but it still boasts that same creamy texture. You can easily swap out the cream and cheese for coconut milk, making this either paleo or vegan without sacrificing taste. From Peas and Crayons.
Buffalo chicken wings, buffalo chicken dip, buffalo chicken poppers… buffalo chicken is ALWAYS a good idea. Why not turn it into soup? This main meal couldn't be mistaken as party food or junk food. This low-carb soup is keto-friendly, and there is no shortage of rich, delicious fats in here – heavy cream and cheddar cheese make up the base, while ranch seasoning and hot sauce come together for that buffalo awesomeness everyone loves. Recipe from Health Starts in the Kitchen.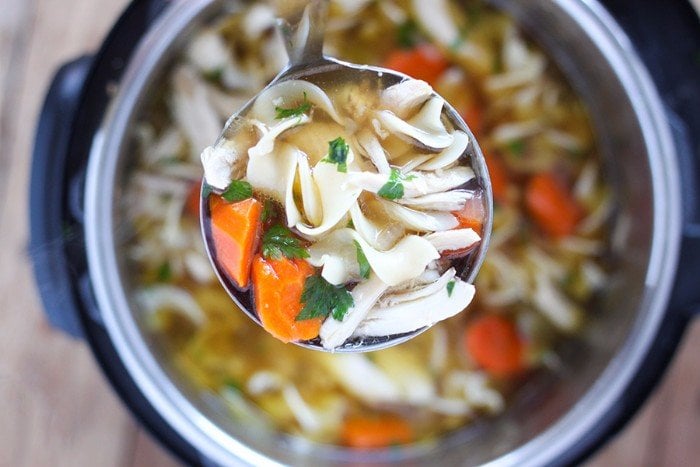 You know we couldn't leave out a classic chicken noodle soup from the mix! Whether or not you're under the weather with a case of the sniffles, chicken noodle soup is a must-know recipe… one you should master! Start with the Instant Pot. After all, you know when you are feeling a bit sick and need a little healing, you're not going to want to do much more than an ingredients toss. Recipe from Number 2 Pencil.
Creamy without the dairy? Yes, please. This chicken soup is a unique spin on the classic sans noodles plus a few extra elements of flavour. This is going to taste like it's been simmering all day without the long wait because sometimes, you just can't. It's made rich with plenty of coconut cream, spotted with peas and mushrooms for the ultimate boost of texture amongst shredded chicken strewn carefully throughout. Recipe from Tasty Yummies.
You know what they say about beans: "The more, the merrier." Okay, maybe we said that, but still. You can pick up a 15-bean blend at the store, or go through the effort of sourcing them all individually (props to you, dedicated cooks). Ham and bean soup is a classic, but this one is a rainbow of plant protein and bursts of different and flavour from all those little legumes. Recipe from A Pinch of Healthy.
This is a popular Chinese dish, and it's generally served before the meal as an appetiser. You can easily whip this up with frozen ingredients or fresh. It's a fantastic winter warmer or just a nourishing yet budget-friendly meal to put on rotation throughout the week. It's packed with healthy fats, protein, vitamins and minerals, and immune-boosting broth.
The Instant Pot transforms a tough cut like beef blade roast into tender, juicy, highly edible and delectable meat in minutes. That's why it's featured in this Thai-inspired soup. This keto recipe features Shirataki spaghetti which is a low-calorie, grain-free noodle that works really well in flavourful broths like this one. This is an awesome treat whether or not you're low-carbin' it. You can always use soba noodles, zoodles, or your favourite pasta instead! Recipe from Sweet Savant.
This is your standard fare of leeks and potatoes with a few of our own spins on this classic dish. There's some kale in the mix for a bit of extra green, both for nutrition and taste. You'll also find notes of Cheddar cheese for that exceptional savoury bite in each slurp and sip. This is a good one for meal prep as it freezes nicely.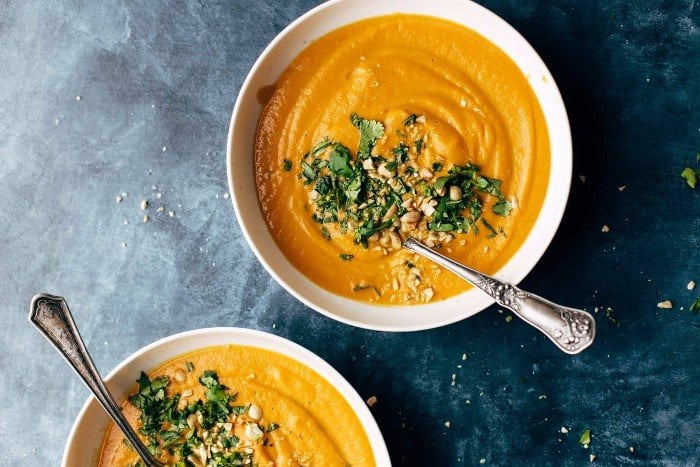 Carrots make for a fantastic soup. They're slightly sweet, slightly starchy, and not too much of any one characteristics in particular. They take on flavour quite well – especially spice – and this creamy, vibrant, blended soup is the perfect example of this root's potential. This soup is dairy-free and gluten-free with a dreamy secret ingredient – peanut butter! Swap it out for almond butter if you're avoiding all legumes. Recipe from Pinch of Yum.
Broccoli cheddar soup is easily amongst the most-loved soups you could make. It's cheesy, creamy, and loaded with veggies so you can feel good about indulging in this comfort food. Serving recommendation: ditch the bowl for a bread bowl. Recipe from Eat Live Run.
Sometimes, you just need a hug… that's where this bowl comes in. It's a blend of comfort foods you didn't even know belonged together, but once you get a taste of the stuff, you'll get it. This slightly spicy blend features an ultra-rich base of potatoes and cream with fresh chorizo and sweet corn tossed throughout, present in every bite. Drool. Recipe from The Eyes of a Boy.
You know the cans of soup boasting how chunky they are? When it comes to tastes, there are those who like a creamy, blended soup and those who want a little more. This one is for the latter. It's almost like an unstuffed cabbage roll featuring the humble yet deeply satisfying blend of tender cabbage, hearty beef, and slightly sweet tomatoes. Recipe from Skinnytaste.
If you're missing the Olive Garden classic soup, you should probably learn how to make it at home. It's cheaper, it's easier – especially with the Instant Pot, and it's far healthier. This paleo version skips out on dairy without sacrificing the creamy texture that makes this soup a true fan favourite. The only thing that's missing is endless breadsticks, but we're sure you can figure something out. Recipe from Wholesomelicious.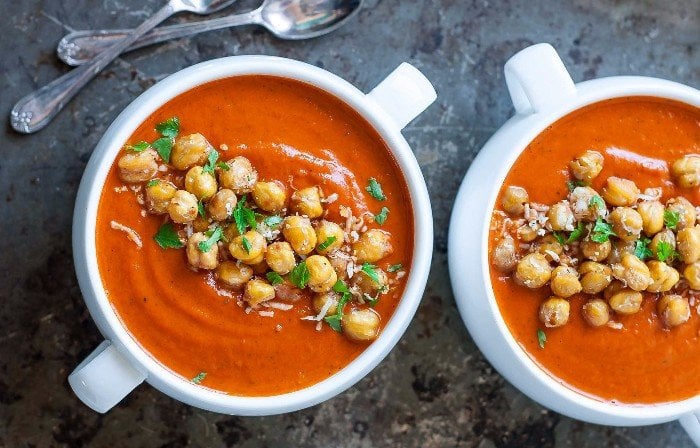 Creamy tomato soup is a recipe everyone needs to know, otherwise, you'll always be reaching for the can! You can preserve the harvest in the freezer for future recipes, too. Dip your grilled cheese into this tempting bowl topped with crunchy, roasted, Parmesan-dusted chickpeas, or simply enjoy it all on its own. Recipe from Peas and Crayons.
Anyone who grew up in an Italian family holds a special place for wedding soup in their hearts – special occasion or not. It's all about the meat with this one – a blend of shredded chicken and melt-in-your-mouth meatballs. This version is grain-free and paleo-friendly without skipping a beat, but you could easily add some acine de pepe to the mix if you are going for traditional. Recipe from Gluten Free Pressure Cooker.
Bonus
This gorgeous Instant Pot lentil soup is a delicious and healthy meal full of plant-based protein, fiber, and nutrients. It's tasty, simple to make and is vegan-friendly and gluten-free.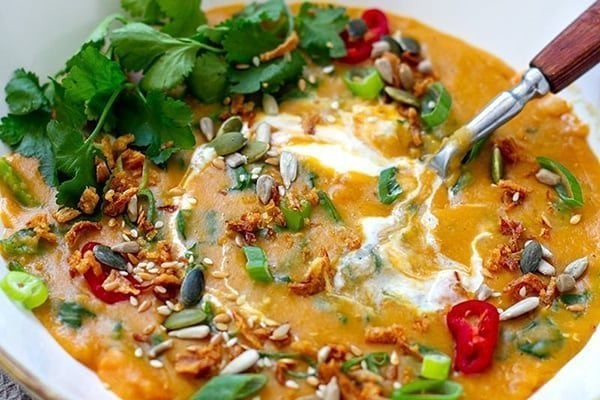 If you love aromas of Thai cuisine – think zesty lime, fresh cilantro, fragrant curry, ginger, garlic, and coconut – you will really enjoy this creamy, hearty Instant Pot red lentil soup. It is packed with veggies, plant-based protein, and creamy coconut milk. This soup is gluten-free, dairy-free and vegan-friendly. Recipe from Instant Pot Eats.
What's your favorite soup? There are so many to choose from, but everyone has a recipe they love! Have you made it in your Instant Pot yet? Let us know! Want even more soups, check out all of our Instant Pot soup recipes here.
---