Today, we are sharing our latest instalment in our series of Instant Pot cookbook reviews. We love sharing recipes with you, but we're also eager to share some kitchen library staples as the Instant Pot grows in popularity, and more resources are on the market. In this post, we're featuring Urvashi Pitre's  'The Keto Instant Pot Cookbook.'
---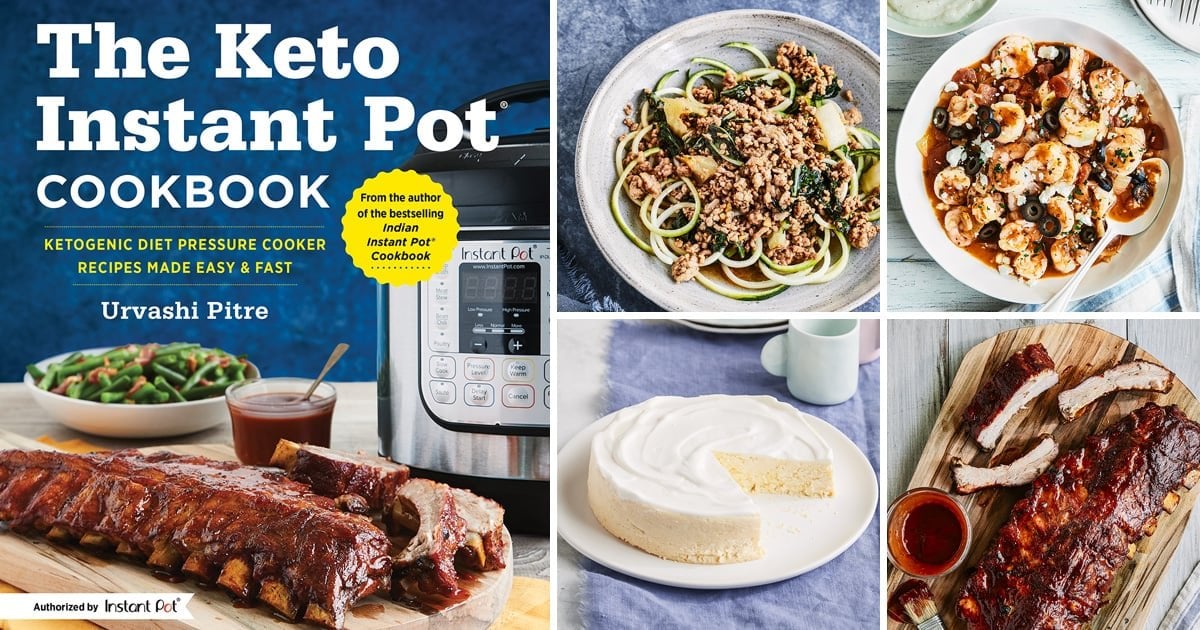 The book: The Keto Instant Pot Cookbook by Urvashi Pitre
The focus: Making low-carb cooking easy and quick with the Instant Pot for any keto enthusiast.
About the author
Urvashi Pitre is a long-time keto and low-carb enthusiast who lost over 80lbs and is a pressure cooking expert (she also uses her Air Fryer a lot). It is clear in her books, Indian Instant Pot Cookbook and The Keto Instant Pot Cookbook that she is passionate about crafting delicious pressure cooker meals that take on flavours from all around the world. On her blog, Two Sleevers, she couples her popular low-carb and keto recipes with her love of the Instant Pot. Urvashi and her family make their home in Dallas, Texas.
About the book
With the first Instant Pot brand-endorsed ketogenic recipe collection, there's some pressure to put out something great. Urvashi did just that with this cookbook, and we're glad that she was the one to curate the book. First, you'll learn more about the author and her weight loss journey and how she discovered low-carb eating. These recipes are indicative of more than a simple collection of ketogenic recipes; they define a journey of learning how to cook for optimal health and weight loss.
With a "diet" like the keto approach, it can be easy to dial in heavily on the foods you must eliminate. However, this book was written with a specific goal in mind – and one that often keeps people sane and happy when taking on a challenging diet approach: focus on what you can have. Urvashi Pitre makes keto less limiting and far less difficult with absolutely delicious recipes.
Not only does this book include some Instant Pot cooking basics. It also includes many keto diet basics, making it the perfect choice if you're just adapting to a ketogenic lifestyle. The beginning of the book outlines macros (macronutrients) and how to set the perfect macros for yourself. It also helps to break down common myths about the keto approach. Finally, it touches on the keto diet as a moderate-protein diet and helps you to better understand the amount of protein found in standard servings of protein-rich foods.
What we love about this cookbook
This cookbook is easy to love as someone who loves to utilise their Instant Pot for healthy recipes, and especially for the keto pressure cooking enthusiast. It's a comprehensive collection of gorgeous meals you'll never tire of, divided into sections making it easy to find exactly what you're looking for. From beautiful veggie side dishes like cauliflower "mac" and cheese to sweet treats like lemon ricotta cheesecake, you'll always find a way to include new and exciting low-carb versions of your favourite comfort foods in your diet.
Cooking with a limited list of ingredients can be challenging, but this book makes it feel easy. If you work through these recipes, you're bound to develop a knack for cooking tender, delicious, juicy meat-centric dishes every time with the creative use of veggies, spices, and other unique flavour boosters.
Try these low-carb smoky Instant Pot ribs recipe from the cookbook.
Who is this book for?
This book is for absolutely anyone following a ketogenic diet or curious about following a ketogenic diet. Are you brand new to low-carb and intimidated? This recipe collection is here to save the day (and your time). If you are new to keto, the book will help explain how to build your meals to fit your macros, give you a list of staple kitchen ingredients that you should always have stocked, and get you on board with meal prepping which is key when you want to stick to a restrictive eating plan.
This book is also fantastic for a keto dieter who is new to pressure cooking or simply wants to expand their cooking repertoire. This book is full of delicious and inventive new recipe ideas to keep things exciting in the kitchen. Any low-carb cook's confidence will be stoked with this collection with recipes like lobster bisque, Sichuan pork soup, Bo Ssam-style pork, and Vietnamese Bo Kho. As a bonus, you'll learn so much more about cooking different cuisines. The author does a fantastic job of including recipes from China, Vietnam, India, Africa and more.
The Keto Instant Pot Cookbook by Urvashi Pitre is out now.
---
SAVE THIS COOKBOOK REVIEW TO PINTEREST