Smothered in creamy white sauce and served over sauteed leafy greens, these Instant Pot chicken alfredo meatballs have the potential to get on our weekly cooking rotation. Why? They are super easy to make, taste delicious and use easily accessible ingredients. Plus, this meal is gluten-free, low-carb and keto-friendly and kids love 'em.
---
From meatballs to chicken meatballs and then to chicken alfredo meatballs – yes, this is one tasty dish evolution and today we're going to show you how to make this recipe using your Instant Pot pressure cooker. It's super easy and once you've rolled the meatballs, all you have to do is throw all the ingredients in the pot, stir and set to cook. A few small finishing touches and your favourite veggie side will complete this amazing meal
WHAT IS ALFREDO SAUCE?
If you've ever had pasta Alfredo or chicken alfredo, you'd know that it's all about the sauce. Originating in Italy, alfredo is a simple white sauce made from butter, heavy cream and parmesan cheese. The are many twists using added herbs, spices, and garlic but the most basic recipe calls for those three ingredients. Some of the more authentic Italian ingredients will only use butter and grated Parmesan with a little pasta water to whisk a creamy, cheesy white sauce.
Alfredo sauce can be used with pasta, diced cooked chicken or seafood, vegetables like cauliflower and broccoli, and in scalloped potatoes. It's rich, velvety and tastes of comfort.
More Instant Pot Italian recipes here.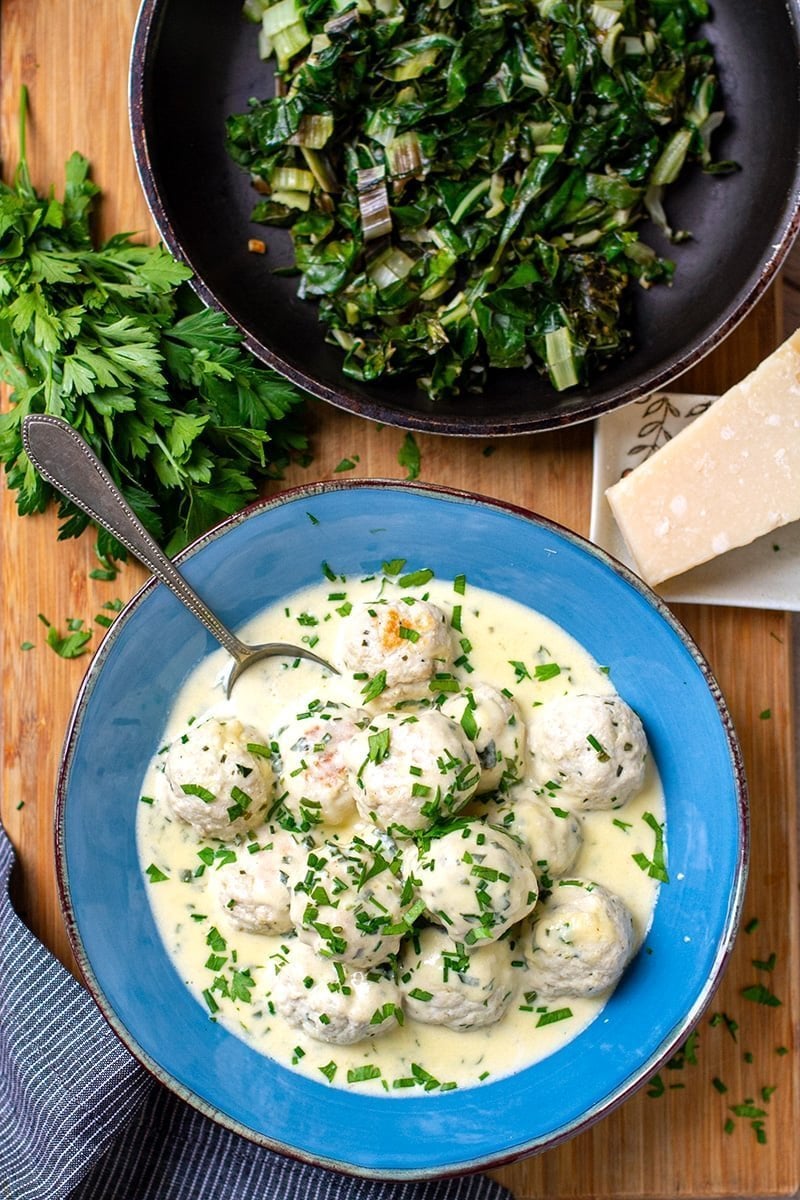 INSTANT POT CHICKEN ALFREDO MEATBALLS NUTRITION
We have provided the full nutritional breakdown for the whole meal of chicken meatballs with sauce and sauteed Swiss chard, but if you're just making the meatballs, here is what you get.
Per serving (4 meatballs + some sauce) you're looking at: Calories: 383, Fat: 29.8 g, Carbs: 3.3 g, Fibre: 0.4 g, Protein: 26 g. Lots of B vitamins, vitamins K and D, minerals such as calcium and zinc and other nutrients. The meatballs are low-carb and keto-friendly, and also gluten-free.
WHAT TO SERVE WITH CHICKEN MEATBALLS
If you want to keep this a low-carb/keto meal, serve the chicken Alfredo meatballs with simple steamed, braised or sauteed greens such as spinach, Swiss chard (in our recipe), collard greens, Brussels sprouts, broccoli, zucchini, green beans, cabbage or cauliflower. You could make zucchini noodles or cauliflower rice, both of which catch on the sauce well.
I simply sauteed some diced chard with a dollop of butter, garlic and lemon juice. Another great keto side for these meatballs is low-carb shirataki noodles or Miracle noodles.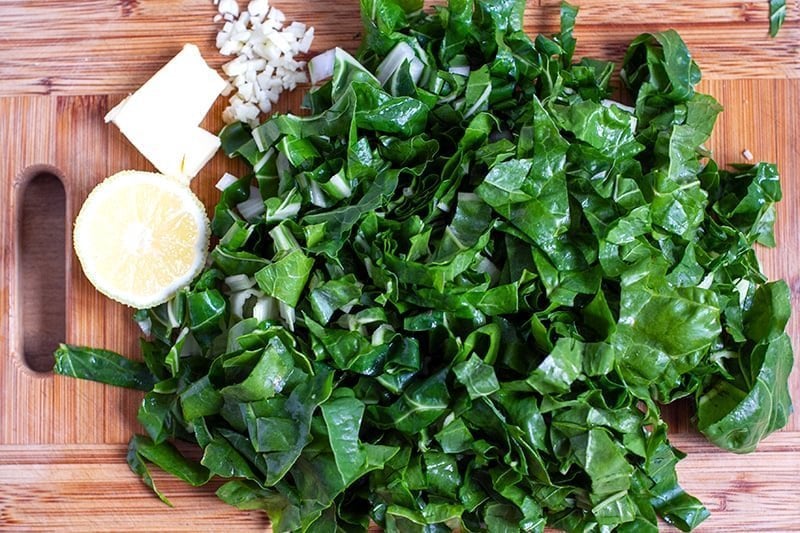 Using vegetables as a side dish will also keep this meal lower in calories. But, if those don't matter too much, feel free to add a serving of pasta, rice or some whole grains.
Leftover meatballs can be added to lunch boxes (they are nut-free), mashed as a filling for wraps and sandwiches or added to a salad. They will keep for up to 3 days in the fridge and can be frozen for up to 3 months.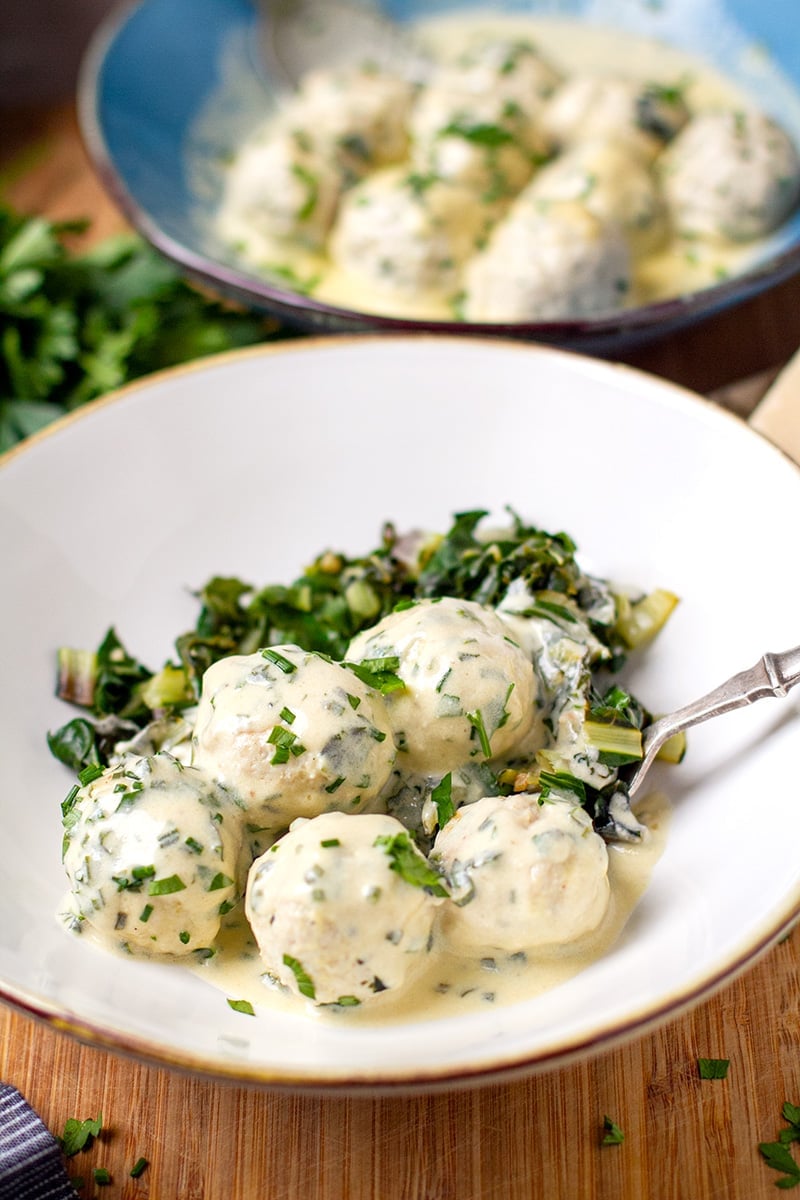 HOW TO MAKE INSTANT POT CHICKEN ALFREDO MEATBALLS
These Instant Pot meatballs can be made with your choice of white ground meat: chicken, turkey or pork. We used ground chicken mince, which is mixed with a few simple spices, lemon zest and chives. 500 grams or 1.1 lb of meat should yield about 14-15 meatballs. I like to keep them on the smaller side (think somewhere between a walnut and a ping-pong ball).

Once the mixture is rolled into balls, you simply combine the rest of the ingredients in the pot and set the Instant Pot to high pressure for 7 minutes (8 minutes for slightly larger meatballs). The dish is finished with freshly grated Parmesan cheese, extra butter and heavy cream.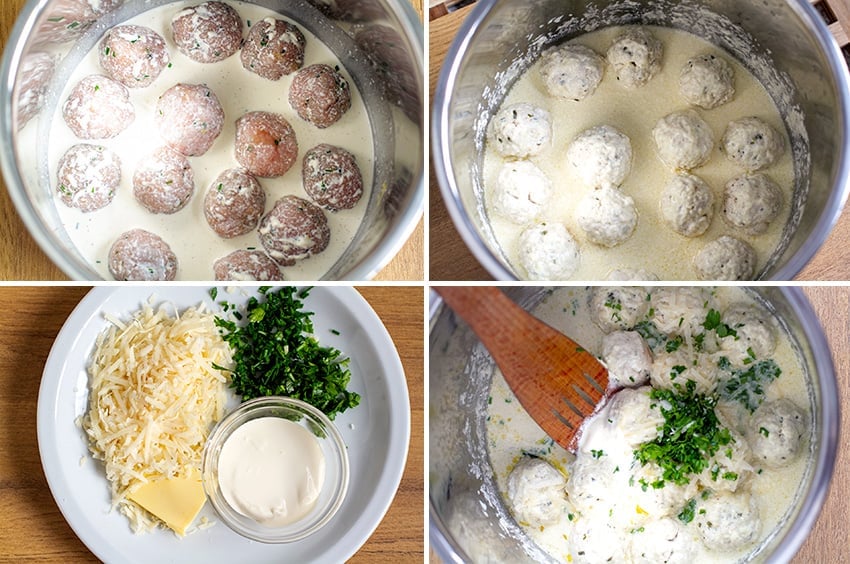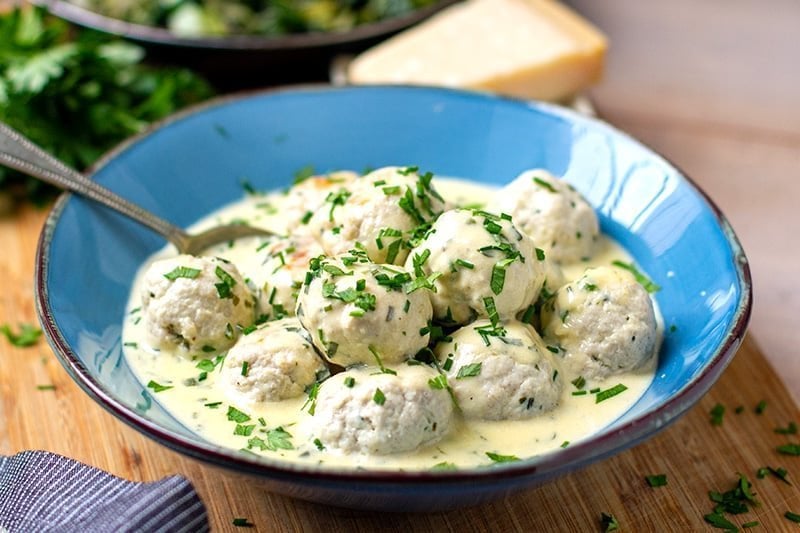 MORE INSTANT POT RECIPES FOR YOU
Print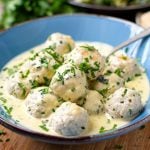 Instant Pot Chicken Alfredo Meatballs (Keto, Gluten-Fee)
Author:

Prep Time:

15 minutes

Cook Time:

20 minutes

Total Time:

35 minutes

Yield:

4 servings

Category:

Main

Method:

Instant Pot

Cuisine:

Italian
---
Description
These Instant Pot chicken meatballs with creamy white alfredo sauce are perfect for a weeknight dinner. Serve with a side of greens or shirataki noodles for a keto and low-carb version or your favourite pasta, rice or crusty bread.
---
For the meatballs
1.1 lb / 500 g ground chicken or turkey
1 teaspoon garlic powder
1 teaspoon onion powder
1 tablespoon chopped chives
1/4 teaspoon nutmeg powder
1/4 teaspoon black pepper
1 teaspoon lemon zest
For the cooking broth
1/2 cup water
1/2 cup heavy whipping cream
1/2 teaspoon Dijon mustard or yellow
1/4 teaspoon onion powder
1/4 teaspoon garlic powder
1/4 teaspoon salt
A pinch of nutmeg powder
For finishing
2 tablespoons heavy cream
1/2 tablespoon butter
1/3 cup grated Parmesan cheese
1 tablespoon chopped parsley
1 tablespoon chopped chives
To serve
8 Swiss chard leaves  or other greens of choice
1 garlic clove
1 tablespoon butter
1/4 lemon, juice
---
Instructions
Combine the meatballs mixture in a bowl and roll the meatballs (somewhere between a walnut and a ping-pong ball size).
Mix the cooking broth ingredients in the pot and add the meatballs. Stir through to coat. Turn the Instant Pot on and set to Pressure Cook (Manual on older modesl) and set to HIGH for 7 minutes. After 3 beeps, the Insant Pot will start to build the pressure and then the timing will begin.
Prepare the finishing ingredients. Cut up the chard leaves and pan-fry fover medium-high heat or a minute or two together with butter and garlic. Set aside.
Once the timer goes off, quick release the pressure. Open the lid and remove the meatballs to a bowl.
Add the finishing ingredients (cheese, butter, cream, herbs) and set the Instant Pot to Sauté. Once the sauce comes to bubbling, let it cook for about 5 minutes, stirring frequently, until the mixture thickens up and reduces by a quarter. Make sure to scrape the bottom of the pot when stirring to get all the melted, sticky cheese into the sauce.
Pour the sauce over the meatballs and garnish with some more fresh herbs.
Serve the meatballs with the sauce over sautéed greens, cauliflower rice, broccoli or low-carb noodles.
---
Notes
Nutrition values below are for the meatballs with the sauce and a side of sauteed Swiss chard.
Nutrition
Serving Size:

4-5 meatballs + sauce + 1/3 cooked cup chard

Calories:

585

Sugar:

3.5 g

Sodium:

709.4 mg

Fat:

45.8 g

Saturated Fat:

24.2 g

Carbohydrates:

9.4 g

Fiber:

2.2 g

Protein:

36.9 g

Cholesterol:

238.1 mg
Keywords: meatballs, keto, low-carb