Ten delectable Instant Pot meatball recipes for your pressure cooker featuring a variety of protein options, flavor profiles, and family-friendly meals. We've got beef, chicken, turkey and lamb meatballs covered.
---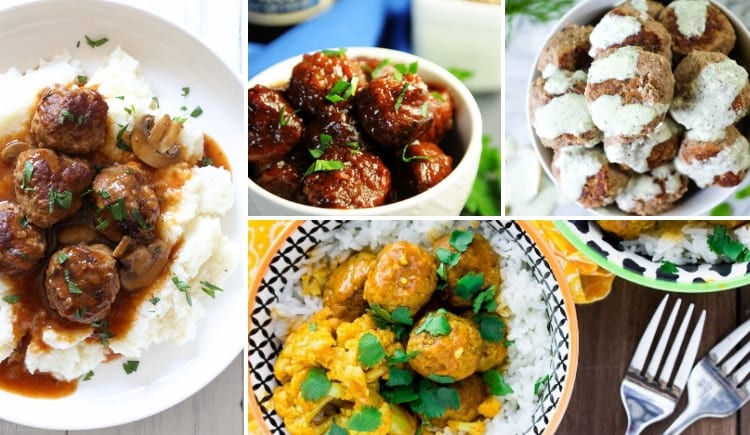 Meatballs are a staple meal to cook in the Instant Pot. The great thing about them is that you can often just dump in the ingredients – sometimes pre-made or pre-cooked ingredients – and forget about it. They cook quickly, and you can use the sauce as your liquid so the pot comes to pressure (no need to add extra water). It doesn't get much simpler than that.
A wide variety of protein choices and sauces can be used to make the magic happen. Meatballs aren't just your typical red sauce and beef. Asian flavors, barbecue, buffalo sauce and more can be used to make flavours pop and keep things interesting.
Meatballs are a good protein option for mashes or pasta dishes. They also make great party food served on toothpicks for satisfying snacking. Finally, they're great to stock the freezer with. Freezing food in sauces keeps them preserved and infused with flavor for even longer. Simply defrost them the night before or from frozen in the Instant Pot for easy weeknight fixes.
Today, we're sharing with you some of our favorite Instant Pot meatball recipes, and we really think you'll enjoy this variety.
1. Italian Instant Pot Tomato Meatballs
Let's start off with a classic Italian meatball recipe. These are a staple in nearly every kitchen – or at least for those who enjoy a fantastic pasta dish (or zoodles, of course). Pan-fried with the saute function on the IP, these are browned to perfection before being steamed through in a gorgeous, hearty, flavourful tomato sauce that encompasses the rich flavors of Italy. The blend of beef and pork is juicy and moist. Finally, there are no bread crumbs to keep 'em together making these paleo-friendly, low-carb, and Whole30-approved. Recipe from Instant Pot Eats.
2. Kung Pao Chicken Meatballs
Asian sauces, flavors, and spices complement every type of protein brilliantly. This Kung Pao sauce is no exception. Chilli garlic sauce, soy sauce, honey, sesame oil, and rice vinegar are blended for a tangy, sweet, and sour sauce that you'll want to put atop everything. It infuses these tender chicken meatballs in the Instant Pot while cooking so it's ready to serve over veggies or rice when finished. The best part? These cook in just four minutes – way quicker than it takes your delivery driver to arrive at your door! Recipe from Tidbits Marci.
3. Instant Pot Buffalo Chicken Meatballs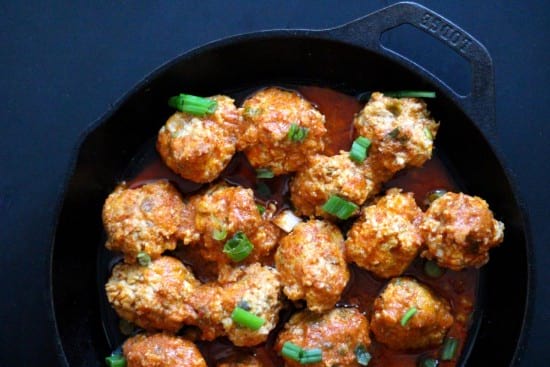 Buffalo chicken dip is a classic party dish. If you love it (and who doesn't?), these meatballs are a must-try. Considering buffalo chicken dip isn't exactly healthy, these meatballs are refreshing with paleo-friendly, low-carb ingredients comprised entirely of just real food. Almond meal is used as a binder in place of wheat bread crumbs making them gluten-free, too. In just 30 minutes, you can have these on the table. Recipe from What Great Grandma Ate.
4. Japanese Turkey Meatballs
Teriyaki sauce or Japanese gravy make this meatball recipe rather unique with an unusual Asian twist. The broth they're cooked in is packed with umami flavor giving you some serious bang for your buck in this affordable dinner dish. We love this dish over rice or mash, but it works brilliantly with a quick stir-fry of veggies. These make a good recipe to pack for lunch too, as they make convenient and tasty finger food for kids. Recipe from Instant Pot Eats.
5. Instant Pot Salisbury Steak Meatballs
Instant Pot or slow cooker, these meatballs are the perfect way to healthily recreate everything you love about Salisbury steak. They're perfect atop a bed of mashed potatoes or cauliflower. The tender meat and mushrooms cooked in this beautiful sauce will have you licking your plate clean for sure. The gravy is plenty hearty. The "health" factor comes from a blend of beef and turkey to make up the meatballs, keeping this awesome dinner recipe clean and lean. Recipe from Skinnytaste.
6. Vegan BBQ Instant Pot Meatballs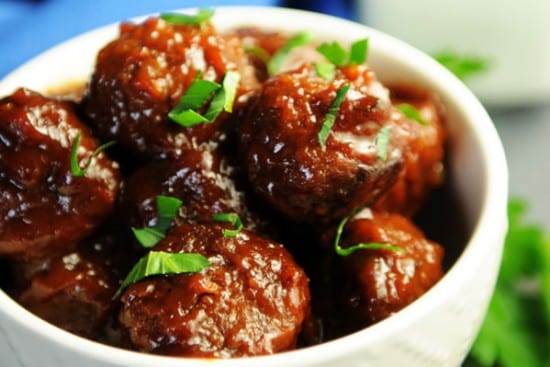 No meat? No problem. These barbecue meatballs are the perfect finger food for vegetarians and vegans alike, made with your favorite frozen meat-free alternative from the grocery store. It's a shortcut we're on board with (and nobody will know they aren't homemade, anyway). You can always make your own vegan meatballs and freeze them to make this recipe later, too. Serve at a party with toothpicks for easy snacking, or atop a bed of rice and veggies for a healthy dinner. Recipe from Fried Dandelions.
7. Sweet & Spicy Pot Meatballs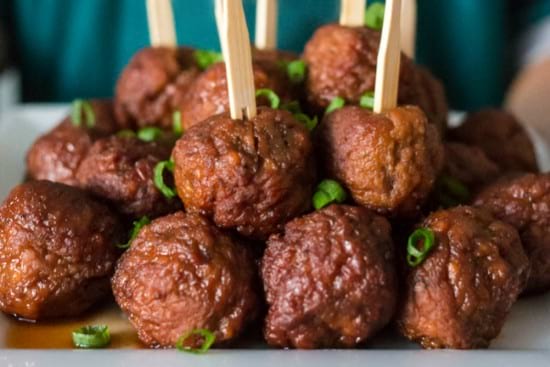 If you've never tried the combination of grape jelly and chili sauce in your meatballs, you're missing out. It's the easy way to get a sweet and spicy flavor profile without much mixing on your end. This recipe is made even easier using pre-cooked frozen meatballs. Yep – it's really as simple as dumping five or so ingredients into the pot, setting it, and forgetting it until it's time for the pressure release. These are an awesome appetizer – just make double, because they're going to go fast. Recipe from A Night Owl.
8. Greek Instant Por Meatballs
These meatballs have tons of Greek flair. A few key ingredients transport you to the gorgeous coastlines of Greece, eating delicious food at a cafe. A handful of fresh herbs give these a massive flavor pop. You'll adore the contrast of piping hot meat and cooling cucumber-dill tzatziki sauce drizzled over top. It's even dairy-free, making these paleo-friendly. You can always use beef, but these are best made with ground lamb. Recipe from Real Simple Good.
9. Coconut Curry Meatballs
Curry can take all shapes and forms. This recipe proves it with a beautiful curry sauce served with meatballs and cauliflower. Serve it over starch like white rice and you have a perfectly balanced, healthy meal inspired by Thai cuisine. It's light, flavorful, healthy, and simple. With this sauce, they're even better as leftovers the next day when the flavors have had some time to marinate. You can control the spice in these, too. Top it all off with some fresh herbs for a pop of color and taste you can't beat. Recipe from Delicious Little Bites.
10. Guinness Instant Pot Meatballs
This Irish meal adaptation is the perfect way to sneak a little Guinness into dinner. Hey, we're not judging if you have some on the side too. This dish uses a 'healthified' beer BBQ sauce that takes this flavor to the next level. Serve it up with peas and potatoes for a starchy, hearty dinner. Cheers! Recipe from The Skinny Fork.
I don't know about you, but I'm excited to try all of these meatball recipes! From homemade to the ultimate lazy dinner, we hope we included something you and your family will love. Enjoy, and happy pressure cooking.