We are continuing our Instant Pot Meal Plan series with the tenth edition! This week's Instant Pot menu is Keto-friendly. It features 5 dinner meals, 2 lunch dishes, and 1 dessert. We've got a variety of nutritious, balanced meals with different protein options and plenty of veggies. Downloadable PDF with shopping list included.
---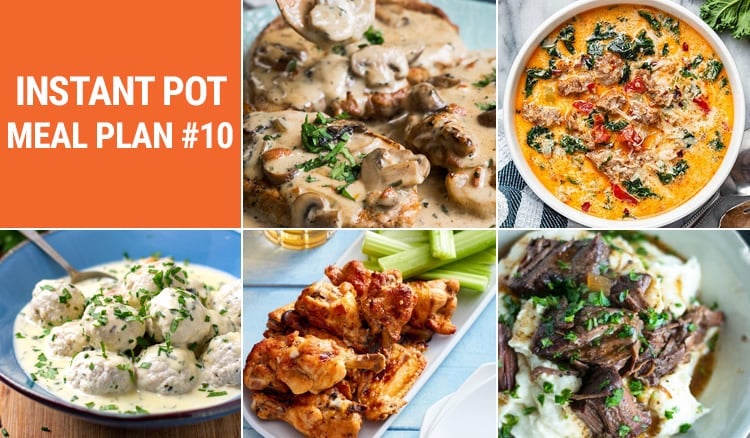 What is a keto diet?
A ketogenic or keto diet is a low-carb, high-fat diet where you get most of the calories from fat and protein and less from carbohydrates.
Keto diet is usually heavy in dietary fats from eggs, avocado, dairy, nuts, seeds, and oil and moderate in protein (meat, poultry, fish and seafood). You cut back most of the carb-rich foods like sugar, soda, pastries, pasta, bread, rice, and potatoes but you can still enjoy many vegetables and some low-sugar fruit and berries in small amounts.
The keto diet offers many health benefits and many studies show that this type of diet can help you lose weight and improve your health. It has benefits against diabetes, cancer, epilepsy, and Alzheimer's disease.
About This Keto Instant Pot Meal Plan
We've selected delicious keto dinner and lunch recipes using a variety of protein – chicken, beef, pork and sausage – as well as some low-carb vegetables to make sure you get balanced nutrients. We have meatballs, chops, roast, curry, soup, wings and even a cheesecake for a little weekend treat!
We have provided estimated net carbohydrates per serving of the main dish and any sides because we know that the ketogenic diet is oftentimes about counting those macros!
You can choose to cook all the meals or go for the ones that tickle your fancy the most. Some of the recipes might have leftovers that you can have for lunch or freeze for later.
We hope you enjoy this low-carb, keto Instant Pot meal plan, whether you're new to this type of eating or you're just looking for new recipe ideas.
You can download this meal plan with the shopping list here.
You can find other Meal Plans here and our Vegetarian Meal Plan #3.
PS. If you make one of our recipes, take a picture and share it on Instagram. Use the hashtag #instantpoteats! We want to see what you are making in your kitchen. And don't forget to follow us on Instagram!
---
Low-carb/Keto meal plan
Smothered in creamy white sauce and served over sauteed leafy greens. Plus, this meal is gluten-free, low-carb and keto-friendly and kids love 'em. Get the recipe here.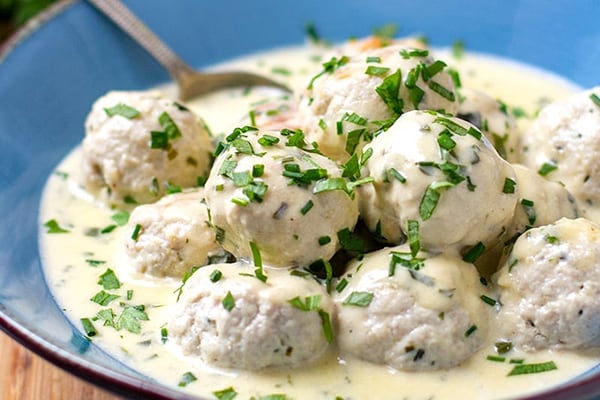 Serving size: 4-5 meatballs with sauce + 1/2 cup Swiss chard or other leafy greens
Net carbs: 7.2 grams (meatballs + greens)
Shopping list: 1.5 tbsp butter, 1.1 lb / 500 g ground chicken or turkey, 1 garlic clove, 1 tsp garlic powder, onion powder, chives, nutmeg powder, lemon, 1/2 tsp Dijon mustard or yellow, garlic powder, heavy cream, Swiss chard leaves or other leafy greens, Parmesan cheese, and parsley.
Prep tips/make-ahead: These meatballs can be made with your choice of white ground meat: chicken, turkey or pork. We used ground chicken mince, which is mixed with a few simple spices, lemon zest and chives. 500 grams or 1.1 lb of meat should yield about 14-15 meatballs. We like to keep them on the smaller side (think somewhere between a walnut and a ping-pong ball).
Serving suggestions: Keep this a low-carb/keto meal by serving the chicken Alfredo meatballs with simple steamed, braised or sauteed greens such as spinach, Swiss chard (in our recipe), collard greens, Brussels sprouts, broccoli, zucchini, green beans, cabbage or cauliflower. You could make zucchini noodles or cauliflower rice, both of which catch on the sauce well.
---
Creamy and hearty soup using Italian sausage, kale, sun-dried tomatoes, garlic, and onion. All cooked to perfection with the Instant Pot in a savory cream base. Tastes divine and it is unbelievably easy and effortless. Get the recipe here.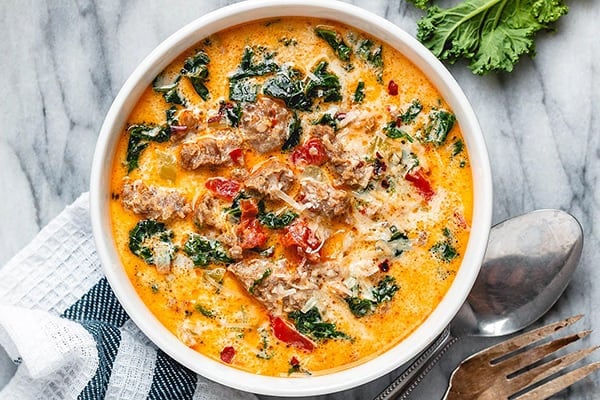 Serving size: about 2 cups of the soup
Net carbs: 13 grams per serving
Shopping list: 1 lb (450g) Hot Italian sausage (or turkey sausage), 1 onion, 3 cloves garlic, 1 tsp dried oregano, 1/2 cup sun-dried tomatoes, 6 cups low-sodium chicken broth, bunch kale, heavy whipping cream, Parmesan, and fresh parsley.
Prep tips/make-ahead: This soup recipe is super versatile. You can switch up veggies by adding cauliflower florets or cauliflower rice to make the keto soup even more nutritive while staying low on carbs. Feel free to use other veggies such as bok-choy or spinach to replace kale. A few chunks of bacon will make a great flavor addition to the soup.
Serving suggestions: Serve immediately with freshly grated Parmesan and parsley.
---
A mouthwatering creamy mushroom sauce that will make you wonder why you ever made pork chops the old-fashioned way all these years. These saucy, fall off the bone chops leave you with minimal mess and clean up afterwards. Get the recipe here.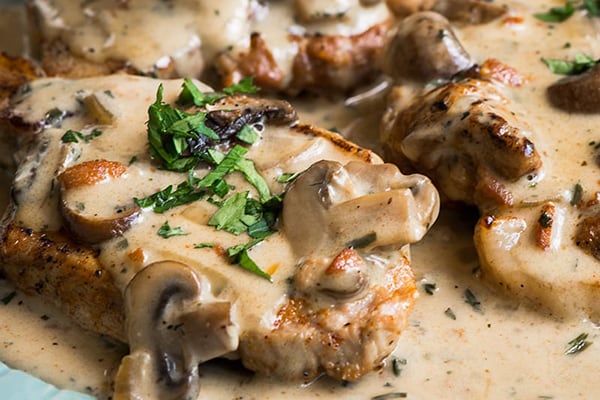 Serving size: 1 pork chop with mushroom sauce + 1 cup broccoli with butter
Net carbs: 13 grams (for pork chops + broccoli)
Shopping list: 1 head broccoli, ½ tsp garlic powder, ½ tsp onion powder, 1 tsp paprika powder, 4 ( 6 oz or 170 g each) boneless pork loin chops, 2 strips of uncured bacon, 1 tbsp (15 g) butter, onion, white mushrooms, ½ cup (120 ml) white wine, ½ cup (120 ml) full-fat heavy cream, 1 tsp dried thyme, 1 tsp dried tarragon, 1 tbsp (15 ml) Worcestershire sauce, 1 tbsp (8 g) tapioca flour, and fresh parsley for garnish.
Prep tips/make-ahead: You could make this recipe using chicken meat, turkey or other cuts of pork.
Serving suggestions: Top the pork chops with the mushroom gravy and garnish with parsley before serving.
---
Healthy and delicious Instant Pot coconut chicken curry made with only 5 key ingredients. This pressure cooker chicken recipe is great for a quick and easy dinner, while travelling with the Instant Pot, if you're on a budget. It's mild so it's also kid-friendly. Get the recipe here.
Serving size: 1-1.5 cups curry + 1 cup cauliflower rice
Net carbs: 4 grams (curry + 1 cup cauliflower rice)
Shopping list: 1 head cauliflower, 1.5 tbsp olive oil or coconut oil, 4 cloves garlic, ginger, 2 lb / 900 g chicken breasts, 4 tsp mild curry powder, 1/2 tsp sugar, 2/3 cup water or chicken stock, 1 cup coconut cream, and fresh cilantro.
Prep tips/make-ahead: You can swap out the chicken for pork or beef and add extra vegetables at the end. This is a good recipe to make as a large batch to enjoy as leftovers or to freeze for another meal.
Recommended sides: This curry goes really well with cauliflower rice.
---
Since a traditional pot roast recipe usually contains potatoes and carrots, they aren't easy to make keto friendly. But this super easy keto pot roast is made with beef chuck roast and just a handful of other ingredients for a delicious pot roast served with some cauliflower mash. Get the roast recipe here and cauliflower recipe here.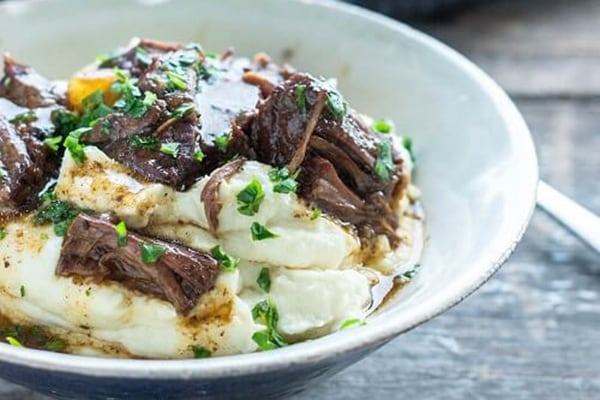 Serving size: 1-1.5 cups roast + 1/2 to 1 cup cauliflower mash depending on your carbohydrate intake.
Net carbs: 3 g (pot roast) + 4 g (per 1/2 cup cauliflower mash)
Shopping list: One boneless chuck roast (3 lbs), 1 tbsp coarse kosher salt (if using fine salt reduce by half), 1 tsp garlic powder, 1/4 cup of balsamic vinegar, onion, 1/4 tsp xanthan gum, fresh parsley + 1 large head of cauliflower, 2 tbsp heavy cream, 1 tbsp butter, and 2 ounces Dubliner or other sharp cheddar cheese.
Prep tips/make-ahead: This recipe calls for xanthan gum to thicken the gravy after reducing, but if you don't have xanthan gum, arrowroot powder or konjac powder will work to thicken the gravy just as well. Just be careful not to use too much or you will get a slimy consistency to it.
Recommended sides: Cauliflower Marsh and garnish with parsley.
---
This meal-prep dish is loaded with cream, fresh or frozen broccoli and includes the macros and information about carbs found in broccoli. It's a yummy copycat of Panera bread's cheddar broccoli soup minus the bread bowl but plenty of good things for you. Get the recipe here.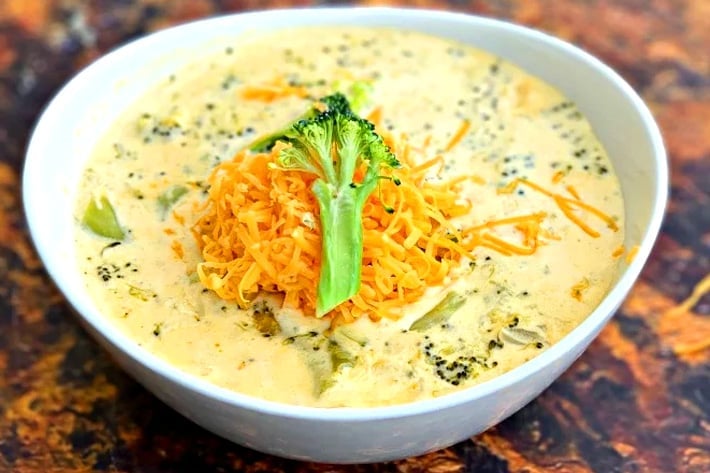 Serving size: 1.5 cups
Net carbs: 6 grams per serving
Shopping list: 2 tbsp butter, 1 cup chopped onion, 2-3 garlic cloves, 2 cups stock or broth (chicken), 4 cups broccoli florets, 1/2 tsp xanthan gum (gluten-free to stay keto-friendly), 2 cups heavy cream, and 2 cups sharp shredded cheddar cheese.
Prep tips/make-ahead: If not keto or low-carb use 1/4 cup of flour in place of xantham gum. Use an immersion hand blender, to smooth out the soup if you don't like chunky soup.
Serving suggestions: Top off with more sharp cheddar cheese.
Smothered in the delicious buttery hot Buffalo sauce, these wings are so delicious. We love cooking chicken wings in the Instant Pot – it's fast and easy. The chicken is cooked from frozen making this a very convenient dish to make when you're in the rush or you've forgotten to pick fresh ingredients. Get the recipe here.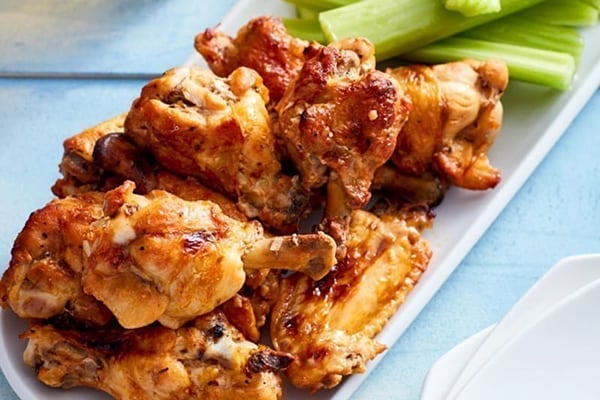 Serving size: 4-5 wings with 2 tablespoons blue cheese sauce + 1 celery stick cut up
Net carbs: 5 grams (chicken with dip + 1 cup cut-up celery)
Shopping list: 4 celery sticks (1 per person), ½ cup red hot sauce, preferably Texas Pete or Frank's Red Hot, ¼ cup chicken broth, 4 tbsp (1/2 stick) butter, 2 tbsp dried Cajun seasoning blend, 3 pounds not-breaded frozen chicken wings, preferably individually frozen wings (sometimes called "ice glazed"), mayonnaise, sour cream, 2 ounces (1/2 cup) crumbled blue cheese, and ½ tsp onion powder.
Prep tips/make-ahead: For an 8-quart Instant Pot, you must increase all the ingredients by 50 percent. Using a –20° F CHEST FREEZER? There is no difference in cooking times. To make these wings crisp (and thus take them over the top): In step 3, use tongs to transfer them from the cooker to a large, lipped baking sheet. Position the oven rack about 4 inches from the broiler and heat the broiler. Broil the wings until crunchy, basting several times with the pot's juices and turning once, 2–3 minutes.
Recommended sides: Although this blue cheese dip is traditional, try serving the wings with ranch dressing that's been mixed with minced pickled jalapeño rings and minced chives for something different. Of course, buffalo wings need celery and carrot sticks! A little crunch goes well with the warm protein (and the dip) and will offset some of the heat with fresh, crisp flavors. You can also have a side salad or veggies.
---
Zesty and summery, this cheesecake is made with low-carb crust and creamy filling with a hint of lemon and vanilla. This is a dessert you can enjoy with the whole family and they won't even know that it's sugar-free. Get the recipe here.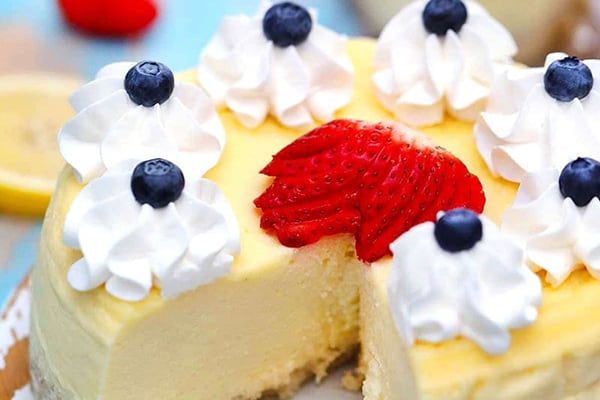 Serving size: 1 slice
Net carbs: 9 grams per serve
Shopping list: 1/2 cup blanched almond flour, 1/2 cup unsweetened shredded coconut, 4 tbsp unsalted butter, cinnamon powder, cream cheese, powdered erythritol sweetener, 2 large eggs, heavy whipping cream, sour cream, lemon zest, vanilla extract, blueberries and/or strawberries.
Prep tips/make-ahead: The Instant Pot cooks everything fast, you want to ensure to have all the ingredients ready to go. Make sure to line a springform pan with parchment paper and wrap the pan externally with aluminium foil. Chill the crust in the refrigerator so that it's easier to work with when pouring the filling inside.
Serving suggestions: Beat the heavy cream, erythritol, and vanilla until stiff peaks form. Pipe on the cheesecake, garnish with blueberries and a few strawberries in the center. Carefully remove the chilled cheesecake from the pan. Peel off the parchment paper. Slice and serve.
Download this MEAL PLAN & COMPLETE THE SHOPPING LIST here.
---
OTHER KETO INSTANT POT RECIPE IDEAS
---
---
SAVE INSTANT POT Meal Plan #10 TO PINTEREST