Instant Pot tofu and bok choy steamed together with savoury sesame soy sauce, fresh ginger and garlic is a simple Japanese-inspired dish that is very healthy and delicious. Pressure cooker steam locks in all the nutrients and the whole recipe is made in 20 minutes. It's vegan and vegetarian, low-carb and gluten-free.
---
Steamed tofu and bok choy might not sound very appetizing but trust us when we say that his dish is actually full of flavour. The secret is in the sauce! Aromatic ginger, garlic and scallions together with savoury soy sauce, sesame oil and a touch of sweetener infuse the silken tofu and bok choy with all the delicious Asian flavours during the steaming process.
When served over a bowl of rice, you get that amazing juxtaposition of textures: fluffy, slightly firm rice with velvety soft tofu and a little crunch from the steamed bok choy. There is plenty of the sauce to soak the rice, too.
HOW TO MAKE INSTANT POT TOFU & BOK CHOY
To steam the tofu and bok choy in the Instant Pot at the same time, you will need a trivet (comes with your IP), a round tin (e.g. springform cake tin that fits inside your pressure cooker) and a steamer basket to sit on top. You can also use some foil to place between the vessels if they don't stack up perfectly.
You will find the full list of ingredients, instructions and nutritional breakdown in the recipe card below. Here is a quick video to show you how to make this tasty dish.
WHAT KIND OF TOFU TO USE
For this particular recipe, we used silken medium-firm tofu, which has a soft, slightly wobbly texture but still holds together. You can use firmer tofu as well.
WHAT TO USE INSTEAD OF BOK CHOY
Bok choy is a popular Asian green vegetable and is commonly available in the supermarkets these days, but if you can't find it, you can use sliced broccoli florets, carrots, cabbage leaves, collards, Brussels sprouts or snow peas.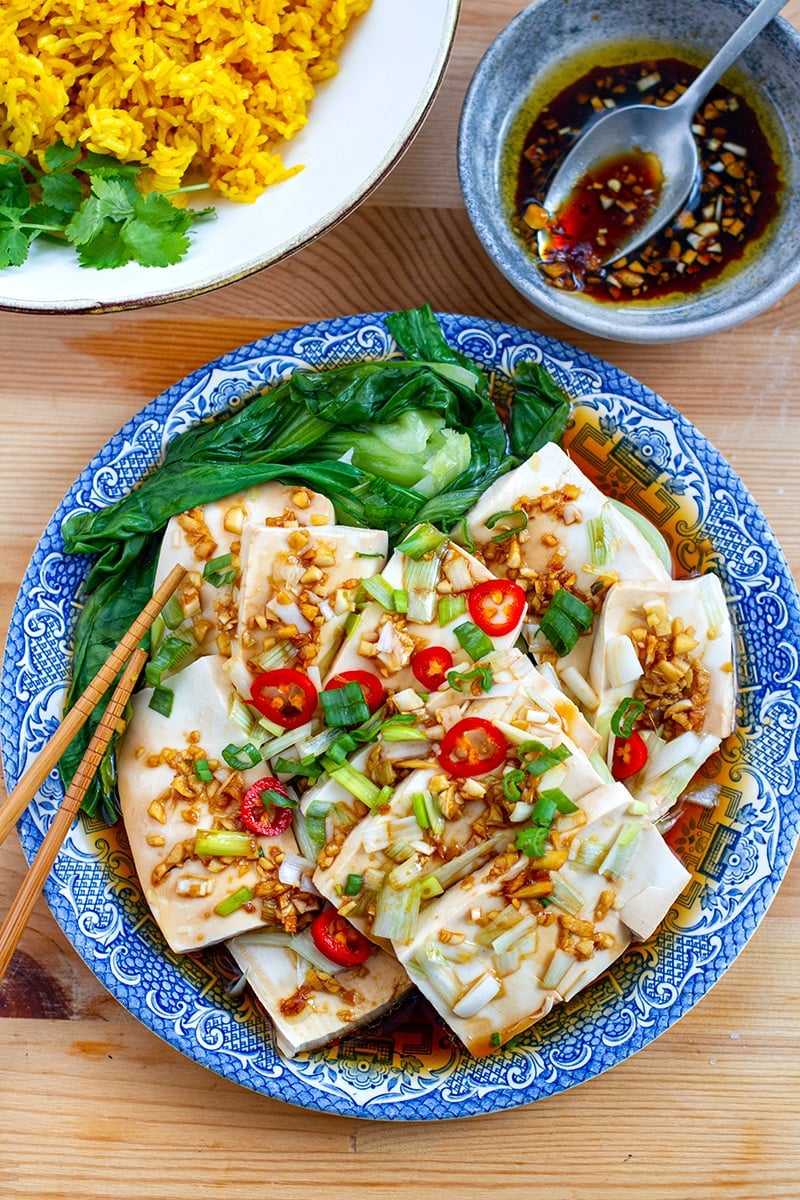 WHAT TO SERVE WITH STEAMED TOFU
The best way to enjoy this Japanese-inspired tofu dish is with a bowl of simply cooked rice. We actually made our Instant Pot turmeric rice while we prepared the tofu ingredients as it only takes about 10 minutes with the Instant Pot and you can quickly transfer it to a bowl, wash the pot and be ready to make the tofu and bok choy.
For a low-carb version, you can make some cauliflower rice instead. Brown rice or a noodle dish will also make for a great side dish.
MORE ASIAN INSTANT POT RECIPES
20 Chinese Instant Pot Recipes For Every Taste
Instant Pot Soy-Ginger Chicken Hibachi
Noodles With Ginger, Soy & Maple Dressing
Brown Rice Salad With Peanut Butter Dressing
Print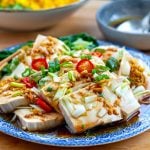 Instant Pot Tofu With Bok Choy & Ginger Garlic Sauce
Author:

Prep Time:

10 minutes

Cook Time:

10 minutes

Total Time:

20 minutes

Yield:

4

Category:

Main

Method:

Instant Pot

Cuisine:

Asian
---
Description
Steamed Instant Pot tofu and bok choy with ginger, garlic soy sauce is a healthy and nutritious Japanese-inspired dish that can be served over rice or noodles. It's vegan, vegetarian, gluten-free and is super easy to make.
---
500 g / 1 lb medium-firm silken tofu, sliced thick
4 baby bok choy (about 1 pound), split horizontally
1 scallion/spring onion, chopped
1/2 red chili, sliced
For the sauce
2 cloves garlic, finely diced
1 tbsp finely diced ginger (a thumb-size knob)
4 tablespoons soy sauce or gluten-free Tamari
1 tablespoon sesame oil
1 tablespoon olive oil
1 tablespoon lemon juice or lime juice
1 tablespoon maple syrup or honey
1 cup of water
You will need a trivet, a round tin and a steamer basket.
---
Instructions
Wash and sliced the bok choy in halves, cut off the ends.
Slice the tofu into thick slices.
Dice the ginger and garlic and mix the sauce in a bowl.
Place half of the bok choy in a round tin or heatproof dish that fits inside your Instant Pot. Layer the tofu pieces on top. Pour two thirds of the sauce on top (we will use the rest at the end). Scatter the scallions and chili over the top.
Add a cup of water to the Instant Pot. Place the trivet on top. Lower the tin with tofu on top of the triver.
Add the rest of the bok choy to a steamer basket and stack that on top of the tofu tin.
Close and lock the lid and set the Instant Pot to Manual/Pressure Cooker, HIGH and change the time to ZERO minutes. After 3 beeps, the Instant Pot will start to build up the pressure and cooking will begin. Mind you, that even though the timer is set to 0, the cookin still happens during the pressure build up but as neither tofu nor bok choy need much cooking, the cooking time is set to a minimum.
Use quick release to let off the pressure and open the lid, Remove the steamer basket and the tofu and transer to a serving plate together with all the sauce. Pour the rest of the fresh sauce over the tofu and serve.
Notes
We served this dish with our turmeric rice, which takes 10 minutes to make in the Instant Pot. You can do this first while preparing the tofu dish ingredients. Transfer rice to a bowl to keep warm, wash the pot roughly and re-used it again for the tofu. The whole meal will take about 30 mintues this way.
Nutrition
Serving Size:

1 bok choy + 3-4 oz tofu

Calories:

248

Sugar:

14.6 g

Sodium:

1087.4 mg

Fat:

9.7 g

Saturated Fat:

1.4 g

Carbohydrates:

26.5 g

Fiber:

8.6 g

Protein:

21.9 g

Cholesterol:

0 mg
Keywords: Steaming, Japanese, Vegan, Healthy