Get inspired with the best vegetarian stew recipes you can make in the Instant Pot or without. We've collated the best vegetarian stews loaded with wholesome ingredients from Mediterranean creations to Asian curries.
---
WHAT IS A STEW?
A stew is a dish of chunky ingredients like cubes of meat or poultry and vegetables simmered or braised in a thick broth over low heat.
Vegetarian stews will often feature legumes, grains, and other plant-based protein alternatives alongside vegetables cooked.
Stews are thicker than soups and are made with larger chunks of ingredients. In most cases, the broth or sauce is much thicker and the ingredients aren't fully submerged. Stews are not pureed and have solid ingredients.
When it comes to flavors, it's up to your imagination. Many stews will have a tomato base but some are made with cream or coconut milk. You can experiment with herbs and spices as well as aromatics to create unique stew dishes.
---
BEST VEGETARIAN STEW RECIPES
These vegetarian stews are loaded with wholesome ingredients like legumes, grains and vegetables, of course, and range from Mediterranean creations to Asian curries.
We've selected recipes that were developed with the Instant Pot in mind or stovetop/slow-cooker recipes that provide Instant Pot instructions as well.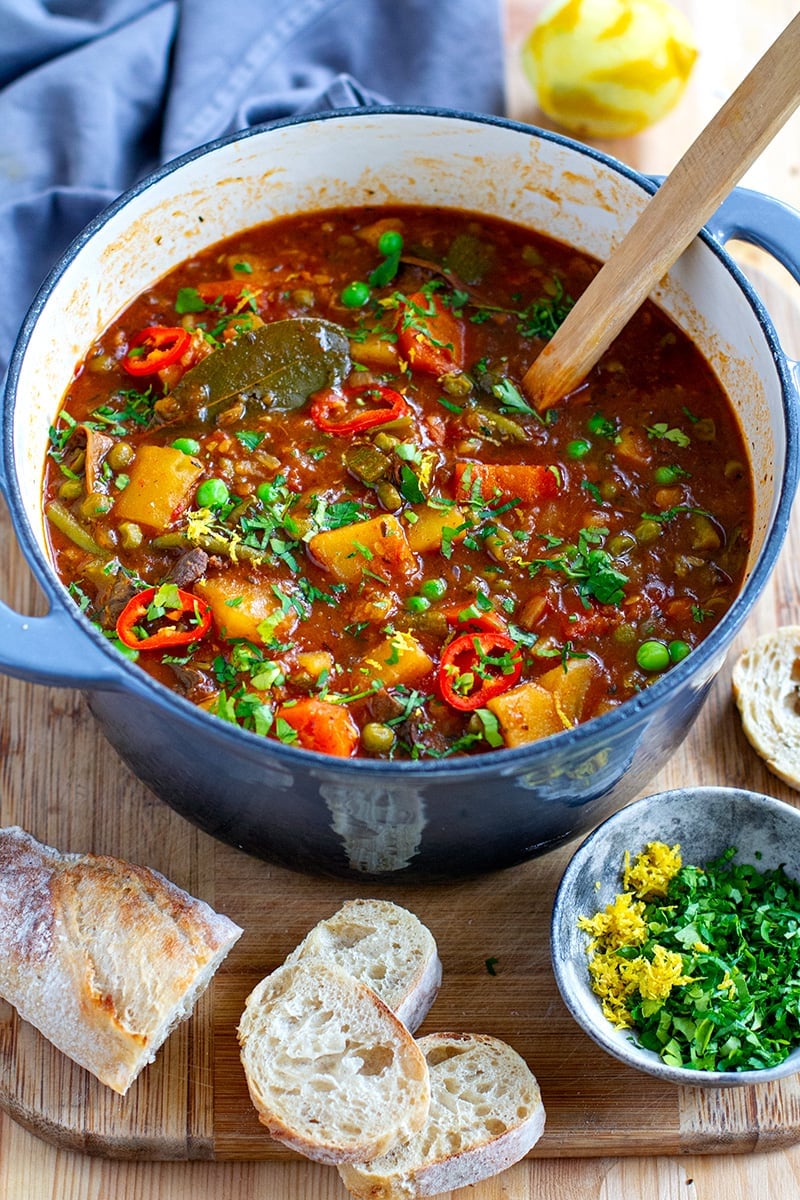 This stew is hearty, thick, comforting and very tasty but the real reason we think it's so good is the number of veggies you'll be getting in each serving. Made with about 10 types of vegetables, it is really is a nutritional powerhouse. Get The Recipe Here.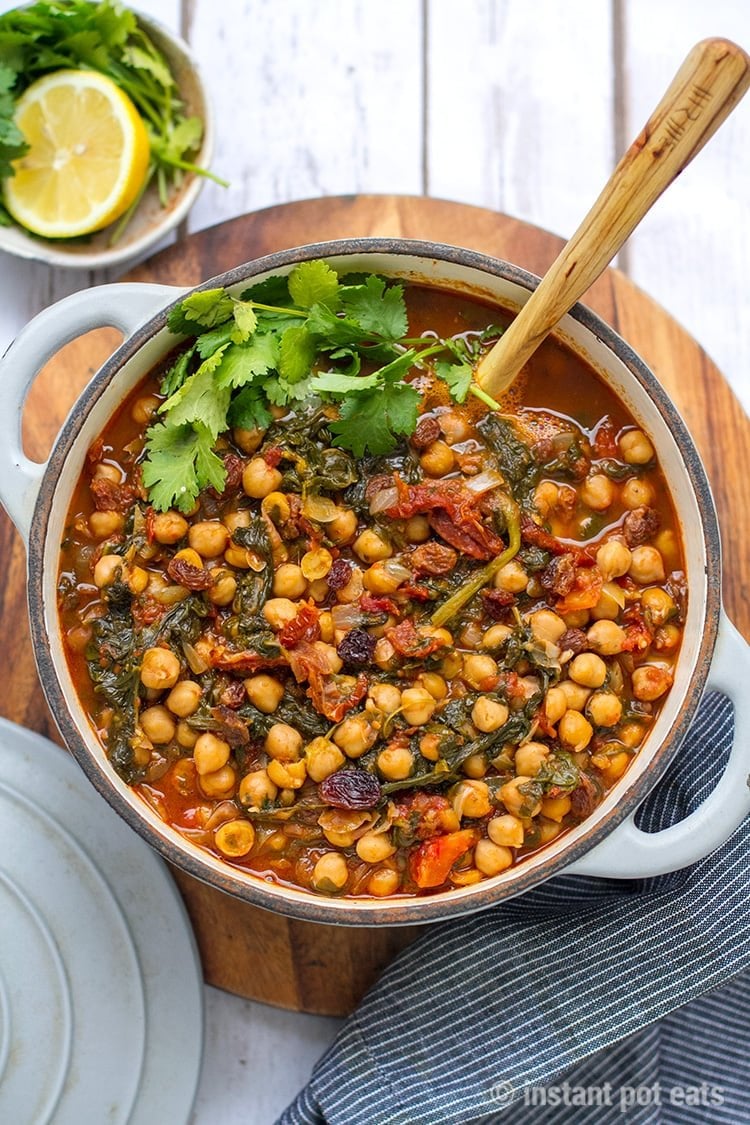 The stew can be served on its own with some toasted or fresh, crusty bread, or with a side of rice or couscous. It's a healthy meal that is vegan and gluten-free friendly, with lots of fibre, plant protein and nutrients from tomatoes and spinach. Get The Recipe Here.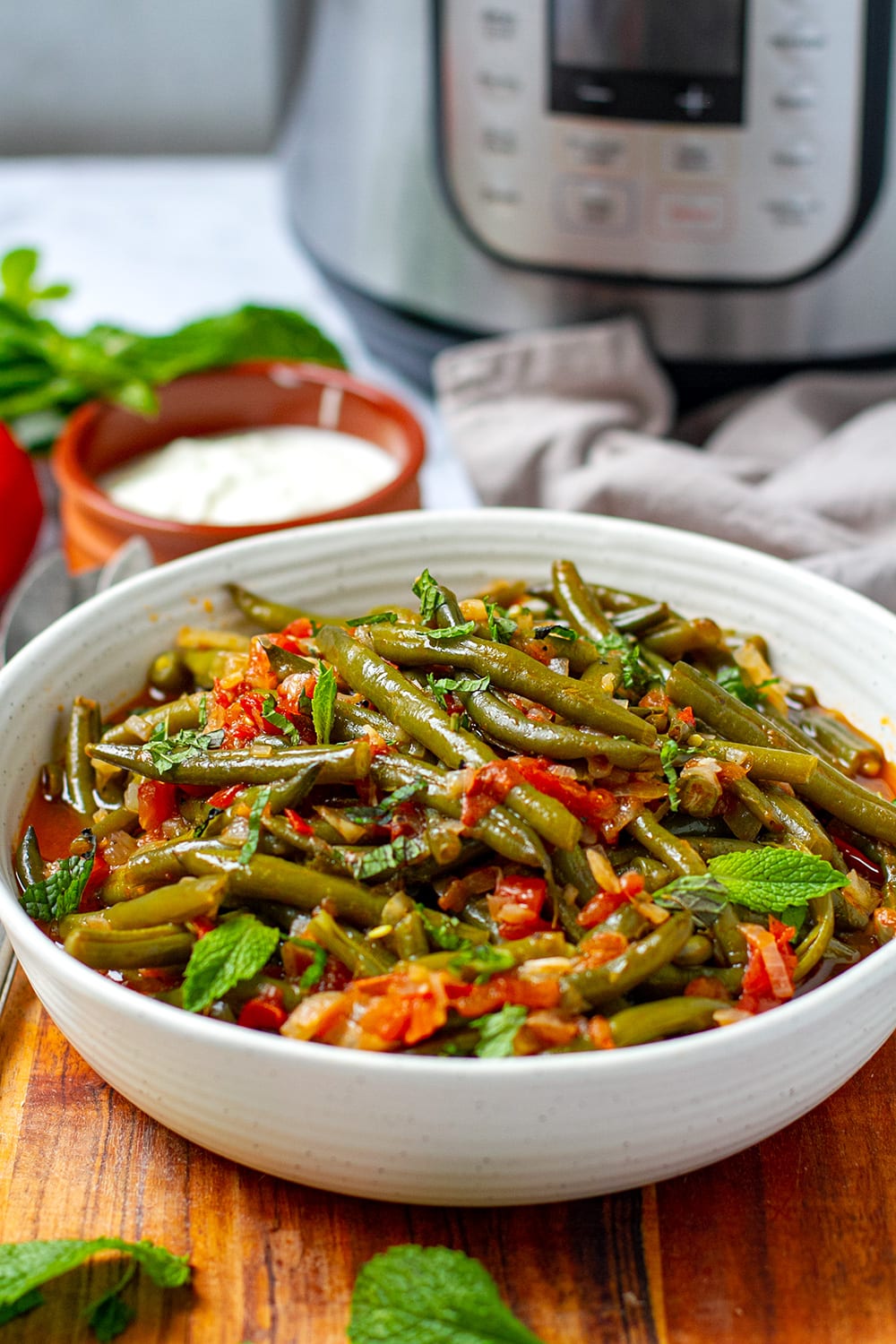 This dish is ideal for making in advance and is great in winter and warm weather because it's good eaten cooled down. In fact, these beans are best the day after being cooked. Get The Recipe here.
A dump-and-go Instant Pot recipe that couldn't be simpler! This Instant Pot White Bean Stew is healthy, vegan, gluten-free, nut-free, soy-free and has no added oil. Recipe from Rainbow Plant Life.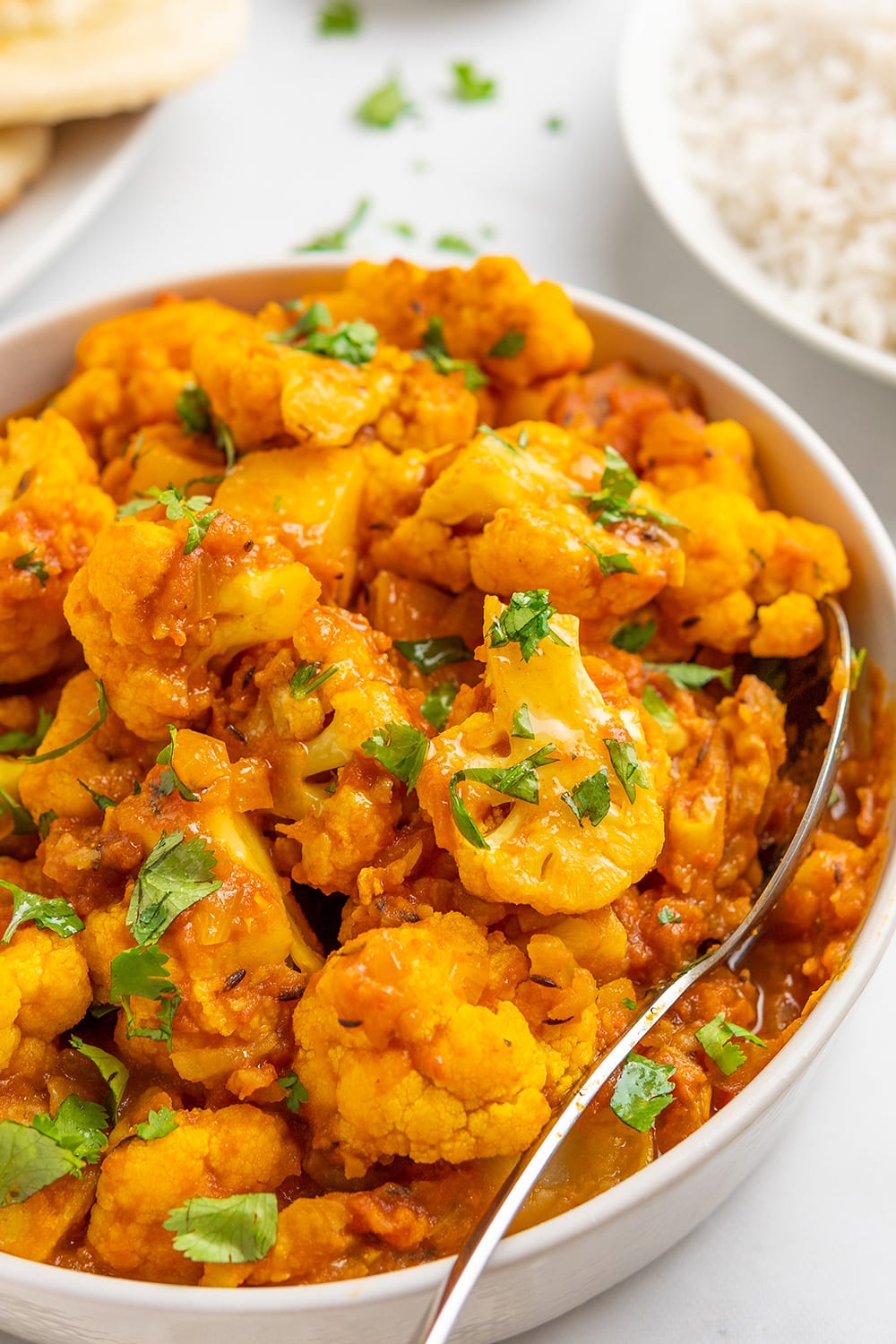 Potatoes and cauliflower are a great match! Cooking with herbs and spices brings out potatoes' earthy flavours and cauliflower's nuttiness, and that delicious sauce gets absorbed into the vegetables while they are in the pan. Get The Recipe Here.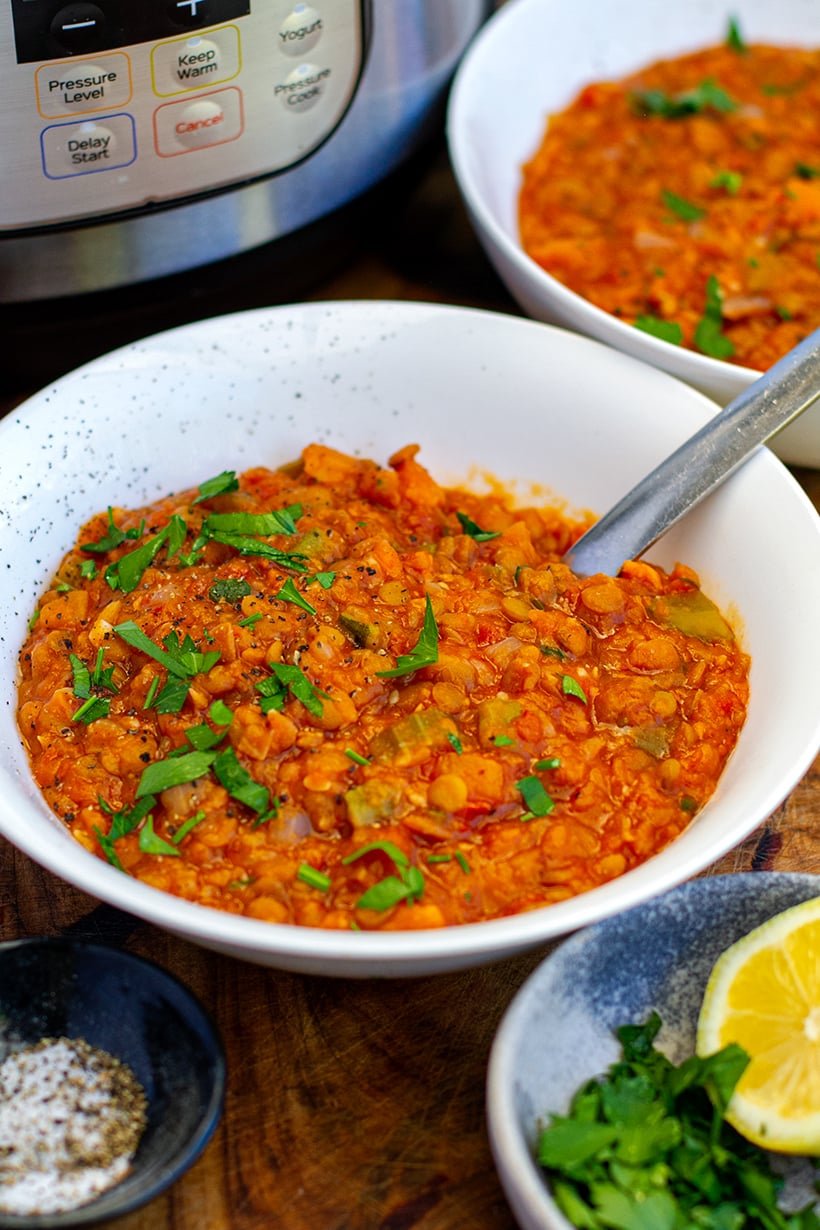 What we love about this pressure cooker lentil stew is that it's very flavorful and satiating while being super healthy, nutritious and low in calories at the same time. Get The Recipe Here.
Made with veggies, canned beans and lots of mushrooms, this is a super easy chili recipe that you can set and forget in your Instant Pot while you prepare all the fixings. Get The Recipe Here.
This meatless Instant Pot vegan stew is a delicious, rich, and hearty choice for a cold weather day. Serve this Instant Pot Irish stew with soda bread. Recipe from Fab Everyday.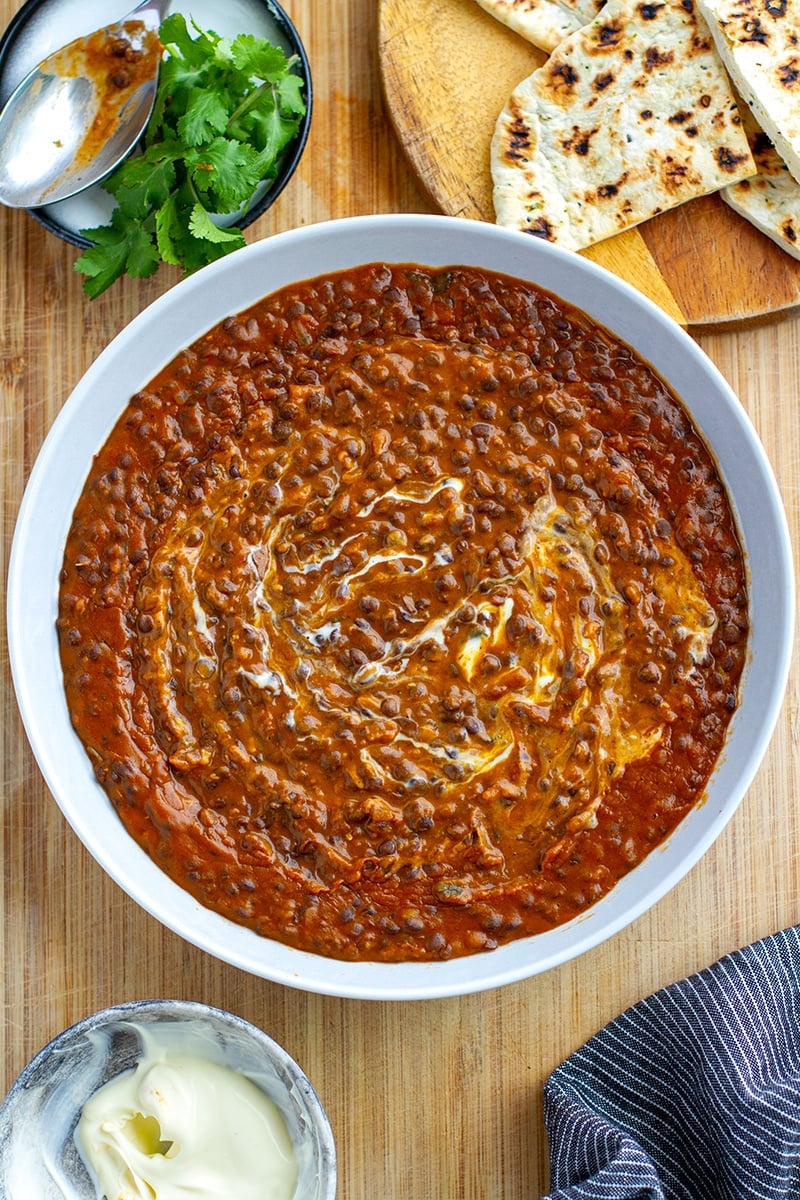 One of India's most loved dishes and one that is worth mastering. It is originally from the Punjab region and the primary ingredients are whole black lentils butter and cream. Get The Recipe Here.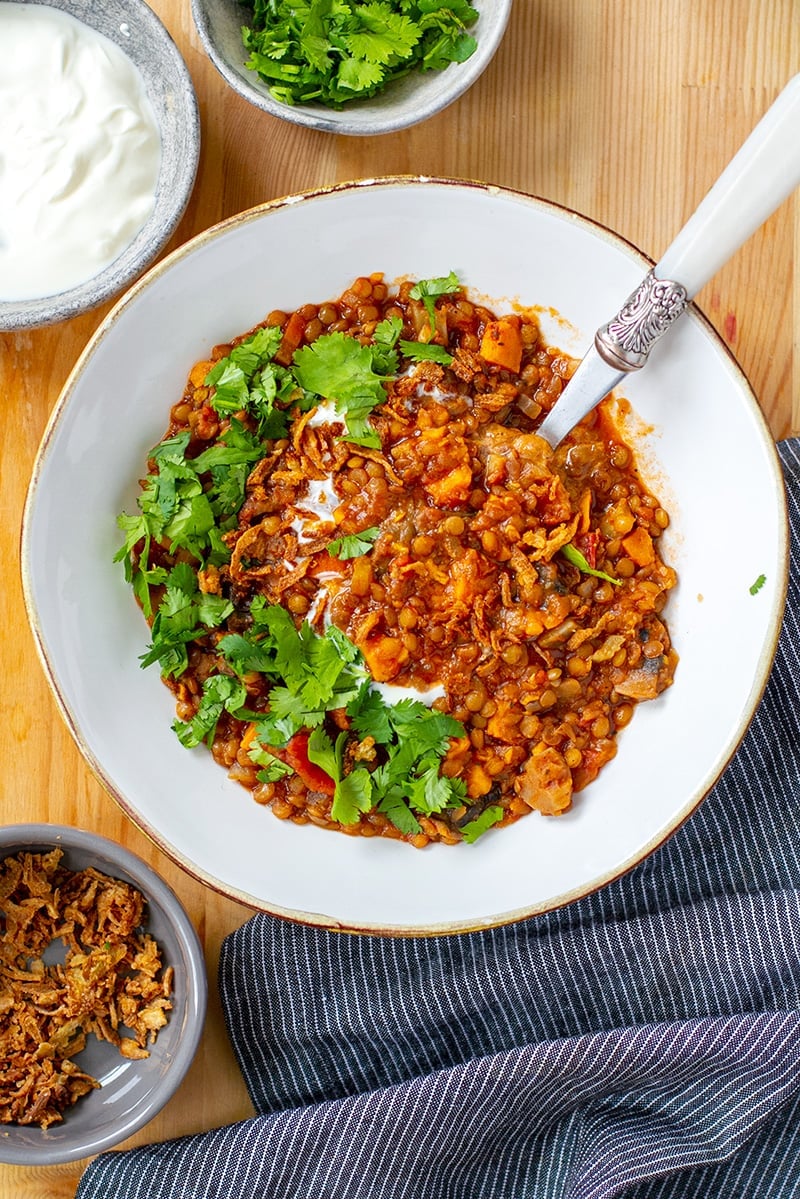 Hearty, deliciously spiced, and a little smokey, this vegan-friendly Instant Pot lentil stew is super easy to make and will quickly become a favorite plant-based dinner recipe. Serve it with rice, potatoes, or a side of toasted bread. Get The Recipe Here.
This vegan Instant Pot chili is made with butternut squash pumpkin, pinto beans and dried chickpeas (or garbanzo beans). It has just the right amount of spice and sweetness to have you going back for seconds. Get The Recipe Here.
Creamy vegan mushroom stew with farro is a super hearty meal. Roughly 10 ingredients and it comes together simply with pre-cooked farro. Recipe from The First Mess.
---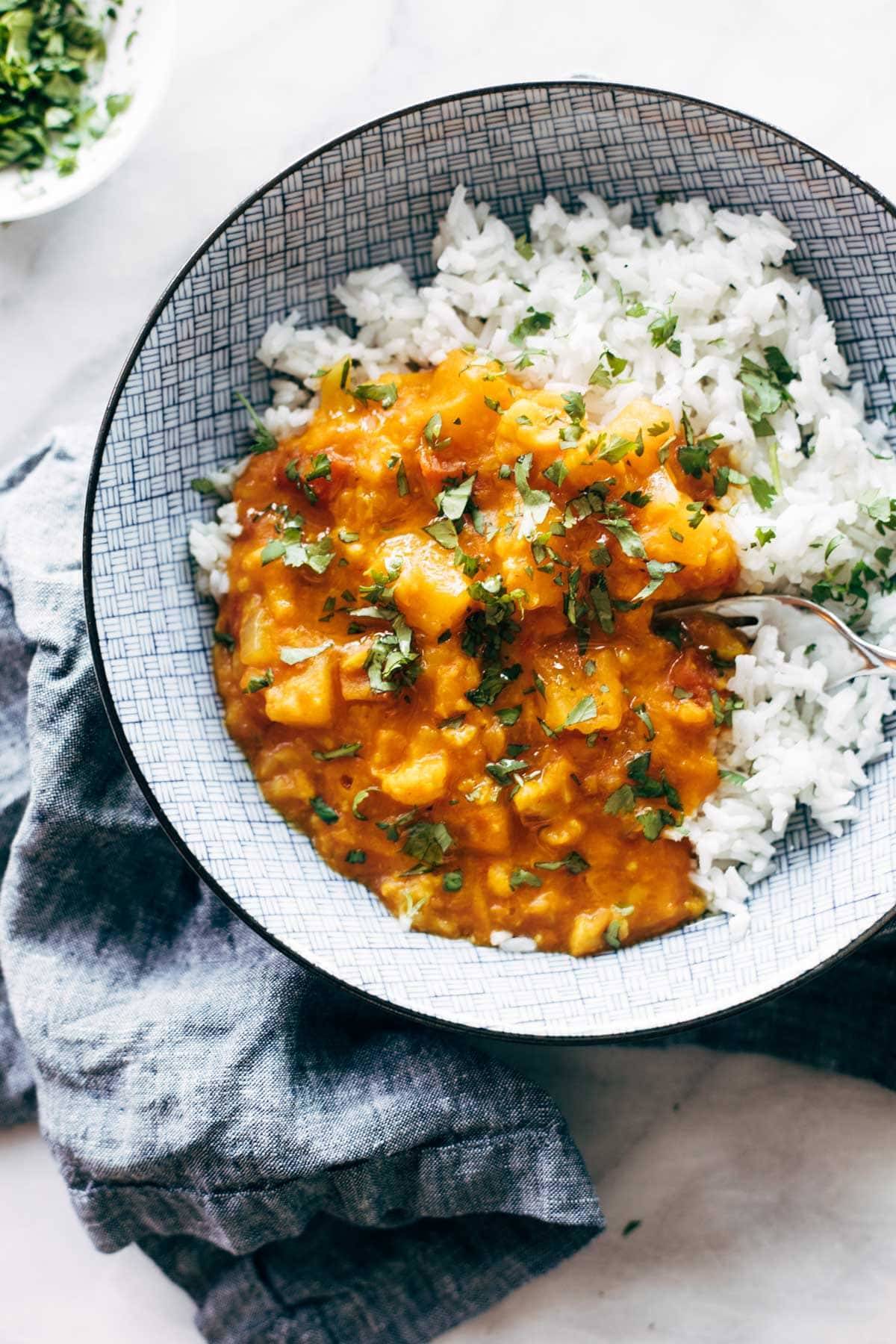 Tender cauliflower, butternut squash, and red lentils cooked in a coconut-creamy red curry sauce and poured over a mini-mountain of steamy rice. Recipe from Pinch of Yum.
This Tofu Stew wouldn't be Korean-style without yummy spicy kimichi. Recipe from Chatelaine.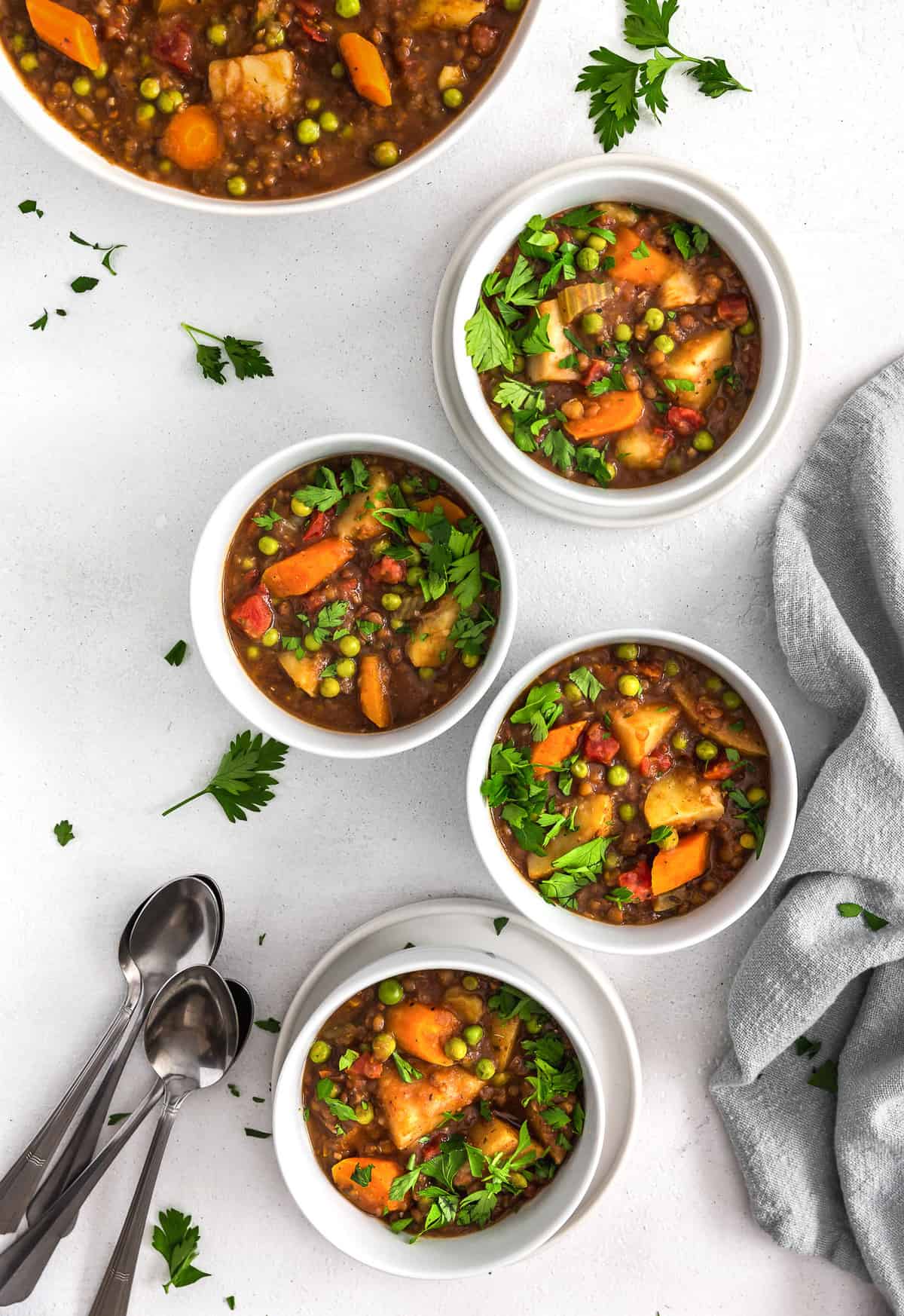 Incredibly flavorful, rich, hearty and filling, this Instant Pot Vegan Beef Stew is one of the most beloved of all comfort foods, and the best part is that it is ready in under 25 minutes. Recipe from Monkey and Me Kitchen Adventures.
Kerala vegetable stew is an aromatic, mildly spiced, creamy, veggie-packed coconut curry. It's a simple, filling, feel-good, family-friendly stew. Recipe from My Heart Beets.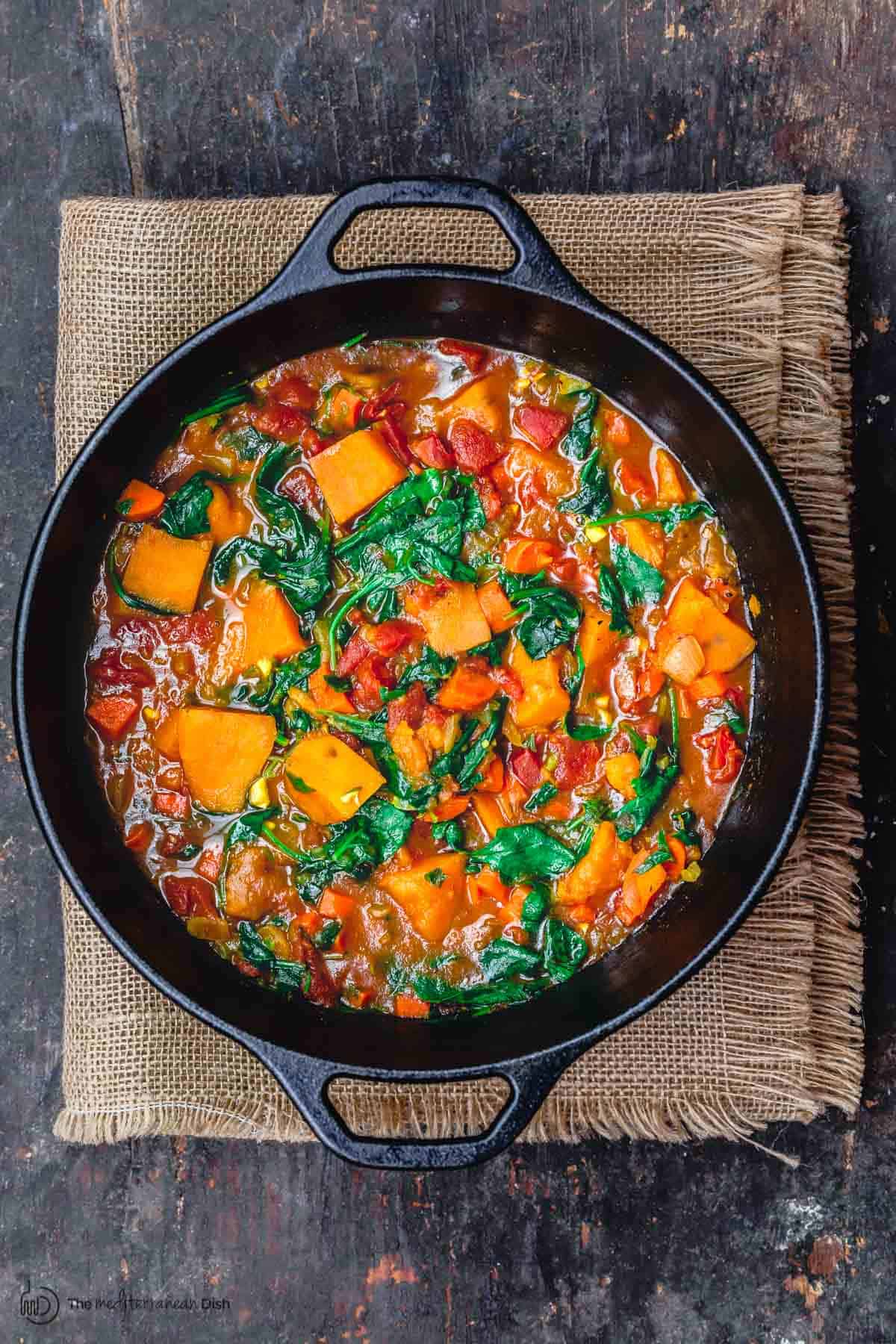 This healthy stew will surprise your taste buds in the best way possible! Loaded with chunks of melt-in-your mouth sweet potatoes, tender carrots, tomatoes, and wilted baby spinach. It gets a little Eastern Mediterranean flare with a few warm spices like cumin and tumeric. Recipe from The Mediterranean Dish.
An easy, budget-friendly lentil and cabbage soup made in the Instant Pot. Made with everyday, affordable ingredients you might already have in your pantry, this is a hearty and easy soup that's perfect for meal prep and easy, quick dinners. Recipe from Rainbow Plant Life.
Using lots of sweet potatoes, chickpeas, fresh spinach, red curry paste, curry spices, coconut milk and tomato sauce for the creamiest, most amazing depth of flavor! Recipe from The Vegan 8.
Instant Pot Butternut Squash and Quinoa Stew is a simple weeknight comfort food. This ultimate-feel-good-stew is deliciously healthy, wholesome, and packed with all the good stuff! Recipe Ruchis Kitchen.
Deep green lentil stew with spinach, tahini, and lemon is a comforting vegan dinner with a flavour balance of herbs, citrus, and spice. Puréeing a portion of the soup makes it slightly creamy. Recipe from The First Mess.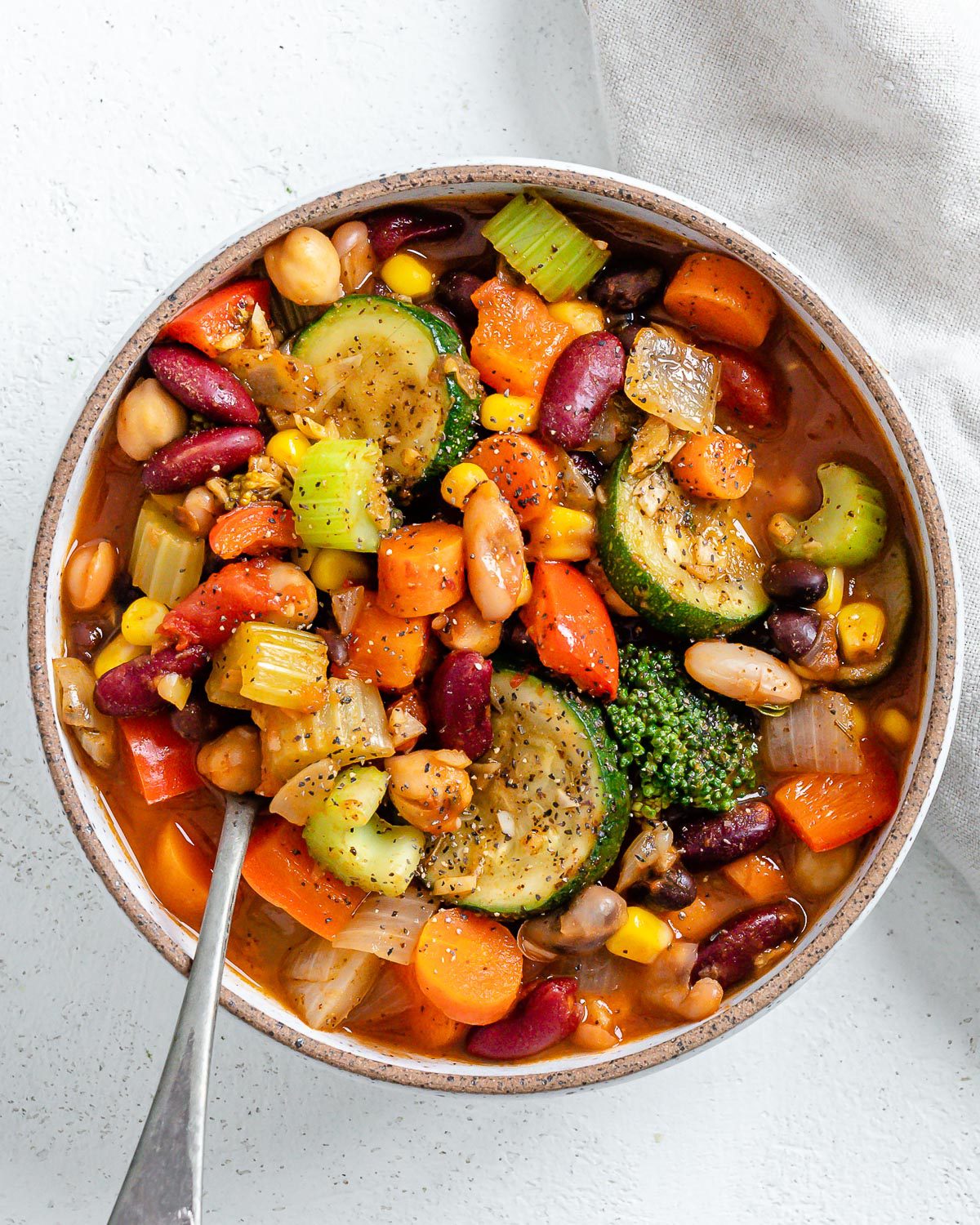 This hearty mixed bean and vegetable stew is packed with plant-based protein, fiber, and nutrients – A frugal pantry-friendly vegan stew ready in under 40 minutes. Recipe from Food Sharing Vegan.
---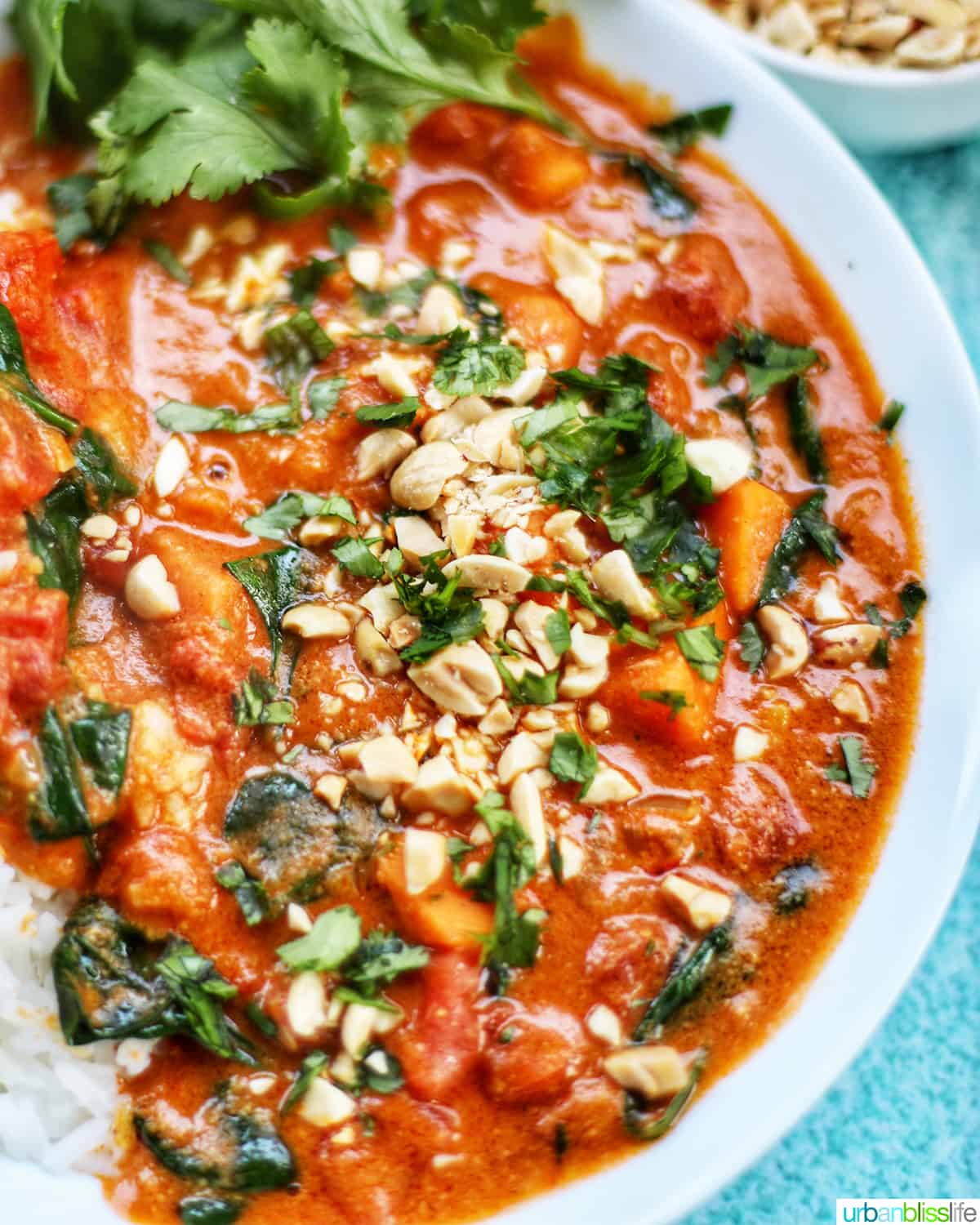 This recipe is inspired by a West African dish that is known as peanut stew or sometimes called groundnut stew. It is said to have originated in Mali, with the Mandinka and Bambarara people. Recipe from Urban Bliss Life.
This Instant Pot Chickpea and Brown Rice Stew is a complete, balanced meal and is so simple – just add all the ingredients to the Instant Pot and dinner will be waiting for you. Recipe from Rainbow Plant Life.
This vegan Instant Pot Chana Masala is packed with authentic Indian flavor and rivals any restaurant dish, but is easy and quick to make. Recipe from Rainbow Plant Life. Watch the video here.
---
SAVE THESE VEGETARIAN STEW RECIPES TO PINTEREST